If you're an Airbnb website fan, gift yourself one by using the Airbnb WordPress theme today!
Everyone praised the concept of Airbnb – staying at someone's home when traveling. The sky-high hotel prices led people to browse the Airbnb website on the internet.
Why so?
Well, the stunning-looking apartments did most of the work. There are more than 150 million users worldwide using Airbnb today. The same can be applied to you. If you have any home property, why not generate business out of it? So if you already have a property in mind, the next is to create a website for attracting all family, friends or a solo traveler.
For startups, there are many Airbnb WordPress themes available in the market. These best WordPress themes are designed keeping in mind good lead generating digital platforms and paramount quality. From apartment rentals, home-stay rentals to BnB's, any business model can use a WordPress template to get more visitors and make a good income.
Hence, if you have stocked up your experience and planning an Airbnb styled website by offering apartments and homestays, providing hospitality and related services, processing online payments, the below stated Airbnb WordPress templates will help you achieve your goals of moving online!
Let's see what's next!
| | | | | |
| --- | --- | --- | --- | --- |
| Sr.No | Best Airbnb WordPress Themes | Regular License Price (USD) | View Details | Purchase Link |
| 1 | Luviana – Hotel Booking WordPress Theme | $69 | View More | Buy now |
| 2 | LuxStay – Hotel & BnB WordPress Theme | $64 | View More | Buy now |
| 3 | Swing – Resort and Hotel WordPress Theme | $60 | View More | Buy now |
| 4 | Bellevue – Hotel + Bed and Breakfast Booking Calendar Theme | $59 | View More | Buy now |
| 5 | Panola: Resort and Hotel WordPress Theme | $59 | View More | Buy now |
#1 Luviana – Hotel Booking WordPress Theme
Looking for a beautiful, clean, and best WordPress theme? Luviana – Hotel Booking WordPress Theme is a perfect match for many establishments like home-stay rentals, guest houses, bnbs, apartments, and more. This theme comes with MotoPress hotel booking plugins, which helps in creating a fully-fledged management system for your website at no additional cost.
From accepting booking online through credit cards, auto sending booking emails to enabling online reservations, great user experience, it has a lot of functionalities for designing your one-stop website for users!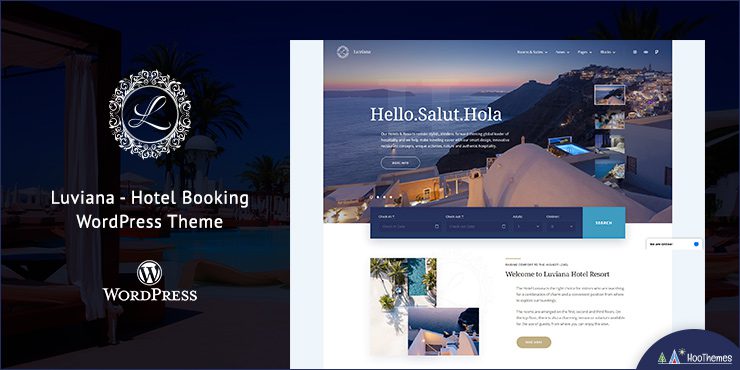 Source: Themeforest
Pros & Cons:
Pros
Cons

Easy To Customize
Good Quality Web Design

Only 1 Column Support Available
Some of the key features of Luviana:
Elegant Quality: The clean and simple design of Luviana WordPress makes it an appropriate choice for numerous hospitality foundations like resorts, B&Bs bookings, apartment & home rentals, travel agencies, real estate hostels, motels, etc.
Real-Property Search: With the help of dedicated search form your guest will easily be able to see through all rooms. All they need is to add their arrival and departure date and number of people travelling and they can reserve the selected rooms.
Option to Export Booking Data in CSV: Reports plugin menu enables to take your booking data with you. It allows the export of data in CSV format. But you can fetch selective data like either you can import everything or include individual booking details.
This like Airbnb style WordPress theme works efficiently within WordPress 5 0. Luviana's clean and elegant looking design makes it the best suitable theme for the ones who want to build an Airbnb like website online!
#2 LuxStay – Hotel & BnB WordPress Theme
LuxStay is considered to be one of the best Airbnb WordPress themes with the luxurious, beautiful and elegant design layout for apartment rentals, bed and breakfast, vacation rental, and various services.
Well, the core focus of this web templates theme is to ease the management that includes customer accommodation booking tags, pricing plans, coupon codes, room's listings, online reservations, and more. Adapting a similar like Airbnb theme that features high coding quality and beautiful design, will help you showcase an easy to use apartment booking idea into an attractive web hosting website. This will result in attracting more visitors and travelers to your website.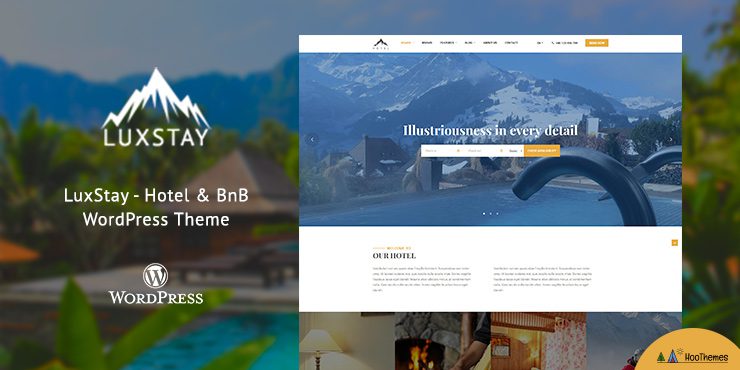 Source: Themeforest
Pros & Cons:
Pros
Cons

Great Customer Support – 24/7
Up to Date Design Quality
User-Friendly Features
Some of the key features of LuxStay:
Powerful Booking Management: With the help of booking management you can explore all functions needed in your website. There are many creative and elegant design options added in LuxStay for making it useful for you.
One-Click Installer: It is one of the most user-friendly WP. The setting up process is simple and easy. In just a click you can set up your accommodation website.
5-Star Customer Support: An after-sale support is the most important feature that people look for and with the help of LuxStay WP, you can experience a satisfied response, because they believe in maintaining a long-term relation with their clients.
This WordPress booking theme is developed by ThimPress. Calling it as a perfect glamorous WP theme for your apartment booking site is not wrong.
#3 Swing – Resort and Hotel WordPress Theme
Meet Swing, one of the best WordPress themes with a powerful hotel reservation system. It is designed to specifically showcase the hospitality industry like accommodation, resort, rooms for rental, hostels, motel, holiday rentals, and apartment bookings. Swing – Resort and Hotel WP theme is accompanied by strong features such as WP hotel booking plugin, WooCommerce product vendors, online reservations, managing customer's bookings, etc.
However, this Airbnb (alias BnB) like theme is versatile. It can also be used by agencies and corporate websites. It is considered to be one of the well-coded theme options panels for rentals that offer numerous customization and configurable options to enable good user experience to the end-user.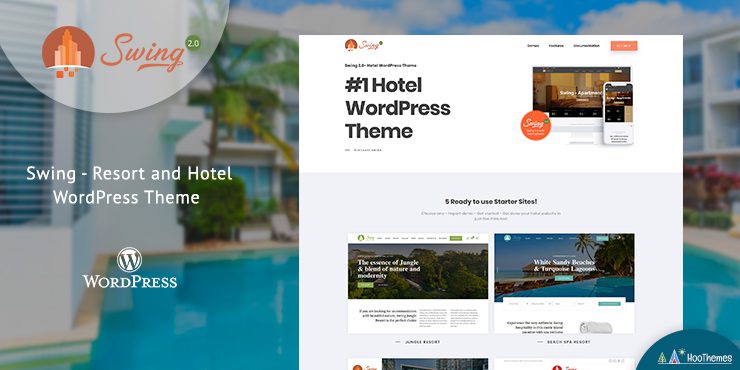 Source: Themeforest
Pros & Cons:
Pros
Cons

Customization Is Easy
100% Customer Support
User-Friendly Features

Inappropriate Design Quality
Bugs Problem
Some of the key features of Swing:
Room Booking Calendar: By adding the room booking calendar feature in your website will help you generate a good customer conversion ratio and will help in managing all your guests and rooms in an efficient way.
Multiple Currencies: Swing WP is one of the best suitable templates, which makes it easy for the management to deal with international guests and different currencies easily.
WooCommerce Compatible: With the perfect integration with WooCommerce in Swing, makes it easy for you to sell any of your services/products online.
Due to its jaw-dropping, visually appealing design, and clean web themes, it helps in creating your dream website with varieties of customization options in no time!
#4 Bellevue – Hotel + Bed and Breakfast Booking Calendar Theme
This pretty WordPress Theme is designed subject to vacation rentals, beach houses, apartments, home-stay, and cottages. Bellevue has all features needed in a listing WordPress theme. Not only that but it also assists in designing an efficient and elegant bed and breakfast or rental website.
This theme will enable you to customize and computerize the guest lists, booking procedure, accessible timetable, descriptive page builder, easy coding tutorials, and more for attracting your guests to your website. Bellevue theme has numerous potential outcomes for you to showcase the powerful presence of your website online.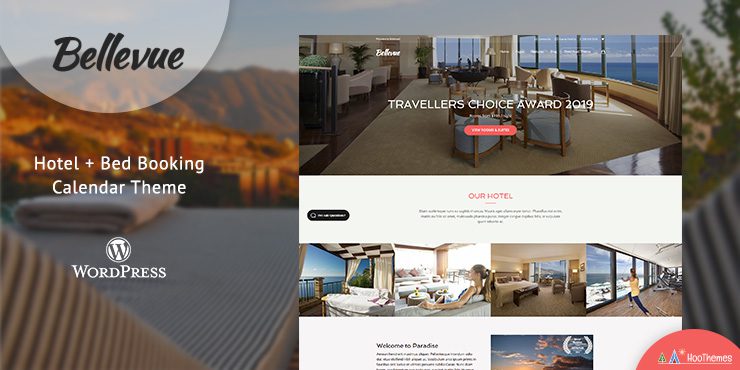 Source: Themeforest
Pros & Cons:
Pros
Cons

The Webpage Layout is Flexible
24/7 Customer Support
Easy Customization Possibilities

Too Many Features – Too Much of Tedious Work
Some of the key features of Bellevue:
Latest Version 3.1: Bellevue 3 is up with its latest version that offers a new apartment demo, new booking system, slider revolution, customizable headers, stylish mega menu, new design elements and layouts, etc.
Theme Customizer & Drag and Drop Builder: It is a one-stop solution for people having interest in renting guest houses, apartments, cabins, cottages, real estate, chalet, bed and breakfast, and other related services.
Power-pack WP: Including a bank of features like 50+ page templates, 48+ widgets, unlimited styles and design alternatives, more than 8 full demos, makes it a great choice for hospitality establishments.
With Airbnb themes like Bellevue, you can have hands-on various efficient features such as slider revolution, new booking system, customizable headers, updated style and design, unique user experience, unlimited design options for users who want to create a benchmark website.
#5 Panola: Resort and Hotel WordPress Theme
Panola WordPress theme is one of the most popular website templates available in the market. It is designed for bed and breakfast, accommodation, home-stay, and all types of rental businesses and related services. For creating a static online presence in the hospitality industry, Panola is the best suitable option for you because it has a unique design and easy layout.
In fact, it has many unique features for your website like testimonial options, blog section, room description page builder and various rental-related facilities. In a nutshell, this theme can be one of the great choices for designing your dream website online.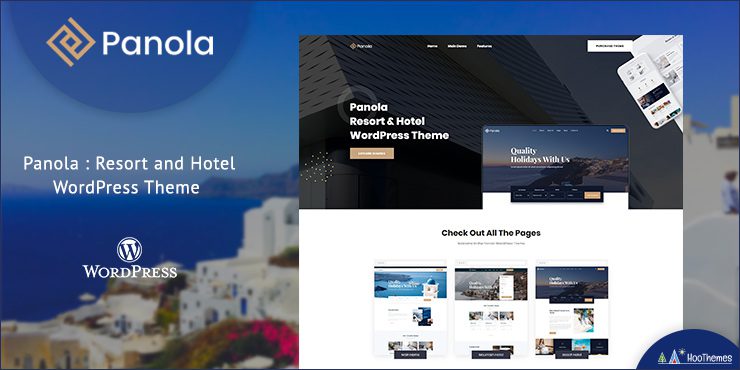 Source: Themeforest
Pros & Cons:
Pros
Cons

100% Mobile Responsive
Easy to Operate Design Layout

Not Gutenberg Optimized
Issue Face in Generating Support Ticket
Some of the key features of Panola:
Retina Ready & 100% Responsive: Using this WordPress template will enable a good looking website in any mobile devices. Makers of Panola made sure that it looks great on both retina screens as well as desktops.
Compatible with Contact Form 7: If you are looking for a WP template, which is compatible with one of the most strong and popular custom contact forms, Panola is your answer! It can create forms in simply a few seconds.
Strong Framework: As Panola is based on most in-demand, powerful Vafpress, and well-established theme options, it helps in making the creating process super fast and easy.
So if you are looking for releasing your company website online, then Panola is the right option. As it's a fully mobile and internet device responsive and retina ready that will help you achieve a great-looking website.
The Key Features:
Key Features

Airbnb WordPress Website

Luviana

LuxStay

Swing

Bellevue

Panola

Getwid Built

✔ 

All-Purpose Revolution Slider

✔ 

✔ 

✔ 

✔

✔

Custom Gutenberg Blocks

✔ 

✔

Social Media Responsive (Facebook, Instagram, Pinterest, YouTube, Twitter)

✔ 

✔ 

✔ 

✔ 

✔ 

Social Media Blocks

✔

✔

✔

✔

Visual Block Editor

✔

Unlimited Search Form

✔

✔ 

✔

✔

✔

Customized Color Styles/Scheme

✔

✔ 

✔ 

✔

✔

Integrated Online Booking System

✔

✔ 

✔ 

✔

✔

Offline & Online Payment Gateways/Modes

✔

✔

✔ 

✔

✔

Grid & List Room Layouts

✔

✔ 

✔ 

✔

✔

Detailed Accommodation Listing Directory Theme

✔

Full-Width Website Layouts

✔

✔

✔ 

✔

✔

Bed and Breakfast Theme

✔

✔ 

✔ 

✔

✔

High Resolution

✔

✔ 

✔ 

✔

✔

Widget Ready

✔

✔ 

✔ 

✔

✔

Visual Composer

✔

✔ 

Drag and Drop Page Builder

✔

✔ 

✔

✔

✔

Technical Coding

✔ 

Flexible Payment Methods (PayPal, Stripe)

✔

✔ 

✔ 

✔

✔

100% Responsive Design

✔

✔ 

✔ 

✔

✔

Search Engine Optimization

✔

✔ 

✔ 

✔

✔

Google Fonts

600+

1000+

600+

Column Layouts

1

4+

3+

4+

3

User-Friendly Interface

✔

✔ 

✔ 

✔

✔

WooCommerce Payment Gateway Extensions

✔

✔ 

✔ 

✔

100% Retina Ready

✔

✔ 

✔

✔

✔

Cross-Browser Compatible

✔

✔

✔

✔

✔

Video Slider

✔

✔

✔

✔

Customization Google Satellite Maps

✔

One-Click Installation

✔

✔

✔

✔

✔

Contact Form 7 & HTML5 Compatible

✔
So now it would be clear why Airbnb like websites are recognized in the market. These days, people are more inclined towards searching for home-stay or apartment rentals for their vacation because it is highly affordable as compared to hotels or resorts and also offers homely-feeling.
But what things should be considered before opting for a WordPress to take your business online?
Well, there is nothing to panic about!
Following the collection of stated guidelines before choosing a theme will help you make the right decision for your website design.
Buyer's Guidelines Before Choosing an Airbnb Like WP Theme:
Let's start the discussion!
Make a List of Features you Want in your Airbnb like Website: It is mandatory to decide which features to be added to your website before selecting your theme because accurate features will enable you to get a quick social media presence.
If you are confused about which theme to go for, the premium WordPress Features Filter makes it easier to customize your search for various themes available. Yet, it is important to have a design in mind because this way you can clutter down unnecessary features and only choose the correct ones like BnBs, apartment rentals, listing WP theme template, logo templates code, homepage layout tags, online booking system, flexible payment methods, etc. for your website.
Select a Fully-Responsive Website: These days, there is an increased trend of people using mobile devices or internet devices. This means your Airbnb like website design must be compatible with mobile, tablets, and other devices. Say, for example, a responsive theme would easily translate the image or size to a non-desktop device.
Hence, it is essential to choose a theme that consists of features like flexible image sliders, fluid listing site grid, widget ready, etc.
Choose a Web Design with Good Fonts: What can be a hassle in capturing your visitor's attention? Inaccurate font size is the culprit. With the help of accurate font size, your visitor can easily navigate your website. Making the website fonts readable and easy to use will increase the audience's presence.So before purchasing your theme, make sure to analyze the font size and readability from a visitor's point of view.
Look for Room Booking like Airbnb Website: When choosing a WordPress website theme, it can be tempting at first for features it offers to you but choosing unnecessary WP themes is not a great idea for your business. Hence, selecting a perfect room booking or apartment rental theme is important to generate income.
For example, if you want to create an accommodation or home-stay website theme, you might search for themes that include built-in availability calendar, online booking system, bnb design layout, and more.
Hence, the above-mentioned list of buyer's guidelines will offer clarity to choose a correct Airbnb like theme when purchasing a WP theme.
FAQ
1. How these Airbnb-like WP help me in growing my business?
Answer: Having an idea of renting your property online and using it as a means of earning income is a clever decision. 82% of people think that renting their property is a good money-making strategy. Many ways can help you grow your business strong:
Accommodate more number of people in your listing directory.
Hire a full-time management company if hosting if difficult from your end.
Use professional cleaning services.
Carter to family, friends, and solo travelers
Manage to offer a great user experience
---
2. Is there any ready-to-go WordPress template with a booking payment system like Airbnb?
Answer: Taking from Themeforest, Hotel Booking Lite to HBook WordPress themes can help you with a booking payment system like Airbnb. With the integration of WooCommerce, it enables you to have all of the payment options like PayPal, Stripe, and other related services.
Even you can offer users to select the option to book now and pay later by setting up custom fields in the form attached with special offers for attracting your audience.
---
3. Can we add a real-time calendar or event manager plugin in my WordPress template and it's steps?
Answer: Integration of a calendar or an event plugin helps to increase customer website user experience. If your clients are searching for a home-stay, simply by looking at the events calendar to see which dates are available can make their reservation.
Steps to add this plugin:
Log in to your WP website
Next, ↣ go to Plugins ↣ add new & search for the calendar
Click on install now and activate the plugin in your website
---
4. How much would it cost to create an apartment rental website?
Answer: Most of the apartment rental websites range between $99 to $300 monthly. And if you are planning one, it is advisable to choose a premium theme for experiencing 24/7 customer support, bank of useful features, and up-to-date website changes.
---
5. How much time will it take for my website to go live after purchasing the home rental WordPress?
Answer: Talking in general, a typical website takes a minimum of 14 weeks from the starting to the completion stage. The entire process is divided into four stages:
Minimum 3 weeks in the research
Minimum 6 weeks in designing the website
Minimum 3 weeks in the initial development
And 2 weeks in modifications from the client's end
---
6. Which are the best WordPress themes for an Airbnb like service website?
Answer: The list of B&B website themes is huge, yet with the help of the above-stated themes, you can choose one and make your ultimate web design solution. They are:
Luviana
LuxStay
Swing
Bellevue
Panola
The Final Verdict!
Choosing one of the best Airbnb like WordPress themes from the above-stated list will not only enable you to choose a high-quality home-stay theme but its numerous features will help you create a well-recognized website.
There are numerous WordPress theme options available for web designers and software developers for creating a good website. So, if you're planning to build your dream website of apartment or home rentals online, you'll find a suitable Airbnb clone website theme here!
Leave us a comment, contact us and share your views on how much this article was helpful to you!