Do you know what makes humans the most successful species on the planet? It is the ability to conserve and share knowledge.
Knowledge is not only useful to grow but to sustain growth too. Thus, if you want to grow and more importantly sustain the growth of your business, you need to have a knowledge base. As they say, satisfying your customers with the best support is equally (if not more) important for any business than bringing new customers on board.
After all, a PwC report shows that 32% of consumers leave their favorite brand after a single bad experience.
Don't worry! Your hard-earned customers are not going anywhere because HooThemes is here to help. We have compiled the 10 "best knowledge base software" to build your knowledge base right away!
And to help you pick the best knowledge base software, let's start sharing knowledge right from the base.
What is a Knowledge Base?
A knowledge base is a collection of published content for documenting, sharing, and managing information about a product, service, or topic. A conventional knowledge base includes sections, such as frequently asked questions, troubleshooting instructions, how-to guide, project plans, and standard operating procedures. It helps people to solve an issue by themselves.
A knowledge base is also known as the knowledge management system. And it can be used for both your customers and employees too. It is the most effective practice to enhance customer service.
Want to know how? Let's discuss a few of the benefits of knowledge management products.
Benefits of Knowledge Base Software
A knowledge base software has many direct as well as indirect benefits. It would take a whole another blog to mention and explain every benefit of having knowledge management software.
However, we have shed some light on the direct and instant benefits of having a knowledge base.
So, let's have a look.
Round the Clock Customer Support Solution: First and foremost, the 24/7 availability of customer service. Now, your customers do not have to wait for your business hours to get an answer. This comes most handy for your clients in a different time zone than yours.

Transparency & Accuracy of the Information: This way, your customer service does not have to rely on the communication skills of your support team members. Knowledge base articles can be written and proofread over and over to ensure the accuracy of the information. Moreover, the transparency wins your customers' trust.

Time Saver for Both Business Owners & Customers: Most of the customer queries are somewhat similar, and answering the same question separately to every customer is waste of time and resources. Knowledge base articles help you to satisfy far more customers in way less time. And on the other hand, customers do not have to wait for customer support agents to respond.

Extensive Source of Information: Knowledge base articles can cover a wide range of topics and provide all the alternate solutions for any problem. And features like 'related topics' provide customers all the necessary information under one roof.

Additional Attention from Search Engines: Search engines prefer FAQs and knowledge base articles as they are highly effective. Thus, your knowledge base increases your chance to rank on search engine results and brings you additional organic traffic.

Economical for any Enterprise: As a knowledge base automates customer service and promotes self-service, your business can save resources on the customer support department.
Aren't these benefits all you want? If you want knowledge management software that yields all the above benefits, it must have some basic features.
So, let's talk about those knowledge management features so that you know what to look for while picking a knowledge management tool for your enterprise.
Core Features of an Effective Knowledge Base Software
Knowledge base software comes with a variety of unique features, and trust us there are plenty of features to look out for. But, just like with everything else, a knowledge base software needs some fundamental help desk features to excel.
Some of these specs are necessities and some of them are just industry standards for knowledge management solutions.
So, let's have a quick look.
Search Feature: The search feature helps your customers to find the exact piece of information they want from the heaps of articles. Without it, customers will have to go through all of your content, and let's be honest, nobody has that much time.

Categorized Content: Categorized content makes your knowledge base software organized and sorted. Categorized content can lead customers to the solution they did not know they had. And an effective knowledge base software picks self-explanatory names for the categories.

File Attachments: An effective knowledge base software must have the file attachment feature to make the content more than just a volume of text. By adding videos, images, infographics, audio, and similar files, your online knowledge base content gets more interactive.

Multilingual Content: To satisfy customers from all over the world, a knowledge base software must have multilingual content. Providing customers with information in their local language encourages them to use the knowledge base software.

SEO Settings: SEO settings are a must for your knowledge base software to be effective. By tagging titles, target keywords, and meta descriptions, you help the search engine to spot your content. And the smaller rank you get in the search results, the easier it gets for your customers.

Easy-to-use Editor: To make your knowledge management software effective, you need to keep the knowledge base articles updated. Therefore, it must have an easy-to-use editor that helps you alter and edit the information.

Room for Customization: A knowledge base software that is not customized for your brand can sabotage your brand image. But, if it inherits your brand identity, it can add to the professionalism of your brand. Thus, to make the most out of your knowledge base software, it must be customizable.

Feedback Form: The best way to know what your customers want is to have it directly from the horse's mouth. Thus, a feedback form helps enhance your knowledge base and make it more effective by letting your customers share their experiences with you.

Reports & Analytics: In-depth reports and analytics help you understand customer behavior, the most common issue searched by customers, and the most useful article. This helps you to not just improve your knowledge base articles but your products and services as well.
10 Best Knowledge Base Software
#1 Document360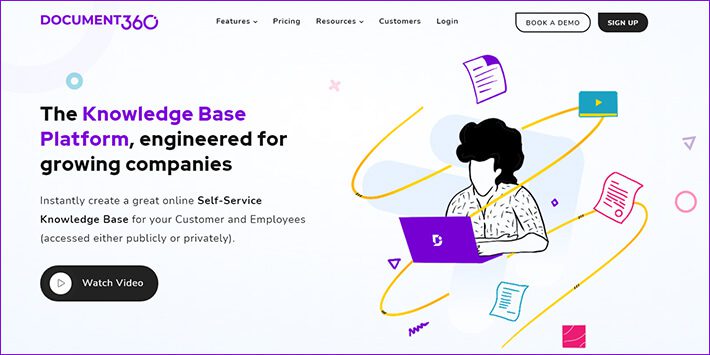 Source: Document360
Document360 is one of the simplest knowledge base software that helps to create well-organized knowledge management systems. This knowledge base tool has proven its reliability and integrity since tech giants such as Microsoft and Stackify trust it.
Document360 lets you create knowledge base articles for your customers and employees too. With this software, knowledge management, sections such as FAQ, user manuals, and technical documentation are easy to add. It provides the content producers with an advanced knowledge base portal that allows your content to be categorized up to 6 category levels.
Not only that, you can easily move around and place those groups wherever you want with simple drag and drop functionality. This help desk software comes with detailed and accurate analytics that help you figure out the strengths and weaknesses of your content by reports, such as read knowledge base article, least read article, most useful article, and customer behavior. This helps you to enhance the user experience.
Key Features:
Markdown & WYSIWYG Editors: Markdown text editor and WYSIWYG editors let you edit your content in the easiest way possible. And the fact that you get to choose the editor you prefer is a big advantage. If you are not tech-savvy, you can rely on the WYSIWYG editor. With this editor, you will feel as if you are writing a Word-like document.

Versioning & Rollbacks: The Document360 knowledge management software allows you to see the earlier version of the article. If you happen to overwrite content or delete a piece of important information from an article, you can anytime look up the history of the article and rollback the earlier version of the same.
Core Features:
Easy Customization
Intelligent Search
Google Analytics
Chatbot
Public Or Private Knowledge Base
Data Security
Landing Page
Pros & Cons:
Pros

Cons

Well-Categorized Documentation
API Access
---
#2 The Cloud Tutorial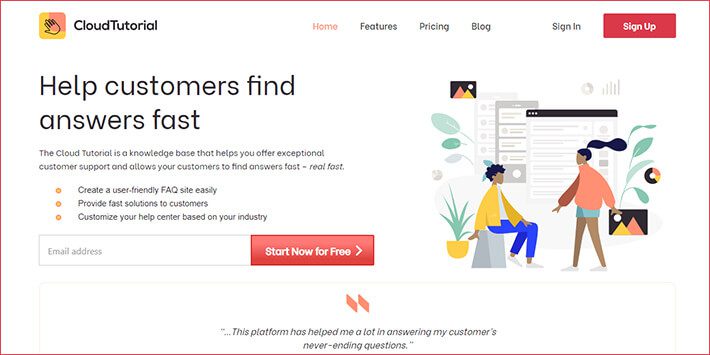 Source: The Cloud Tutorial
If you are looking for a simple, quick, and easy-to-use knowledge base software, The Cloud Tutorial is the perfect choice for you. It is best known for its blazingly fast response for providing the answers and customer data security.
With the most advanced features, 'The Cloud Tutorial' knowledge management software gives your customer service an extra edge that customers would appreciate the most. Right from startups to global brands, this —best of all knowledge bases delivers a seamless customer care experience.
The Cloud Tutorial knowledge management software gives you full control over customizing the knowledge base. You can change the color scheme, background, logo, and every minute aspect of your knowledge base to match your brand. This makes your knowledge base an integral part of your professional website. Moreover, you get amazing themes perfect for showcasing your team members. Thus, not only it helps your users but establishes your brand too.
Other than that, TCT allows you to assign multiple roles to your team members. For example, the content producer for one project can be assigned the role of project lead for another project too. This feature makes it the most practical and efficient knowledge management solution and that too at an affordable price.
And the best part of all, it starts at free. You can sign up for free and this could be the best purchase decision you ever made.
Key Features:
White Label: You can make it all yours by renaming 'The Cloud Tutorial' branding. It lets you remove all the TCT branding and you can upload your custom logo to make it professional. And all this can be done just with a few clicks.

Domain Of Your Choice: The Cloud Tutorial offers you to name your knowledge base website whatever you want. Therefore, you do not have to deal with unnecessarily-longer and hard-to-remember domain names.

Article Access Control: The TCT knowledge management tool lets you pick who can access what. By limiting access to confidential company data, you can rest assured about data privacy.
Core Features:
Fully Customizable
Team Members
Easy HTML/CSS Tweaking
Smart Contact Form
Hosting For Your Website
Multiple Roles
Typo Detection
Well-Designed FAQ Page
Pros & Cons:
Pros

Cons

Easy Import Files B/w Categories
Data-Driven Insights
Multiple Theme Options
---
#3 Helpjuice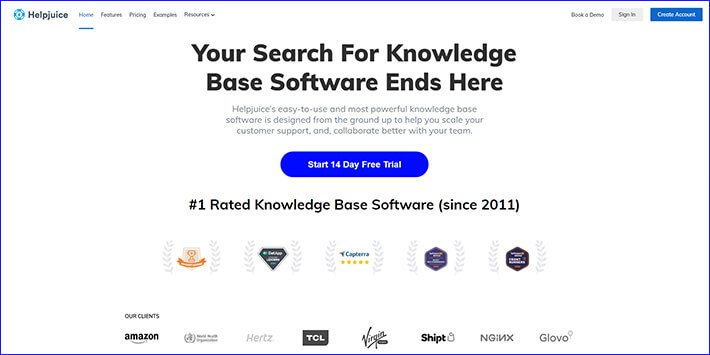 Source: Helpjuice
Helpjuice has made the list of best knowledge management software because it has all the essentials to yield the top-notch quality of customer service. It is super easy to manage huge bulks of content and business knowledge information for your knowledge base system.
This self-service knowledge base features amazing third-party integrations, such as with Slack and Google Chrome. These third-party integrations bring in many features, like AI, live chat, real-time auto message setup.
The Helpjuice content management tool drastically reduces the support tickets by providing the best self-service portal. Working with this knowledge base cms is very simple as it comes with an easy front-end user interface. With complete control over the accessibility of the articles, you can create an internal and external knowledge base at the same time.
Moreover, the Helpjuice knowledge management solution can be hosted on your server as well. And last but not the least, users can rate your article for its usefulness too.
Key Features:
Google-like Search: Helpjuice knowledge base platform features an internal search box function that works as well as Google. Your users do not have to go through any irrelevant information just to find the answers they want.

Multiple Layouts: This knowledge management software offers your multiple themes to choose from. These themes can save a lot of your time as they are perfectly designed by professionals.

Publish Multiple Versions: Helpjuice may also work as a content management system as it can manage multiple versions of the same article and allows you to use them all according to your business needs. And that too in the same editor.
Core Features:
Support For Many Login Setups
Article Approval
Free 24h Migration From Any Platform
Slackbot Integration
Pixel Perfect Customization
Support For 130+ Languages
Related Articles
Pros & Cons:
Pros

Cons

Limitless Authoring & Content Formatting
SEO Ready
---
#4 Zendesk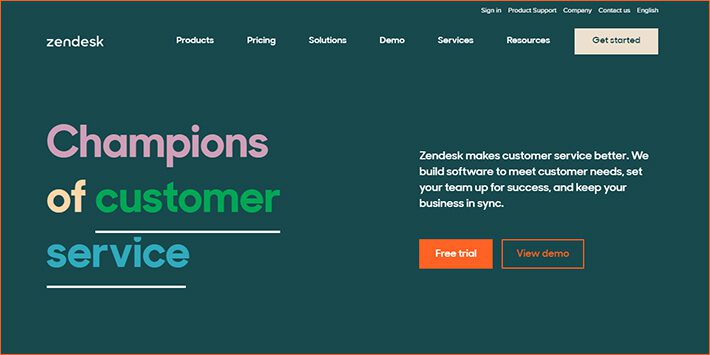 Source: Zendesk
Zendesk is an all-in-one knowledge management software. It can manage all the customer support tasks. As it comes with an AI-powered answer bot, it can offer live chat and a real-time online help desk for your business. This ranks amongst the top knowledge base tools when it comes to the use of AI.
Other than that, it comes with more than 500 third-party apps and integrations including other Zendesk tools. Moreover, it does not limit your knowledge base content. That's why big corporations prefer to create knowledge base systems with Zendesk.
Zendesk can create the most practical internal knowledge base for any department, such as the HR team, admin team, accounts team, marketing team, operation team, or customer service team. With the custom request forms, this customer support software takes your services one step ahead and gathers customer data too. This help center software extends your reach to help users on multiple channels including social media.
And the best part is, it allows you to import articles from Google docs.
Key Features:
Support Tickets: The Zendesk customer support system not only lets you create knowledge bases but also helps you manage customer support tickets. For example, it helps Veeva to manage a whooping 37k customer support tickets every month.

Excellent User Interface: Zendesk assists in help center creation with an excellent user interface. It helps you design the user interface that makes it easy for your users to interact with the knowledge base and find answers effortlessly.

Automation & Tracking: One of the most exciting features of the Zendesk guide is the automation and tracking of the tickets. It tracks all the tickets and the issues users want to read about and suggests you create content regarding those topics.
Core Features:
Import Articles From Google Docs
AI-powered Answer Bot
Unlimited Capacity
Custom Request Forms
500+ Apps & Integrations
Customer Support On Multiple Channels
Advanced Tools
Pros & Cons:
Pros

Cons

Multilingual Content
All-in-one Knowledge management Software

Needs Training To Get Start
---
#5 LiveAgent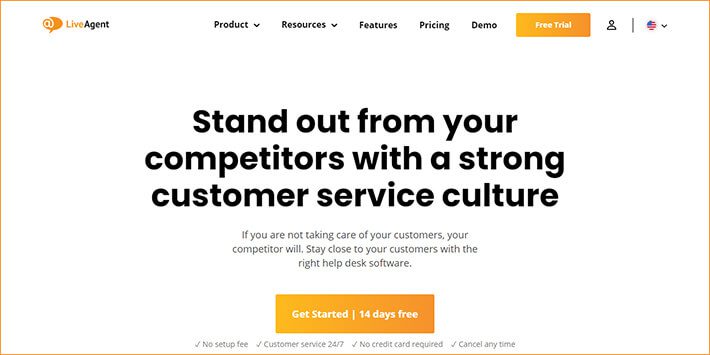 Source: LiveAgent
LiveAgent stands with the best knowledge management software. It is one of the easiest to customize knowledge base software. It can easily create single and multiple knowledge bases. And each of those knowledge bases can be unique.
One of the reasons for the success of this knowledge management solution is the availability of feedback buttons and forums. Although it provides you with precise analytic reports, the best way to know what customers want is by allowing them to submit their feedback. And LiveAgent assists in getting that valuable feedback.
This Knowledge base system lets you handle multiple documents and post formats easily. With this software, you can create stunning knowledge bases including FAQ sections.
The part where it leads the niche is the gamification features. LiveAgent gamifies the help center creation by integrating more than 40 third-party apps. And with more than 179 help desk functionalities, it helps you create an outstanding knowledge base. Moreover, you get a dedicated customer support team from LiveAgent to troubleshoot your issues.
Key Features:
Hybrid Ticket Streams: This feature allows you to keep up with the customer tickets on various channels through the same hybrid ticket. This clears out a lot of clutter and simplifies your task to a great extent.

Time Tracking: With the LiveAgent software, you can also track the time spent by the service agents on resolving a ticket, which enhances the performance of your customer service.

Powerful WYSIWYG Editor: With the built-in powerful editor, you can effortlessly change and customize the knowledge bases. It lets you tweak colors, background, logo, and every corner visually. No need to play with codes to customize your knowledge base.
Core Features:
40+ Third-Party Apps Integrated
Feedback Buttons
Built-in Call Center
Gamification Features
14-Day Trial
Easy Customization
Easy Tracking Codes Integration
Powerful Search Function
Pros & Cons:
Pros

Cons

Competitive Pricing
Dedicated Customer Support Team
---
#6 Servicenow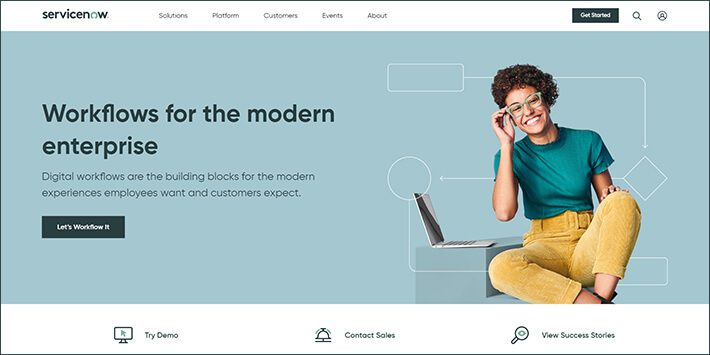 Source: Servicenow
Servicenow is a complete package. This cloud-based knowledge base software not only creates effective knowledge bases for your companies but also helps with workflows and an all-in-one customer service solution. Whether you want to create internal customer-facing or knowledge bases, Servicenow is the apt solution for you.
With so many features such as advanced search functionality with multiple sorting and filtering, service catalog, and knowledge base subscription, it boosts customer experience to a whole new level. With this cloud knowledge base, knowledge management gets quite easy for all small businesses that do not want to spend more than required on help desks.
This web-based knowledge base software offers workflows, virtual agents, FAQs, live chat, user guides, and forums in one place. Speaking of forums, It lets you create and maintain community forums where customers can participate and add to the conversations. This helps to build a community that can bring in many innovative solutions and answers to a problem. It also establishes trust amongst customers and encourages customer loyalty.
Key Features:
Machine Learning: With machine learning included in this online knowledge base software, knowledge sharing is made easier than ever. It brings in the latest advancement in technology and utilizes them for the best outcome.

Service Portal: The service portal brings access to the top-notch customer services, tickets, and knowledge bases in one place and helps users to solve their issues quickly.

Contextual Search: When you have a large volume of content, you need a search function that helps users to find answers understanding the context of the query. This saves time for users and adds to the usefulness of your knowledge base.
Core Features:
Multiple Filtering & Sorting
Knowledge Articles/ Knowledge Bases Subscription
SEO Friendly
Virtual Support Agent
Online Communities
Service Catalog
Authoring With Microsoft Word Online
Pros & Cons:
Pros

Cons

Visual Workflow
Knowledge Demand Insights

Too Advanced For Small Businesses
---
#7 ProProfs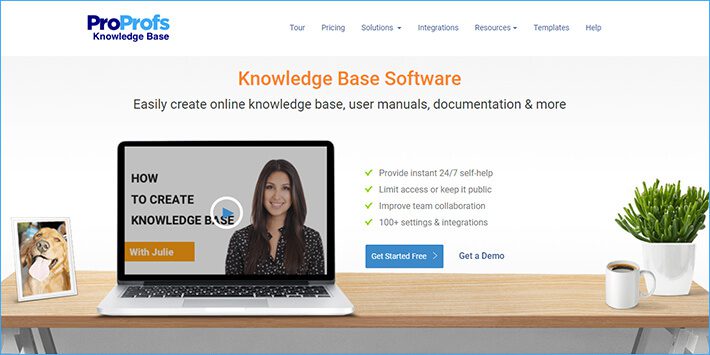 Source: ProProfs
ProProfs knowledge base software is quite simple. Anybody with or without coding skills can use ProProfs to create knowledge bases. This self-help support software is full of smart features that make it easy-to-use and powerful at the same time.
You can either start creating your knowledge base from scratch or can choose any of the more than twenty-five ready-to-use templates. You can customize logos, fonts, and colors to match your brand which helps you to create customer support systems of any shape and size.
One of the areas where it leads other knowledge base solutions is the 24/7 technical support. You can resolve your issues anytime with the help of a dedicated support team available on the phone, chat, and email. Other than that, you can easily edit the CSS and HTML to bring out a creative design for your self-service portals.
Key Features:
Touch-friendly: The ProProfs knowledge base software creates a fully touch-friendly knowledge base. Your knowledge base will be running smoothly on smartphones and tablets too. Thus, your users can browse it by swiping and tapping.

MS Word Like Text Editor: The ProProfs features a simple to use text-editor which is quite similar to MS Word. If you have ever worked on MS Word documents, it will be intuitive to you. And not only creating but publishing the knowledge base documents is made simple too.

Grant And Revoke Permissions: If you want to work in a team, the ProProfs knowledge base software is the best for you. This lets you invite people in the project and lets you grant & revoke roles & permissions to your customer service team member anytime.
Core Features:
100+ Settings & Integrations
25+ Ready-to-Use Templates
Create & Publish Content Instantly
Collaborate With Teams
Daily Local & Remote Backup
Edit CSS & HTML
600+ Fonts & Themes
Pros & Cons:
Pros

Cons

24/7 Chat, Email & Phone Support
No Coding, Maintenance, Or Hosting Fee

Text Editor Might Feel Outdated
---
#8 HelpCrunch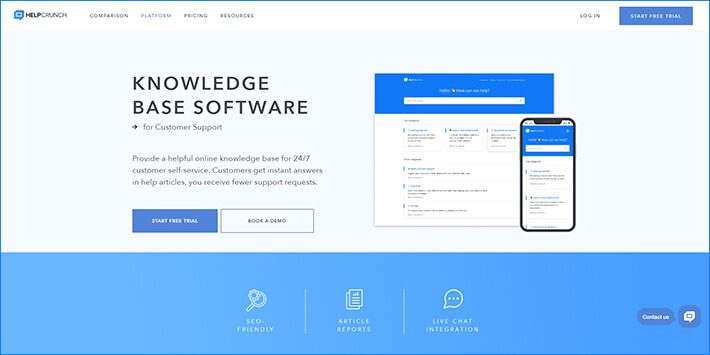 Source: HelpCrunch
HelpCrunch is the definition of simple and modern knowledge base software. Half of the battle is already won when your customer sees the clean and intuitive design. It assists you to design as effective knowledge base systems as possible. Right from FAQs, Wiki, Forums, Forms, Articles to infographics, it lets you set up everything required to mark your customer service —the best.
You can categorize and group articles on multiple levels and based on custom criteria. This leads customers to find answers quickly and easily. Also, you can achieve the design goals you had in mind with the WYSIWYG text editor. It lets your imagination be the driver and backs you with instant previews. And the ability to customize lets you make it a part of your brand.
And the most exciting feature of this software is the multi-language content. You can now create your knowledge base in any language that you prefer. This makes your content reach worldwide.
Key Features:
Failed Searches: With the advanced GA integration, you can analyze search terms that showed no results and know the content gap. This helps you plan the new content and also helps you enhance your knowledge base and product as well.

Live Chat Widget: Now, your customers do not even have to leave the chat-box to find relevant answers. They can ask for help in the chat and solutions are directly provided to them without wasting a second.

Customizable SEO Settings: Want your articles to rank in the first position on search engines? The HelpCrunch helps you exactly with that. It allows you to manually tweak the SEO settings of every article separately. Thus, you can change the title tag, meta descriptions, and target keywords for your article easily.
Core Features:
Appearance Customization
Multi-language Help Content
Search Engine Indexing
Instant Previews
Custom Links
Custom Domain
Pros & Cons:
Pros

Cons

Affordable Knowledge Management Software
No HTML Or Coding Skills Required

No Role-based Access Control
---
#9 Freshdesk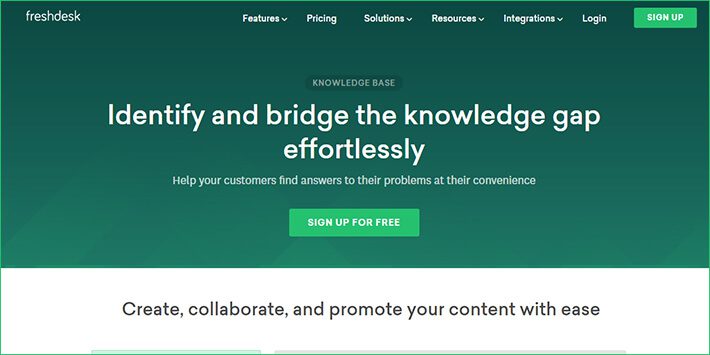 Source: Freshdesk
Freshdesk is a product offered by Freshworks. And to avail of this knowledge management software, you have to buy the ticketing system. As it inherits the trust and integrity of Freshworks, this knowledge base application is trusted by many elite business companies, such as Panasonic, HP, and Decathlon. It brings all the features necessary to create the knowledge base of the highest efficiency.
The best part of this support tool is the video library. It helps you to add videos that are more engaging and explanatory than text. And not only videos but you can add images or attach files to make your content more effective. On top of that, the article templates designed by professionals save a lot of your time and get a perfect knowledge base ready for you in moments.
Key Features:
Custom Reports: The Freshdesk knowledge base tool provides you with custom reports that can be more applicable to your business than conventional reports. This way you can better analyze your knowledge base and update it for positive responses.

Approval Workflow: The simple and practical approval workflow lets your knowledge base articles be proofread by experts and add credibility to the content. You can review the article within the knowledge base and get instant updates about the status.

Two Pane View: Jumping from one category to another can become quite hectic for the website visitors, and thus, it features a two-pane view where you can shuffle between categories and articles with a few clicks.
Core Features:
Built-in Ticketing System
Team-inbox
Video Library
Multi-Product Content
Article Templates
Article Versioning
Bulk Actions
Pros & Cons:
Pros

Cons

Fast Navigation
User-friendly Text Editor

Limited Options For Customization
---
#10 Confluence

Source: Confluence
After designing Jira —the best issue tracking software, Atlassian has offered another product Confluence. Confluence is an excellent knowledge database software that can be best for designing an internal knowledge platform with ease. This does not require any level of expertise.
The intuitive and simple customizer lets you design every aspect of your customer portals one by one and in chunks that you can handle.
Key Features:
Jira integration: With the Jira integration, Confluence lets you design your knowledge base with the help of intelligent recommendations and resources. This further helps you to track every issue and documentation.

Page Tree: With a proper hierarchy, label, and advanced search box, your knowledge base gets much more accessible. Now, you customers can effortlessly find the solutions even when they do not know the exact problem.
Core Features:
Commenting
Notifications
Announcements And Blogs
Atlassian Access
Document Management
Home & Personalized Feed
Privacy, Encryption & Compliance
Pros & Cons:
Pros

Cons

Dynamic Content
Real-time Editing

Limited Customization Options Compared To WordPress
FAQ
1. What is a knowledge base software?
A knowledge base software is a tool used for building, customizing, updating, or accessing, a knowledge base of a company. A knowledge base software makes all the mentioned tasks simple and quick.
---
2. Which is the best knowledge base software?
The best knowledge software is highly subjective, it depends on the business and the purpose of the knowledge base. However, the following are some of the top knowledge management solutions:
The Cloud Tutorial
Document360
Helpjuice
Zendesk
LiveAgent
---
3. What companies use knowledge management systems?
Knowledge management systems can be used by a company that sells products or services of any sort, have to maintain standard procedures, or have to define terms & policies, which makes almost every company.
---
4. What are the four components of knowledge management?
The four components of knowledge management are:
Audience
Content
Channel of Consuming
Content Creator
---
5. What should be included in a knowledge base?
To be effective and efficient every knowledge base should include the following elements:
Searchable content
Easy editor
Categories
Readable fonts
---
6. What are the two major types of knowledge management systems?
The two major types of knowledge management systems are:
Enterprise-wide Knowledge Management System
Knowledge Work System
---
7. How do I choose knowledge management software?
Before picking a knowledge management software for your business, you need to pay attention to the:
Search function effectiveness
Data security
Post formats supported
User feedback options
Availability of AI bots
Ease-of-use of the content editor
---
8. What is the purpose of knowledge management?
The purpose of knowledge management is to preserve, enhance, and share information, ideas, and experiences.
Conclusion
Whether small, medium or large scale, every company should focus on improving their customer service equally as they need to focus on sales. And in this era of global competition, it is more important than ever.
Therefore, we have guided you with the 10 best knowledge base software and what your knowledge management portal should look like.
So, what are you waiting for? Just grab the right one for you and get started right now!