Having a tough time achieving your customer service goals?
Well, say goodbye to mundane tasks & repeating the same answers over and over.
Because HooThemes has brought you the 10 best knowledge management systems for your business.
Knowledge bases relieve you from manning the help-desk 24/7 and spending a fortune on repetitive tasks. It is not only capable of handling customer support but in most cases, does it better than it can ever be done manually.
And that's why 91% of customers would prefer to use a knowledge base if built right, over phone calls and email.
Therefore, the KMS that we are going to discuss today will help you create a perfect knowledge base right away.
But, instead of diving right in, let's define what KMS actually are and how they are going to help your business.
What are Knowledge Management Systems (KMS)?
Knowledge management systems are the tools used by companies to document, organize, and share information like product information, pre & post-purchase queries, standard operating procedures, terms & conditions, and policies.
They are also known as knowledge base software, knowledge management software, and knowledge management tools.
The knowledge management system makes the information accessible in different forms, such as faq, knowledge base articles, forums, live-chat, and wiki pages. These KMS features help companies to enhance customer satisfaction by providing self-service customer support.
A KMS has many benefits to offer. These benefits can change the overall efficiency of your company.
Want to know more about the benefits?
Just keep reading.
Benefits of Knowledge Management Systems
It is not surprising that more and more companies are using KMS to uplift customer service as it creates a win-win situation for customers and employees, and eventually the enterprise.
So, let's discuss the direct benefits of knowledge management systems.
Quicker Customer Support: The biggest benefit of using a knowledge base platform is to provide customer self-service. The self-service knowledge base has been proved to be the most efficient customer service. The users can easily find the solution without waiting for a customer service executive to respond.

This easy access to information is highly appreciated by the customers. Especially the customers from a different time zone.

Centralization of Information: The KMS brings all the information under one roof. The users don't have to contact different customer support team members as one person can not be an expert in all the departments. But, by using a knowledge base software, companies can provide all the relative information regarding an issue in a single knowledge base article.
Organized & Well-maintained Knowledge: By using a KMS, you can organize and maintain the knowledge base content in various categories for easy understanding and access. It helps to declutter the heap of information and the search functionality keeps them on the tip of your fingers.
Easy Customization of Knowledge Base: The knowledge management software helps make your knowledge base a part of your brand by customizing the color schemes, logo, and themes. You can also choose from a wide range of fonts to make your information easily readable.
Boosts Productivity: This KMS automates the customer service department by providing the self-service portal. This way, the support team does not have to address similar issues repeatedly. And far more tickets can be processed simultaneously. This allows time for your team to focus on improving the products/services.
Provides Accuracy & Transparency: If you use a KMS, you do not have to rely on communication skills and technical understanding on a particular topic of the support team member. With the KMS, you can proofread the information multiple times and update it effortlessly to be accurate and precise.

Moreover, it adds to the transparency too. You do not have to invest any more in customer support surveillance. This transparency wins the trust of customers and employees too.

Multiple Post Formats: A KMS lets you post multiple file formats, such as videos, images, gifs, icons, PDFs, and even emojis effortlessly. This makes your knowledge base interactive and engaging. And posts like infographics make it a lot easier to grasp a concept than the conventional text.
Aren't these benefits lucrative?
We hope that was enough to convince you to start using knowledge management software right now. And if you're still on the fence, the following top ten KMS with their features will surely get you going.
So, let's jump right in.
10 Best Knowledge Management Systems & Solutions
#1 Document360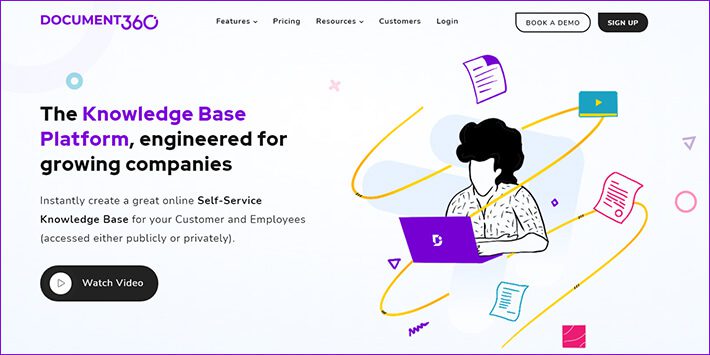 Source: Document360
Documet360 is amongst the top-notch knowledge management software. It has all the industry-standard features and functionality, which makes your knowledge base effective. Since this KMS is available in a variety of planes of every budget, right from multinational companies to small startups can utilize it.
The Document360 cloud-based knowledge management system comes with the version control functionality. It keeps track of all the previous versions of articles and you can anytime switch to any of the versions with just a click. This means you'll never lose any piece of information by mistake.
This knowledge management solution comes with a wide room open for customization. You can pick the color schemes, upload custom logos, backgrounds, and whatnot. This software can inherit the properties of your official website so that your users don't have to get used to a different user interface.
Key Features
MarkDown Editor: MarkDown editor is one of the simplest editors. With this editor, you can change everything from colors to fonts and logos. It helps you make your knowledge base an intricate part of your brand. And the key part is quick.
Context-Aware Help: With URL mapping, this knowledge management software helps users to get results with the context-aware search. It is super efficient to serve your users with the right information every time they search for anything.
Categorization: The Document360 knowledge base software comes with a powerful category manager that can handle multiple levels of categories. It comes the handiest in keeping your knowledge base organized and accessible.
Core Features
Cloud-Based Drive
Commenting
Document Management
Multiple Knowledge Base
Review Reminders
Version Control
Multiple Dashboards
Pros & Cons:
Pros
Cons

Custom Links
Access Anywhere
---
#2 The Cloud Tutorial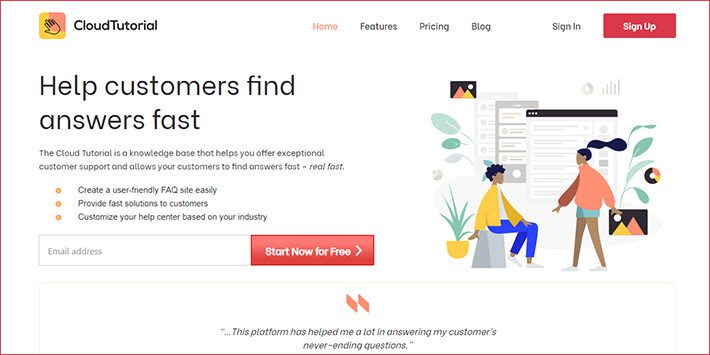 Source: The Cloud Tutorial
The Cloud Tutorial is the top knowledge management software if you want a fully customized knowledge base. This software helps you to get the design and functionality you desire. And above all, it is amongst the most easy-to-use KMS. It comes with a variety of features that make it a perfect solution for large, medium, or small scale businesses.
If you want to create an extensive knowledge base it will help you to define as many categories and subcategories as you want. Furthermore, it allows you to import files from one category to another effortlessly. This makes managing and organizing the knowledge base as simple as it could be.
And as mentioned earlier, you can customize every corner of your knowledge base with real-time previews to keep it in the theme of your brand. Speaking of brand, The Cloud Tutorial comes with the white label functionality. This simply means you can remove every logo or name of the TCT and place your logo and brand name.
Moreover, this excellent knowledge management software is a perfect solution for making customer-facing or private knowledge bases. This KMS lets you define multiple roles to the same user at a time. Additionally, you can limit access to knowledge articles and protect the classified information.
And the best part of working with TCT is that it also offers a free version. It lets you work with 25 knowledge articles, for free, and for the gold version having a monthly subscription price of only $99.99 per month, you can work with ten thousand articles and twenty-five sites.
Key Features
Custom FAQ Page: The TCT knowledge base software lets you design custom FAQ pages with total control on styling, no of questions per page, categories, and whatnot. This makes your knowledge base as unique as your brand.
Data Segregation: Data segregation helps you to break your knowledge base into smaller and articles which further divide into sections and categories. This helps in better navigation, searchability, and understanding one concept at a time.
Typo Detection: Typo detection is the feature that takes note of typos such as spelling mistakes and does not let them affect the SEO rankings. So, even if you miss-spelled a keyword, search engines will neglect it and show your page in the results.
Core Features
Simple Navigation
SSL Support
Multiple Roles
Easily Customization
White Label
Import Files In-between Categories
Custom Domain
In-depth Reports
Pros & Cons:
Pros
Cons

Smart Contact Form
Highly User Friendly
SEO Friendly
---
#3 Zendesk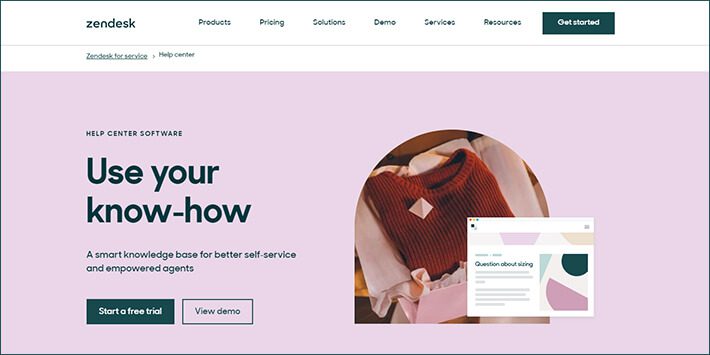 Source: Zendesk
Zendesk is a veteran of the knowledge base software. It has been in service for a long and has established a strong trust amongst its users. It is best used for help centers and community forms. It can contain limitless open foams that can create a sense of community and bring in out of the box solutions for unique problems.
The strongest point of this knowledge base tool is the AI-powered answer bot. Zendesk helps customers to get answers 24/7 without contacting any customer service team personnel. And as it uses AI, it can detect the context of the query and provide the appropriate information to the customers.
Moreover, the Zendesk KMS lets you track the key tasks, which is too time-consuming if done manually. And this KMS comes with its own ticketing system. Thus, you do not have to rely on any third party ticketing software.
Key Features
Built-in CRM: Additional to the customer support services, the Zendesk knowledge base software includes a built-in CRM (Customer Relationship Management), which helps a lot in satisfying customers.
Omnichannel Dashboard: If you choose to work with Zendesk, you can manage your customer services on all the channels, such as social media, phone, messages, and email, via a single dashboard. It sorts out the tracking of a ticket and makes your job easier.
Unlimited Capacity: Zendesk lets you post unlimited knowledge base articles and still function smoothly. It is a boon for large corporations with tons of information to store.
Core Features
Automating Tasks
Tracking Key Tasks
Better User Interface
Ticketing System
Community Forum
AI-Powered Answer Bot
Content History
Pros & Cons:
Pros
Cons

REST API & Open API Supported
Article Import From Google Doc
---
#4 Helpjuice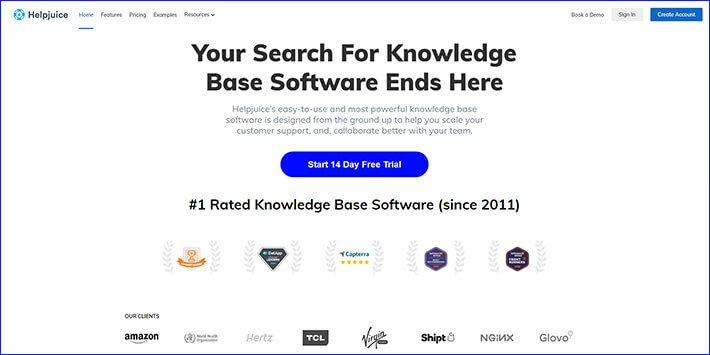 Source: Helpjuice
Helpjuice is a modern and feature-rich knowledge base software. If you have a large team, this KMS is perfect for you. It enables multiple authors to work on a particular article without disturbing each other. This is possible because of the robust editor that it offers. This editor is intuitive yet powerful.
This easy to use customer support software comes with customizable themes that help you create your knowledge base site within a few minutes. Using real-time reviews, you can effortlessly tweak colors, background, fonts, and layout to match your branding. In addition to that, it requires no training to get started with this knowledge base system.
Moreover, the Helpjuice KMS lets your customers open every question and rate its usability individually. This certifies the content quality and gains the trust of other customers to rely on the information. Other than that, it comes with multi-language support. Thus, your content can reach customers in their local languages.
Key Features
Third-party Integrations: Helpjuice comes with much third-party integration, which increases its functionalities and reach. These integrations include some of the prominent tools, such as Zendesk, Slack, and SalesForce.
Easy Authoring & Content Management Tools: The powerful editor panel grants you access to unlimited formatting of texts, videos, and images without any previous training. This makes your job quicker and a lot easier.
'Google-like' Search Feature: This KMS comes with a google-like search that works fluidly. It comes up with instant suggestions and can even search PDFs and content within images.
Core Features
Robust Editor
Easy-to-use
Customizable Themes
Permissions Control
Individual Rating System For Each Question
Multi-Language Support
Pros & Cons:
Pros
Cons

No Training Required
Rich Appearance
---
#5 Service Hub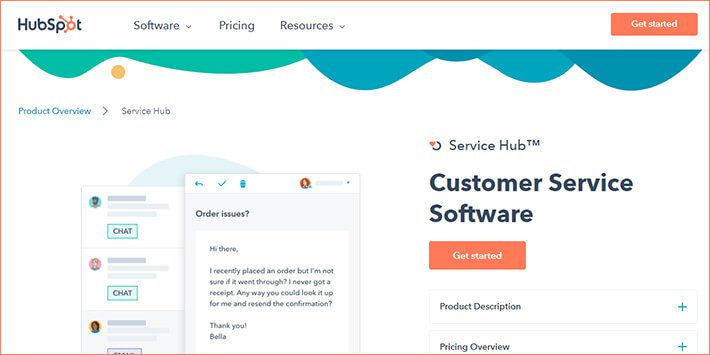 Source: Service Hub
Service Hub is a knowledge base system powered by the well-known HubSpot. This KMS has a lot to offer to all companies of every line of business. Especially, it's a perfect knowledge base solution for large scale businesses who want to create both internal and external knowledge bases. This tool comes with an intuitive UI that any beginner can easily interact with. And as it is multilingual, you can work with the language you are comfortable in.
This KMS is easily customizable and you can design it from scratch to create a unique knowledge base design. Other than that, the Service Hub comes with a built-in CRM which helps to strengthen customer relationships efficiently. Thus, this is an all-in-one KMS that adds value to your customer services.
Moreover, with this KMS it is easy to create knowledge base content and let your customers help themselves. And the easily navigable user experience makes it a pleasant experience for customers and employees to gather the information.
Key Features
Feedback Surveys: This KMS provides you with detailed feedback surveys. This helps you to make data-driven decisions to enhance the useability and quality of content. Furthermore, it can also spot content gaps.
HubSpot Conversations Integration: With the HubSpot Conversion integration, your knowledge base is equipped with a live chat. This feature helps customers to clear doubts and queries of any sort and even find any relevant knowledge article.
Team Email: The team email makes your teamwork in perfect harmony. It automatically converts incoming emails into tickets and diverts them to the team members and keeps a balanced workload between each member. Moreover, it can also route those emails directly to the conversation dashboard.
Core Features
Powerful Analytics
Help Desk Automation
In-built CRM
Intuitive UI
Easy Customization
Translation-friendly
Pros & Cons:
Pros
Cons

All-in-one Platform
Best For Large Enterprises
---
#6 Zoho Wiki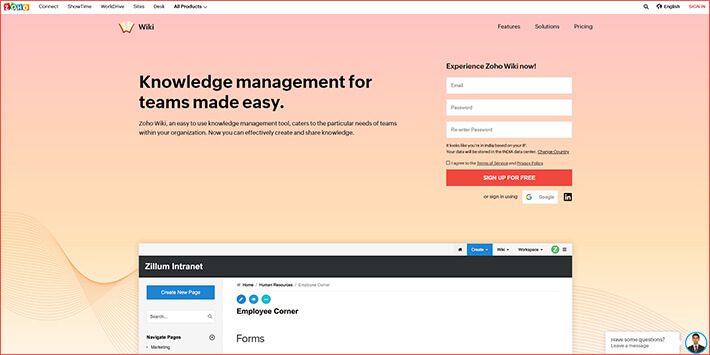 Source: Zoho Wiki
Zoho Wiki is cloud-based customer service software that works smoothly on Windows, Mac, or web-based devices. This KMS brings all the knowledge base niche-specific features and can help you create a knowledge base in just a few clicks. It is a perfect KMS for large corporations, small businesses, medium businesses, startups, and even freelancers. For customer support, it offers tickets, phone, email, and training too.
This KMS comes with agent productivity, which encourages your team members to work more efficiently. It provides your users to connect with your customer relations team members through VoIP and social media. It brings all the Zoho products integration with it, such as Zoho Desk. Thus, you can create a basic knowledge base according to your requirements.
The Zoho Wiki lets you create three distinct wikis with custom domain names and unlimited pages in them. And to create such comprehensive knowledge bases, it features smooth collaboration and role assignment.
Key Features
Simple Content Management System: If you want to easily create different types of content for your knowledge base, this Wiki software is perfect for you. It lets you handle different file formats to make your knowledge base interactive and comprehensive.
User Permission Controls: The user permission control helps you assign or revoke permits to access certain information. This comes in handy to handle private knowledge bases or limit access to subscribers only.
Social Support Software: Zoho Wiki lets your customers be marketers by allowing them to share knowledge base articles on their social media. Moreover, users can now seek customer care on social media channels as well.
Core Features
Company-wide Collaboration
Help Desk Essentials
Contact Center Software
Customer Forums
Agent Productivity
Branding Control
Pros & Cons:
Pros
Cons

Categorized Content
Perfect For A Startup Enterprise
---
#7 Lessonly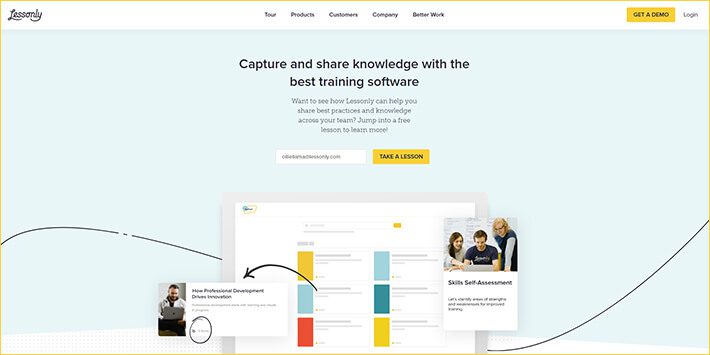 Source: Lessonly
Lessonly is one software exclusively designed to build private knowledge bases. This knowledge sharing solution focuses on empowering employees with training programs and courses. The Lessonly knowledge base system enhances your support team members' skills, such as resolving tickets, live chat support, and working efficiently in a team.
One of the unique things about Lessonly is that you do not have to pay an extra price for irrelevant features. They price their services according to your requirements such as the number of users and the tools you want to include in your package.
Key Features
Stats & Reports: This knowledge base provides you with precise stats and reports that help you find out the strengths and weaknesses of your knowledge base. It points out the most useful knowledge base articles as well as content gaps if there are any.
Course Builder: Lessonly KMS comes with an easy-to-use course builder, which can be used by beginners without any formal training. These courses make learning enjoyable and easy to fathom. It gamifies the learning process and hence encourages employees to enhance their skills.
Core Features
Audit Content Tagging
Grade Lessons
Optimize Curriculum
On-site Workshops
Optimize Lessonly Usage
Role-Specific Training
Practice Scenarios
Pros & Cons:
Pros
Cons

Simple Dashboard
Third-Party Integration

Not For External Knowledge Bases
---
#8 OpenKM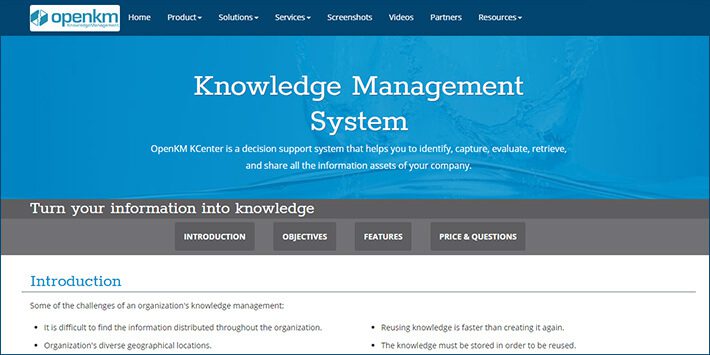 Source: OpenKM
As the name suggests, OpenKM is an open-source knowledge management software. It has one of the most friendly architecture. It plays well with all the third-party plug-ins and integrations. This KMS is well known for the configurable audit trail. It lets you keep track of every procedure, action, and activity in sequence for auditing.
This KMS is widely popular for its less price and more features. It allows you to have previews of DICOM and AutoCAD files with extensions. Other than that, you get modules like watermark stamp, digital signature, mail archiver, reporting engine, and an Integrated BPM engine.
OpenKM identifies data and information with the help of existing data, machine learning, and learning models to capture and reuse that information. It also transforms documents structured in any form into business-ready data. And for collaboration, it comes with forms, calendars, and collaborative editing features.
Key Features
Taxonomy: To buttress the security, you can define a single access point to your learning platform. It lets you limit the access of different users to certain information.
Automatic Cataloging: The OpenKM KMS lets you automate the iterative processes to save your time and energy for more important tasks and decisions. It eliminates the room for errors and reduces the costs of the process too.
Universal Multi-device Access: This low-price KMS can be accessed using any devices such as Windows, Mac, Linux, or web-based devices.
Core Features
Plug-in Architecture
Audit Trail
Automatic Metadata Capture
Advanced Preview
Digital Signature & Cryptography
Watermark Stamp
Collaborative Editing
Pros & Cons:
Pros
Cons

Built-in Basic Functionalities
Simple Processes
---
#9 ProProfs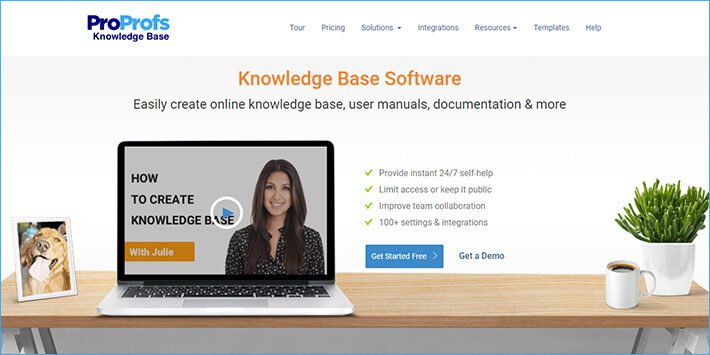 Source: ProProfs
PoProfs is an excellent knowledge base software hosted with IBM. It has proven its worth as it is used by many big names, such as Sony, Dell, Cisco, and many more. This KMS is all you need to take your customer service to the next level. It equips your customer support team with the right tools to get function more productively.
ProProfs knowledge base has got more than a whopping six hundred fonts and themes. You can choose any fonts to make your content legible and any theme to make it more interactive. These features help you create unique and successful online FAQ pages.
Moreover, the best part is the unique price tag. Unlike other KMS, ProProfs charge you per page and not per team member. Moreover, this KMS offers a free trial period before committing a purchase.
Key Features
Manage Multiple Sites: With this KMS, you can manage multiple knowledge base sites from one place to declutter and organize the workflow.
Prevent Overwriting: ProProfs knowledge base allows you to allot specific roles to team members to avoid overwriting and balance the workload.
25+ Ready-to-go Templates: The ProProfs knowledgebase comes with some of the finest Knowledge Base themes and templates that you can pick and import your content on the go.
Core Features
Pay For Pages
Various Themes
100+ Integrations & Settings
Create Online FAQs
Centralized Documents
No Coding/Maintenance/Hosting Fee
White Label
Pros & Cons:
Pros
Cons

Free Trial
Publish Site As A PDF

Editor Might Feel Outdated At Times
---
#10 Tettra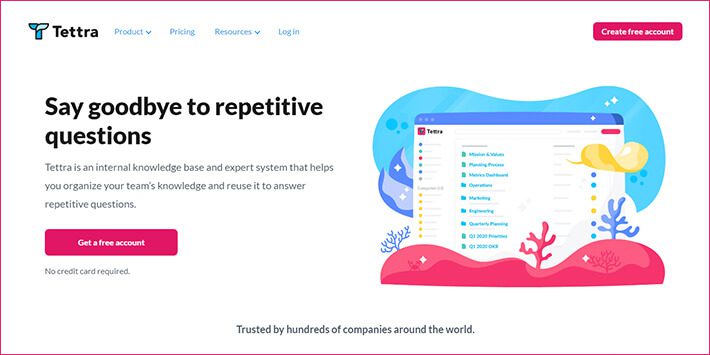 Source: Tettra
Tettra is amongst the simplest knowledge base platforms to use. You can effortlessly create a fully functional customer service portal without any training. This KMS is designed specifically to target the private knowledge bases. Thus, it has focused on features that promote team building and communication amongst the team members.
This KMS lets anybody contribute to the article by suggesting new content or edits in the already published content. This lets every team member be involved in the learning process.
Key Features
Internal Page Linking: By linking internal pages, users can find relative information quickly. This way, users get to learn every aspect of a concept.
Slack & GSuite Integration: Third-party integrations of tools like Slack & GSuits help users to pass on answers and information with each other without getting used to a new interface.
Manage Users: The Tettra KMS lets you define user roles like admin, editor, contributor, read-only, and guest.
Core Features
Powerful Search Functionality
MarkDown Support
Page Requests
Share And Search Pages On Slack
Single Sign-on With Slack
Content Permissions
Pros & Cons:
Pros
Cons

Securely Hosted
Quick Response

Not For Public Knowledge Bases
How to Choose the Perfect Knowledge Management System?
Since the internet always has tons of options for anything, KMS is no exception. You can find various systems that claim to be the best.
Now, it's up to you to choose the best of them for your business. And how exactly would you do that?
Well, it's simple. You need to set fundamental criteria based on your requirements.
So, let's discuss a few of them that will help you to choose the best knowledge management system for your business.
Prioritize Ease of Update: Maintaining a knowledge base is an iterative process. You need to add, remove, edit and update the information regularly. And you are here to make your job simple, right? Therefore, make sure the knowledge base system you choose is easy to update.
Consider Safety & Security Compliance: If you are putting all the information about your products, processes, policies, and entire enterprise in one place, you have to ensure safety first. You certainly would not want data theft or information leaks. Therefore, safety and security compliance should be one of the important criteria while picking a KMS.
Feedback is Necessary: Listening to what your users have to say is crucial to boost user satisfaction. This makes your customers feel heard and valued. Other than that, feedback points out the strengths and weaknesses of your learning platform and helps to improve not only the knowledge base but the product itself.
Don't Forget Analytics & Reports: Analytics and reports provide you insights about the most useful article, most read information, least read articles and content gaps of your knowledge base. Thus, a knowledge management software with the ability to produce reports lets you make data-driven decisions and enhance the effectiveness of your knowledge base.
Pick the Faster one: If you are confused between KMS that have all of the above, you must go for the faster one. Waiting for the knowledge base system to complete its search and come up with the right information is the topmost reason for customer frustration with knowledge bases. Thus, always pick the quicker one. The quicker users get the information they want, the better ratings you will get for your knowledge base.
FAQ
1. What is effective knowledge management?
An effective knowledge management system is one that provides accurate and precise information to the users without losing users' attention.
The following are some of the characteristics of an effective KMS.
Automated
Easy to access
Searchable
Categorized & grouped
---
2. What is the main goal of knowledge management?
The main goal of knowledge management is to share and preserve information, ideas, and solutions. Without managing information, it gets too hard for any company to maintain consistency and function properly.
---
3. What is the best knowledge management software?
The top knowledge management software is the software that has all the features and functionality needed for creating an effective KMS for your business.
Every business has different sets of requirements and goals for their knowledge base, therefore, the following are the few of the finest KMS.
The Cloud Tutorial
Document360
Zendesk Guide
Service
Helpjuice
---
4. How much does a knowledge management system cost?
There are tons of KMS and thus, there is a vast range when it comes to the cost. It all depends on what kind of knowledge management system, features included, and the purpose.
Based on all factors like the number of team members, features, or the number of pages, you can get a knowledge base software anywhere from free to $299.
---
5. What are the major types of knowledge management software?
The type of knowledge management software is differentiated by the purpose of the knowledge base and the kind of information it deals with. The major four are
Customer Support Systems
Expert Knowledge Systems
Document Management Systems
Database Management Systems
Conclusion
Having a knowledge base should be on every company's list of utmost priority. And to have the best knowledge base, you need the best knowledge management software. Thus, we hope this blog has made your decision easier.
You can pick any of the above-mentioned KMS that suits your needs. All of them are highly rated and will never disappoint you.
If you enjoyed reading this blog, we have many such knowledge-sharing blogs that you must explore.