Want to grow an Amazon of your own? These best Marketplace WordPress themes for Multi-vendor eCommerce Websites will help you create a successful multi-vendor marketplace website.
According to statista.com, only Amazon had 45% of all the US eCommerce purchases in 2019, and experts are expecting it to reach up to 50% in 2021. And let's not forget other multi-seller online stores like eBay. In short, multi-seller eCommerce websites work the best.
After having listed the finest WP themes for eCommerce and WP themes for service marketplace, many of you requested a similar collection of best Multi-vendor eCommerce WP themes.
So, here we are.
But before diving, right into it. Let's first define:
What is the Marketplace website?
A marketplace website is an eCommerce website that connects sellers and customers online. It facilitates the buying and selling of products and services online. Now, there are basically three types of marketplace websites.
Uni-vendor Marketplace
Limited-vendor Marketplace
Multi-vendor Marketplace
What is a Multi-vendor Marketplace website?
A multi-vendor marketplace website is an online platform where multiple sellers come under one roof and sell their products and services. These products may be physical products, digital products, or memberships. The owner of such websites does not own the products or inventory, they just provide an online platform to all the sellers for selling.
The best examples of multi-vendor marketplaces are Amazon, eBay, Alibaba/AliExpress, Envato Market, and Walmart.
Okay!
Now that we are all on the same page, let's have a look at the list of the best WordPress themes for multi-vendor eCommerce websites.
Best WordPress Themes for Multi-vendor Marketplace (Rating, Installation, and Unique Features)
NAME
DETAILS

Affordable Theme

Multimarket

Active installations: 170+
Rating: 5/5
Unique features: King Composer Element, Audio & Video Type Review, 4 Product Types, Custom Footer, 3 Types Post Format

Download

Modern Design Theme

Marketo

Active installations: 3600+
Rating: 4.9/5
Unique features: Mega Menu, Tablet & Smartphone Mode Customization, Unlimited Color Styles, Unyson Framework, Kirki Customizer

Download
Cartzilla

Active installations: 330
Rating: 4.9/5
Unique features: 6 Demos, 30+ Customizable Gutenberg Blocks, 10 Header (Navbar) Variations, 3 Single Product Variations, Touch-enabled Sliders


Download
Marketica

Active installations: 1300+
Rating: 4/5
Unique features: WC Vendors Compatibility, Woo Product Vendor Compatibility, Socio Multi-vendor Plugin Compatibility, Ubermenu Ready, White Label Theme Options

Download
Makplus

Active installations: 60+
Rating: 4.5/5
Unique features: 9+ Premade Homepage Templates, Ajax Contact Form, Bootstrap 4.x, Redux Framework, Elementor Page Builder

Download
Martfury

Active installations: 8600+
Rating: 4.7/5
Unique features: WCFM Marketplace, Vendor Price Comparison, Product Deals With Countdown, Product 360 Degree, Product Image Zoom

Download

User Friendly Design

eLab

Active installations: 850+
Rating: 4.6/5
Unique features: X Builder, Product Bundles, YITH Wishlist, Breadcrumbs NavXT, Products Carousel

Download
Dealsdot

Active installations: 380+
Rating: 4.9/5
Unique features: Metabox Supported, Total Cache Config, Limited Time Discount, Grid-List View, Parallax Effect

Download

Clean & Organized Theme

Besa

Active installations: 620+
Rating: 5/5
Unique features: WOOF – WooCommerce Products Filter, Catalog Mode, Frequently Bought Together, Mobile Smart Add To Cart Popup, Daily Flash Sales

Download
Tijarah

Active installations: 300+
Rating: 4.8/5
Unique features: 5 Homepage Layouts, 3 Shop Layout Styles, Stock Photography Sell, Compatible With Dokan, Ajax Smart Filtering

Download

Digital Marketplace

Mayosis

Active installations: 1000+
Rating: 5/5
Unique features: Advanced Custom Field Pro, Full Featured Blog Engine, Live Cart, Front End Submission, Bootstrap 1170px Grid Layout

Download
We know, it's hard to pick one right away, and that's why we have done all the research work for you and described all the themes in detail below.
So, here we go.
11 Best Marketplace WordPress Themes to Choose From
#1 Multimarket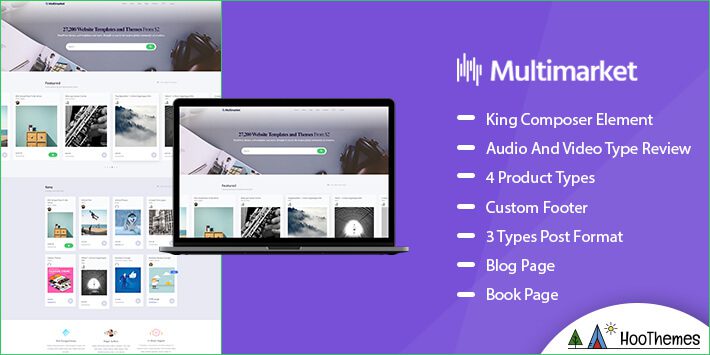 Source: Themeforest
Multimarket is one of the simplest marketplace WordPress themes. If you want to design a marketplace website in a short time, the Multimarket WordPress theme is the best for you. This marketplace theme comes with various customizations that you can quickly tweak to make a unique website in no time.
It can sell four standard product types: video, an audio file, and an audio link. This makes it a perfect eCommerce theme for streaming websites. This WordPress marketplace theme offers one of the easy-to-use drag and drop page builders— King Composer. So, now you can tweak slider, product categories, author highlights, and pricing list just to name a few.
Core Features
King Composer Element
Audio And Video Type Review
4 Product Types
Custom Footer
3 Types Post Format
Blog Page
Book Page
Pros & Cons:
Active installations: 170+
Rating: 5/5
---
#2 Marketo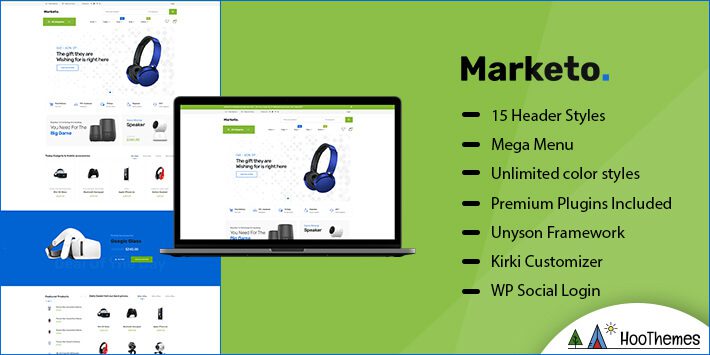 Source: Themeforest
Marketo is a perfect marketplace WordPress theme for any multi-vendor marketplace store. This theme is built on the Unyson framework ensuring reliability. This fully responsive WordPress theme is highly recommended for creating websites for selling electronics, fashion products, and organic food products.
This WooCommerce theme comes with eight different header styles. These header style options are vital for leaving an impactful impression on visitors. And on top of that, it gives you a well-sorted Mega Menu. It makes finding a product a lot easier.
Core Features
15 Header Styles
Mega Menu
Tablet & Smartphone Mode Customization
Unlimited Color Styles
Premium Plugins Included
Unyson Framework
Kirki Customizer
WP Social Login
Pros & Cons:
Pros
Cons

Unyson Framework
Kirki Customizer
Active installations: 3600+
Rating: 4.9/5
---
#3 Cartzilla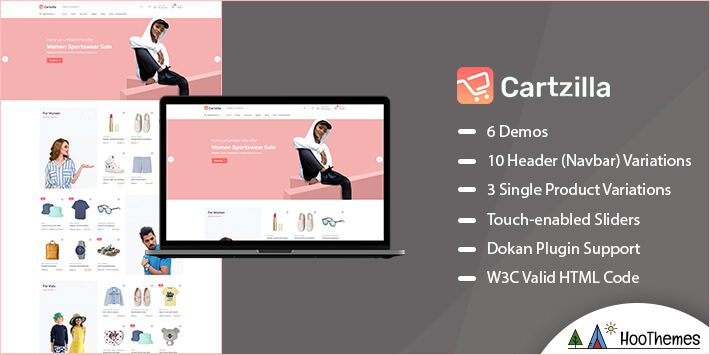 Source: Themeforest
Cartzilla is a digital marketplace and grocery store WordPress theme. With the help of the intuitive buttons, you can provide easy digital downloads of products from single or multiple vendors. Along with groceries and a digital marketplace, this fully responsive WordPress theme can be modified to be a fashion, and electronic store WP theme.
This multi-vendor WordPress theme comes with 6 demos that can be set up in one click. It also has the latest Gutenberg support, including more than 30 customizable Gutenberg blocks. This marketplace theme can be a perfect solution as it features single product variations, different templates for blog pages, Mega-menu, and a toolbar comprising cart, filters, and menus. Given all this, it was too close to make it into the simplest customizable WP theme.
Core Features
6 Demos
30+ Customizable Gutenberg Blocks
10 Header (Navbar) Variations
3 Single Product Variations
Touch-enabled Sliders
Dokan Plugin Support
W3C Valid HTML Code
Secondary Pages: About, Contacts, 404
Pros & Cons:
Pros
Cons

Single / Multi-vendor Store
Mega-menu Functionality
Active installations: 330+
Rating: 4.9/5
---
#4 Marketica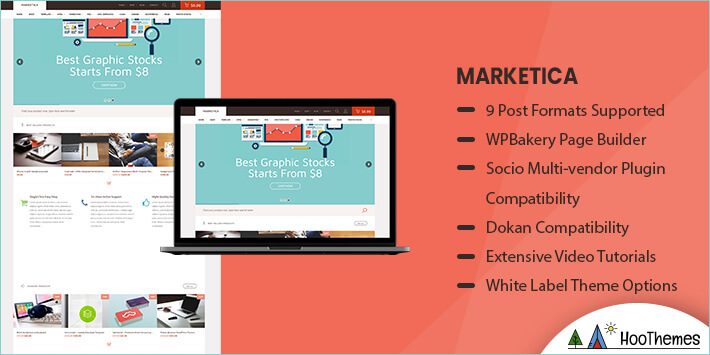 Source: Themeforest
Marketica is an all-in-one solution for multi-vendor marketplace websites. This marketplace WordPress theme is built to be highly customizable and flexible. Its fully responsive design ensures seamless adaptation to any device regardless of various screen sizes.
This marketplace WordPress theme offers a wide range of pre-built demo templates for the homepage and inner pages. These WooCommerce marketplace pages are designed by elite designers to ensure the best user interface. These pages are proven to be the most efficient in boosting conversion rates.
Core Functions
9 Post Formats Supported
WPBakery Page Builder
Woo Product Vendor Compatibility
Socio Multi-vendor Plugin Compatibility
Dokan Compatibility
Extensive Video Tutorials
Ubermenu Ready
White Label Theme Options
Pros & Cons:
Pros
Cons

Custom Favicon
Custom Header
Active installations: 1300+
Rating: 4/5
---
#5 Makplus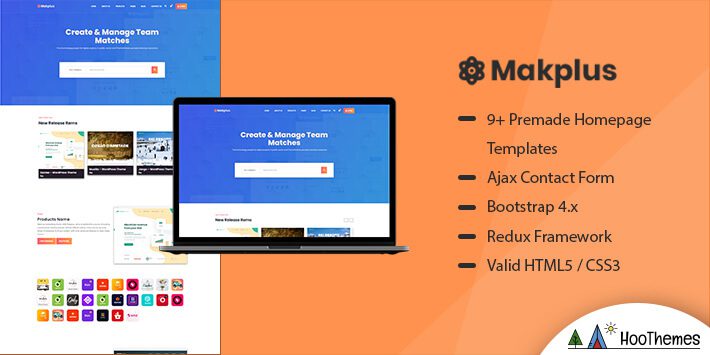 Source: Themeforest
Makplus is one of the latest WordPress marketplace themes. Created on the 31st of March, 2020, this theme has all the advanced technologies for explicitly selling digital products. And with the Elementor page builder, it becomes one of the easiest customizable WP themes.
This theme can create a multi-vendor marketplace where you can sell digital products, such as software, stock photos, plugins, audio files, video files, and apps easily. This multivendor marketplace theme has unlimited possibilities when it comes to selling digital products.
Core Functions
9+ Premade Homepage Templates
Ajax Contact Form
Bootstrap 4.x
Redux Framework
Valid HTML5 / CSS3
Redux Framework
Elementor Page Builder
WooCommerce Plugin Compatible
Pros & Cons:
Pros
Cons

Responsive And Retina Ready
24/7 Awesome Support
Active installations: 60+
Rating: 4.5/5
---
#6 Martfury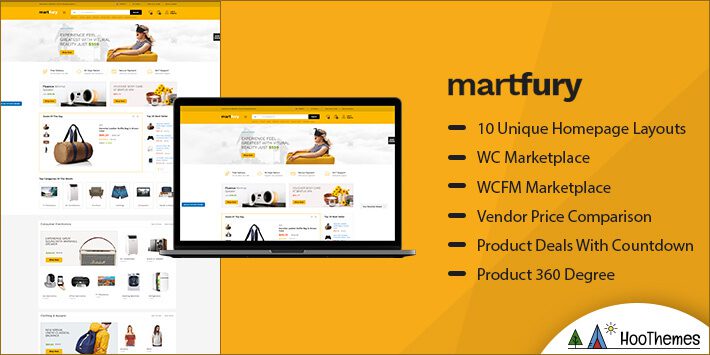 Source: Themeforest
One just can not avoid Martfury when talking about the best WordPress marketplace themes. This multi-seller marketplace WordPress theme is the epitome of multi-vendor marketplace themes for WordPress. It is built on the Underscore framework. So, now anyone with or without coding skills can create astonishing eCommerce marketplace websites easily.
This multi-vendor marketplace WordPress theme comes with some of the premium features that can be the defining properties of your website. It offers ten distinct homepage starter templates, to begin with. And the option of Elementor and WPBakery page builders to choose from. To provide the best shopping experience, this theme allows product image zoom and the best of all— product 360-degree rotation. These built-in functionalities make it a stand out marketplace WordPress theme from the rest.
Core Functions
10 Unique Homepage Layouts
WC Marketplace
WCFM Marketplace
Vendor Price Comparison
Product Deals With Countdown
Product 360 Degree
Product Image Zoom
Pros & Cons:
Pros
Cons

Mobile-Optimized Design
Product 360 Degree
Active installations: 8600+
Rating: 4.7/5
---
#7 eLab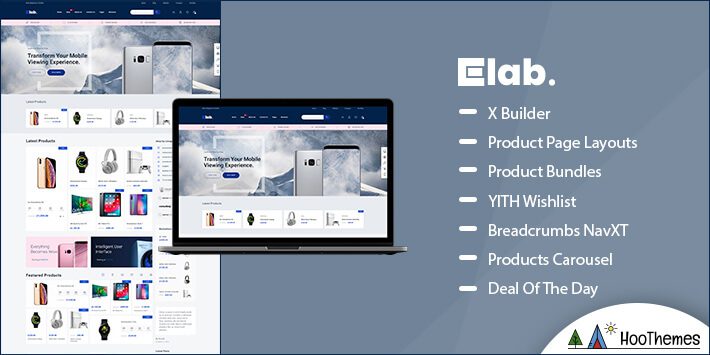 Source: Themeforest
What do you want in a marketplace website? That it needs to be aesthetic, blazingly fast, secure, and responsive, right? Well, with eLab you get all of that. It is one of the highest-rated marketplace WordPress themes on the internet.
One of the best features of this coupon theme is the product carousel. It lets your customers explore various products and have the best shopping experience. And learning from others' success like Amazon's, this eCommerce theme includes the Product bundles. When a customer selects a product to purchase, they get recommendations for related products. This provides better options for them and higher conversion rates for you.
Core Functions
X Builder
Product Page Layouts
Product Bundles
YITH Wishlist
Breadcrumbs NavXT
Products Carousel
Deal Of The Day
Pros & Cons:
Pros
Cons

Category Banner
Advanced Live Search

No Gutenberg Optimization
Active installations: 850+
Rating: 4.6/5
---
#8 Dealsdot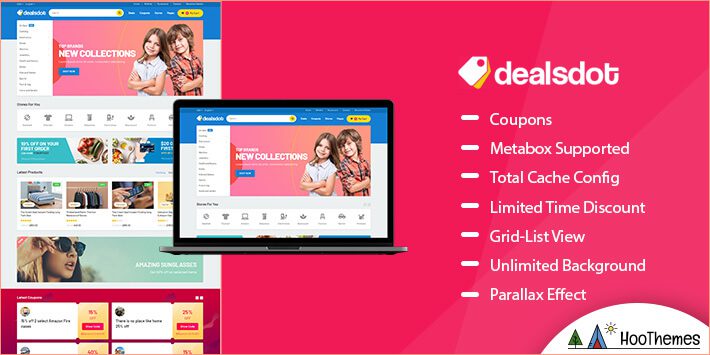 Source: Themeforest
Dealsdot is counted amongst the best marketplace WordPress themes. If you want to create a successful online marketplace such as Alibaba and AliExpress, this is the perfect option for you. Moreover, this WooCommerce WordPress theme is also best for coupon themes and affiliate marketing themes.
Features like coupons, flash deals, grid list view, and metabox boost sales to the next level. This multi-vendor theme comes with the easiest WPBakery drag and drop page builder. If you still have some issues with customizing the theme, it provides free technical help. As this theme never demands any coding skills, it is one of the best WP themes to use as a beginner.
Core Functions
Coupons
Metabox Supported
Total Cache Config
Limited Time Discount
Grid-List View
Unlimited Background
Parallax Effect
Pros & Cons:
Pros
Cons

Advanced Theme Customizer
Breadcrumbs
Active installations: 380+
Rating: 4.9/5
---
#9 Besa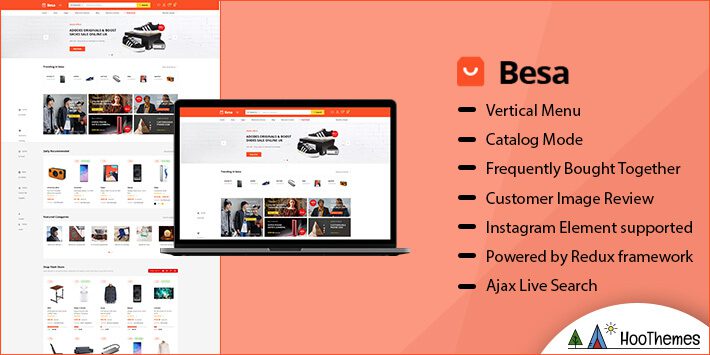 Source: Themeforest
Besa is one of the clean and modern marketplace WordPress themes. This fully responsive theme works great on mobile devices and also offers a mobile menu. It is powered by the Redux framework. This theme can create any kind of online store with multiple sellers, such as fashion store, mobile store, and electronics store. And for the best shopping experience, this WordPress theme comes with WooCommerce product filters.
With the best multi-vendor marketplace plugins— WC Marketplace & WC Vendors, this theme can create as many unique online store sites as you want. This WordPress theme is designed with keeping customer satisfaction in mind, hence it incorporates Ajaz live search, product carousel, and latest product carousel. These features make this WordPress marketplace theme stand apart from the rest of the themes.
Core Functions
Vertical Menu
WOOF – WooCommerce Products Filter
Catalog Mode
Frequently Bought Together
Customer Image Review
Instagram Element Supported
Powered by Redux Framework
Products Carousel, Latest Posts Carousel
Ajax Live Search
Pros & Cons:
Pros
Cons

Mobile Smart Add To Cart Popup
Daily Flash Sales
Active installations: 620+
Rating: 5/5
---
#10 Tijarah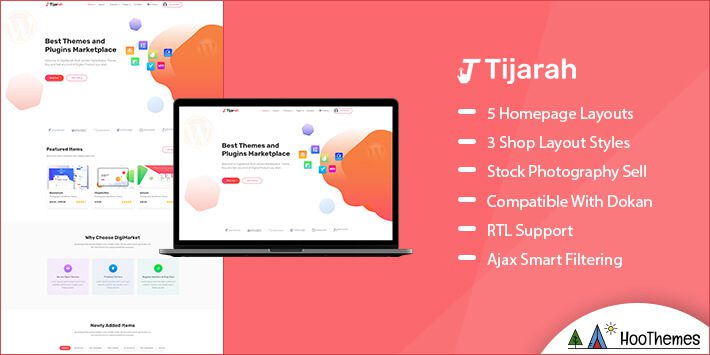 Source: Themeforest
Tijarah is a digital marketplace WordPress theme. This is one of the true niche-specific digital market WordPress themes. It can sell any digital products, such as software, files, images, music, videos, apps, membership with easy digital downloads. You can create a multi-seller online store without knowing any code. This is possible because of the Elementor site builder plugin.
This WordPress marketplace theme has a fully responsive design that runs seamlessly on any screen sized devices such as smartphones, tablets, laptops, and desktops. It comes with five distinct homepage templates and one of its best uses is to create an online marketplace for stock photographs. This is a WP theme that artists would love to sell on.
Core Functions
5 Homepage Layouts
3 Shop Layout Styles
Stock Photography Sell
Compatible With Dokan
RTL Support
Ajax Smart Filtering
One-Click Demo Importer
Pros & Cons:
Pros
Cons

Lifetime Auto Updates
Video Tutorials

No 360 Degree Product Review
Active installations: 300+
Rating: 4.8/5
---
#11 Mayosis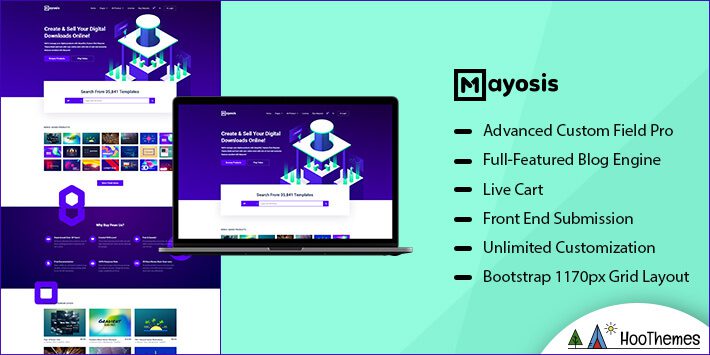 Source: Themeforest
Mayosis is a WordPress marketplace theme best known for the Easy Digital Downloads plugin support. This is one of the explicitly designed WooCommerce WordPress themes for Easy Digital Downloads (EDD). This theme can be used as a theme for an online marketplace for a music store, stock photography store, or WP themes for video streaming.
This marketplace theme for a multi-seller web-store has a 100% responsive design and can be effortlessly tweaked with the front end editor —visual composer. This marketplace WordPress theme also comes with the Front End Submission extension. So, now you can allow others to sell their digital products on your online shop.
Core Functions
WPBakery Page Builder (Former Visual Composer)
Advanced Custom Field Pro
Full-Featured Blog Engine
Live Cart
Front End Submission
Unlimited Customization
Bootstrap 1170px Grid Layout
Retina Ready -Up to 5K Display
Pros & Cons:
Pros
Cons

Neat & Clean Code Structure
Cross-Browser Friendly
Active installations: 1000+
Rating: 5/5
---
Aren't these themes exciting? These marketplace WordPress themes are the best on the internet and feel free to pick any of them as per your purpose and requirements.
We are sure that you have found the theme you want for creating your website. But if you are still figuring, would such a multi-vendor store work? Then, you should check out the benefits of a multi-seller eCommerce store.
So, let's have a look.
Benefits of Multi-vendor Marketplace Website
Multi-vendor marketplaces are everywhere nowadays. And there is a reason why. A multi-vendor online store creates a win-win situation for owners, sellers, and customers as well. Every entrepreneur wants to exploit this luring business model.
In this business model, the owner does not have to invest time in producing and manufacturing products, the seller does not have to make any efforts for the online presence and marketing of their products, and customers do not have to explore a new online store every time that they want to make a purchase.
One could say it is a teamwork of owners and sellers to reach the maximum potential customers and make as many profits as possible.
Isn't that enough?
We are not done with the benefits either. Here are more cool benefits of a multi-vendor online store for owners, sellers, and customers.
| Sr. No. | Owners | Sellers | Customers |
| --- | --- | --- | --- |
| 1 | No dependency on market volatility | Deduction of creating, hosting, and promoting an online store | Wide range of alternatives |
| 2 | Open to a wide target group | Equal market exposure as niche giants | Availability of products in the various price range under one roof |
| 3 | Total admin control on the type, quality, and price of products | Brand image, the trust of customers, and integrity of the marketplace in inheritance | Trustable products and secured payments |
| 4 | Make money on every transaction | Offer discounts and still make a profit | Get the best price with coupons, discounts, and momentary deals |
| 5 | Customers prefer multi-vendor marketplaces over single vendor online shop | Direct feedback to improve the product or service further | Get their feedback valued |
Alright! After looking at the perks of it, you must be all set to pick the marketplace WordPress theme up and create your store right now. But wait, before starting you should know the five vital modules of your multi-seller store site.
So, here they are.
---
5 Important Modules of Multi-vendor Marketplace Website
#1 Vendor Management
A multi-vendor eCommerce site can only get success if it is not only easy for customers but sellers too. Thus, a good seller management practice ensures easy registration for vendors as the stepping stone.
After an easy registration, the owner needs to validate the seller to maintain the brand image and customer loyalty. Other than adding the sellers, it is necessary to create healthy competition between sellers for a successful multi-seller eCommerce site.
#2 Inventory Management
When it comes to a 'multi-vendor' eCommerce website, managing inventory can be a challenge. Basically, it can be done in two ways.
By the owner
By the seller
However, the later one is always recommended for a smoother process. First of all, the seller knows the product better than the marketplace owner. Hence, the product gets better description and promotion. And the owner can save a lot of time leaving inventory management on the seller and invest that time in other crucial operations.
#3 Order Management
If orders are not managed well, it directly affects customer satisfaction. Therefore, you need to come up with a thorough order management plan.
Generally, you need to make sure that vendors can see the pending and under process orders. The sellers will need a dashboard where they can manage orders easily and efficiently. Not only in finalizing the order, but for requesting to cancel, return, or replace the order as well.
And on your end, you will need a management dashboard to view and manage orders of all the sellers.
#4 Shipping Management
Shipping management is a tricky part of the operations. As the owner, you have to make sure every seller ships a particular flat rate to maintain a uniform policy. The shipping management strategies vary from city to city of operation. In some cases, you may let the sellers ship the product on their own, and in some cases, it is beneficial for the owner to ship the orders.
The main challenge in managing the shipping is making sure to deliver the product by the expected date and the tax calculation of every single shipment.
This brings us to the next module.
#5 Pricing Model for Vendors
In the end, it all comes to money. Vendors will sell their products on your eCommerce site only when they make a good profit by doing so. And asking for commission directly means to cut down their profits.
There are different pricing models for vendors used by successful multi-vendors stores. Let's discuss a few of them.
i) Global Model: Vendors are changed to a flat commission of a certain percentage regardless of vendor, product, or category.
Practiced by: Freelancer.com
ii) Vender Model: in this model, vendors are charged commission rates based on their loyalty and popularity. Exclusive and popular vendors are charged less in comparison to ones who sell on multiple platforms.
Practiced by: Evanto
iii) Category Model: Vendors are changed to different commission rates depending on the product category.
Practiced by: Amazon
iv) Product Model: This is a flexible model where the owner can charge a higher commission rate on popular products.
FAQ
1. How do I create a marketplace website?
Here are the simple steps by which you can create a multi-seller marketplace website.
Purchase a domain name and a web hosting service
Add Multi-vendor marketplace plugins to your eCommerce site
Enable Account Management in WooCommerce
SetUp Navigation Menus
Test your multi-seller marketplace site
Publish your online marketplace site
---
2. How much does it cost to create an online marketplace?
The cost of creating an online marketplace depends on a lot of factors, such as integrated features, complexity, and the region where you hire web designers.
Of course, you can get free WP themes as well, but they may not come with satisfactory features, a support team, or any future updates.
---
3. How do I start an eCommerce marketplace?
Here are the basic quick steps to start an eCommerce marketplace site.
Come up with a unique idea
Design a detailed business plan
Assemble a tech team
Develop the site
Launch the eCommerce market site
Marketing and endorsement
Enjoy your success!
---
4. How do I attract vendors to my marketplace?
When it comes to attracting vendors, just any seller will not work. You need to attract the best sellers to get ahead of your competition. And here are the quick steps to how to do that.
Stand by your value proposition
Put your vendor acquisition strategy on a paper
Define your marketplace vendor policy
Reach out to the targeted sellers
---
5. What are the top multi-vendor marketplace websites?
The following are the top multi-vendor marketplace websites.
Amazon
Alibaba
eBay
Walmart
Jd
Sum-up
Creating a multi-vendor marketplace site is a tough job indeed, but the above-mentioned WordPress themes can make your job easy and quick. We hope we have helped you find the right WordPress theme for your business model. And not only with the right marketplace WordPress theme but we have shared our knowledge on the benefits and important modules of a multi-vendor marketplace.
If you have used any of the WordPress themes including in this list or not, contact us to share your experience with us.
Other than that, you can explore the huge collection of WP themes that we have handpicked for various niches. And that's not all, we come up with such interesting collections every week, so to never miss out on that, kindly subscribe.