If you ask any marketing guru the best way to sustain the customer base and add new members every day organically, most of the time the answer will be to create a community for your brand. And the simplest solution is to add forums to your WordPress website. Therefore, HooThemes is here with the 11 best WordPress Forum Plugins for your brand.
If you still think forums are not that necessary, then just take a look at the huge brands, such as Apple, Canon, Airbnb, and Red Bull. These brands are investing your precious time and resources in creating communities for their customers. Thus, there must be something beneficial about that move.
To understand that, let's talk about the reasons why you should add a forum to your WordPress website in the first place.
Reasons to Create a Forum on Your WordPress Site
There are several reasons why forums are a rising trend in marketing tactics. It would take another day to talk about all of them. Therefore, let's discuss a few fundamental reasons for now.
Great for SEO —Free Content for your Site: Users post new topics and quality content to the forum section of your site. This leads to an increase in organic traffic on your site and attracts the attention of search engines. On top of that, you do not have to invest in creating content, a successful forum section takes care of that for you.
Boosts Customer Loyalty: Your site may include forums as message boards, social networks, discussion boards, or everything and anything that creates a sense of online community amongst your customers. And once they feel a valuable member of the community, it is unlikely for them to switch over to another brand than yours.
Your Customers Become your Brand Advocates: By providing an open forum, you allow your customers to be your brand advocate amongst their individual social networks. People might not trust any paid advertisement, but they do trust the brand if their peers recommend it.
Adds Another Layer to your Customer Self-service: The forum section on your site takes your customer support service to a next level. Your users can find a solution anytime they want from these forums. And sometimes your users can even come up with out-of-box solutions by themselves.
A Great Source of Rich & Genuine Feedback: The forum section lets you gather genuine feedback. It helps you to enhance your product/service and thrive in a highly competitive market.
Don't you think these reasons are more than enough to convince anybody to create a social network for their customers?
Okay then, let's dive right into the top forum plugin options available on the internet.
11 Best WordPress Forum Plugins
#1 bbPress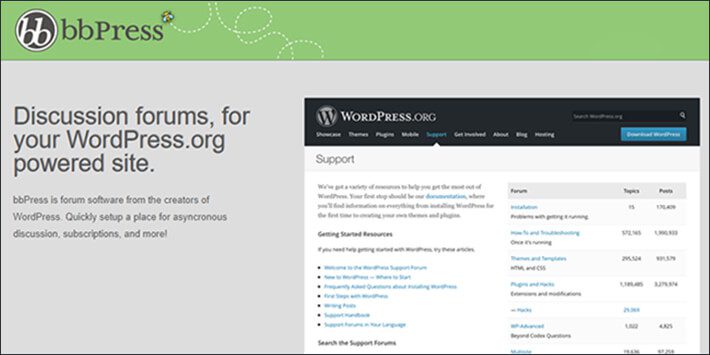 Source: bbPress
bbPress is the plugin that just cannot be ignored when we are talking about WordPress forums. This is the most popular WordPress forum plugin. As it is explicitly built for WordPress, it follows the coding norms and uses the same WordPress core. This makes it work seamlessly with any WordPress website. It is compatible with almost all the elite WordPress themes.
bbPress has many reasons to be the most popular WordPress forum plugin and one of them is the customizable templates. This free plugin comes with various templates that you can utilize on the go or can customize as per your requirements easily. Other than that, it has RSS feeds. It lets your users always be updated with the new forums and posts on your website.
Key Features:
Spam Protection: Spam Protection is an essential feature for a successful discussion board. The bbPress forum plugin for WordPress protects your WordPress site from the advanced Akismet support. And the best part is this feature is built-in and blocks the spam registrations automatically.
Core Features:
200+ Add-ons
Multiple Customizable Templates
Unified Admin Area
RSS Feeds
Multisite Forums
Access Restrictions
Pros & Cons:
| Pros | Cons |
| --- | --- |
| | Comes With Basic Functions Only |
---
#2 BuddyPress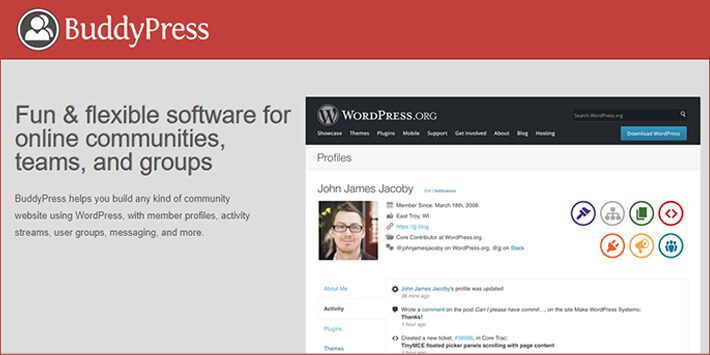 Source: BuddyPress
BuddyPress is one of the best WordPress forum plugins. With BuddyPress, you can not only create unlimited forums but an entire social networking website. It is best for giving your customers a sense of community. This WordPress forum plugin can easily translate your board into all the major languages, such as Dutch, German, Russian, and simplified Chinese just to name a few.
BuddyPress offers admin and customers notification about any new post or whenever someone wants to communicate with them and it supports global tracking of posts, blogs, comments, and Custom post types too. Moreover, this WordPress message board plugin lets your customers send private messages to their connections. This feature takes your forum website one notch above all the others.
Key Features:
Extendable Profiles: Since BuddyPress is used as a WordPress plugin for building a social network, it allows users to create their profiles and customize them. With a custom profile for everyone, it gets easier for customers to connect and admins to regulate and limit access to your website.
Core Features:
Translation Friendly
Smooth Third-Party Integrations
Admin + Customer Notifications
Global Tracking Supported
Private Messages
Pros & Cons:
Pros

Cons

Free & Open Source
Built-in Support For bbPress

Needs Third-Party Extensions For Advanced Functionalities
---
#3 ForumEngine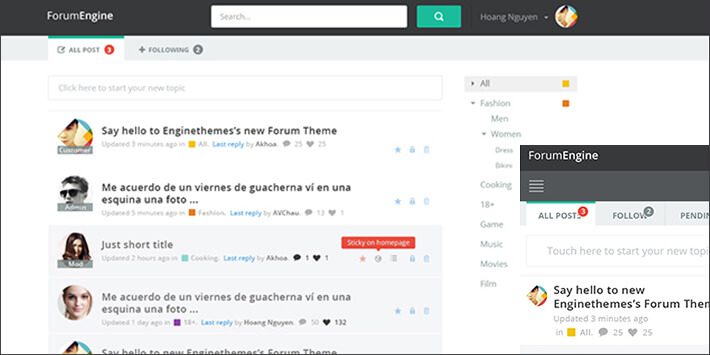 Source: ForumEngine
ForumEngine is a WordPress forum theme. It is exclusively crafted for converting your website into a forum. If you use ForumEngine, you will not need any plugin to create forums and eventually slow down your website. This theme is highly niche-centric and hence is loaded with specified features. To make your forums as effective as they can be, it lets you display conversation threads right on the homepage of your website.
ForumEngine can create unlimited unique forum websites as it is a highly customizable WP theme. With this theme for your forum website, you can allow users to interact with each other in many ways. They can post comments, leave a reply to those comments, share opinions, ask questions, and even like/dislike topics. This level of interaction makes it easy for your visitors to express themselves. Moreover, it comes in two versions, which are: single theme and community package (premium version).
Key Features:
Front End Editor: This WordPress theme comes with a front-end editor which lets you create content easily. You'll never need any sort of coding skills to work with its front-end editor.
Core Features:
Unlimited Websites
Highly Customizable
Mobile-Friendly Design
User Badges
Live Notification
Pros & Cons:
Pros

Cons

12 Months Of Free Updates
12 Months Of Customer Support

No Options To Display Product Price
---
#4 Forum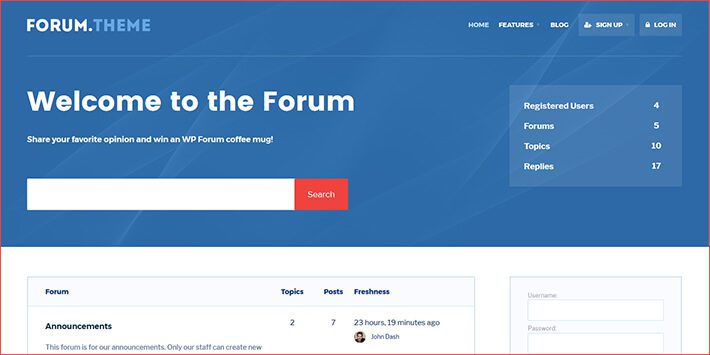 Source: Forum
Forum is a WordPress theme for the bbPress plugin. If you are looking for a clean and modern design for your forum, this WordPress theme can let you have that. You can start from scratch or give your existing online community a fresh look with this theme. It comes with 5 post formats, including video, audio, gallery, link, and standard. Thus, it helps you create interactive open forums for your site.
Other than that, it comes with archive templates and blog templates with full-width layouts. This lets you use the entire space and be as creative as you want. Talking about creativity, this lets you pick any color scheme you like as it offers unlimited color schemes. And if you want multiple forums on your site, it offers you hide/show post elements that make it easier for visitors to navigate.
Key Features:
WooCommerce Support: The Forum WordPress theme for the bbPress plugin supports WooCommerce and thus, it helps you to create your online store as well. You can display price lists and sell products & services through your forum website and earn extra money.
Core Features:
5 Post Formats
Archive Templates
Hide/show Post Elements
Unlimited Color Schemes
Related Posts
Blog Templates
Full-width Layout
6 Custom Widgets
Pros & Cons:
Pros

Cons

Responsive Layout
Clean & Valid Code
---
#5 Disputo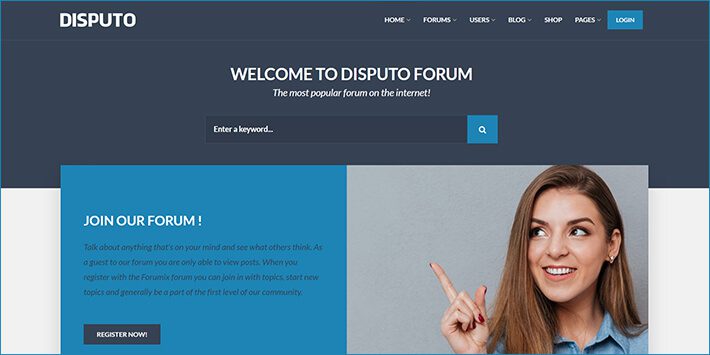 Source: Disputo
Disputo is a WordPress theme for the bbPress WordPress forum plugin. This theme has all the necessary features to build a stunning forum design. The bbPress plugin works seamlessly with this theme and helps you create unlimited forums without any help from experts. It comes with demo login credentials to get a look before making the purchase. You will be amazed at how quick and smooth its responsive layout works.
Moreover, Disputo comes with built-in Facebook comments and social sharing. These functions can make your discussion board popular and successful. You do not have to invest a huge chunk of money in marketing your site, social media does it automatically for you. And to keep your forums clean, it bags the report content feature. This lets your users report any post, topics, comments, or replies to keep inappropriate content and spams away.
Key Features:
Live Customizer: Distputo theme for bbPress plugin backs you with a live customizer that can tweak any element of your forum easily by providing you a real-time preview of the site design. Not just that, it comes with 12 custom page builder widgets. Therefore creating unique discussion forums is no more a tough job.
Core Features:
Demo Login
User Directories
User Profiles
Follow User
YouTube TV
WooCommerce
Built-in Facebook Comments
FAQ System
Live Search
Pros & Cons:
Pros

Cons

Front-end Editing
Private Reply Feature
---
#6 Sentric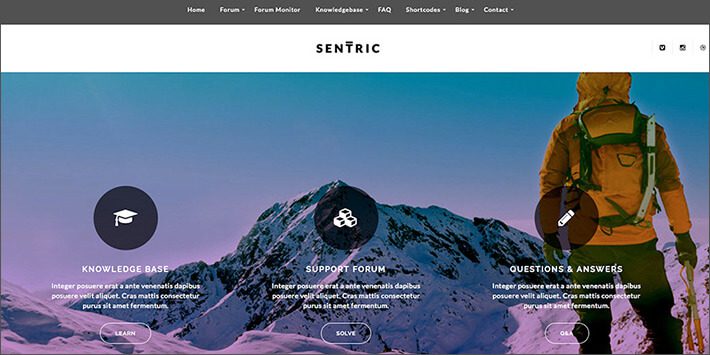 Source: Sentric
Sentric is the WordPress theme for your forum. This theme uses the popular bbPress plugin to run forums and create an online open discussion or even a community. This theme is well equipped to create the best site where visitors can bring unique ideas, topics, and knowledge to share. Sentric not only is the best forum WP theme but developers from all around the world use it to create a knowledge base and FAQ too.
The feature for which you should consider Sectric is the topic status. It lets users know various topics are finished or still open for discussion. This makes it easy for users to find the active forums on the site and participate straight away.
Key Features:
Contact Form 7: Contact Form 7 is the most popular WordPress plugin for making online forms. This plugin makes all sorts of forms, such as contact forms, inquiry forms, feedback forms, or registration forms. This feature lets your visitors reach you directly and efficiently.
Core Features:
Support Topic Status
Forum Monitor
Shortcode Generators
7 Post Formats
FAQ
Multiple Widgets
Knowledge Base
Pros & Cons:
Pros

Cons

Questions And Answers Custom Post Type
Recent Post Widget
---
#7 Tessera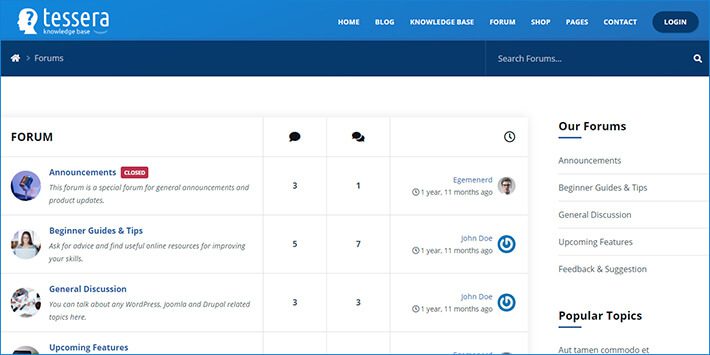 Source: Tessera
Tessera is a WordPress theme support forum. It has a fully responsive layout and cross-browser compatibility, which means you do not have to worry about what devices users choose to visit your forum website. This theme allows users to quote replies. Now users can reply to any comment by quoting the comment for better understanding. And it has the live search function as well. With the live search, your users do not have to spend time and energy just to get to the forum.
Moreover, Tessera lets you allot and revoke custom user roles. And based on those user roles you can restrict access and authority to go through or edit the content. This pro version WordPress theme uses the bbPress WordPress forum plugin to take care of all the functionalities a forum must-have. Other than that, Tessera is built with keeping SEO and speed optimization in mind.
Key Features:
Elementor: Elementor is the most intuitive page builder plugin for WordPress. This lets you design every element with simple drag and drop functionality that even beginners are familiar with.
Core Features:
Support Ticketing
Support Forum
FAQ System
Live Search
Quote Replies
Custom User Role
Gutenberg
Pros & Cons:
Pros

Cons

Fast CSS Masonry Grid Layouts
SEO Friendly
---
#8 Moonlight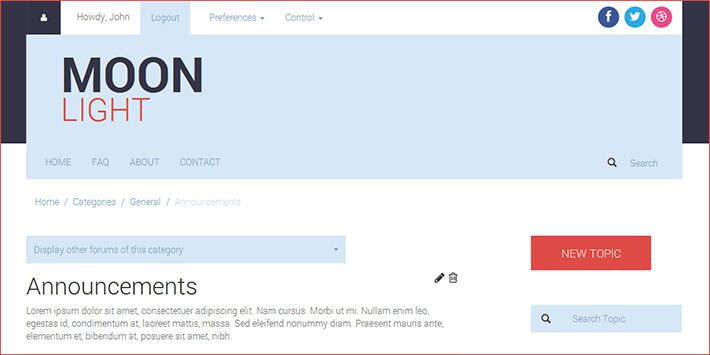 Source: Moonlight
Moonlight, is an HTML template for quickly designing a site for forums. This template consists of 12 forum pages which can be used just as they are. All you need is to import your content and your forum site is ready to go. Other than that, it contains a ticketing system and features like user profiles, user/admin registration, and categories just to name a few.
If you need a ready-made skin for your forum site, this is the template just made for you. This premium version plugin gives your helpdesk/forum website a clean and modern look that stands out from the rest. Furthermore, you get to work with simple HTML5 semantic elements to customize your page design effortlessly.
Key Features:
Clean CSS: This bbPress Plugin theme for WordPress uses a clean CSS, which makes it easier to update and maintain. You can add animations and it keeps the site lightweight. This free plugin also helps with the consistency in site design.
Core Features:
12 Forum Pages
Bootstrap 3.1
JQuery Components
Ajax Filtering
Ajax Pagination
Ajax Sorting
404 Page Included
Pros & Cons:
Pros

Cons

HTML 5 Tags
Responsive Forums
---
#9 wpForo Forum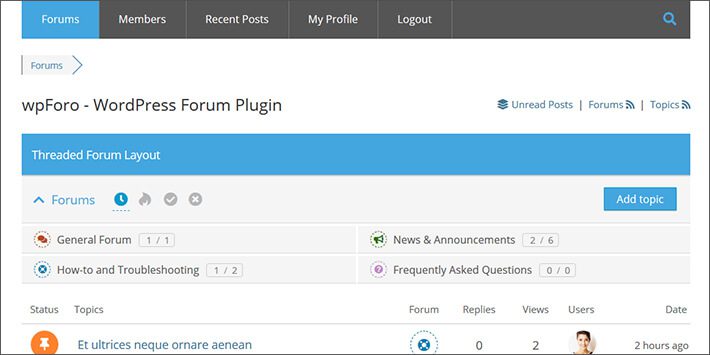 Source: wpForo Forum
wpForo Forum is the best WordPress forum plugin in features. It comes with all the feature forum plugins should have. Whether you use it for a small-scale company or large corporations, this WordPress forum plugin can satisfy all your requirements. And to make your job easier, it comes with four ready-made layouts that are designed to create effective and professional forums.
This plugin with free version bags the search engine ping with the built-in SEO functions. wpForo makes sure that your users can easily find your forum page on search engines. Moreover, this plugin integrates other WordPress forum plugins, such as Antispam, Akismet, Ultimate Member, and BuddyPress too. On top of that, This social network plugin lets you migrate from other forums as it supports the Go2wpForo tool.
Key Features:
Questions And Answers Forum Layout: The wpForo Forum plugin offers you a pre-designed q&a forum layout so that you can immediately create a forum like WikiAnswers and Quora faq page on your site.
Core Features:
Go2wpForo
4 Forum Layouts
Member Badges
Member Ratings
Post Front-end Moderation
Social Share Buttons
BuddyPress Integration
Ultimate Member Integration
Pros & Cons:
Pros

Cons

Built-in Forum Cache System
Built-in Forum/topics Subscription
---
#10 Asgaros Forum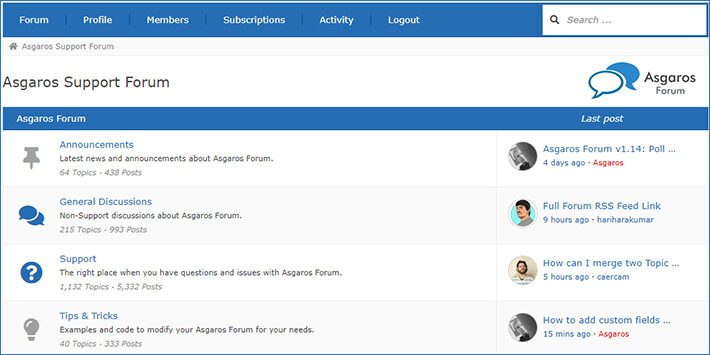 Source: Asgaros Forum
Asgaros can be the best WordPress forum plugin for you if you want to add a lightweight discussion board to your site. Since the free plugin for WordPress is inserted through a shortcode, it keeps the site maintained for the admin. It lets visitors create user-profiles and they can see all the users in the members' list. This way users find new people to connect with and create a bustling online community.
Have ever been a part of a community that you forgot of? Well, that won't ever be the case with the feature-rich —Asgaros Forum plugin. It is equipped with notifications and feeds, which means, your users will always be notified of a new post and they can visit old posts too. Above all, this social network plugin helps you create mobile-friendly forums. Therefore, your users can conveniently use their smartphones to have conversations.
Key Features:
Statistics: Even with a free version, the Asgaros Forum plugin provides you with accurate statistics to analyze the effectiveness of your forums. It also lets you understand the user behavior and trending topic.
Core Features:
Reactions
Notification & Feeds
Polls
Multisite Compatibility
Approval
Guest Postings
Profiles & Members List
Pros & Cons:
Pros

Cons

Customizable Responsive Theme
Simple Content Management

No Add-ons For Extra Functionality
---
#11 DW Question and Answer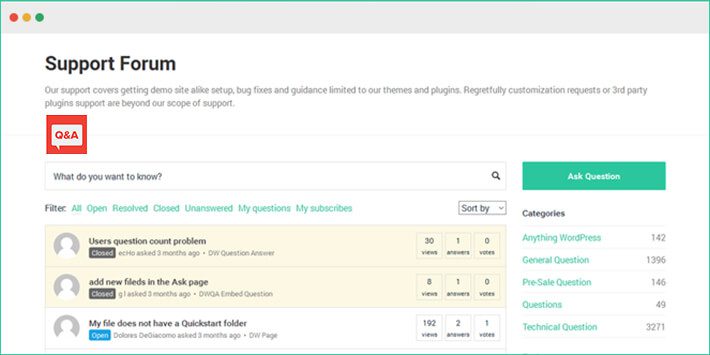 Source: DW Question and Answer
DW Question & Answer the best forum WordPress plugin for support forums. This forum lets you add a forum in a question-and-answer format. Your users can submit, order, filter, or edit questions they want to post. And as far as answers are concerned, users can vote for the answers that they find the most useful. This way, it makes your forum section better with every interaction.
The DW Question & Answer plugin for WordPress is free and open-source. This is the reason behind its flexibility and customizability. It lets you insert third-party plugins such as Markdown, captcha, leaderboards, and social sharing. Therefore, if you want a forum in question-and-answer format in the free version, this is the perfect forum plugin for you.
Key Features:
Best Answer: The DW Question & Answer plugin lets you tag the most useful answer as the best answer to boost the credibility of your forum. This way, a lot of time is saved for the users and they appreciate it.
Core Features:
Vote
Email Notifications
Sticky Questions
DWQA Markdown
Instant Search
Captcha Support
Pros & Cons:
Pros

Cons

Q&A Format
Supports 11 Languages

Only Question And Answer Layout
---
Tips on Building a Forum Website
Research your Existing Competitors: Research the rising trends working for forums of your competitors. Pay attention to what customers like and dislike about their forum format and layout design.
Make Sure Users can Register Easily: Your forum or social network community must be welcoming and it is ensured by providing an easy user registration process. If possible, offer visitors incentives to sign up for your community forum.
Lay-down a Rulebook for Community Members: To make a long stay, you should make lay-down a set of rules for the members. This totally depends on your brand. This ensures that writers are not harassed in any way or form and everybody maintains decorum.
Moderate when Needed: Moderation is required, but not always. Let the members have the freedom to put it as they like. It establishes trust amongst your online community members.
Evolve And Adapt: Last but not the least, always be ready to evolve and adapt to the members' requirements. A rigid forum is more likely to pay the price if not satisfy the need of the hour.
FAQ
1. How do I create a discussion forum on WordPress?
Creating a discussion forum or discussion board on WordPress is quite simple. You need to follow the below steps and you will have your discussion board WordPress forum on your website.
Step 1: Log into your WordPress dashboard and Select 'Plugins' and go for 'Add New'
Step 2: Search for the "Discussion board" plugins, and you'll see all the discussion board plugins available in the library.
Step 3: Locate the plugin you want for your site, and click the 'Install now' button.
Step 4: After the discussion board plugin is successfully installed, click the 'Activate' button now visible in the place of the 'Install now' button.
That's all! Now you can board and use its features to customize the discussion board on your site.
---
2. What is the best forum plugin for WordPress?
When it comes to forum plugins, one size never fits all. Therefore, picking one from a horde of forum plugins would be unfair. Every website has different requirements and expectations from a forum and hence you need to pick the one which fits perfectly as per your needs. However, here are a few of the best forum plugins for WordPress.
bbPress
BuddyPress
DW Question & Answer
ForumEngine
Asgaros Forums
wpForo Forum
---
3. How do you create a successful forum?
Creating a successful forum takes many direct and indirect factors into account. And the following is the classic formula that has been proven many times for the success of conventional forums in general.
Make your topics interesting and content relevant.
Create a unique board design
Optimize your forum for speed and SEO
Advertise your forum to create brand awareness
Take care of spams
Encourage visitors to sign up
Give it some time
---
4. How do I use the bbPress plugin in WordPress?
As bbPress is developed by the same team behind WordPress, it works fluidly with WordPress. Hence, you do not have to do much to use the bbPress plugin in WordPress. All you have to do is,
Log into your WordPress, and select 'Plugins >Add new'
Search for bbPress and install the plugin by clicking 'Install now'
Once installed don't forget to activate the plugin.
And that's all.
Wrapping Up
As we know by now, there are plenty of reasons why you should add a forum to your WordPress website. And we also know that it's not rocket science. Whether you want to add a questions-and-answers forum, message board, or discussion board to build a community, these feature-rich plugins are capable of doing everything.
So, click on the download button of any of the WordPress plugins and start creating a forum right away!
But, before you go, HooThemes has plenty of knowledge-sharing blogs on various topics that will enhance your professional or personal site. So make sure to check them out and share your feedback with us. You can contact us and share your feedback.