"Just like every business had some sort of CMS tailored — real estate or property agents, photographers, and artists all had a website management solution to call their own – so as for breeders with dog breeder WordPress theme".
Whether you run a vet clinic, pet shelter, pet-sitting, pet store or breeding business, somewhere around the future, you're going to need a striking website that aligns with your business and helps you efficiently deliver your message. Luckily, there are many dog breeding WordPress themes to choose from. Yet, it can be difficult to sort which one to go for!
Fortunately, we've done the heavy lifting for you. Below you'll find 11 best dog breeder WordPress themes that will help to extend the functionality of your website. This collection of premium dog breeder WordPress themes are dedicated to all bloggers and specialists that share an interest in the pet care area.
Every WordPress theme in the below-mentioned list answers the requirements of veterinarians, pet adoption, pet shops, and other dog-related businesses.
Table of Contents
Here it is! Let's take a quick view of which are the premium dog breeder WordPress themes, the prices, and ratings.
Best Dog Breeder WordPress Themes
NAME
DETAILS

Dog Breeding & Sale Theme



Welsh Corgi

Active installations: 200+
Rating: 4.83/5
Unique features: Compatible with WPBakery, One-click demo installation, Built with CSS3 and HTML code

Download

Pet WordPress Theme



Woof!

Active installations: 300+
Rating: 4.33/5
Unique features: Cross-Browser compatible – Safari, Chrome, Microsoft Edge, Opera, and Firefox, Free WordPress theme installation

Download

Veterinary Pet Care Theme



Pet Care

Active installations: 100+
Rating: 4.25/5
Unique features: 2 home page variation, Google Map (navigation), Homepage layouts

Download

Pet Shop & Breeding Theme



Pets Club

Active installations: 500+
Rating: 4.52/5
Unique features: Translation ready & WPML compatible, One-click demo data install, Powerful panel options

Download
PetCare

Active installations: 200+
Rating: 3.4/5
Unique features: Software version 4.4.2, 4+ Columns, Powerful theme options

Download
Haustiere

Active installations: 140+
Rating: 5/5
Unique features: Online documentation, Brands logo slider, Static blocks

Download
Pet Store

Active installations: 500+
Rating: 3.7/5
Unique features: Kaya slider custom post type, SEO ready, 10+ custom page widgets

Download

Pet Veterinary Theme



VetBox

Active installations: 70+
Rating: 4.75/5
Unique features: One-click demo importer, SEO audit and setup, Auto-update

Download
Knnel

Active installations: 200+
Rating: 3.67/5
Unique features: Widget demo content included, 13 SiteOrigin, Action hooks

Download

Best Dog Breeder theme



Dwag

Active installations: 500+
Rating: 3.6/5
Unique features: Translation ready, All-in-one WP migration, Lightweight and simple

Download
Happy Paws

Active installations: 80+
Rating: 1.2/5
Unique features: Fully Responsive, Free WordPress layout, Working Contact Form with Validation

Download
Let's dig right into this superb section of best dog breeder WordPress themes, where you will find every bit of the detail about them.
#1 Welsh Corgi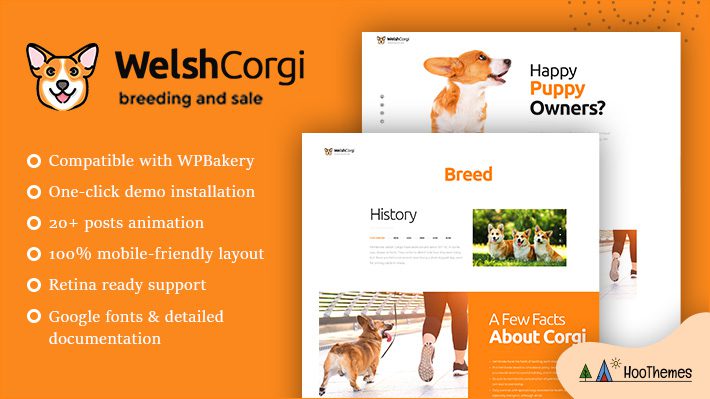 Source: Themeforest
Welsh Corgi is one of the most popular and cutest breeds of dogs today, so as the theme. Welsh Corgi theme – the most demanding pet breeding and care WordPress theme for dog-lovers. This theme comes with significant premade pages that you can use for various dog breeder websites.
With the help of using the essential grid plugin to construct a beautiful gallery, you can get the desired photography images on your website. In addition to that, this theme comes with lots of other useful plugins that can be helpful to you such as ThemeREX donations add-on will allow you to receive payments online, enhancing the list of your customers, and more.
Some of its features:
Compatible with WPBakery
One-click demo installation
Built with CSS3 and HTML code
100% mobile-friendly layout
Retina ready support
Swiper Sliders and Revolution slider supported
20+ posts animation
Custom shortcodes & widget ready
MailChimp supported
Google fonts & detailed documentation
Pros & Cons:
Pros
Cons

Good customer support
Effective design

Style sheet error
Minimum customization
Hence, if you are an animal breeder, pet sales company, Petfinder Company, and grooming pet agency, the Welsh Corgi theme can be your one-stop solution for a perfect website design. It's time to create a pet care website like never before with the Welsh Corgi WP theme.
Active installations: 250+
Rating: 4.83/5
---
#2 Woof!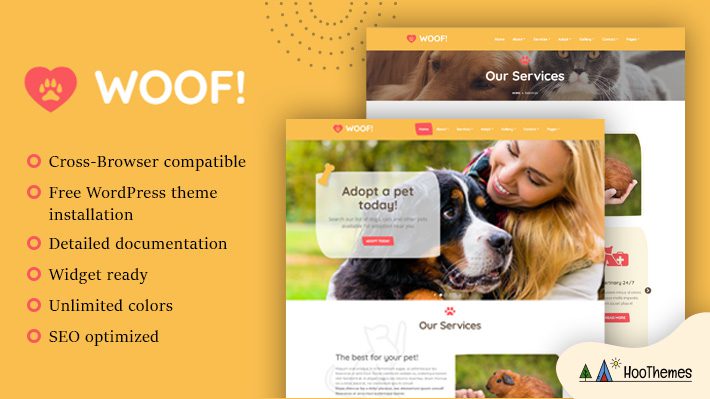 Source: Themeforest
Woof! is a creative and 100% responsive multi-page WP theme made for any animals or pet-related business website. It is best suitable for businesses like adoption, pet shop, care pet service, veterinarian, kennel, and vet care services. The theme includes many effectiveness and features that are easy to edit, customize, and user-friendly.
This clean and fashion design is easy to adjust, as there are Shortcodes generator and Visual Composer, which allow you to add several contents and alter its look easily. However, it also includes pages like adoption, services, and standard blog pages in the theme.
Some of its features:
Cross-Browser compatible – Safari, Chrome, Microsoft Edge, Opera, and Firefox
Free WordPress theme installation
Detailed documentation
Widget ready
Unlimited colors
Contact Form 7 plugin
Shortcodes added
SEO optimized
REDUX option framework
Icons & unlimited Google font
Demo content available
Pros & Cons:
Pros
Cons

Easy customization options
100% customer support
Bugs free

Does not provide installation services
Missing style sheet
Let's create a great looking pet grooming business website design that is not only feature-rich but also offers your end-users smooth accessibility. With Woof!, you are assured as they offer dedicated customer support. However, if you are facing a problem, you will always get immediate assistance.
Active installations: 300+
Rating: 4.33/5
---
#3 Pet Care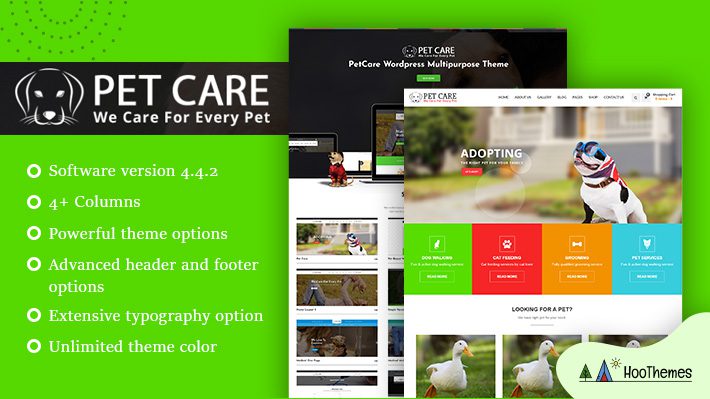 Source: Themeforest
Are you among the professional dog breeders? Well, the Pet Care theme, designed for people that have no time and desire to work with the code, is the best match. This theme comes with +4 premade skins, built-in Bootstrap, and easy to customize features.
In addition to this, the theme will allow you to enjoy the simplicity of the drag and drop page builder option. Moreover, Pet Care is also compatible with the WPBakery page builder. Yet, if you want to make it more efficient, using a WP booking calendar to manage your appointments will help you. You can also build a precise schedule that makes your business website look more engaging.
Some of its features:
2 home page variation
Google Map (navigation)
Homepage layouts
Codes optimized & Error 404 page
Contact Form 7
100% mobile-responsive
Search engines optimized
Detailed documentation
Contact page support
Unlimited color schemes
WooCommerce tags
Pros & Cons:
Pros
Cons

Good coding quality
Highly-customizable

Less translatable
Does not support petfinder.com
If you're looking for a theme for a pet clinic website or pet care center, Pet Care is a good template to go for. It has an amazing design and is integrated with the WooCommerce theme – a great feature to sell your products.
Active installations: 100+
Rating: 4.25/5
---
# 4 Pets Club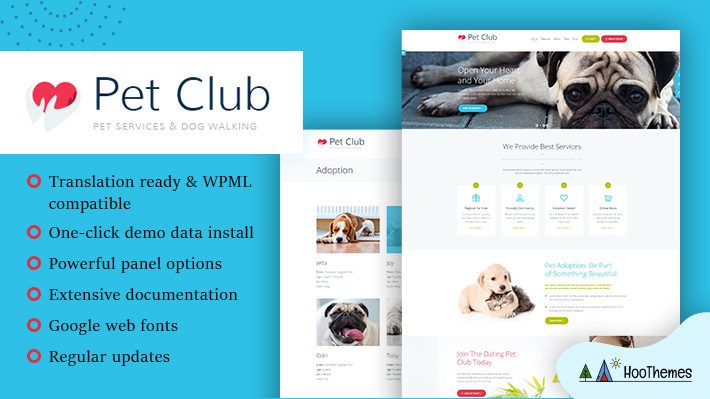 Source: Themeforest
Pet Club is a strong & unique pet care WordPress theme. It is one of the great theme options if you are seeking to create a business website for a pet clinic, animal care store, puppies sites, dog training/dog walking classes, animal breeding, cat and pet stores, animal shelter, pet salon, pet hotels, and dog/cat trainers.
Pet Club is also one of the wonderful theme options for dog lovers, pet caretakers, as well as adoption, pet food, grooming centers, kennels, vets or dog cat community earnings, championship or competitions including animal forums, exhibition club, and horse and pet dating.
Some of its features:
Translation ready & WPML compatible
One-click demo data install
Powerful panel options
Extensive documentation & BuddyPress compatibility
Powerful framework
Google web fonts
Regular updates
Comprehensive options panel
Friendly and effective customer support
Page layouts, Widgets, galleries, content blocks
Pros & Cons:
Pros
Cons

Great customization available
Clean and modern design

Poor code quality
It is not Gutenberg optimized
However, it's time to refresh your web presence with minimalist web design. With the Pet Club theme, you can not only enjoy the simple look but also experience with all premium WordPress theme features on your business website.
Active installations: 500+
Rating: 4.52/5
---
#5 PetCare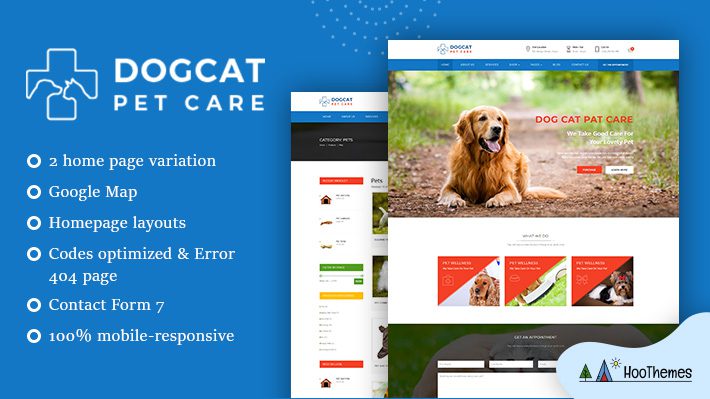 Source: Themeforest
PetCare is a beautiful and highly-responsive dog theme best suitable for small pet stores, a pet clinic, pet hospital, and pet daycare centers. It is one of the web templates, beautifully designed for the pet's stores and clinics. It offers a fully supported WooCommerce with its single web page design along with unique multiple blogging layout and shop layouts.
PetCare also offers both single-page layouts, so you can customize your site according to your liking. This WordPress theme provides six different homepage layouts and multiple customization options to make your site look out of the box.
Some of its features:
Software version 4.4.2
4+ Columns
Powerful theme options
Advanced header and footer options
Extensive typography option
Unlimited theme color
Parallax option
Layers framework
Power elite author tags
Pictures, videos, photos categories
Pros
Cons

Offers high resolution
Offers great flexibility

Poor customer support
Poor code quality
Pet Care is an ideal WordPress theme if you are seeking to create an information site for pet stores, veterinary clinics, animal shelters, cat shops, or pet caretakers, and also adoption centers or animal communities.
Active installations: 200+
Rating: 3.4/5
---
#6 Haustiere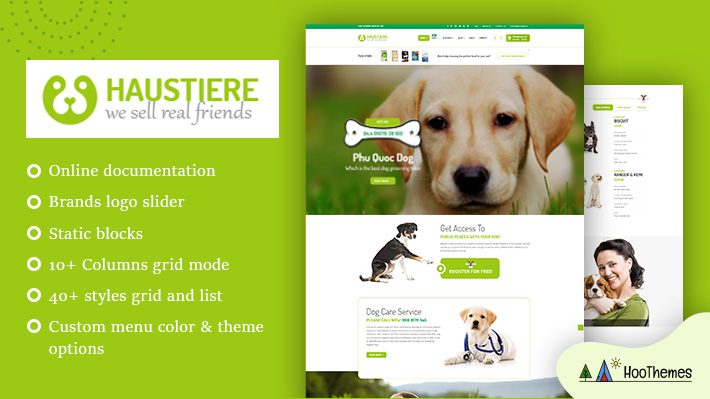 Source: Themeforest
Haustiere is the perfect theme for those who want to create a great site for your animal shelter. If you want to promote your pet store, dog training classes, or veterinary clinic, then Haustiere will help you get an engaging site that will attract more site visitors.
Calling it a combination of WordPress, Bootstrap, WooCommerce themes is not wrong. With the help of this theme, it becomes easy for any users to start their online store for merchandise, pet food, pet toys, etc. This theme is created around the purpose of finding homes for your animals.
Some of its features:
Online documentation
Brands logo slider
Static blocks
10+ Columns grid mode
40+ styles grid and list
Custom menu color & theme options
Post format & custom breadcrumb
Social sharing features (Twitter, Facebook, Instagram)
Add Google fonts
Menu sticky on/off
Fast Support & FAQ page
Pros
Cons

Offers high-resolution
Great technical support

Is not Gutenberg optimized
The Haustiere theme is created for vets, animal shelters, pet stores, cat trainers, and Pet caretakers. However, if you are looking for a pet WordPress theme that helps you attract lots of clients to your site, Haustiere is the right option to go for!
Active installations: 140+
Rating: 5/5
---
#7 PetStore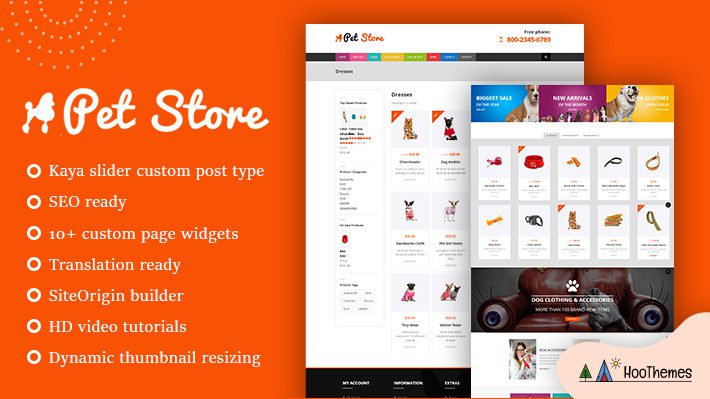 Source: Themeforest
PetStore – a unique care pet WordPress theme is designed as useful solutions for any pet store owners, online pet stores that require special shopping functionality and product presentation. This WordPress theme is fully designed and integrated with the WooCommerce shop plugin to showcase your pets and collections in creative ways.
This theme is loaded with page customizers, sliders, and custom widgets. Best of all, it's extremely easy to set up and editable, if you are planning to get a pet eCommerce store online.
Some of its features:
Kaya slider custom post type
SEO ready
10+ custom page widgets
Translation ready
SiteOrigin builder
HD video tutorials
Dynamic thumbnail resizing
HTML document file
Widget ready
Custom sidebars & private support forum
Pros
Cons

Effective design
Highly-responsive layout

Lack of high-resolution
Customer support is limited
Hence, to boost your animal site, using the Pet Store theme will help you gain your potential audience. It is extremely easy for armature web designers to fully design the site with the assistance of documentation and HD videos included in the theme.
Active installations: 500+
Rating: 3.7/5
---
#8 VetBox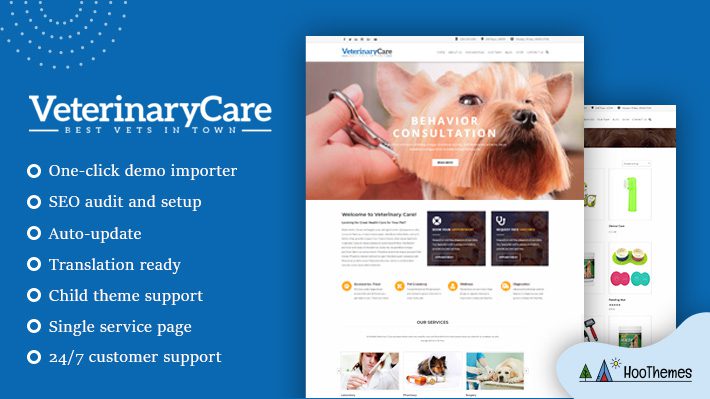 Source: Themeforest
VetBox is a veterinary WordPress theme best suitable for pet clinic sites. The Envato WordPress requirements specify that the theme has been reviewed recently for the latest WordPress standards. VetBox provides several alternatives that you can examine via its demo. This theme offers you the best features for any veterinary site.
VetBox is ready to use WordPress theme for doctors, Pet care shops as well as pet clinic sites. This theme comes with a lot of features and unlimited variations that include veterinary post type, FAQ post type, and services post type.
Some of its features:
One-click demo importer
SEO audit and setup
Auto-update
Translation ready
Child theme support
Single service page
Clean coding
24/7 customer support
Demo data and revolution slider
Owl carousel included
Pros
Cons

Efficient customer support
Easy to use theme

Difficult to customize
Missing style sheet
So are you ready to establish a tried-and-true atmosphere on your pet site? VetBox will help you get it all covered. It is considered to be an easy to install WordPress theme.
Active installations: 70+
Rating: 4.75/5
---
#9 Knnel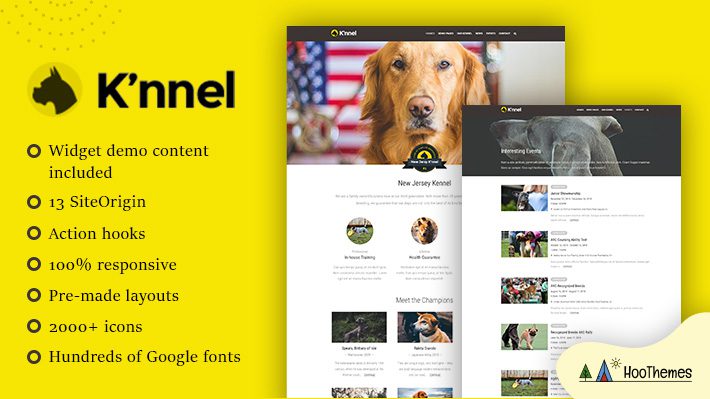 Source: Themeforest
Knnel in an ultimate WordPress template with plenty of features that will help you craft your perfect kennel site. The Knnel includes multiple predefined templates, plugins, and widgets precisely made to achieve the goals of this WordPress theme.
A captivating WordPress site works great. Hence, creating a sweet pet-friendly site for your users will help you attain a great online presence.
Some of its features:
Widget demo content included
13 SiteOrigin
Action hooks
100% responsive
Pre-made layouts
2000+ icons
Hundreds of Google fonts
Child theme included
SEO audit and setup
Auto update
Pros
Cons

Feature availability
Amazing design quality

Is not Gutenberg optimized
This WP template works great for both small scale breeders as well as large scale breeders. So, what are you waiting for? Let's get this template installed.
Active installations: 200+
Rating: 3.67/5
---
#10 Dwag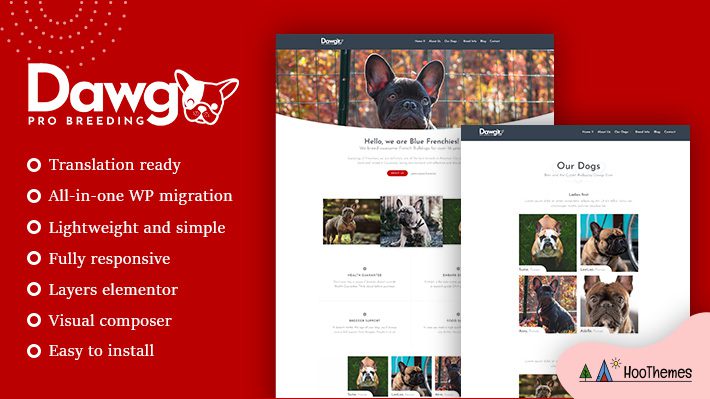 Source: Themeforest
Dawg is a WordPress template that's built for pet breeders. It can be tailored to suit any style of breed. This template is responsive, editable, and a must-have for kennels and serious pet breeders.
This WP template is designed using layers builder plugin, which makes it an easy to build template. Users will have 4 different homepage layouts to select from along with detailed documentation to help you build stunning-looking sites.
Some of its features:
Translation ready
All-in-one WP migration
Lightweight and simple
Fully responsive
Layers elementor
Visual composer
Easy to install
Pros
Cons

Weak customer support
Too many bugs
Active installations: 500+
Rating: 3.6/5
---
#11 Happy Paws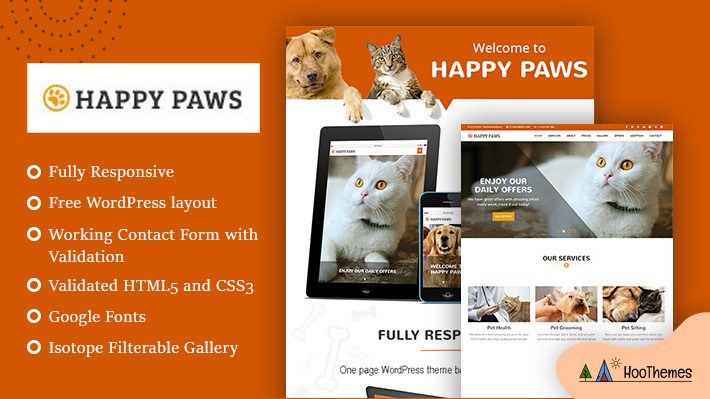 Source: Themeforest
Happy Paws is a very versatile WP template that can be used for any online pet-related business. Unlike the templates above, there is no specific focus but just pets! This WordPress template is highly-responsive, very fast, and can be easily edited with the help of the Visual Composer plugin.
No matter how your style of pet site is, you can make it look good with this template. Happy Paws also includes Google fonts and CSS animation, so you can choose the correct typography for your dream site.
Some of its features:
Fully Responsive
Free WordPress layout
Working Contact Form with Validation
Validated HTML5 and CSS3
Google Fonts
Isotope Filterable Gallery
CSS3 Keyframe Animations
Header Parallax Drag Slider
Bootstrap Framework
Pros
Cons

An Easy and simple template to use

Easy to customize
Poor documentation
Active installations: 80+
Rating: 1.2/5
---
Finally, with the help of solid blogging integration, you can easily create a pet-related site at any time and anywhere.
If you're a newbie trying to figure out just how easy it can be to create and design a website, you're in luck! Anyone can take advantage of building their website by following the below-mentioned pointers.
Buyer's guide to choosing a Dog Breeder WordPress Theme:
Unlike yesterdays, creating a dog breeding website in today's time isn't so bad. With the rise of content management systems like WordPress themes, anyone can have their hands on building websites with little to no training.
All you need is a good guide. (like this one)
Examine how the demo looks on your device.
With more than 4.5 billion active people using the internet in 2020, don't you want your website to look the best on the internet? Of course, you want to! These days, pretty much every WordPress theme is 100% responsive for all devices, which means that it works on desktops, mobile devices, tablets, and everything in between. So if you are not checking precisely, whether your theme works on mobile devices or not, you might get into trouble. However, with the help of demos, you can examine how your website will look on various devices as well as tablets.
Read reviews in detail!
If you think that choosing a pet breeding theme is difficult, then it's not! Thankfully, you don't have to do in-depth research as reviews can help you get your answers. Most theme marketplaces include public reviews that are helpful during your decision process. If you're looking at a ThemeForest theme, the reviews section in the right sidebar can help you get the exact idea. Make sure to check comments and ratings (stars) given to the theme. This will at least give a basic idea of how the performance of the theme is, have people opted for it, are people enjoying using it, etc.
Tick mark the updates or support policy
Generally, most of the pet breeder WordPress themes are available with one year of updates and support. (For Envato pty ltd products – 6 months of support)But it is important to verify the exact policy that applies to your theme. However, there are specific things to consider that includes:

The scope of support from the author you get is essential to examine. Some developers offer more limited support, so be aware.
Some WP themes offer you unlimited updates for your entire life, which is a great perk.
Pay attention to support channels. Is it a forum? Or is it ticket-based? Or is there live chat?

Ask it before the purchase or never!
It is a must to ask the developer of your theme any questions that come to your mind. No matter that question is silly, yet it is important. If you want to add some features and you are not familiar with the theme, reach out to your developer for knowing more about it. Say, for example, I was recently looking at a WP template that had this upvote feature. It was good but I knew there were problems with this type of caching and feature. So I reached out to the author and asked if the upvote feature would still work with caching. The developer replied that it would not. However, it might not be a big deal, yet it is important to ask every minute doubt to be assured when creating a successful website.
Run the demo through speed test tools
A speed demo check is vital because sometimes developers or authors have lots of analytic scripts running that you won't have on your website. However, being the user you at least want to understand roughly how well your chosen theme is performing. And if you are not allowed to access the theme files yourself, the best way you can go for it by testing the demo site. Well, to test you can run the demo site through Google page speed insights. This will help you get a rough idea of how optimized your theme is. But this is just for a rough idea! Say, for example, if Google complains about improper images, there is nothing to worry about. You can always fix that by reducing your image size once you download and install the theme.
FAQ
How do I create my dog breeder website?

If you're a dog lover and wish to create your pet breeding website, following the below-stated steps will help you get one. They are:

#Step 1 – Get a domain name and website hosting service.
#Step 2 – Choose a dog breeder WordPress theme and start the installation process.
#Step 3 – Install dog breeder for WordPress.
#Step 4 – Finally, customize your dog breeding website and theme. Browse for plugins and add-on you want to add on your website and you are ready with your website.

---

How do I choose the best suitable dog breeder template for my website?

Well, getting confused when choosing a dog breeding theme for your site is but natural. As there are various web themes available in the market. However, one of the only needs to focus on your objective to get it right.

If you want to create your website to sell dogs, then you need to get a WP template that offers features related to your interest. Once you pick your perfectly suitable dog breeding WordPress theme, you are all set to get your website online.

---

Will my dog breeding site be compatible with different platforms online (iOS & Android)?

Well, having a site that looks great on mobile devices, desktops, as well as on various browsers is important. In simple words, if you want your website to have a chance to rank in Google, it is essential to be all-platform compatible.

So clearly opting for an effective dog breeding WP theme having all-platform and cross-browser compatibility will help you create an effortless and user-friendly website.

---

Which are some of the best dog breeding WordPress themes I can go for?

When choosing your dog breeding website, selecting a WP theme from the below-listed themes can be fruitful:

Welsh Corgi
Woof!
Pet Care
PetCare
Haustiere
Pets Club
VetBox and more.

---

How do I add or install plugins on my dog breeding WordPress theme?

Well, all you need is to follow these steps:

Go to Plugins -> add "New". You'll be allowed to search through various WordPress plugins from which you need to choose one.
When you get the plugin you want, next is to click on install and this way you can get your wished plugin on your website.

Note: Every plugin is not created equally. Also, adding too many plugins will end up slowing your website. Hence, it is important to go through thorough research before you decide to start installing the plugin.
And it's a wrap!
Here, I've tried to make the list of some of the finest pet WordPress templates that will help you to build a perfect site easily. These templates are handpicked and well-tested.
However, if you have any related-queries or suggestion with these templates, feel free to contact us.
I hope the list was helpful for you and if you have used any of these WP templates, get in touch and share your valuable experience with us in the comment section below!