Does starting a magazine of yours seem a far-fetched dream?
First of all, kudos to you for dreaming big. You are already ahead of a throng of people. And secondly, this dream can certainly come true with these 11 Best Free Magazine WordPress Themes. We, at HooThemes, have handpicked 11 best WordPress themes that you can utilize in creating your website for magazines, news, or personal blogs.
A magazine takes a lot to be published, but the most expensive is the paper. The production of paper takes a toll on our environment and adds to the everyday rising global warming concerns. And as you can imagine, the magazine industry needs a lot of paper.
But at the same time, magazines are such an intricate part of our society. We rely on magazines for news, entertainment, knowledge, and inspiration. So, what is the middle ground? What can we do to get the best of both worlds?
The solution is both simple & practical.
Switch to online magazines. eMagazines are the best use of the internet if you ask us. You save forests of trees and do your bit in protecting the environment. And practically speaking, when was the last time you saw people carrying magazines around to read?
The internet and smartphones have revolutionized the way we consume content. Therefore, to reach maximum readers, your content needs to reach their screens. And these best magazine themes are acing that game. And just for your knowledge, we also have included some premium themes which can not be avoided. Because knowledge does not cost anything.
Moreover, the free availability of WordPress has taken it to the next level. WordPress never asks for your money or your coding knowledge. How amazing is it? Anyone who wants to publish a magazine can do it within a day, starting right from installing WordPress to creating the website. So, what are you waiting for?
But, before diving deep into the themes, let's start from basics.
What Is A Magazine Theme?
A magazine theme is nothing but a WordPress theme explicitly crafted to suit websites for magazines, news, publications, or personal blogs. A magazine theme has all the niche-specific features which help a magazine website to be functional, creative, and effective.
If you want to design a website for your magazine, you can simply pick a magazine theme and it will save a lot of time to customize it as you want.
So, are we clear now? Therefore, let's look at the list of themes we have collected for you.
Best Free Magazine WordPress Theme (Table, rating)
NAME
DETAILS
Magazine News Byte

Active Installations:

2000+

Rating: 4.5/5
Unique features: eCommerce Ready, Sticky Post

Download
MagazineNP

Active Installations:

2000+

Rating: 5/5
Unique features: Gutenter Compatible, Widget Base Theme

Download

Modern Magazine Theme

Pixwell

Active Installations:

3800+

Rating: 4.8/5
Unique features: Read It Later, GDPR Compliant

Download
MagazineBook

Active Installations:

2000+

Rating: 5/5
Unique features: Light & Dark Layout, SEO Friendly

Download

Newspaper & Magazine Theme

Newsmag

Active Installations:

16,400+

Rating: 4.8/5
Unique features: WPBakery Page Builder, AMP Ready

Download
Refined Magazine

Active Installations:

3000+

Rating: 5/5
Unique features: Gutenberg Support, RTL Language Support

Download

Best News Magazine WP Theme

Voice

Active Installations:

7500+

Rating: 4.9/5
Unique features: Gutenberg Support, bbPress Support

Download
Magazinely

Active Installations:

1000+

Rating: 3/5
Unique features: Ad Banners, Responsive Theme

Download

Comprehensive Magazine Theme

The Voux

Active Installations:

8000+

Rating: 4.4/5
Unique features: Video Monetization, WooCommerce

Download

Easy-to-Use Newspaper Theme

Magazine Vibe

Active Installations:

800+

Rating: 4.6/5
Unique features: WooCommerce, Revolution Slider

Download

Creative Magazine Template

Buzzy

Active Installations:

500+

Rating: 5/5
Unique features: Custom Widget Areas, WooCommerce

Download
Best Free Magazine WordPress Themes to Choose From (Introduction, Unique Features, Pros & Cons)
Now that you have a basic idea about every theme, let's discuss one theme at a time in detail.
#1 Magazine News Byte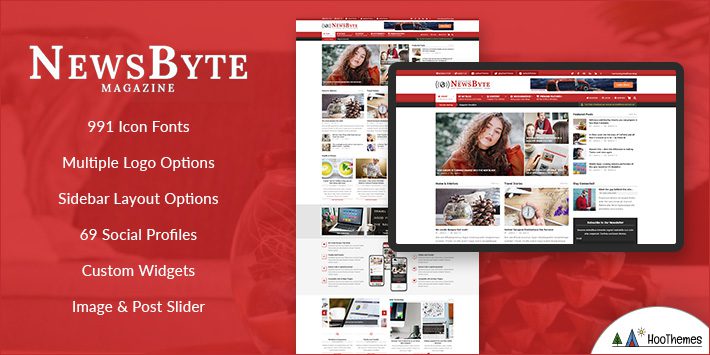 Source: wordpress.org
Magazine News Byte is one of the best free and modern magazine WordPress themes. This simple WordPress theme for an e-magazine is an excellent choice if you are new at website designing. Its quick and easy-to-use theme design lets you create magazine sites within just a few minutes.
Download Magazine News Byte Theme
The 'Magazine News Byte' theme has a vast number of customization options and handy custom widgets for you to build a unique news/magazine website. If you are looking forward to having a content driven website, then this WordPress theme can be the best place to begin.
This free magazine WordPress theme showcases content in a boxed or full-width layout to make sure it pleases all the visitors. And it is translation-ready for your international subscribers. What if your subscribers want to order your products? This one of the free magazine WordPress themes has already taken care of that. It comes with the widely popular WooCommerce plugin.
Moreover, as we know that most readers use their smartphones or tablets, this free WordPress theme has a fully responsive and retina-ready design for the best user experience. And to reach a wider reader base and increase organic traffic, this free magazine theme is SEO-friendly.
Core Features:
991 Icon Fonts
Multiple Logo Options
Sidebar Layout Options
69 Social Profiles
Custom Widgets
Image & Post Slider Option
Fully Responsive Design
Full-width Template
Unlimited Color Schemes
Built for Speed
Pros & Cons:
Pros
Cons

eCommerce Ready
Sticky Post
Active Installations:

2000+

Rating: 4.5/5
---
#2 MagazineNP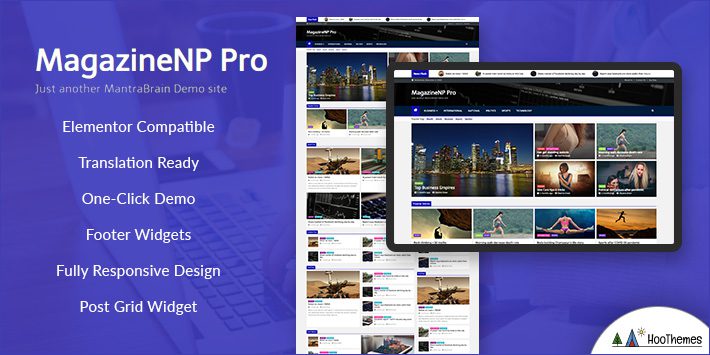 Source: wordpress.org
Does your interest fade away when a website takes forever to load? If yes, you are not alone. Nobody likes a slow website, and you certainly would not want such a website for your online magazine. Right? Thus, we have found a perfect solution for you.
The 'MagazineNP' is one of the fastest and best free magazine WP themes. It is fast, explicitly for online magazines, and free. Could it get any better? Yes, it could. The bundled features of this blog theme like feature slider option, post grid widget, theme style front page template, and post-column, skim this free WordPress theme out of the rest.
Additionally, now you can also highlight related posts on a single post just by one simple click. As a matter of fact, everything with this free theme is just a click away. Because it has got Glutenberg and Elementor Compatibility ( and just to remind you) for FREE.
Okay! Now the website is ready to host your content as a garnish. But what if you want to grow your magazine business by selling your products and services, the WooCommerce plugin is always at your arm's reach.
To include more specs and functionalities, a premium version is also ready to serve you the best SEO practices. Hence, try out the 'MagazineNP' theme, now!
Core Features:
Elementor Compatible
Translation Ready
One-Click Demo Import
Footer Widgets
Fully Responsive Design
Post Grid Widget
Featured Slider
Related Posts
Pros & Cons:
Pros
Cons

Gutenberg Compatible
Widget Base Theme
Active Installations:

2000+

Rating: 5/5
---
#3 Pixwell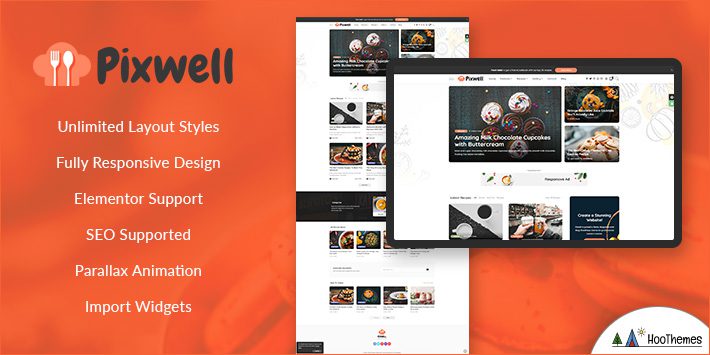 Source: Themeforest
Call it an end of your search mission if you are looking for a modern WordPress magazine theme. Nothing fits better than the 'Pixwell' WordPress theme for WordPress, in this criteria. Well, not just for fashion magazines but for all sorts of blogs and media companies.
Just look at the wide range of specs that this responsive magazine WordPress theme offers. Creative design, demos with custom elements, Ajax & live search inputs, lazy loading effect, news categories, author bio, and APM support, just to name a few. With such customizability, this wp magazine theme has the support of the Elementor page builder.
The 'Pixwell' WordPress theme is also shop integrated, so you can now build your online store with a wishlist. And not just a store, but you can also sell 3rd party products and monetize your blog itself by mentioning referral links. Wouldn't it be a smart move?
Moreover, this WordPress theme comes with a review system that makes your fashion, recipe, lifestyle, or travel blog engaging by allowing the visitors to review and post their reactions similar to the Facebook reactions. But the most useful and unique feature that your readers will appreciate is the Read-it-later. This allows your readers to bookmark their favorite blog/article to read it at a convenient time.
Core Features:
Unlimited Layout Styles
Fully Responsive Design
Elementor Support
SEO Supported
Parallax Animation
Lazy Loading Effect
Import Widgets
Woocommerce
Full-width Banner
800+ Google Web Fonts
AMP Ready
Views Counter
Pros & Cons:
Pros
Cons

Read It Later
GDPR Compliant
Active Installations:

3700+

Rating: 4.9/5
---
#4 MagazineBook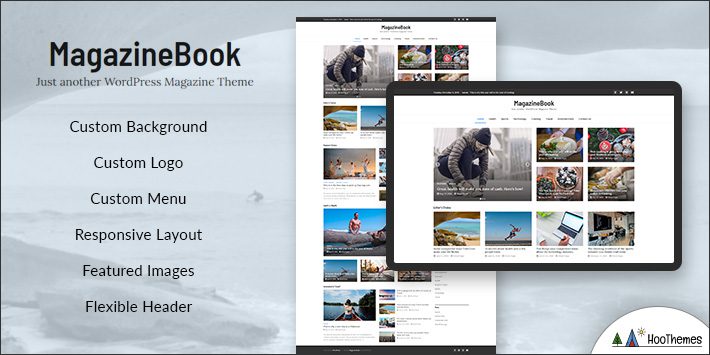 Source: wordpress.org
'MagazineBook' is a free magazine WordPress theme that can give magazine sites a modern and elegant touch. Other than all the specs and flexibility, this free theme is quite lightweight and easy to use.
And talking about its specs, this clean and simple WordPress theme has all that a magazine website needs. An attractive blog section that facilitates your readers to concentrate on your content and nothing else. This free WordPress magazine theme bags every standard customization options such as custom logo, navigation menu, background; left & right sidebars; one or two-column magazine layout options.
Moreover, this free theme can utilize unique magazine niche-specific widgets. This free WordPress theme gives you options for light or dark modes. And on top of that, the easy-to-use WordPress theme customizer options take out all the efforts in editing all the theme elements.
Now, let's tell you more about its design. This free wp magazine theme has a triest and tested seamless responsive layout. It is search engine friendly and hence you don't have to worry about SEO results anymore. It is also very fast due to the speed-optimized design.
Thus, this responsive magazine theme is a perfect platform for magazines, publishing, blogs, or dynamic news sites.
Core Features:
Custom Background
Custom Logo
Custom Menu
Responsive Layout
Featured Images
Flexible Header
Unique Widgets
Left & Right Sidebar
Theme Options
Threaded Comments
Translation Ready
Pros & Cons:
Pros
Cons

Light & Dark Layout
SEO Friendly
Active Installations:

2000+

Rating: 5/5
---
#5 Newsmag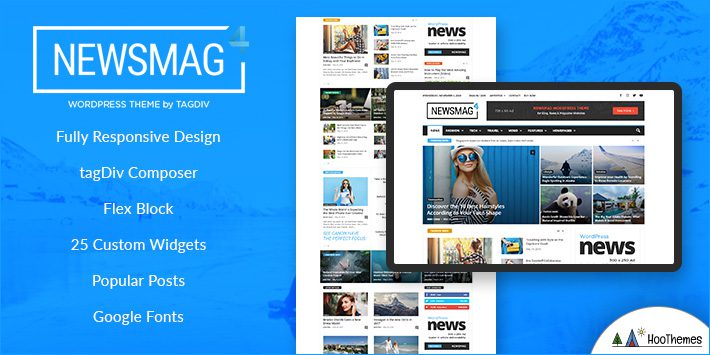 Source: Themeforest
Do you love writing articles and blogs? This responsive theme can help you do what you love. 'Newsmag' is a great news and magazine WordPress theme for all the writers and the editors.
Write anything like news, eMagazines, articles, columns for newspapers, or just personal blogs, this modern WordPress news theme is specifically tailored for presenting your write-ups in the best way on news portals.
This responsive magazine theme has not only a responsive layout, but it also supports responsive news ticker, Google Ads, and AdSense.
The most outstanding feature of the 'Newsmag' modern magazine theme is its tagDiv composer. This page builder plugin has the latest technologies and is designed explicitly for creating magazines, news, journals, and blogs. It can build custom page templates for review websites with 100% front-end editing and the ease of drag and drop. It has revolutionized the online magazine design with over 100 handcrafted elements.
The uniqueness of this magazine theme does not end here. It comes with the most versatile and explicit element, the Flex Block. It provides you with unlimited combinations to create dream designs but in an easier and faster way.
Moreover, posting creative posts is never an issue. This magazine page template carries nine different ways to showcase, publish your stories.
So, go check it out. NOW!
Core Features:
Fully Responsive Design
tagDiv Composer
Flex Block
25 Custom Widgets
Popular Posts
Google Web Fonts
Ajax Login / Register System
Live Ajax Search
News Ticker
WooCommerce
YouTube, Vimeo Playlist
Gif Animation Support
Unlimited Sidebars
WPML Compatible
Pros & Cons:
Pros
Cons

WPBakery Page Builder Plugin
AMP Ready
Active Installations:

16,100+

Rating: 4.8/5
---
#6 Refined Magazine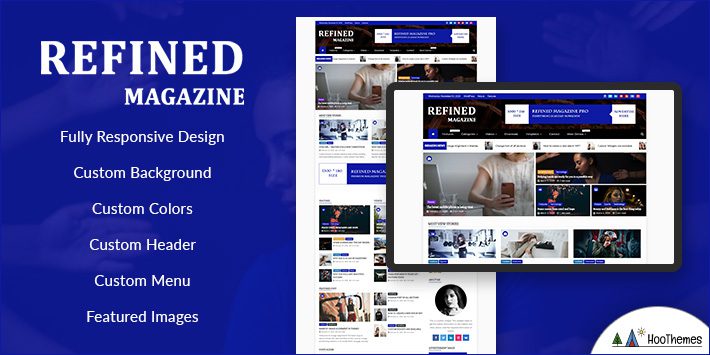 Source: wordpress.org
'Refined Magazine' stands tall among the best free magazine WP themes. This responsive magazine theme best suits online magazines, newspapers, journals, and press-related blogs.
Download Refined Magazine Theme
This free WordPress theme is lightweight and user friendly. Its fully responsive design allows your content to shine on devices with any screen sizes. And with the SEO optimized code, RTL Support, and Translation readiness, nothing can stop your website from reaching a wider audience.
Furthermore, this magazine theme for WordPress offers various customizer options, such as nine added custom widgets, unlimited color options, and prominent plugins, to make your magazine site as unique as your stories. Additionally, this free theme brings specs like meta options, sidebar options, header & footer options, and an individual sidebar for a single post.
The 'Refined Magazine' free theme is popular for providing Gutenberg Support for free. With Gutenberg support, you can easily edit your website layout in blocks by simple drag and drop. Finally, the cherry of this case is its one-click demo install option. It saves a lot of time and effort from the developer.
What else can we ask for!
Core Features:
Fully Responsive Design
Custom Background
Custom Color Scheme
Custom Header
Custom Menu
Featured Images
Footer Widgets
Left & Right Sidebar
Theme Options
SEO Friendly
Threaded Comments
Translation Ready
One, Two, and Three Columns
Pros & Cons:
Pros
Cons

Gutenberg Support
RTL Language Support
Active Installations:

2000+

Rating: 5/5
---
#7 Voice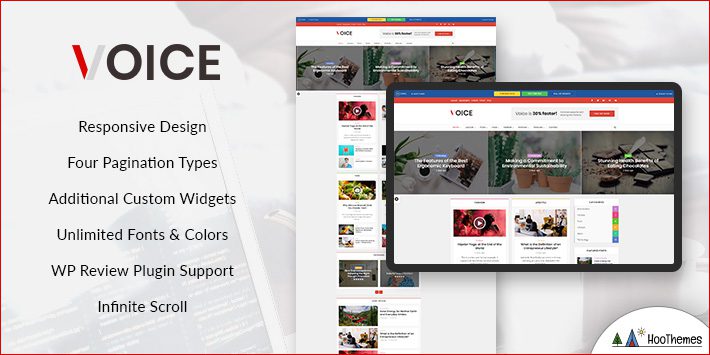 Source: Themeforest
Guess what can make your stories heard? The 'Voice'.
The 'Voice' is one of the best magazine WP themes you can get. This Responsive theme is an apt option for any kind of magazine be it fashion magazine, lifestyle magazine, news magazine, news journals, news portals, or travel magazine.
This responsive magazine theme comes with Built-in Performance Options that multiply the loading speed of the magazine site. Your subscribers will get an excellent user experience. And we know how vital it is for the growth of online magazines.
Are you tired of one-off text widgets? What if this responsive magazine theme has a better alternative. It has got a built-in banner ads system. This allows you to monetize your dynamic news site by placing banner ads on the home page advertisement area, archive pages, or on specific posts. And talking about the income reminds us that this magazine theme also supports the WooCommerce plugin.
Aren't you impressed yet? No problem, this mobile-friendly WordPress theme is not done yet, either.
For making your website designing process simple and effortless, this SEO-optimized magazine theme comes with predesigned demos and category layouts. These website demos are uniquely crafted and are further easily modifiable with the drag and drop Composer.
Therefore, use the 'Voice' WordPress theme for growing your magazine worldwide.
Core Features:
Responsive Design
Four Pagination Types
Additional Custom Widgets
Unlimited Fonts & Colors
150+ Post Listing Combinations
Review System
WP Review Plugin Support
WooCommerce Support
Infinite Scroll
Shortcodes
RTL Support
Demo Content Included
Pros & Cons:
Pros
Cons

Gutenberg Support
bbPress Support
Active Installations:

7500+

Rating: 4.9/5
---
#8 Magazinely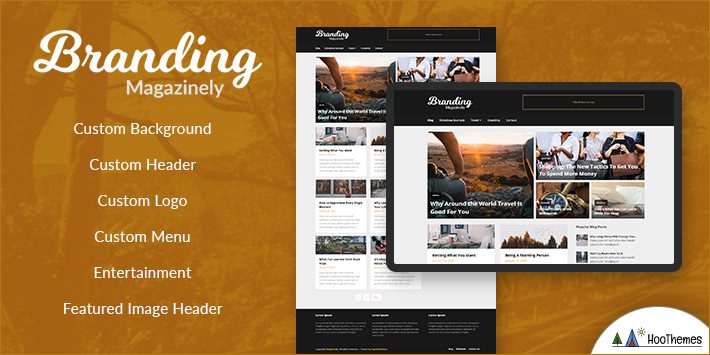 Source: wordpress.org
If you want to give your news/magazine website a classic look, this free WordPress theme is just perfect for you. With the 'Magazinely' free WordPress theme, you can build websites for an online editorial magazine, news sites, or personal modern blogs.
This is a fully responsive magazine theme that has no issues in adjusting to various screen sizes. And it is built with SEO optimized code which seeks all the attention of every search engine.
Do you know that ads are the biggest means of income for any magazine? Therefore, this responsive magazine theme reserves tons of ad spaces for ad banners. Be it banners, image, or video option, this free WordPress magazine theme can host all of them in just one click. Thus, being an affiliate has never been this easy.
Moreover, the 'Magazinely' is known as one of the best free WordPress news themes because it has various customization options to build a unique magazine site. This easy-to-use responsive magazine theme can create your news sites in just a few minutes.
So, grab this free magazine theme, NOW!
Core Features:
Custom Background
Custom Header
Advertisement Settings
Featured Image Header
Featured Images
Flexible Header
Footer Widgets
Grid Layout
Right Sidebar
Sticky Post
Theme Options
Threaded Comments
1, 2, 3 Columns
Translation Ready
Pros & Cons:
Pros
Cons

Ad Spaces Ad Banners
Responsive Theme
Active Installations:

1000+

Rating: 3/5
---
#9 The Voux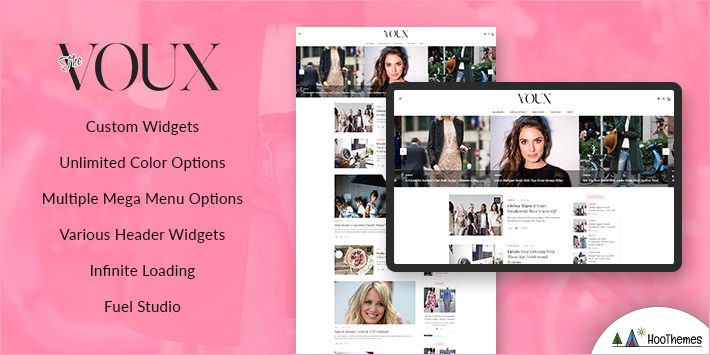 Source: Themeforest
'The Voux' is easily one of the best feminine magazine WP themes. This magazine WordPress theme is designed by 'Fuel Themes', a WordPress VIP Silver Agency Partner. Isn't it enough already?
This WordPress theme is a specialist in making a stylish, professional, and lightweight magazine theme. With the extremely easy page builders like Elementor & WPBakery, this news template takes no time in creating dynamic news websites.
You can simultaneously show and sell your latest collection of fashion. Yes, you read it correctly! This SEO-optimized theme incorporates advanced shoppable images with the help of the HotSpots function. Not only that, but it also supports WooCommerce. Therefore, you can build an entire online store for your products.
This responsive magazine WordPress theme can make your website developing process quick and fun by predefined demos. These website demos are designed for every niche, be it travel, fashion, or lifestyle. All you need to do is one click and Voila! Your website is ready to go.
And let's suppose you want to add a personal touch to it. And for that, all the design elements can easily be moved.
Now, what better marketing is than social media sharing on various social media profiles? This mobile-friendly WordPress theme lets you share your post on all prominent social networks.
Therefore, put everything else aside and start crafting magazines with 'The Voux'.
Core Features:
Custom Widgets
Unlimited Color Schemes
Multiple Mega Menu Options
Various Header Widgets
Infinite Loading
Fuel Studio
Lazy Loading Effect
Adaptive Image
Premade Demos
Lightbox Gallery Styles
Pros & Cons:
Pros
Cons

Video Monetization
WooCommerce
Active Installations:

7900+

Rating: 4.4/5
---
#10 Magazine Vibe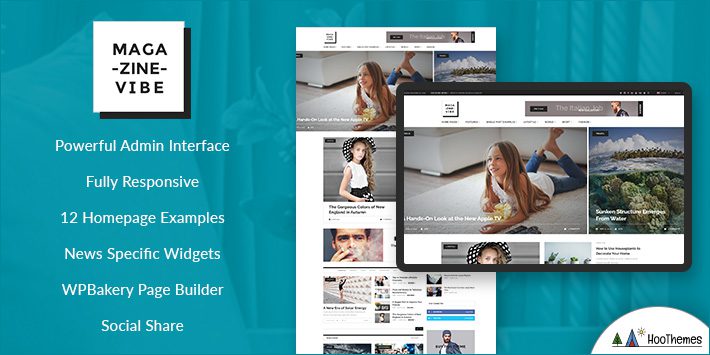 Source: Themeforest
If you are looking for WP themes for eMagazines, you have come to the right place. The 'Magazine Vibe' is a perfect WordPress theme for news journals and magazine websites. It is fully responsive and modern.
This WordPress magazine theme consists of heaps of niche-specific specs and functionalities. Create navigation menu, mega menus & Interactive Header Styles that make your web news portal and magazine website accessible.
To simplify the theme editing process, this WordPress theme has over ten different content block layout options, sidebar layout options, twelve home-page layout options, and the effortless drag and drop option. You never have to worry again about the search engine results because this WordPress magazine theme has quality codes and SEO optimization.
And who does not want to save time, right? Thus, this responsive magazine WordPress theme has multiple page templates & multiple importable pages. Just click once and the page layouts are ready to be garnished by your content. And for further ease, it offers a huge collection of custom shortcodes.
One of the prominent benefits of an online magazine over the hardcopy is that you can also display video content. And to make the most out of it, this wp magazine theme with a clean and professional magazine look provides the expanding video post shortcode. Availing of this, you can post videos anywhere on any page.
Hence, use the 'Magazine Vibe' WordPress theme and create your dream design.
Core Features:
Powerful Admin Interface
Fully Responsive
12 Homepage Layout Options
News Specific Widgets
WPBakery Page Builder
WPBakery Page Builder Support
Social Share
Retina Ready
WPML Plugin
Contact Form 7
Pros & Cons:
Pros
Cons

Drag And Drop Interface
Revolution Slider
Active Installations:

800+

Rating: 4.6/5
---
#11 Buzzy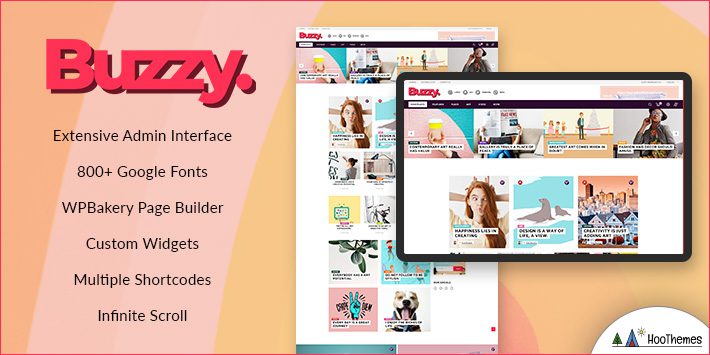 Source: Themeforest
If creativity is what drives you, the 'Buzzy' WordPress magazine theme is the best tool for you. This blog theme will never put a limit on your out of the box creativity. It has a fully responsive and retina ready design to woo your subscribers on with crystal clear images on any screen sizes.
This WordPress magazine theme offers you tons of post blocks and magazine layout options for great combinations. This mobile-friendly WordPress magazine theme is the best way possible to get your imaginative design into reality. All you need to do is simply drag and drop. You can start with any pre-designed page layouts or start building one from scratch. The choice is yours.
If you are going for an elite user experience and user interface, this WordPress magazine theme carries premium plugins such as revolution sliders and membership plugins. Worry not, this news template will never test your coding skills. Not even for SEO practices. If you can fill colors in a kids coloring book, we are pretty sure you got this too.
Therefore use the 'Buzzy' magazine WordPress theme and your online magazine will be the breaking news of the town.
Core Features:
Extensive Admin Interface
800+ Google Fonts
WPBakery Page Builder
Custom Widgets
Multiple Shortcodes
Infinite Scroll
Load More Pagination
Header Top and Header Bottom Widget Areas
Customizable Google Maps
Child Theme Included
WPML Compatible
Contact Form 7 Compatible
Pros & Cons:
Pros
Cons

Custom Widget Areas
WooCommerce Compatible
Active Installations:

500+

Rating: 5/5
---
The Future of Magazine-Style Blog Layouts: Trends & Design Ideas
Due to the fast-growing number of internet users, we are witnessing the peak of creativity. Anybody with or without an idea can start a blog. But not all of them are equally successful.
A few things define the success and popularity of a blog. And the trends and design are the big players in that arena. And in this everyday evolving blog world, being in the present trends is just not enough. We have to keep an eye on future trends too.
Therefore, to save your time, we decided to provide you with the best WP themes and future layout ideas in one place.
Thus, let's have a quick look.
#1 Widget for Featured Stories
If you have ever noticed, the newspaper does the same. The first story on the front page is the most popular or the most viral one. And we are witnessing the same in the magazine-style blog layout styles.
Every big name in the niche displayed the featured story on the top with a full-width size cover. And most probably that story is why the visitor is here. So, why not give it to them without wasting much time?
Now under the full width featured story, you can display three hot topic articles with similar square thumbnails. Not only this layout design attracts the most attention but also gives your blog a professional touch.
And for such a design, you could exploit any of the above-mentioned free magazine-style WordPress templates.
#2 Taglines Under Headlines
This is quite a smart and useful trend in magazine-style blog layouts. And it is here to stay.
The headline alone can be impressive but you should also add a short tagline that tells what to expect in the blog.
If you take any leading magazine blog, you find it there. And not only in the blogs but it is also found in the google results. Only there it is called 'Title' and 'Meta Title'. This layout design captivates the reader and serves their curiosity.
And let's be honest, today's readers do not have time to go through the whole of the blog and figure out if it was useful or not. The tagline saves their time and hence saves you some bad reviews.
#3 Links to Related Content
One of the simplest and most practical trends in magazine-style blogs is the related content links. If readers have read your blog, he/she most probably is interested either in the topic of that blog or in your writing style. In either case, you should draw their attention towards more of it.
You can use the 'Related Link' widgets at the bottom of your blog. This way they get to see only the references that they are interested in. Or, if you are not planning on using widgets, then you should mention the referral links in your blog content itself.
Not only it helps your readers to find what they want easily, but also shows that your brand has got enough content and is professional. This trend can be seen in all the popular magazines and dynamic news blogs. And by seeing the results, it is going to be a necessity in the design layout of all the blogs.
#4 Innovative Design
"There's a way to do it better – find it." –Thomas A. Edison
The future is full of possibilities. So, do not hesitate in trying something new. Your followers have subscribed to you because you have something that they could not find elsewhere. So, keep innovating new designs and layouts.
To cut it short, keep on following the trends, or be a trend. Simple as that.
FAQ
1. What are WordPress Magazine Themes Best Used For??
Magazine Themes are best used for making review websites for online magazines and personal blogs.
These themes are perfect for making a travel magazine, news magazine, lifestyle magazine, fashion magazine, business magazine, real estate magazine, or anything in between.
If you do not want to commit to a whole magazine, then you can also design your blog website. Be it a technical blog, creative blog, artsy blog, or any sort of blog.
These themes can support multiple post formats so that you can add the image and video option to make your news site more interesting and engaging.
---
2. What Features Should the Best WordPress Magazine Themes Have?
There is a horde of paid and free WP themes for magazine and web news portal. Sometimes it is overwhelming to select the best out of them. Therefore, to skim the best out of the theme, the following features can be the parameter.
Blog Section
Multiple Post Formats
Translation Ready
Related Post Widgets
Featured Post Widgets
Read-it-later
Contact Form 7
Subscription Button
If the theme has all of the above-mentioned features, you should go for it.
We have kept all of these factors in mind while picking every theme in the above list. So, choose any theme and you do not have to worry about a single thing.
---
3. How Much Do WordPress Magazine Themes Cost?
The cost bracket is so wide when we talk about WordPress magazine themes. The cost of the theme depends on the features and services it offers. Therefore, you can get a magazine and news WordPress theme in your budget. Whatever it may be.
Right starting from free to a whopping $250 per year. Moreover, if you want to add extra functionalities, there are many paid premium plugins that you can utilize. Hence, there is no such limit to the cost of a WordPress magazine theme.
---
4. How Do I Create a Magazine Website?
First thing first, you need to make sure of your content. For better planning and consistency, you should have content for at least 3 months in advance.
Okay! Now that you have the best of the content, you should follow the below steps.
STEP 1: Finalise a website domain name
STEP 2: Choose the apt web hosting service
STEP 3: Install WordPress
STEP 4: Choose the best fit theme
STEP 5: Install and configure the theme
STEP 6: Add plugins or extensions of your choice
STEP 7: Start posting your content
---
5. What are the best online magazines?
These are the best online magazines that are changing the news and blogs publishing industry.
Conclusion
Guess who is now an expert on free WordPress magazine themes?
We have discussed all the best free magazine WordPress themes/WordPress newspaper themes. Every theme on the list is worthy of your content. Feel free to pick any theme that suits your magazine the best. And now we also know the future of magazines. What trends are predicted to stay? And what kind of layout is better for a future proof design?
Hence, we hope you have found the free theme that you were looking for. Check out some specific WP themes such as WordPress Blog Themes Liked by Many Bloggers, Travel Blogger WP Theme, Clubs & Organizations Templates and WordPress Themes for Authors.
And for more such knowledge sharing blogs, subscribe to HooThemes.
Thank you for your undivided attention!