In this post, let's meet the 11 most popular Podcasting WordPress Themes 2020 that can make you a fantastic host for your targeted audience or should I say, listeners?
We all know that podcasts are gaining a lot of popularity, clearly due to people's choice of listening to music and audio podcasts while working, traveling, cooking, etc. However, if you are planning one, it's a great idea. Starting your own podcast can be a fantastic way to grow your business brand, can help in connecting with your target listeners, or simply entertain your audience. Well, thanks to our collection of the 11 best Podcasting WordPress Themes, designing a website to accompany your podcast has never been simpler!
Did you know – More than 65% of podcast listeners tune in using numerous portable devices like tablets and smartphones.
We've curated this list of our audio player WordPress themes, which will surely help you, share your content on your website, and will help you start a podcast & make lasting connections with your fans and audience.
Now, without any further ado, let's dig the details…
Here's a little presentation in a table form that showcases the best podcast WordPress themes, ratings (stars), price, and the developer who developed them.
List of 11 Best Podcast WordPress Themes
NAME
DETAILS

Podcasts Multipurpose WP Theme



Rekord

Active installations: 150+
Rating:
Unique features: Bootstrap 4 compatibility, Productions and development versions, Widget ready

Download
Megaphone

Active installations: 800+
Rating: 5/5
Unique features: Automatic episode number detection, GDPR compatible, Customization made easy

Download
Fastcast

Active installations: 50+
Rating: 4/5
Unique features: 8 skins available, Podcast rich snippet added, Easy location and custom font support

Download

Online Music Theme



Rare Radio

Active installations: 150+
Rating: 5/5
Unique features: Online radio stream, Powerful interface and framework, Pre-built pages

Download
Megabyte

Active installations: 300+
Rating: 4/5
Unique features: No coding necessary, Premium slider

Download
Soundbyte

Active installations: 1.2k+
Rating: 4/5
Unique features: No coding knowledge required, Premium revolution slider

Download

Podcast Multimedia Theme



Podcaster

Active installations: 2.7k+
Rating: 4/5
Unique features: Social media integration, Theme options for easy customization

Download
Sonus

Active installations: 200+
Rating: 3.5/5
Unique features: 1170px grid elements, Supports iTunes, Apple podcast, Google Play Music, RSS feeds, and XML

Download
Audonic

Active installations: 100+
Rating: 2.5/5
Unique features: Events calendar included, Theme web hosting offer

Download
Wpcast

Active installations: 600+
Rating: 5/5
Unique features: Musician theme, More than four demos

Download

Audio Podcast WordPress Theme



Castilo

Active installations: 1.1k+
Rating: 5/5
Unique features: 4+ columns, Compatible to multiple browsers

Download
11 Efficient and Premium WordPress Podcasting Themes you can Opt For
Let's jump on the details and explore what these podcast WordPress themes have to offer us!
#1 Rekord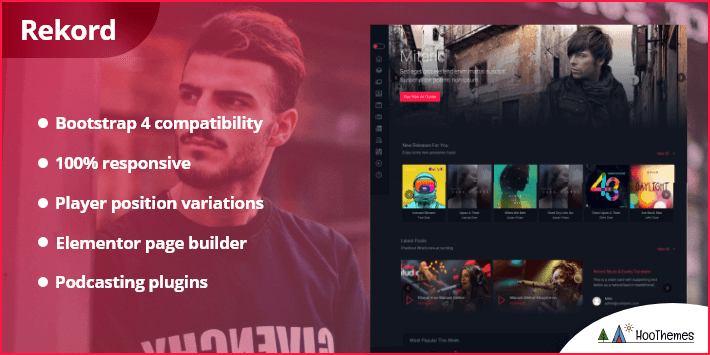 Source: Themeforest
Rekord – an audio player podcast WordPress theme is based on bootstrap. This WordPress podcasting theme is best suitable for singer bands, a radio station, a music player, music bands, music artists, radio hosts, podcasters, and event managers. Rekord podcast WordPress theme is well designed keeping in mind a modern yet simple look with line icons and multiple skins. In addition to that, this podcast WordPress theme is fully Ajaxify which means the soundtracks will continue playing even when you are visiting other pages. This podcast player theme is easy to use and can be customized according to your requirements.
All post types are effortlessly editable directly from the admin panel. Rekord has documentation details for each element with code examples and variations inside demo content. However, if you're looking for a reliable yet fancy podcast WordPress theme, you know which one to choose now!
Key features:
Bootstrap 4 compatibility
Productions and development versions
Widget ready
Fully Ajaxify
RTL support
100% responsive
Highly-customizable
Player position variations
Cross-browser compatible (Chrome, Edge, Opera, Safari, Firefox, IE11)
Elementor page builder
Podcasting plugins
WooCommerce supportable
Pros & Cons:
Pros
Cons

Offers high-resolution
24/7 customer support

Minor plugin update issue
Active installations: 100+
Rating:
---
#2 Megaphone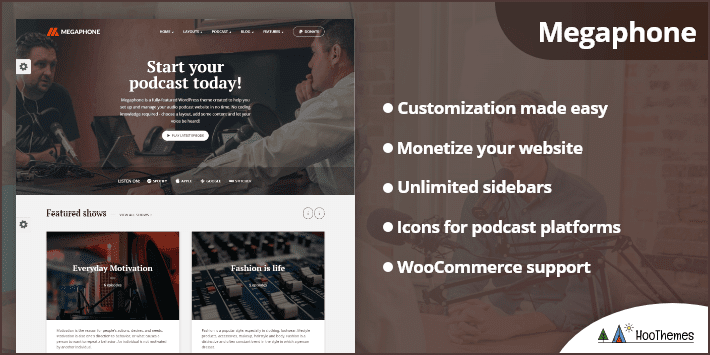 Source: Themeforest
Megaphone is a feature-rich WordPress theme designed to assist you set up and manage your mp3 audio podcast website quickly. This WordPress podcast theme is considered to be a clean solution for personal audio podcasts as well as large-sized podcasting technologies and networks with multiple shows and hosts. This WordPress theme can also be used for online radio stations with live audio streaming playlists.
The Megaphone Podcast WordPress theme offers support for many music player platforms, such as iTunes, Spotify, MixCloud, Stitcher, PodBean, Spreaker, Cadence, Podomatic, and more. If you are not an expert developer, nothing to worry about as no coding skills are required to choose a layout, add content, and create a podcasting website using this audio podcast theme.
Key features:
Automatic episode number detection
GDPR compatible
Customization made easy
Monetize your website
Responsive design
Unlimited sidebars
Visual composer added
Icons for podcast platforms
Setup guide
One-click updates
WooCommerce support
Reading time
Pros & Cons:
Pros
Cons

Awesome customer support
Great looking theme
Active installations: 800+
Rating: 5/5
---
#3 Fastcast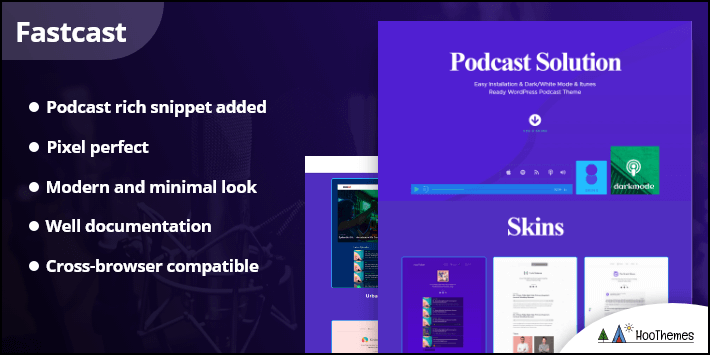 Source: Themeforest
Fastcast is one of the outstanding and regularly updated WordPress themes for podcasters. With eight different samples, you can easily find the one that fits best to your podcasting website. If you're planning to start a general audio podcast network, with Fastcast, you can make it very easy. Along with the ready-made content demos, this— one of the best WordPress themes for podcasters offers dark and light modes and an option to alter the default settings according to your choices.
The web design of Fastcast is minimalistic and offers a smooth experience. Also, this outstanding web design is completely responsive, retina-ready, and customizable to all smartphones, desktops, and tablets. This website template supports all the famous 3rd-party audio and video content sharing platforms.
Key features:
8 skins available
Podcast rich snippet added
Easy location and custom font support
Pixel perfect
Modern and minimal look
Widget ready
Well documentation
24/7 customer support
Highly-responsive template
Cross-browser compatible
5.0.x software version
Pros & Cons:
Pros
Cons

Feature-rich template
Offers high-resolution
Active installations: 50+
Rating: 4/5
---
#4 Rare Radio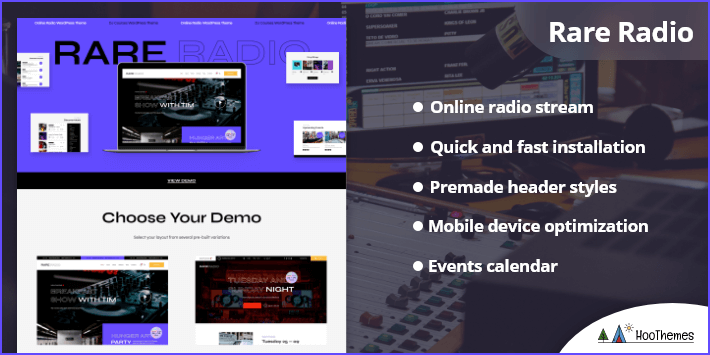 Source: Themeforest
Rare Radio is an amazing and colorful audio podcast WordPress theme comprising a modern layout and advanced audio & video player. With the custom post types, It is suitable for online radio, radio Station Company, music band, outstanding DJs, podcasters, attractive singers, artist bureau, cultural events company, and entertainment business organization websites.
This audio podcast WordPress theme comes with various page templates including six homepage layouts enabling you to give all the essential information about DJ's compilations, radio hits, discography services, online radio solutions, and any upcoming music events that you are planning. Rare Radio helps you showcase your photo and video galleries of the previous events managed by you. This WordPress theme is also suitable for music producers, musicians, or anyone in the music industry.
Key features:
Online radio stream
Powerful interface and framework
Pre-built pages
Contact form 7
Drag and drop builder
Blog style layouts
Events calendar
Premade header styles
Mobile device optimization
Extra widget areas
User menu and main menu support
20+ post animations
750+ customizer options
Pros & Cons:
Pros
Cons

Up-to-date design quality
Great after-sale support
Active installations: 150+
Rating: 5/5
---
#5 Megabyte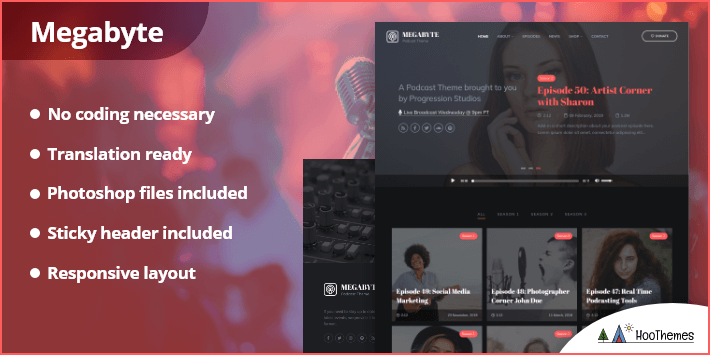 Source: Themeforest
Megabyte is another strong podcasting WordPress theme with lots of features and customization options. However, if you're looking for a podcast template that comes with all the pre-built content on your music player website, then Megabyte sounds like a good template for your brand. The podcast website demo is easy to import to your WordPress dashboard in just a few clicks. This will help you get good looking yet impressive web pages.
Megabyte is not just about the looks because the pre-built content in its demo is filled with various WordPress podcasting features. This website template includes functional audio podcast players, which will enable you to insert the content whenever you want. Hence, if you're planning to purchase a suitable WordPress podcast theme for your brand, Megabyte can be your solution!
Key features:
No coding necessary
Premium slider
4+ columns
Translation ready
eCommerce support
Retina support
Photoshop files included
Unlimited colors
Sticky header included
Multiple mega menus
Responsive layout
Contact Forms supported
Pros & Cons:
Pros
Cons

Easy to use theme
Top-notch customer support
Active installations: 300+
Rating: 4/5
---
#6 Soundbyte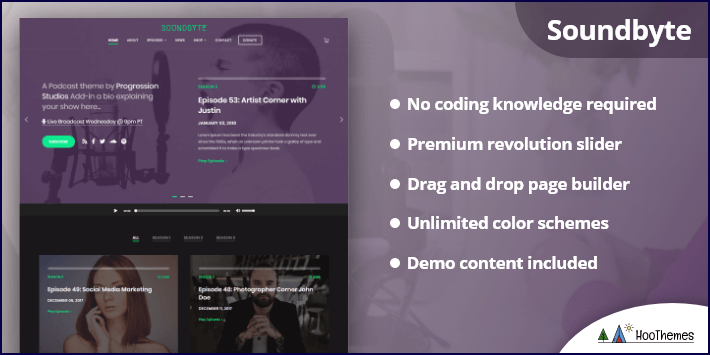 Source: Themeforest
If you're looking for a podcasting theme that comes with all the pre-built content your website might need but can also be easily customized, then Soundbyte is one of the finest podcast WordPress themes that would match your criteria. This WordPress podcast theme is available with demo content that can be imported easily into your WordPress dashboard in just a few clicks. This simply helps in making your website look impressive, modern, and user-centric. It is a seriously simple WordPress podcasting theme that seems to be a great choice.
Well, it's time to show off your work with this simple, customizable, and feature-rich podcast website WordPress theme. However, while buying this podcast player theme, you will receive detailed help audio files along with additional features like an audio player, and it also includes a drag and drop page builder.
Key features:
No coding knowledge required
Premium revolution slider
Tablet, desktop, and mobile-friendly
Translation ready
Drag and drop page builder
eCommerce support
RSS feed support
Responsive homepage layouts
Unlimited color schemes
Mega menus & audio and video podcasts
Podcast platforms options
Demo content included
Multiple header styles & footer
Add-ons included
Pros & Cons:
Pros
Cons

Impeccable design quality
Greater flexibility offered
Active installations: 1.2k+
Rating: 4/5
---
#7 Podcaster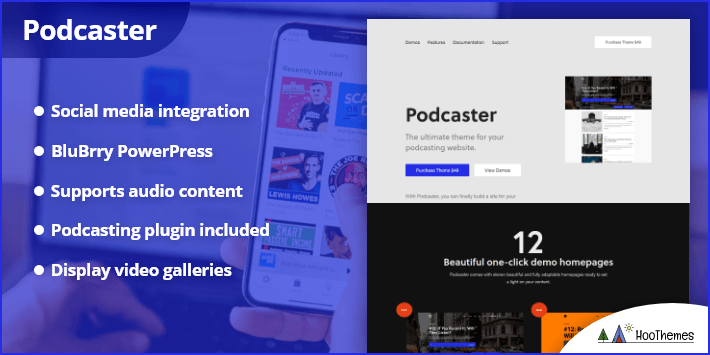 Source: Themeforest
Podcaster is a flexible and clean WordPress website theme. This WordPress podcast theme comes with the native video and streaming audio player as well as oEmbed. It is very easy to manage your audio podcast or screencast with the podcast site theme. Being the users you can choose between dark and light web templates, select a highlight color scheme, the type of fonts, icons, or custom headers on the front home page, blog page, and custom podcasting page. So, upload the video content and start video blogging today!
Podcaster WordPress theme is specifically created for managing and broadcasting podcasts. It has an unlimited number of podcast episodes and podcast archives so you can manage your shows and video series for a longer period. The WordPress podcast template's homepage contains an audio and video player feature that enables visitors to experience your latest content the very moment they visit your website. There are also a variety of color palettes to edit your website according to your business.
Key features:
Social media integration
Theme options for easy customization
BluBrry PowerPress
Unlimited color options
Supports audio content
Parallax scrolling for custom header images
Licensed under the public domain name
Podcasting plugins included
Efficient video support
Versatile background image
Display video galleries
Contact Form 7
Pros & Cons:
Pros
Cons

Lifetime updates
High-resolution available

Not easy to customize
Lack of feature availability
Active installations: 2.7k+
Rating: 4/5
---
#8 Sonus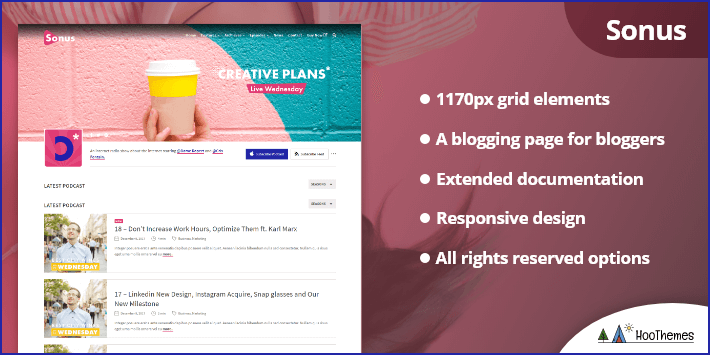 Source: Themeforest
Sonus is easily amongst the best WordPress themes for podcasters. This podcast theme is well designed keeping in mind the needs of the podcast owners to run their website. Sonus podcast theme is designed for audio podcast websites, the podcast industry, a podcast show, podcast categories, podcast networks but also YouTube, Soundcloud, and other podcast providers and hosting companies. Even the podcasting plugin is used to make the homepage design more appealing (Powerpress Blubrry, Seriously Simple Podcasting, and Libsyn Podcasting Plugin).
Sonus podcasting theme has an editable audio player that you can use to include buttons that rewind and fast-forward episodes, share episodes, skip episodes, change podcast episode speed, or skip to a specific time in a podcast episode. The podcast page templates are all configured in a grid to keep your written content and audio organized. Sonus has responsive audio players that spontaneously change formats to match any device or screen size.
Key features:
1170px grid elements
Supports iTunes, Apple podcast
A blogging page for bloggers
Thousands of theme customization options
Well organized and offers flexibility
Extended documentation
Three podcasts in a custom player
Google fonts used
Responsive design
Widgets ready
All rights reserved options
Seasons ready
Pros & Cons:
Pros
Cons

Great customer support
Up-to-date design quality

Mobile logo issue
Poor code quality
Active installations: 200+
Rating: 3.5/5
---
#9 Audonic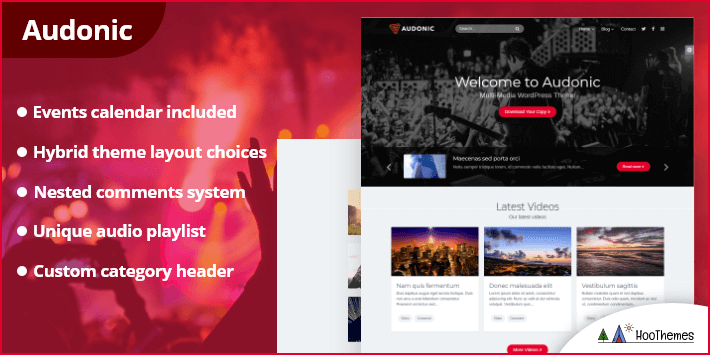 Source: Themeforest
Audonic is a clean and flexible and podcast website theme. This responsive WordPress podcast theme helps in managing your music, podcasts, or videos. It supports a native audio and video player. With the help of this best podcast theme, you can select between dark and light themes, dark and light audio players, headers on the home page, blog page, category pages, and other custom page templates. On top of that, with the included Audonic plugins, you can a custom post with custom widgets
This best WordPress theme supports numerous commonly-used audio players so this makes it easy to import your audio podcasts or to share it on social media. And you can start video blogging as well. The WordPress podcast theme provides light and dark colored layouts and audio players to help you achieve a great looking website. Your people can also check out your website while they are traveling somewhere since the Audonic is mobile-friendly.
Key features:
Events calendar included
Theme web hosting offer
Hybrid theme layout choices
Video tutorials & testimonials
Demo import available
Links to subscription services are available
Types of event posts included
Software version – 4.9.x
Image and video sliders
Dark & light template option
Unique audio playlist
Nested comments system
Custom category header
Pros & Cons:
Pros
Cons

Quick customer support
Fantastic design quality
Active installations: 100+
Rating: 2.5/5
---
#10 Wpcast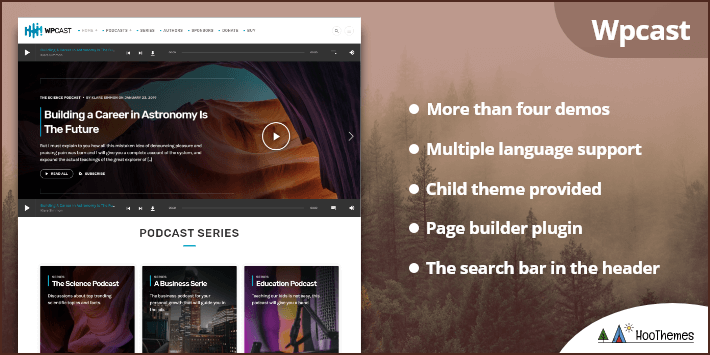 Source: Themeforest
Wpcast is a feature-rich audio player WordPress theme to design your responsive podcast website with ease and doesn't need any coding skills. This podcast website theme is very flexible, enabling a variety of customizations including colors, fonts, custom logo, and designs. As a bonus, it also includes custom widgets.
The podcast publishing experience with this template is great. Other than the ability to display the latest episodes, you can arrange audio files and audio podcasts by author, series, or by topic and each archive will offer a valid podcast RSS feed useful for every feed subscription, reader, and external experts like Apple Podcast or Google Podcast.
This podcast theme is highly compatible with the most popular WordPress plugins like Seriously Simple Podcast and PowerPress. This helps in making the process to manage easy. This mp3 player podcast theme also allows importing your episodes from pre-existing archives as Blubrry or Libsyn. You can host the mp3 files on external platforms or your WordPress media library.
Key features:
Musician theme
More than four demos
Multiple language support
MailChimp ready
Unlimited feature list
Child theme provided
Page builder plugin
WPBakery page builder
The search bar in the header
Ajax navigation functionality
Apple and Google podcast network ready
Slider revolution & view, link, and sharing option
17 page builder shortcodes
Pros & Cons:
Pros
Cons

Great design or beginners
Willing to help customer assistance
Active installations: 600+
Rating: 5/5
---
#11 Castilo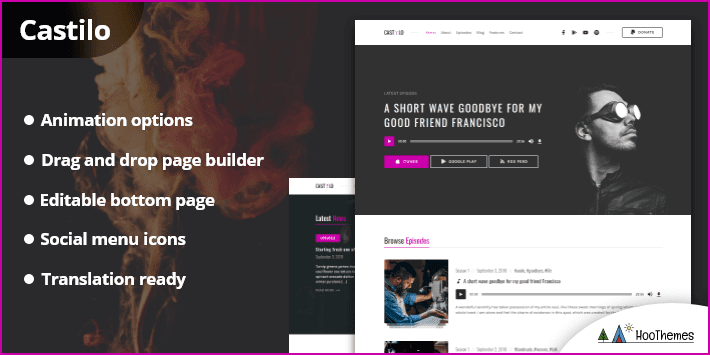 Source: Themeforest
If you're planning to launch a podcast website and feed, at a minimum cost, the Castilo podcast WordPress theme is the finest way to go. You can create a custom logo and edit color with a live customizer. And with detailed documentation and paramount customer support included, you'll have your website ready in no time! On top of that, it has one of the easiest page builders— Elementor.
With the help of Castilo, it is easy to extract episodes from an external RSS feed into your completely new website. All you need is to paste the feed URL, choose the category assigned to the new imported episodes and that's it, you can easily import episodes and audio files! In addition to that, it also includes an advanced option to display the latest episodes and schedule the import procedure to run from time to time. This podcast theme also enables you to make a complex looking website, saving a lot of your time.
Key features:
4+ columns
Compatible to multiple browsers
Animation options
Elementor page builder
Drag and drop page builder
Editable bottom page
Podcast settings
Social menu icons
Download button for episodes
Retina ready
Translation ready
RTL support
Statistics & transcripts
Sidebar and footer widgets support
Pros & Cons:
Pros
Cons

Helpful customer assistance
Good coding quality

Does not offer good customization
Active installations: 1.1k+
Rating: 5/5
---
Are you excited to pick a theme and start a podcast? Great, but before picking any, do you know how to?
A Buyer's Guide to Study Before Purchasing a Podcast WordPress Theme
I know, we all have thought that grabbing a WordPress theme is as simple as purchasing a toothbrush. By looking at some good-looking toothbrushes and fancy bristles, we choose them, but the reality isn't so easy. Only by looking at the outer beauty of any WordPress theme, you might not be satisfied with the results.
So what to do now to choose a perfectly suitable audio WordPress theme? Well, with the help of the buyer's guide, you can get an effective yet user-friendly WordPress podcasting website theme.
So, let's dig the study…
1) Consider The Search Engines
SEO is the key to your WordPress website performing well in Google search results. We know that the consistency and the quality of your content, surplus to the optimization of your metadata, all these factors affect your website ranking. Yet you might be thinking that why ranking matters so much?
Well, the answer is – the higher your WordPress site falls on the search engine results page, the chances of more readers or visitors visiting your website will increase.
This is where choosing a legit WordPress theme is necessary because an appropriate WordPress theme with good SEO integration will increase your website's range. Podcasting themes that perform spontaneously, are responsive, and are created with clean code are great for search engine optimization. Irrespective of what your site's main objective is, you should never opt for a theme podcast website that isn't optimized. Choose a WordPress podcast hosting theme that clearly says it is created with SEO in mind. After all, you are making an online presence to promote your podcast, isn't it?
2) Choose A Highly-customizable Theme
Let's assume you've listed down the features, did thorough research, and jotted your ideal podcast template. We can say that you loved the audio visualizer, drag and drop page builders, post formats, homepage layout options, and so on but what if there are minute flaws that you didn't take into consideration while choosing one?
Relax! There's nothing to worry about, as this is where highly-customizable WordPress podcasting themes are considered to be valuable. Customization is considered to be one of the greatest things about WordPress themes. Hence, make sure you always choose a theme that is editable with a live customizer. However, if you opt for non-customizable web themes, it might keep you in trouble as well as would be considered a waste of money.
3) Always Look For Mobile-friendliness
Are you sure that your targeted audience is only going to prefer desktops to surf your website on the web? If yes, then my friend you are on the wrong track. In today's era, mobile phones are considered to be generating 52.2% of total traffic. So just imagine what happens if you end up purchasing a template that is not mobile responsive.
Hence, always opt for a template that fits all screen sizes no matter if it is a mobile device or a computer desktop. It is also being observed that 73% of mobile users have said that they have encountered slow loading websites on their devices. So, it is recommended to go for a responsive template that has already been smartphone or tablet-optimized which can help your users in two ways – 1) A user-friendly website that can be easy to use and 2) This might increase the chance to convert your readers into potential customers.
4) Cost – Which You Want: Free Or Premium WordPress Theme
Of course, the first thought that rises in our minds to opt for free WordPress themes, isn't it? Well, it is completely normal because we always think about why to waste more money on premium or expensive WordPress themes when we can get a free one. But with this free WordPress template, did you know that you might not be able to enjoy a feature-rich template, good customer support, and come across many other issues, such as web-space, future updates, and plugin support?
This is the reason it is recommended to purchase a premium WordPress theme because it offers high-end after-sale support, a template filled with effective features, and is highly customizable. So if you want to customize any point of even the fonts, it is easy for you now to change in just a click of a button. But it won't be right to say that a free WordPress theme would not provide the features. Let's say it's completely neutral and depends upon the choice of the user.
5) Ratings & Reviews
Another solid indicator of a WordPress theme's efficiency is reviews and ratings given by their visitors or users. If the template is sold on a third-party marketplace, then you can study the customer reviews.
For free WordPress templates, you will find the rating section just on the left-hand side of the page. It will show the number of stars (ratings) and reviews given by users. Almost every WordPress theme on the site would be having good ratings, yet if you come across any with bad ratings or less than 2 ratings, it is not recommended to use that WordPress theme. Why? Well, because it might not help you get the results that you're looking for. Almost all WordPress podcast themes can get a few bad reviews. But if the number of bad reviews is high, then you should read them carefully before choosing your ideal theme.
FAQ
Can I build my website on my own using a podcast WordPress theme?

Of course, WordPress is created to be user-friendly, even for those who don't have any web development knowledge or coding experience. There's no reason why you cannot build a high-quality and professional-looking website using the accurate combination of WordPress plugins and a WordPress theme.

Although, if you face any issue in creating your website, there are many WordPress developers you can hire to design more complex custom features if you think that you will need WordPress theme.

---

Is using podcast WordPress themes safe or secured for my website?

By following the best security practices of WordPress, the platform is as secure as any other platform. Yet, if you neglect your website it will rapidly become more susceptible to cyber-attacks. However, there are numerous services, WordPress plugins, and other tools that can be used to make your website more sturdy and secure. In addition to that, it is also considered to be the key to always keep your podcasting plugins, installation, and theme up-to-date.

---

Can I customize my podcast theme on my own?

Yes, it is possible to customize as it includes a native tool also known as the Customizer that allows users to alter their podcasting themes. You can access it by steering to Appearance –> Customize in your dashboard area. If you know the coding, you can also alter your theme's files directly or can also add your own custom CSS. Well, it is not recommended for less-experienced users.

---

Why should I use a WordPress theme as a beginner?

Well, if this is your starting point, you might not know or have the knowledge to build a website, yet with the help of ready-made WordPress themes; you can easily get your masterpiece website. The below-mentioned points will assist you:

The software is open-source and free
It adjusts easily so you can create any type of website
It supports various types of media
It's easy, simple, and quick to learn
You can expand and enhance your website with themes and WordPress plugins
You need not be an expert developer or coder to use it

---

Which are the best WordPress themes to opt for?

Yes, the market of WordPress themes is very huge but for you, we have jotted some of the unique yet best WordPress themes. They are:

Rekord
Fastcast
Megabyte
Megaphone
Rare Radio
Soundbyte
The Conclusion
Lastly, we just want to say that choosing the right podcast WordPress theme will not only enable you to build a striking website but will also lead to a higher customer engagement ratio. We hope this article helped you find the best WordPress podcast theme for your website. With a wide range of features, customization options, and layouts you can achieve any look and design you want with podcast WordPress themes on your website no matter what your knowledge of coding says.
You might also like to explore a little bit similar website templates such as WP music themes for musicians and online streaming WP themes.
However, if you are interested in reading more, check out our various blogs on personal branding themes, single-page templates, Airbnb like themes, and more.
If you liked this article, then do share your view in the comment section below or you can also email us at our email address if you think we missed our covering any of the important points!