One page WordPress theme websites are taking over the eCommerce market that's why we would like you to present the 11 best one page WordPress themes for you.
One of the greatest things about single page WordPress themes is they are best suitable for small-sized websites that have a limited amount of content to showcase. RENEW, Horme, and Unibell are some of the WordPress themes, which are easy to install and use, spontaneous, SEO-ready, mobile-friendly, and highly customizable.
In short, one page WordPress themes have surged the market and like the fact states, 35.2% of the web is powered by WordPress themes. However, now you may have understood why businesses, agencies, startups, and companies prefer WordPress themes for creating their websites.
Hence, if you're looking for high-quality one page WordPress themes in 2020, here's a list of top WordPress themes the market has to offer in this category. You'll find amazing designs, retro, minimalist, photo-centric, and highly optimized themes that are unique and can be a perfect-fit theme for your next website.
Important stats – In 2020, over 455 million websites used WordPress. This results in increasing the WordPress market share to 35% of all websites in the world!
Wait, are you in a hurry? Let's take a quick view on which are the best one page WordPress themes, its cost, and more.
Best One Page WordPress Themes
Keep reading to discover some fascinating features of below-stated WordPress themes, pros and cons, and which business or agency will be most benefited by using it to create bespoken websites.
Having said that, let's dig the details!
#1 RENEW
RENEW is one of the modern and outstanding one-page WordPress themes that has been a trending and popular theme in the market. This theme is designed in a beautiful style. It is a perfect match for creative agency, designer portfolio, personal portfolio, photographer portfolio, illustrator portfolio, and more.
It gives the users a user-friendly experience of viewing and helps to create a good impression of your website online. RENEW has a universal design, which enables you to add every detail and animation effect you want. Using it is favorable because it enables customization that fits your requirements.
In simple words – RENEW is designed for users who want to highlight a single service or product on their website.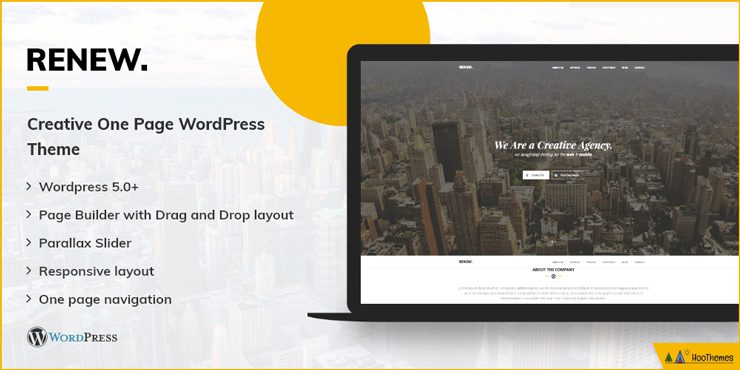 Source: Themeforest
Key Features:
Drag and Drop Layout:
RENEW is a modern theme that has a drag-and-drop feature, with which you get complete control over how the homepage and other parts of content on your website will look. With drag and drop, you can create a custom online presence.
Page Builder:
This one page WordPress theme is flexible and also comes with a strong page builder tool that can help you to disable any of the segments you don't need on your website. You can also use the page builder to re-arrange the components on any of the pages.
Responsive Layout:
Its responsive layout allows users to view your website with any device i.e. mobiles or tablets. Hence, your visitors can check your website no matter if they are at home or somewhere outside. However, its responsive layout will always attract more visitors to your one page website.
Pros & Cons:
Pros
Cons

Poorly documented
Inefficient customer support
Other relevant features:
Unlimited color styles
Parallax effect
Contact form 7
Client caroussel
Developer-friendly CSS3 and HTML5 code
jQuery Enhanced
Retina ready
One page navigation
It offers users numerous website demos, which includes portfolio, blog, and eCommerce layouts. Now you might have got an idea of how RENEW is a perfect-fit theme for numerous uses from business or personal portfolios and blogs.
#2 Mersal
Mersal is one of the best one page WordPress Themes with several features. This parallax theme is most suitable for business or creative startups. Mersal is created on Visual Composer, a very appropriate page builder tool for WordPress.
It offers users with the smoothest user-experience while creating your website. Mersal WordPress theme is fully responsive, which allows you to view your website on tablets, mobiles, and other related devices. In short, using Mersal will enable adding images that they fit automatically to whichever screen size they are being viewed on.
Well, it's a single page design including important features that are best-fit to create a great looking website.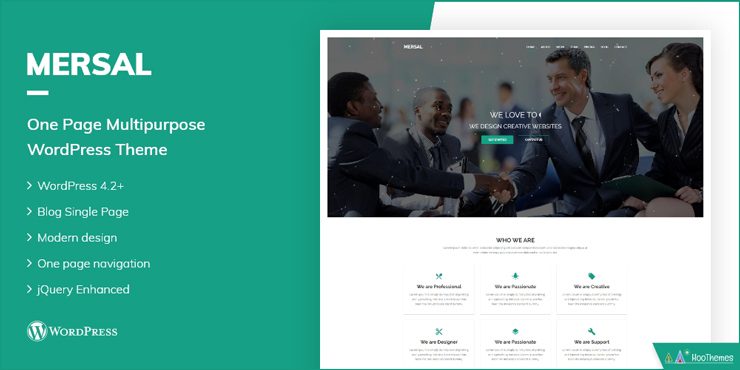 Source: Themeforest
Key Features:
Redux Theme Option:
With Mersal you can experience a comprehensive and easy set of theme options that will enable you to configure, change, and modify elements that you don't want on your website.
One-Click Demo Import:
One-click demo importer allows users to customize fonts, content, and colors in just minutes. This way you can easily design your website by spending a minimum of your time.
Contact Form 7:
It works by managing multiple contact forms at a time. Surplus to that you can customize the content in the mail and the form easily with simple markups. Contact form 7 supports CAPTCHA, Ajax-powered submitting, and so on.
Pros & Cons:
Pros
Cons

Good team support
Great feature availability
Other relevant features:
600+ Google fonts
24/7 customer support
Blog single page
Easy setup with demo content
Visual composer
20+ web elements
Unlimited color options
Modern design
All in all, Mersal is a highly appealing and powerful one page website theme for creative and business startups who want famous and user-friendly websites online. It's time to establish a successful site with the Mersal single page WordPress theme.
#3 Unibell
Unibell is a unique, fully responsive, and multi-purpose one page website WordPress theme created using the cutting-edge bootstrap framework. It is developed for describing startups, agencies, or businesses.
Unibell is designed on visual composer, one of the most convenient drag-n-drop page builders for WordPress. This one page website template provides you with the smoothest experience while designing your dream website. Unibell – WordPress one page template is responsive, which can help you in making your website all platform and browsers supportable. You can easily view it on mobiles or tablet devices.
With its outstanding features like background parallax, video background, image slider, partecal effect, and clean coding, Unibell is considered among the most prevalent WordPress single page themes in the market.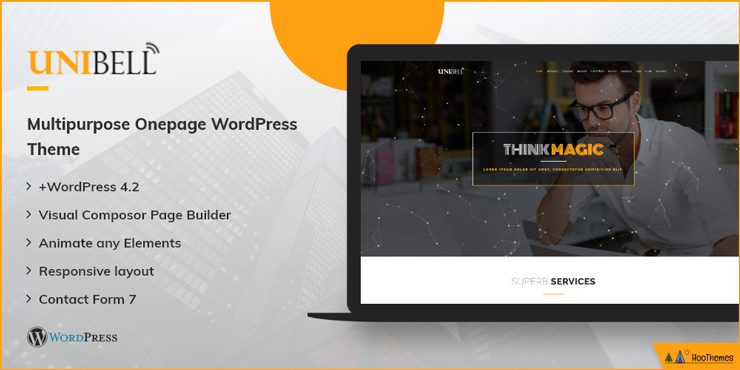 Source: Themeforest
Key Features:
600+ Google fonts:
With the help of custom 600+ Google fonts, it is easy for the users to change and modify the look and the feel of their website. By using the theme options panel, you can easily change the fonts of the body, heading, menu, and header.
24/7 Customer Support:
If you are facing any issues while creating your website; there is nothing to worry about as Unibell provides 24/7 customer support. They strive to answer every email within 24 hours.
Fully Responsive:
Unibell is fully responsive to all browsers, web, or devices because it provides a screen-size fit feature. So no matter if you are using a mobile phone to operate your website or a desktop, you will get good results.
Pros & Cons:
Pros
Cons

Good design quality
Good feature availability

Weak customer support
Many bugs and issue during the installation
Other relevant features:
8+ header styles demos
Gradient background
Blog single page
Background Parallax scrolling
One-click demo importer
Redux theme option
One page project
Easy setup
If you are in search of a great user-friendly single page WordPress theme, then Unibell is the finest option to go for. It has customizable icons, retina-ready images, and even background textures & patterns that can improve your website for better performance.
#4 Night Club
Need one of the best looks for your night club website? Meet this Night Club, a fully editable and well documented one page WordPress template. This theme is carefully crafted for night parties. It is preloaded with a bank of features and fully responsive design supported by a background video.
Night Club is a one page WordPress theme specifically designed with unique and classic features for parties, functions, events, and decorations. This theme is built on the page builder and offers you the easiest experience while you are creating your website. One of the most exceptional features of the Night Club theme is its flexibility and ability to be customized to your requirements.
With varied features, this theme will allow you to promote easily by providing details about upcoming parties, functions, or upcoming events.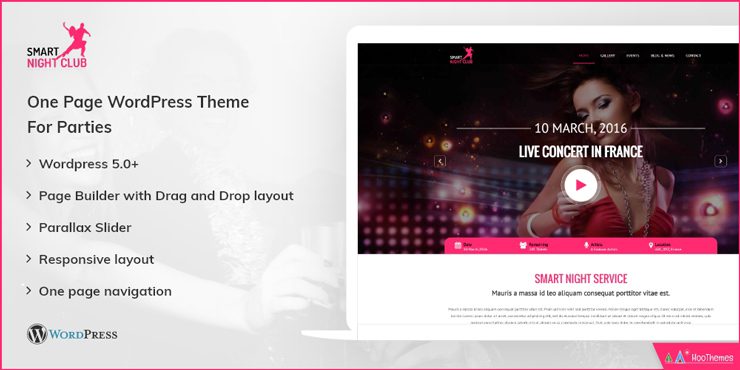 Source: Themeforest
Key Features:
Attractive Web Design:
Night Club has a good design, which is considered to be the most important feature when planning an event. A stunning looking website can always attract a lot of visitors and audiences. This can be very helpful for your event or function, as there will be more number of event attendees with the increasing visitors on your website.
SEO Friendly:
This theme is an SEO friendly WordPress templates page that comes with in-built schema support. Schema is an organized markup that allows search engines to understand what your site is about to display. It is also effective in displaying more relevant results to end-users.
Plugin Compatibility:
Night Club is one page WordPress theme that is compatible with the WooCommerce plugin. It is easy to use a drag & drop page builder that will allow you to design the layout of your wish in less time. It also supports add-ons and numerous extensions.
Pros & Cons:
Pros
Cons

Bugs issue
Difficult to customize
Other relevant features:
Contact form 7
Widget ready
High-resolution
Compatible with Bootstrap 3.x, WPML
4+ columns
4.2+ WordPress version
Single page project
Background Parallax scrolling
Hence, it is always recommended to purchase a responsive WordPress theme, which can be accessed through the mobile, tablets, desktop, and web. Using Night Club, a one-page WordPress theme for your event startup will capture the eyes of your visitors online!
#5 Horme
Horme is a creative WordPress single page website theme, which is designed for a user-friendly website. This multi-purpose theme comes with many one click demos including a one page website. All you need is to just replace the content of the theme with your own and rest is good to go.
Horme has a universal design suitable for creative agency, personal portfolio, designer portfolio, illustrator portfolio, and photography portfolio. It is a perfect-fit theme if you want to use it to publish your blogs, features images, personal, or business portfolios. This theme comes with freebies such as revolution slider, page builder, and plugins.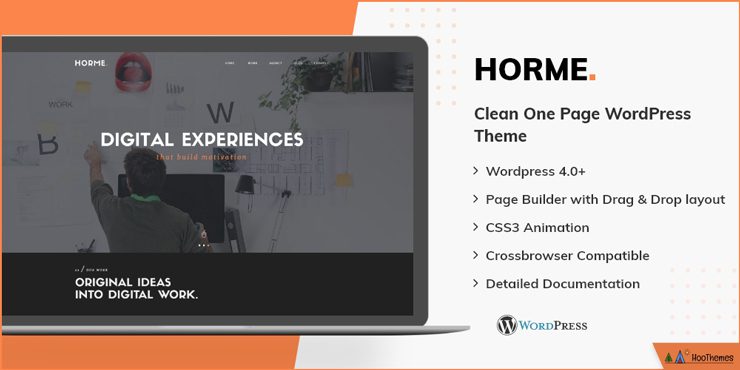 Source: Themeforest
Key Features:
Customizable options & Designs:
This theme offers a clean and simple site layout that helps you to display your creative work from your homepage. Horme is an easy to customize theme that includes features like header styles, color options, image tags, and button styles.
All-device optimized:
A 100% mobile responsive site will help your end-users to use your website effortlessly. With the mobile-friendly revolution slider, scrollable swipe effect, and retina ready layout, you can easily use your website on any platform or device.
Well-Documented:
With the help of this feature, the user can easily understand the ins and outs of this theme. Hence, now it will be trouble-free for you to design the exact type of one page business website you want.
Pros & Cons:
Pros
Cons

Feature-rich theme
Good after sale support
Other relevant features:
Drag and Drop layout
Smooth scrolling
Responsive video support
The strong theme options panel
500+ icons
CSS3 animation
Home one page version
Cross-browser compatible
All set to create your one page business for a designer or a photographer portfolio? Horme can be your ultimate theme that not only will make your site look modern but engaging as well.
#6 One Click
One Click is a combination theme of two cool trends: single page design and parallax scrolling. It is designed to help you to create an efficient parallax scrolling web-site. With One Click you can show your work and services quickly on a single page. Your viewers or readers will enjoy your content in parallax scrolling sections.
Hence, it's time to create an outstanding layout using unlimited color options, visual composer page builder, slider backgrounds, blog page single, parallax scrolling, custom styling, parallax images version, and more.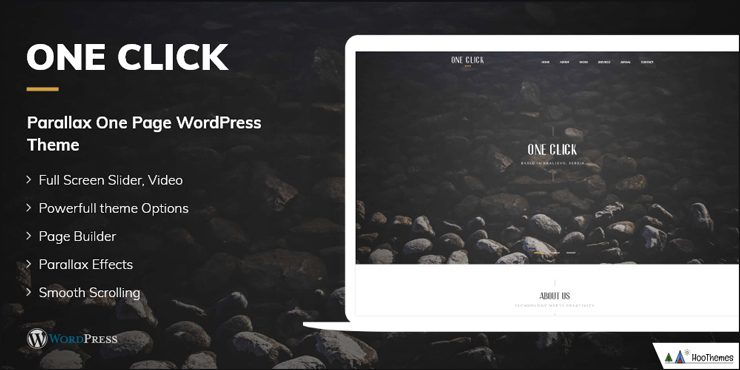 Source: Themeforest
Key Features:
Responsive & Retina Ready:
The One Click theme is completely responsive and fluid, which helps your site to display consistently on all browsers, devices, and resolutions.
Design with the Page Builder:
Designing has never been this easy with the One Click's drag & drop page builder. However, you can design every single post, page, and portfolio the way you want it to look by simply dragging and dropping elements on the page. Make your site content the best like never before with the page builder.
Customize Header Styles:
With this one page WordPress theme, you can easily style the header background, color, and set fonts individually for each post.
Pros & Cons:
Pros
Cons

Up-to-date design
Well-documented
Other relevant features:
400+ icons
Responsive video support
Unlimited color scheme
Google fonts support
Built with CSS3 and HTML5
Retina ready
Highly-responsive design
Easy setup with demo content
With One Click you can control and customize everything from header to the footer. This means that you can ensure your entire site displays the same feel and look.
#7 Flatible
Flatible is one of the finest and easy to use theme WordPress theme options that can help you design a well-organized site online. It has a minimal yet creative page layout perfectly suitable for personal or small sites like photography, news, blogs, portfolio agencies, or small companies.
Fatible is an elegant theme that offers stunning displays and functions, which looks beautiful across all devices or browsers. However, creating a great portfolio layout is important to showcase your work and get noticed. And with Fatible, you can get one!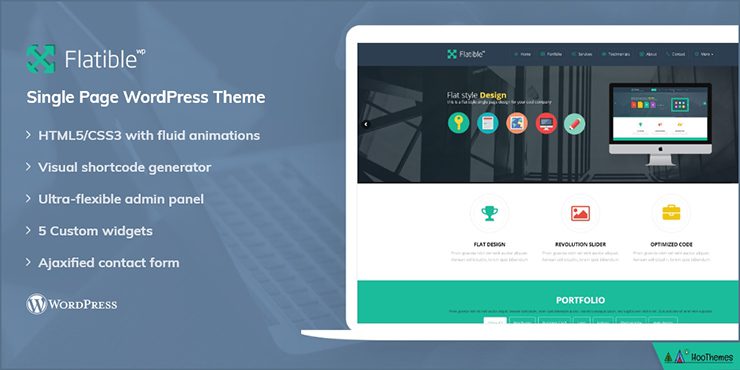 Source: Themeforest
Key Features:
Customizable Admin Panel
With Fatible – a one page WordPress theme you can style almost all elements of your template from header to footer. You just need to point and select, and see it live on the preview.
Search Engine Optimized
It is one of the one page WordPress themes, carefully designed and coded with search engine optimization in mind.
Import Demo Content
Like what you see on Fatible's demo? Well, you just need to quickly replace your site setup like the demo setup. Then you are only left with replacing the content, texts, and images to make your site live on the web.
Pros & Cons:
Pros
Cons

Active customer support
100% flexibility
Other relevant features:
5+ custom widgets
Flexible admin panel
Visual shortcode generator in one click
Update notifications
CSS3/HTML5 with animations
Detailed documentation
Translation ready
500+ Google fonts
300+ awesome icons
Fatible is designed to work seamlessly with the user's customization needs, allowing them to create amazing and decent-looking layouts using the page builder.
#8 Ueneo
Ueneo is a strongly designed page parallax theme. This theme is very easily customizable, flexible, well documented and would be one of the perfect theme options for all freelancers, agencies, corporate, or small one page business sites.
The Ueneo theme is an ideal WordPress theme for showcasing your portfolios (photography, designs, etc.), building a striking eCommerce site, and creating general corporate sites. All blog and portfolio pages are built with a scrolling feature, which enables posts to autoload as the visitor scrolls down. This will help to keep viewers stay for more time on your site because it loads more content as the page scrolls down.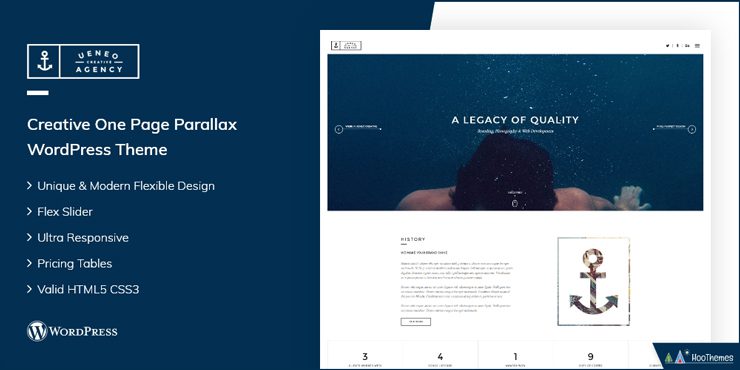 Source: Themeforest
Key Features:
100% Fluid & Retina Ready:
Ueneo is a responsive design that works on both mobile devices and desktops at any display resolution. It also comes with retina displays. By checking out the demo and resizing your browser window will help you see the responsive design in real.
Modern & Flexible Design:
This theme offers a super easy to use, customize, flexible design layout. You can customize your site easily according to your requirements. It can be said that this theme is a perfect-fit template for freelancers and agencies.
Custom Super Slider:
With the help of the custom super slider, it is simple to get parallax effects with a navigation style. This slider is completely responsive and offers numerous animation and customization options.
Pros & Cons:
Pros
Cons

Easy coding
Quick customer support
Other relevant features:
Translation ready and WPML
Included with demo content
Testimonial slider
Flex slider
1000+ Google fonts
Advanced typography options
Single post slider bar options
Filterable Ajax portfolio
Hence, if you are searching for a theme that is fluid, bold, and high-responsive for your one page business, Ueneo can be a perfect match for your business.
#9 Zoo
Zoo is a 100% responsive parallax WordPress theme with excellent animations and parallax effects. With the help of an animation generator, you are allowed to design unique animations for your site. Zoo is perfect for one page business sites and suitable for freelancers, small businesses, or agencies.
Customizing has been easy with the zoo WordPress theme. By using its powerful animation shortcode generator, you can create all types of custom scrolling animations with ease. This WordPress theme is retina ready, which offers pixel sharp images and can be customized in numerous different ways.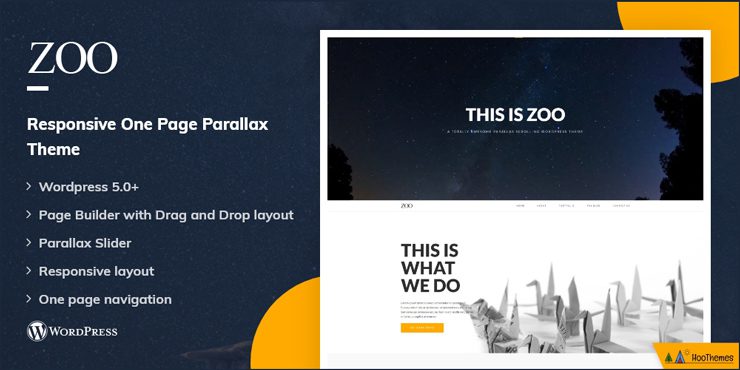 Source: Themeforest
Key Features:
Highlight Animation:
You can now attract the attention of your viewers by showing animated highlighted posts. It is a great source for highlighting services and work features.
Page loading time:
Zoo is one of the WordPress themes that are speed-optimized. It works quickly for loading the page and all your services/products. This way viewers would not have to wait for your site to load, which will increase the viewer's engagement.
User-friendly:
With live customizer, you can see alterations instantly in the live preview window. It would save a lot of time for tailoring your site.
Pros & Cons:
Pros
Cons

Flexible coding
Outstanding design quality

Poor in providing flexibility
Other relevant features:
Unlimited tab pages
Video background
WPML compatible
Animation generator
Full-screen portfolio posts
1000+ Google fonts
Advanced typography options
Shortcode generator
Retina ready
Zoo template is a trending theme seen in most of the Android, Windows, and even iOS. So are you ready to dive in the Zoo trend? Get this WordPress theme now to flatter your viewers on your site!
#10 Eight Degree
Eight Degree is a uniquely designed parallax WordPress theme which is suitable for one page business site of any kind. It is one of the highly-responsive one page WordPress themes that enable you to create different custom scrolling animations with ease. It is considered to be an ideal theme for freelancers, small businesses or agencies.
To set up a multilingual site, Eight Degree's translation readiness and WPML compatibility features will fulfill your requirements. However, to build an individual site, you can take benefits of the various customization options to alter your site accordingly.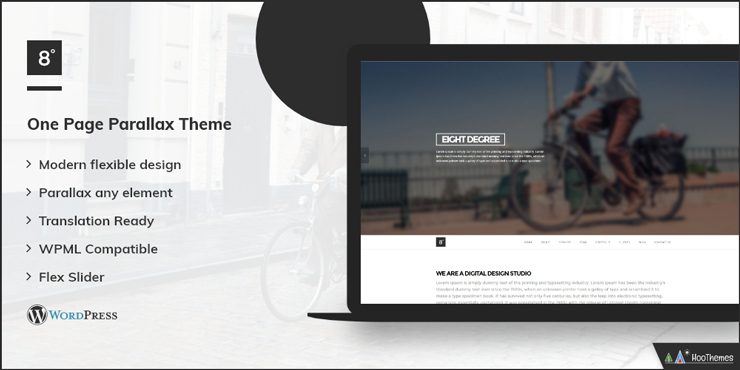 Source: Themeforest
Key Features:
100% Mobile Responsive:
Eight Degree is responsive and is created to be displayed beautifully on any tablet, mobile, desktop, or web browser.
New Technology:
It is among the one page WordPress themes built with new web technologies like Bootstrap 4, HTML5, CSS3, which makes this theme more sturdy and flexible.
Color Scheme Options:
If you feel like changing the color of the background, you can easily get it by adjusting color to your requirements. No matter you want a darker shade or a light one; in just a click your work is done!
Pros & Cons:
Pros
Cons

Great feature availability
Outstanding design quality
Other relevant features:
3 navigation styles
Text slider
Customize Google map color
48 font icons
Ajax team member posts
Translation ready
Layered parallax backgrounds
Demo content included
When setting up your site you might want to add video in the background, image sliders, or text, right? Well, with the Eight Degree theme, you can tailor your site the way you want.
#11 ME
ME WordPress theme is built on Bootstrap v3 Front End Framework. It is specially designed for developers, designers, and freelancers to showcase their works. It is an easy to use, flexible, and customizable theme that can be altered the way you want to.
You can even use it to modify your business or portfolio site for your company. This theme WordPress 4.0+ Compatible and offers high-resolution and widget ready.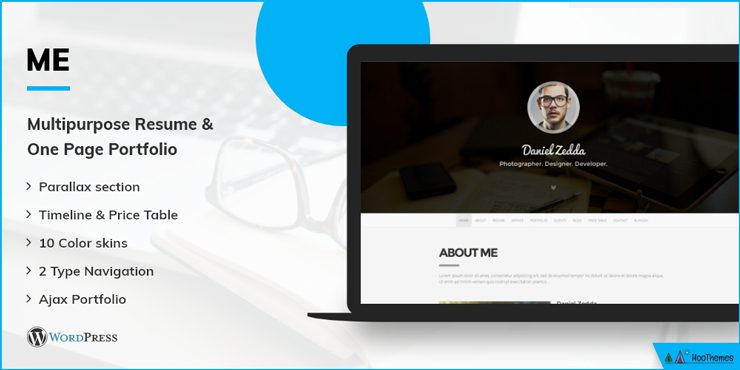 Source: Themeforest
Key Features:
Parallax Sections:
This WordPress theme is designed using Parallax JavaScript. ME allows you to make your site more creative and appealing. You can also add background images, change color, set opacity of text or color. In short, it gives you complete freedom to customize.
Custom Background:
ME enables you to set a custom background of your wish for each section. This way it becomes super easy to get a creative site. With the help of parallax sections, you can make your site more engaging and attractive.
Other relevant features:
10 color skins
Project Ajax expander
800+ font icons
Contact form 7 compatible
Google maps included
Widget supports
Translation ready
4+ column portfolio
If you are in search of a user-friendly and highly-optimized WordPress theme, feature-rich and, have various advantages, ME is a great option for you!
Don't miss a chance to give exposure to your idea with ME WordPress theme.
So all set to buy a one page WordPress theme for your business? Well, this handy buyer's guidelines will guide you on certain important things to consider when purchasing your theme.
6 Advantages of Single Page WordPress Themes
Let's count the benefits…
Single page limits you to simplify your message
There is so much you can do with a one page site. But you know which the best thing you can get through it is? Well, it allows you to consider what information is necessary and what is not. Keeping everything to one page compels you to keep the necessary information on your site. This will help your site become a more effective communicating site for your users or readers.
Quick site loading
One of the most important aspects of mobile users is the site's speed. If the loading speed of your site is fast, there are more chances of your users or readers to visit your site. Since the inbound links are linked to one page the popularity of the site automatically goes up, more and more users prefer a one page template than a normal site.
Better site conversions
The main aim of any site is to generate leads quickly. Being a user-friendly and simple design, one page sites are easy to use and offer faster conversion. One page templates look much better than a landing page and deliver all of the necessary details and features your visitors are looking for.

Additionally, the less load time of one page themes helps in achieving a higher number of user conversions.

Easy to manage
For people who are not an all-rounder to manage their site on their own, one page site is the best suitable option for them. If they don't want the hassle to maintain the site or pay the expense for hiring someone else to do the same, a one page site can be their life-saver. With a single page WP template there is less information to update and only one page to maintain. All you need is to check in often enough to update your WP core, plugins, and themes.
Reduced bounce rate
If the bounce rate of one page and multipage sites compared, who do you think would win? Well, the bounce rates of multi-page sites are more as compared to one page ones.

Hence, a one page template helps in enhancing the overall traffic and conversions on your site. If you are successful in creating a striking one-page site that fulfills all needs and requirements of users, the bounce rate would automatically decrease.

Budget-friendly
One of the best features of a one page template, which makes it a relevant theme to opt, is the cost-effectiveness. These themes are simple to design and develop and can be maintained with a fewer number of resources. Further, one page sites can be developed easily and quickly marketed.

So all set to buy a one page WordPress theme for your business? Well, this handy buyer's guidelines will guide you on certain important things to consider when purchasing your theme.
6 Purchasing Tips to Consider when Buying a Single Page WP Theme:
Tip 1 – Choose a theme with more than 3 months of market presence
When choosing your WordPress themes if you didn't consider its presence in the market then it might end showing fatal errors. Why?
Because we do not know completely about the themes and anyone else, who is continuously testing in different environments, browsers, OS platforms, and on numerous hosting? This leads to lots of difficult to understand bugs and unpredictable behavior.
This checklist will assist you:
The theme must be at least 3 months older.
Check whether other users have faced any issues or bugs.
What are the ratings? Good or Bad?
Tip 2 – Examine user ratings and reviews
If you have chosen a WordPress theme, then it's better to go through the user's reviews. Concentrate on how the author replies to bad reviews and what the good reviews have to say about the theme. If the users have written a good review then that's a good sign – the lengthier the comment, the better the theme is.
This means the buyer cares about the theme so much he/she is sparing time to write a long and positive review.
This checklist will assist you:
Understand what the bad reviews have to say.
The overall ratings should 4.5+
What features are mentioned in the good reviews? Mark them up.
Tip 3 – Ensure that the theme header supports your logo size
This is one of the main issues in which many WordPress themes fail to support. We know that every agency has a logo. That logo may have different sizes. What if your logo is not supported by the chosen theme?
This is the reason you need a theme where you can customize these dimensions according to your preferences.
Taking in general, more than half of the themes do not offer this feature; hence make sure you select your WordPress theme wisely. However, if you are not clear, it is better to ask the author or your theme about it.
This checklist will assist you:
Check whether you can set any height and width of your logo.
Ensure it doesn't have a standard measurement for the logo in the header.
Tip 4 – Is it responsive?
Is the theme highly-responsive to both the desktop and mobile devices? Well, more than 50% of the traffic comes to your website through mobile phones. Hence, the theme should be responsive and must support all screen sizes or you might lose your potential audience. Yet, it is important to be careful; everything responsive does not mean to be good. You might have observed that a website looks good on the web and desktop but bad on mobile phones. Issues in fonts sized, titles are on the left instead of center, etc.
Then what should be considered?
This checklist will assist you:
Make sure the text-align, font size, and every style can be set differently for mobile phones and tablets.
Highly-responsive design.
Tip 5 – Good after-sale support
Are you fine if you are facing any issue, complained about it to the author, and the author replies after 3-4 days? Of course not!
Always select a single page WP theme, where the developer cares for their users and quickly responds to their queries. But how will you know that the author genuinely cares for its users? With the help of the comment section, you can find out how quickly the author has resolved the user's query. If the author responds within 24 hours, a straight to the point answer then you should go for it.
This checklist will assist you:
Is the response to the point and offers a genuine solution?
Is the author responding within 24 hours? If yes, you can invest in the theme.
Tip 6 – Is the design appropriate for your business?
The design of any WordPress themes plays an important part while buying one. It is a very subjective matter. Apart from the above-mentioned points, once you have tick marked all the essential pointers and are assured that the theme you are purchasing has a good design; you are on the right track.
Therefore, you cannot be wrong with your choice. But select a design that will look nice even after 3 years or more than that.
This checklist will assist you:
Before choosing, think of the future. Will this design be compatible and efficient in the coming years? If yes, you can go for it.
If the chosen theme is feature-rich, has a good review, appropriate design then select it.
FAQ
1. How to create a one page website in just 3 steps?
Answer: Following the below-mentioned steps will help you create your website:
#Step 1: Decide what your website's aim is. Your one page site should be created around one or two primary calls to action.
#Step 2: Choose a feature-rich one page theme. If you've decided to build a one-page website in WordPress, you can use any one page business theme that is best suitable for your idea.
#Step 3: Design your website.
---
2. What does a one page website look like?
Answer: A single page website template is a website that only contains an HTML page. There are no extra pages, such as Features, About us, or Contact Us page. The content on one page websites is completely added to the initial page, which ensures that users experience more continuous and fluid flow.
---
3. When should I use a one page website?
Answer: When a one page website is used for conveying a single message, it is easy to obtain increased user engagement. More user engagement can be attained through more graphics and less text. Although a one page website makes it easier for your users to read, designers should make sure the content can be comprehended in a single page.
---
4. Which is the best free WordPress one page theme I can choose?
Answer: Here's a list of 6 best free WP themes for designing a one page website:
One Paze
Gaga Lite
ParallaxSome
OneEngine
Hestia
Switch
---
5. How do I import and export content to my one page website?
Answer: With importing features you can upload file build from theme's export options. And on the other hand, with export options, you can download backup files with all WP content and theme settings. It is recommended to download an export backup file with your one page theme to solve challenges when the old backup file is going to be imported to a freshly updated theme.
---
6. Which are some of the best WordPress single page website themes?
Answer: The below-mentioned are some of the most prevalent one page WordPress themes that can help you get a successful website:
RENEW
Mersal
Unibell
NightClub
Horme
One Click
Flatible, and more.
The final words!
That's all for now!
We hope this blog helped you find the best one page WordPress theme for your business site. Thank you for visiting hoothemes.com. Let us know how this information has been useful to you in the comment section below or write us an email. We will be glad to hear from you.