In today's blog, we are going to focus on some of the top-ranked Woodwork WordPress themes.
Planning a business through digital presence (eCommerce) is in-trend. All you need is a website that is easy to access and provide in-real assistance to your audience. However, there are important factors like premium design quality, eye-catching content, high-quality photos, and a fully responsive layout that is essential to add to your site. So are you ready to launch a highly impressive woodwork WordPress theme website for your business?
Important stats – WooCommerce influences 22% of 1 million eCommerce websites in the world.
Choosing an accurate store WordPress theme will not only make your eCommerce store fast and reliable but will also provide an excellent user experience to potential customers.
Let's take a look at the top 8 Woodworking WordPress Themes most in-demand this 2020!
Best Woodworking WordPress Themes
NAME
DETAILS

Carpentry & Flooring WP Theme



Corgan WP Theme

Active installations: 300+
Rating: 4.2/5
Unique features: Custom widgets, Custom shortcodes, Customize background colors

Download
WoodWorker WP Theme

Active installations: 700+
Rating: 4.3/5
Unique features: Customize color for the background, Customized page optimization, Custom shortcodes

Download

Wood House Construction Theme



Barhouse WP Theme

Active installations: 200+
Rating: 5/5
Unique features: Custom visual composer elements, Customize content layouts, Customized page optimization

Download
Mahogany WP Theme

Active installations: 200+
Rating: 5/5
Unique features: Header and footer layouts, Customize blog feeds, Customized posts

Download
Iona WP Theme

Active installations: 100+
Rating: 5/5
Unique features: Custom header and footer layouts , Customized theme option panel, Customized posts

Download

Furniture WooCommerce Theme



Woody WP Theme

Active installations: 100+
Rating: 3.29/5
Unique features: Easy customizer section, Customized theme option panel, Customized widget sets

Download
Credo WP Theme

Active installations: 100+
Rating: 5/5
Unique features: Custom CSS in theme option, Custom tab for each product, Custom header and footer layouts

Download

Furniture Design & Interior Theme



Mendel WP Theme

Active installations: 150+
Rating: 5/5
Unique features: Customized widget sets, Custom post types, Custom theme option panel

Download
All the above-stated WordPress themes come with some of the amazing features like homepage layouts, easy coding knowledge, page themes, social media integration, maintenance services, demo installation, customer support, portfolio pages, and much more.
Thus, by using these power-packed carpentry WordPress themes, you can make your furniture website look a masterpiece.
However, we have singled out some of the WordPress themes to help you choose the right one. Let's dig the details.
#1 Corgan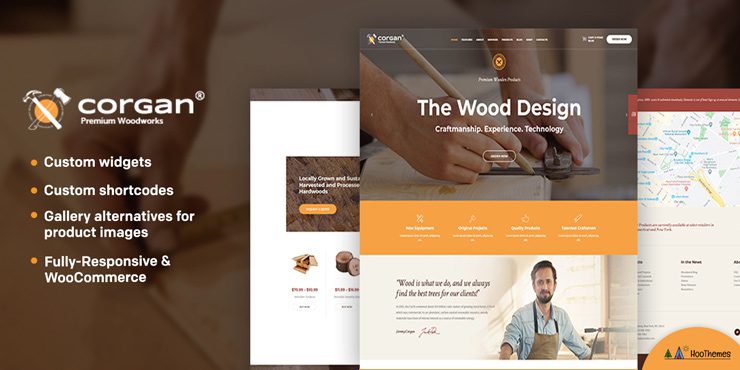 Source: Themeforest
Corgan woodworks, a highly customizable and stylish carpentry WordPress template, has a clean design to offer to the construction companies. With lots of customizable features, creating a trendy website for your wooden manufacturing business has been easy.
This WordPress theme can also be beneficial for architecture people, handy repair services, carpentry construction, and any kind of home decor services. You can call it a template that can convert your visitors to potential customers and boost sales of your woodcraft store.
Using Corgan, you can customize:
Custom widgets
Custom shortcodes
Background colors
Check out page optimization
Gallery alternatives for product images
Quick view option for products
Customizable admin panel
Key Features:
Mobile-Friendly:
The Corgan WordPress theme sets you up with a 100% mobile responsive configuration and design options for desktop, mobile, and tablet devices to ensure your shoppers have the finest experience of your website.
Fully-Responsive & WooCommerce Ready:
This is one of the web themes – retina ready and fully responsive. Corgan is compatible with many premium plugins such as WooCommerce, Essential Grid, Revolution Slider Tags, and WPBakery Page Builder that enables building creative pages and effective feature integration.
Support Mobile Optimization:
Corgan uses a mobile-friendly Swiper and Revolution slider. It also offers a fully responsive page layout to its users. With all swipe support effects, your websites can easily be scrolled through mobile devices.
Pros & Cons
Pros
Cons

Great Customer Support
Excellent Design Quality

Complex Coding
Issue In Installing Demo Content
Corgan also enables you to cut down your cart desertion rate with the help of a conversion-optimized and customizable checkout process. This carpentry WordPress theme description is also accessibility and translation ready.
With the help of its clean and elegant design, you can create a carpenter woodwork website.
Active installations: 300+
Rating: 4.2/5
---
#2 WoodWorker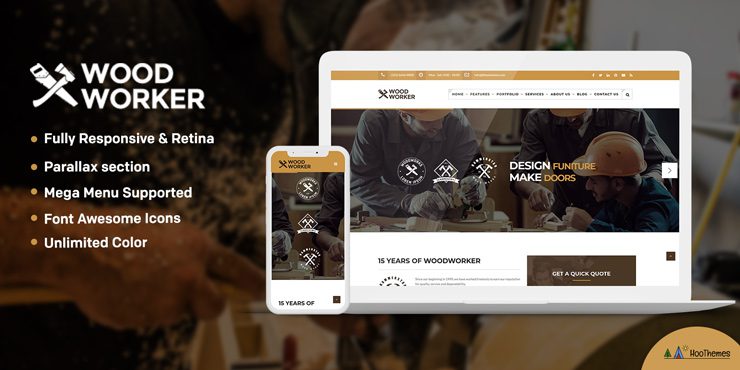 Source: Themeforest
It is one of the clean and lightweight carpenter woodworks WordPress themes that can be used by all kinds of the industry of woodworkers, Renovation Company, contractor, building developers, Construction Company, interior designer, woodcraft workshops, carpentry business, electrician, constructor, and so on.
Wood Worker is compatible with most WooCommerce extensions and plugins. Using this carpentry WordPress theme will help you get flexibility in your website, which will make a mobile-responsive and different browser compatible.
Using WoodWorker, you can customize:
Plugin
Color for the background
Page optimization
Custom shortcodes
Galleries
Quick view option for products
Key Features:
Customizations & Designs:
This WordPress theme offers an easy, clean, and spontaneous website design that enables you to display wood product categories, top-rated products all from your homepage. Your clients can customize most of the design features such as color, header styles, typography, background, and button styles.
Dedicated Homepages for Carpentry (+03):
WoodWorker offers a color scheme, the icons, and the font that is included in the content of each homepage is significantly blended for the better user experience.
SEO Friendly:
This theme is an SEO friendly Carpentry WordPress theme that comes with in-built schema support. Schema is a structured markup that enables search engines to understand what your website is about to display. It is also efficient in showing more relevant results to end-users.
Pros & Cons:
Pros
Cons

Quick And Reliable Customer Service
Easy Coding
Simple Customization
In the case of planning a sparkling debut online, Word Worker can be your friend. Its main features are not just limited to the listed ones but these are the most outstanding functions that make this WordPress theme count!
Active installations: 700+
Rating: 4.3/5
---
#3 Barhouse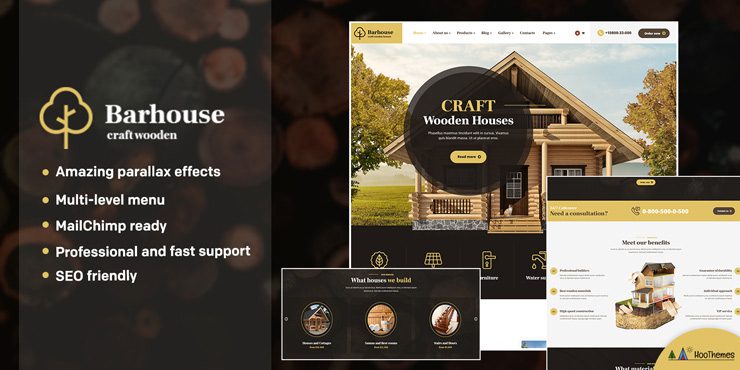 Source: Themeforest
Barhouse is a multipurpose and highly customizable WordPress theme with limitless features that enables you to create the exact type of wooden house website you want. It provides a wide range of customization options, and it also comes with a drag-and-drop page builder making it easy and simple to configure your homepage layouts.
Barhouse includes all the essential pages of the online furniture store which is retina and WooCommerce ready. This helps in selling your wood, houses, real estate, cottages, furniture, and wood products.
Using Barhouse, you can customize:
Custom visual composer elements
Customize content layouts
Customized page optimization
Easy color customization
Customized galleries
Key Features:
Plugin-compatibility:
This template is compatible with the WooCommerce plugin. This plugin is simple to use drag & drop page builder that will help you to design layout you wish anywhere in the minimum of time. It also supports extensions and add-ons.
Barhouse Pricing:
Barhouse is available to purchase at $56, and it comes with all demos, templates, page builders, headers, and many more features that have been covered to provide a better user experience.
Pros & Cons:
Pros
Cons

Great Flexibility
24/7 Customer Support
Hence, if you work in the forestry, timber, or craft house industry, you will find this WordPress theme useful. All of the applicable pages in this template are WooCommerce ready, making it easy for you to trade your products online.
In just a click you can install the demo site, after which you can customize the site in hundreds of ways. No necessary coding knowledge is needed to be a pro.
Active installations: 200+
Rating: 5/5
---
#4 Mahogany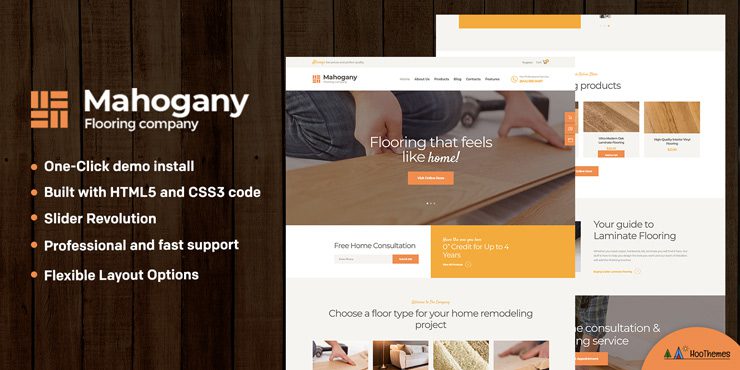 Source: Themeforest
If you a wood crafter looking for a renowned modern tailor-made web solution for your flooring company, or an architecture company or carpentry businesses, shop or maintenance and cleaning services agency (like roofing, plumber, property, carpets, plumbing, carpentry, designing, floors, remodeling, or decoration), Mahogany is one of the best-fit solutions for your flooring store.
Mahogany is a fully- responsive WordPress theme, so no worries about how your site will look on each device. It is WooCommerce ready, so building an eCommerce store of floor tools and equipment shouldn't be taking more of your efforts and time.
Using Mahogany, you can customize:
Header and footer layouts
Customize blog feeds
Customized posts
Customized widget sets
Custom shortcodes
Customized theme option panel
Key Features
Easy to Create a Website:
Mahogany offers a list of various features that are rich and highly functional WordPress products that will enable you and your store website to be outstanding on the internet. With the help of custom layouts, sidebar manager, SEO optimization, color scheme, etc. it becomes easy to create your dream website.
Mobile Optimized:
A 100% mobile responsive website will help your end-users to easily use your website. With the mobile-friendly revolution and swiper, scrollable swipe effect, and fully responsive and retina ready layout, you can easily get handy using your website.
One-click demo installation:
Installing demo data in just a jiff is possible with Mahogany. All you need is to change the text and images and you are all set to go with your website.
Pros & Cons:
Pros
Cons

High Coding Quality
100% Customer Support

Errors During Installation
If you are in search of a user-friendly, awesome WordPress theme with a vast combination of comfort and functionality, Mahogany is your answer!
Don't miss a chance to give exposure to your idea with our Mahogany WordPress theme!
Active installations: 200+
Rating: 5/5
---
#5 Iona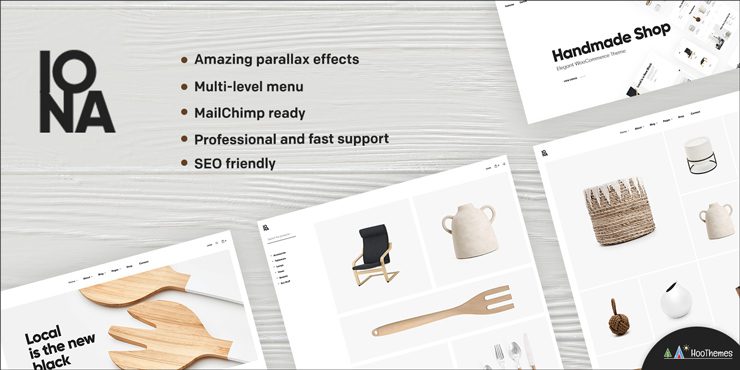 Source: Themeforest
Iona is an elegant, clean, and modern WordPress theme best suitable to a creative artisan and craftsman who wants to sell their craftwork and handmade products and grab the attention of their targeted audience.
It is one of the WordPress themes to sell handcrafted goods, art, decor, porcelain, furniture, handmade work, pottery, handmade homeware and houseware products, clothing, bags, jewelry, purses, accessories such as necklaces, bracelets, earrings, and more. This WordPress theme is WooCommerce integrated and uses Elementor as its core builder.
Using Iona, you can customize:
Custom header and footer layouts
Customized theme option panel
Customized posts
Customized widget sets
Customize blog feeds
Custom shortcodes
Customized fonts
Key Features:
Detailed Documentation:
With the help of this feature, it makes it easier for the user to understand the ins and outs of this WordPress theme. Hence, now it will be easy for you to code and design the exact type of business website you want.
Easy-to-use:
Iona has a bank of features like custom fonts, shortcodes, WordPress customizer, color scheme editor, cross-browser compatibility, translation ready, GDPR compliant, and SEO optimized, which will allow your website to stand out.
Flexible color schemes:
If you feel the need to change the color of the background or to change the image color on your website, you can attain it by adjusting color to your requirements. No matter you want a darker shade or a light one; in just a click your work is done!
Pros & Cons:
Pros
Cons

Amazing Template and Design Quality
Active Customer Support

Errors During Installation
A great website that sells is the ultimate way to a better business. However, with Iona, numerous customization features and options will help you to decide on creating a website easier right from the start.
Active installations: 100+
Rating: 5/5
---
#6 Woody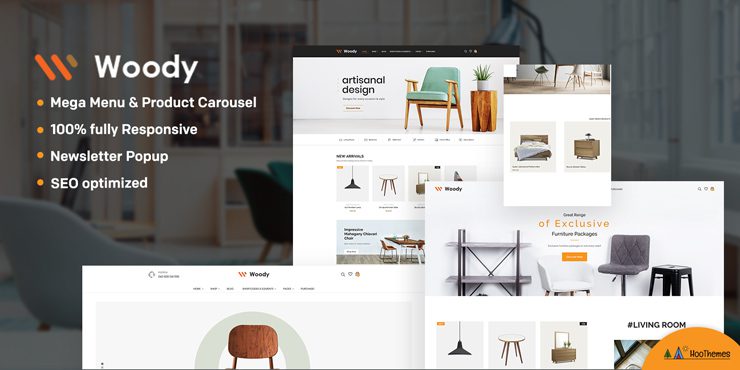 Source: Themeforest
Woody has a trustworthy and user-centric design along with professional code. There are 10 readymade homepages and you can easily create or edit your page with various shortcodes and WPBakery plugins.
Besides that, the ready-to-use customizer is also a great part of the WordPress theme. A lot of options sensibly arranged and a live preview window might save your time creating your website. If you are bad at coding, no worries! There are no specific coding skills required.
Using Woody, you can customize:
Easy customizer section
Customized theme option panel
Customized widget sets
Custom header and footer layouts
Customize blog feeds
Custom shortcodes
Key Features:
User-friendly Customizer:
With various options to customize the WordPress theme, of course, all the options are organized very reasonably. With live customizer, you can see the alterations instantly in the live preview window. It would save a lot of time tailoring your website.
SEO Optimized:
This is one of the woodwork WordPress themes that are perfect to get excellent end-result on search engine ranking. The fact can't be denied that it is also compatible with major SEO plugins.
Compatible With Well-known Plugins:
Woody comprises all the prevalent plugins such as Bakery, Revolution Slider, WPML, Yoast SEO, and Mailchimp, which will give you the command to customize your website easily.
Pros & Cons:
Pros
Cons

Good Design quality
100% customer support

Bugs issue
Poor coding quality
Woody woodwork WordPress Theme is a power-packed template that comes with major plugins and add-on to simplify user's designing and creating time. It is designed to serve different niches of industries and an in-built pre-defined product box that helps in making necessary changes easily.
Active installations: 100+
Rating: 3.29/5
---
#7 Credo

Source: Themeforest
Credo is a modern and elegant looking handmade furniture design theme. This WordPress theme is designed professionally with a positive and lasting impression. So if you are looking for woodwork WordPress themes that can create a powerful impression on your customer, Credo is the right suitable template for you.
This WordPress theme is SEO optimized and built with the latest web technologies to make it friendly with search engines. However, if you want to create a professional-looking website, Credo is a truly unique eCommerce website that is suitable.
Using Credo you can customize:
Custom CSS in theme option
Custom tab for each product
Custom header and footer layouts
Customized widget sets
Customize blog feeds
Custom shortcodes
Key Features:
Ajax Shopping Cart:
With Credo, you can choose a product to buy without leaving the existing page and can directly add the product to the basket. This way it will increase user experience and sales on your website.
New Technology:
Credo is built with new web technology like Font Awesome 4, Bootstrap 4, LESS, HTML5, CSS3, which makes this theme more sturdy and flexible.
Performance & Speed:
The WordPress theme provides fast and quick loading times out of the box. It's also compatible with popular caching, image optimized plugins, such as Optimole, and WP Rocket.
Pros & Cons:
Pros
Cons

Great Flexibility
Up-to-date Design Quality
24/7 Customer Support
Credo comes with an SEO-ready structure that is a clean and optimized source code. Hence, it is always good to go with a WordPress theme that is not only SEO friendly but also offers your users a great user experience.
Active installations: 100+
Rating: 5/5
---
#8 Mendel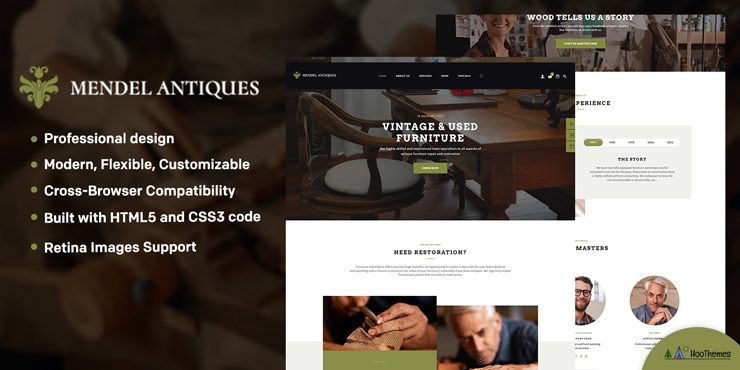 Source: Themeforest
Mendel WordPress theme is a stylish, elegant, and strong woodwork WordPress theme. It is designed for an online furniture retailer agency, furniture manufacturer, and furniture design studio and repair shop. Well, this WordPress theme will work for vintage or antique furniture Restoration Company.
Mendel is loaded with so many features, so you can feel stress-free while crafting your online appearance. All you need is to implement features using a one-click demo installation option! A primary feature here is a contact form and visual composer compatibility that ensures the process of creating your website gets super easy.
Using Medel, you can customize:
Customized widget sets
Custom post types
Custom theme option panel
Custom header and footer layouts
Customize blog feeds
Custom shortcodes
Key Features
All Device Compatible:
Mendel features a fluid responsive design that automatically optimizes for any web browser or a device. It also has a live mobile menu and an added touch swipe support that enables increasing the user experience.
Page Loading Time:
It is one of the business WordPress themes that are speed-optimized. It works in such a way that all your products are loaded only if required, and this keeps the site load time to the least.
Pros & Cons:
Pros
Cons

Good Design Quality
Full Customer Support
Active installations: 150+
Rating: 5/5
The Mendel is an innovative and feature-rich WordPress theme designed to create efficient websites for carpenters, flooring, and others. It comes with many responsive templates with easy to use customization options that will help you to create a top-notch website.
---
Finally!
Now, you know some of the premium WordPress themes that will help in creating your website but don't you want to know about what exactly features they comprise?
Well, with the help of the below-stated feature table, you will get a clear idea on which WordPress themes are a perfect match according to your needs!
The Feature Table
Features

  Wood Workshop WordPress Themes

Corgan

WoodWorker

Barhouse

Mahogany

Iona

Woody

Credo

Mendel

100% High-resolution

✔

✔

✔

✔

✔

✔

✔

✔

Guternberg Optimized

 

 

 

 

 

 

✔ 

 

Widget Support            

✔

✔

✔

✔

✔

✔

✔

✔

Columns

+4

+4

+4

+4

+4

+4

+4

One-click Installation

✔

✔

✔

✔

✔

✔

✔

✔

Responsive Layout

✔

✔

✔

✔

✔

✔

✔

✔

Full WooCommerce Store Compatibility

✔

✔

✔

✔

✔

✔

✔

✔

Page Builder  

✔

✔

✔

✔

✔

✔

✔

✔

Fully Mobile Optimization          

✔

✔

✔

✔

✔

✔

✔

✔

Home Page Layouts

✔

✔

✔

✔

✔

✔

✔

✔

Visual Composer

✔

✔

✔

✔

✔

✔

✔

✔

Swiper and Revolution Slider

✔

✔

✔

✔

✔

✔

✔

✔

Well-documented

✔

✔

✔

✔

✔

✔

✔

✔

Media Content Creator

✔

✔

✔

✔

✔

✔

Free Customer Support and Updates

✔

✔

✔

✔

✔

✔

✔

✔

Google Fonts

✔

✔

✔

✔

✔

✔

✔

✔

Customizer Options

✔

✔

✔

✔

✔

✔

✔

✔

Regular update

✔

✔

✔

✔

✔

✔

✔

✔

Performance Theme Framework

✔

✔

✔

✔

✔

✔

✔

Multiple Page Builder

✔

✔

✔

✔

✔

✔

✔

✔

User Menu Support

✔

✔

✔

✔

✔

✔

✔

✔

Retina Ready

✔

✔

✔

✔

✔

✔

✔

✔

Flexible Typography & Colors

✔

✔

✔

✔

✔

✔

✔

Essential Grid Tags

✔

✔

✔

✔

✔

✔

One-point Solutions

✔

✔

✔

✔

✔

✔

✔

✔

Customizable Premium Plugins

✔

✔

✔

✔

✔

✔

✔

✔

Built with HTML5 and CSS3 code

✔

✔

✔

✔

✔

✔

Multiple Blog Pages

✔

✔

✔

✔

✔

✔

✔

✔

A Click Demo Site Preview          

✔

✔

✔

✔

✔

✔

✔

✔

Homepages blog & Style          

✔

✔

✔

✔

✔

✔

✔

✔

WordPress Software Version          

4.0.x

5.0.x

5.3.x

5.3.x

5.3.x

4.9.x

5.3.x

5.3.x

100% SEO Friendly

✔

✔

✔

✔

✔

✔

✔

✔

Social Media Integration (Instagram, Facebook, Twitter)

✔

✔

✔

✔

✔

✔

✔

✔
However, if you have decided to purchase a WordPress theme, this handy buyer's guidelines will help you with better clarity. From what things to consider, what should be the price, what features are important; this guide will enable accurate results.
A Handy Buyer's Guideline
Let's start with it!
#1 Multi Layout Pages
Always choose WordPress themes that enable creating numerous unique demos with different features like automatic updates, multi-language support, strong admin interface, mega menu compatible, parallax effect backgrounds, and customizable Google maps. This way you can reduce the time consumption while creating your website.
#2 Responsiveness
As the numbers of mobile devices are increasing, most of your target audience will try to reach your website through some type of handy device. That's why you must choose a responsive WordPress reason why you need to ensure that theme. You need to ensure that your website will be responsive to all types of devices i.e. mobiles and desktops. It must be capable of adjusting the layout according to the screen size of the device.If your web layout adjusts its size to the size of the browser, this means that the theme is highly responsive.
#3 Translation Ready
If you want to target audiences from different countries, you'll want to design a website that can be easily translated into the language of the reader or the visitor. This is the reason why you need to ensure that your WordPress theme can be easily translated and that it supports multi-language WordPress plugins.
#4 Study the Reviews and Ratings
One of the most efficient ways to ensure that the theme you choose is satisfactory and created with high quality is by studying and examining the reviews provided by people who are already using it. You can see their comments and ratings and find out what they opt for and what they didn't like. With the help of this, you will conclude on your own and decide whether you want to select the specific template or not.
FAQ
How to choose a WordPress template for my woodwork WordPress site?

Decide whether you want to use a free template or a paid one. However, if you are choosing a paid WordPress template then it guarantees accurate results, continuous updates, and great after sale-support. But that doesn't mean free WordPress themes are not good enough! Yet, if you are planning for a durable website than a paid or licensing a WordPress template for some time is a safer alternative.

---

Which are the best woodworking WordPress themes to purchase?

Here are some of the most prevalent woodworking WordPress themes in the marketplace:

Corgan
WoodWorker
Barhouse
Mahogany
Woody
Mendel

---

Do I need to know how to code to use woodworking WordPress themes?

Well, there is nothing to worry about. As most of the wood WordPress theme users are not developers hence, there's no need to study complicated PHP or CSS when there are plenty of feature-rich WordPress themes and plugins to make necessary your website easier.

---

How do I update my woodwork WP template?

Your woodwork themes are easy, as you'll see them in your WordPress dashboard. To update, click on the update/refresh icon or navigate to Dashboard > Updates and click the button to "Install Now." You will see a confirmation screen stating you to the latest version of the woodwork template once the installation is complete. This way you can easily update your website.

---

For which businesses the woodworking WP themes are helpful?

This type of themes will work for industries of woodwork and carpentry like construction companies, mechanic workshops, carpentry workshops, maintenance services, metal construction companies, mining services, Electronics, plumbers, auto shop markets, gardeners, carpenters, flooring companies, and so on!
Last but not the least, the conclusion!
The Conclusion
And now my writing has come to an end. I hope you get your desired themes through this Woodwork WordPress template article. All the WordPress themes which are added in the blog are customizable, responsive, translation ready, and so on. These WordPress themes have also offered you a 30-day money return policy if you were not happy with its functionality and features.
You may also like to check out specific WordPress themes like Business WordPress Themes, WordPress Themes With Revolution Slider and Easy to Customizable WordPress Themes.
If you have any queries or are looking for expert web designers/ a web developer online, drop us an email on our email address or leave us a comment below.