If you are having a hard time answering your customer the same questions over and over, you have stumbled upon the right place. Hoothemes is here to help you out. So, after extensive research, evaluating features, popularity, and ease-of-use, these are the 11 best "WordPress FAQ plugins" perfect for 2021.
These FAQ plugins help you provide customers well-under five minutes, and that is what 75% of your customers expect. If your business fails to stand up to their expectations, they do not have any shortage of alternatives in this competitive world.
We have already listed out the best knowledge base WP themes and best WP plugins for a knowledge base, which are capable of creating a stunning knowledge base including commonly asked questions and answers, but if all you want is an FAQ section, this blog is focused just on that.
If you are not convinced yet, let's tell you,
Why does your Website Need an FAQ Page?
FAQs have so many benefits that the real question should be —why not? So, your site should have a FAQ page because it:
Saves Time: Most of the time, the customer queries are somewhat similar. No matter how well you describe your product, they still want to ask basic questions. And Answering all of them separately takes a lifetime. But, if you have FAQs on your WordPress site, they will get those answers without contacting you.
Adds to Customer Satisfaction: If customers have to wait hours or spend on tickets to resolve a basic issue, they will surely switch to another brand instantly. But, if they can access the commonly asked questions and answers on your site whenever and wherever they want, they will appreciate it a lot.
Establish you as an Expert: When you answer questions with quality content and in-depth explanation, it establishes you as an expert in the field and you gain their trust. This shows you know the business and directly uplifts your brand value.
Now that we see a clear win-win situation, let's start picking the best FAQ plugin for your site.
10 Best WordPress FAQ Plugins to Choose in 2021
#1 HTML5 Responsive FAQ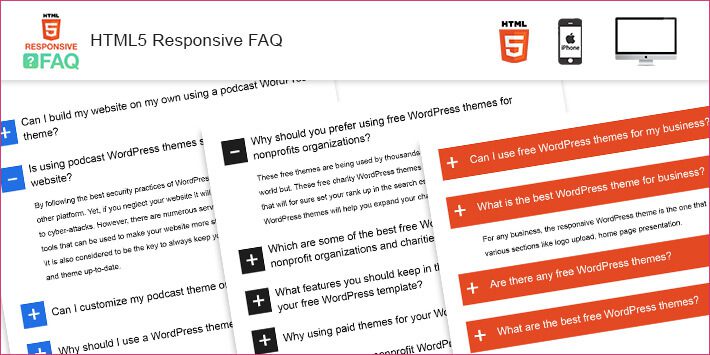 Source: HTML5 Responsive FAQ
HTML5 Responsive FAQ is a simple WordPress FAQ plugin. It is a universally compatible FAQ plugin with any responsive WP themes. This plugin helps you create a simple and responsive frequently-asked-questions section to enhance your company's customer support team. With this plugin, you can add the FAQ section either as a sidebar widget or as a separate page on your site.
HTML5 Responsive FAQ lets you create multiple FAQ categories with custom titles to make it easy for your visitors to find the information quickly. In addition to that, this plugin offers a custom sorting option. Therefore, now your visitors can get the answers in just a few moments. Other than that, the HTML% Responsive FAQ plugin helps your customer service site to be acknowledged by various search engines as it is SEO-friendly.
Core Features:
Custom Sorting Options
Custom Title
Hide/Show FAQ
Multiple Categories
SEO-friendly
Pros & Cons:
Pros

Cons

Easy Shortcodes
Universally Compatible
---
#2 Ultimate FAQ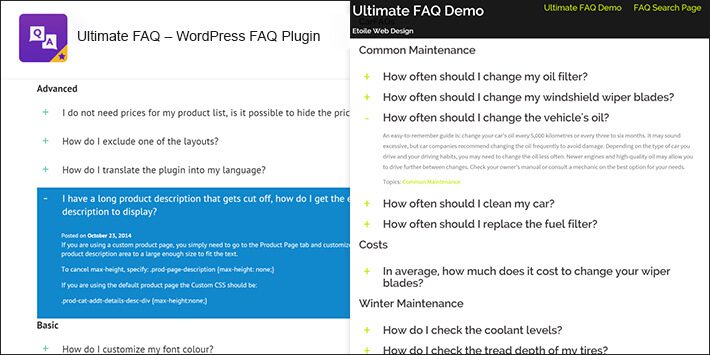 Source: Ultimate FAQ
Ultimate FAQ is amongst the most popular FAQ WordPress plugins. With over fifty-thousand active users, this plugin has checked every requirement of website developers around the globe. It is a complete package yet intuitive to use. Any naive can use this plugin with or without any sort of coding knowledge. It creates responsive and highly engaging FAQ sections with great UX/UI.
The Ultimate FAQ plugin for WordPress comes with tons of features that every web designer would appreciate. One of the most hectic tasks in creating an FAQ section is to import the questions and answers. And to tackle that, it features bulk import FAQs. Therefore, all you have to do is a simple click and all the content is imported within a few minutes.
Core Features:
Create Unlimited FAQs
Gutenberg FAQ Block
Visual Composer
Grouped FAQ Styles
Bulk Import FAQs
FAQ Tab To Each Product Page
WP Forms Integration
15 Toggle Icon Sets
Drag And Drop Reordering
Pros & Cons:
Pros

Cons

FAQ Statistics And View Count
Comment On Individual FAQs
---
#3 Fancy FAQ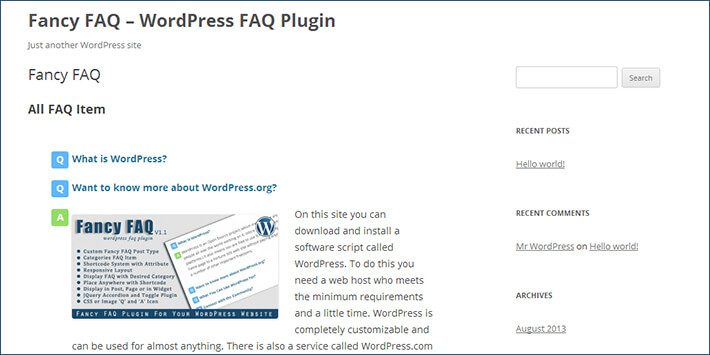 Source: Fancy FAQ
Fancy FAQ is the perfect name for this plugin. It is a premium WordPress FAQ plugin that can add FAQ sections anywhere on your site whether it is on a page, sidebar, or a post. Working with this plugin is super easy as it comes with full documentation. It lets you place your FAQs anywhere effortlessly with a shortcode. This WP plugin is in the category of the easy-to-install FAQ plugins for WP.
The Fancy FAQ plugin for WordPress offers you a custom type of post to make your FAQ content interactive and engaging. It helps you post images and videos to better explain the concepts than plain text can. This leads to customer satisfaction and customer loyalty.
Core Features:
Custom Post Type
Shortcode System With Attribute
Place Anywhere With Shortcode
JQuery Fancy Accordion Toggle Plugin
Display In Post, Page Or In Widget
Pros & Cons:
Pros

Cons

Easy To Install
Full Documentation
---
#4 FAQPlus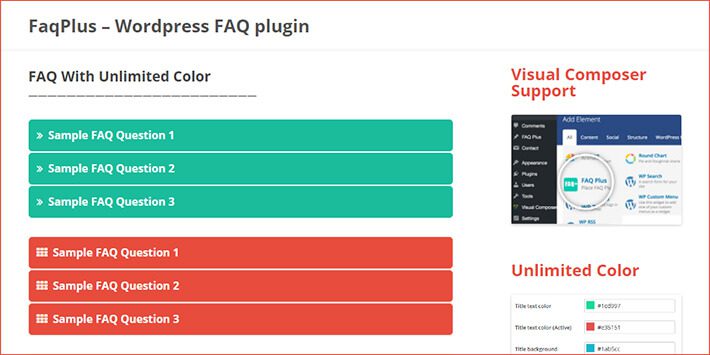 Source: FAQPlus
FAQPlus is another lightweight WP plugin that never slows down your site. This WordPress FAQ plugin is fully responsive and cross-browser compatible. This makes you carefree about what device may your customers use. It displays your FAQ section perfectly on all sorts of devices such as smartphones, laptops, desktops, and tablets as well.
If creativity is your brand identity, this FAQPlus helps you make your FAQ section an intricate part of your brand. It lets you choose from unlimited color options to match it with your brand. Other than that, its features include more than twenty-five easing effects. This best FAQs plugin lets you play with different animation speeds and create everything in just a few seconds with the intuitive visual composer.
Core Features:
Unlimited Colors
25+ Easing Effect
Animation Speed
Visual Composer Support
Multiple FAQ creation
Pros & Cons:
Pros

Cons

Customizable CSS For Every FAQ
Drag And Drop Feature
---
#5 Accordion FAQ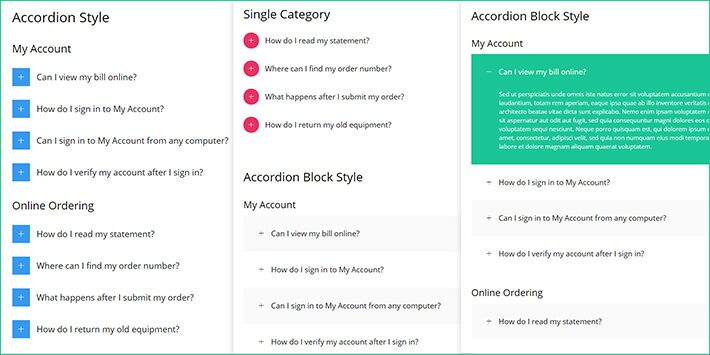 Source: Accordion FAQ
Accordion FAQ WordPress plugin is for the brands that want to set up an out-of-box FAQ page. This WP FAQ plugin is the best for providing self-service for creative agencies and startups. It lets you create an FAQ page with three distinct styling options. Other than that, it is translation ready, which means you can help customers from another part of the world too.
The Accordion FAQ plugin lets you create your FAQ section in the popular accordion style FAQs. This way, customers can expand the only answer they want to read. It shortens the length of your page and helps customers to quickly find the question they want to read about. Moreover, the shortcode generator helps you set up multiple FAQ pages in minutes.
Core Features:
Accordion Style FAQ
List Style FAQ
Block Accordion Layout
Shortcode Generator
Translation Ready
Pros & Cons:
Pros

Cons

Top Seller
Dedicated Support
---
#6 WooCommerce Product FAQ Manager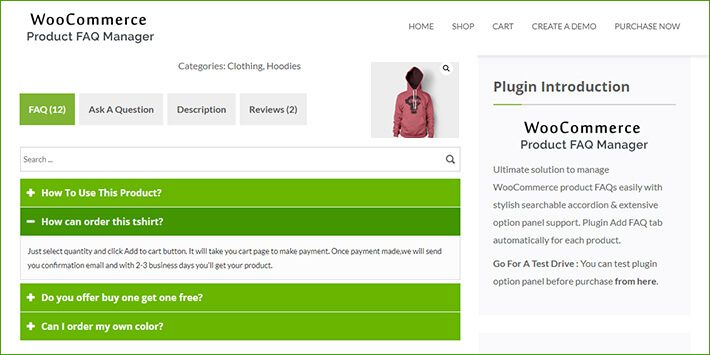 Source: WooCommerce Product FAQ Manager
WooCommerce Product FAQ Manager is a WordPress FAQ plugin explicitly designed to work on the product pages. If you own a WordPress site for online selling purposes, this WP FAQ plugin is the perfect pick for you. It needs zero configuration. Just plug it and it's ready for your FAQ content.
This plugin provides users to access all the questions and answers related to products on the respective WooCommerce product pages. Therefore, customers do not have to be redirected to another page to learn more about the products.
Moreover, the WooCommerce Product FAQ Manager plugin features include the live search panel which allows the customers to quickly search for the questions they want to know more of. And to add to the readability, it provides them a text highlighter too.
Core Features:
Live Search Panel With Text Highlighter
Extensive Option Panel
5 Predefined Themes
Custom Theme Editor
RTL Support
Support Latest WooCommerce
Pros & Cons:
Pros

Cons

Zero Configuration Required
Update Notification
---
#7 Arconix FAQ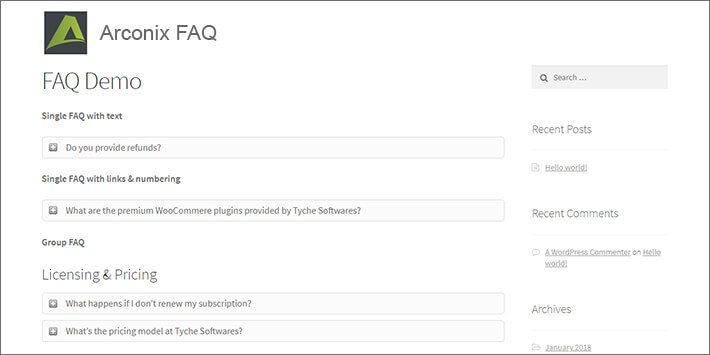 Source: Arconix FAQ
If you are looking for a minimal FAQ plugin for your WordPress site, your search ends here. Arconix FAQ is the perfect minimal and simple FAQ plugin. But simple doesn't mean fewer features. This plugin lets you create custom formats to make your FAQ section as unique as it can get.
The Arconix FAQ WordPress plugin offers you a live demo to check out the FAQ page design in real-time while customizing. This lets you make better decisions without assuming or imagining the output. This WP plugin for FAQs lets you divide the sections with the help of a "group" taxonomy. Moreover, the 'return-to-top' functionality saves a lot of your customers' time and it adds to the user experience of your site.
Core Features:
Custom Post- Driven
jQuery Toggle
Accordion Box
Live Demo
Group Taxonomy
Pros & Cons:
Pros

Cons

Frequent Updates
Return-to-top Link
---
#8 WP responsive FAQ with category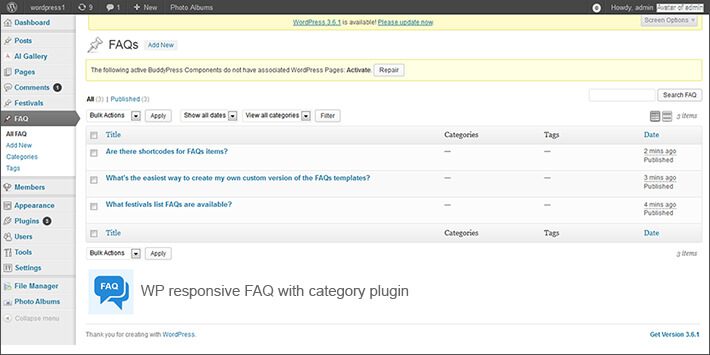 Source: WP responsive FAQ with category
WP responsive FAQ with category Plugin sure has a long name but longer is its list of features. This best FAQ plugin is amongst the best WordPress FAQ plugins. Despite being a free FAQ plugin, it supports all the front-end drag and drop page builders such as Elementor, Beaver Builder, and SiteOrigin. This includes it in the list of easiest to customize WordPress plugins for FAQ.
Furthermore, to make your job a child's play it incorporates the Gutenberg shortcode block. It disintegrates the web page into smaller content blocks that are easy to handle. And if you want to create a FAQ page for your products, it supports WooCommers for your online store too.
Core Features:
Gutenberg Shortcode Block
15 Pre Defined Designs
Thumbnail Image For FAQ
Search Engine Friendly URLs
Elementor, Beaver, SiteOrigin Page Builder Support
WooCommerce Support
Pros & Cons:
Pros

Cons

Smooth FAQ Accordion Effect
CSS & JS File For FAQ Customization Options
---
#9 10WebFAQ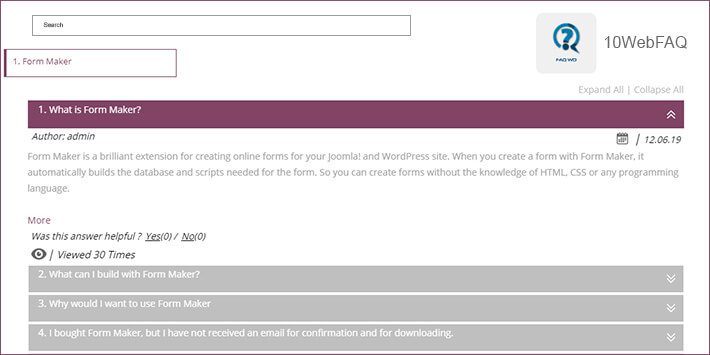 Source: 10WebFAQ
If you want to create a lengthy FAQ section on your website, the 10WebFAQ is straight out of the list of perfect WordPress plugins for you. It can host unlimited questions and answers in unlimited categories. Now if you are creating such an extensive FAQ section, it would take a lot of effort from your customers to locate the question. Therefore, this plugin is equipped with a search function too.
The 10WebFAQ plugin for WP helps to raise the brand exposure with the social share button. Now, your customers can share an article with a simple click to various social networking platforms, such as Facebook and Twitter. Other than that, this free FAQ plugin lets you collect feedback from your customers as they can rate any answer.
Core Features:
Unlimited FAQs
Unlimited Categories
Social Sharing Buttons
Feedback Options
FAQ Search
Pros & Cons:
Pros

Cons

Responsive And Mobile Friendly
5 Default Themes
---
#10 Quick and Easy FAQs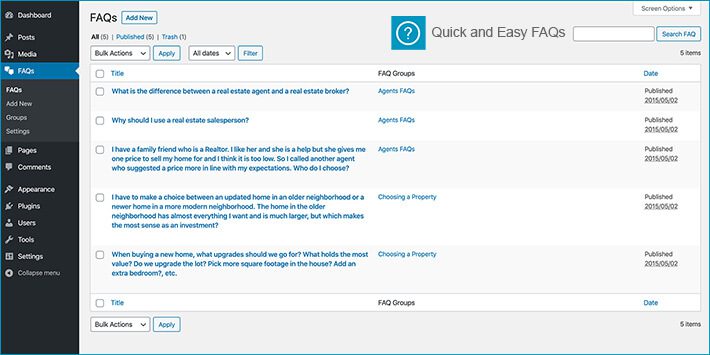 Source: Quick and Easy FAQs
Quick and Easy FAQs is the plugin for literally for quick and easy-to-use FAQ pages. This gem of WordPress plugins displayed your questions and answers in a list. This way your customers can get a clear idea about all of your FAQs. With this best FAQ plugin, you can create filterable groups to make your knowledge base more accessible.
Moreover, Quick and Easy FAQs comes with a custom CSS box that lets you customize the help section intuitively. You can style FAQ sections by changing colors and background images to your taste. And the feature that makes it counted in the list of best FAQ plugins is the RTL support. With this feature, it will never curb your reach.
Core Features:
Simple List Type FAQ
Filterable Groups
Sort By Title Or Date
Front-end FAQ Editor Page
Right-To-Left Languages Ready
Pros & Cons:
Pros

Cons

Custom CSS Box
Simple Interface
---
#11 SpiderFAQ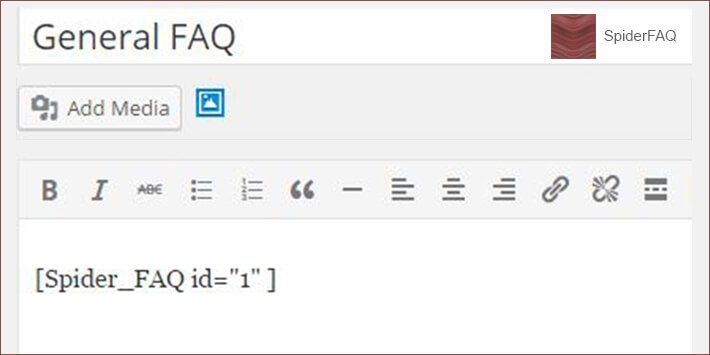 Source: SpiderFAQ
SpiderFAQ is a WordPress plugin appropriate for small business websites. This plugin simply lets you create, organize, and publish FAQs. It is built on HTML code, you can easily edit and customize this plugin. And with the commercial package includes built-in themes and the ability to create a new theme too.
Core Features:
Standard Categories
HTML Tags
Built-in-Themes
Pros & Cons:
Pros

Cons

Highly Customizable
Easy-to-use Navigation
FAQ
1. How do I use FAQ plugins in WordPress?
Using FAQ plugins is not something you would need expert help for. Working with FAQ plugins needs installation and activation similar to every other plugin. Once that has been done, follow the following steps:
Step 1: Select 'FAQs' in the WordPress admin sidebar
Step 2: Click on 'Add New'
Step 3: After that, you would want to add your FAQ questions in the area provided for the title, and answers in the main content area
Step 4: Now it's time to turn towards the right-side menu. Create the FAQ categories/sections/tags
Step 5: Hit the 'Publish' button
That's all you have to do to work with FAQ plugins in WordPress.
---
2. How to Put Together an Effective FAQ Page?
To create an effective FAQ page you must keep the following things in mind.
Organize them well
Only include actually frequently asked questions
Use common jargons
Create visual content
Make it easy to scan
Search function is a must
Design landing pages
Update and improve
---
3. What are some best FAQ plugins for WordPress?
The Best FAQ plugins for WordPress available on the internet are:
HTML5 Responsive FAQ
Ultimate FAQ
Fancy FAQ
Accordion FAQ WordPress Plugin
WooCommerce Product FAQ Manager
FAQPlus
---
4. Are FAQs good for SEO?
Yes, well-structured, keyword-optimized, and FAQs designed for great user experience (UX) are good for SEO. If your content is of the best quality and you use proper internal linking, FAQs can boost your website's SEO ranking to a great extent.
---
5. What is the use of FAQ?
The general purpose of FAQs is to share information about a topic/department/product/service. In a questions and answers format. FAQs are a great way to bridge the information gap and reduce customer care tickets.
Conclusion
Alright! Hope we have answered all your questions regarding WordPress plugins for FAQs. So, let's get your WordPress site the best suitable FAQ section right now!
If there is still something you need to talk to us about, feel free to do so. And don't forget to share your experience with us. And want to check out similar blogs from us, then