If you are planning on creating a wiki website, you have come to the right place. HooThemes is back again with a list of 10 best "WordPress Wiki Plugins". These plugins will make your job easier than you think and help you create stunning wiki pages, such as Wikipedia and wikiHow.
However, if you want to create a separate customer support website, you must check out the Wiki WP themes.
Okay then, let's start discussing all the handpicked wiki knowledge base plugins.
Best Wiki WordPress Plugins
#1 KNOWLEDGE BASE PLUGIN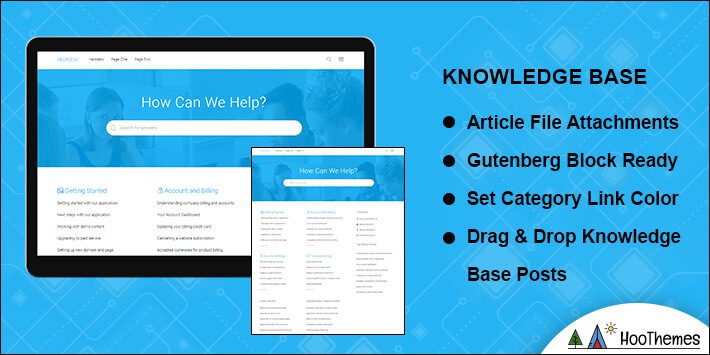 Source: Knowledge base plugin
Knowledge base plugin is amongst the most popular wiki plugins for WordPress. This plugin brings many features to your WordPress websites, such as article and file attachments, and voting. This wiki plugin is for those who want to create knowledge base articles and FAQ sections. It is perfect for both the internal and external knowledge base WordPress site.
The KNOWLEDGE BASE PLUGIN makes customizing your web pages easy with tons of shortcodes. Not only it lets you create extensive articles, but it also lists them in any order you may like. This WordPress Wiki plugin lets your customers vote for the best article/answer for enhancing the user experience and making your support website reliable.
Core Features:
Breadcrumbs
Customs Slugs
Article & File Attachments
Placeholder
Set Vote Icons
Single Page
Article List Shortcode
Pros & Cons:
Pros

Cons

Custom Article Link Color
Custom Category Link Color
---
#2 WP Glossary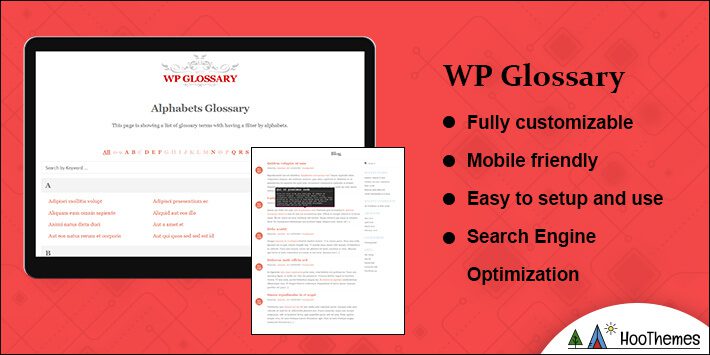 Source: WP Glossary
WP Glossary is a WordPress Wiki plugin, if you want to add an encyclopedia, knowledge base, Lexicon, or a dictionary, this is the right WordPress plugin for you. This plugin makes your customer support section much more functional with the help of great features. This plugin is jam-packed with such features and can create comprehensive documentation.
To start talking about its features, the WP Glossary plugin comes with the index pages which you can use to list out all the knowledge base articles. It boosts the accessibility of the customer support pages and user engagement. To top that, it also offers instant search as you type. This saves a lot of users' time and makes your WordPress knowledge base pages a success.
Core Features:
Custom Post Type
Index Page
Linkify
Tooltip
Custom Styles
Menu Search
Pros & Cons:
Pros

Cons

Mobile-Friendly
Highly Compatible With WP Themes & Plugins
---
#3 Pixel Knowledge Base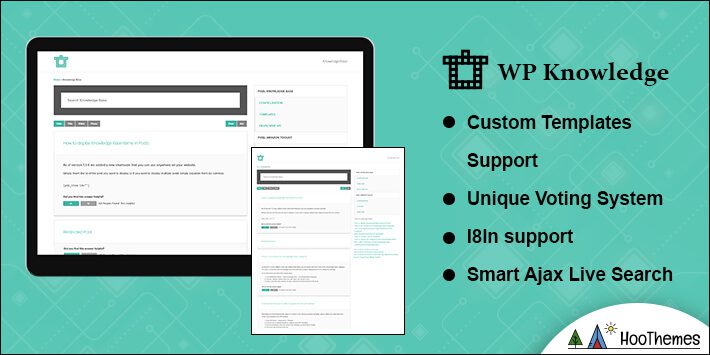 Source: Pixel Knowledge Base
Pixel Knowledge Base is amongst the best WordPress wiki plugins available on the internet. Its responsive design makes sure that your knowledge base remains completely smooth to read on any screen sizes and devices. Therefore, your customers now can get the information from an official source on their smartphone too.
Moreover, the Pixel Knowledge Base wiki plugin lets you customize every aspect of your wiki page to make it unique. It lets you display your content in 1,2,3, or 4 columns according to the requirement. And it allows you to reorder your knowledge base content with simple drag and drop. It only takes a few minutes and your wiki pages are ready to serve users.
Core Features:
Ajax Powered Search
Multiple Template Actions
1,2,3, Or Even 4 Columns
Drag And Drop Reorder
Lightweight
Sort By Views, Title, Date, Or Number Of Votes
Pros & Cons:
Pros

Cons

Easily Categorize Your Knowledge Base
Front-end Knowledge Base Post Submission

No Revolution Slider Included
---
#4 MinervaKB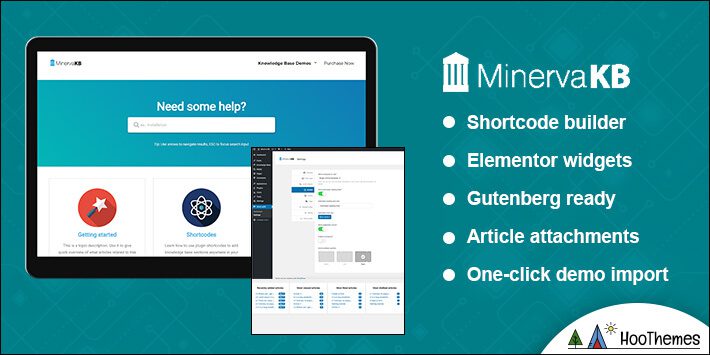 Source: MinervaKB
MinervaKB leads the other WordPress wiki plugins when it comes to customizability. It comes with Elementor widgets, visual composer elements, and Gutenberg support too. This plugin is super easy to set up and it does not require any level of coding skills. Any beginner can use this plugin and create a Wikipedia-like wiki site in minutes.
The USP of the MinervaKB wiki WordPress plugin is the Google Analytics function. It provides you with in-depth reports of all the website analytics, such as the most read article, least read article, most searched article, empty searches. This information helps you make data-driven decisions to enhance your customer support services. Furthermore, this plugin also features a complete support ticketing system.
Core Features:
Elementor widgets
Support Ticketing System
Gutenberg Supported
Nested Categories Support
Software version Labels
Visual Composer Elements
FAQ Module
Pros & Cons:
Pros

Cons

Custom Text Colors & Typography
Multiple Sidebars
---
#5 Helpie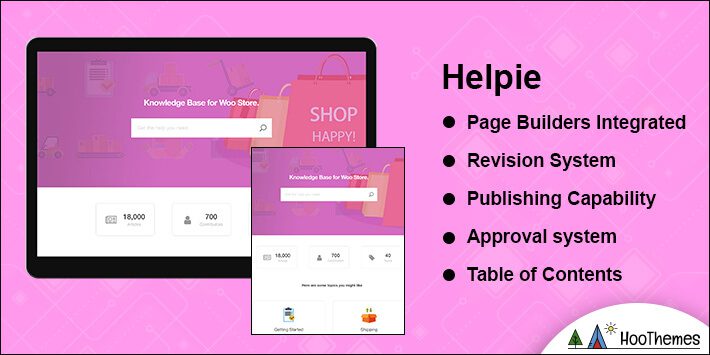 Source: Helpie
The Helpie is the all-in-one WordPress wiki plugin. This plugin is exclusively made for adding knowledge bases to your WP site. Now, but niche specific does not mean less powerful. If you use this plugin, you won't need any extra plugin for making your knowledge base/wiki section effective. Whether it is a small, medium, or large scale business, it helps them create a WP knowledgebase section with or without frequently asked questions in just a few clicks.
The Helpie WP plugin makes a unique wiki knowledge base section with more than a hundred customization settings. Therefore, despite being so popular, your simple knowledge base would be distinct from your brand identity. And on top of that, it comes with the drag and drop page builder integration. The integrated Elementor page builder, makes web page designing a visual process instead of a technical one.
Core Features:
100+ Customization Settings
Publishing Capabilities
Version History
Approval System
User Access Restriction
Elementor Integration
Hero Section
Pros & Cons:
Pros

Cons

Multiple Media Attachments
Dedicated Support Team

Not Compatible With IE Browser
---
#6 DW Knowledge Base Pro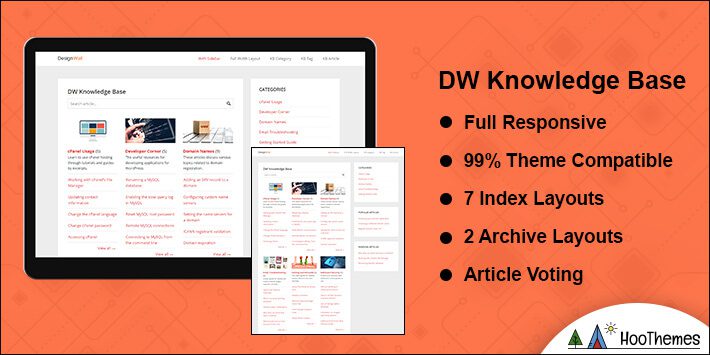 Source: DW Knowledge Base Pro
DW Knowledge Base Pro is a premium WordPress plugin for knowledge base. This knowledge base WordPress plugin is fully responsive and one property that makes it the most convenient wiki WordPress plugin is that it is compatible with almost all premium WordPress themes. You do not have to switch to another theme just to use this plugin.
Moreover, the DW Knowledge Base Pro comes with the Yoast SEO best practices. This makes your knowledge base site show up above your competitors on the search engine result pages and brings in more organic traffic. This knowledgebase plugin brings along 7 index page layouts and 2 archive page layouts to save a lot of your time and effort. However, these layouts are fully customizable if you want everything under your control.
Core Features:
Yoast SEO
Article View Statistic
7 Index Page Layouts
2 Archive Page Layouts
Comment Form (Show/Hide)
Paid Member Subscriptions
Related Posts
Meta Data On Single Article
Pros & Cons:
Pros

Cons

99% Theme Compatible
Quick Installation And Setup
---
#7 Wikiomatic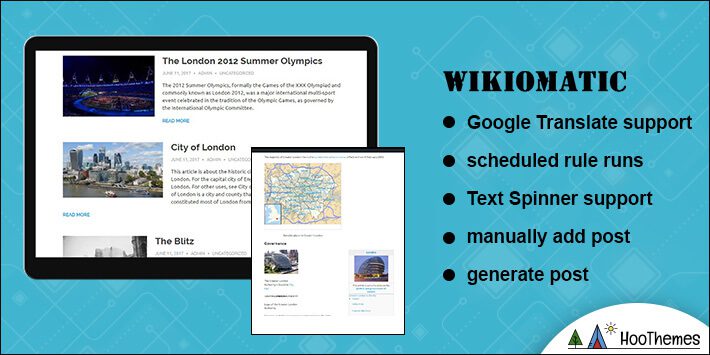 Source: Wikiomatic
Wikiomatic is one of its kind. This is an automatic wiki content generator WordPress plugin. This wiki plugin makes maintaining your wiki pages easier than ever. With the random sentence generator tool and parse imported content, this theme takes care of all the content gaps in your knowledge base.
Moreover, this simple knowledge base plugin offers you a free trial version. The test site generator helps you see if the plugin works as you want it to. Therefore, you are assured you get value for money. Other than that, it can also run a scheduled rule on itself to keep it updated. This saves you much time that you can focus on other aspects of your business.
Core Features:
Parse Imported Content
Test Site Generator
Text Spinner Support
Random Sentence Generator Tool
Scheduled Rule Runs
PHP 8 Compatible
Pros & Cons:
Pros

Cons

Free Trial Version
Video Tutorial
---
#8 UserPress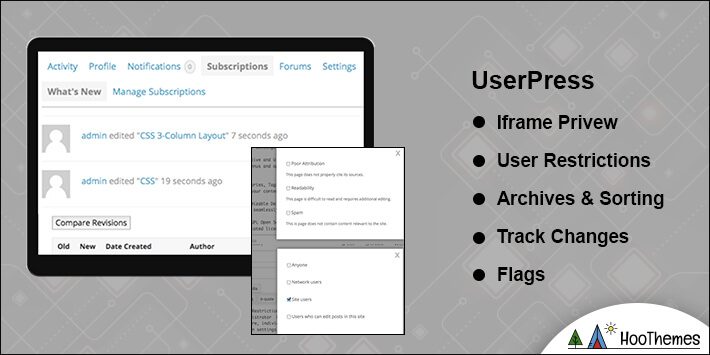 Source: UserPress
UserPress, is a WordPress wiki plugin that is perfect for creating an extensive wiki platform. It brings along live search by which users can easily find the piece of information right away without going through a lot of content. This plugin also includes the archive and sorting features. With them, your wiki articles will always be well-organized and managed.
And one of the most important features is that you can limit or restrict user access for privacy. It lets you set individual access permits. Moreover, this plugin comes with the Iframe preview. Therefore, your customers can open links to another article without leaving the current page. Moreover, this plugin is compatible with BuddyPress so that you can create a social networking website too.
Core Features:
User Restrictions
Archives & Sorting
Track Changes
Live Search
Iframe Preview
Testimonials
Flags
Buddypress Compatibility
Pros & Cons:
Pros

Cons

Easy-to-use Plugin
Front-end Interface
---
#9 Encyclopedia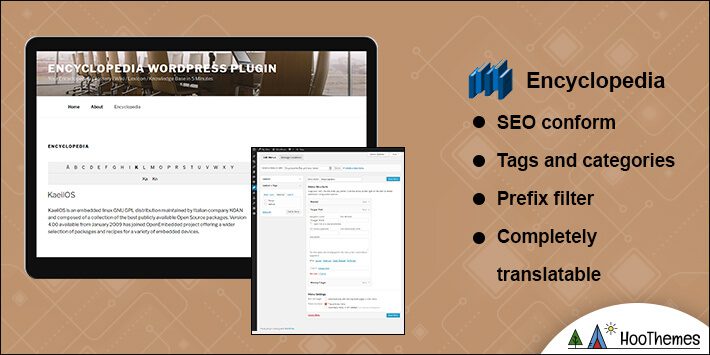 Source: Encyclopedia
Encyclopedia is an excellent WordPress wiki plugin. It helps you create and manage a knowledge base section on your website. This plugin is compatible with all the publishing tools. Its easy-to-use interface makes the designing of your wiki enjoyable and less hectic. And since it supports WPML, your knowledge base content can be translated into any of the world's major languages.
The Encyclopedia supports excerpts that give your views a quick look at what the article is about. This boosts the effectiveness and engagement of the wiki page. And with the WordPress multisite feature, you can handle multiple wiki sites from a single dashboard. Moreover, this plugin lets you keep a record of articles by article versioning. This way you are assured that no information is ever lost during an update.
Core Features:
Prefix Filter
WPML
Dictionary
Article Versioning
WordPress Multisite
WordPress Menus
Supports RSS Feeds
Supports Excerpts
Pros & Cons:
Pros

Cons

Wikipedia Content
Clean And Intuitive User Interface

Third-party Advertisements In Free Version
---
#10 Yada Wiki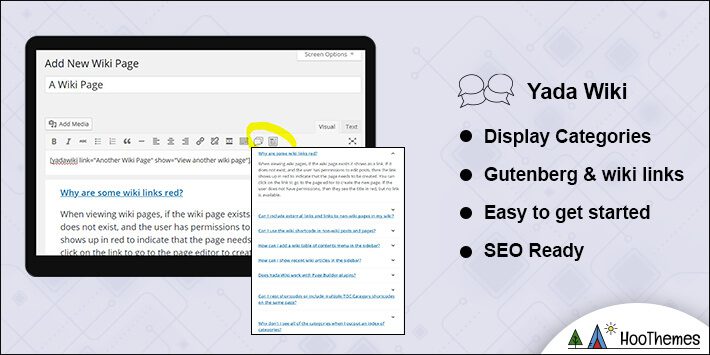 Source: Yada Wiki
Yada Wiki is one straight from the pool of best wiki WordPress plugins. The one advantage that it has over all the other knowledge base plugins is its editor toolbar. With this toolbar you do not have to memorize the values of shortcodes, it helps you generate new shortcodes with a single click. And with custom tags and categories, finding the information gets easy.
This plugin has two sidebar wiki widgets that make your wiki page an extra edge. With these widgets, you can display the table of contents on a sidebar and display related topics/articles on another. This helps the best in listing the articles of the same category.
Core Features:
Sidebar Widgets
Custom Tags And Categories
Output Wiki Category
"Add Wiki Listing" Button
"Add Wiki Link" Button
Table Of Contents Page
Pros & Cons:
Pros

Cons

Video Walk-through
Extensive Documentation
---
FAQ
1. How do I create a Wiki post in WordPress?
To create a wiki post, you have two options to approach it. Either work with a WordPress wiki theme or work with wiki WordPress plugins.
---
2. How do I use a WordPress Wiki plugin?
To use a WordPress wiki plugin you need to follow the below-mentioned easy steps.
Step 1: Search for the WordPress wiki plugin you want to use.
Step 2: Click on the install button.
Step 3: Once the plugin is installed you have to click on the activate button.
Step 4: Update the plugin settings and customize them as you wish to want.
---
3. What features wiki WordPress plugins must-have?
All the wiki plugins listed in this blog are responsive which is a must-have feature for WordPress knowledge base plugins. And the other features that you should look out for are:
WordPress Theme compatibility
Search Function
Translation Ready
SEO Friendly
Style Customizations
Conclusion
All these 10 best WordPress wiki plugins that we discussed are picked based on their ratings and popularity. These plugins are more than enough for creating an efficient wiki section for your WordPress website. Feel free to pick any of the plugins that you find the aptest for your requirements. And if you are still not found the one, check out the Knowledge base WP plugins and FAQ WP plugins.
If you have put a finger on one, don't forget to share your experience with us and if you have any doubts regarding the topic, you can contact us and we will try our best to help you.