Social media influencers have a powerful impact on consumer behavior these days. The rise of e-commerce has opened up new opportunities for influencers to monetize their reach, and one of the best ways is to become an Amazon influencer.
As an Amazon influencer, you have the potential to earn significant income by promoting products to your followers. However, becoming a successful Amazon influencer takes more than just a large following.
This article will explore everything you need to know about becoming an Amazon influencer, including how to apply for the program, the eligibility requirements you need, and the best way to connect with brands.
Looking for Amazon influencers to collaborate with? Search and contact potential influencers on Ainfluecer. A safe platform to discover brands that are looking for influencers to work with! No matter what's your niche, you can find and collaborate with many brands on Ainfluencer for sure.
What Is An Amazon Influencer
You know about Instagram, YouTube, and TikTok influencers; But have you heard anything about Amazon influencers? An Amazon influencer is someone with a significant following on social media platforms such as YouTube, Instagram, Facebook, and Twitter, who promotes Amazon products and earns a commission on sales made by them.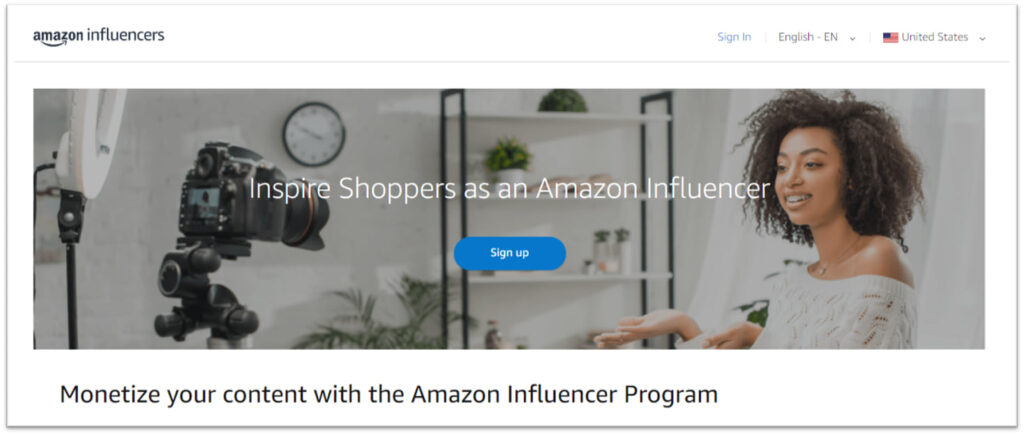 Amazon launched the "Amazon influencer program" in 2017, and since then it has become a popular option for content creators to earn money from their social media presence.
What Are The Benefits Of Becoming An Amazon Influencer
Before talking about Amazon's influencer marketing requirements and how to become one, let's see its benefits.
Monetize Your Following
As an Amazon influencer, you can earn a commission on products purchased through your unique affiliate link. This means that you can monetize your following and earn money from the products you recommend.
Access To Amazon's Vast Product Catalog
Amazon has a wide range of products, and as an influencer, you have access to their entire catalog. This means that you can choose the products that align with your brand and promote them to your audience.
Increased Credibility
By partnering with Amazon, you're associating your brand with a reputable and trustworthy company. This can increase your credibility with your audience and make them more likely to trust your recommendations.
Custom Storefront
Amazon influencers have access to a custom storefront where they can curate products and create a personalized shopping experience for their followers.
How to Become an Amazon Influencer
The Amazon influencer program is a great opportunity for content creators and social media influencers to monetize their following by promoting Amazon products. Here are the steps to becoming an Amazon influencer:
Step 1: Meet The Eligibility Requirements
To become an Amazon influencer, you must meet the following eligibility requirements:
Have an active and public social media account on YouTube, Instagram, or Facebook
For Instagram and Facebook, you need to have a business account.
Have a high engagement rate on your posts.
Have an Amazon account.
Step 2: Apply To The Amazon Influencer Program
Once you meet the eligibility requirements, you can apply to the Amazon Influencer Program. Here's how to apply:
Go to the Amazon Influencer Program page and click "Join Now".
Log in to your Amazon account or create a new one if you don't already have one.
Fill out the application form with your personal information, social media account information, and additional details about your niche and audience.
Submit your application.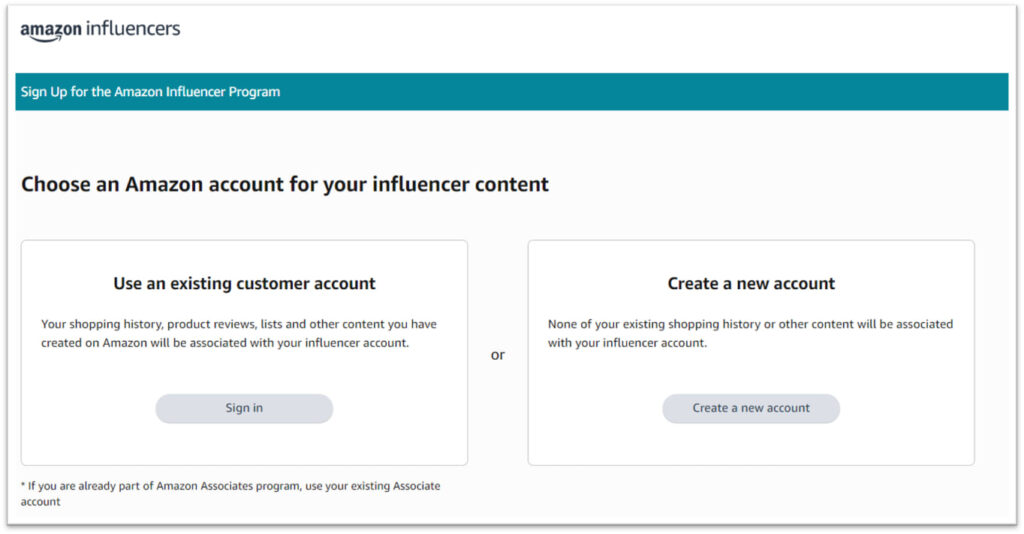 Once you have provided your personal details, you will be prompted to select the social media account that has the highest number of followers, likes, and engagement to determine your eligibility. The available options are YouTube, Facebook, Instagram, and TikTok, with Twitter currently not included in the list.
If your initial application to join the Influencer Program is not successful, don't worry as you can apply again at a later stage. Simply work on growing your followers and improving engagement, and reapply when you meet the eligibility criteria.
Step 3: Wait For Approval
After you submit your application, Amazon will review it and notify you of their decision within a few days. If you are approved, you will receive an email with instructions on how to access your influencer dashboard.
Step 4: Design Your Storefront
Amazon influencers who have been approved by the Amazon Influencer Program have a unique opportunity to create their own Amazon storefront. However, before you get too excited, keep in mind that the customization options are limited. You'll only be able to create lists that showcase the products you've chosen. Nonetheless, you can still set your storefront apart by adding a unique header image and profile photo.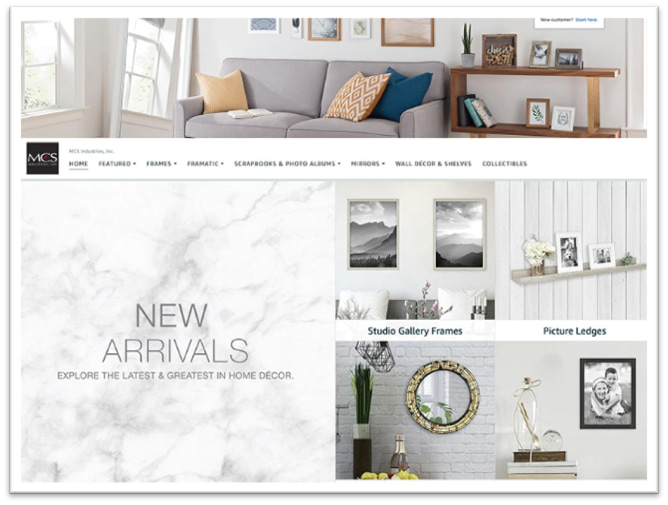 By customizing your page, you can create a brand image that aligns with your personal brand and make it easier for your followers to find the products you promote. Another way to personalize your Amazon page is to create a custom URL that reflects your brand name or niche. This makes it easier to share your storefront with your followers and build your audience on Amazon.
To create a custom URL, go to your Amazon storefront and click on the "Edit" button next to the URL section.
From there, you can choose a unique URL that aligns with your brand. Keep in mind that the URL must be between 5 and 30 characters, and can only contain letters, numbers, and hyphens.
Once you've chosen your URL, click "Save" to update your storefront.
By taking the time to customize your page, you can create a professional image and establish yourself as a trustworthy influencer in your niche.
Step 5: Start Promoting Products
With your profile set up, you can start promoting products to your audience. To do so, follow these steps:
Log in to your influencer dashboard.
Search for products on Amazon that are relevant to your niche and audience.
Click on the product to get a unique referral link.
Use the referral link in your social media posts to promote the product to your followers.
Earn a commission on each sale made through your referral link.
After setting up your storefront and choosing the relevant products, it's time to focus on marketing. Keep in mind content creation is a major part of your marketing strategy; So try to create various types of content such as blog posts, videos, or images. To make the most impact, share your content across multiple platforms. Although Amazon only requires one social media platform, you can share your content on more than one platform to reach a wider audience.
How to Find Amazon Influencers
Are you looking for Amazon influencers to help promote your products and reach a wider audience? Finding the right influencers can be a challenge, but there are several ways to identify creators who align with your brand and have a following that matches your target audience. Here are three ways to spot Amazon influencers:
1. Search on Social Media Platforms
One of the easiest ways to find Amazon influencers is to search on social media platforms like Instagram, YouTube, and TikTok. Use relevant keywords and hashtags related to your brand and products to find creators who are already posting content about similar topics. Here are some keywords to search for:
#AmazonFinds
#Amazon
#AmazonInfluencer
#amazondeals
#AmazonMustHaves
#FoundItOnAmazon
#Amazonreviewer
#FoundItOnAmazonFashion
#AmazonFindsMustHaves
#AmazonFindsForGirls
#AmazonFindsForBoys
#AmazonFindsCURRENTYEAR
3. Use Influencer Marketing Platforms
There are several influencer marketing platforms that can help you find Amazon influencers, such as Ainfluencer. This platform allows you to search for influencers based on their location, audience size, engagement rate, niche, budget, and other criteria.
Ainfluencer- The Best Way To Collaborate With Brands
Ainfluencer is a top-rated influencer marketing platform for content creators and social media influencers/bloggers to connect with brands and monetize their online presence. The platform offers a range of features that make it easy for influencers to find and collaborate with brands, including an extensive database of businesses and an easy-to-use search function.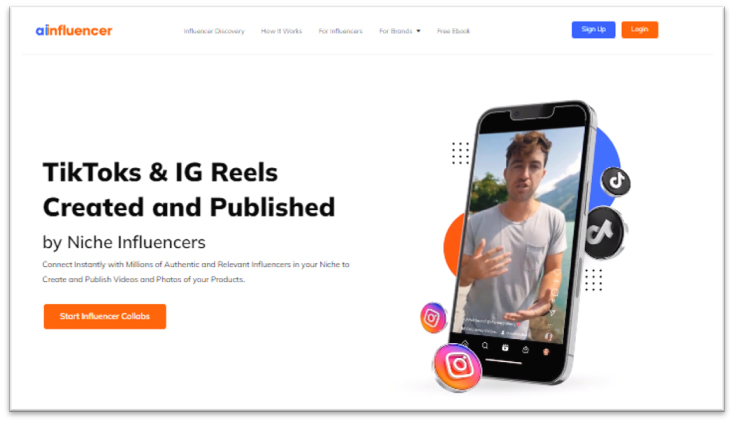 For Amazon influencers, Ainfluencer is one of the best ways to connect with brands and earn commissions through product promotions. With the platform's robust search functionality, Amazon influencers can quickly find brands that match their niche and target audience, making it easy to create high-quality content that resonates with their followers. And the best part is that all of this process is available for free.
With its user-friendly interface, an extensive database of businesses and influencers, and helpful resources, it is one of the best platforms available for different types of influencers looking to collaborate with brands and earn commissions through product promotions.
FAQs
Now, let's see some of your frequently asked questions.
1. What Is The Amazon Influencer Program?
The Amazon Influencer Program is a platform that allows social media influencers to earn commission by promoting Amazon products to their followers.
2. How Do I Apply For The Amazon Influencer Program? 
To apply for the program, you'll need to fill out an application form on the Amazon website. You'll need to provide information about yourself, your social media accounts, and your audience.
3. How Long Does It Take To Get Approved For The Amazon Influencer Program? 
The approval process can take anywhere from a few days to a few weeks, depending on the volume of applications and how long it takes for Amazon to review your application.
4. What Kind Of Commission Can I Earn As A Amazon Influencer? 
The commission you can earn varies depending on the product category. Generally, the commission rates range from 1% to 10% of the purchase price.
5. Can I Promote Any Product On Amazon As An influencer?
Not all products on Amazon are eligible for promotion by influencers. The eligible products will have a special link that you can use to promote them on your social media channels.
Conclusion
Becoming an Amazon influencer can be a great way for content creators to monetize their online presence and earn money from the products they recommend. By partnering with Amazon, influencers have access to a wide range of products and can create a personalized shopping experience for their followers. If you're interested in becoming an Amazon. You can also find the brands that are willing to collaborate with you on Ainfluencer.