Have you ever wanted to view your ex's stories on Instagram but couldn't because they'd blocked you?! Or have you wished to check out your competitors' stories yet hesitated as you didn't want them to know you're following them? Then, using an Instagram story viewer is what must have crossed your mind!
Instagram Story has proven to be a unique spot where people interact with each other a lot. Some people share their life stories, while others, including Instagram Influencers and business people, use it to boost their Instagram engagement rate.
Whether you're a professional or use Instagram for leisure, you might feel like viewing others' IG stories anonymously. In this article, we've prepared a list of the tools you can use.
Also, we will introduce you to the best anonymous Instagram story viewer: AiSchedul!
What Is an Anonymous Instagram Story Viewer Tool
As mentioned earlier, Instagram stories are pretty popular these days. According to statistics, 500 million people use IG stories every day.
However, there are certain limitations when using this feature on Instagram. For instance, you can't download other people's stories or view them using the original app. 
So, how can you overcome these restrictions?
An Instagram story viewer is a valuable tool that can help you overcome these limitations. Using a good one, you can quickly check out other people's stories anonymously and even download their stories to save in your gallery.
Why Use an Anonymous Instagram Story Viewer
One could have various reasons to do this! Let's imagine two scenarios; one personal and the other professional.
Sometimes in life, we encounter situations where we're not on speaking terms with our friends or, in some cases, our partners. Checking out their stories on Instagram could give them the impression we do not want to give. An anonymous Instagram story viewer helps you do the trick.
It doesn't end here, though.
Getting ideas from your rivals and being inspired by them is expected in the business world. Yet, you might lose face if you constantly check out on them. They might think you're stalking them and not giving you much credit.
Using a private Instagram story viewer, you can set yourself up to maximize your growth on Instagram, which results in huge career success. 
But how can you identify the best tools for this end?
15 Best Anonymous Instagram Story Viewers
You might have come across numerous tools claiming to offer you the best services to check out people's stories anonymously. In this section, we have provided you with a list of the best Instagram story viewer tools you can use with ease of mind.
Let's jump right in!
#1: AiSchedul; The Overall Best Anonymous Instagram Story Viewer
If you're looking for a well-developed tool to view and download other users' stories on Instagram without trouble, this is the right tool.
AiSchedul allows you to view the stories and highlights of anyone you want anonymously. Using this free Instagram story viewer, you can also download stories and highlights on various IG pages. 
The fascinating point about this tool is that there's no need to download and install any apps. It works in the cloud, and you can use it simply by going to their website.
AiSchedul is an all-in-one IG tool. Not only does it allow you to view and download IG stories anonymously, but also it offers a free integrated story scheduler that enables you to schedule Instagram stories and highlights to be posted at the best time.
All these features are for free! Yet, if you'd like to have immediate access to more features of this tool, including a content calendar, hashtag generator, latest Instagram trends, aesthetic captions, posts, stories and reels scheduler, reposter, and many more, you can sign up on AiSchedul right now!
Aischedul Pros
Multi-Account Support: Users can add up to 80 Instagram accounts to their dashboard without incurring extra charges, making it suitable for managing multiple profiles.
Comprehensive Toolset: AiSchedul provides a wide range of apps and tools for efficiently managing Instagram posts and stories. This comprehensive package covers various aspects of Instagram marketing.
Cross-Platform Compatibility: It's a web-based platform accessible on various operating systems, including Windows, macOS, Linux, Android, and iOS.
Aischedul Cons
Poor UI/UX Design: One notable drawback of AiSchedul is its less-than-ideal user interface and user experience design. Users may find it less intuitive or visually appealing, which can impact the overall usability and enjoyment of the platform.
Aischedul Pricing
It offers 3 plans for scheduler features including:
Free: No cost
Essentials: $9 per month
PRO:$29 per month
Instagram Story Viewer #2: Storiesdown
Another tool you can view and download Instagram stories anonymously is Storiesdown. This IG tool allows you to download high-resolution Instagram videos and photos to your devices.
One negative point about this tool, though, is its ads. Every time you want to use this Instagram story viewer for free, you'll be overloaded with multiple ads that will block the content.
Also, this tool has a 'Posts' feature that allows you to see and download posts. Unfortunately, this feature doesn't work now.
Storiesdown Pros
Ease of Use: StoriesDown Pro is user-friendly and easy to navigate, making it accessible to a wide range of users.
Cross-Platform Compatibility: It is compatible with multiple platforms, ensuring that users can access it on various devices.
Download Videos and Photos: Users can conveniently download videos and photos from posts, providing a useful feature for saving content.
Anonymous Story Viewing: It enables you to view stories anonymously without the need to log in or have an account.
Storiesdown Cons
Non-Compliance with Instagram Policy: Storiesdown is not in compliance with Instagram's policies. It utilizes the Instagram API, but using any third-party app to save Instagram stories goes against Instagram's terms of service.
Risk of Penalties: Using Storiesdown or similar apps to regularly view Instagram profiles and download other users' stories without their knowledge can lead to penalties.
Data Privacy Concerns: While Storiesdown is designed to save Instagram stories liked by users, it may pose a privacy threat to users with private Instagram profiles.
Storiesdown Pricing
StoriesDown is a free anonymous story viewer application that allows users to view Instagram stories without the need for an Instagram account or login credentials.
Instagram Story Viewer #3: Inflact
Another website that offers online Instagram story viewer services is Inflact (or Ingramer). Using its services, you can view and download the IG stories of your friends without them having a clue.
Inflact Pros
Free Anonymity: Inflact offers a free Instagram anonymous stories viewer. Users can enter a username and access someone's stories without needing an Instagram account or revealing their identity.
Simplicity: The platform is designed with a simple and user-friendly interface, making it easy for users to navigate and access the desired content.
Contact Information: It provides contact information for support or inquiries, ensuring that users have access to the help center when needed.
Inflact Cons
Use of Instagram Bots: Inflact employs Instagram bots to automate actions, which is against Instagram's terms of service. Using bots can lead to violations of Instagram's policies and potential consequences.
Risk of Exceeding Daily Limits: Automated actions on Instagram, such as those facilitated by Inflact, can lead to exceeding the daily limits set by Instagram. This increases the risk of getting banned or suspended from using Instagram when using this anonymous story viewer.
Inflact Pricing
This website offers free services, yet there's a limitation to them. The Stories Viewer feature allows you to download older Instagram stories and track every new story from users (except for private accounts). You can monitor up to 100 profiles, and their stories will be saved in your Inflact profile. Here are the subscription prices for the story autosave feature:
1 profile: €3 per month
3 profiles: €7 per month
10 profiles: €19 per month
100 profiles: €99 per month
Instagram Story Viewer #4: InstaDP
Using this story viewer on Instagram, you can see your friends' account stories and download them. InstaDP can come in handy if you want to download profile pictures, reels, and videos on Instagram.
Like other tools we've introduced, you need to enter the username of the person you wish to see stories of or stories URL. Then you're good to go.
InstaDP Pros
Anonymous Viewing: InstaDP allows you to view public Instagram profiles without following them, preserving your privacy while keeping up with influencers, celebrities, and brands.
Content Saving: You can save Instagram posts and stories for later viewing or reposting, providing a convenient way to archive and share engaging content.
Download Instagram Reels and Profiles: InstaDP offers sections for Instagram Reels and enlarged profile images, providing a comprehensive viewing experience.
InstaDP Cons
Privacy Concerns: InstaDP may have access to personal user information, raising privacy concerns for individuals who value online anonymity.
Usability: While useful, InstaDP might not be as user-friendly as some other Instagram viewing tools available, which could make it less accessible for some users.
Functionality Issues: Some users have reported occasional malfunctions on the InstaDP website, which can affect the overall user experience.
Access Personal Information: This anonymous story viewer might have the capability to access your personal information without obtaining your explicit consent. This means that the platform could potentially gather data about you without you knowingly granting permission for such access.
InstaDP Pricing
Is InstaDP a paid service or free? InstaDP is entirely free to use.
Instagram Story Viewer #5: Qoob Stories
This is probably the right tool for you if you want to view stories on both public and private accounts anonymously. Qoob Stories lets you download the stories, photos, and videos from the feed.
This tool also automates mass downloads and saves the captions below every post. To use these features, you will have to download an app.
Qoob Pros
Versatile Content Downloading: Qoob Stories is an ideal choice for users who frequently download content from Instagram. It can download various types of content, including photos, video posts, and stories.
Access to Public and Private Accounts: Unlike many other Instagram story viewers, Qoob Stories allows you to view content from both public and private Instagram accounts, expanding your viewing options.
User-Friendly: Qoob Stories is easy to use. Simply enter the Instagram handle of the account you want to view, and you can start anonymously watching Instagram stories. Moreover, you can automate content downloads by adding selected accounts to your Qoob Instagram story viewer or downloader.
Qoob Cons
Limited Free Plan: The app offers three pricing plans, but its free plan comes with significant limitations. Users are restricted to visiting only two Instagram profiles and limited to 200 downloads per day, which may not be sufficient for heavy users.
Costly Premium Plans: Most of the app's features are bundled into premium plans that come with a hefty price tag.
Qoob Pricing
It offers three pricing plans including:
Limits: Visit up to two Instagram profiles and perform 200 downloads per day.
Cost: Free
Access to 10 Instagram profiles
Cost: $8.33 per month
Unlimited access to Instagram profiles
Cost: $29.75 per month
Instagram Story Viewer #6: Glassagram
Glassagram is yet another service you can use for this end. It claims to give you the chance to view and save stories on Instagram anonymously. It also sends you notifications whenever the targeted user posts anything on Instagram.
Glassagram Pros
Cross-Platform Compatibility: Glassagram is available for both Android and iPhone devices, ensuring a seamless experience for a wide range of users across various platforms.
Enhanced User Privacy: The app prioritizes user anonymity, safeguarding their identity while viewing Instagram stories discreetly.
Safe Content Exploration: Glassagram offers a secure and non-intrusive way for users to explore Instagram content without the risk of accidentally liking or engaging with posts.
Glassagram Cons
Potential App Limitations: Like any third-party app, Glassagram may have specific limitations imposed by Instagram's policies, which could impact the overall user experience.
Feature Malfunctions: Many users have reported that a significant portion of the service's features are currently non-functional, and users frequently encounter glitches and technical issues while attempting to use them.
Glassagram Pricing
It's a free Instagram anonymous story viewer. You're not required to pay any fees.
Instagram Story Viewer #7: Storistalker
Here's another anonymous Instagram story viewer for Chrome and other web browsers. Storistalker is an online service that claims to provide you with the chance to view IG stories, profiles, users' likes and comments, and many more, even if they've been removed from Instagram.
Storistalker Pros
Free Service: There is a free service available, allowing users to access basic features without any cost.
24/7 Customer Care: The availability of round-the-clock customer care ensures that users can seek assistance and support whenever they need it.
Easy to Use: The service is designed with user-friendliness in mind, making it straightforward and convenient for users to navigate and utilize its features.
Storistalker Cons
Registration Issues: The service experienced registration issues during testing, preventing users from successfully completing the initial registration process. Despite multiple attempts, registration remained unsuccessful, causing frustration and disappointment.
Storistalker Pricing
It's a completely free Instagram story viewer with no hidden charges or limits on downloads.
Instagram Story Viewer #8: Stories IG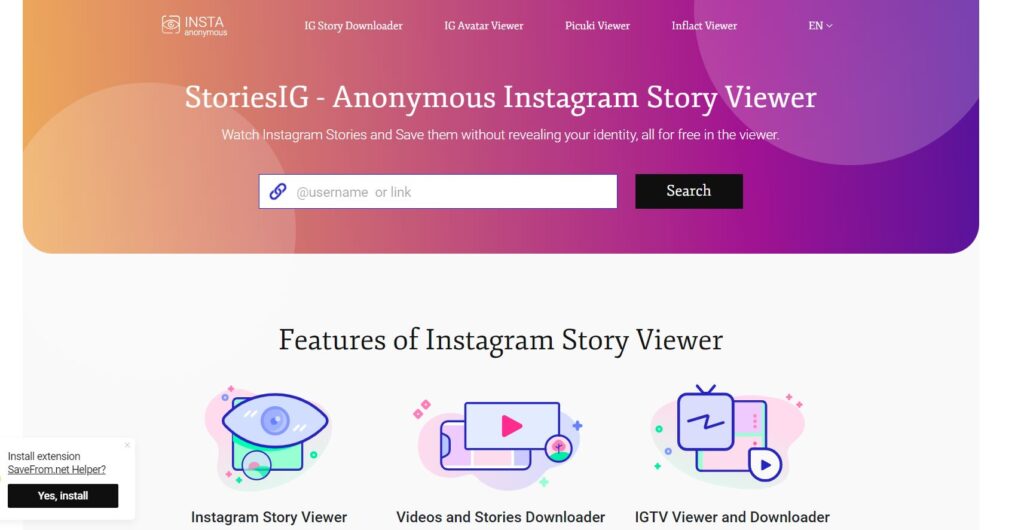 Another Instagram private story viewer is Stories IG. Using this tool, you may allegedly see IG stories anonymously and download them to your gallery. It seems to have a simple,  user-friendly start. All you need to do is to type down the username and get started. 
Stories IG Pros
Easy to Use: The platform has a simple and intuitive design, making it easy to browse Instagram stories effortlessly.
No Sign-up Needed: It's free to use and doesn't require you to register or make any payments to access its features.
Top-Quality Downloads: StoriesIG lets you save stories in excellent quality, ensuring you enjoy the content to the fullest.
Stories IG Cons
Limited Timeframe: StoriesIG only allows viewing of Instagram stories posted within the last 24 hours, excluding older content.
No Highlights Display: The platform doesn't display a user's Instagram highlights on the main page, necessitating separate navigation for posts and highlights, which can be less user-friendly.
Inconsistent Processing: During our testing, we found that the service did not perform as expected. After entering the username, users are required to wait for 10 seconds for the request to process, which is reasonable. However, the problem arises when the timer restarts after the initial 10 seconds, leaving users stuck in a loop of waiting.
Stories IG Pricing
StoriesIG is entirely free to use. So, you can explore features completely free of charge.
Instagram Story Viewer #9: Hoverwatch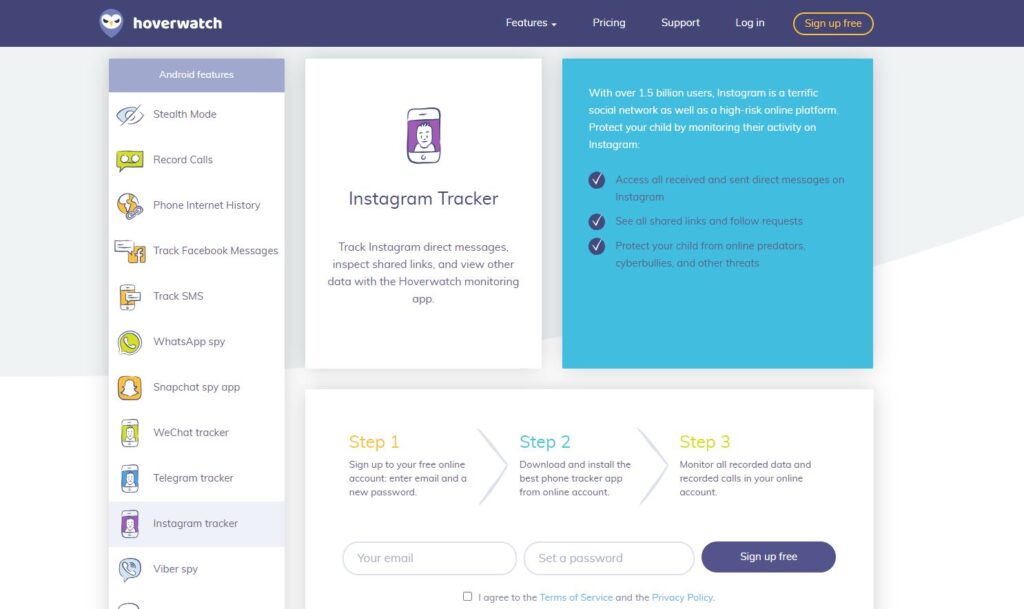 Hoverwatch is not just an Instagram story viewer tool. It's a phone tracker and you can track various social media apps such as Instagram, WhatsApp, Facebook, Snapchat, Skype, Telegram, etc.
Hoverwatch Pros
Multi-Platform Availability: Hoverwatch provides compatibility across multiple platforms, offering apps for Android, Windows, and Mac. This ensures flexibility in device usage.
Screen Recorder: Hoverwatch offers a screen recording feature, which is highly beneficial for monitoring children's activities. It is user-friendly and effectively captures screen activity.
Block Personal Messages: This app is valuable for businesses, enabling efficient monitoring of company devices and saving costs. It allows for blocking personal messages and unproductive social media usage among employees.
Keylogger: This Instagram story viewer includes a keylogger feature, which is considered one of its most valuable attributes.
Hoverwatch Cons
No Web Access: Hoverwatch is not accessible via the web, requiring users to download and install the app on their devices. This may limit convenience for users who prefer web-based solutions.
Paid Service: Hoverwatch is not a free application; users need to subscribe to one of the paid plans, which may deter those seeking free monitoring solutions.
Poor Customer Service: According to several reviews on platforms like Trustpilot and other websites, Hoverwatch has received criticism for its unresponsive and poor customer service.
Hoverwatch Pricing
It's not a free Anonymous Instagram stories viewer. It provides 3 various plans including:
Personal:
Track 1 Device.
All monitoring functions are available.
€24.95 per month
Professional:
Track 5 Devices.
All monitoring functions are available.
€9.99 per month per device.
Business:
Track 25 Devices.
All monitoring functions are available.
€6.00 per month per device.
Instagram Story Viewer #10: Dumpor (Aka Smihub)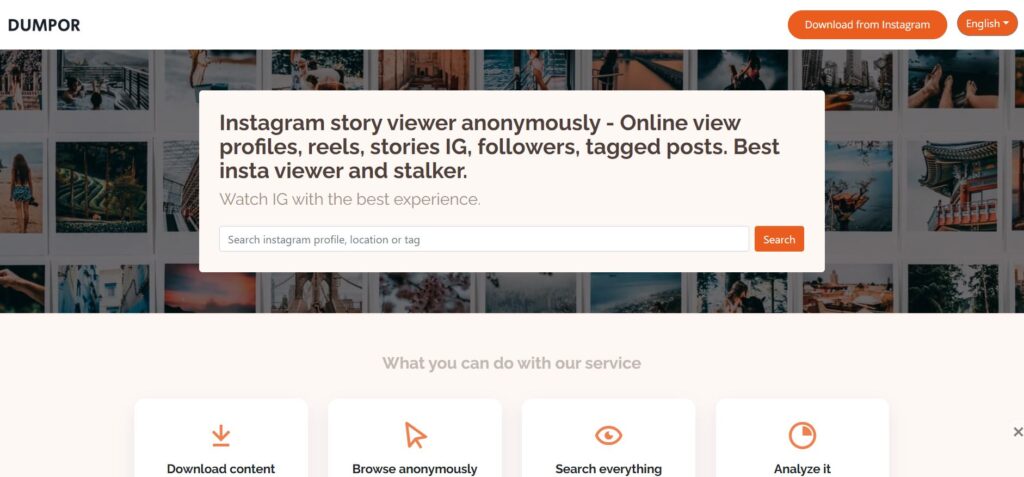 Still not satisfied with the list? Dumpor is an Instagram story viewer anonymously you can use to view profiles, reels, IG stories, etc.
This website used to function under the name Smihub, yet has now changed its name to Dumper Dumpor. Moreover, it's Compatible with Android, iOS, Windows, and macOS.
It offers you features such as browsing anonymously, downloading images or videos from IG, and searching through hashtags, locations, and profiles. It also claims to provide an analyzer to assess Instagram likes, comments, and followers.
Dumpor Pros
Free and Easy to Use: The tool is completely free and offers a user-friendly interface, making it accessible to a wide audience.
No Instagram Login Required: Users are not required to provide their Instagram login details, ensuring their account security.
No Financial or Personal Information Needed: The tool does not ask for any financial or personal information from users, preserving their privacy.
Dumpor Cons
Ineffective Features: Despite the promising features, they do not work as expected. Users have reported that the tool fails to deliver on its claims, resulting in a lack of functionality.
Excessive Advertisements: The website is plagued with an abundance of ads, which can be intrusive and detract from the user experience.
Inability to Display Stories: The tool struggles to fulfill its primary function of displaying Instagram stories, let alone providing access to other claimed features.
Dumpor Pricing
This anonymous Instagram story viewer is available for use at no cost.
Instagram Story Viewer #11: Anon IG Viewer
Anon IG Viewer is a website where you can secretly look at Instagram stories and posts from people you like without them finding out. You can also save their stories and posts to your phone or computer. It's free, easy to use, and you don't need to make an account or install anything.
How to use Anon IG Viewer? Simply input the Instagram username and click the search button.
Anon IG Viewer Pros
User-Friendly Interface: The platform boasts a straightforward and easy-to-navigate user interface.
Free of Cost: Users can access its features without any charges.
High-Quality Downloads: It provides high-quality downloads for a better user experience.
Anon IG Viewer Cons
Limited to Existing Posts: It cannot retrieve deleted posts, limiting its functionality in this regard.
Error on User Input: Unfortunately, upon entering a username, an error occurs with the message 'Oops… Something went wrong. Please try to refresh the page or try again later.'
Not Good UX: This is inconvenient and disrupt the user experience.
Anon IG Viewer Pricing
This service is entirely free of charge, without any hidden fees.
Instagram Story Viewer #12: Instasave
Instasave is a website designed to download Instagram content such as photos, videos, IG TV, albums, multimedia, and Reels videos. Unlike Instagram, which doesn't provide a download option, Instasave allows you to obtain original Instagram images or videos in HD quality.
Instasave Pros
Secure SSL Certificate: InstaSave utilizes a valid and legitimate SSL certificate, ensuring secure data transmission.
Established Reputation: With several years of existence, the app has built a reputation for reliability.
Malware-Free: InstaSave is free from phishing attempts and malware, ensuring user safety.
Instasave Cons
Hidden Owner Identity: The owner's identity of InstaSave is concealed on WHOIS, potentially raising concerns about transparency.
Technical Issues: Users have reported encountering bugs and glitches, affecting the app's overall functionality and user experience.
No Affiliation with Instagram: Instasave explicitly states that it is not affiliated with Instagram™ and does not host any Instagram content, including photos, videos, IGTV, stories highlights, or reels videos on its website. This lack of official affiliation may limit user trust and support.
Instasave Pricing
Is InstaSave free to use? Yes, InstaSave is a free tool that allows users to safely download content from Instagram.
Instagram Story Viewer #13: Insta Followers
InstaFollowers is a multifunctional tool designed for various social media platforms. It offers features like an anonymous Instagram story viewer and downloader, as well as the option to purchase Instagram likes and followers.
Additionally, it extends its functionality to cover other platforms like Facebook, TikTok, and YouTube. InstaFollowers also provides several SEO tools to support online presence growth.
Instafollowers Pros
High-Quality Services: Instafollowers offers high-quality services to boost your social media presence.
Discounts on Bigger Orders: Discounts are available for larger orders, providing cost-saving opportunities.
Fast Delivery: This anonymous story viewer ensures fast delivery of services.
Simple Activation: The platform offers straightforward steps to activate its services.
Instafollowers Cons
Website Navigation: Users may find it challenging to navigate the website, potentially impacting the user experience.
No Order Customization: The platform lacks options for customizing orders to specific needs.
Quality Concerns: Questions arise regarding the authenticity and quality of the followers, likes, and views provided.
Instafollowers Pricing
While some tools, like anonymous Instagram story viewer, on the website are available for free, others require a purchase. Despite offering high-quality services, InstaFollowers strives to be budget-friendly.
Whether you're interested in buying Instagram followers, YouTube views, or TikTok likes, InstaFollowers provides options to accommodate every budget.
Instagram Story Viewer #14: uMobix
uMobix can track popular social media like Facebook, Instagram, Snapchat, TikTok, and Reddit, even if their accounts are private. You'll see their stories, posts, and updates every 5 minutes, and you can block content or accounts you don't approve of.
While it's often used for parental control, it can serve other purposes, such as managing screen time for kids or ensuring employee productivity for businesses.
Here's a quick glimpse into the pros and cons of choosing uMobix:
uMobix Pros
Adjustable Sync Frequency: uMobix allows users to customize syncing frequency, with options starting from 5 minutes, providing flexibility in monitoring.
Remote Device Control: uMobix offers remote control capabilities, allowing you to delete unwanted apps and manage the device remotely.
App Usage and Screen Time Management: It provides tools to manage your child's app usage and screen time, promoting responsible device use.
uMobix Cons
Complex iOS Installation: The installation process for iOS devices can be slightly challenging, potentially requiring additional effort or technical expertise.
No Bookmarks Information: The software does not provide information about the target device's bookmarks or browsing history.
Inconsistent Social Media Updates: Users have reported non-consistent updates for social media monitoring, potentially affecting monitoring accuracy.
Unable to Download Instagram Stories: This platform enables you to track someone's device and activities on social media platforms. but you can't download their stories and posts.
uMobix Pricing
uMobix offers various features depending on your target's device, and here are the prices:
1. For iOS, iPhone, and iPad Devices:
1 Month: $49.99
3 Months: $29.99
12 Months: $12.49
2. For Android Devices or Tablet:
1 Month: $49.99
3 Months: $29.99
12 Months: $12.49
Instagram Story Viewer #15: iGram
iGram is a widely recognized tool in the realm of anonymous Instagram story viewers and content downloaders. It simplifies the process of acquiring Instagram videos and photos by allowing users to easily copy the content link and initiate downloads with a single click.
iGram supports downloads for various types of Instagram content, including IGTV, Reels, Stories, Photos, Highlights, and Carousels. One notable feature is the absence of download limits, offering users the freedom to obtain content without any restrictions.
But let's take a closer look at its pros and cons to know how well it works, and make an informed decision!
iGram Pros
No Charges: The free pricing plan doesn't require any payments, making it accessible to a wide range of users.
Supports HD Video Downloading: It offers the capability to download high-definition (HD) videos, ensuring a quality viewing experience.
iGram Cons
Slow Downloading: Users may experience slower download speeds when using the tool, potentially resulting in longer waiting times to obtain content.
Lack of Customer Support: Some users have experienced difficulties due to a lack of responsive customer support, making it challenging to address issues or seek assistance when needed.
Frequent Updates and Changes: Users have expressed frustration over the tool's tendency to undergo frequent updates and alterations in functionality. These changes can lead to confusion and difficulties in using the tool effectively.
iGram Pricing
iGram is a free Instagram story viewer tool that does not require any payment, charges, or limitations.
A Tip for Businesses: Influencer Marketing
While using anonymous story viewers to gain insights from competitors is a valuable strategy, remember to complement this approach with an influencer marketing platform.
When you use anonymous story viewers to learn from your competitors, that's smart. But to make it even better, try using an influencer marketing platform alongside it.
Here's why: While you're getting ideas from your competitors, the influencer marketing platform helps you find good influencers. These influencers can show your products to their fans, which makes your brand more popular on social media.
And guess what? If you're an influencer yourself, working with brands can make you money and get you more followers. So, don't just watch – use influencer marketing to boost your brand or yourself!
Ainfluencer: Free End-to-End Influencer Marketing Platform
Ainfluencer, the 100% free, Do-it-Yourself marketplace, is a place where brands and influencers can team up for marketing magic without paying any extra fees. That's what Ainfluencer is all about, and it's changing the game in the world of influencer marketing. Think of it as the Airbnb of influencer marketing, where everything is DIY, and it won't cost you a dime.
Ainfluencer is a dream come true for brands looking to save on platform fees while boosting their marketing efforts. The best part? It's always going to be free to use. No hidden charges, no surprises. This is fantastic news for businesses of all sizes.
Ainfluencer is an AI marketplace that connects your products and services with thousands of influencers on Instagram and TikTok. It's got loads of great value, including transparency, direct communication, an easy-to-use interface, a secure payment system, ratings and reviews, and detailed insights into influencers.
What Ainfluencer Offers for Brands
Here's what Ainfluencer brings to the table for brands:
Influencers list: Ainfluencer has a growing list of over 500,000 influencers on TikTok and Instagram, with 10,000 new ones joining every month.
Campaigns Made Easy: You can easily create campaigns is a breeze, letting you reach your target influencers quickly.
No Limits: You can send as many invitations to influencers as you want, all for free. There are no restrictions on finding and evaluating influencers in your niche.
Smart Filters: It enables you to find the right influencers with filters based on influencer size, platform, gender, country, and more.
End-to-End Marketplace: You are enable to communicate easily with influencers using the built-in chat inbox. Plus, you can check out their past collaborations, reviews, and audience insights, all within the platforms.
What Ainfluencer Offers for Creators and Influencers
If you're an influencer, Ainfluencer has got some perks for you too:
Free to Use: Ainfluencer is a completely free platform for influencers to connect with brands and make money.
Access to Many Campaigns: It offers a vast database of campaigns to collaborate on and earn some cash.
End-to-End Control: You can make unlimited offers, negotiate deals, and manage your campaigns, all in one place.
Safety First: Ainfluencer keeps your account secure and doesn't ask for your social media passwords.
Stay Informed: The Ainfluencer app keeps you updated on negotiations and deals, right at your fingertips.
AI-Powered Analytics: It provides AI-driven analytics to categorize campaigns based on your preferences.
Regular Payouts: You will get paid regularly for your collaborations.
So, why wait? Sign up for free and make the most of Ainfluencer today!
Editor's Pick for the Top Instagram Story Viewer: AiSchedul
After giving a shot at every one of the tools listed above and many more, we believe that AiSchedul is by far the best Instagram story viewer that presents you with numerous features necessary for your Instagram journey. 
It's a user-friendly, all-in-one aid without any glitches and is safe to use!
Instagram Story Viewer FAQs
So far, we've discussed 15 tools you can use to view or download stories on IG anonymously, along with their positive and negative aspects. Now, let's check out some of your most frequently asked questions regarding IG stories!
#1 How Is the Instagram Story Viewer Order Arranged?
Long ago, IG story views were arranged in chronological order. In other words, those who saw your story first would appear at the top of the story viewer list. However, with the ever-changing Instagram algorithm, that is no longer the case. 
As of 2021, the Instagram story viewer order has changed. Today, the order is based on the interaction of your followers with you. The more these followers engage with you and your content, the higher they will appear in the list of your viewers. 
#2 Are Your Top Story Viewers Your Stalkers?
They could be, but that's not necessarily always the case.
As explained above, Instagram story viewer order is based on engagement. So, those at the top are not stalkers but rather those who like your posts and comment under them, visit your profile, and DM you the most. In other words, those are the ones who interact with you the most.
#3 What Does the Top Viewer on Instagram Story Mean?
If your IG story views are less than 50, the top viewer is probably the one that has seen your story first. However, if you have more than 50 viewers on your stories, the top viewer is the one that interacts with your page the most. 
#4 How to Get More Views on Instagram Stories?
There are certain Instagram hacks for growth your views on this platform, including posting them at the best time, using interactive stickers, posting consistently, etc. 
#5 How Can I View Private Instagram Stories Anonymously?
While it's essential to respect privacy, some monitoring apps like uMobix and Hoverwatch can help if you are concerned about your child's safety online. However, using spy apps to view private profiles without permission is not ethical.
#6 Is It Possible To View Everyone's Story Without An Account?
No, Instagram only allows you to view stories from public profiles. When you set your account to 'private,' only your followers can see your posts and stories. The 'Close friends' feature lets users share stories exclusively with selected people, requiring an Instagram account to access them.
#7 How To View Instagram Stories Without an Account?
You can view Instagram stories without an account by using third-party apps like Aischedul, Insta-Stories Online, Instadp, StoriesIG, or Mystalk's anonymous IG story viewer.
#8 Can You See How Many Times Someone Looks at Your Instagram Story?
Instagram allows you to see how many people have viewed your story, but you cannot tell if someone has viewed it multiple times.
#9 Is There a Real Private Instagram Viewer?
No, there is no legitimate or authorized private Instagram viewer. Be cautious of services claiming to provide this as they may compromise account security and violate Instagram's terms of service.
#10 What Are the Possible Disadvantages of an Instagram Story Viewer Bot?
Instagram story viewer bots violate Instagram's terms of service, risking account suspension. They also provide artificial engagement, which can harm your online reputation and reach. It's advisable to focus on organic growth and legitimate engagement on the platform.
Final Words on Anonymous Instagram Story Viewer
IG stories are very popular among Instagrammers all around the world these days. Yet, similar to other features of Instagram, this feature is not complete either and has some limitations.
To overcome restrictions such as being unable to view and download stories on IG without being identified, we prepared a list of 10 Instagram story viewer tools with their pros and cons in this article.
We also introduced you to AiSchedul and elaborated on why we think it's the best one out there! 
Now, it's your turn to put your knowledge into practice!
---
Read more informative, Instagram-focused content: