Snapchat has just introduced a thrilling and game-changing addition to its platform called "Snapchat Plus". This paid subscription service is set to revolutionize the way users engage with the popular ephemeral messaging app.
What truly matters is that the demographic using this platform is incredibly young. According to Statista, a staggering 48% of Snapchat users fall between the ages of 15 and 25, while an additional 30% range from 26 to 35. If your brand's focus is on connecting with the youth, then it's clear which social media channel you should embrace for influencer marketing.
Brace yourself as we delve into the captivating world of Snapchat features, and subscriptions, and uncover all the essential details about influencer marketing on Snapchat. Now, let's get started! 😉
What Is Snapchat Plus
Snapchat Plus, alternatively known as Snapchat+, is a subscription service offered by the Snapchat app. According to their official website, Snapchat Plus provides additional benefits and features that are exclusive, experimental, and released prior to the general public.
These features are designed to enhance and personalize your Snapchat usage, allowing you to explore further the aspects of the app that you frequently use. Furthermore, subscribing to Snapchat Plus grants you early access to exciting new features before they become available to others.
Now you may consider:

What Are Snapchat Plus Features
By joining the ranks of Snapchat Plus subscribers, a world of enchanting features will be at your fingertips. Behold the incredible offerings that await you:
Best Friends Forever (Pin as #1 Best Friend)
Experience the eternal bond of friendship with the power to pin your Best Friend as the unrivaled #1.
Relive the magic of cherished moments with the Story Rewatch Indicator, a gentle reminder of the joyous tales you hold dear.
Unleash your creativity and customize your Snapchat experience with mesmerizing App Icons and Themes, a true reflection of your unique style.
Embrace the mark of distinction with the coveted Snapchat+ Badge, a symbol of your elevated status among the Snapchat elite.
Embark on a celestial journey through the Friend Solar System, a cosmic exploration of your social connections.
Bask in the spotlight as your Story receives Priority Replies, ensuring your voice is heard loud and clear amidst the digital clamor.
Express yourself with flair using Post View Emojis, sprinkling your snaps with vibrant emotions that resonate with your audience.
Immerse yourself in the world of Bitmoji Backgrounds, where your personalized avatar becomes the centerpiece of your Snapchat realm.
Master time itself with the Story Timer, an ingenious tool that grants you absolute control over the lifespan of your captivating stories.
Capture the essence of vibrant hues with Capturing Colour, a feature that elevates your photos and videos to new levels of visual splendor.
Custom Notification Sounds
Indulge your senses with Custom Notification Sounds, adding a touch of harmony and excitement to each Snapchat encounter.
Witness the ebb and flow of friendships as the Friend Snapscore Change unveils the evolving dynamics of your social connections.
Envelop your chats in a world of beauty with Chat Wallpapers, transforming your conversations into captivating works of art.
Seize the moment with Custom Capture Buttons, tailor-made to suit your photographic instincts and unleash your inner artist.
Bestow the gift of Snapchat+ upon your loved ones, sharing the joy and wonder of this extraordinary experience.
Amplify your stories with Story Boost, ensuring they reach unprecedented heights and captivate audiences far and wide.
Unlock the power of My AI, an intuitive companion that understands your needs and enhances your Snapchat journey with personalized recommendations.
Prepare yourself for a voyage into a realm of unparalleled magnificence. Snapchat Plus beckons, inviting you to join an exclusive community where emotions soar, creativity flourishes, and connections deepen. Embrace the extraordinary and embark on this remarkable adventure today.
What Are Snapchat Business Opportunities
Initially, marketers and businesses were slow to recognize the potential of Snapchat for marketing purposes. However, they eventually realized that there are significant opportunities, especially when targeting a young audience. According to Statista, the user base of Snapchat is massive, providing businesses with brand awareness.
Recognizing this potential, many well-known brands quickly adopted Snapchat Stories as part of their marketing strategy. Samsung, Universal Pictures, and Coca-Cola were among the early advertisers on the platform.
Prominent advertisers have also produced high-quality video content specifically for Snapchat Discover. Notable examples include Verizon and BMW.
Marketers have found Snapchat to be particularly valuable for promoting events such as the Coachella music festival. During these events, fans shared 10-second video clips with an audience of 40 million people, which is twice the viewership of a highly-rated television program on a major network.
Influencer Marketing on Snapchat Plus
Although Snapchat users are less inclined to connect with strangers compared to users of other social media platforms, there is still a significant opportunity for viral marketing.
When it comes to Snapchat, teenagers tend to follow two types of individuals: those they personally know and those who have gained a reputation as "influencers." However, becoming an influencer on Snapchat is relatively challenging as there is no gradual way to build a supporter base.
Businesses have discovered that the most effective method of leveraging influencers to promote their products is by encouraging them to share their brand experiences.
For instance, an influencer may willingly capture photos of themselves using a particular product and share these images on Snapchat. The key is to ensure that these posts come across as natural and not overtly promotional.
Word-of-mouth advertising is widely regarded as the most trustworthy form of marketing. Influencer marketing on Snapchat can be seen as a structured version of word-of-mouth marketing. Brands incentivize trendsetters to endorse their products to their loyal followers who trust their opinions.
It's important to note that Snapchat's skeptical young audience prefers simple messages that are not overly flashy.
This is one of the reasons why influencer marketing tends to be more successful on this platform compared to professionally produced campaigns. Generation Z appreciates media content that is unrefined and authentic. But the question is:
How Can Brands Encourage Influencers?
In order to foster a successful brand collaboration and partnership between a brand and an influencer, certain steps can be taken. It is crucial for both the brand and the influencer to share similar values.
For example, if a brand focuses on outdoor activities, it would be ineffective to engage a stereotypical computer enthusiast as an influencer to promote their product. On the other hand, an influencer who is recognized for their athleticism or healthy lifestyle would have a much greater impact on endorsing the product to their followers.
Furthermore, brands should acknowledge that influencers are knowledgeable about what resonates with their audience on platforms like Snapchat. Hence, it is often advisable to allow influencers to take the lead in content creation. This is why many companies have found success by simply granting influencers control over their channels.
How to Find Influencers
There are several influencer marketing platforms that are accessible at no cost. These platforms provide a range of functionalities aimed at assisting businesses in establishing connections with influencers and advertising their products or services.
These platforms allow businesses to effortlessly search for influencers based on their location, interests, or number of followers. Additionally, they enable direct communication with influencers and the ability to monitor their performance.
Ainfluencer: The Best Influencer Marketing Platform
Ainfluencer offers influencers the opportunity to discover various brands for potential collaborations, without any cost involved. The rise of DIY Marketplaces allows individuals to independently run their own influencer marketing campaigns within a reasonable timeframe and with minimal expenses. Ainfluencer serves as an excellent illustration of this approach.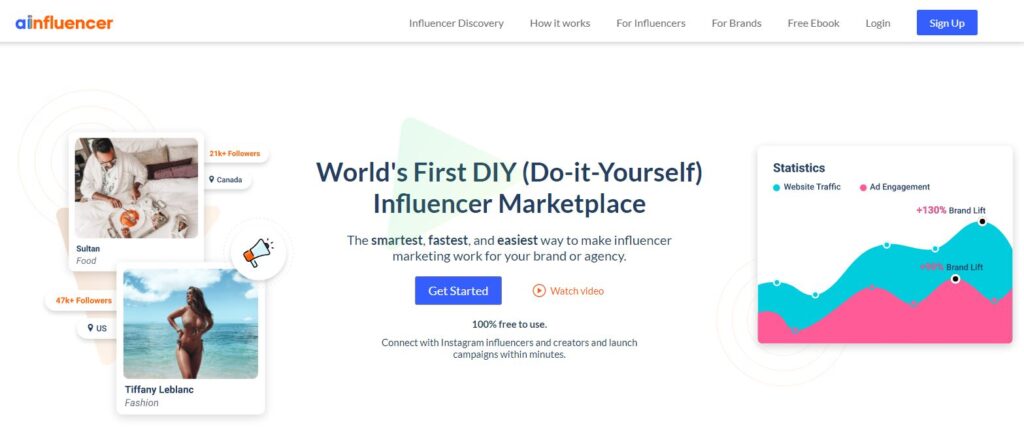 Ainfluencer offers a convenient platform where you can effortlessly find influencers according to their demographics, interests, and engagement statistics. It enables you to efficiently handle your influencer campaigns, providing various tools and analytics to monitor their effectiveness and measure your return on investment.
Regardless of whether you're a small startup or a big corporation, Ainfluencer is designed to assist you in connecting with your desired audience and attaining your marketing objectives. Don't hesitate any longer – join Ainfluencer now and begin collaborating with influencers to elevate your brand to new heights!

Snapchat Influencer Marketing Strategies to Consider
Here are some strategies for Snapchat influencer campaigns:
Engage in a Social Takeover
Allow a popular influencer to take control of your brand's Snapchat account for a specified period. This can attract their followers to your channel and boost your follower count.
Utilize Vanity URLs
Since clickable links aren't allowed on Snapchat, create a memorable vanity URL for your campaign. Encourage users to visit the URL manually to access your products or promotions.
Utilize Snapchat Memories
Take advantage of Snapchat Memories, which allows users to save content permanently. Compile relevant photos and videos to reuse on your brand's account or your influencers' channels.
Create and Share Custom Filters
Design On-Demand Geofilters for your brand's campaigns. Collaborate with Snapchat influencers to develop augmented reality filters that align with your brand.
Offer Behind-the-Scenes Access
Collaborate with influencers to showcase exclusive behind-the-scenes content. This approach creates a sense of authenticity and allows influencers to share unique perspectives with their audience.
How to Subscribe to Snapchat Plus
Discover the incredible world of Snapchat Plus by following these simple steps to subscribe and unlock a whole new level of awesomeness:
First, feel the excitement as you open the Snapchat app, ready to embark on this thrilling journey. Then, with eager anticipation, locate and click on your profile icon, located proudly in the top left corner of the screen.
Now, brace yourself for the magic that awaits as you tap on the Snapchat+ banner. A world of endless possibilities opens up before your very eyes, and you find yourself on the precipice of something extraordinary.
Next, take a moment to ponder and make a choice that suits your desires. Will you opt for a monthly subscription, ensuring a constant stream of enchanting features? Or perhaps, the allure of a yearly subscription beckon, promising a year-long adventure in the Snapchat universe?
Remember, as you take this leap into the extraordinary, you may need to restart the app to witness the full glory of the new features. But fear not, for this simple act of restarting pales in comparison to the wonders that await you.
So, take a deep breath, dive into the realm of Snapchat Plus, and prepare to be captivated like never before. Your journey starts here, and the possibilities are limitless. Let the extraordinary become your reality.
FAQs on Snapchat Plus
Now it's time to take a look at some frequently asked questions regarding this app. Ready?!
1. Does Snapchat Plus Remove Ads Within the Application?
No, having a Snapchat+ subscription does not provide an ad-free environment. Additionally, it seems that there are no plans for an ad-free option in the near future. According to Jacob Andreou, Snapchat's Senior Vice President of Products, ads will continue to be a fundamental aspect of the company's long-term business strategy.
2. Is Snapchat Premium the Same As Snapchat Plus?
No, Snapchat Premium refers to the practice where users create private stories on Snapchat and charge others for access. On the other hand, Snapchat+ is the official subscription offered by the company, providing extra features.
To Wrap Things Up
In conclusion, Snapchat Plus presents an exciting evolution of the popular social media platform, offering users enhanced features and an enriched experience. With its expanded toolkit, including advanced editing tools, augmented reality filters, and exclusive content options, Snapchat Plus caters to the growing demands and creative aspirations of its diverse user base.