Have you ever wanted to gather contact information of business professionals and create a useful list for your email marketing campaigns? There are several tools you can use to reach this goal. One of the most valuable tools that can provide you with a great database is ContactOut.
As one of the best email finder tools, ContactOut can help you with your email marketing plans by giving you the contact information of related companies or people with only a few clicks.
Let's check out how this tool works and what benefits it can add to your business.
What Is ContactOut
In short, ContactOut is a tool known for its functionality in finding contact details, particularly on LinkedIn. With a simple sign-up on its website, you will access 150 million personal emails and 200 million work email addresses, which can help you create more targeted email campaigns.
Besides the email addresses on this tool, you can create new lists of your own email addresses, which you can gather from social media platforms like LinkedIn. The process is easy and quick; you only need the ContactOut extension on your browser. Then, with only a few clicks, you can save the email address and phone number of any profile you open on LinkedIn.
Next, we take a deeper look at how ContactOut works and what features it has.
How Does ContactOut Work
The main idea behind creating such a tool was to simplify the process of creating email campaigns and connecting with professionals. The ContactOut searches contact information of LinkedIn profiles, allowing its users to add this data to their database and have a better email marketing plan.
However, not being able to gather information from other platforms is something that upsets some users.
Furthermore, users can add their own database to this system to gather all their clients' and competitors' emails and contact information in one place, which is cool because it allows users to gather all their database in one place.
This tool comes with different features and options, as follows:
ContactOut Features
You can use the ContactOut tool for different purposes, which we will mention individually. First, let's look at its extension and how it can help you create an email list.
ContactOut Extension
First, sign into your ContactOut and download and install the extension on your browser.
When you open a profile on LinkedIn, the ContactOut extension will appear on the right side of the page. You can see the information of the person whose profile you are visiting. If you want to save this information, first, you should create a list and then click 'Save to List.'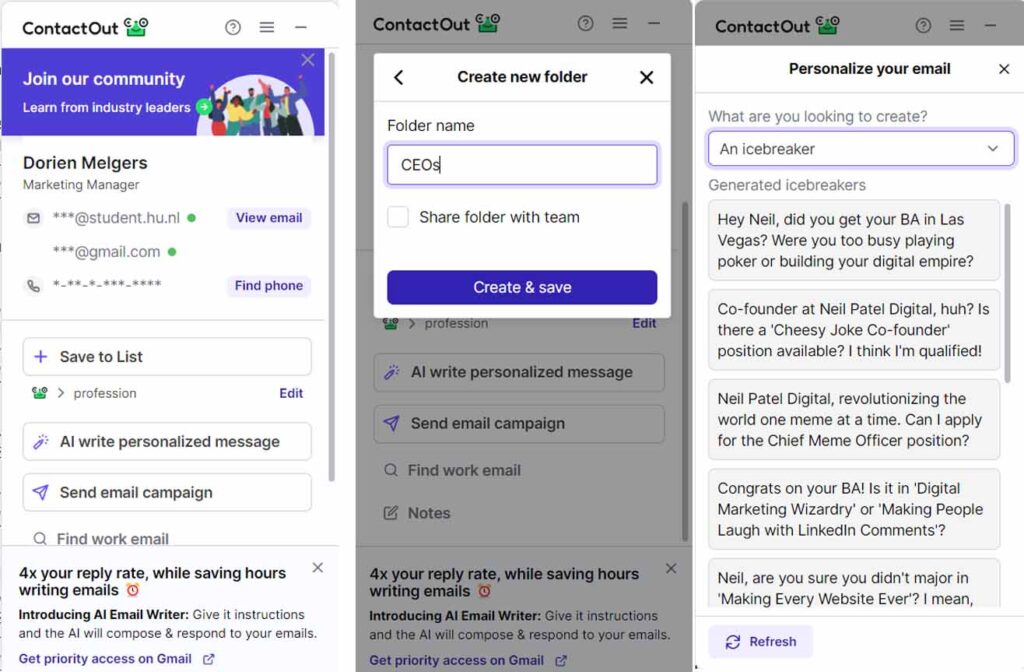 However, if you already have a list and want to add one, you can click 'Edit' to create a new one. You can access the list whenever you sign in to the ContactOut website.
But it doesn't end here. The ContactOut extension has more to offer. For example, it can help you contact the person on LinkedIn by providing you with different AI-generated messages. You only need to select why you are contacting this person and access different messages to start a conversation.
The other option you have on this extension is the 'Send Email Campaign.' To use this option, you should create a campaign on the ContactOut website and access it from here.
As you can see, the ContactOut extension is a practical tool for creating an email marketing database from LinkedIn profiles. Other options are available on the website, which we will explain next.
Search Portal
One of the options available on the ContactOut website is the search portal. As mentioned, this tool has a database of thousands of email addresses and phone numbers. So, you can find the contact information of a company or a person you are looking for. Using the search tool, you can search based on people's names, companies, job positions, locations, and any other information you have.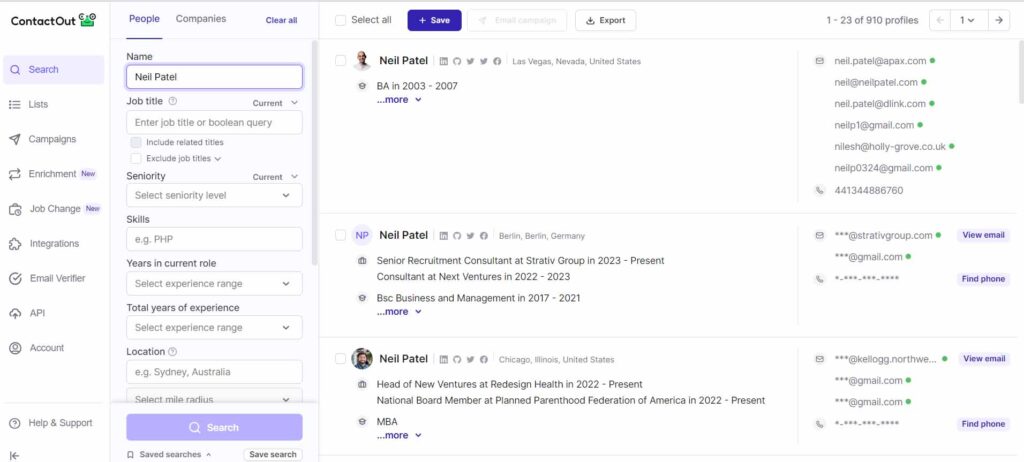 Although this feature seems so exciting, it doesn't work most of the time. So, it's not that easy to find people using this option. However, it may be updated with a new database with more information.
Lists
In this section, you can access the lists and all the contact information you had saved via the ContactOut extension. You can either export the list for your CRM or select the contacts you want to send your email campaigns. However, you should create a campaign and access it from the 'Lists.'
Email Campaigns
The Campaigns option allows the ContactOut users to create as many email campaigns as they want. Like every other campaign, you should define a Subject for your email campaign, then write the message in the body. You can also add a photo, link, list, or any other object to your email content.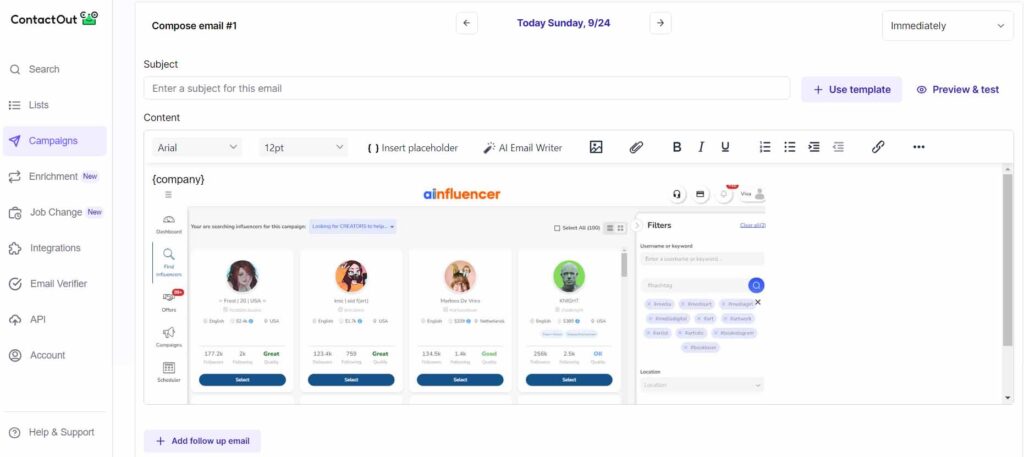 Furthermore, if you have a problem with writing the campaign message, the AI writer can help you define your campaign better. To use this feature, you should click on the 'AI Email Writer' and select the prompt so the AI writes you an email example.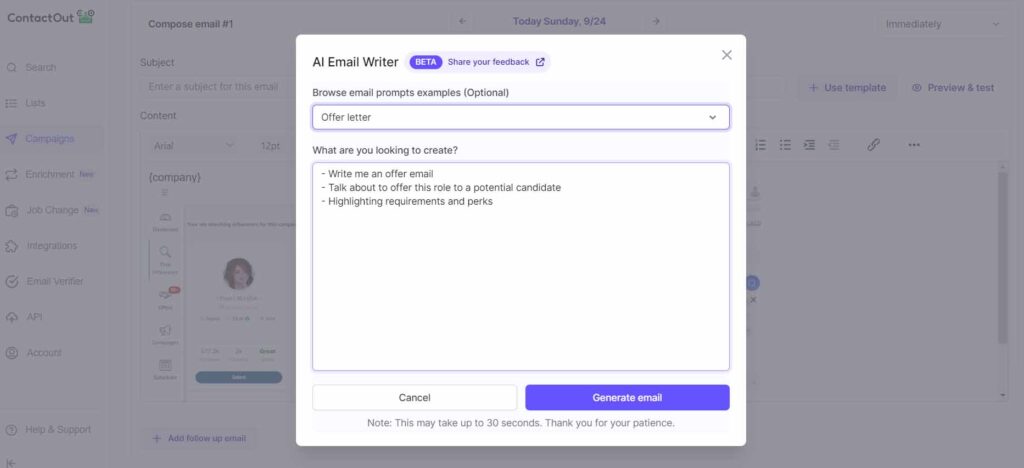 Data Enrichment
If you have gathered your own database, you can add it to ContactOut to complete your data on this platform. You can add information one by one or upload a CSV file.
Other Options
ContactOut information can be integrated and used with other systems like Hubspot, Lever, and GreenHouse. Additionally, it offers an Email Verifier, allowing its users to verify their lists to reduce bounce rates.
How Much Does ContactOut Cost
ContactOut is available totally for free. However, you will face limitations in the free version. For example, you can only add 40 emails and 3 phone numbers by using the free version of this tool. If you want to add more data, you will have different options based on your preferences.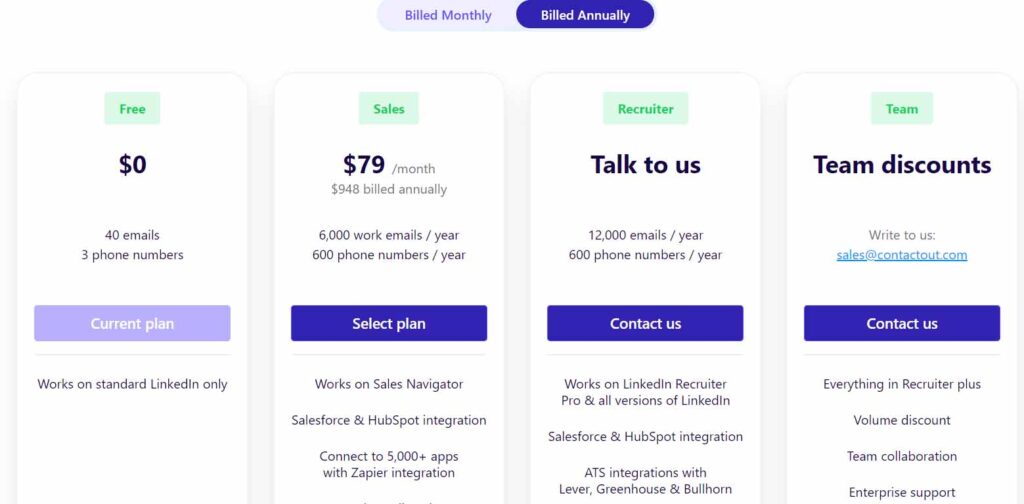 The main and most common option is the 'Sales' version, which may cost $99 per month. In this version, you can add up to 500 work emails and 50 phone numbers each month, giving you 6,000 work emails and 600 phone numbers annually. So, if this number suits you, choose this pricing plan. But if you need more than this, you can contact the ContactOut team for more information and customized options.
ContactOut Reviews
We've checked the ContactOut reviews on different websites, and here are some of the key points they have mentioned.
ContactOut on G2
This tool has a great point on the G2 marketplace, 4.6 out of 5. The reviewers on this site seem to be satisfied with its contact information database and how quickly they can collect data using its extension. Furthermore, being able to pay only for what you need is one of the benefits that reviewers have mentioned about ContactOut.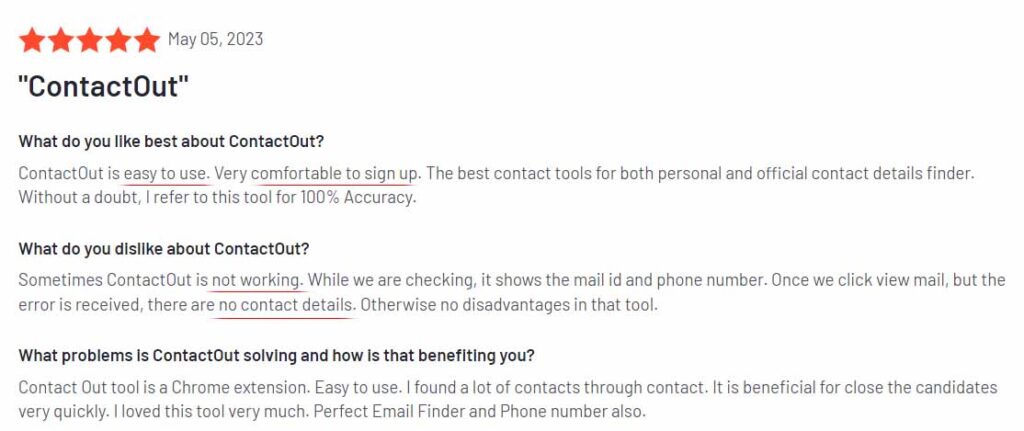 ContactOut on TrustPilot
Unlike G2, the reviewers on TrustPilot are not very happy with using this tool. They gave 1.7 points out of 5 to the ContactOut tool. Most of the complaints are about the abuse of privacy. It means they don't want their contact information to be easily collectible with this tool.
However, according to what is claimed by ContactOut, all the data on this system was gathered from public contact information. So, they are not crossing any rules. Meanwhile, there should be a way to satisfy these unhappy users too.

By the way, reviewers on TrustPilot claim that ContactOut is spam, fake, and inaccurate. It seems that some information on this database is out of date. Therefore, there should be a way to verify this information so that users can access accurate data.
However, there are still some good reviews about how well this tool has helped them create their email campaigns.
ContactOut Pros and Cons
Like all other tools, ContactOut also comes with pros and cons.
ContactOut Pros
Ease of Use,
Chrome Extension,
Complete Database.
ContactOut Cons
Only Works with LinkedIn,
Some Users Complain About Inaccuracy,
Manual Input Requirement,
Sometimes the 'Search Tool' Doesn't Work.
ContactOut Alternatives
In case you don't find ContactOut interesting, here are some other email-finding tools you can use instead.
1-Skrapp
As one of the well-known email finders, Skrapp is a useful tool for B2B sales and email marketing. It enables users to find email addresses associated with specific businesses or individuals.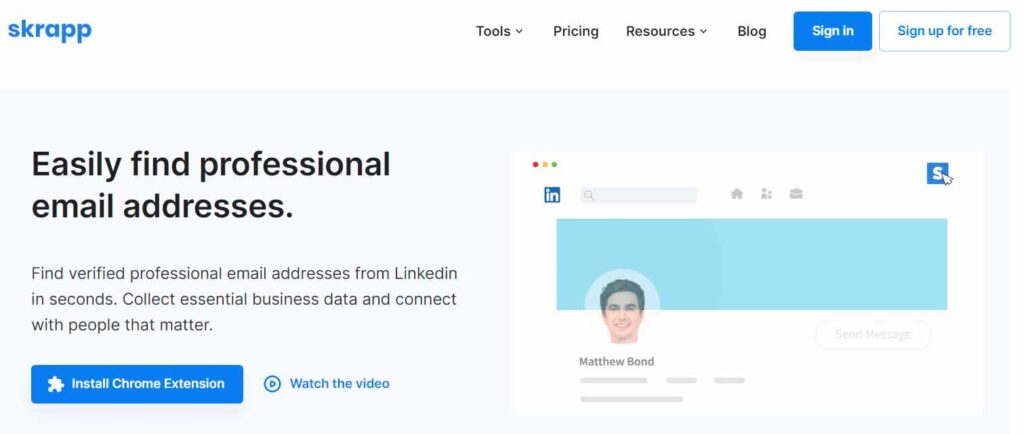 It transforms publicly available data into a powerful email prospecting tool. Marketers can use Skrapp to build email lists for targeted email marketing campaigns. Furthermore, most of its users have found it interesting and helpful.
Skrapp Pros
User-Friendliness,
Efficient Email Address Locator,
Effective Lead Generation.
Skrapp Cons
Not Always Accurate,
Fake Email Addresses.
Skrapp Pricing Plans
The free version of this app only provides a limited number of email addresses. But it has different pricing plans:
$49 for starters: you can only add 1000 emails per month.
$99 for seekers: you can add up to 5000 emails per month.
$199 for enterprises: as a business owner, you can use Skrapp to add 20,000 emails per month.
$299 for global users: you are allowed to save up to 50,000 emails per month.
2- Apollo
The other option instead of ContactOut is the Apollo email finder, which also comes with an extension that allows you to find B2B contact information for free. Additionally, Apollo's extension can help users track emails and connect with potential buyers.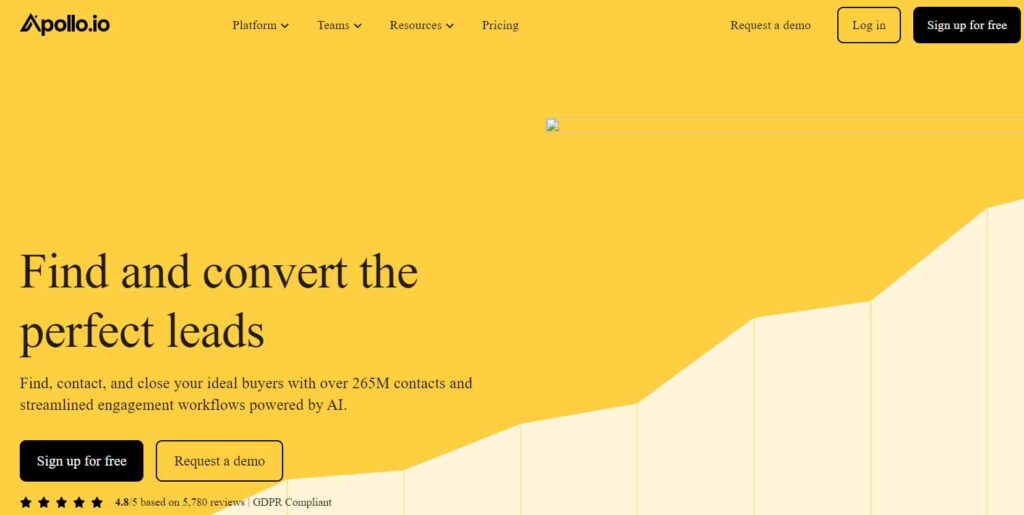 Apollo also has a search portal, which works better than the available search on ContactOut. One great feature is the autofill, which can suggest the name or company after writing the first few characters.
Apollo Pros
Email Verification Service,
Email Marketing Customization,
Cost-Effective.
Apollo Cons
Not Reliable Email Address,
Not User Friendly.
Apollo Pricing Plans
Users can choose from the following pricing plans:
Free: One email address per month.
Basic $49: It is the most common version, giving users 2000 email addresses per month.
Professional $99: In this version, you can add up to 200,000 email addresses per month.
Organization $79: In this version, the database can be shared with 5 users, making it more cost-effective for some businesses.
3- Lusha
This tool is exactly like ContactOut; it can gather contact information on LinkedIn profiles. It also has a Chrome extension to accelerate the process of data gathering. This extension can be used on LinkedIn and assists in finding email addresses and phone numbers for potential leads, thereby streamlining the sales discovery process and improving the chances of closing deals.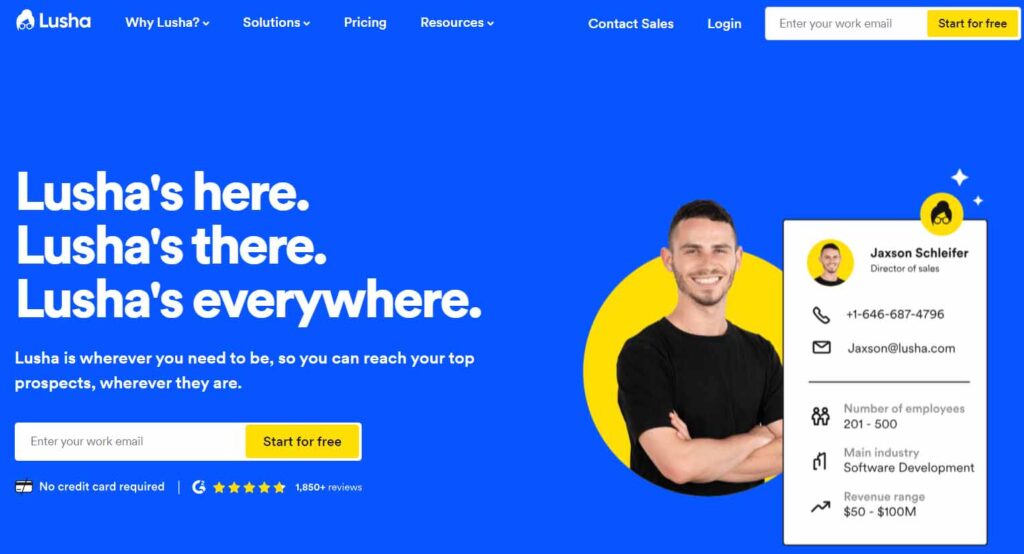 Lusha Pros
Easy Integration Setup,
Good UI,
Cost-Effective,
Quick Access to Information.
Lusha Cons
Inaccuracy,
No Quality Data.
Lusha Pricing Plans
This tool has three options plus its free version:
Pro- $29 per month- This plan gives 40 credits per month.
Premium- $51 per month- You will have 80 credits per month.
Scale- You may be able to customize what you need per month with negotiation on price. So, there is no exact price for this plan.
4- RocketReach
In addition to the email addresses and phone numbers, RocketReach can find social media profiles of professionals. It's commonly used by sales development representatives (SDRs) and recruiters to streamline the process of reaching out to potential clients or candidates.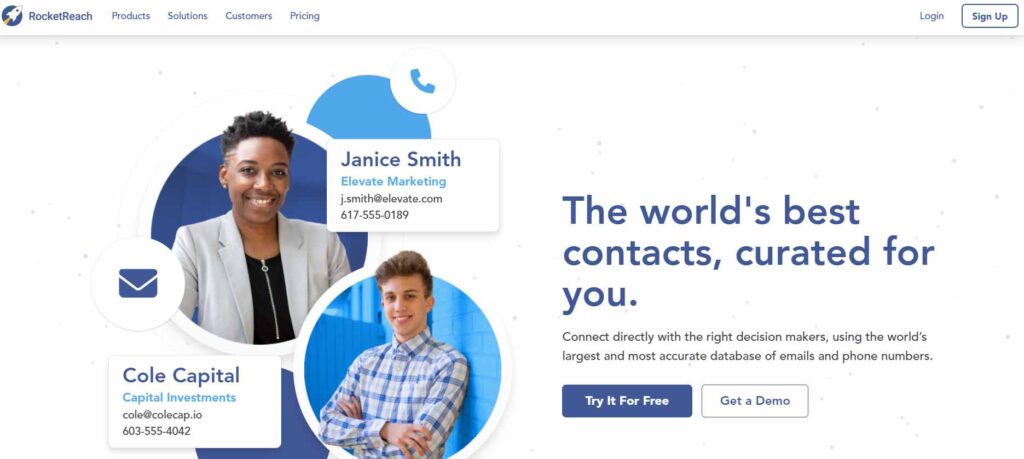 Like its competitor, RocketReach also has a Chrome extension that allows users to dig on popular social media sites and discover connections related to their business. The users can easily work with this tool's free version. However, more features will be unlocked after you choose a subscription.
RocketReach Pros
Ease of Use,
Quick Access to Contact Information,
Having Browser Extension.
RocketReach Cons
Inaccurate Data,
Expensive,
There is no Clear Integration with the CRM System.
RocketReach Pricing Plans
Free- Up to 5 Searches.
Essentials- $39 per month, up to 80 lookups.
Pro- $99 per month, up to 200 lookups.
Ultimate- $249 per month, up to 500 lookups.
5-Hunter
One of the most powerful alternatives to the ContactOut tool is the 'Hunter.' This tool is easy-to-use and has straightforward features that allow users to easily discover email addresses and perform bulk or domain searches. However, this tool's data comes from public domain sources. So, the users can't access email addresses that are not public.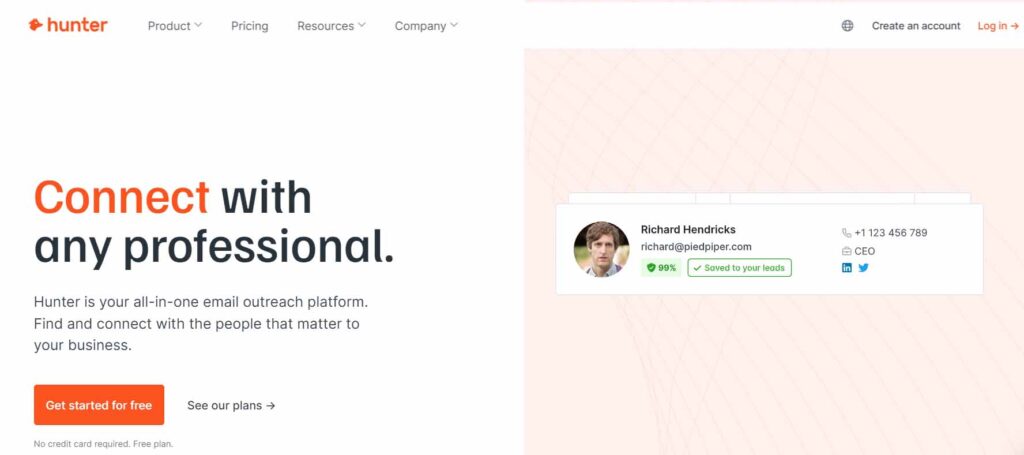 Although it sounds like a drawback compared to ContactOut, it can also be a benefit. Because most people were dissatisfied with finding their private information in its database. It seems that Hunter has more privacy.
Hunter Pros
Large Database,
User Friendliness,
Domain Search.
Hunter Cons
Limited Free Usage,
Inaccuracy,
Expensive.
Hunter Pricing Plans
Free- Users can do 25 searches per month.
Starter- $49- Users can do 500 searches per month.
Growth- $149- Users can do 5000 searches per month.
Business- $449- Users can do 50,000 searches per month.
FAQs
You may have some questions about ContactOut tools. Here are some frequently asked questions:
How Did ContactOut Get My Info?
All the contact information on this tool has been gathered from public data on the internet, especially LinkedIn. So, if you find your email address on this tool, it comes from your LinkedIn account. Furthermore, since other companies add their email database to this system, your information may come from others' databases.
Is ContactOut Legit?
Since ContactOut doesn't add private data to its database, it has no legal problems. It only helps businesses to have more successful campaigns.
Bottom Line
ContactOut is generally well-received for its ease of use and functionality, but there are some negative reviews to consider as well. Users often find it valuable for professional purposes, especially in sourcing contact details.