Are you tired of the 9 to 5 grind, feeling like a cog in the machine? Are you yearning for the freedom and flexibility to live life on your own terms? Look no further than the exciting world of freelance digital marketing!
As a freelancer, you can unleash your creativity and pursue your passions while helping businesses grow their online presence. With the rise of e-commerce marketing tools and social media marketing, the demand for skilled digital marketers has never been higher. So why not take control of your career and join the ranks of successful freelance digital marketers? The possibilities are endless, and the journey is yours to create.
Now, ready to discover the exciting world of freelance digital marketing jobs? Let's go!
What Is Freelance Digital Marketing
Being a freelance digital marketer implies working alone without being bound to any company. As a digital marketing freelancer, you get to work on a project-by-project basis. Many businesses delegate a lot of work in diverse fields to freelancers. Although there are plenty of advantages to being a marketing freelancer, there are also a few drawbacks to consider. In this post, we'll delve deeper into these aspects.
What Does a Digital Marketing Freelancer Do
Being a freelance digital marketer means having the freedom to provide your expertise to businesses, nonprofits, and organizations without being tied down to a traditional 9-5 job. You get to choose the services you want to offer, and you have the flexibility to work with different clients and projects.
Imagine being able to use your creative skills to help businesses reach their target audience through various digital marketing channels like Google ads, Facebook ads, and YouTube ads. You could also bring their brand to life through video marketing by brainstorming ideas, writing scripts, shooting and editing videos, and promoting them to the right audience.
And let's not forget about the power of influencer marketing, where you get to collaborate with popular social media personalities to endorse and promote your clients' products or services.
But that's not all. As a freelance digital marketer, you also have the opportunity to improve a company's online presence through search engine optimization. You could conduct keyword research, create engaging SEO content, and build high-quality backlinks that will help their website rank higher on search engines.
And finally, you could take on the challenge of creating and managing entire sales and marketing funnels, where you get to work on every step of the customer journey map, from awareness to purchase.
The possibilities are endless, and the satisfaction you'll get from seeing your clients succeed through your efforts is truly rewarding. So if you're a passionate digital marketer looking for a flexible career, freelance digital marketing might just be the perfect fit for you!
What Are Advantages and Disadvantages of Freelance Digital Marketing Jobs
Becoming a freelance digital marketer may seem like a dream come true, but it's not all sunshine and rainbows. Like any career, it has its ups and downs.
Freelance Digital Marketing Pros
On the positive side, you have the flexibility to control your schedule, choose your clients, work from anywhere, and potentially earn unlimited income. To sum up:
Flexible schedule
Variety & choice
Location independence
Lower costs of earning money
Unlimited income potential
Freelance Digital Marketing Cons
But on the flip side, you must constantly hustle to keep your pipeline full, deal with feast or famine periods, have no benefits, and deal with the pressure of earning enough to cover your expenses.
It's not just about the money, though. Freelancing can be a lonely and isolating experience, which can take a toll on your mental health. Sure, you can work from home in your pajamas, but that also means you may not have much human interaction. You'll have to find ways to get the socialization you need to stay happy and healthy. To sum up, the following are the disadvantages of freelance digital marketing jobs:
Constant hustle
Feast or famine
No benefits
Pressure to earn more
Loneliness and isolation
Now that you know the upsides and downsides of being a digital marketing freelancer, it's time to get serious and focus on the essential skills and qualifications you need to excel as a freelance digital marketer, whether you choose to freelance or not. So let's dive in and equip ourselves with the necessary tools to thrive in this exciting field!
How To Become a Freelance Digital Marketer
If the thought of becoming a freelance digital marketer gets your heart racing with excitement, then it's time to take action!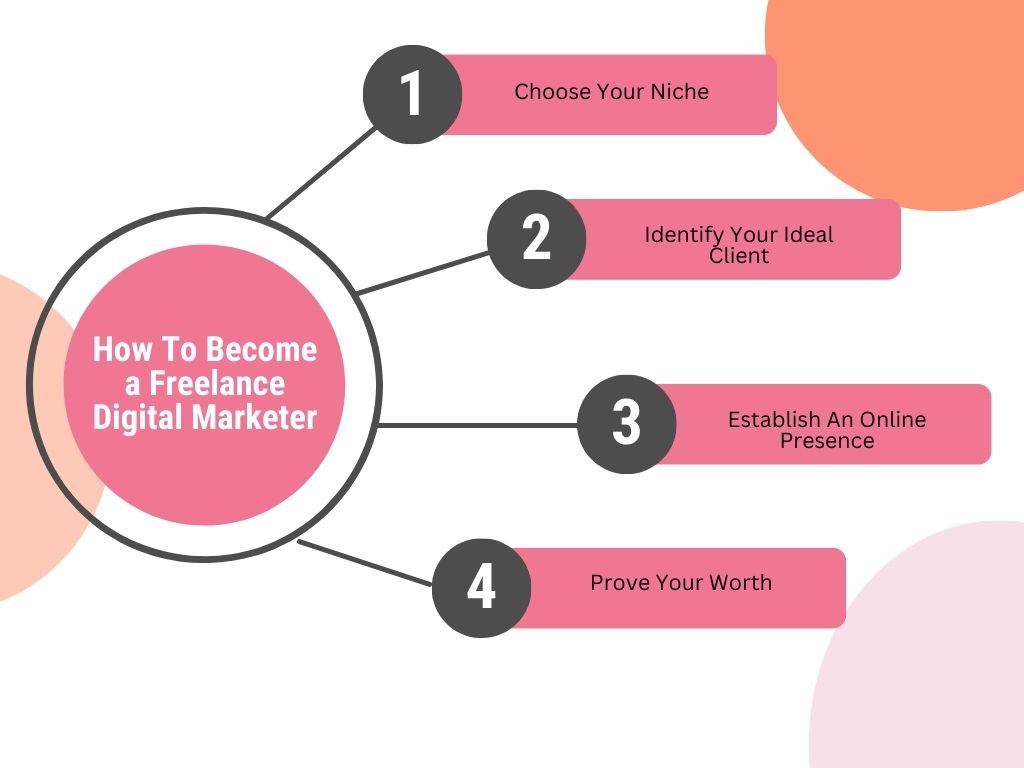 Here are the next steps you need to take to make your dream a reality:
1. Choose Your Niche
Do you have a passion for SEO, Facebook ads, social media, or content writing? Select one area of digital marketing to specialize in and become an expert in your field.
2. Identify Your Ideal Client
 Who do you love working with? Whether it's non-profits, software companies, retailers, or software for travel agent or travel agencies, find the perfect fit for you and narrow your focus to excel in that area
3. Establish An Online Presence
As a digital marketer, you know the importance of maintaining a strong online presence. Ensure that your online portfolio and video resume reflect your skills and experience in the best possible light. You never know who may be checking you out!
4. Prove Your Worth
Start building a track record of success with clients. Keep track of your results and always collect testimonials from happy customers to use as social proof. Let your success speak for itself!
With these steps in mind, you're ready to take the digital marketing world by storm. Believe in yourself, stay committed, and you'll make your dream a reality in no time.
FAQs on Freelance Digital Marketing
Before we wrap things up, we'll answer a few frequently asked questions about getting started in freelance digital marketing.
1. Can I Do Freelancing with Digital Marketing?
With the right mindset and determination, you can absolutely make it as a freelance digital marketer, even without prior experience in marketing.
Yes, you heard that right! Freelance digital marketing is a viable and sustainable career path. And the best part? You can set your own schedule and choose your own niche. It's entirely up to you! just pick your niche!
2. How Do I Become A Freelance Digital Marketer with No Experience?
There are plenty of ways to learn about the field and gain practical skills. Take some introductory courses, practice what you learn, and don't be afraid to get creative. For instance, if you're interested in SEO, start your own blog and experiment with writing techniques. Alternatively, you can offer your services to a friend in need of optimization and gain valuable experience, and a first client for your portfolio.
To Wrap Things Up
After researching and analyzing the world of freelance digital marketing, I have come to the conclusion that it is an incredibly exciting and rewarding field for those with a passion for creativity, innovation, and results. From crafting compelling social media campaigns to designing stunning websites and optimizing SEO strategies, the opportunities for freelancers in this industry are endless.