In today's fast-paced digital world, sending out emails en masse has become a popular and effective way of reaching a large audience quickly. Whether you're a marketer, business owner, or simply trying to keep in touch with a large group of people, a mass email service can help simplify the process and save you time. With just a few clicks, you can send out hundreds or even thousands of emails to your subscribers, clients, or colleagues.
But what if you want to take your mass email marketing strategy to the next level? That's where eCommerce marketing tools come in. By integrating e-commerce marketing tools into your email marketing service, you can not only send out large batches of emails, but also track their performance, automate follow-up emails, and even personalize your messages to specific groups of recipients.
With these powerful bulk email marketing services/tools at your disposal, you can drive more traffic to your website, increase your conversion rates, and ultimately grow your business.
So if you're looking to supercharge your email marketing efforts, consider investing in a mass email service with e-commerce marketing tools, like WatchThemLive, today.
Now let's get started, shall we?!
What Is Mass Email Marketing
Mass email marketing, also known as bulk email marketing, is a powerful marketing and lead generation strategy that involves sending promotional messages to a large number of email subscribers simultaneously. It is a cost-effective way to reach a large audience and can be used to promote products, services, events, and more.
With mass email marketing, businesses can segment their email lists and send targeted messages to specific groups of subscribers based on their interests, behavior, and demographics. This personalized approach can improve open rates, click-through rates, and conversion rate optimization.
Mass email marketing campaigns can include a variety of content, including promotional offers, newsletters, company updates, and more. The key is to provide value to subscribers and keep them engaged with your brand.
Overall, bulk email marketing is a valuable tool for businesses looking to reach a wider audience, build brand awareness, and drive sales. With the right strategy and approach, it can be a highly effective way to connect with customers and achieve your marketing goals.
What Is the Importance of Mass Email Services
Mass email marketing services and software can be an effective tool for businesses to reach a large audience in a cost-effective and customizable way. These software can be important for several reasons, including:
#1. Reach
Mass email marketing allows businesses to reach a large number of customers or potential customers at once. This can be especially useful for businesses with a large customer base or those that want to expand their reach.
#2. Cost-effective
Mass email marketing can be a cost-effective way to market products or services, especially compared to traditional advertising methods such as TV or print ads.
#3. Customization
With the right software, businesses can customize their emails to specific groups of customers based on demographics, past purchases, or other factors. This can help increase the effectiveness of the campaign.
#4. Tracking
Mass email marketing software often comes with tracking features that allow businesses to track open rates, click-through rates, and other metrics. This can help businesses understand the effectiveness of their campaign and make improvements.
Now, it's time to introduce the best 11 bulk email marketing services to help you out in this regard!
The Best Mass Email Services
With so many email marketing software available in the market, it can be overwhelming to choose the right one. To help you out, we provide a list of top bulk email apps in the following.
1. V-User: Best Bulk Email Sender
Our suggestion for the first and best tool for sending bulk emails is the V-User bulk email sender bot. One of the most significant advantages that has made this tool very popular is its ability to send emails through Gmail. This ensures that over 90 percent of your messages will land in users' inboxes. 
Additionally, the ability to send your advertisements using your personal Gmail accounts allows you to establish a closer and more friendly connection with users.
With V-User, you can introduce any number of your Gmail accounts and send messages with them. The bot operates automatically and switches between accounts with pre-defined scheduling, sending messages with each account. This feature allows you to set up the bot only once and have peace of mind about sending messages until the task is completed.
Now let's take a look at the various features V-User has and compare it with competitors.
Pros
Sending bulk emails through Gmail,
Sending emails through Gmail accounts,
Delivery of over 90% of messages to the Inbox,
Sending emails with HTML templates,
7-day money-back guarantee,
One-time payment and lifetime license,
Easy installation and usage.
Cons
Working only on Windows,
Only works with Gmail accounts.
We highly recommend taking advantage of this exceptional product immediately to seize an amazing opportunity for transforming your email marketing strategy. We assure you that utilizing V-User will unveil the true potential of your business!
2. QuickMail: Cold Email Marketing Platform
QuickMail is a distinctive platform that focuses on sending personalized, plain text emails to your contact list. The tool's unique feature lies in the fact that the emails sent through it do not resemble the ones generated by typical email marketing tools. Instead, they appear as if they were handwritten and sent individually to the recipients.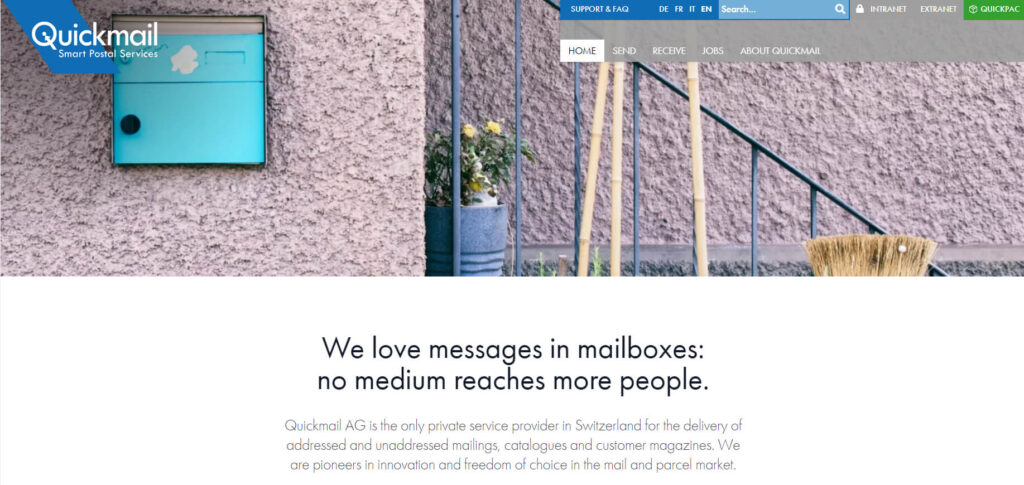 With QuickMail, you can create multi-step email campaigns that include automated follow-up emails to enhance email engagement. Moreover, the platform offers comprehensive email analytics that enables you to monitor various metrics such as open rates, reply rates, click-through rates, unsubscribe rates, and bounce rates.
If you are unsure about the performance of an email, you can easily conduct A/B testing with different variations of the email copy to determine the version that elicits the best response from your recipients.
Pros:
Allows you to send highly personalized emails to each recipient on your list,
Creates rules for automatic follow-ups after the first email,
Features for email deliverability like inbox rotation to ensure emails land in the main inbox,
Integrates with popular CRMs like Pipe Drive and HubSpot, as well as other tools through Zapier.
Cons:
Not designed for sending rich HTML templates,
No built-in tools for building your email list.
3. MailChimp: Free Email Marketing Service
MailChimp, which was established in 2001, has rapidly grown in popularity as a mass email service or provider. MailChimp's popularity can be attributed, in part, to its exceptional free mass email service, which enables users to send mass emails to as many as 2,000 contacts at no cost. 
MailChimp comes equipped with professionally designed email templates that simplify the planning and implementation of effective email marketing campaigns that convert readers into subscribers and customers. Additionally, all the necessary email marketing features, including A/B testing, time-zone-based sending, contact segmenting, autoresponders, and service and app integrations, are present, and MailChimp is constantly improving its mass email service.
Pros:
Excellent free mass email service,
Stunning templates,
Integration with other services.
Cons:
Expensive premium subscription plans.
4. Mailmodo: Bulk Email Service
Mailmodo is a mass email service that has a unique feature: interactive emails that allow users to take action directly from their email. These AMP emails have forms, shopping carts, calendars, and other features that users can fill out and submit without leaving their inboxes. This results in fewer drop-offs and increased conversions, as users no longer need to visit a website or app to complete a task. 
With Mailmodo, you can send a condensed version of your website or app directly to your subscribers' inboxes and experience a significant boost in conversions.
Pros:
Easy to use drag and drop editor for AMP email templates,
Automatic creation of HTML fallback,
GDPR compliant and ensures deliverability,
24/7 customer support.
Cons:
No forms or landing pages for lead generation,
No automation templates.
5. Stripo: Mass Email Service
The Stripo platform facilitates the faster creation of emails for marketers and designers. It includes all necessary tools for designing emails with varying complexities, such as interactive, real-time, and AMP content. After designing the email, users can test its rendering on major email clients, share, comment, and approve it with colleagues and clients before sending it to their email automation systems.
With integration with over 60 email clients and ESPs/CRMs, Stripo enables users to send messages to their marketing automation system with just one click. Stripo provides emails with pure HTML code that can be sent to customers from the user's ESP with no further actions required.
Pros:
No-code email development,
Build emails of any type with no coding skills, fast,
Over 800 email templates in Stripo's collection.
Cons:
No collaboration tools for working on emails with colleagues simultaneously,
No form builder to create subscription forms,
No integration with an email validator.
6. Constant Contact: Bulk Email Service
Although Constant Contact is often viewed as a mass email service overshadowed by MailChimp, it actually provides a range of impressive features at an affordable rate. As a result, it stands out in its own right and is particularly attractive to small businesses seeking to promote themselves while staying within a tight budget.
Upon first using the service, users are prompted to select their industry and past experience with email marketing. Using this information, Constant Contact customizes the user experience and highlights the most beneficial features of its bulk email software.
Pros:
Excellent features
Affordable pricing
High deliverability rates
Cons:
Limited automation features
7. Mail Gun: Powerful Mass Email Service
Mail Gun is capable of sending large volumes of emails to numerous subscribers in a matter of seconds. The platform allows you to eliminate invalid email addresses, thereby ensuring high delivery rates. Moreover, it provides API functionalities that enable seamless integration with different applications and enables you to create a streamlined email marketing center for your team.
The application was specifically designed to cater to the needs of developers. This implies that the usage of APIs is not merely an afterthought but a key aspect of the service. With 24/7 customer support, you can resolve any problems quickly, ensuring that your emails do not remain unsent for long.
Pros:
API Integration,
Predictive Inbox Deliverability,
Email Validation.
Cons:
Technical Knowledge Required,
Limited Free Plan.
8. ConvertKit: Bulk Email Marketing Software
ConvertKit is a well-liked email software tool used by professional bloggers and content creators to send out emails in large quantities. It is particularly useful for providing bonuses and other incentives to subscribers through email signup forms. If you are a beginner blogger, you can begin with the free version, which allows up to 1,000 subscribers to be managed.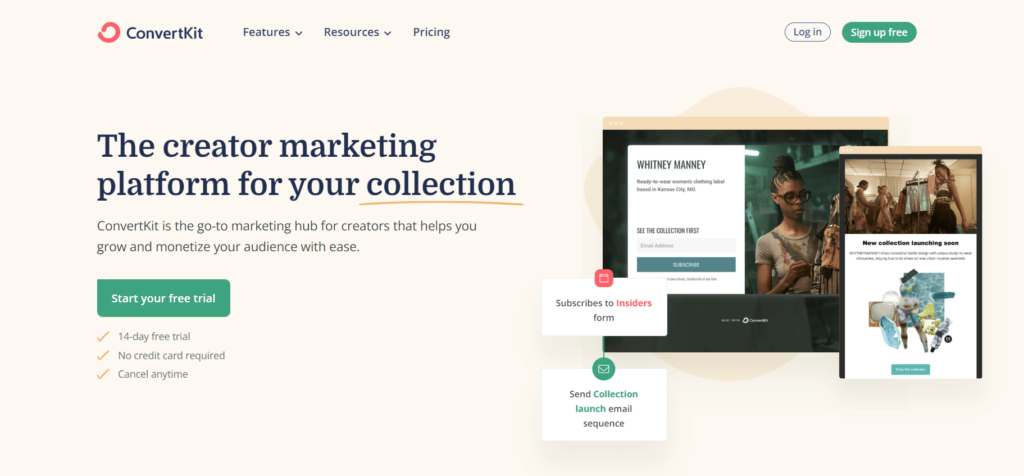 Whether you have a large audience already or are still growing your list, ConvertKit can assist you in developing your business with its simple-to-add forms, landing pages, and powerful email design features. The most significant benefit of ConvertKit is its comprehensive automation capabilities, which enable you to send the appropriate message to the appropriate individual at the right time.
Pros:
Offers a versatile tagging system,
Provides exceptionally responsive customer support,
Has many integrations available.
Cons:
Offers limited templates,
Can be expensive for new bloggers.
While it may not be the most affordable option for sending bulk emails, it is valuable for individuals who enjoy customizing every aspect of their email messages.
9. SendinBlue: Advanced Mass Email Service
In 2023, SendinBlue is regarded as one of the most advanced bulk email tools available. Its competitors are outdone by SendinBlue's customization features, which enable users to create templates from scratch.
SendinBlue's pricing strategy is distinct. Rather than offering a fixed price, this platform determines costs based on the number of emails sent. Users can send up to 300 emails each day at no cost.
Pros:
Affordable pricing plans,
High deliverability score,
Basic CRM functionality.
Cons:
Limited support for third-party integrations compared to competitors.
10. Omnisend: Well-known Mass Email Service

Omnisend stands out from other bulk email services by offering the ability to incorporate SMS and other channels into its automation workflow. Although new users can use the service for free, they must purchase one of the two premium plans to access all the available features, which are designed to support every stage of the customer journey.
Omnisend enables you to gather information about your visitors using personalized forms that include various incentives and promotions. Once you've collected your first email addresses, you can commence automated email and SMS campaigns to introduce your subscribers to your offerings.
Pros:
Comprehensive email service with all-in-one functionality,
Offers powerful automation features,
Provides a variety of great email template options.
Cons:
Slightly expensive given the feature set,
Could have a more intuitive user interface.
11. Drip: Mass Email Marketing Platform
The effectiveness of Drip for sending bulk emails stems from its ability to utilize customer data to reveal the story of each individual customer. By comprehending your customers, you can easily target them with personalized email campaigns using Drip's impressive visual automation builder. This includes creating tailored messages for new and returning visitors, visitors who clicked on specific links, or visitors who have items in their cart but have yet to finalize their purchase.
If you are not familiar with drip-based marketing, you can quickly learn more by checking out the learning section. Here, you will find a comprehensive user manual, helpful guides, courses, webinars, and other useful resources to help you make the most out of this software for mass emailing.
Pros:
Excellent visual automation builder,
Advanced reporting features,
Useful learning resources section.
Cons:
Form builder needs improvement,
Absence of email templates.
FAQs

In this section, we've compiled a list of frequently asked questions regarding mass email services to help you navigate the world of email marketing. Ready for a ride?! let's go!
1. What Are the Benefits of Using Mass Email Marketing Services?

Mass email marketing services can be a powerful tool for businesses to reach a large audience quickly and efficiently. Here are some of the key benefits of using such services:
Increased reach: With mass email marketing services, businesses can send out promotional emails to a large number of subscribers at once, potentially reaching thousands or even millions of people.
Cost-effective: Compared to traditional advertising methods, email marketing is relatively inexpensive, making it an attractive option for businesses with limited marketing budgets.
Personalization: Many mass email marketing services offer tools that allow businesses to personalize their emails based on subscriber data, such as name, location, and purchase history. This can increase the effectiveness of marketing campaigns by making them more relevant to the recipient.
Measurable results: Mass email marketing services often provide detailed analytics on the performance of email campaigns, allowing businesses to track open rates, click-through rates, and other metrics to gauge the effectiveness of their marketing efforts.
Automation: Many mass email marketing services offer automation tools that can save businesses time and effort by automatically sending out emails based on triggers such as sign-ups, purchases, or abandoned shopping carts.
Overall, mass email marketing services can be a valuable tool for businesses looking to reach a large audience with targeted and cost-effective marketing campaigns.
2. What Is Bulk Email Marketing Service?


The term "bulk email" encompasses a variety of email marketing techniques that involve sending a large number of emails to a sizeable list of recipients simultaneously. Services that specialize in bulk email send messages to a large audience, while transactional emails are tailored to a single user based on their specific actions.
To Wrap Things Up
In conclusion, when it comes to finding the best mass email marketing service for your business, there are plenty of great options to choose from. Whether you're looking for a comprehensive marketing suite with advanced automation features, or a simple and user-friendly platform for sending newsletters and promotions, there's a service out there that can meet your needs.

By weighing your priorities and considering the features that matter most to you, you can find the perfect mass email marketing service to help you grow your business and engage with your audience more effectively.