Instagram is the vitrine of most businesses. So, all they want is to grab the attention of more people and actually be able to introduce themselves to them in different ways. One method they can use to reach this goal is to run giveaway campaigns. You may wonder what a giveaway is and how you can run one. That's when you should look for Instagram giveaway ideas to run these campaigns as effectively as possible. 
In this article, we will show you how Instagram giveaways can benefit your page, how to find influencers for maximum reach, and some of the best giveaway ideas for Instagram. 
So get ready to discover the best ideas to boost your online presence and get discovered by more viewers.
What Is An Instagram Giveaway
Millions of Instagram users check out and follow different Instagram accounts, from top brands to celebrities and micro-influencers. Therefore, it's getting harder each day to attract more followers or introduce your brand to more people on this platform. That's when running Instagram contests and giveaways come to help you.  
An Instagram giveaway is a promotional campaign where brands, businesses, and influencers offer prizes to participants in exchange for specific actions on the Instagram platform. It is a popular marketing strategy that many users try to increase brand visibility.
On the first step, Instagram giveaways are often announced through a dedicated giveaway post, which includes the prize details, entry requirements, rules, and the deadline for participation. In the following, we will show you some of the best Instagram giveaway ideas and how to run one. 
Why Should You Host Instagram Giveaways
For those having trouble with engagement drops and low views on posts/stories, hosting Instagram giveaways might just be the answer you've been seeking. Here are the top benefits of running Instagram contests and giveaways. 
1. Build Brand Awareness And Credibility
Hosting Instagram giveaways allows you to showcase your brand and offerings to a broader audience. By featuring your products or services as giveaway prizes, you create brand awareness and generate curiosity among participants who may have yet to become familiar with your brand. 
2. Drive Engagement
You encourage active participation and interaction with your content by setting entry requirements such as liking, commenting, sharing, or tagging friends. In the next parts, we will discuss how to set your entry requirements and show you some of the best giveaway ideas for Instagram.
3. Expand Reach and Follower Count
When participants share your Instagram giveaway post, it exposes your brand to a wider audience and this will bring you new more followers and impressions. 
Did you know: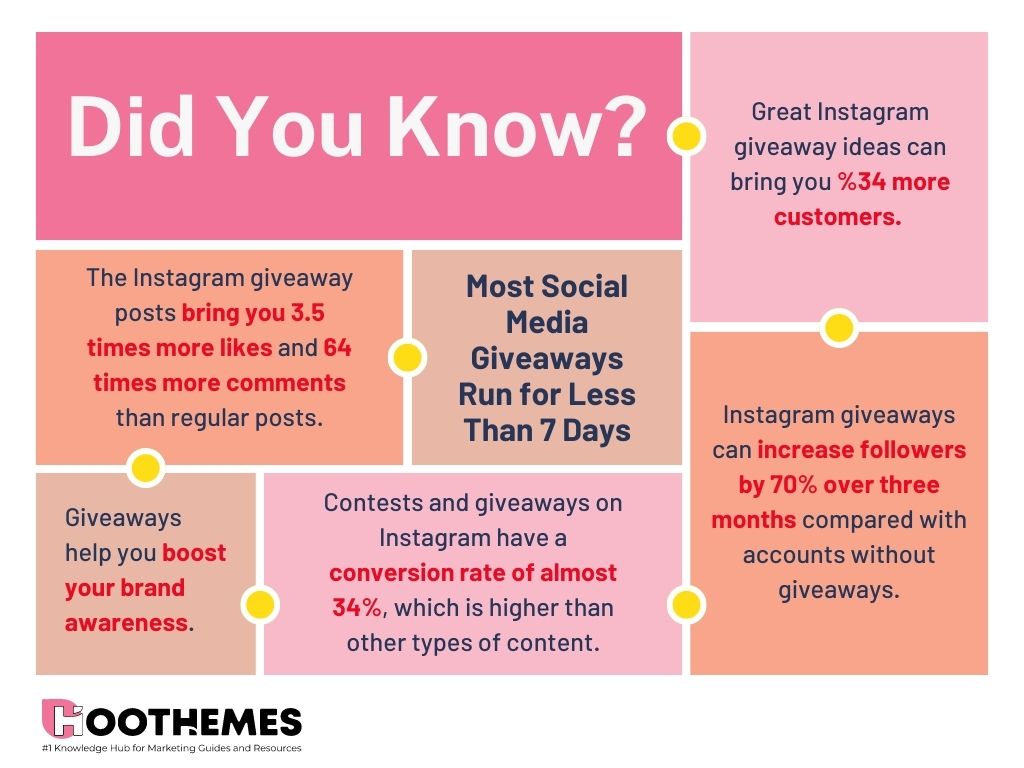 How To Run Instagram Giveaways
Instagram giveaways can increase followers by 70% over three months compared with accounts without giveaways.
The Instagram giveaway posts bring you 3.5 times more likes and 64 times more comments than regular posts.
It is estimated that contests and giveaways on Instagram have a conversion rate of almost 34%, which is higher than other types of content.
Most social media giveaways last less than 7 days.
Great Instagram giveaway ideas can bring you %34 more customers.
How To Run Instagram Giveaways
If you want to create giveaway post, you should not only think about Instagram giveaways as just sharing a post and choosing a winner. You need to plan and consider many factors to be successful. Here are some important steps for running Instagram contests.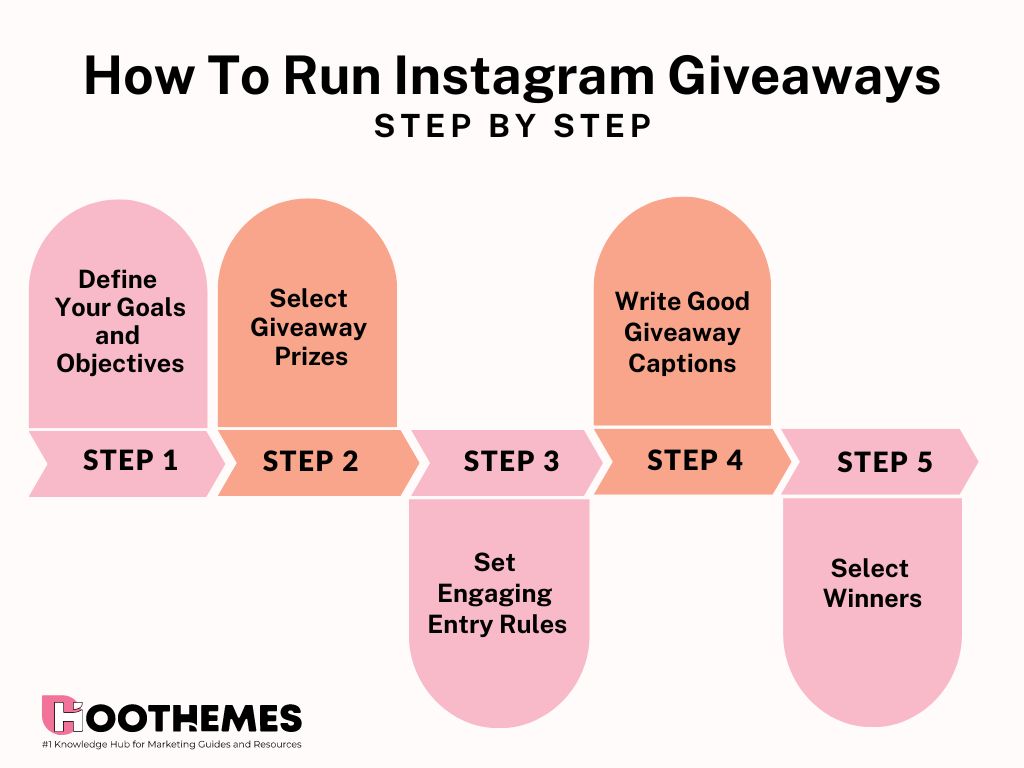 #1 Define Your Goals and Objectives
Clearly define your goals and objectives for the giveaway. Are you aiming to increase followers, generate user-generated content, or promote a new product? Understanding your goals will help you design a giveaway that aligns with your objectives.
#2 Determine Good Giveaway Prizes
Based on your budget, set a prize that is related to your brand and engages to your audience. Here are some giveaway prize ideas:
Coupon codes,
Freebies,
A sample of the launch of your new products,
Cash prize,
Products that everyone can enjoy (iPad, iPhone, etc).
#3 Set Engaging Entry Rules
Your entry rules are the most important part of your giveaway Instagram post and can bring engagement to your page. Make sure to specify the actions you want participants to take. Here are some ideas for your giveaway entry that can bring you engagement:
Like the post and tag three friends in the comments.
Use your branded hashtag in the comments.
Send user-generated content related to your campaign/products.
Re-share your giveaway post in their stories.
#4 Write Good Giveaway Captions
When it comes to giveaways, capturing attention is crucial. Instagram captions serve as the voice of your brand, allowing you to connect with your audience on a deeper level. Here are some giveaway caption ideas for Instagram:
"It's time for a giveaway! Enter now for a chance to win some amazing prizes!"
"Who doesn't love free stuff? Enter our contest and you could be the lucky winner!"
"Feeling lucky? Enter our giveaway and see if you'll be the one taking home the prize!"
"Ready to win big? Enter our contest and you could be the lucky winner of some awesome prizes!"
"Don't miss out on your chance to win! Enter our contest today and cross your fingers!"
"Feeling lucky? Enter our contest and you could be the one walking away with some incredible prizes!"
#5 Select Winners
Once the story contest period ends, review users' actions and select winners based on predetermined criteria. This could be a random selection, correct answers, creativity, or the most engaging responses.
Make sure to check all the participants and pick a winner(s) from the qualified ones. In case you find it challenging to select a winner from the thousands of users, you can use third-party Instagram giveaway picker tools to check all the participants and pick a random winner from qualified users. 
'You to Gift' serves as an efficient and reliable Instagram giveaway tool, providing the capability to randomly select winners from diverse sources like Instagram likes, followers, comments, YouTube comments, and subscriptions. Its core functionality ensures a fair and unbiased winner selection process, enhancing the transparency of contests and promotions.
In addition to its winner-picking prowess, 'You to Gift' offers practical features, such as generating random names and numbers, adding an element of excitement and fun to your giveaways.
Moreover, the tool caters to data management needs by allowing users to export Instagram data into Excel or CSV files, streamlining the analysis and organization of contest results.
To get started, 'You to Gift' provides the opportunity to conduct initial giveaways free of charge, making it accessible for users looking to explore its benefits and enrich their giveaway experience.
Top 10 Instagram Giveaway Ideas
Now that you know everything about running contests/giveaways, let's take a look at some giveaway post ideas for Instagram.
1. Influencer Takeover Giveaway
Undoubtedly, Instagram influencers can help you make the most out of your giveaway campaigns. By sharing your Instagram giveaway ideas on their profile or stories, you can gain more views and clicks because influencers have much more followers who might become your potential customers.
The best idea can be collaborating with an influencer in your niche to host a giveaway. The influencer can take over your account for a day and post content, share stories, or conduct a live session. Participants can enter by following both accounts and engaging with the takeover content.
However, finding the right influencer who can help you with this project might seem challenging. But don't worry; some platforms can help you find influencers or brands for collaboration. 
Ainfluencer for Brands: The Best Influencer Marketing Platform for Giveaway Campaigns
As mentioned, one of the best Instagram giveaway ideas is collaborating with like-minded brands and influencers to reach a targeted audience and grow your page. Here is how to find the perfect influencer on Ainfluencer for giveaway campaign collaborations.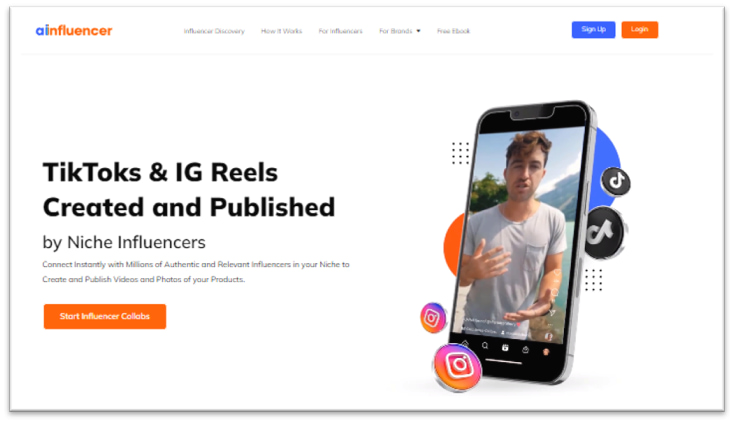 As a brand, you can sign up on Ainfluencer for free and create a campaign. Give the details about what you want the influencer to do for you. In the next step, you can search for influencers based on their category, gender, location, number of followers, or even the hashtags they use. Additionally, you can dedicate your budget so that you only see the list of influencers who are agreed to collaborate with brands at that budget. 
Now, you are connected with several influencers who meet your criteria. This will make it much quicker and easier to find a suitable influencer from this list and send your invitation.
You should note that since influencers work with different brands, they can also come up with great Instagram giveaway ideas. So, take advantage of their creativity.
However, even if you don't invite anyone for partnership, influencers can see your campaign on their dashboard and send you their offers.
The great thing is that all the negotiations are done on the platform; you won't need to send your message to influencers on Instagram because, most of the time, they won't check their messages.
As you can see, it's simple, quick, and free! Give Ainfluencer a try now.
Ainfluencers for Influencers: Find Campaigns for Collaboration
The greatest news is that Ainfluencer is not just for brands. You can also join Ainfluencer for free as an influencer. No matter how many followers you have, Ainfluencer increases your chance of making money on Instagram. 
After joining Ainfluencer, you should download the app and see the available campaigns. You can see all the campaigns and send your offer to as many campaigns as you want. Additionally, since you know your followers more than anyone else, you can provide cool giveaway ideas to make this collaboration more fruitful.
Needless to say, the more followers you have on Instagram, the more offers you will have. Therefore, be more active and creative on social media to make more money on these platforms.
Want to try Ainfluencer? Join the online marketplace of Instagram influencers on Ainfluencer.
2. Like, Comment, and/or Share To Enter
One of the most known giveaways is 'like and comment'. The entry is simple, ask the participants to like your Instagram giveaway post, leave a comment, and/or share the post on their own feed or story. It encourages engagement and expands the reach of your giveaway.
3. Tag A Friend To Enter
This idea encourages participants to tag a friend in the comments section who they think would be interested in the giveaway. It helps increase brand awareness and reach by leveraging the networks of your existing followers.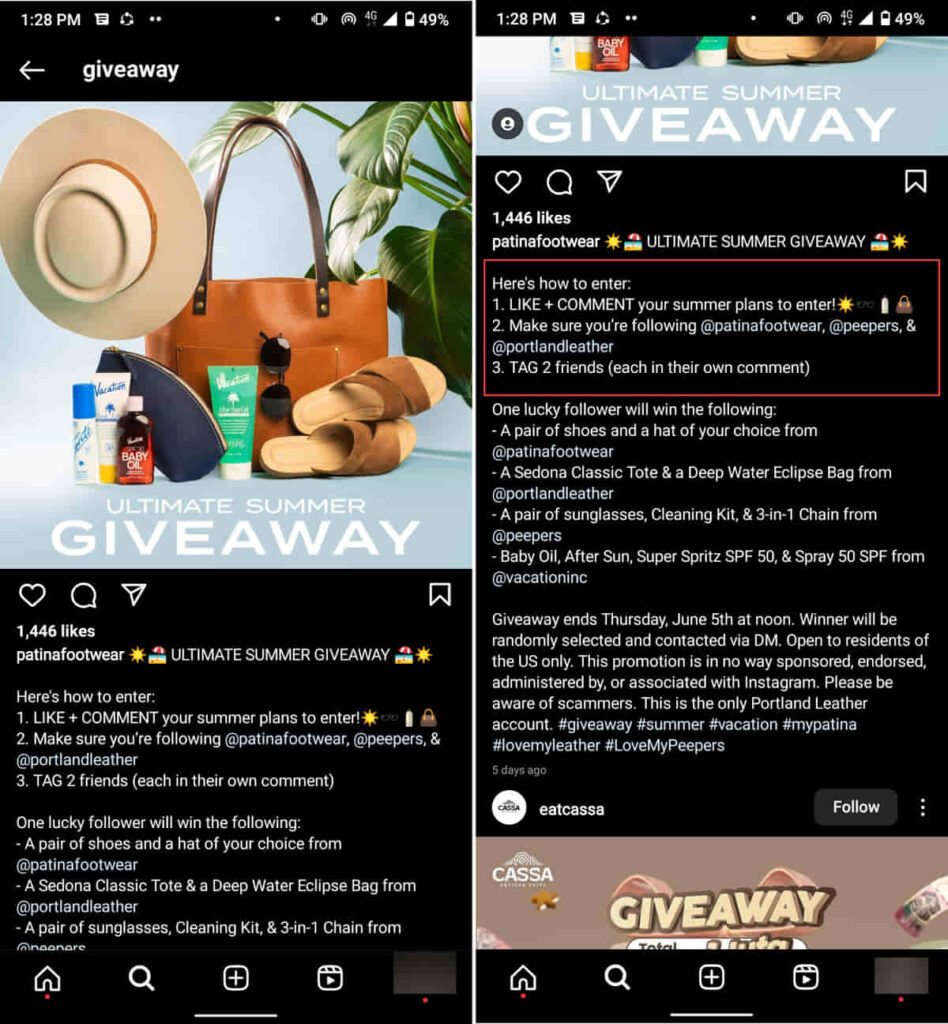 4. User-Generated Content (UGC) Contest
Invite participants to create and share their own content related to your brand or giveaway theme. This can include photos, videos, or creative captions. Choose a winner based on creativity, relevance, or the number of likes/comments received.
5. Caption This Photo Contest
Post an engaging photo and ask your followers to come up with creative captions. Choose the most entertaining or relevant captions as the winners. This type of giveaway encourages engagement and creativity.
6. Give Away A New Product
If you are launching a new product, you can announce it in an Instagram giveaway post and attract users' attention to it. It's a perfect way to celebrate the launch with your audience and boost your content reach. 
7. Run The Giveaway In Stories
Instagram stories are full of cool features that allow you to create engaging and eye-catching giveaway posts. Other than that, Instagram stories receive higher engagement and reach than normal posts. So, make engaging story content using features such as Polls, Q&A box, Quizzes, and Emoji sliders.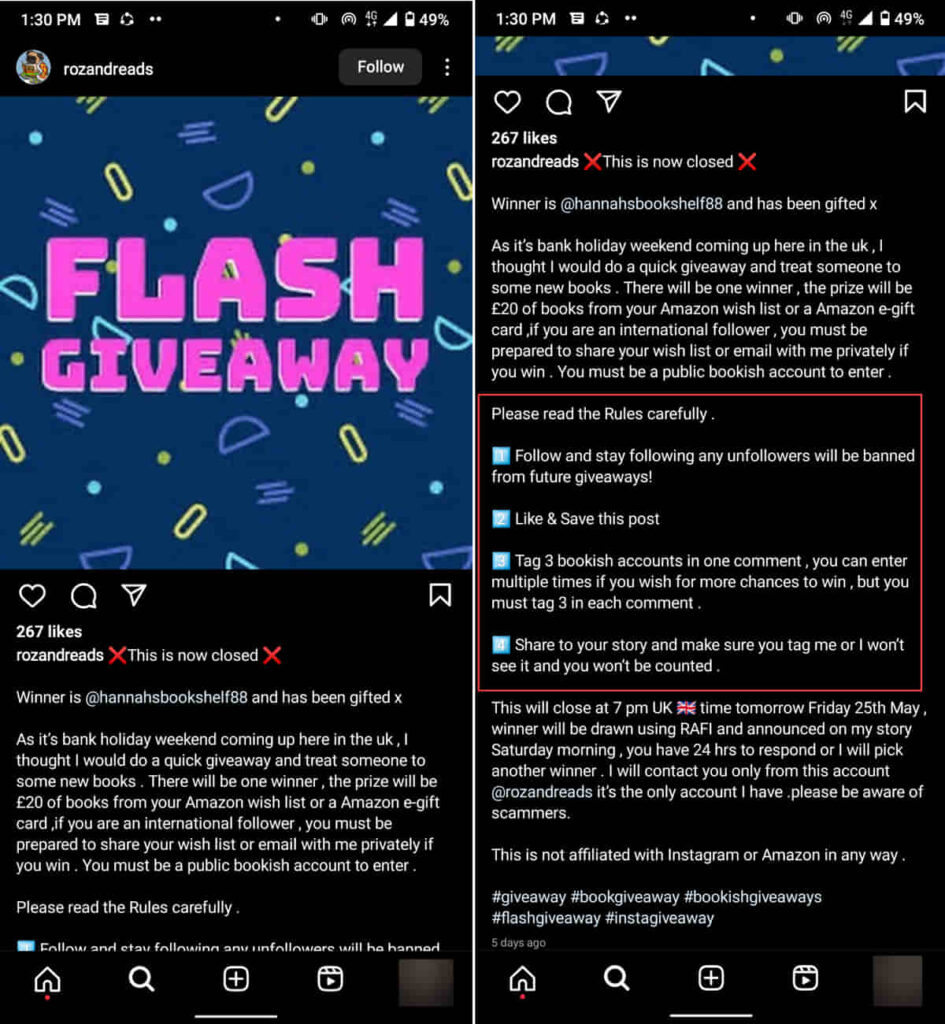 8. Make Your Own Giveaway Hashtags
Almost everyone is aware of the use of hashtags for organizing content and boosting its reach. You can use some hashtags related to your giveaway in order to receive a higher reach and boost the number of your participants. Creating your own hashtag on your Instagram giveaway template makes it easier for participants to find your giveaway, and it also helps you track the reach of your campaign.
If you have problems creating hashtags for your Instagram posts, you can use hashtag generators.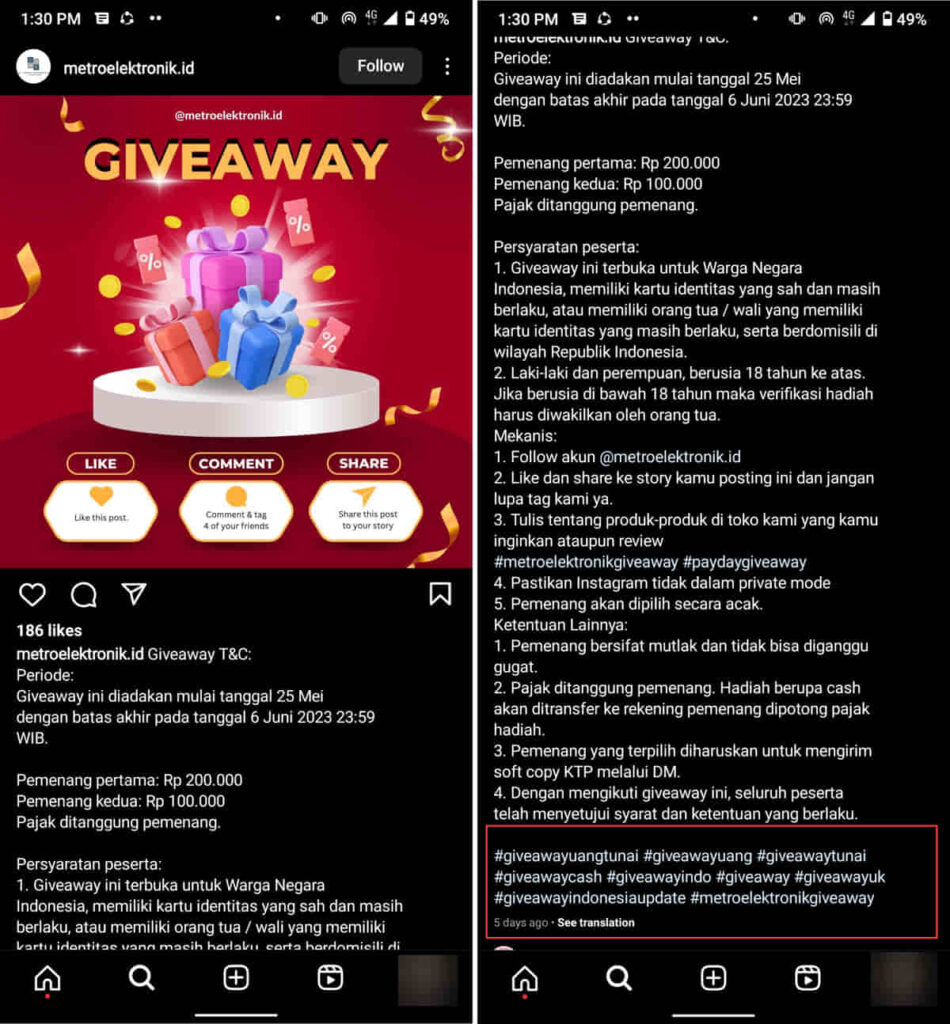 9. Caption This Photo 
Share an interesting or funny photo and ask participants to create a creative caption in the comments. Choose the most creative or humorous caption as the winner. This way you are adding more interaction to your post and boost your engagement rate immediately.
10. Quiz Giveaway
Test your audience's knowledge with a trivia or quiz-style giveaway. Ask questions related to your brand, industry, or product, and offer a prize to those who answer correctly or have the highest scores.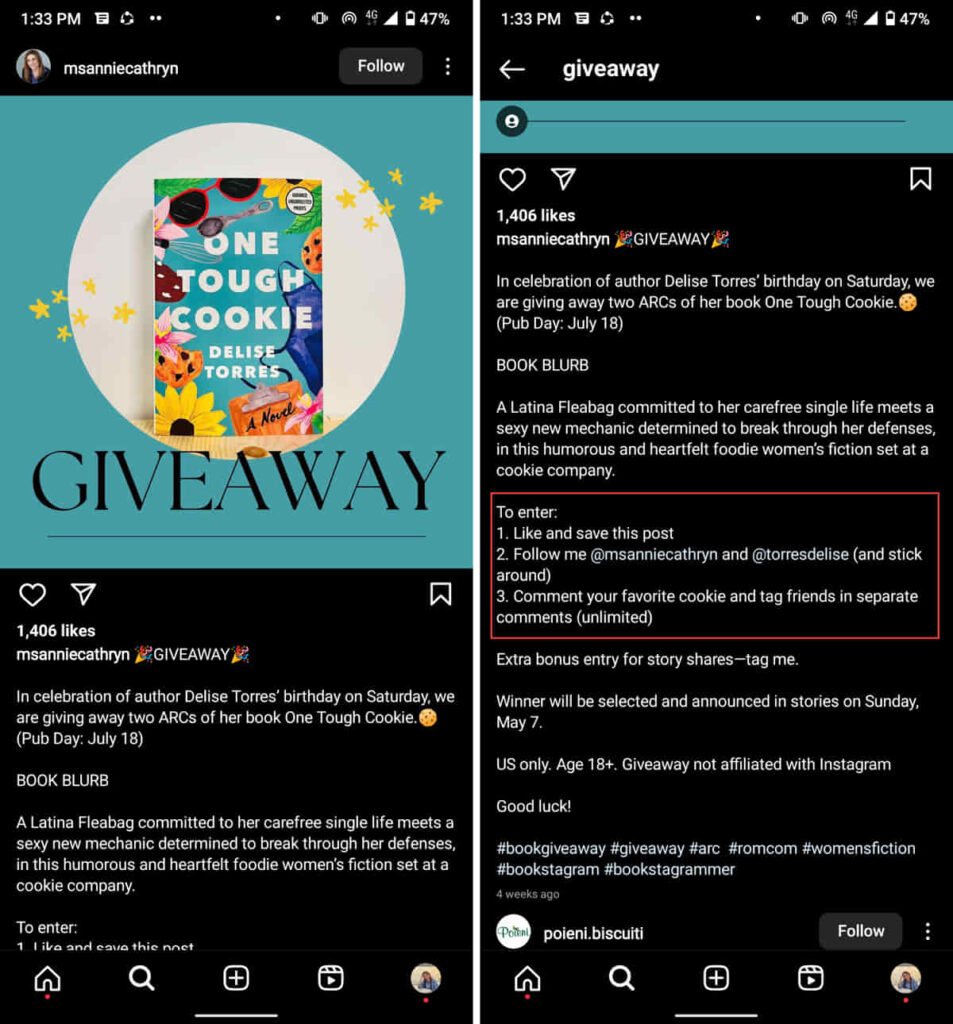 FAQs
Now that you know everything about running contests and the best Instagram giveaway ideas, let's answer some of the most frequently asked questions.
1. What Are Some Effective Instagram Giveaway Ideas?
There are several effective Instagram giveaway ideas to engage your audience. Some popular options include liking/commenting/sharing to enter, tagging a friend to enter, giveaway a new product, partnering with another brand, or celebrating a holiday/special occasion.
2. How Can I Increase the Reach of My Instagram Giveaway?
To increase the reach of your Instagram giveaway, you can consider these simple methods and tips:
Promote it through various channels,
Leverage your existing social media platforms, email newsletters, and website to announce the giveaway,
Collaborate with influencers or relevant accounts to widen your reach,
Encourage participants to share the giveaway with their friends and followers to expand its visibility.
3. What Are Some Tips For Running a Successful Instagram Giveaway?
Running a successful Instagram giveaway involves careful planning and execution. Here are the best giveaway ideas Instagram to try:
Define entry requirements
Establish a timeline for the giveaway.
Create visually appealing graphics and engaging captions to attract participants.
Promote the giveaway consistently
Announce winners promptly. Finally, measure the results and learn from the experience to improve future giveaways.
4. How Do I Select Winners for My Instagram Giveaway?
Selecting winners for an Instagram giveaway depends on the Instagram giveaway rules you have set. Random selection can be done using a random generator tool or manually drawing names. Alternatively, you can choose winners based on specific criteria such as creativity, engagement, or correct answers if the giveaway involves a quiz or challenge. Clearly communicate the selection process in your giveaway rules.
Conclusion
In this article, we've shown you some of the best giveaway ideas to boost engagement, expand your reach, and strengthen your brand's presence. Collaborating with influencers is one of the best Instagram giveaway ideas to bring you more followers and customers. 
The best platform to find influencers for giveaway collaborations is Ainfluencer, which makes partnerships and collaborations easier than before. Joining this influencer marketing platform is free for brands and influencers. Therefore, it is beneficial for both groups. Want to run an Instagram giveaway?