Having a large number of followers is almost everyone's concern these days. Some may try building their audience over time, but some prefer using third-party tools such as Viralyft.
On top of that, before using any third-party Instagram growth hack tools, you need to know their pros and cons, read reviews, and check if it's safe or not. So, we provided a full guide on Viralyft reviews to help you make your decision.
Meanwhile, if you have no time to read the whole article but are still interested in growing your social media account organically through influencer marketing, Ainfluencer is what you need to try.
What Is Viralyft
While looking for social media growth and management tools, you may come across the name Viralyft. Viralyft is an automation service that claims to boost your engagement on Instagram, Facebook, Twitter, TikTok, and YouTube immediately with organic users.

According to their website, all the followers and interactions that you purchase are from organic users. So, you don't need to be worried about engagement rate drops or getting banned. But does this service really work? Let's find out by checking how it works.
How Does Viralyft Work
This social media and Instagram followers hack tool offers a wide range of features for accounts that need an immediate boost. After choosing the social media platform, you can select the service you need such as Likes, Followers, Comments, Views, etc.
After that, provide a link to your social media account's profile. Viralyft doesn't ask for your password and login details. You only need to make sure that your account is public.
Lastly, you'll receive the purchased pack gradually.
Viralyft Features
As we mentioned above, Viralyft provides different interaction packs for popular social media platforms. Here is what you can do using this third-party tool:
Followers, Likes, Views, Auto Likes, Story Views, Reel Views for Instagram,
Subscribers, Shares, Views, Likes, and Comments for YouTube,
Video views, Post likes, Followers, and Comments on Facebook,
Views, Followers, Likes, Comments, and Shares for TikTok,
Soundcloud plays, Likes, and Followers,
Re-tweets, Likes, and Followers for Twitter.
Pros And Cons Of Using Viralyft
Before deciding whether to use Viralyft's services, it's important to weigh the pros and cons.
Viralyft Pros
Increased Visibility: Viralyft's techniques aim to expose your content to a wider audience, increasing your chances of gaining more followers. However, these followers are mostly fake and bot accounts. So, you can't count on getting impressions.
Viralyft Cons
Quality Concerns: While Viralyft may help increase your follower count, the quality of the followers gained may vary. Some may be inactive or not genuinely interested in your content.
Platform Limitations: Platforms such as Instagram, TikTok, and Twitter are against using third-party tools. So, if they detect you are using one, you might get banned.
Lack of Targeting: This service doesn't provide targeting options to receive followers in your niche.
Unresponsive Customer Support: They claim to have a 24*7 support team. But based on users' reviews, they are not responsive.
Is Viralyft Legit
The best way to find out if a service is legit or not is by reading users' reviews on platforms such as Trustpilot or G2. But unfortunately, Viralyft doesn't have many reviews on any of these websites. There are only seven reviews on Trustpilot with a 2.6 very low rating score.
So, the only way to check what users say about it is from their website or Reddit. As you can see in the below picture, this user is warning others about the scam!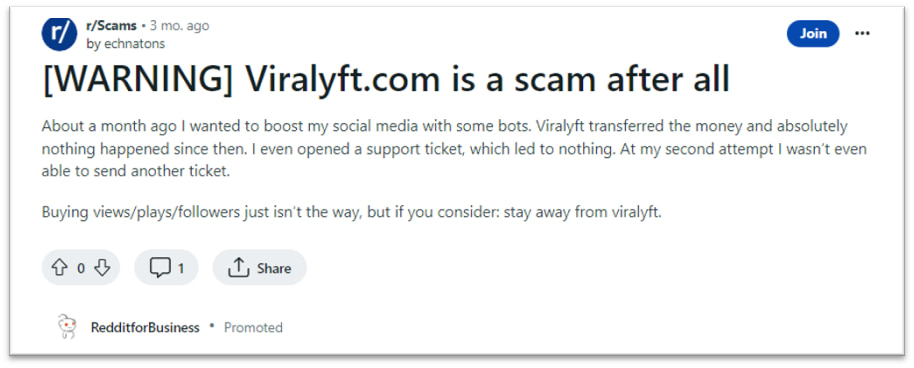 So, even though there are not many Viralyft reviews on the internet, we don't recommend using it. This platform is mainly a bot service and when you buy followers, they are fake or inactive accounts. As a result, Instagram, TikTok, Facebook, etc. will notice it and block your account.
Viralyft Pricing
This social media growth tool offers two types of users for each pack: High-quality and Premium. After that, you can choose the number of interactions you need. Here are the pricing plans for their Instagram packs: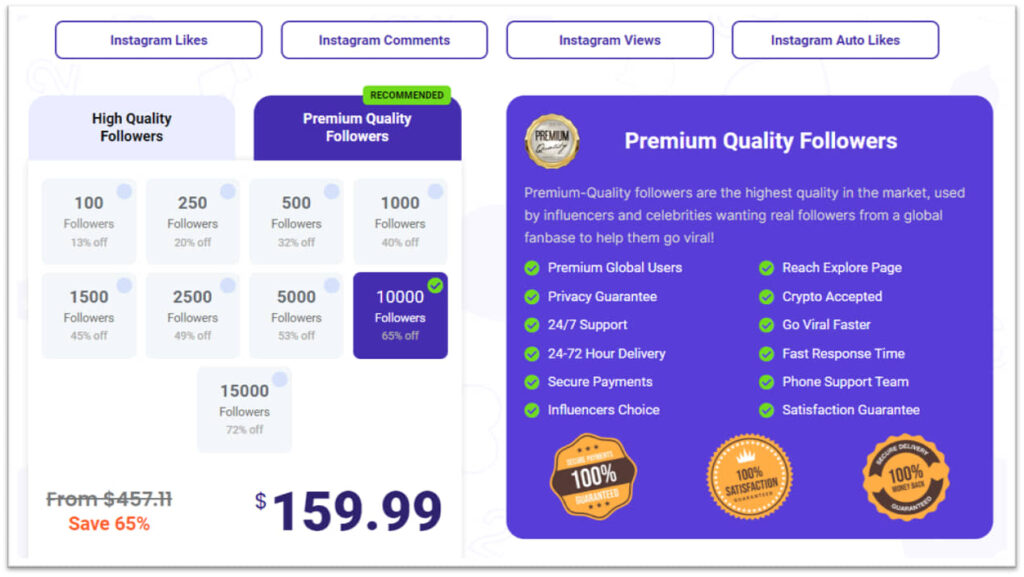 High-Quality followers:
100 Followers: 2.89$
200 Followers: 4.99$
500 Followers: 6.75$
1000 Followers: 12.75$
2500 Followers: 35.99$
5000 Followers: 55.99$
10k Followers: 94.99$
Premium followers:
100 Followers: 4.89$
200 Followers: 9.99$
500 Followers: 18.99$
1000 Followers: 34.99$
2500 Followers: 54.99$
5000 Followers: 89.99$
10k Followers: 159.99$
What Is The Best Alternative To Viralyft
Now that you know what Viralyft really is and whether is Viralyft safe or not, let's see how to grow your audience instead. With the rise of social media influencers and the impact, they have on users, the fastest method to try is influencer marketing.
Why should you choose influencer marketing over buying followers? The answer is simple: authenticity and credibility. Imagine the impact of having a trusted influencer promote your content or endorse your products.
Their credibility resonates with their audience, leading to increased brand awareness, higher engagement rates, and ultimately, a boost in your own follower count. But how to find influencers to work with?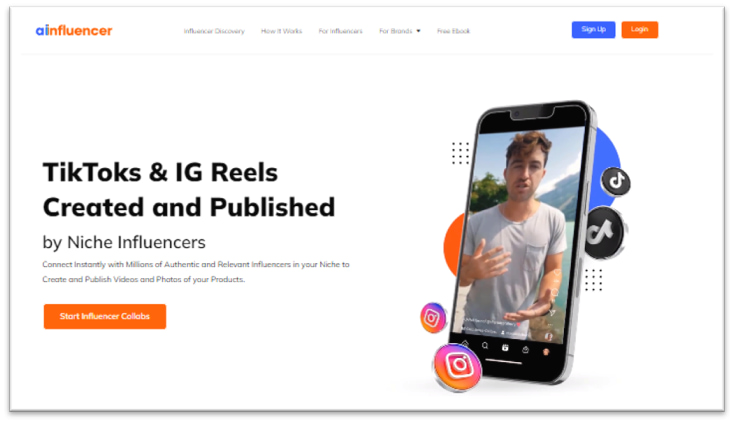 Ainfluencer is an influencer marketing platform designed for brands and businesses to contact their niche influencers. With Ainfluencer, you can tap into a vast network of creators/influencers who have built their own devoted followings.
Not only do you gain access to a targeted and relevant audience, but the influencers themselves can also benefit from partnering with your brand. So, what are you waiting for? Start your collaborations with Ainfluencer now!
FAQs on Viralyft Review
Now that you know everything about the Viralyft Instagram followers tool, let's read some of the most frequently asked questions about it.
1. Can I Buy 5k Instagram Followers?
While it's possible to purchase a large number of Instagram followers, it's important to consider the quality and authenticity of these followers. Buying followers may result in a high number of inactive or fake accounts, which can harm your engagement rates and credibility.
It's recommended to focus on organic strategies for growing your Instagram following, such as creating valuable content and engaging with your target audience.
2. Does Instagram Pay 1k Followers?
Instagram does not pay users based on the number of followers they have.
Instagram is a platform that provides opportunities for individuals and businesses to grow their audience, monetize their influence, and collaborate with brands through various means such as sponsored posts, partnerships, and advertising.
Earning income from Instagram typically involves building a strong presence, engaging with your followers, and leveraging your influence to attract brands or monetization opportunities.
3. Will Using Viralyft Put My Social Media Account at Risk?
Viralyft operates within the guidelines and terms set by social media platforms to ensure the safety of your account.
However, it's important to use social media growth services responsibly and avoid any activities that may violate platform policies, as this can potentially put your account at risk!
Conclusion
Are you thinking about buying Instagram followers from Viralyft to grow your audience immediately? Before making any decision, make sure to read the reviews on this platform to keep your account safe.
This article provided a full guide on everything you need to know about Viralyft and whether it's safe or not!