If you are a YouTube content creator searching for the perfect soundtrack to help your videos go viral and get recommended, accessing the YouTube audio library is what you are looking for.
In this article, we will show you how to access these tracks and use some YouTube hacks to boost your subscribers and views. So, if you are a blogger, vlogger, or influencer, we can help you find unique tracks for your videos.
Meanwhile, if you are an influencer, you can earn money from your content through influencer marketing platforms. Ainfluencer makes collaborations easier than any time before.
What Is YouTube Audio Library
Many new YouTubers don't have enough budget to start their business. They are looking for a way to access pieces of music without any costs. That's where YouTube audio library can help you with thousands of free audio to use.
With thousands of tracks available, ranging from various genres to specific moods and instrumentals, the YouTube Audio Library provides a diverse collection for everyone to use without copyright issues.
How To Access YouTube Audio Library
To access the YouTube music library, you have two options: you can either access it from the YouTube studio section of your account or browse it directly from the site.
The interface is pretty simple. After opening the library you can easily search for free tracks and star the ones you like to use.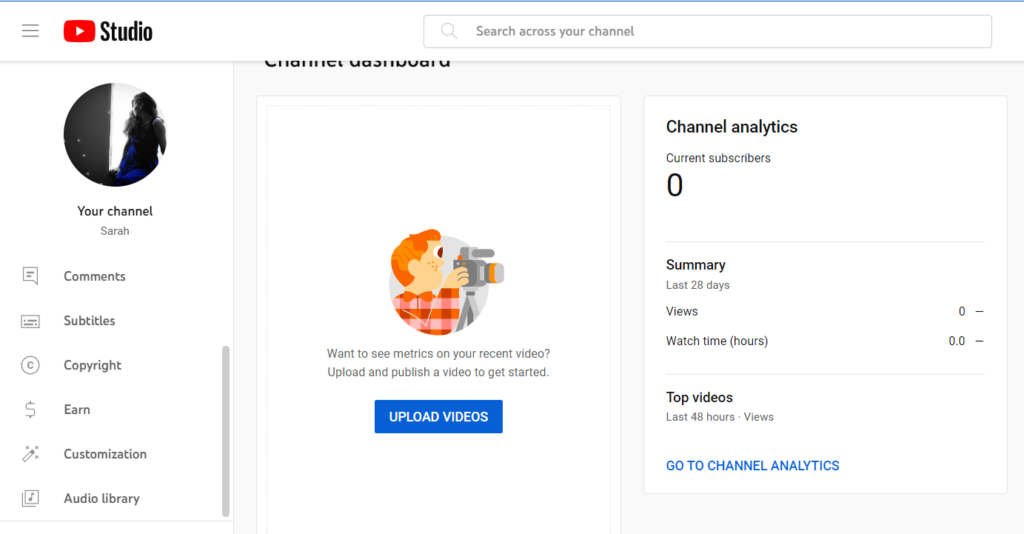 What Can You Find In Youtube Studio Audio Library
Now that you know how to access the free YouTube audio library, let's see what you can find there.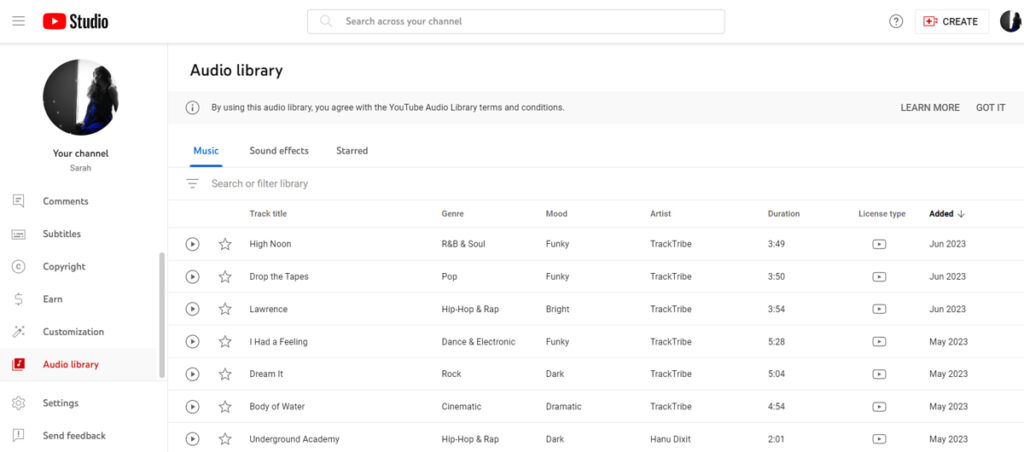 1. Free Music
The YouTube Audio Library houses a wide selection of tracks across various genres, including pop, rock, electronic, jazz, classical, and more. With such a diverse range of musical styles available, you can easily find the perfect soundtrack to match the tone and mood of your content.
2. Filter Option
After accessing the YouTube audio library for free, you can find your tracks using powerful filtering options to use the best match. You can search by
Genre,
Title,
Duration,
Artist Name,
Mood.
Other than these filters, you can manually enter a keyword or phrase in the search field within the YouTube Audio Library. This enables you to conduct a customized search based on your specific preferences. For example, if you're looking for music featuring a particular instrument like the piano, accordion, or even bagpipes, simply enter the instrument's name in the search bar.
3. Sound Effects
In addition to music, the YouTube Audio Library offers a wide collection of sound effects. So if you need to add a dramatic impact, a subtle background noise, or a whimsical sound to your videos, the library has you covered. This tab also has search filters to help you find the best match for your videos.
How To Use YouTube Library Tracks
After accessing the youtube studio audio library and finding the track you want, you can easily download it for free. You only need to navigate to the "Added" section and download the track.
Hitting this button will instantly download the track as an MP3 file on your PC.

If you plan on using the track later, you can star it so you won't lose it. After downloading, you can open your editors' app and use it for creating your video.
YouTube Audio Library Limitations
While the YouTube Audio Library is an incredible resource for content creators, it's essential to understand its limitations to ensure a better experience. Here are some key considerations to keep in mind when using the library:
1. Copyright and Licensing
While most tracks in the YouTube Audio Library are royalty-free, it's crucial to verify the licensing requirements for each individual track. Also according to the YouTube terms of service, you need to give credit to the creator on your YouTube video's description.
2. Limited Songs
While the YouTube Audio Library offers a wide variety of music genres and sound effects, but still it may be limited for many users. You may not find tracks that perfectly match your specific creative vision. In such cases, consider exploring other music platforms or collaborating with composers and musicians to create custom audio that aligns perfectly with your project.
3. Popular Tracks and Originality
Given the popularity of the YouTube Audio Library, you may come across tracks that are frequently used in other videos. This could impact the uniqueness and originality of your content. To make your videos stand out, consider using the library's tracks as a starting point and adding your own creative elements or exploring other audio sources to create a distinct sound for your videos.
4. External Licensing and Clearances
There are some considerations you need to check before using YouTube Audio Library free music.
Make sure to give full credit to the track creator in your video description,
You can not claim the track as your own,
You can't sell tracks downloaded from YouTube's free audio library,
To download these tracks, you can only use the official platform, not any third-party tools,
Do not make changes to the downloaded songs without asking permission from the artist.
How To Earn Money From YouTube Content?
If you're wondering how to monetize your YouTube content and earn money, there are several strategies you can explore. One of the most popular and effective ways is by becoming an influencer and collaborating with brands through influencer partnerships.
As an influencer, you have the power to leverage your audience and create valuable partnerships with brands that align with your content and values. By incorporating sponsored content into your videos, you can earn money from your talent. But how to find brands that are willing to have partnerships?
Ainfluencer is a leading influencer marketing platform that connects brands with influencers across different social media platforms, including YouTube. By joining Ainfluencer, you gain access to a wide range of brands actively seeking collaborations with influencers.
No matter if you are a micro-influencer and how many audiences you have, once you hit 5k followers, you can start influencer collaborations on Ainfluencer for free.
FAQs On How To Access And Use YouTube Audio Library
Up to here, we have talked about how to access audio library youtube tracks and download them to use for videos. Now, let's answer some of the most frequently asked questions.
1. Can I Use Music From The YouTube Audio Library In My Commercial Videos?
Yes, you can use music from the YouTube Audio Library in your commercial videos. The library offers a wide range of tracks that are free to use, even for commercial purposes. However, it's important to review the specific licensing requirements of each track, as some may require attribution or have certain usage restrictions.
2. How Do I Attribute Music From The YouTube Audio Library?
For tracks that require attribution, you can find the necessary information in the description or details section of the track. Typically, you need to include the artist's name and the track title in the video's credits or description. Make sure to follow the attribution guidelines provided to properly credit the artist for their work.
3. Can I Use The YouTube Audio Library For Non-YouTube Platforms?
While the YouTube Audio Library is primarily designed for YouTube creators, you can also use the music and sound effects from the library in other platforms, such as podcasts, websites, or social media videos. However, it's essential to review the terms of use for each track and ensure compliance with the licensing requirements for your specific platform.
Conclusion
To sum up, youtube audio library free download tool is a perfect option for influencers and content creators to explore and experiment with different audio elements without worrying about copyright restrictions or licensing fees.
The ability to search by instrument or keyword, as well as the option to filter tracks based on attribution requirements, gives users control and customization.
In this article, we showed you how to access and use this tool to grow your YouTbe channel and save money from downloading music.