When it comes to beauty, the internet is flooded with endless advice and product recommendations from various sources and beauty bloggers. But with so much information out there, it can be challenging to know who to trust.
That's when you need a trusted beauty influencer to check their recommendation before spending money on unnecessary products.
In this article, we'll introduce you to the top 15 beauty bloggers, who are making a significant impact on the industry with their creative content and expert knowledge. So, grab a cup of coffee and get ready to discover the best beauty bloggers that are worth following.
Top 15 Beauty Bloggers in 2023
With so many beauty bloggers out there, it can be overwhelming to know which ones to follow. In the following, we will introduce you to the best beauty bloggers to work with and follow in 2023.
1. Huda Kattan – 52.7M Followers on Instagram
If you are a fan of Huda beauty pallets, you need to know who is behind this high-quality brand. Huda Kattan is a makeup artist turned beauty influencer who is best known for her brilliant brand, Huda Beauty.
Huda launched her brand in 2013 with a range of false eyelashes and has since expanded to include a full range of makeup and skincare products.
Huda is also a popular YouTuber with 4.13M subscribers and social media personality. She shares makeup tutorials, product reviews, and lifestyle content on her channels.
2. James Charles – 21.7M Followers On Instagram
The young star, James Charles is a male makeup artist and beauty influencer who got famous on Instagram and YouTube. James has 23.8 subscribers on YouTube and has collaborated with brands like Morphe and Wet n Wild and has even released his own makeup palette with Morphe.
Many users know him for several controversies over the past years, including accusations of inappropriate behavior and racism. However, his personality is different from what the media shows you.
3. Bretman Rock – 18.7 Followers On Instagram
Looking for colorful makeup looks to get inspired? Bretman Rock is a beauty blogger and social media star known for his bold and unapologetic personality. He began his work on YouTube by creating simple makeup tutorials and vlogs and with each video, he gained more and more subscribers who eagerly awaited his next post. Now, he has 8.8M subscribers on YouTube.
Beyond makeup, Bretman is also an advocate for social justice and frequently speaks out on issues related to race and LGBTQ+ rights.
4. Nikkie de Jager – 17.8M Followers On Instagram
The most famous beauty blogger on YouTube is Nikkie. Nikkie de Jager, also known as NikkieTutorials, is a Dutch beauty influencer who gained a lot of popularity among her 14.1 subscribers after her "The Power Of Makeup" video on YouTube.
She has worked with famous brands such as Ofra Cosmetics and Maybelline and has also launched her own makeup brand called Nimya.
5. Jeffree Star – 13.9M Followers On Instagram
Almost everyone in the makeup industry is familiar with Jeffree Star and his dramas. This beauty influencer started his work on MySpace before using YouTube and Instagram.
He launched his own makeup brand, Jeffree Star Cosmetics in Nov 2014. The brand grabbed so much attention for its colorful products. Currently, this beauty blogger has 15.9M subscribers on Youtube.
6. Naomi Giannopoulos – 6.1M Followers on Instagram
If we want to say her real name, Vegas Nay or Noami Giannpoulos, is a beauty blogger and professional makeup artist. With her regular posts of makeup looks, beauty tips, and product recommendations, she has built her own community on Instagram.
7. Desi Perkins – 4.4M Followers On Instagram
With over 3M subscribers on YouTube, Desi Perkins is one of the most famous beauty bloggers. Desi's talent for creating classic makeup looks has led her to collaborate with major beauty brands such as Benefit Cosmetics and Quay Australia. She also launched her own eyewear line in collaboration with Quay Australia.
8. Manny MUA – 4.1M Followers on Instagram
If you are looking for creative makeup looks, this beauty blogger can help you with unique ideas to get inspired. Manny MUA, whose real name is Manuel Gutierrez, is a popular American beauty YouTuber with 4.86 subscribers. Manny started his YouTube channel in 2014 and quickly gained a large following by collaborating with brands such as Motphe and Maybelline.
Manny has also launched his own makeup brand, Lunar Beauty in Dec 2017.
9. Emily Weiss – 2.7M Followers on Instagram
Are you familiar with the Glossier Beauty Brand? Emily Weiss is an American entrepreneur and founder of the popular beauty brand Glossier. She began her career as a fashion assistant at Vogue and later worked as a beauty editor at Teen Vogue. In 2010, she started a beauty blog called Into The Gloss, which gained a large following and eventually led her to launch Glossier in 2014.
10. Tati Westbrook – 2.3M Followers on Instagram
Looking for beauty bloggers who review products honestly? Tati Westbrook, also known as "GlamLifeGuru," is a popular American beauty YouTuber with over 8M subscribers. She is known for her honest product reviews, makeup tutorials, and skincare routines. Tati's channel has been active since 2010 and you can always check before trying a new product.
Tati launched her own makeup brand, Tati Beauty, in 2019 and her first product was the Textured Neutrals eyeshadow palette.
11. Jackie Aina – 1.8M Followers on Instagram
If you use Anastasia Beverly Hills and Too Faced products, you probably know Jackie. Jackie Aina is a beauty influencer and YouTuber with over 3M subscribers on YouTube and is a famous face in the beauty industry.
13. Dulce Candy – 1M Followers On Instagram
The next beauty blogger we want to introduce you is a bit different from the previous ones. Dulce Candy is a beauty blogger, author, and military veteran. She started her YouTube channel while serving in Iraq, as a way to connect with her 2.1M subscribers and share her passion for makeup.
What makes her makeup looks popular is its simplicity and accessibility, making it easy for viewers to follow along
14. Katie Jane Hughes – 862K Followers on Instagram
Do you like minimalist makeup looks? Katie Jane Hughes has some of the best ideas. She is a makeup artist and beauty blogger that has worked with major fashion brands, including Tom Ford and Glossier.
In her tutorials, she focuses on enhancing natural beauty, rather than masking it with heavy makeup. Beyond makeup, Katie shares her journey for mental health and self-care with her followers.
15. Estée Lalonde – 676K Followers on Instagram
The famous star, Estée started her blog, Essie Button, in 2010, and quickly gained a noticeable following. Estée Lalonde is a Canadian blogger, YouTuber, and author living in London that is famous for her commitment to using cruelty-free and sustainable products. Currently, she gets 1.08M subscribers on YouTube.
How To Find Beauty Bloggers To Collaborate?
Collaborating with beauty bloggers and influencers can be a game-changer for brands looking to increase their reach and engagement. These bloggers have amassed a loyal following and can provide a platform for brands to showcase their products and services to a wider audience.
Partnering with bloggers also helps brands build trust and credibility with their target market, as bloggers have established themselves as experts in their niche.
Finding the right beauty blogger to collaborate with can be a challenge, however. With so many bloggers out there, it can be overwhelming to determine who is the best fit for your brand. That's where Ainfluencer comes in.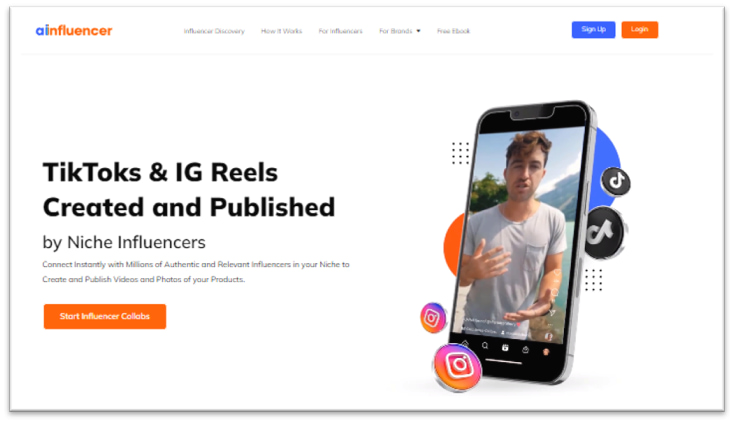 Ainfluencer is the ultimate influencer marketing platform for connecting beauty influencers with top-performing brands. With a user-friendly interface and a range of powerful tools, Ainfluencer makes it easy to find different types of influencers, run campaigns, and track your performance.
So, if you're a micro-influencer or a top-tier blogger, Ainfluencer has got you covered with influencers for every niche and budget.
Join Ainfluencer For Free Now!
Ready to take your brand to the next level? Sign up for Ainfluencer now and discover the power of influencer marketing.
FAQs
Now that know the top beauty bloggers to follow in 2023, let's answer some of the most frequently asked questions.
What Makes A Beauty Blogger Stand Out?
A beauty blogger who stands out is someone who is knowledgeable, creative, and authentic. They create informative and engaging content that resonates with their followers and keeps them coming back for more.
How Can I Start My Own Beauty Blog?
To start your own beauty blog, you need to first identify your niche and target audience. Next, create a website or blog and start creating content that is informative and engaging. Make sure to stay up-to-date on the latest beauty trends and products, and be consistent with your posting schedule.
How Do Beauty Bloggers Make Money?
Beauty influencers and bloggers make money through various avenues such as affiliate marketing, sponsored content, advertising, and product collaborations. They may also offer consulting services, create their own product lines, or earn revenue through their social media channels.
How Do I Know Which Beauty Bloggers To Follow?
To find the best beauty bloggers to follow, look for bloggers Consider your own preferences and beauty needs, and look for bloggers who align with your interests.
Can Beauty Bloggers Help Me with My Specific Beauty Concerns?
Yes, beauty influencers can be a great resource for specific beauty concerns. Many bloggers offer in-depth reviews and tutorials on skincare, makeup, and haircare products, and can provide personalized recommendations based on your unique needs.
Conclusion
The world of beauty blogging is constantly evolving, and these top 15 beauty bloggers in 2023 have proven themselves to be at the forefront of the industry. They've amassed a dedicated following by sharing their passion for beauty with informative and engaging content that has inspired many. We hope this guide has introduced you to some new and exciting bloggers to follow and helped you discover a world of beauty knowledge and inspiration.
Also, if you are a brand owner and are looking for beauty bloggers to collaborate with, we introduced you to a safe influencer marketing tool. So, what are you waiting for? Sign up for Ainfluencer today and take your brand to new heights with the power of influencer marketing.