There are many benefits to using a free influencer marketing platform for your business. The biggest advantage of using a free platform is, of course, that you'll get to keep your money to spend on influencer campaigns since you won't have to pay any platform usage fees. Furthermore, this allows you to save more of your total marketing budget.
Another benefit is that your ROI will be high using the cheapest influencer marketing platform. You can also use a self-service influencer marketing platform that lets you set a budget, add your content, and then have influencers share it with their followers.
This article provides a list of top free influencer marketing platforms that offer features for brands looking to leverage influencer marketing.
Top 25 Free Influencer Marketing Platforms to Promote Your Business
There are some free influencer marketing platforms available in 2022. These platforms offer a variety of features that can help businesses connect with influencers and promote their products or services.
Businesses can use these platforms to search for influencers by location, interests, or followers. They can also contact influencers directly and track their performance.
1. Ainfluencer- for Collaborating with influencers effortlessly
Ainfluencer is a groundbreaking DIY marketplace for Instagram influencer marketing that provides a 100% free, intelligent, and secure platform for brands and creators to connect and drive sales.
This innovative influencer marketing platform is designed to make the influencer marketplace accessible and hassle-free for businesses of all sizes, making it an excellent choice for small business owners.
With Ainfluencer's user-friendly interface, businesses and creators can easily establish trustworthy relationships and achieve their marketing goals without breaking the bank. Here are some compelling reasons why you should consider using this platform:
It's Fast
All you need to do is sign up and create an ad, which only takes a few minutes. Once your ad is ready, simply provide a few relevant keywords, and Ainfluencer will start displaying suitable influencers for you to collaborate with.
From there, you can start chatting with the influencers, working together on the ad, and promoting your product or service. Soon enough, offers will start rolling in, and you'll be on your way to a successful influencer marketing campaign.
It's Easy-to-use
There's no need for commitments or lengthy signups, and with Ainfluencer's easy-to-use interface and intelligent workflow, your work becomes a breeze.
It's Safe
Ainfluencer's payment escrow system ensures that funds are held until the campaign is completed as per the agreement. Brands can access comprehensive stats and information, including quality scores and suggested post prices, powered by AI and proprietary algorithms. This provides peace of mind for brands using the platform.
It's 100% Free
With Ainfluencer, there are no contracts or commitments for brands to worry about. Brands only need to pay the influencer's fee, and Ainfluencer generates a fee for each promotion, which is deducted from the influencer's payout.
It Delivers Superior ROI
By offering zero access fees and superior targeting, Ainfluencer delivers a remarkable ROI that can skyrocket to 5-8 times higher than traditional media buys.
It's Scalable
It enables you to optimize your workflow by collaborating with tens or even hundreds of micro-influencers efficiently.
This free influencer marketing platform lets the influencers explore different brands to collaborate with.
With the advent of DIY Marketplaces, one can conduct their own influencer marketing campaign for a reasonable amount of time and at a minimal cost. Ainfluencer provides a great example of such a process.
Additionally, you can use one of Ainfluencer's three pricing plans to let the marketplace handle the process for you.
2. Dovetale – for Efficient Influencer Campaign Management
When it comes to business these days, cultivating relationships with content creators and social media influencers is the key to success. Such influencers can create buzz around your products, add legitimacy to your brand, and lead to sales through a top influencer marketing platform.
Without the right tools, keeping track of every contact and sale can be challenging. Dovetale is Shopify's user management system that simplifies how you grow your affiliate network efficiently.
The starting point of a Dovetale campaign is researching your potential audience, as it is a self-service influencer marketing platform. It contains specific details about your social accounts and Instagram, for example.
In addition to following the number of followers and the engagement on your page, you can also keep track of your followers' gender, locations, and ages. Similarly, you can keep tabs on the same things for your competitors on social media.
Platforms Covered: Instagram, Twitter, Facebook, YouTube, Twitch, TikTok
3. trendHERO – for Unlocking Social Media Insights
As an influencer platform, trendHERO claims to provide deep insights into influencers and their audiences with its influencer audit tool. Additionally, there's the possibility to perform competitive research here, which makes this platform an excellent source for insights.
trendHERO is an Instagram influencer platform for discovering insights, so the interface isn't too hard to use. If you have lost, the dashboard makes all sections easy to find on the menu. Even if you find yourself at a point where you can't proceed anymore, getting stuck won't be challenging because you'll find assistance easily.
Platforms Covered: Instagram
4. Brybe – for Finding Affordable Freelancers
Brybe is an influencer marketing platform for creators where freelance creators from all over the world are free to sell their talents to other business owners, maximizing their time and output in ways never possible before.
Remote work is now the norm, and the future of work is uncertain, and that's why Brybe Marketplace is created as a platform that's available from any device, anywhere in the world, and that allows businesses and professionals to get the best work done faster while maintaining independence, freedom, and earning at their own pace.
Platforms Covered: Facebook, Instagram, YouTube, Twitter, and TikTok
5. Heepsy – for Streamlining Influencer Search and Analysis
Elevate your influencer marketing game with Heepsy's user-friendly platform that connects your brand with the perfect influencers. Explore millions of influencers worldwide and use its advanced tools to find the ideal match.
From Instagram to YouTube, TikTok to Twitch, this platform allows you to search for influencers based on various criteria like location, category, follower count, and engagement rate. Additionally, their influencer analytic reports provide comprehensive insights to enhance your campaign performance.
It enables you to evaluate their engagement, follower growth, and audience demographics. To protect your content, it's essential to investigate any influencer with suspicious follower numbers or abnormal growth in posts and other metrics. Consider how a similar post of your content might be received before committing to one influencer.
You can organize your favorite influencers in lists. Want to contact them? You can now download your lists to get contact info and all other influencer stats in one place. With a free trial available and monthly options to choose from, you can give Heepsy a try without investing a large sum of money upfront.
Platforms Covered: Instagram, YouTube, TikTok, and Twitch
6. ZINE- for Maximizing your Influencer Campaign
ZINE lets marketers take advantage of content marketing done by real influencers and lets marketers evaluate the success of influencer marketing campaigns. A complete influencer management platform providing solutions with its proprietary technology, including sourcing, vetting, contracting, content approval, reporting, and payment.
ZINE connects brands and agencies with the influencers who are right for them.
ZINE is an influencer marketing platform that's free and optimized. You can use it with minimal resources to find the best campaign content and strategize accordingly.
Some features include seeing influencers' contact information, demographics of audiences across all platforms, automatic payments for campaigns, and the option to use Instagram insights and stories for monitoring.
Platforms Covered: Twitter, Pinterest, RSS, YouTube, Instagram, Facebook, and Snap
7. Influence.co – for Discovering and Connecting with Influencers worldwide
Influencer.co is a social media influencer marketplace that helps connect influencers and brands to unite and share their work with the world.
Influencer.co is more than a marketplace—it's a community where influencers and brands can develop authentic relationships.
It is a platform that empowers the influencer industry by providing a free, open space for influencers to build their shows and find collaborations.
Platforms Covered: Instagram, Facebook, LinkedIn, Twitter, TikTok, and Pinterest
8. Klear – for Finding Twitter Influencers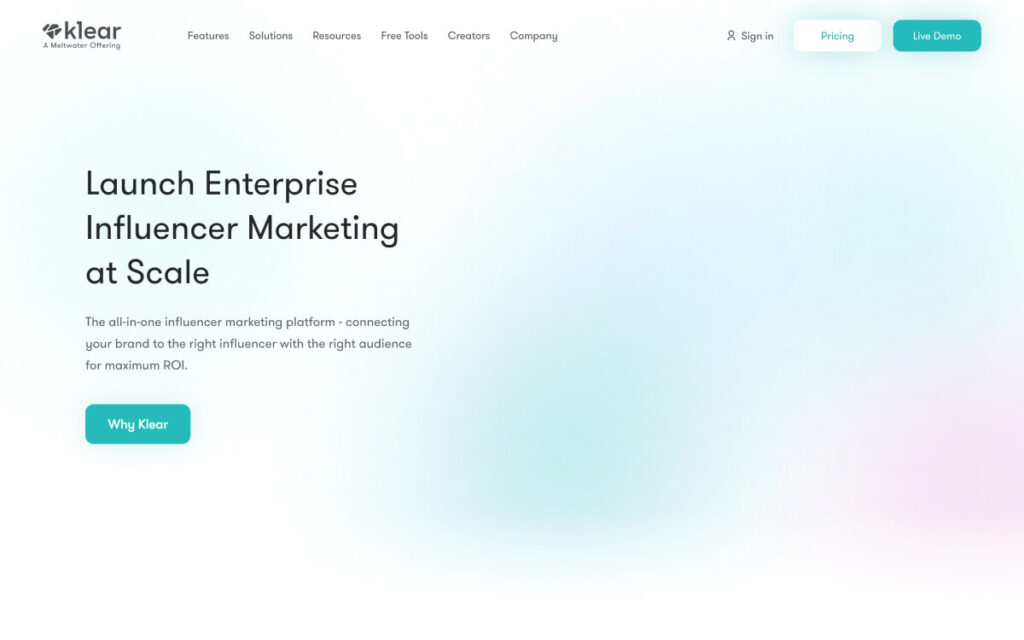 Klear is an influencer marketing platform that provides tools for finding and connecting with influencers on various social media platforms, including Instagram, YouTube, Twitter, and TikTok. The platform offers features such as influencer discovery, influencer relationship management, campaign management, and analytics.
With Klear, you can search for influencers based on various criteria such as location, interests, engagement rates, and more.
Additionally, you can track and analyze the performance of your influencer campaigns and gain valuable insights into your target audience. Klear also offers a free plan with basic features, as well as paid plans for businesses looking for more advanced features and support.
Platform Covered: Instagram, YouTube, Twitter, and TikTok
9. Gatsby – for Working like a Marketing Manager
Gatsby is a unique micro-influencer platform that empowers nano & micro-influencer marketers to grow their businesses quickly. With our modular and intuitive software, it is a fun process just to log in and see progress.
Automatic influencer CRM. Instantly manage your thousands of influencers and ambassadors without requiring manual effort by utilizing the fantastic automation features in Shopify, Klaviyo, Gorgias, and Yotpo.
Gatsby saves high-resolution versions of your Instagram feed posts that have been tagged with your brand. You can use this content to create stunning photo campaigns. This will add emphasis on the phrase in italics: Original
Platforms Covered: Instagram and TikTok
10. Scrunch – for Creators and Social Commerce
Scrunch is a marketing tool for brands who want to find the perfect influencer to represent them. It gives you insights based on what your target audience likes and finds interesting so you can work with the right type of influencers – making it easier to reach out and make connections.
Scrunch makes it easy to create promotions for a new product or to promote events. It's different from other marketing software because it includes the power of social media.
Platforms Covered: YouTube, Facebook, Twitter, and Instagram
11. SocialBook – for Growing Social Media Outreach
Finding the right influencers can help increase sales and deliver results. With SocialBook, you can search through a database of over 3 million influencers to find the ones who are most likely to have an impact on your audience.
The software also helps you verify that these influencers are legitimate before reaching out to them. Once you reach out, you can manage your campaign toward your key performance indicators, and the platform's payout system makes everything more manageable than ever before.
Platforms Covered: Instagram and YouTube
12. Paladin – for Influencer Discovery
Paladin is a top-rated influencer marketing platform that is trusted by customers in over 30 countries worldwide. They offer a comprehensive solution for influencer discovery, campaign management, and reporting, all in one easy-to-use platform.
This platform saves you valuable time by providing efficient tools for article rewriting. This article rewriter tool helps keep your content fresh by offering an effortless way to rewrite paragraphs and articles. The more people use this paraphrasing tool, the less effort they need to put into keeping their content updated and engaging.
Platforms Covered: Instagram, YouTube, Facebook, Twitter, Twitch, and TikTok.
13. impact.com – for Full Funnel Reporting
Managing multiple partnerships with different brands can be a daunting task, especially when launching a new product or making a significant marketing push. Today, companies face immense pressure to innovate faster and more efficiently than ever before.
This is where impact.com comes in. This platform helps businesses manage their partnerships effectively, streamlining the process and enabling companies to create unique experiences for their customers.
By leveraging our platform, businesses can create stronger relationships with their partners, resulting in happier customers and improved business outcomes.
Platforms Covered: Instagram, TikTok, YouTube, and Facebook.
14. Tribe – for Thriving Brand Communities
If you want to see a brand doing it right, this platform is definitely one to watch. While their website may resemble an Instagram feed featuring attractive young people living their best lives, it's actually a brilliant example of how social media and mobile apps can be used to deliver engaging content for brands.
It is an influencer search platform that connects brands with influencers. You can find popular content and the people behind it on our platform. Brands create campaigns on Tribe, get access to influencers' audiences, then check out their campaign reports.
Platforms Covered: TikTok and Instagram
15. Affable.Ai – for Measuring Influencer Campaign ROI
Affable.ai is a free influencer management platform for brands to manage their influencer marketing campaigns. It offers a search feature that helps brands find the right influencers for their marketing needs.
By searching through the platform's filters, you can get insights from influencers and learn about their social media history. The platform also gives you the ability to track your campaigns.
Platforms Covered: YouTube, Instagram, Facebook, TikTok, Twitter
16. Emplifi – for Social Marketing Leaders
Emplifi is a cohesive customer experience platform that integrates marketing, care, and commerce systems to help businesses close the gap between expectation and reality.
It includes a youtube influencer platform that provides brands with the tools necessary to establish relationships, deliver relevant content and adapt quickly in a changing social media environment.
Emplifi is a global company that has helped over 7,000 brands provide their customers with outstanding experiences at every touchpoint on their customer journey.
They do this by working to understand what drives purchase decisions in different countries and cultures so they can develop strategies for multinational companies looking to expand into new markets
Platforms Covered: YouTube
17. Tokfluence – for TikTok Influencer Search
If you want a simple yet complete way to manage your TikTok influence campaigns, Tokfluence is your free influencer marketing platform for this purpose.
With more than 20 search criteria, you can search, filter, and analyze influencers among 10M+ accounts. Plan and execute successful influence marketing campaigns.
Tokfluence has a huge influencer database (over 10 million profiles) and smart filters (Keywords, Hashtags, Mentions, Gender, etc.) to find influencers in your desired category.
Before working with an influencer, its audience analysis reports will provide you with all the details you need to verify him.
In addition to checking the demographics (country, age, gender), you can compare the performances with those of similar influencers. By analyzing the reachability of the audience, you can also verify that the influencer has real followers.
Platforms Covered: TikTok, Instagram, and Youtube
18. InfluenceGrid – for Discovering TikTok Influencers
InfluenceGrid is a TikTok influencer marketing platform that helps marketers reach out to top TikTok influencers and search for them. An excellent way to describe it is to serve as a search engine and database for influencers. For example, you search "English learning influencers," and Influence Grid returns some popular TikTokers in this category.
Furthermore, it shows how many followers each influencer has, their engagement rates, and other helpful information, including their country of origin, views, shares, likes, etc. Your next step is to decide which influencers to approach.
Platforms Covered: TikTok, Instagram, and YouTube
19. Fanpage Karma – for Social Media Benchmarking
Fanpage Karma is a social media management and analytics tool that allows agencies and managers to improve their social media profiles by engaging fans, analyzing competitors, and creating reports using just one tool. You can reach an expanding community through social networks, analyze their competitors, create reports with just a click using the latest data, and quickly respond to messages, comments, posts, and emails from an inbox manually and automatically.
It reveals the top topics and influential influencers in real-time by searching millions of posts on Facebook.
Platforms Covered: Facebook, Youtube, Instagram, Pinterest, and TikTok
20. HypeAuditor – for Benchmarking Competitors
HypeAuditor is primarily an all-in-one influencer marketing tool. But it has grown over the years to become a top-notch free influencer marketing platform with a focus on micro-influencers. It enables you to get the right influencers for your brand, find the ones that align most closely with your industry, values, and goals, or get analytics on how effective your affiliate strategy is.
The platform provides valuable insights into influencers, such as the size and quality of their audience. For example, you can compare the engagement rate and Audience Quality Score of different content creators when deciding whom to work with.
Platforms Covered: Instagram, YouTube, Twitter, TikTok, and Twitch.
21. Hubble – for Adding and Managing Influencers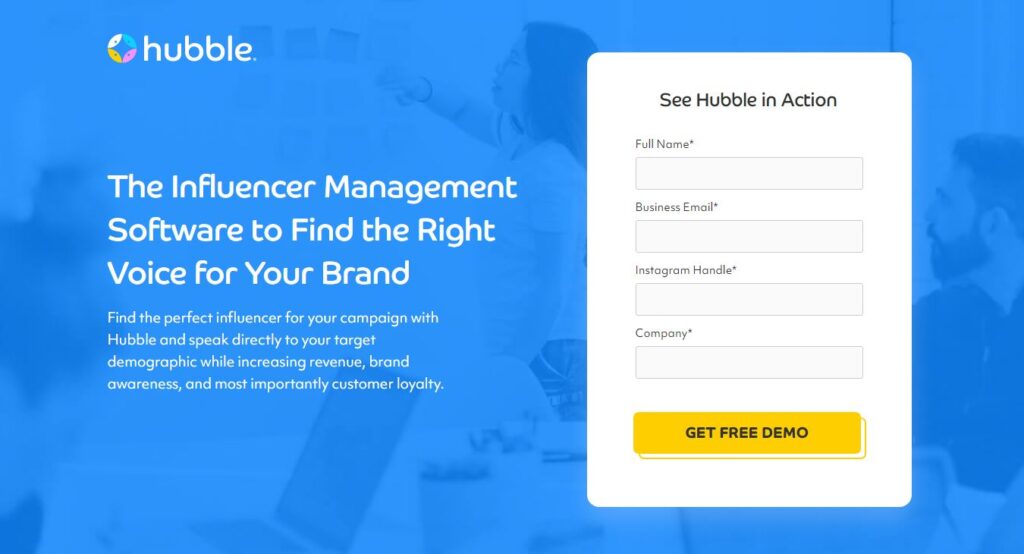 Hubble is one of the best free influencer marketing platforms that allow brands to find the perfect influencers for their campaign, speak directly to their target demographic, and create loyal customers.
It is a leading Influencer Marketing Platform for brands and agencies and drives influencer marketing campaigns with a 360-degree view of all influencers' content. It helps you identify and engage the right influencers for your campaign, manage communications, track your results, download user-generated content, and more.
Hubble has a growing database of hundreds of thousands of influencers tailored to customers' needs based on hashtag usage, bio descriptions, and engagement rate.
Platforms Covered: Instagram, Facebook, Twitter, and TikTok
22. Promoty – for Building Relationships with Influencers
Promoty is an influencer management solution for brands and agencies. It is the best platform for influencer marketing that empowers you to manage all your influencers, collaborations, and branded content in one place.
Additionally, you can discover Instagram and TikTok influencers worldwide by interests, audience, and other criteria—and see their detailed insights.
Platforms Covered: Instagram and TikTok
23. VoxFeed – for Collaborating with Artists on TikTok
VoxFeed is an innovative platform that enables artists to connect with fans and influencers to create buzz-worthy music content that can go viral on social media, including popular platforms like TikTok and other social media channels.
With VoxFeed, artists have the opportunity to leverage the power of user-generated content and collaborate with influencers to amplify their reach and exposure. By working together, artists and influencers can create engaging and authentic content that resonates with their target audience and ultimately drives more streams, downloads, and sales.
Platforms Covered: TikTok, Instagram, Facebook, YouTube, and Twitter.
24. Socxo – for Social Selling
Socxo is a 21-day free influencer marketing platform focusing on nano influencers that allows you to build a highly relevant, engaged, and dynamic community of followers.
By providing leads with exclusive access to the latest brand content and then tracking their responses, you boost your organic reach while also driving trust via peer-to-peer communication.
Additionally, as audiences are more receptive to the content shared by people they know and trust, you achieve additional brand visibility with your daily content.
Platforms Covered: LinkedIn, Facebook, and Twitter
25. Phlanx – for Measuring Instagram Engagement
Phlanx is an influencer marketing platform that helps PR professionals boost engagement rates across social media. Its features include an audience engagement calculator, which enables you to measure the reach of your influencers on Facebook, Instagram, Twitter, Twitch, and YouTube.
A free influencer marketing platform with a directory of influencers where you can maintain their profiles and generate contracts with them on a unified interface.
Platforms Covered: Instagram, Youtube, Tiktok, Facebook, Twitch and Twitter
You Might Also be Interested in: TikTok Influencer Marketing
Free Influencer Marketing Platforms: The Verdict
For many companies, influencer marketing is the equivalent of throwing money into a bottomless pit. There are many free influencer marketing platforms, but few are affordable for small businesses. With more affordable alternatives like this 25 listed, however, you can improve your ROI quickly with minimal risk of going over budget.