Influencer marketing has long been a focus for marketers and the influencers themselves, but this year, it will be more popular than ever. In 2022, brands will remain fiercely competitive to snag the most diverse Instagram influencers. It's already obvious that with that rush comes the need for the right tools to locate and vet new talent while needing to manage multiple campaigns and the people involved.
The importance of finding a decent Instagram influencer marketing platform becomes apparent. Despite this, if you're considering Instagram as your platform, simply looking for the "best" ones won't suffice. Getting a glimpse of luminaries on Instagram requires an Instagram influencer platform that excels at discovering them.
19 Best Instagram Influencer Marketing Platforms to Grow Your Brand Account on Instagram
The best Instagram influencer marketing platforms have many features and tools to help you find the right influencers for your marketing campaign. The best ones also make it easier for you to work with influencers, track their performance and measure the ROI of your campaign.
The following are the top Instagram influencer platforms.
Ainfluencer, The Best Instagram Influencer Marketing Platform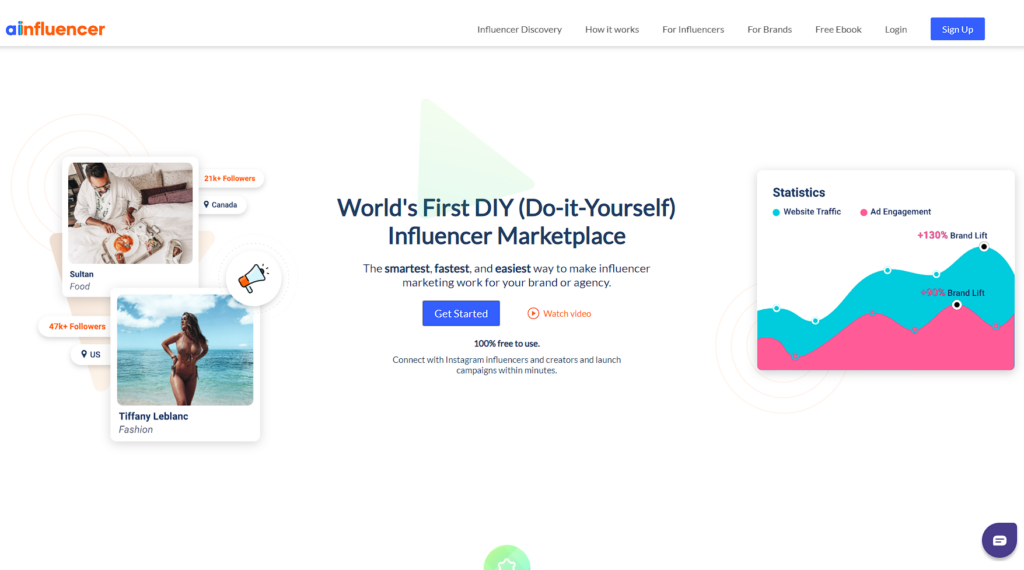 Ainfluencer is the first DIY platform for influencer marketing, specially built as an influencer platform for small businesses. You don't have to make any commitments, there are no hassles, and everything is super easy. And it's free to use!
Ainfluencer is an Instagram influencer platform for Influencer Marketing. It enables marketers to find, manage, and collaborate with influencers on Instagram.
To create your Instagram ad, first register for a free account and follow the instructions on the site to get started. You will be taken to an "Ad Details" page where you will upload a preview video, caption, and target audience.
There are a lot of "Instagram influencer marketing platforms" out there, but Ainfluencer is the favorite among brands and influencers.
Pricing: Great news! It's 100% free of charge, with no obligation to sign up for a contract. Brands only pay the influencer's fee, so influencers generate money from each promotion, and we deduct it from those people's payouts.
Takumi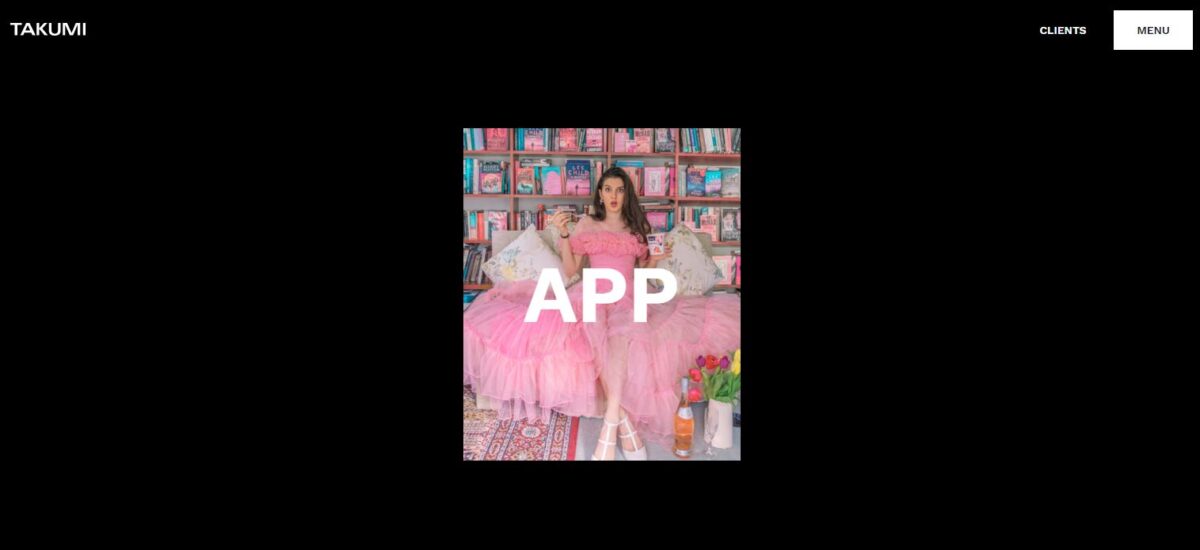 Takumi, a micro-influencer marketing platform, was established in early 2015 in response to a demand gap. 
At the time, businesses with deep pockets could easily locate and communicate with celebrities. However, there was no micro-influencer platform available to help businesses locate and connect with micro-influencers.
Takumi operates in the grey zone between the marketplace and managed service. When developing a campaign brief, brands specify what they desire, then decide whether to pay influencers at the end.
They maintain a database of thousands of properly screened influencers who have voluntarily signed up. They make certain that every person listed is a real influencer by using human vetting and ensuring that each influencer posts credible content.
Takumi is the best micro-influencer platform that only works with creators with vision and style. In addition, they ensure that every potential influencer is unlikely to damage any firm they work with. For instance, an influencer may be rejected for having an "ethical issue."
Covered Platforms: Instagram
Takumi breaks from the model of other self-service influencer marketing platforms by charging on a fee-per-service basis rather than a monthly subscription. Each campaign is priced based on the brand's needs, which Takumi can tailor to fit any budget.
Ifluenz
Ifluenz is the easiest way to create and manage product placement marketing campaigns on Instagram. 
Ifluenz is an Instagram influencer marketing platform that connects brands to Instagram influencers worldwide to create impactful influencer marketing campaigns.
Whether you would like to launch a new product line, increase your brand's popularity, or grow a community around your service, Ifluenz makes this possible.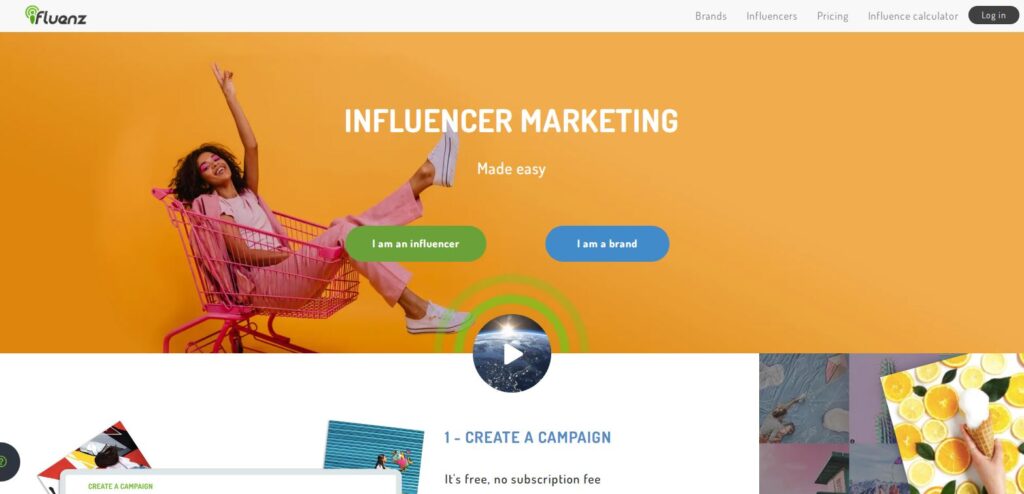 Covered Platforms: Instagram
Sign up for free, create a campaign brief, and pay only when you choose an Instagram influencer to work with.
Tribe
Speaking of companies that market their products effectively, Tribe rounds out our list as the best choice for companies looking for Instagram influencers.
Tribe is like an Instagram feed of hot, attractive youngsters. But behind it all lies the clever use of Tribe's mobile app to deliver engaging content for brands.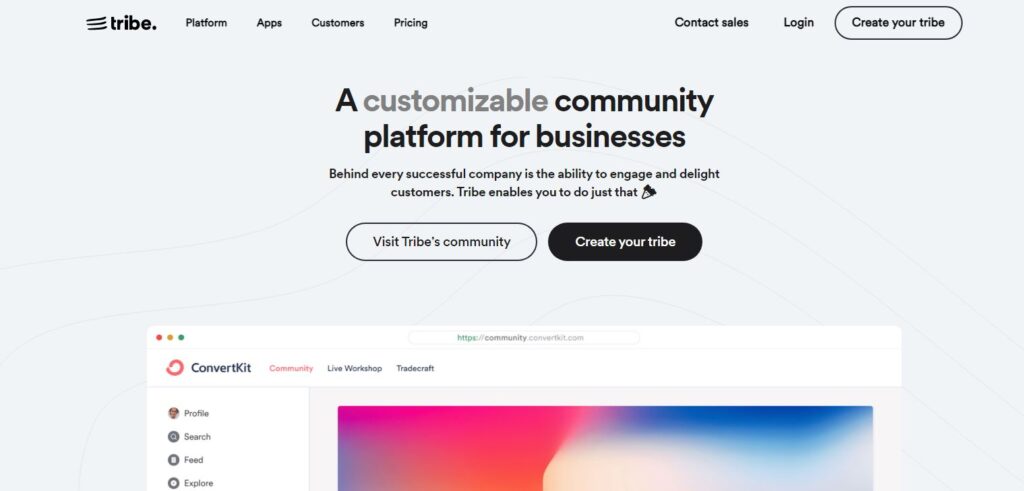 Covered Platforms: Instagram
Create your community, then pick out the
Free design for up to one hundred members. No credit score card is required.
It offers 3 pricing plans as below:
Plus: With $59/month, you'll get access to small business apps and tools. You can start for free.
With premium access, you will access premium brands and companies' apps and tools for $299 per month. For 14 days, you can try it out for free.
Advanced: $599/month gets you everything you need to provide a polished experience.
Enterprise: This service is ideal for large companies and industries with regulatory requirements.
Dovetale
Despite another Instagram influencer marketing platform being a fresh influencer discovery platform, Dovetale has been around for over a year and was created to help small businesses find the right influencers. Founders created Dovetale in response to their perception that traditional platforms targeted large businesses and were, therefore, out of reach for small ones.
Initially, founders thought Dovetale would be an end-to-end solution for influencer marketing, but they have since downplayed campaign management. Once you get your campaign going, you will have limited management options.
Before starting your marketing campaign, you should research your target market. You can gather important information from Dovetale about your social media accounts, particularly Instagram. You can track the number of followers, the amount of engagement, the gender, the location, and the age of those following you. You can also gather information about your competitors' social media accounts.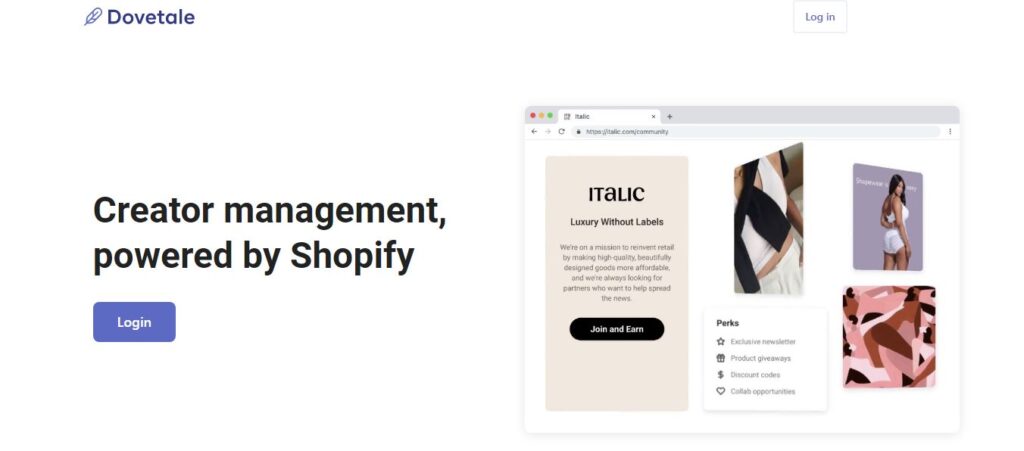 The platform excels when it comes to analytics. In addition, Domo can be connected to provide even more data analysis possibilities.
Covered Platforms: Instagram, Twitter, Facebook, YouTube, Twitch, TikTok
The Community package is free and lets you manage up to five Community members. You can include a custom sign-up page and a custom sign-up widget on your website to help prospective members join your Community. You can give unlimited gifts and create affiliate offers, and you can keep track of affiliate sales.
$50 per month for up to 50 community members (additional members cost $1 per member), and email support is included.
All of the above for 10 users and up to 500 Community members ($0.50 per additional member) is included in the Professional plan.
Julius
Thuzio, an online talent agency, turned into Julius for those who wanted to boost their earnings by growing. It is a fully-featured influencer discovery and influencer management platform.
Julius maintains a human-verified database of over 5000 fashion and lingerie influencers. Rather than using an algorithm, human researchers assess the credibility of each potential influencer. 
The opt-in database indicates that every individual you encounter was willing to participate in influencer marketing. Talent agencies partnered with Julius represent a large portion of the influencers.
It may appear simple to use and comprehend, but Julius has a sophisticated search engine. Lingerie brands can fine-tune your searches in many ways, despite its apparent simplicity. There are over 50 data points you can utilize to adjust your search.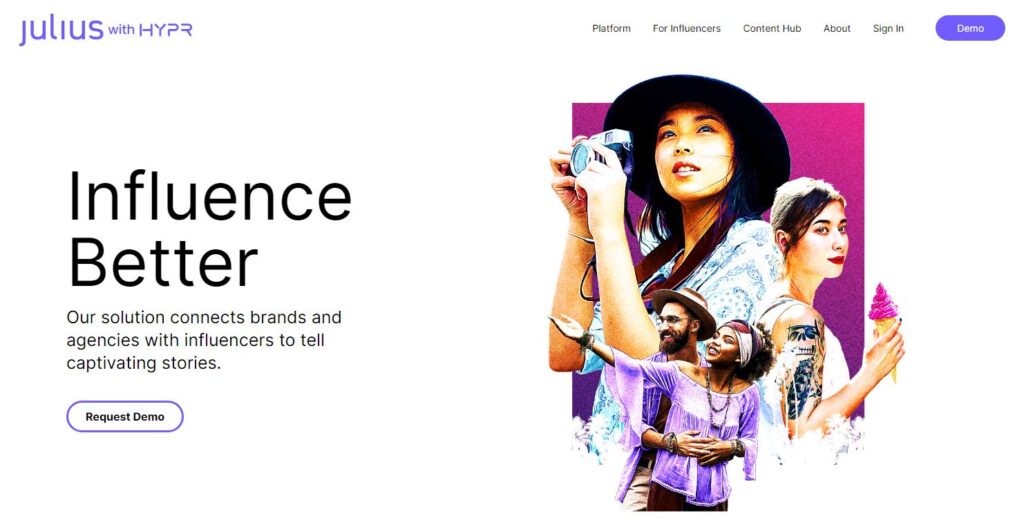 Covered Platforms: Instagram, Facebook, Twitter, YouTube, Pinterest, Twitch, TikTok, Snapchat
Unlike other search platforms, Julius is software-as-a-service and requires an annual payment rather than a monthly fee. The amount you will pay for Julius depends on how many people you want to use it. Because each case is unique, we cannot give you precise prices. The annual cost of Julius is comparable to other products.
No matter how many people use the platform, all subscriptions include complete access, unlimited messaging, custom influencer lists, and a dedicated and on-demand account manager for guidance/assistance.
Open Influence
Using OpenInfluence, you can discover and track the most effective influencers for your marketing initiatives. 
It's an influencer search and discovery platform that puts a lot of emphasis on visuals (for finding and planning campaigns). While there are decent campaign management tools on the higher-end plans, the real value here is found in the discovery tools.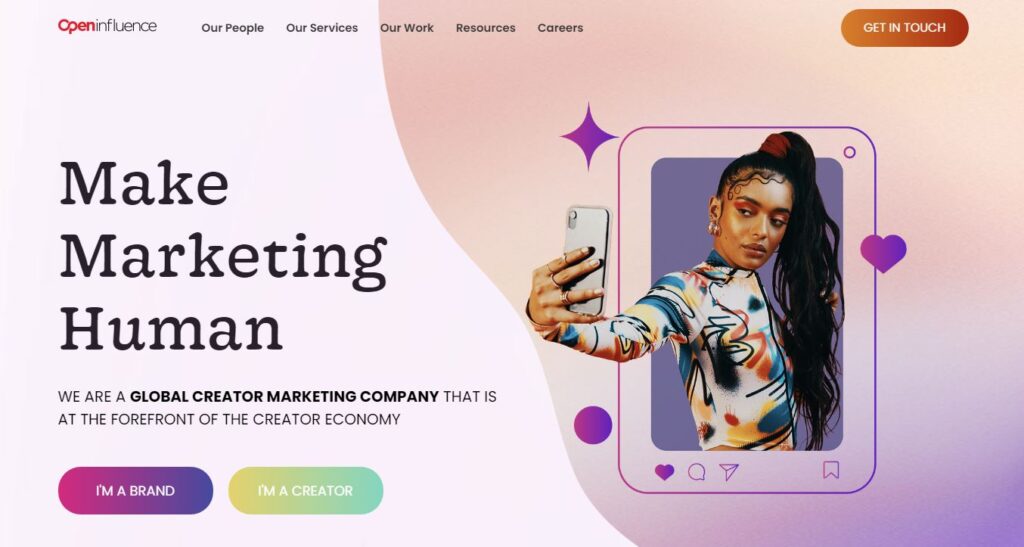 Covered Platforms: Instagram, Facebook, Twitter, YouTube, Pinterest, Snapchat, Blogs
On the lower end, you'll find two "small business" packages that appear reasonably priced but are, in actuality, overpriced because of what you receive:
With the Basic plan, you may conduct 50 searches per month, but you will only receive 20 results for each. You may only filter your search by influencer gender, follower count, hashtags, or locations, and you may organize up to 10 influencers into a list called "Favorites."
150 searches and 50 results are included with the Pro subscription ($100 per month). In addition, you get the same four filtering options and two lists of up to 25 influencers (per list). You also get a two-day free trial.
juulr
Businesses focusing on ROI improvement saw the greatest success using the best influencer marketing platform, Juulr.
Juulr offers a comprehensive solution for Influencer Marketing. It helps you manage and implement your Influencer Marketing ambitions more efficiently than ever before.
Businesses have been most satisfied with Influencer Marketing, Engagement and Follow-Up, and Media Relations as the use cases for Juulr.

Covered Platforms: Instagram, YouTube, Facebook
The pricing is not available to the public.
You need to request a demo session to discuss pricing based on your custom requests.
Influencerhub
Influencerhub claims the best platform for influencer marketing.
It is a top influencer marketing platform that helps brands find influencers and work with them to create meaningful relationships with target audiences. It helps you identify the best influencers for your brand based on their past results, using the latest trends and best practices in the industry.
It offers an extensive range of services, such as finding the most influential Instagram users, YouTube users, Facebook users, and influencers on other social media platforms and managing all steps of the campaign.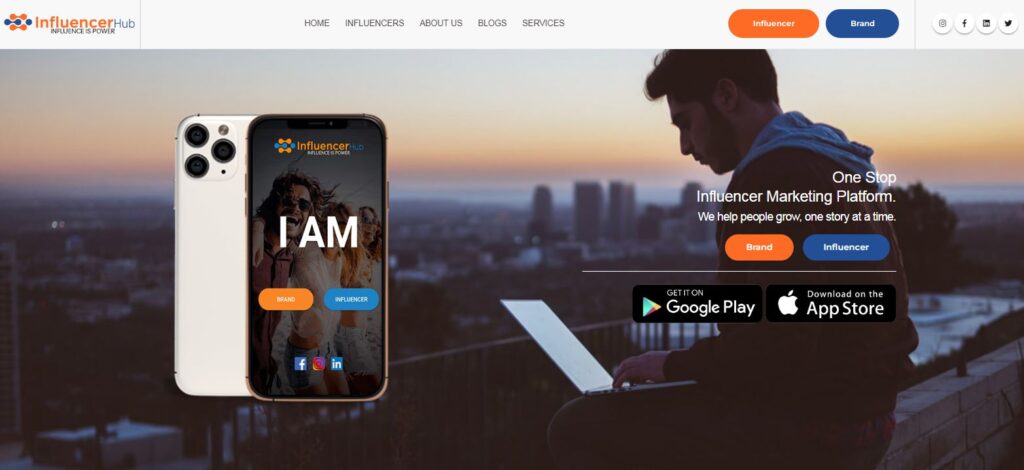 Covered Platforms: Instagram, YouTube, Facebook
Pricing: It is a free influencer marketing platform within the first year of use.
Heepsy
Heepsy is a top nano influencer marketing platform that gives brands and agencies access to millions of influencers, as well as a selection of tools that make it easier to find the right people for your social media campaigns.
Heepsy provides detailed analytics reports for each influencer, including engagement, follower growth, audience demographics, and authenticity.
Analyze the average number of likes and comments per post for each influencer you pick to work with. Using this information will assist you in determining how well the content created for your brand performs.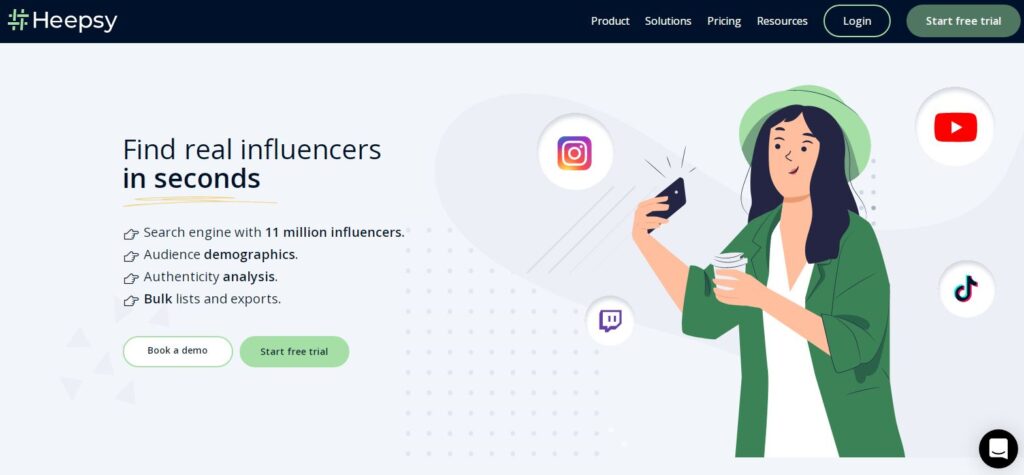 Covered Platforms: Instagram, YouTube, TikTok, and Twitch
Heepsy offers free signup and monthly plans, letting you test it before you commit to a long-term subscription.
Hypetap
The influencer marketing services offered by Hypetap allow brands to tell their story more elegantly.
An agency that balances aspects of marketing between conventional and disruptive approaches, Hypetap manages clients in their changing world. A brand can self-market with access to Hypetap's platform or rely on its influencer marketing process managed by the agency.
This platform provides a simple way to find all sorts of relevant influencers: people who are not simply accumulating a sizable following but who are making significant creative contributions as well.
There are less than 2,000 influencers in Hypetap's talent pool, one of the smallest we have seen. But this shouldn't be considered an obstacle. Influencers of Hypetap can only attend by invitation. When they're in the system, brands (or Hypetap's agency members) can quickly find their desired influencers without sifting through pages of profiles.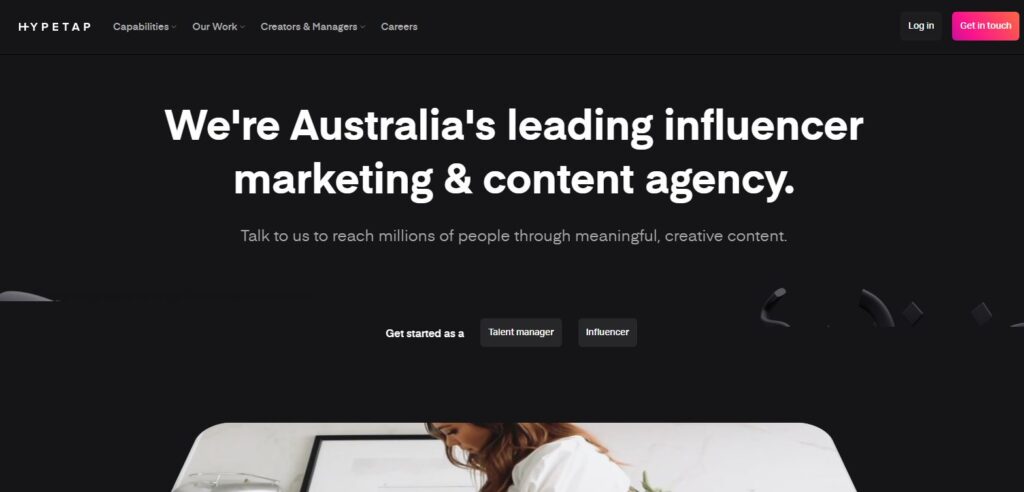 Pricing: Hypetap has not provided pricing information for this product or service. In the software and service industries, this is a common practice. To find out the current price, contact Hypetap.
T R I B E
TRIBE is a top influencer marketing platform that allows brands to increase their marketing efficiency with an annual subscription or pay-per-use. 
Creators can make money by creating branded content for the brands they already use and love.
Tribe allows you to go to market quickly, maximize ROI, save money, and drive action.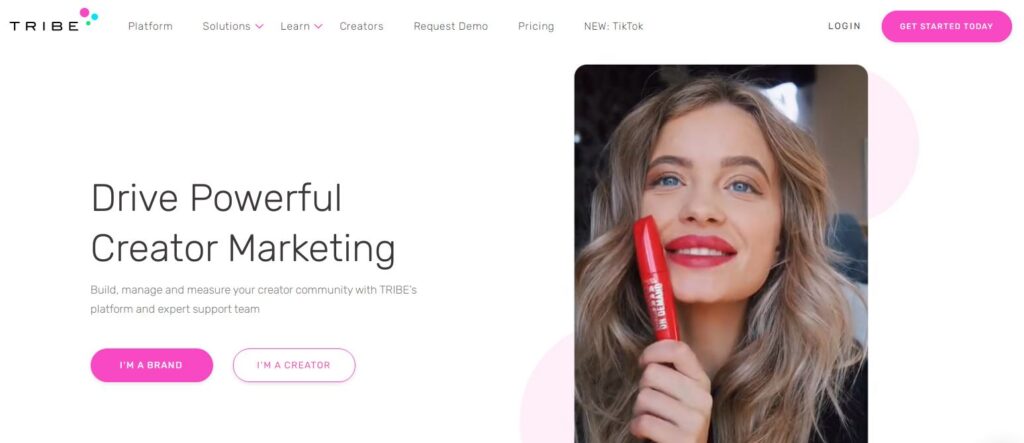 Covered Platforms: Instagram, Facebook, Twitter, and TikTok
It offers 4 pricing plans:
Pay-Per-Use includes 1 user, 3 campaigns a year, and a basic reporting suite.
Pro includes 1 user, 6 campaigns during a year, and an advanced report suite.
Teams plan enables you to give access to 5 users, 12 campaigns during a year, and an advanced report suite.
Enterprise offers 6+ users, Unlimited campaigns during a year, and an advanced report suite.
TapInfluence
Tapinfluence is an influencer marketing platform that has been around for a long time. Originally, it was intended to connect bloggers. To help businesses to receive a positive ROI on their investment, Tapinfluence changed course after noticing the reduced effectiveness of banner ads.
It continues to be one of the leading platforms for influencer marketing.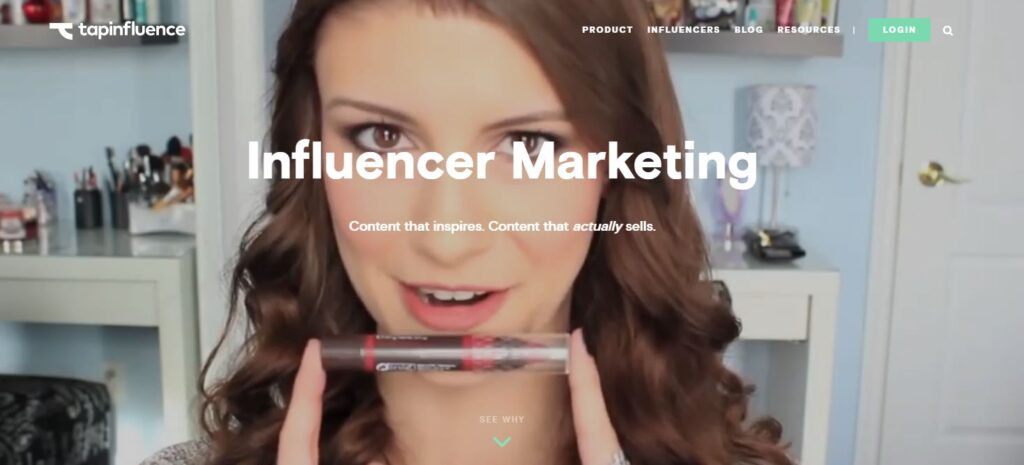 Covered Platforms: Facebook, Twitter, Instagram, Youtube, Pinterest, Blogs
Whatever you pay for, you get. A variety of service levels are available from TapInfluence, each tailored to a specific need.
TapExchange: Subscribers can access the platform through this self-serve plan. The price is not available on their website, but we asked them, which is $1999/mo.
Enterprise, custom pricing: TapInfluence Enterprise enables brands to work directly with the TapInfluence team to determine their marketing strategies, execute them, and find the right influencers.
Agency, custom pricing: Marketers who want to include influencer marketing in their services can work directly with TapInfluence. It shows how to pitch and win clients, how to calculate and achieve ROI goals, and how to scale their marketing efforts.
Neoreach
Leading brands entrust NeoReach with its provided outstanding influencer campaigns.
They work with influencers and help brands grow their business. Their activities have helped some of the most successful influencer campaigns in the market, and they are responsible for creating techniques for measuring success.
As an AI-powered influencer marketing platform, it offers various services, such as audience discovery and follow-up, campaign development and management, measurement, and reporting.
Their team is proactive and gets in touch with their customers. They ensure the customer's story is at the center of their brand's story.
Covered Platforms: Instagram, Facebook, Twitter, YouTube, Pinterest, Snapchat
Companies can choose from a variety of different package types. Specializing in marketing departments, NeoReach attracts large firms with notable market presence.
ReadyPulse (ExpertVoice)
If you are an industry professional or sales partner who people trust for advice, ReadyPulse is for you. Here, you can join a growing community of influencers who get exclusive access to products and brands you can't get from anywhere else.
ReadyPulse is an influencer platform aiming to make influencer marketing on-demand. It allows social media influencers to effectively find the world's most admired brands and connect them to their followers.
From devising a system that simulates virtual conversations across various social networks to enlisting celebrity advocates, brands, and personalities for shoppable accounts, ReadyPulse offers a toolbox full of the loudest voices and the hottest content in social.
The list of brands on ReadyPulse includes Over 500 of the world's leading brands, which all want to build relationships with influencers who people trust when it comes to advice about products influencers consider buying.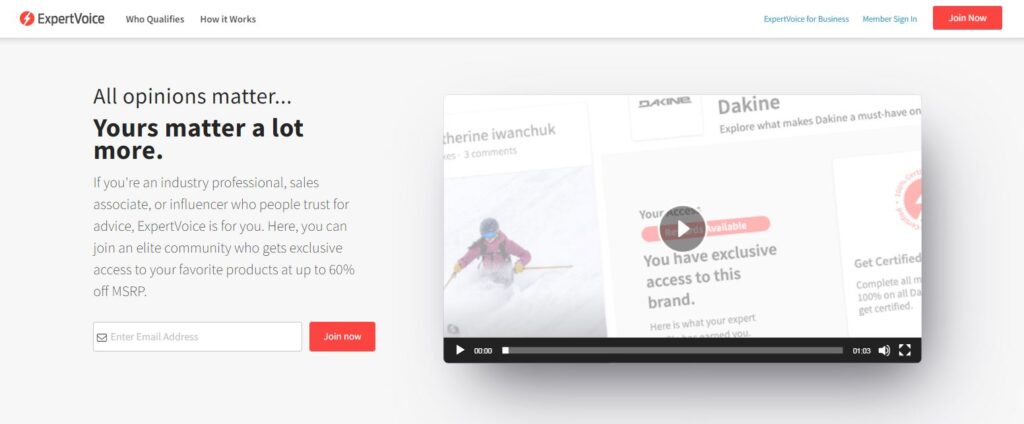 Covered Platforms: Instagram, Facebook, Twitter, YouTube, Pinterest, Snapchat
It is free to signup and use.
Shoutcart
Shoutcart is the best influencer marketing platform that takes most of the heavy lifting out of the process of getting shoutouts by connecting diverse brands into the same influencer ecosystem. i.e., mentions from influencers on the main social platforms you use.
It automates the viral sales outreach program, connecting you to people who represent specific audiences and industries, letting them view your white paper, and promoting your business accordingly.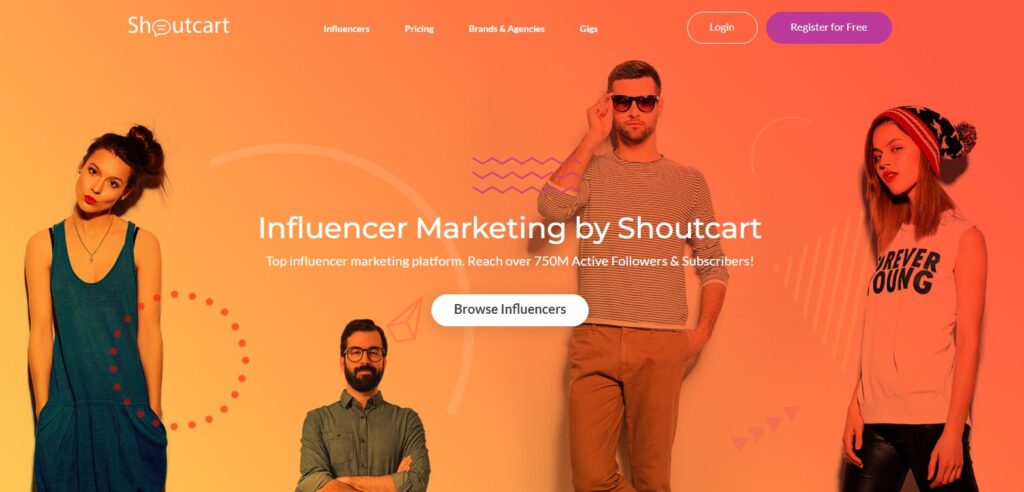 Covered Platforms: Instagram, YouTube, TikTok
You can instantly get connected with various kinds of influencers online by using Shoutcart. Shoutcart is free. However, you need to have at least $100 in your account before you try and engage influencers.
You only pay when you place an order with an influencer. The fee will depend not only on the content but also on the influencer, their Social Influence Score, and the type of shout behind them.
Strawberry Socials
Strawberry Socials is an existing influencer search platform that will search Instagram for you immediately after you execute the corresponding filters. Strawberry Socials examines hashtags and suggested profiles to find relevant creators 100x faster.
As part of an effort to analyze content publishers and suggestions on where to promote based on the number of influencers' followers, engagement rate, languages, and used keywords. it has an algorithm for finding content creators, particularly micro-influencers with less than 100k followers in specific geographical locations.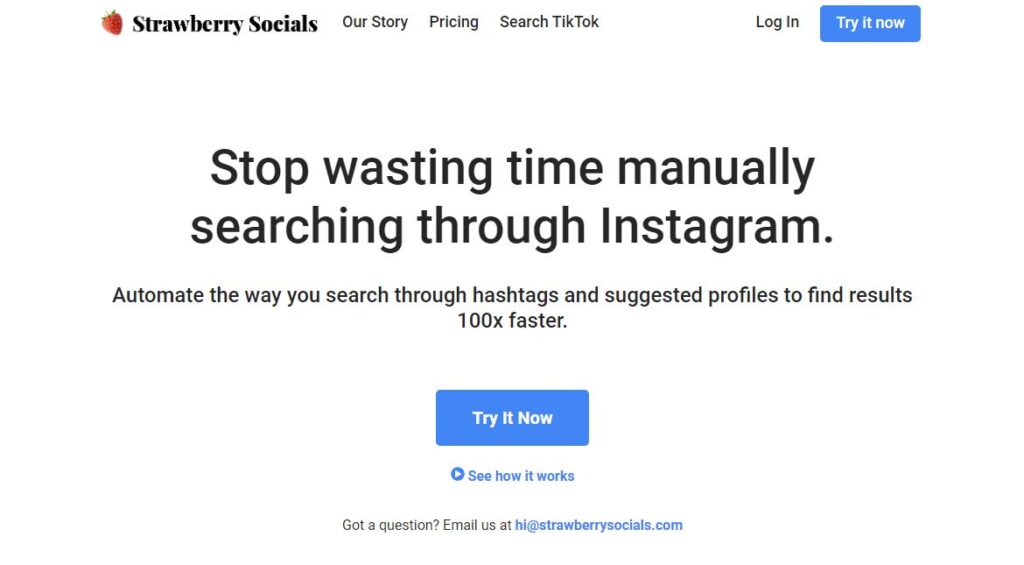 Covered Platforms: Instagram, TikTok
Your decision is risk-free with the first 30-day, 100% money-back guarantee.
If you bill your plan annually, you receive 30% off on your monthly payment.
They offer 3 plans as below:
Brand: You can search by hashtags or similar profiles, filter by location, and run one search at a time at $199/mo, billed Yearly.
Agency: You can search by hashtags or similar profiles, filter by location, schedule searches to run back-to-back, Filter for brands and businesses, and four times as many results at $349/mo, billed Yearly.
Platform: You can search by hashtags or similar profiles, filter by location, schedule searches to run back-to-back, filter for brands and businesses, unlimited contact exports, and ten times as many results at $699/mo, billed Yearly.
Influsoft
Your Instagram marketing strategy has never looked better. Stop juggling multiple tools and platforms – Influesoft is the end-to-end solution for Instagram influencer marketing.
Influsoft is an influencer marketing platform built from insights from one of the top influencer marketing agencies in the world.
When you're managing an influencer marketing campaign or one that is on the scale of multiple influencers and thousands of dollars, the last thing you want to feel is overwhelmed.
Using Influsoft, you can search through millions of influencers, refine and filter your searches based on more granular criteria, get a boatload of data about each person, and then create and organize lists of influencers you would like to work with.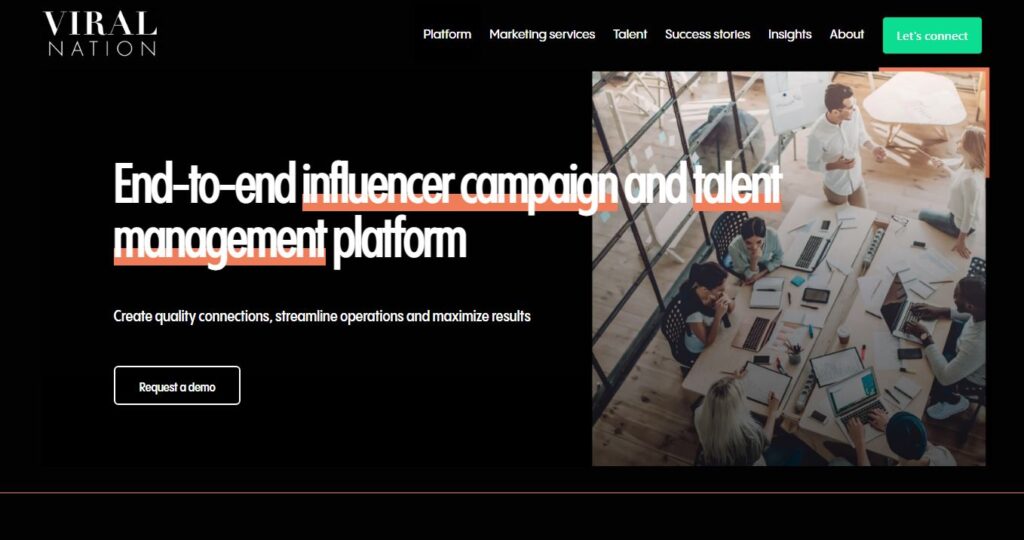 Covered Platforms: Instagram, Facebook, YouTube, Twitter, Twitch, and TikTok
Influsoft's prices are highly customized based on a brand's size, marketing needs, and other factors. But one thing is consistent across them: there are no plans within the budget for small companies. And that's great! Too many platforms step up their features as the service grows more popular and forces price stagnation. To fix this method, they try not to be all things to all companies — a feature-based approach — but rather to differentiate their offerings by focusing on enterprise solutions.
Prices range from $3k to $10k per month.
Klear
Klear is the best influencer analytics and campaign management platform that also offers search, targeting, and bidding tools that help advertisers deliver highly relevant messages to their consumers. 
The campaign features are adequate and a good bonus for small businesses; the data offered is so rich that large brands will still benefit, even using other tools.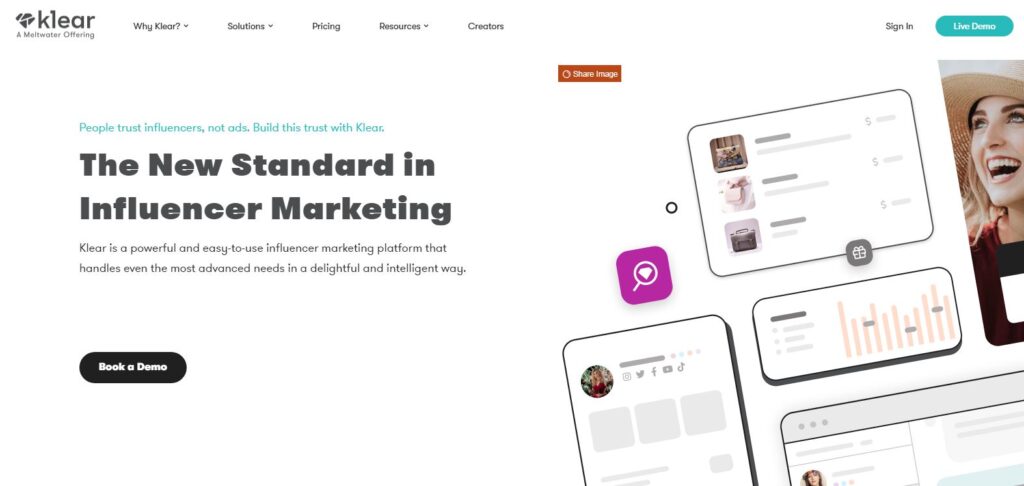 Covered Platforms: Instagram and Facebook
The monthly subscription fee is not made clear, so we'll have to assume it's somewhere in between Very Expensive and Suspiciously Cheap.
Klear offers market rates for startups that have less than 20 full-time employees and offers them a discount.
A Quick Review of Best Instagram Influencer Marketing Platforms
Influencer marketing is one of the fastest-growing marketing channels in the world. The trend has been steadily on the rise for a while now, and it is expected to continue to grow. In fact, by 2022, influencer marketing will be worth $10 billion. This is because of the power that influencers have over their audiences.
To choose the best Instagram influencer marketing platform in 2022, we need to consider factors like cost per engagement rate, the average number of followers per account, the number of influencers available on the platform, ROI, etc.