Have you been wondering what TikTok influencer marketing is and why you should use it?! You have to be living under a rock to not notice the incredible power that influencers hold right now!
Whether we like it or not, influencers have found immense popularity among their fans. And their opinion and influence have permeated our daily lives so much that it impacts every decision we make. Just think about it; you can't find one teenager who hasn't consulted their favorite influencer before buying their newest gadget.
In this atmosphere, you, alongside many other businesses and brands, can rely on influencer marketing to appeal to your target audience and raise brand awareness. And you won't have to worry about any part of the process since lots of influencer marketing platforms are out there to help you.
And one of the best of them which is free, is Ainfluencer. This influencer marketing platform helps you find influencers on both Instagram and TikTok. And it's very easy to use. So, what are you waiting for?
In this article, we're going to cover what influencer marketing on TikTok is, what the best practices are, and how you can use it to maximum effect. Let's get started, shall we?
Definition: What Is TikTok Influencer Marketing
It refers to the process of finding influencers on TikTok and collaborating with them to advertise and promote your product and services on the platform. Influencer marketing will leverage the efficient marketing power of social proof, brand awareness, and brand trust.
Let's take a close look at why TikTok marketing is the best choice for you:
Why Use TikTok for Influencer Marketing
TikTok is one of the social media platforms that has quickly become the most popular with a huge number of active users. As a result, it has also become a valuable tool for businesses, looking to reach a new audience and drive sales.
By partnering with the right TikTok influencers, you can promote your product, increase brand awareness, and connect with a highly engaged audience.
Moreover, it's one of the easiest social media platforms to crack since it has a unique, unrestrictive algorithm, unlike other social media like YouTube. While other social networks predict the content you may be interested in based on your followers, TikTok uses an interest graph, showing the content based on your interactions with other videos.
To wrap up, digital marketers often use TikTok for their marketing efforts because of the following reasons:
They can go viral with a small budget,
It has a simple algorithm, which allows more precise targeting,
TikTok influencers are credible and can therefore build audience trust.
Now, it's time to dive into the pros and cons to see if this type of marketing suits you!
Advantages of TikTok Influencer Marketing
There are several advantages to working with TikTok influencers for your business:
You can widen your audience base,
TikTok's 'For You' page is displayed first, and you get a chance to reach people when they open it,
Your ad performance can be tracked by TikTok Advertising,
You can easily engage with your audiences,
It helps you in eCommerce lead generation,
TikTok influencer marketing will boost your sales.
Disadvantages of TikTok Influencer Marketing
There are several forms of marketing, from traditional like guerilla marketing to digital like social media marketing. Yet, not all these various types can live up to your expectations and needs!
Here's why you might reconsider influencer marketing on TikTok:
Your target audience may not be on TikTok,
The short ads may not get your point across,
The platform has content format limitations,
Content creation is not so quick eventhough they are short videos,
Plus, standing out on TikTok may be a challenge.
Despite all of these pros and cons, TikTok influencer marketing can serve different businesses differently! So, no one can tell if it will work well for your audience or not. Make sure to consider your own brand and make the final decision accordingly!
If you'd like to go with this type of marketing, go ahead and read how the process goes!
How Does TikTok Influencer Marketing Work
It's worth mentioning that the idea of becoming a new influencer on any social media platform to promote your products is a daunting task. Although you may have an account for posting ads and branded content, it would not be enough to generate user engagement.
So, it's better to use an influencer to generate sales. And TikTok influencers hold unparalleled levels of control and power over their target audience in a niche. Now, let's look at the steps we need to take for influencer marketing on TikTok: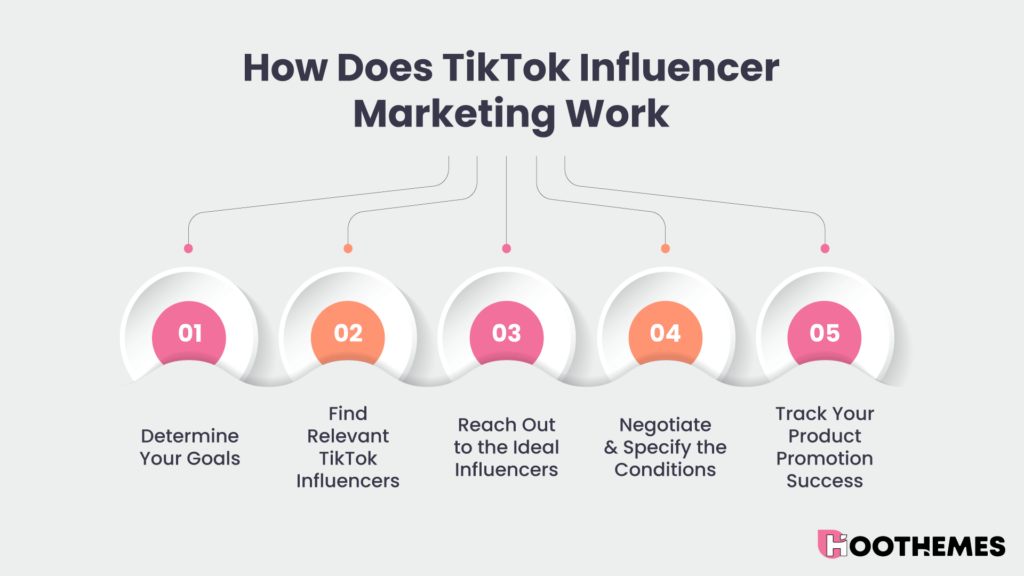 And here's a simple guide to the seemingly complicated process of TikTok influencer marketing:
1. Determine Your Goals
We, as human beings, never do things without a goal in mind! Why would you work out if you didn't have a clear objective in mind?! Why would you start a business if you couldn't defend why you were doing it?!
After all, It is the incentive that tells us what we need in our journey, how we can push toward the end, and how we could make success possible. Specifying clear-cut goals and objectives is as important when it comes to influencer marketing!
Here are some brand goals regardless of which platform you're targeting:
Build brand awareness,
Increase your follower count,
Generate user engagement for your content,
Boost sales,
Or, drive traffic to your website or blog.
2. Find Relevant TikTok Influencers
The first step for the TikTok influencer marketing process is finding the right and relevant influencers based on your business niche and target audience.
If you're wondering how to find TikTok influencers, worry not! Here's how to discover the relevant influencer for your brand:
a. Consider the influencer's audience demographics and your own target market,
b. Determine your business niche,
c. Search and find suitable influencers through influencer marketing tools.
Keep in mind that bloggers who have large follower counts don't necessarily have a strong influence over their followers. You must monitor their followers' likes and comments on each post to see the engagement. In some cases, finding an influencer with fewer followers, but a higher engagement rate is much better for running the campaign and increasing sales.
Now for discovering influencers, you can use hashtags that are relevant to your business and list and contact them. However, it's so time-consuming to manually search and find the right TikTok influencers for your brand. But, the next item is going to make everything easier for you.
3. Use Influencer Marketing Platforms
TikTok influencer marketing platforms can make the whole process of social media marketing a lot easier. You can search, find, and make deals with influencers under the same roof.
One of the best influencer marketing platforms to start your marketing journey is Ainfluencer.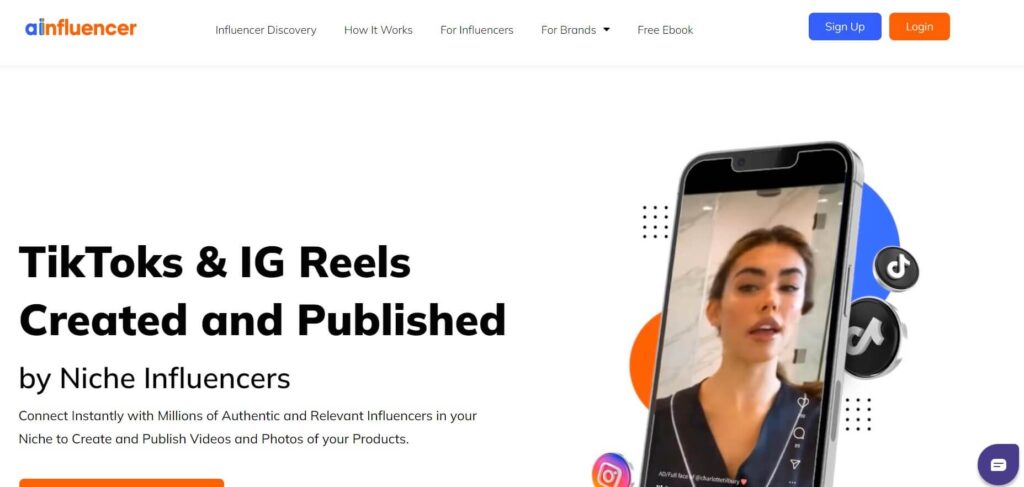 Ainfluencer is primarily used for Instagram influencers. Yet since most Instagram influencers work both on Instagram and TikTok, you can use this tool to filter and find influencers you can contact and specify you'd like the content on TikTok. That's the most efficient approach to this step of the process!
And the best news is that Ainfluencer is totally free!
4. Reach Out to the Ideal Influencers & Negotiate with Them!
The 3rd step includes reaching out and starting the collab. You can contact them via email, or their social media account and start the conversation. What should you include in your negotiations, though?! Here are a couple of ideas for what to share:
Every detail of the deal, including your objective and the product you'd like them to promote,
What type of content you'd like them to create and share,
When the post needs to go live on TikTok,
And last but not least, the clear payment process, including how much money you're willing to pay and how you will pay it.
Although some might think that reaching out directly will save time and money because they've cut out the middlemen, it doesn't always work well. You may ask why?! Well, the answer lies in a couple of questions: Do you know whether these influencers' followers are real users? Are you sure the influencer will publish the post after receiving the payment?
That's why using marketing tools like Ainfluencer is crucial for eliminating all risks involved in the payment process. On Ainfluencer, brands can't finalize any deals before charging their wallet with the fee. And the influencer will only receive the payment once they have published the content based on the preset terms and conditions!
So, influencer marketing tools can simplify the negotiation and payment process!
4. Track Your Product Promotion Success
Tracking the results is an important part of any marketing effort. You must go back to your goals, and monitor how the campaign performed in terms of how close it could get you to them from TikTok analytics. Answering the following questions will help you determine your success:
Have you experienced any increase in sales or the number of sign-ups?
Have you seen an improvement in your page rankings?
Do you have more followers?
Best TikTok Influencer Marketing Strategies to Expand Your Business
Remember that, influencer marketing on TikTok or any other social media platform is an ongoing process. So, you need to monitor and track your influencers' performance and adjust your marketing strategies accordingly. Moreover, you must have clear metrics and set your business goals to measure their success.
It's worth saying that you can find the best TikTok influencer marketing strategy for your product based on TikTok trends, your business niches, and especially your budget. In this section, we are going to talk about the best niches for influencer marketing on TikTok. Ready for a ride?! let's go.
Go For Popular Niches on TikTok
There are several niches that may be more relevant to TikTok influencers:
1. Fashion and beauty:
TikTok influencers can showcase their outfits and make-up looks to promote cosmetic products, clothing, and accessories.
2. Food and cooking:
Business owners can ask food bloggers or cooking influencers to promote their cookware, kitchen gadgets, and products in various recipes and cooking content on TikTok.
3. Fitness and wellness:
Fitness influencers can post wellness content to promote healthy food products, workout equipment, workout gear, and even supplements.
4. Home Design and DIY:
By working with influencers who focus on home renovation, decoration, and DIY projects, brands can promote home decor and DIY products.
5. Travel and outdoors:
TikTok is an amazing platform to increase sales for travel gear, outdoor equipment, and adventure tourism.
6. Technology and Gadgets:
TikTok can be a great way to showcase technology and gadgets in an engaging and creative way. Influencers can showcase the features and capabilities of the latest gadgets, and how they can be used in real-life scenarios.
It's important to note that TikTok's audience is diverse and its content is diverse as well, so influencer marketing on TikTok can be relevant to any niche!
Use TikTok Influencers for Shopify Owners
By partnering with the right TikTok influencers, Shopify store owners can also increase brand awareness and connect with a highly engaged audience. Let's take a look at its pros and cons:
Working with TikTok Influencers for Shopify: Advantages
You can reach a wider audience compared to traditional methods,
TikTok influencers can build trust with audiences to boost sales,
The influencers can build credibility for your brand if they are experts on your special niche,
It's a cost-effective method of marketing,
You can boost brand awareness,
TikTok's algorithm prioritizes content that can lead to increased engagement for your brand,
The majority of TikTok users are young adults, which means TikTok is excellent if you'd like to reach that demographic,
Using TikTok influencer marketing will drive more traffic to your Shopify store and boost sales.
Working with TikTok Influencers for Shopify: Disadvantages
It's challenging to measure the effectiveness of TikTok influencer marketing campaign performance,
It's hard to identify influencers with fake followers,
You will have limited control over the influencers' content,
Some influencers charge a considerable sum for a single post,
TikTok has an uncertain future, as it is subject to policy changes,
TikTok has limited audience targeting compared to other platforms like FaceBook and Instagram,
TikTok analytics are limited to tracking the performance of business campaigns.
TikTok Influencer Marketing FAQs
Below, you'll read our own tally of some frequently asked questions in this regard.
1. How to Find TikTok Influencers?
Here are popular methods for finding influencers and tapping into your partnership:
Google search (traditional method): You can type your topics and relevant hashtags on Google. For example, typing 'best beauty TikTok influencers' can help you find the most popular ones.
Using Hashtags: If you find the relevant hashtags, you can click on them to see TikTok trending videos in that category. Then you can follow the hashtags, and TikTok will show relevant content on the ' For You' page.
TikTok creator marketplace: It is a type of analytics tool that can provide you with an influencer's engagement, reach, views, and demographics. You have to create an account on TikTok and search for influencers directly.
Other social media platforms: The majority of influencers have multiple social media accounts. So, you can try searching for influencers on Instagram even if you'd like to create content on TikTok.
Influencer marketing Platforms: With the help of influencer marketing platforms like Ainfluencer, you can easily find relevant bloggers, negotiate with them, and make the deal happen!
2. Instagram vs. TikTok Influencer Marketing: Which One Is Better?
Here is a comparison chart between TikTok and Instagram marketing: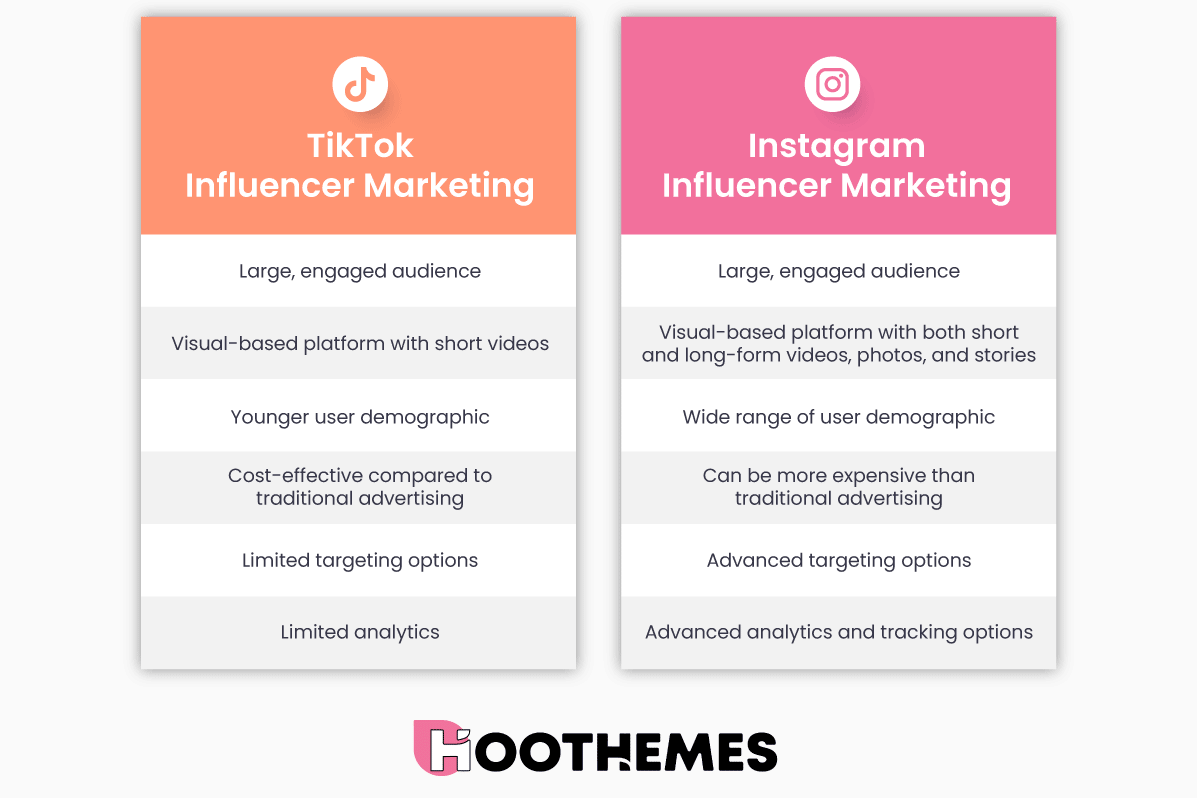 Both Instagram and TikTok are popular social media platforms that are used for marketing products and services since they have a growing audience. But it's important to consider your target audience and niche before choosing between TikTok and Instagram for influencer marketing.
3. Who Is TikTok's Target Audience?
According to statistics, 52.83% of TikTok creators are young people, from 18 to 24 years old. Adults younger than 18 make up a lower percentage (24.47%).
Wrap-Up
TikTok has millions of active users all over the world, so it's one of the best marketing platforms. Since it has a simple algorithm and provides you with a huge potential customer base, TikTok influencer marketing can be the best strategy for promoting your products and increasing sales.
After finding the right influencers that match your niche and brand objectives, you must check their authenticity. It's so difficult to identify genuine influencers. Plus, you don't have any control over the content they create. So, we recommend using Ainfluencer to address these issues risk-free.