If you're looking to make a mark as an Instagram influencer or a business leader, social media is your go-to tool for connecting with potential customers anytime, anywhere. One of the pioneers in addressing this specific need is Linktree.
Having only a single link at your disposal limits your ability to expand your social media presence and establish meaningful connections beyond a single platform. That's where a multi-link solution, like a micro landing page, comes into play. And let me tell you, it has become a game-changer in influencer marketing efforts.
While Linktree may be a top-notch tool for optimizing the links in your Instagram bio, guess what? There's a whole bunch of other brilliant companies out there who've cracked the code too!
Get ready, because in this article, we're about to reveal the absolute best Linktree alternatives. These gems will empower you to insert an unlimited number of links into your Instagram profile. Say farewell to link restrictions and get ready to supercharge your Instagram game like never before!
Now let's get started…
What Is Linktree
According to the Instagram algorithm, you have limited options when it comes to sharing links. You're stuck with just one link. Initially, its primary objective was to offer a solution for sharing multiple links, but it has since broadened its scope to incorporate analytics, third-party integrations, and the ability to collect payments.
Linktree is the original bio link tool that introduced the idea of a simple and user-friendly landing page builder for social media. It is designed for musicians and social media influencers who want to promote a single product, book, or new album with ease.
Using Linktree's drag-and-drop interface can significantly save time compared to building a customized link page from the ground up on your own website.
However, what if you desire more features? What if you wish to share various types of content besides just links? In this case, it might be more practical to explore alternative tools for linking in your bio that provide additional functionalities at a similar cost.
Why We Need Alternatives to Linktree
Now, let's take a look at some downsides that might push you toward other tools:
One limitation of Linktree is the inability to create a custom domain for your link page, as all profiles start with "link.tree" in the URL, which may not align with your branding.
If your goal is to grow your main website, it's more beneficial to redirect traffic there and link your social media handles from a custom landing page instead of using multi-link tools like Linktree.
To assist you in maximizing your single link and accessing other exciting features, here are the top 10 Linktree alternatives.
Ready?! 😉
Best 10 Alternatives for Linktree
If you're seeking Linktree alternatives, it's likely that you want a straightforward way to showcase your various links on a landing page within your TikTok, Instagram, and other social media bios, right?
1. Beacons: Top Linktree Alternative
Looking for a Linktree alternative to level up your link-in-bio game? Beacons claims that can help you out! This company has been on a roll since scoring some major funding in 2021, attracting a slew of big-name influencers and brands to its platform. With Beacons, creating a centralized hub for all your important links is a breeze, whether they lead to your website, social media profiles, or online store.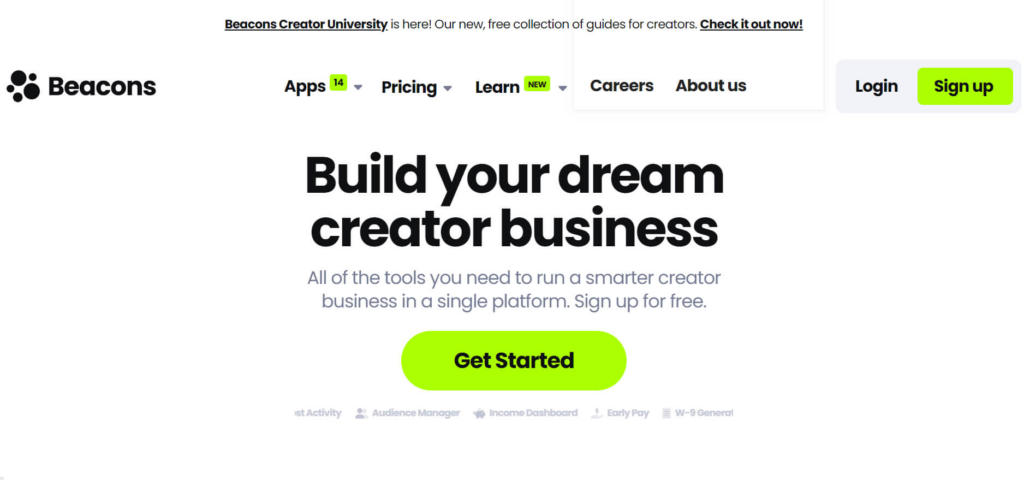 This nifty tool lets you go wild with customization, allowing you to jazz up your fonts, templates, and links with captivating call-to-actions. Say goodbye to boring bios and hello to a powerful marketing tool right at your fingertips.
What's more, Beacons comes equipped with a handy link tracking feature, giving you insights into which links are getting the most attention.
2. Campsite.bio: Well.known Link-In-Bio Tool
Campsite.bio is a preferred platform for numerous prominent organizations, such as Dell, Georgetown University, and Orangetheory Fitness. It offers several notable features, including the ability to customize your page's branding to match your brand's identity by modifying the logo, background image, and link colors.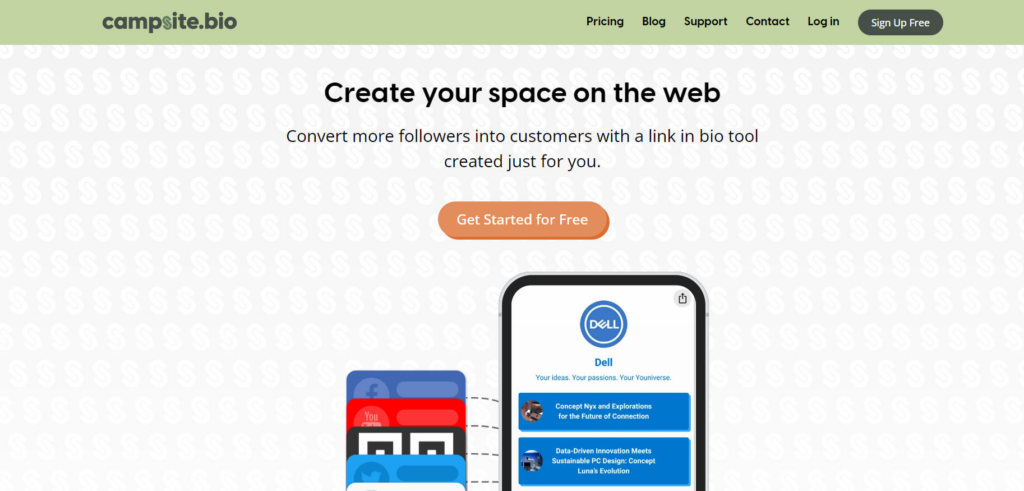 Additionally, Campsite.bio provides analytics functionality that allows users to monitor the performance of each link through a range of tracked statistics, enabling better insights and decision-making.
3. Lnk.Bio: An Alternative to Linktree

Lnk.Bio is a simpler and more appropriate option for brands focused on increasing website visits rather than making direct sales. Lnk.Bio allows you to maximize the potential of your TikTok, YouTube, and Instagram bio links by incorporating multiple links.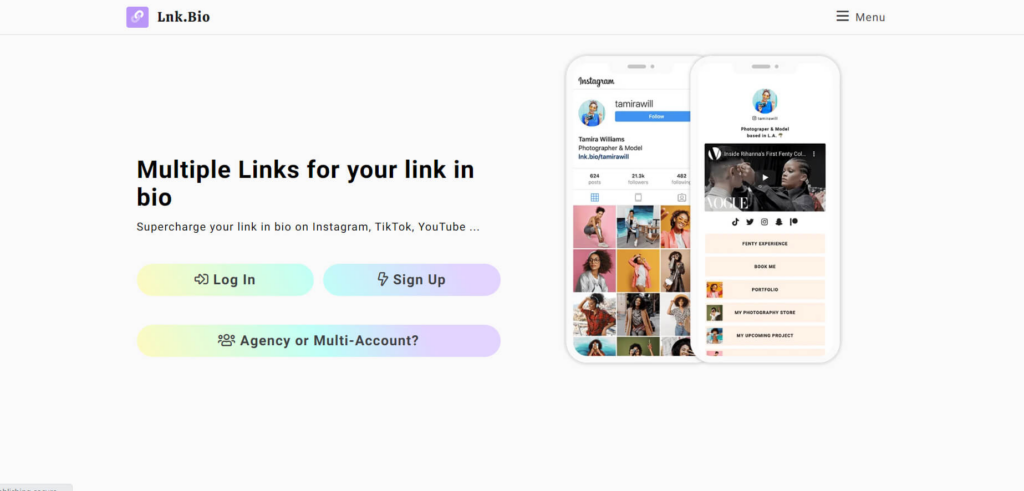 4. Tap Bio: Alternative for Linktree
Tap Bio is a highly regarded resource that has earned the trust and admiration of renowned international companies such as Fender and Bing, as well as acclaimed individuals like Rhett Miller. It serves as an excellent option for creators, influencers, and businesses aiming to engage with their Instagram followers, offering a compelling alternative to Linktree.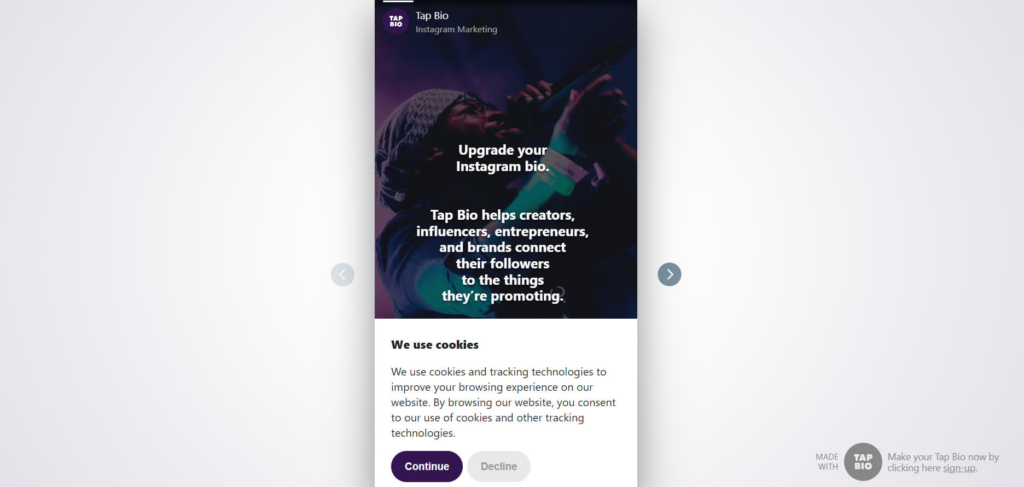 Get ready to level up your Instagram game with its awesome card design, specially crafted to resemble Instagram stories.
The best part?
You have the power to add cards whenever and however you want! But that's not all. They have elevated our efforts toby providing detailed stats for each card. Now you can dive into the details and explore the views, plays, and signups of your individual cards.
5. ShortStack: Linktree Alternative
With ShortStack, you can go beyond creating landing pages and mini websites; it empowers you to share coupon codes, gathers user-generated content (UGC), and even host exciting online contests like hashtag giveaways.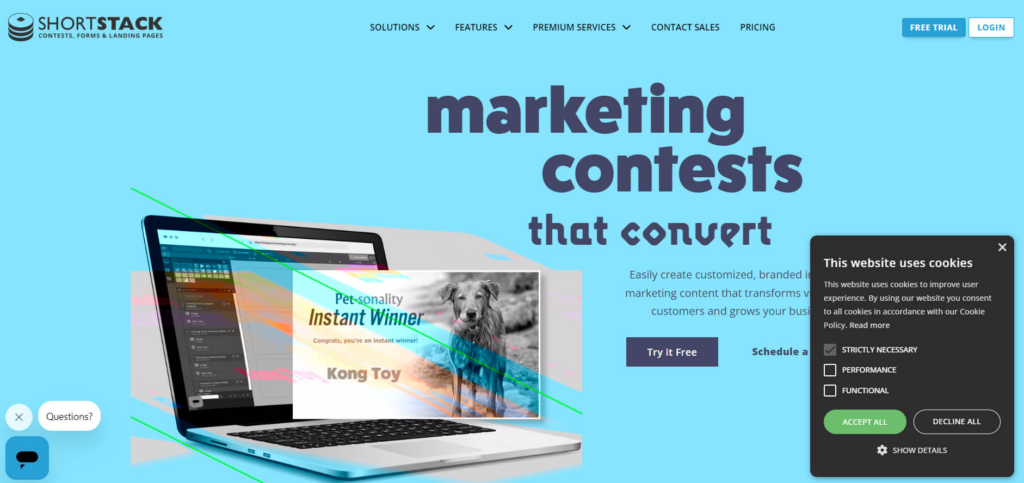 If you've ever considered leveraging contests to boost Instagram engagement, ShortStack is a must-see. In fact, a savvy marketing company employed ShortStack to seamlessly guide their Instagram followers to a captivating, mobile-friendly campaign they had crafted with this remarkable tool.
6. Bio.fm: Linktree Alternative Platform
When it comes to giving you control over your brand awareness, Bio.fm takes the lead over Linktree. Not only can you share links, but you also have the freedom to embed captivating YouTube videos, include interactive voting polls, and even gather valuable email addresses.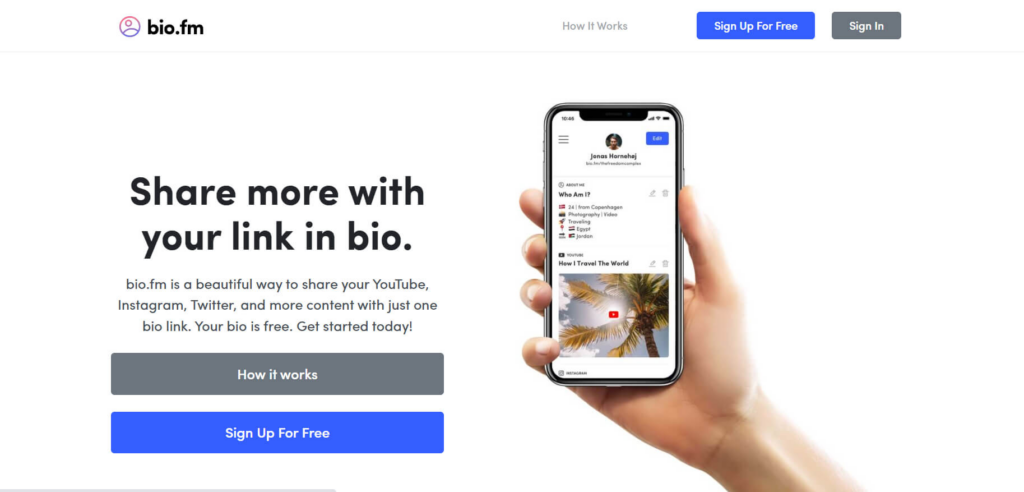 It's more than just a platform for sharing links; it's a powerful tool that allows you to showcase your entire bio effortlessly. With Bio.fm, your latest posts are automatically displayed, putting your bio on autopilot.
Whether you're an influencer or a brand, this platform offers a plethora of features that can supercharge your influencer marketing campaigns and drive traffic from Instagram to other channels. It's time to level up your online game!
7. Leadpages: Ultimate Linktree Alternative
Leadpages is a powerful tool designed for savvy marketers who want to create captivating landing pages that drive results. While its primary focus is on lead generation, it also stands out as an exceptional link-in-bio solution.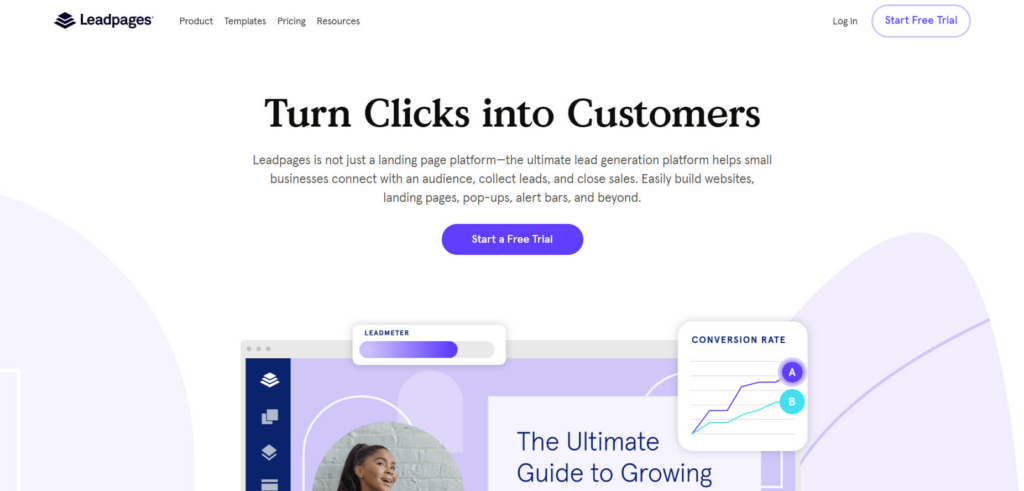 With Leadpages, you gain access to a plethora of user-friendly templates that require no coding skills whatsoever. Its intuitive drag-and-drop feature empowers you to effortlessly design stunning landing pages that adapt seamlessly to mobile devices.
Whether you're aiming to discover fresh leads for your business or aiming to construct a website from the ground up, Leadpages reign supreme as the ultimate alternative to Linktree.
8. Link in Profile: Instagram Link-in-Bio Tool
Link in Profile, hailed as the long-awaited solution for Instagram users, allows you to effortlessly include clickable links in your Instagram posts, leading your followers directly to your desired webpage. Gone are the days of frustration and limitation when it comes to sharing URLs on the popular photo-sharing platform.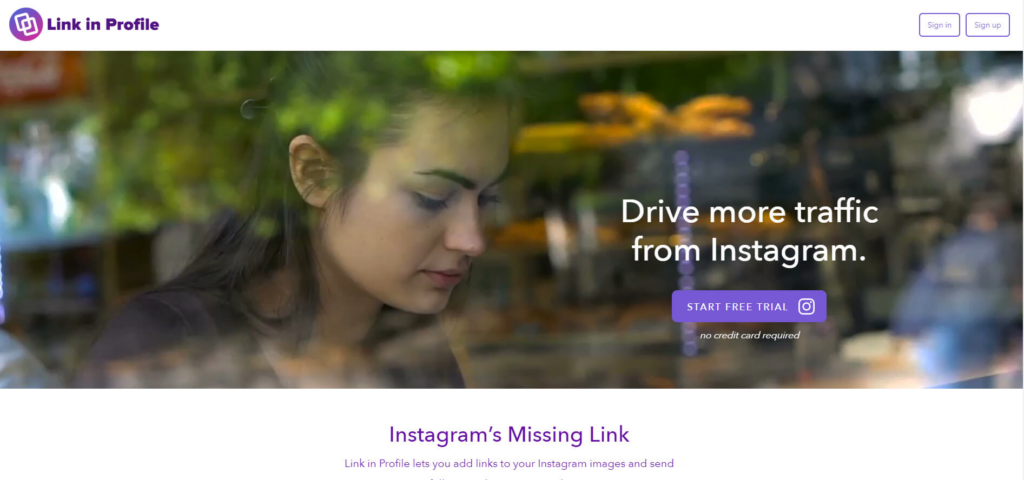 With Link in Profile, all you have to do is paste the URL into your caption on Instagram's posts, and voila! Your followers can easily access the webpage you want them to visit. What's even more exciting is that Link in Profile seamlessly integrates with various platforms such as Amazon and Shopify, streamlining your workflow and making it a breeze to promote and sell your products.
Say goodbye to the Instagram link conundrum and hello to a whole new level of convenience and engagement.
9.Snipfeed: Linktree Alternative
Snipfeed empowers you to transform your social media feed into a thriving marketplace, where your links become captivating storefronts and your followers transform into loyal customers.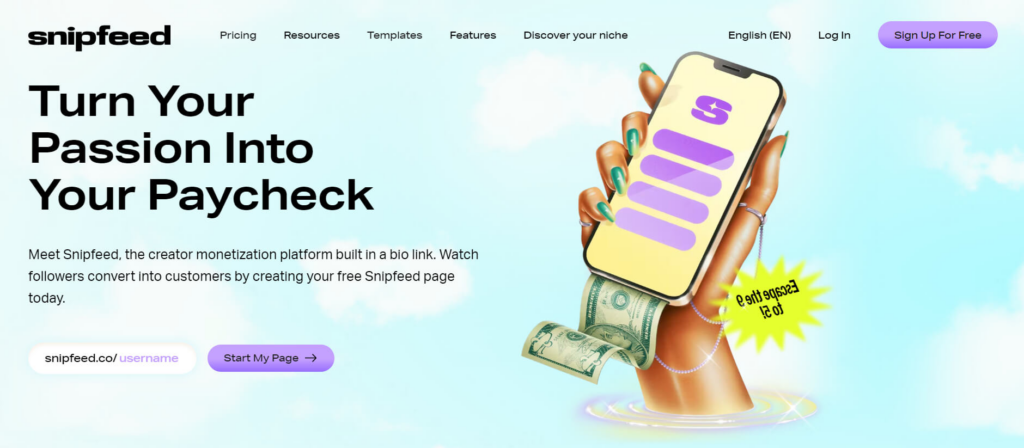 With its array of exciting features, Snipfeed allows you to tailor your pages to match your unique style and brand, whether it's tweaking the layout, experimenting with vibrant colors, or selecting from a collection of professionally designed templates. But it doesn't stop there!
Snipfeed provides you with seamless ways to earn money, from hosting engaging Q&A sessions that keep your audience hooked, to receiving generous tips from your devoted followers, and even more inventive methods to boost your revenue.
10. Linklist: An Alternative Platform for Linktree
Introducing Linklist, your ultimate solution for creating an unlimited number of personalized links. With its incredible data analytics add-ons, you can dive deep into the insights of your audience. But wait, there's more! 
Linklist comes packed with awesome features, including a built-in media player that allows you to showcase your audio and visual content directly from your link page. Simply add links from popular platforms like YouTube, Spotify, Vimeo, SoundCloud, and Twitch.
Need to make your content available for a limited time? No problem! its handy scheduling tool lets you decide when and for how long your content will be live. And that's not all—easily access reports to track the clicks you receive from your page. Discover the power of Linklist today and take control of your links like never before!
Ainfluencer: Powerful Influencer Marketing Platform
This platform provide a centralized hub for managing influencer partnerships. By incorporating this tool, you can streamline communication and collaboration with influencers.
Through a single interface, you can share campaign briefs, track link performance, and provide real-time feedback. This cohesive approach fosters stronger relationships with influencers and enhances the overall efficiency of your campaigns.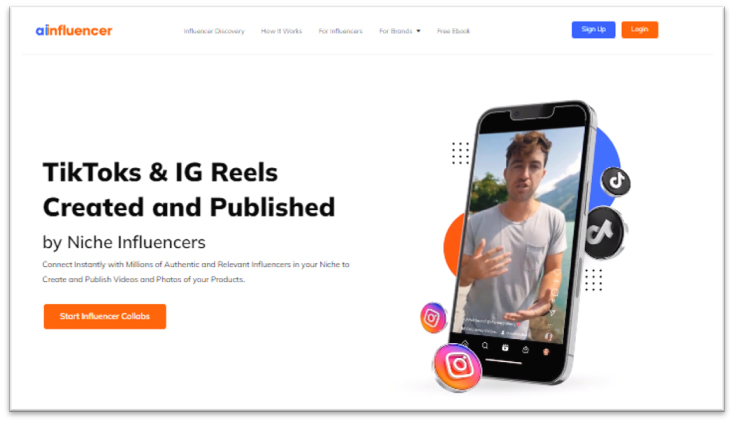 Ainfluencer is the ultimate solution for brands seeking to harness the power of influencer marketing. With its seamless integration of a link-in-bio tool, it empowers influencers to optimize their bio links, drive traffic to relevant destinations, and engage their audience effectively. The platform offers a comprehensive suite of features, including influencer discovery, campaign management, analytics, and payment processing. 
Sign up now and don't miss your chance!
FAQs
Now, it's time to take a look at some frequently asked questions regarding Linktree and its alternatives on the market.
1. Is Linktree Banned on Instagram?
There have been claims that Instagram is preventing Linktree from functioning properly. As a result, some marketers and influencers are exercising great caution.
2. What Are Linktree Downsides?
Linktree, as a company, is performing well. However, there have been reports indicating that Instagram is preventing the use of links from Linktree due to violations of the social media platform's community guidelines.
Consequently, some Instagram users are searching for alternative tools to include in their bio links. It is important to note that this problem is not caused by Linktree itself. Similar issues arose when the popular URL shortener, Bitly, first gained popularity.
Like with any free tool, there is always a risk of spammers creating accounts and sharing questionable content. As a result, domains can be blacklisted or blocked by Instagram.
To Wrap Things Up
Linktree is an awesome resource for entrepreneurs, bloggers, and creators seeking to boost their Instagram traffic and expand their reach across various platforms. While Linktree is undeniably useful, there are numerous other tools out there that go above and beyond its capabilities. So, if you run an online store, investing in a tool like Lnk.bio would be a smart move that delivers even more value.