Inflact is an Instagram growth automation software that offers a range of tools for client interaction, content management, and audience growth. However, it heavily relies on automated actions that may artificially boost your profile's engagement, which can make you wonder if it's reliable.
While it offers features like AI-powered Instagram marketing tools, hashtag generators, and post scheduling, the real question is whether these features work well together.
In this article, we've provided an in-depth overview of Inflact, a social media marketing software. We'll also discuss its key features, pricing, and pros and cons. The article aimed to inform you about Inflact's offerings when using the platform for Instagram marketing.
Let's get started!
What Is Inflact
Inflact (formerly Ingramer) is a social media marketing software that offers client interaction, content management, and audience growth tools. However, it uses a lot of automated actions that might make your profile seem more popular, like liking and following, to artificially boost your profile's engagement.
Although they provided several features like hashtag generator and post scheduling, the real question is whether all of the features work properly.
Inflact's approach centers on mechanical interactions rather than organic engagement. Their chatbot and CRM may provide convenience, but it raises concerns about the authenticity of the connections you make.
Let's dive into Inflact capabilities!
What Are Inflact's Key Features
Are you curious about what Inflact has to offer? Let's dive into its key features and see what they bring to the table to help you monetize social media.
#1 Profile Analyzer
It claims to provide intelligent targeting, growth analytics, influencer discovery, and profile analysis to attract users.Looking to analyze Instagram profiles? Inflact asserts to offer a free and secure Profile Analyzer. Just input a username, and it promises to provide you with detailed statistics. However, don't expect too much from this tool. While it boasts precise statistics, it might not be as accurate as advertised.
#2 User Search for Instagram
Inflact promotes its User Search for Instagram as a fast, exact, and free tool for finding information on Instagram. It claims to allow searches by usernames, full names, emails, phone numbers, and bio word matches.
However, be cautious about the 'exact results' promise. The accuracy might not be as reliable as they suggest. Additionally, the lack of registration might compromise privacy and data quality.
#3 Instagram Anonymous Stories Viewer
Inflact's Instagram highlight downloader and Stories Viewer claim to let you view Instagram Stories anonymously. They promise compatibility with any device and no need for third-party apps. However, there's a catch: you can only view stories from public profiles, limiting its usefulness. 
#4 Web Viewer for Instagram
Inflact advertises its Private Viewer for Instagram as a way to view public Instagram accounts without logging in. While it sounds convenient, the truth is that Instagram makes it challenging to view profiles without an account. Inflact's solution might work but could be unreliable, and it's essential to question the privacy implications.
#5 Post Management
Post Management Inflact assists in maintaining consistent posting and expanding your reach using hashtags. It offers scheduled posting, an AI-powered Instagram hashtag generator, and the ability to track trends.
#6 Video And Photo Downloader
This Instagram video downloader aims to simplify the process of downloading Instagram reels and videos. Moreover, Inflact's Instagram photo downloader lets you save images.
Now, you may consider how much does it cost? Let's see!
Inflact Pricing
In terms of pricing, Inflact offers several options for all its services to choose from:
Basic Pack: €49 per month.
Advanced Pack (Most Popular): €59 per month.
Pro Pack: €79 per month (FIRST 7 DAYS FOR €3 for each account). This package offers a 7-day free trial.
You can choose between monthly or annual payment plans. The annual plan offers a 30% discount. However, it's important to note that the trial period is only available for the Pro Pack subscribers. In addition, after the trial, you should charge for the Advanced Pack, which costs €59 per month.
Worst of all, certain features are limited to public profiles. Additionally, it's essential to consider your specific needs and the pricing tiers to determine which plan is the most cost-effective for your requirements.
Inflact Pros & Cons
The advantages and disadvantages of using Inflact Instagram viewer are outlined below.
Inflact Pros
User-friendly interface.
Variety of automation tools.
Targeted audience engagement.
Post-scheduling features.
Inflact Cons
Account security risks.
Inconsistent results.
Limited customer support.
Questionable effectiveness.
Inflact Reviews: What Real Clients Say
Real clients of Inflact have shared some concerning experiences that should make you think twice about using this tool.
#1 Unethical Business Practice
One user had a trial that ended on March 9th, but they were automatically charged on the morning of March 8th. When they reached out to request a refund, their ordeal began.
Here's his comment:
#2 Difficult Refund Process
In another case, a user requested a refund due to not fully understanding how the system worked. The experience they described was filled with frustration.
The user's requests were faced with repetitive questions and a lack of transparency in providing a support ticket number. This behavior indicates a lack of customer-oriented service and creates concerns about the ease of getting your money back in case of dissatisfaction.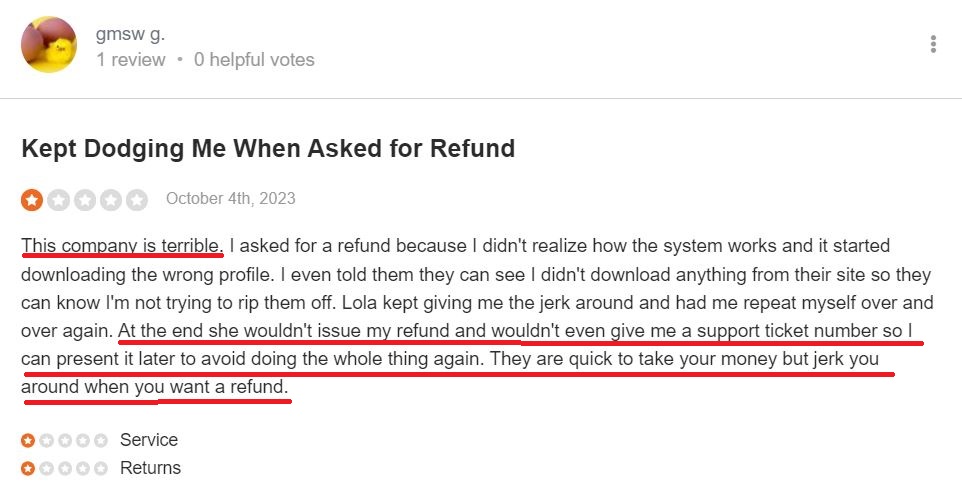 #3 Poor Customer Support
According to the previous review, Inflact may have poor and unreliable customer support. Instead of assisting customers in resolving issues and processing refunds promptly, they seem to drag out the process and make it unnecessarily difficult for users to get their concerns addressed. This kind of customer service can be incredibly frustrating and disappointing.
#4 Account Security Concerns
Many users have reported being blocked by Instagram and locked out of their accounts by using Inflact. The company claims its software is safe and offers a secure mode, but real-life experiences prove otherwise. If you value the security of your Instagram account, it's simply not worth the risk.
Here's one user's experience in this regard:
The fact that Inflact's assurances of safety and effectiveness have been proven false by real users is a clear sign that you can't trust their marketing claims.
When a company can't deliver on its promises, it's not worth investing your time and money into its services.
Inflact Final Verdict
In conclusion, according to the experiences shared by real clients, Inflact appears to be a risky and unreliable tool for Instagram growth. It's essential to protect your Instagram account. So it's suggested to stay away from Inflact and explore alternative, more reputable solutions for your social media needs.
But don't be upset. In the following, we're going to introduce you to the best alternative to Inflact.
Ainfluencer: The Best Influencer Marketing Platform
Ainfluencer is a game-changer in influencer marketing. It's free and works with Instagram and TikTok, catering to all kinds of brands and influencers.
Ainfluencer Features for Brands
Discover and Collaborate: Connect with a growing community of influencers every month.
Simple Campaign Setup: Easily create campaigns and connect with influencers that suit your needs.
Reach Out Limitlessly: No restrictions on reaching out to influencers; invite as many as you desire.
Smart Filters: Find influencers based on criteria like size, platform, gender, and location.
No Hidden Costs: Enjoy everything for free with no hidden subscription charges.
Smart Matching: The platform helps you find influencers perfectly aligned with your campaign.
Seamless Collaboration: A built-in chat feature makes communication between brands and influencers smooth.
Detailed Insights: Gain insights into an influencer's past work, reviews, and their audience.
Secure Payments: Benefit from a safe payment system, Resolution Centre, and review ratings.
Ainfluencer Features for Influencers
Free Access: It's free for influencers of all sizes, offering numerous collaboration opportunities.
Access to Campaigns: Explore and participate in multiple campaigns in a user-friendly environment.
End-to-End Control: Make offers, negotiate terms, manage deliveries, and set prices directly with brands.
Account Security: Your social media passwords are not required, ensuring account safety.
Mobile App: Stay engaged and updated with the convenience of a mobile app.
AI-Powered Insights: Utilize AI-based tools to discover campaigns matching your preferences.
Timely Payments: Rest assured that you'll receive your payments on time.
Why wait? Sign up for free and unlock the full potential of Ainfluencer today!
FAQs
Creating an FAQ section is a valuable way to address common queries and concerns. Here are some frequently asked questions regarding Inflact:
1. What Are The Inflact Modules?
The Inflact platform comprises seven distinct modules, each offering unique features: Promo, Direct, Posting, Downloader, Hashtag Generator, Stories Viewer, and Instagram Search.
2. Do I Need to Pay for Using Inflact to Download Instagram Stories, Videos, Or Photos?
Inflact's IG Downloader is free. Whether you want to view Instagram stories anonymously or download them discreetly, it won't cost you a thing.
3. Is Inflact Downloader Safe And Legal for Saving Content?
Yes, it is legal to use Inflact for saving content from social media. When saving media uploaded by other users, remember to use it solely for personal purposes, adhering to the essential rule that you can save any content, as long as it's for personal use.
To Wrap Things Up
Inflact is one of the Instagram marketing tools. It's packed with features, including an IG hashtag generator, making it one of the most comprehensive options available. Inflact offers a range of features to enhance your Instagram experience, but real user experiences and reviews create serious concerns. From unethical business practices to account security issues, it's important to consider the risks associated with this tool.