Whether you're an influencer, a content creator, or a brand looking to boost your social media presence, one thing remains clear: Instagram hashtag generators are key to reaching your target audience. However, coming up with relevant and effective hashtags can be a daunting task. That's where the Instagram hashtag generator comes into play, revolutionizing the way we optimize our content and connect with others in the vast Instagram universe.
Hashtag generators for Instagram are powerful tools designed to simplify the process of finding the perfect tags for your posts. They take the guesswork out of hashtag research by generating a curated list of relevant hashtags based on a specific keyword or topic.
By leveraging these tools, you can save time and effort while ensuring your content reaches a wider audience. In addition to hashtag generators, another valuable resource for expanding your reach and engaging with a larger audience is influencer marketing platforms.
In this article, we will delve into the world of Instagram hashtags generator, exploring their benefits, functionalities, and how they can help you level up your social media game. Additionally, we'll touch upon the best influencer marketing tool on the market.
Now, let's get started…
What Is Instagram Hashtag Generator
Instagram hashtag generators are nifty tools that can supercharge your influencer marketing and boost your Instagram presence. They're like your own personal hashtag sidekicks, always ready to lend a helping hand (or rather, a helping hashtag)!
So, let's break it down. 🙃
Hashtags, as you probably know, are those little pound signs that turn simple words or phrases into clickable links on Instagram. They're like magic spells that help your content reach a wider audience by categorizing it and making it discoverable to people who share similar interests.
Now, coming back to hashtag generators. These clever tools take the guesswork out of creating effective hashtags for your Instagram posts and boost Instagram engagement. They analyze your content, understand your target audience, and then generate a list of relevant and popular hashtags that can give your posts a serious boost.
Think of them as your secret weapon for cracking the code to Instagram marketing success! 😀
But:
Why Do We Need Hashtags on Instagram
Well, here's the deal: Instagram algorithm doesn't have a traditional search feature, which means hashtags are like magical keys that unlock the doors to discovery on this platform.
Boost Your Content's Visibility
Hashtags make your posts more visible on social media. When users search for a hashtag, they can easily find your content, even if they don't follow you. It's a great way to reach new audiences, especially if you're a smaller creator.
Increase Audience Engagement
People are more likely to engage with posts that are relevant to their interests. By using hashtags related to your content, you can attract an audience that is already interested in what you have to say. Just make sure to use specific and targeted hashtags instead of generic ones like #like4like. This will encourage engagement from your desired audience.
Connect With Your Audience
Hashtags help you become part of your audience's community. By using popular hashtags that resonate with your audience, such as #dogparent or #gardenersofinstagram, you can initiate conversations and build authentic connections with your followers. This also helps establish your brand as an industry authority and fosters customer loyalty.
Improve Your Social Media Strategy
Although it may take some time to find relevant hashtags, they are a crucial component of your overall social media strategy. The tools available can help you quickly discover the best hashtags for your posts across different social media platforms.
So get ready to level up your Instagram game! 😉
5 Best Instagram Hashtag Generators
They serve as the ultimate search-and-find tool, helping you connect with the right audience. But, don't fret! We've got you covered with the 5 best hashtag generators for Instagram, designed to find you the perfect and potentially game-changing hashtags.
1. Inflact: Instagram Hashtags Generator
Introducing Inflact, the Instagram marketing toolkit that's here to revolutionize your hashtag game! With Inflact's hashtag generator, your Instagram marketing strategy is about to get a serious upgrade.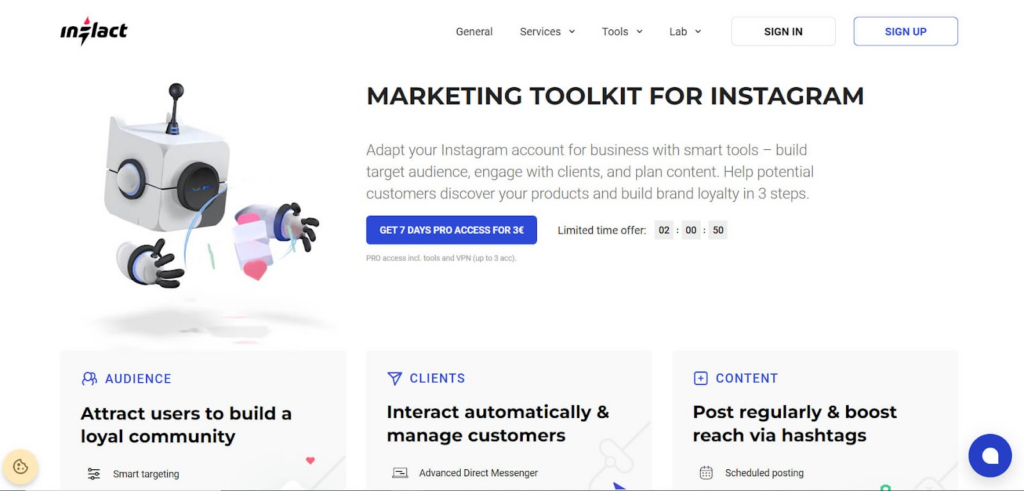 Get ready to dive into a world of hashtag mastery with these features:
Mobile App: Take your hashtag game on the go! Inflact comes with a sleek and user-friendly mobile app, giving you the power to discover and create killer hashtags wherever you are.
Sorting made simple: Inflact's genius generator sorts hashtags based on their frequency and competition level, allowing you to find the perfect ones to skyrocket your reach and engagement.
Templates that save the day: No more wasting time on repetitive searches.
The keyword, photo, and URL magic: Inflact's powerful generator can create hashtags based on keywords, photos, or even URLs, helping you find the most relevant and impactful tags for your content.
2. Toolzu: Tag Generator for Instagram
Toolzu is an Instagram marketing tool that brings its own unique flair to the table. But what sets Toolzu apart? Well, for starters, it has its very own mobile app, making it even more convenient for you to work on the go.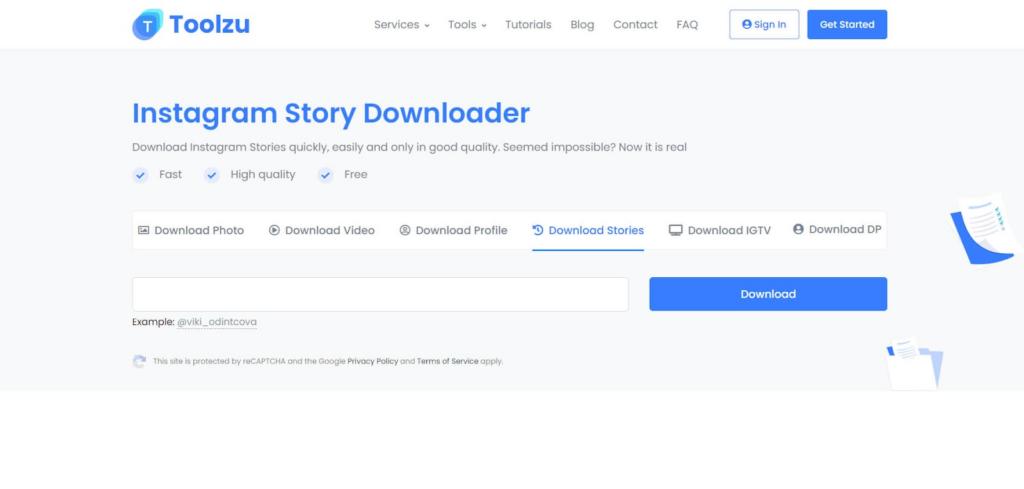 With Toolzu, you have the power to create hashtags effortlessly using just a single keyword, URL, or even a photo. Imagine the possibilities! Moreover, You can easily gauge the difficulty level of a hashtag and even check the volume of content that has been published under it.
3. Copy.ai: Hashtags Generator on Instagram
Copy.ai is fueled by the power of AI, designed to spice up your content game. With its hashtag generator, you'll never run out of clever ideas for your posts! It's like having a creative assistant at your fingertips.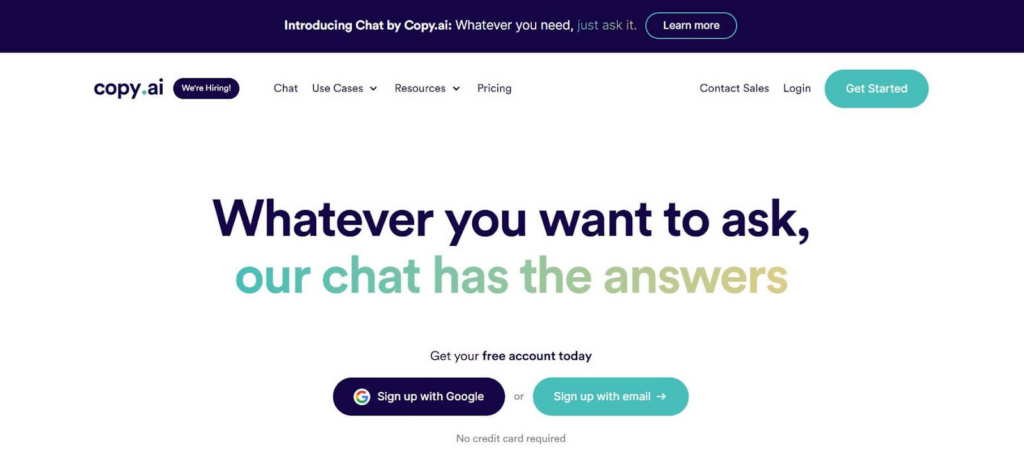 Here's why you'll love it:
Endless hashtag inspiration: The hashtag generator whips up a whopping 50 hashtags at a time, giving you plenty of options to choose from.
Beyond just hashtags: It's a treasure trove of other AI-powered copywriting tools that'll take your content to the next level. From catchy taglines to engaging social media captions, this tool has got you covered.
Seamless integration: You can easily copy the hashtags you love directly into your post, saving you time and effort. No more switching between apps or platforms.
4. Tagsfinder: Instagram Hashtag Generator
Introducing Tagsfinder, your ultimate hashtag companion! This hashtags generator claims to offer a plethora of features to enhance your social media game.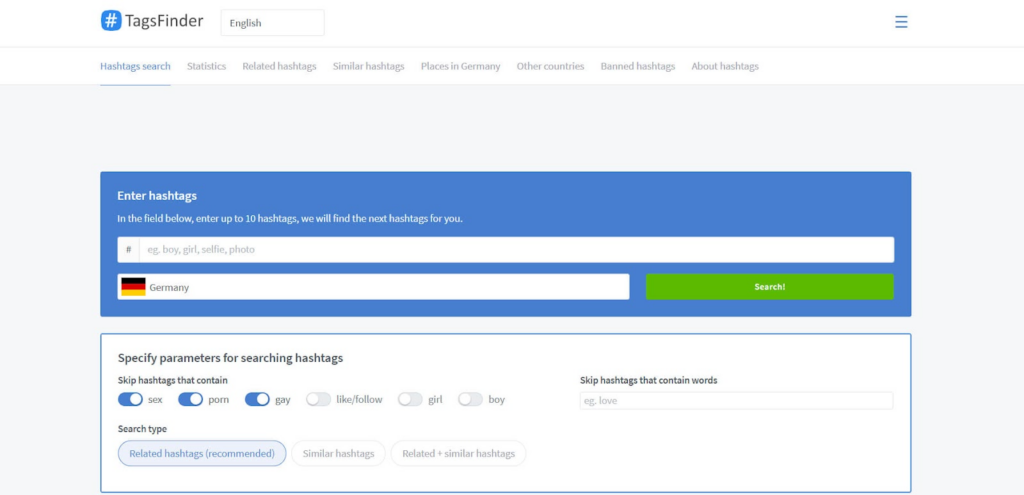 Here's what makes the hashtag generator stand out:
Suggestions Galore: It provides a wide range of hashtag suggestions based on your keywords.
User-Friendly Experience: This hashtag generator is designed with simplicity in mind.
Limitless Creativity: With Tagsfinder, there's no cap on your hashtag potential. Whether you're brainstorming for a single post or planning an entire social media campaign, This Instagram hashtags generator won't hold you back.
5. Display Purposes: Tag generator for Instagram
Display Purposes, although not the flashiest tool in the bunch, brings a delightful twist to the table with its hashtag generator. What sets it apart is its ability to provide hashtag suggestions tailored specifically to your profile. But that's not all! It goes the extra mile by presenting related hashtags for each suggestion, giving you even more options to explore.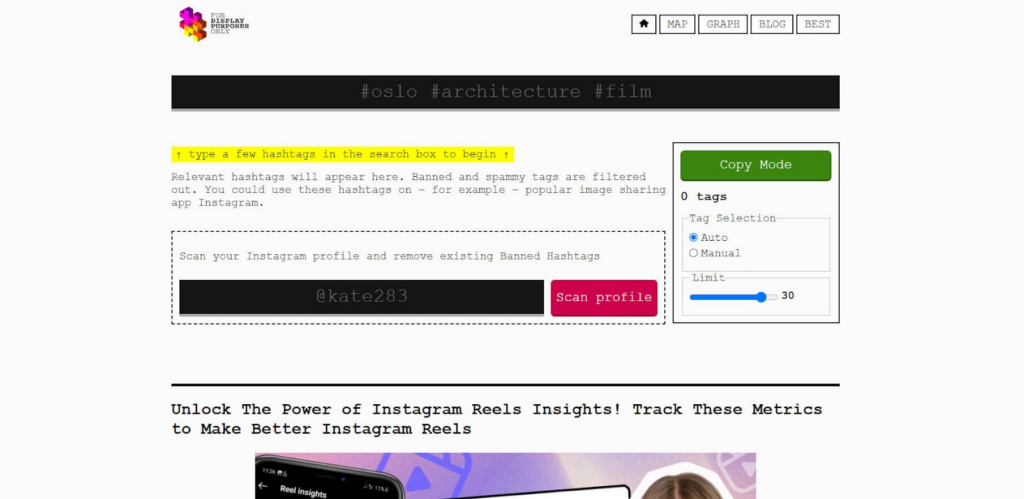 Of course, like any tool, it has its limitations: it may not have all the bells and whistles that other tools offer, and you'll need to sign up to unlock your results.
Ainfluencer: The Best Influencer Marketing Tool
But Instagram hashtag generators are not the only tools that can supercharge your social media strategy. Influencer marketing tools have also emerged as game-changers in the digital marketing realm.
With the rise of influencer culture, brands are increasingly collaborating with influential individuals to promote their products or services. These tools provide valuable insights into influencers' performance metrics, audience demographics, and engagement rates, allowing brands to identify the right influencers for their campaigns.
By harnessing the power of Ainfluencer alongside Instagram hashtag generators, you can amplify your brand's reach and engagement, forging meaningful connections with your target audience.
So, whether you're an aspiring influencer or a business looking to optimize your social media presence, get ready to unlock the secrets of Instagram hashtag generators and influencer marketing tools that will take your digital strategy to new heights.
Boost your brand's reach with our influencer marketing platform. Join today and start connecting with top influencers for maximum impact!
FAQs
Now, let's take a look at some frequently asked questions regarding Instagram hashtag generators. Ready?!
1. Is Hashtag Marketing Still Effective?
Absolutely! Hashtags continue to be a game-changer for boosting your account's growth. In fact, recent studies reveal that incorporating 11 or more hashtags can skyrocket your engagement by a staggering 450% when compared to posts that lack hashtags. So, rest assured, hashtags are still a powerful tool to maximize your reach and captivate your audience.
2. Why Do I Need to Use Hashtags on Instagram?
Well, here's the deal: Instagram doesn't have a regular search feature like other platforms, so hashtags are like your trusty search-and-discover superpower on the app. They're the key to unlocking a world of amazing content!
To Wrap Things Up
Discover the ultimate time-savers and boosters for your social media game – the marvelous Instagram hashtag generators! With a variety of options available, each tool comes with its own perks and drawbacks. So go on an adventurous journey of experimentation and uncover the perfect match that caters to your unique needs. Get ready to supercharge your social media performance like never before!