Are you a TikTok enthusiast eager to level up your profile? If you're looking to make your mark as a TikTok influencer, you've come to the right place! Chances are, even if you've just glimpsed a couple of posts on Instagram or TikTok, you've come across the popular catchphrase 'link in bio.'
One essential aspect of boosting your online presence is knowing how to add link to TikTok bio.
In this guide, we'll dive into the exciting world of TikTok influencer marketing while showing you the ropes on adding clickable links to your bio.
So, let's get ready to unleash the full potential of your TikTok profile and take your content to new heights! 😉
What Does 'Link in Bio' Mean
You've probably seen this phrase on social media platforms like TikTok, Instagram, and Twitter. But what does it really mean in TikTok influencer marketing, and why do we add links to TikTok bios? Let me break it down!
'Link in bio' refers to the practice of including a clickable link in the biography or profile section of your social media account. This simple phrase serves as a friendly reminder to your followers that they can find more information, content, or resources by clicking on that link in bio. 
How to Add a Clickable Link to Your TikTok Bio
Before you dive into link-sharing awesomeness, make sure you have a business account. This exclusive website link feature is reserved for the business elite of TikTok.
Don't forget to gather a cool squad of 1000 followers. It's time to add a link in biolevel up your TikTok game!
If you don't know how you can change your account to a business account, go ahead and read the following section! 🙂


How To Change To TikTok Business Account
If you're ready to take your TikTok game to the next level and transform your personal account into a business account, we've got you covered! Here's a quick and easy guide to get you started:
First, let's head over to your TikTok profile. It's that nifty little spot where all your awesome videos reside.
Once you're there, you'll notice a menu icon perched at the top right-hand corner of your screen, just waiting to be tapped.
Now that you've unleashed the power of the menu, it's time to dive into the Settings and Privacy section. Don't worry, it's not as daunting as it sounds. Just give it a gentle tap, and you'll be on your way.
Within the Settings and Privacy menu, keep an eagle eye out for the magical word—Account. It holds the key to your business account transformation. Give it a tap, and prepare to unlock a world of possibilities.
Right before your eyes, a glorious option will appear: Switch to Business Account.
This is the moment you've been waiting for. Embrace it with a confident tap, and watch as your personal account undergoes its magnificent metamorphosis.
So, what are you waiting for? Seize the opportunity and elevate your TikTok presence by converting your personal account into a business account.
But, if you're not quite ready to make the switch to a business account, if your follower count is below 1000, or if the website link feature hasn't reached your country yet, worry not! 🙃
There are a few nifty tricks you can try to make sure your link in bio gets the attention it deserves from your awesome audience. 
Let's dive in and explore these workarounds! 😉
Workarounds to Add Link in Bio on TikTok
Did you know that even though TikTok doesn't allow clickable links in bios, there's still another way to share your link with your followers? It's as simple as adding a non-clickable link to your personal or business TikTok bio. Let me show you how!
1. Add an Non-Clickable Link in Bio
First, navigate to your profile and tap on 'Edit Profile.' Once you're there, look for the Bio section and get ready to make your mark. Type in the link you want to share and hit the "Save" button. Voila! Your link is now proudly displayed in your bio.
But wait, there's more! 😀
You don't have to rely solely on your bio for promoting your link. You can also direct your awesome audience to it by including it in your TikTok Q&A section or giving it a shout-out at the end of your videos. This way, your followers will know exactly where to find the valuable content you're sharing.
So, don't let the absence of clickable links in bio hold you back. With a non-clickable link in TikTok bio and a strategic mention in your videos, you'll be seamlessly guiding your followers to your desired destination.
Get creative and watch your engagement soar! 👍
2. Link TikTok Account to Instagram
Supercharge your digital marketing presence by linking TikTok to your Instagram account! By doing this, you can seamlessly guide your followers straight to your website.
Instagram comes to the rescue with its user-friendly interface, allowing you to easily add a link to your bio. Now, your fantastic audience can access your website with just a click!
To make this magic happen, head to your TikTok profile,
And hit Edit Profile,
Look for the Social section and tap on the option to Add Instagram.
Follow the simple login instructions, and voila! Your TikTok fans can now find you on Instagram and enjoy your captivating Reels on Instagram. Get ready to expand your reach and dazzle your followers on two awesome platforms!
Interested to know how to get followers to your Instagram without following! click on the link!
How to Add Two Links in Bio
Want to add two website links to your TikTok bio? Well, here's the deal: currently, TikTok only allows you to add a single website link using their link feature. But don't fret, my friend! There's still a solution that will save the day.
Simply create a Linktree account, gather all your important links in one place, and then add your Linktree link to your bio instead of your website.
Now you can effortlessly direct your followers to various destinations with just one click. It's a game-changer for businesses seeking to maximize their online presence.
Ainfluencer: The Ultimate Influencer Marketing Tool
Ainfluencer is a cutting-edge platform designed to empower influencers like you to maximize your earning potential and streamline your collaborations. With our intuitive features and powerful analytics, you'll have all the tools you need to succeed in the fast-paced world of influencer marketing.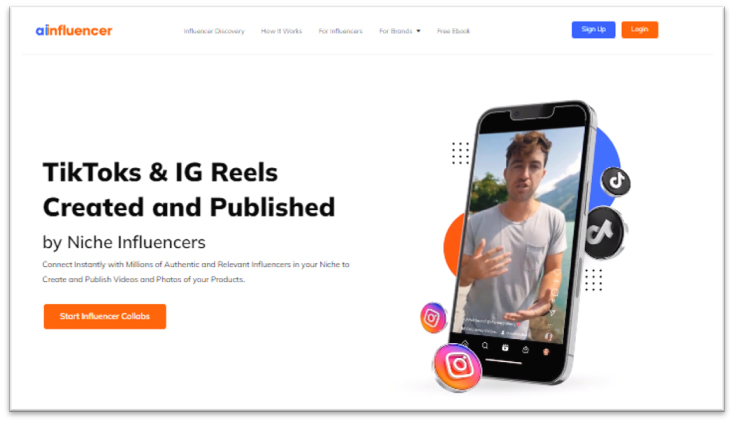 Ready to level up your influencer game? Sign up for Ainfluencer today and unlock a world of exciting brand collaborations!
Don't forget to add the link to your Ainfluencer profile in your TikTok bio to showcase your partnership to potential brands and skyrocket your influencer career. 🤩
Visit Ainfluencer to get started now and embrace the future of influencer marketing!
FAQs
Now, let's a look at some frequently asked questions regarding adding link in bio. Ready?!


1. Why Is It Important to Add a Link in Bio?
Here are the reasons:
Your social media profiles are a powerful tool for reaching new audiences and converting them into paying customers.
Without an easy way for profile visitors to access your eCommerce store or website, the chances of conversion are close to zero.
A bio link in your social media bios can direct your followers to your website and encourage them to learn more, browse your offerings, and make a purchase. So, you will improve eCommerce conversion rate.
On platforms like Instagram and TikTok, the link in bio is the only clickable link on your social profile.
2. What Are the Benefits of Adding Links to TikTok Bio?
The following are the advantages of using the link in bio:
Boost website traffic and move users closer to making a purchase.
Increase the number of hits on your latest blog posts.
Promote sales or offers easily and inspire users to take action.
Encourage followers to join your mailing list and sign up with just a few clicks.
To Wrap Things Up
In conclusion, adding a link in your TikTok bio can be a game-changer for influencer marketing. By harnessing the power of this simple feature, you open up a world of opportunities to connect with your audience on a deeper level, drive traffic to your other platforms, and even monetize your content more effectively.
So don't miss out on this valuable tool! Whether it's directing viewers to your YouTube channel, promoting your latest blog post, or sharing a link to your online store, a strategically placed link in your TikTok bio can be the key to unlocking new horizons and expanding your reach.