Are you struggling with how to delete Snapchat account and feeling a bit lost? Don't worry! I'm here to guide you through the process and trust me, it's a breeze. Let's dive in together, bid farewell to Snap, and get on with your awesome day!
Deleting your Snapchat account can be a straightforward process, even if you have been using Snapchat for business.
In this guide, we will walk you through the step-by-step process of permanently removing your Snapchat account, allowing you to take control of your online identity.
But wait, before we dive into the deletion process, let's explore some basics about deleting a Snapchat account. Ready?! 😉
Why Delete Your Snapchat Account
Snapchat (or the new version Snapchat Plus), just like any other social media app out there, brings people from all corners of the globe together at any time, wherever they may be.
With its cool feature of disappearing chats, it adds an exciting twist to sharing those spontaneous messages with your loved ones, or even things you'd rather not have lingering around forever.
There are plenty of reasons why people choose to bid farewell to their Snapchat accounts. Maybe you find yourself using the app less frequently than before, or perhaps your interest has waned altogether.
If your concerns revolve around safety and privacy, don't worry, there's no need to immediately hit that delete button. Snapchat offers a range of settings to ramp up your privacy and fortify your account's security. You can block unwanted users, remove friends, keep your location under wraps, hide your stories, and even report any issues through the Safety Center.
However, if you're determined to go ahead and delete your account, let's walk through the steps you need to take.
How To Delete Snapchat Account
Although social media platforms have become an integral part of our lives, there are times when we may feel the need to disconnect or reevaluate our online presence. If you find yourself in such a situation, it's essential to know how to delete Snapchat account.
Here is the complete guideline to remove an account on mobile (for Android or iOS users), and on the Web.
How to Delete a Snapchat Account on Android Devices or Browser
Here's a quick rundown of the process, which works seamlessly whether you're using an Android browser or any other browser:
Visit the Snapchat Accounts Portal page.

Enter your username and hit 'Next'.
Then, type in your password and hit 'Next' once again.
Now look for the 'Delete My Account' option and click on it.
For security purposes, you have to enter your username and password once more.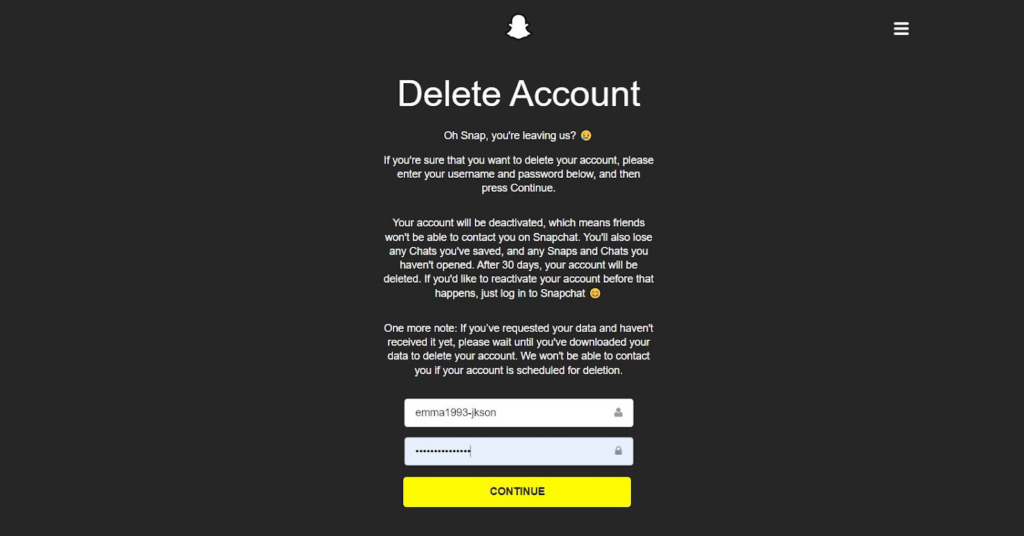 Scroll all the way down and click on 'Continue' to finalize the process.
That's it. You're all set and your Snapchat account is officially deleted.
Remember, if you're unable to delete your account using the Android app, simply follow these steps through an Android browser for a smooth account deletion process. Say goodbye to Snapchat and embrace your new digital chapter!e
How to Delete Your Snapchat Account on iOS Devices
If you're an iOS user and want to remove your Snapchat account, here's what you gotta do with a few simple taps:
Head over to the Profile screen and spot that nifty ⚙️ button. Give it a gentle tap to unlock the Settings.
As you scroll down, keep your eyes peeled for 'Account Actions'. Once you find it, go ahead and tap on it.
Now, get ready for the grand finale! Spot the glorious 'Delete Account' option and give it a decisive tap.
Almost there! Just follow the steps that pop up on your screen to successfully say bye to your account.
What Do You Need to Delete Your Snapchat
To delete your Snapchat account, first, make sure you have either a snazzy smartphone or a nifty tablet with the Snapchat mobile app installed. Alternatively, if you're rocking a computer, simply hop onto the web and head over to Snapchat's accounts portal.
Oh, and don't forget, you'll need a Snapchat account in the first place to delete it. 😂
How Do I Reactivate My Snapchat Account
Looking to get back into the Snapchat game? worry not!
Simply open the Snapchat app and log in using your trusty username within 30 days of deactivating your account.
While your account is in hibernation mode, remember that you can only log in using your username and password. So, keep those handy!
Oh, and just a heads up: you won't be able to log in using your email address or change your password during this time.
Pro tip: Sometimes it takes a little patience. It might take up to 24 hours before your deactivated account can be reactivated. Hang tight, it'll be worth the wait!
While bidding farewell to Snapchat, it's also essential to explore other avenues for social media success, such as influencer marketing.
Ainfluencer: The Secret Weapon in Influencer Marketing
In this section, we will introduce you to an innovative influencer marketing tool that simplifies and enhances your Instagram marketing campaigns.
Influencer marketing has revolutionized the way brands connect with their target audience. By partnering with influencers, businesses can tap into a wider customer base and build credibility through authentic recommendations. As the influencer marketing landscape continues to evolve, it becomes crucial to leverage tools that streamline the process and maximize results.
Ainfluencer is a cutting-edge influencer marketing tool designed to empower businesses, agencies, and influencers themselves. With Ainfluencer, you can unlock a world of opportunities to collaborate, track performance, and achieve measurable results in your marketing efforts.
Boost your brand's reach and impact today! Join Ainfluencer and unlock the power of influencer marketing! 😀
FAQs
Here are some frequently asked questions regarding 'how to delete Snapchat Account'. Let's go! 😉
1. How To Delete Snapchat Account on PC?
Here's the short version of deleting a Snapchat account on a Desktop:
Sign in to your account at accounts.snapchat.com.
Choose "Delete My Account" from the available options.
Enter your password as a security measure.
Your account will then be deactivated.
Keep an eye on your registered email address for an email confirming the deactivation of your account.
2. Is Any of Your Data Stored by Snapchat?
When you delete your Snapchat account permanently, all your account preferences, friends, Snaps, Chats, Stories, device data, and location data in Snapchat's primary user database will be erased.
However, Snap has stated that it may keep certain personal data for legal, security, and business purposes. One example is retaining information regarding any purchases you made using Snapchat.
To Wrap Things Up
Quitting Snapchat is a breeze! With just a few straightforward steps, you can make your account disappear into thin air, and in a mere 30 days, it'll be gone forever!
We sincerely hope we've covered all your concerns about 'how to delete Snapchat account'. Did we leave anything out? Don't hesitate to drop a comment and give us a heads-up!