Not sure how to use Snapchat for business? In today's fast-paced digital landscape, harnessing the power of social media platforms is crucial for any successful marketing strategy. And when it comes to capturing the attention of the younger demographic, Snapchat marketing stands out as a unique and vibrant strategy.
Nowadays, where attention spans are shorter than ever, businesses are constantly searching for innovative ways to engage with their target audience.
While Snapchat (or the new version Snapchat Plus) is widely known for its playful filters and disappearing messages, it has also become a powerful tool for businesses to connect with their customers more authentically and captivatingly.
So, if you're ready to explore the untapped potential of Snapchat for business, let's dive into the exciting realm of disappearing content and discover how you can make a lasting impression in just a snap!
Ready?!

Let's get started… 😊
What Is Snapchat
In 2011, this awesome social media app lets you unleash your creativity by sharing fleeting moments through snappy photos, videos, and chats. The best part? They magically vanish within seconds, adding an element of mystery and excitement to your digital exchanges.
But wait, there's more! Snapchat goes beyond the ordinary with its interactive features that will keep you hooked. With Snap Maps, you can easily track the whereabouts of your pals and feel connected no matter the distance. And who needs a boring old static profile when you can jazz it up with Stories? These captivating snippets reside on your profile for a thrilling 24 hours, giving you a chance to showcase your adventures and quirks.
But that's not all! Say hello to Bitmoji avatars, the personalized digital versions of yourself that add a touch of fun and playfulness to your Snapchat experience. And when you're craving some fresh content, the Discovery tab comes to the rescue, introducing you to exciting new discoveries and captivating stories.
So, buckle up and dive into the marketing on Snapchat! 🙃
Read Also: How to See Snapchat Conversation History in 2023
What Is Snapchat Used for
Snapchat is a popular social media platform that serves various purposes, but one significant aspect of its usage revolves around marketing.
Snapchat provides businesses and brands with a unique opportunity to connect with their target audience in an engaging and visually appealing way. With its ephemeral nature, Snapchat allows marketers to create and share time-limited content such as images, videos, and interactive filters to grab users' attention and generate excitement.
In summary, Snapchat serves as a powerful marketing tool that facilitates creative and interactive brand promotion, enabling businesses to connect with their target audience in a distinctive and memorable way.
To make the most of Snapchat as a marketing tool, it's crucial to set up a Snapchat Business account. Whether you're representing a big company or running a small business, having a Business account is an absolute must.
So, let's dive right in and get your Snapchat Business account up and running!
How to Set Up Snapchat for Business
Prepare yourself for elevating your marketing campaigns on Snapchat! However, before you proceed, it is essential to complete the registration process for a Snapchat business account. Don't worry, the process is quick and easy, and we're here to guide you every step of the way.
Step 1: Download the Free Snapchat App
Simply head over to the App Store (for Apple iOS) or the Google Play Store (for Android) and download the app onto your device. It's completely free!
You can also go to Snapchat for Business website and sign up!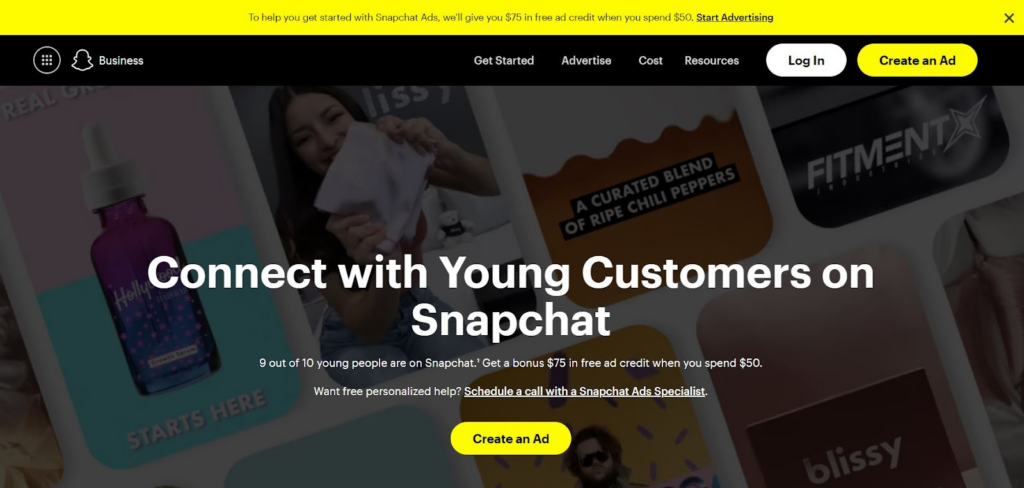 Step 2: Create a Regular Snapchat Account
Before setting up your Business account, you'll need to create a regular Snapchat account.
Follow these simple steps:
Open the Snapchat app and tap Sign Up.
Enter your first and last name, then tap Sign up & Accept.
Provide your birthday and tap Continue.
Choose a username that represents your company. If your desired username is unavailable, Snapchat will suggest alternatives. Remember, your username is permanent, so choose wisely!
Create a password and tap Continue.
Enter your email address and tap Continue.
Provide your phone number. Snapchat will send a \code to your mobile phone. Enter the verification code when prompted to verify your account.
Step 3: Register for a Business Account
Now that you have a personal Snapchat profile, it's time to register your Business Account for Snapchat marketing purposes
. Follow these straightforward steps:
Visit the Snapchat Ads landing page on your device or computer.
Tap Create an account, and you'll be directed to the next screen.
Since you already have an account, click Log In at the top of the screen and enter the username or email and password for the account you just created.
Enter your business name, email address, and your name. Then, tap Next.
Add the primary location where your business operates.
Read Also: How To Make A Public Profile On Snapchat
Step 4: Start Snapping And Make Campaigns
Now that you have your very own Snapchat Business Account, it's time to dive into the exciting world of advertising.
By crafting engaging Snapchat marketing campaigns, you have the power to connect with your ideal customers and let your business's personality shine through. So, start designing some unforgettable, offbeat content that perfectly aligns with your brand's vibe. It's time to make a splash and leave a lasting impression on Snapchat!
That's it! You're now all set to show the power of Snapchat's business account for your marketing endeavors. So get started and inspire in the Snapchat marketing world!
Read Also: How to Delete Snapchat Account
So before we dig deep into how to use Snapchat for business, let's first uncover all the benefits of Snapchat.
What Are the Benefits of Snapchat for Business
Snapchat provides a captivating platform for brands to showcase their products, build brand awareness, and forge meaningful connections with their customers.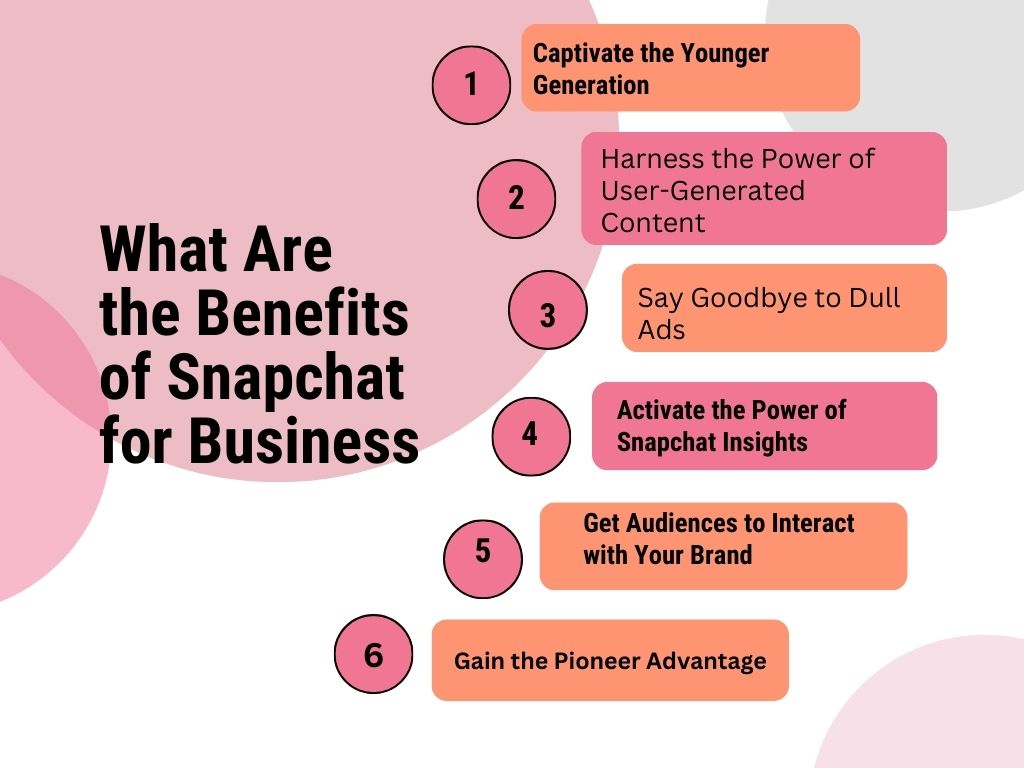 In this section, we will explore the multitude of benefits that Snapchat marketing brings to the table, unlocking its potential as a powerful tool for business growth and marketing success.
#1 Captivate the Younger Generation
Don't miss out on the incredible opportunity to tap into the spending power of millennials, who hold a whopping $1 trillion in direct purchasing ability. If you're targeting Gen Z, Snapchat is your ultimate ally.
Snapchat has a dedicated user base of millennials aged 18-34.
Each user spends an impressive average of 30 minutes on the app every day.
An astonishing 60% of active Snapchat users make impulse purchases.
With these mind-blowing statistics, you'd be crazy not to take advantage of Snapchat to skyrocket your sales and connect with the millennial audience.
#2 Harness the Power of User-Generated Content
Snapchat's user-generated content is a game-changer.
It eliminates the hassle of creating content while making users feel like an integral part of your brand, forging emotional connections.
It's an excellent way to enhance your brand's credibility and authenticity.
#3 Say Goodbye to Dull Ads
Forget about boring ad pitches when you're using Snapchat. This platform offers a variety of ad formats, including snap ads, story ads, filters, and AR lenses.
Use story ads to introduce new features and announce exciting giveaways. Opt for snap ads to give users a sneak peek into the cool activities associated with your business.
Keep your ads short, snappy, and packed with captivating elements that pique curiosity and grab attention.
#4 Activate the Power of Snapchat Insights
Building an effective Snapchat marketing strategy requires more than just views and screenshots. This is where Snapchat Insights come into play.
Snapchat Insights is a trump card for marketing on this platform. They provide valuable information about your potential leads' location and demographic data, enabling better planning. Key performance indicators like view counts and daily reach help you assess interest and engagement.
With hundreds of interest categories, you can group users based on their likes, such as music, movies, and travel enthusiasts.
Unfortunately, advanced Snapchat Insights are currently limited to users with a large following count.
#5 Get Audiences to Interact with Your Brand
Imagine this: as users connect with their friends on Snapchat, they not only have a chance to stay social but also stumble upon exciting new businesses.
Thanks to Snapchat's clever layout, connecting with friends is just a click away with the 'Chat' button conveniently located on the left-hand side of the home screen.
But wait, there's more! This brilliant design also seamlessly links users to captivating brands and talented content creators through the Discover icon, nestled on the right-hand side of the home screen.
So, not only can your brand connect with users effortlessly, but it can also stand out among the diverse and engaging content available on Snapchat. Get ready to make a lasting impression and forge meaningful connections with your target audience!
#6 Gain the Pioneer Advantage
While most marketers are focused on Facebook and Instagram, you can outshine your competitors by venturing into Snapchat and reaching a fresh, untapped audience.
Embrace the pioneer advantage by choosing the road less traveled and establishing your brand as an emerging name on Snapchat.
Exciting, right? 😃
Now that you're pumped up and ready to go, let's dive into the ways you can harness the power of Snapchat for your business.
How to Use Snapchat for Business

Ready to bring your business to Snapchat? Just follow these steps: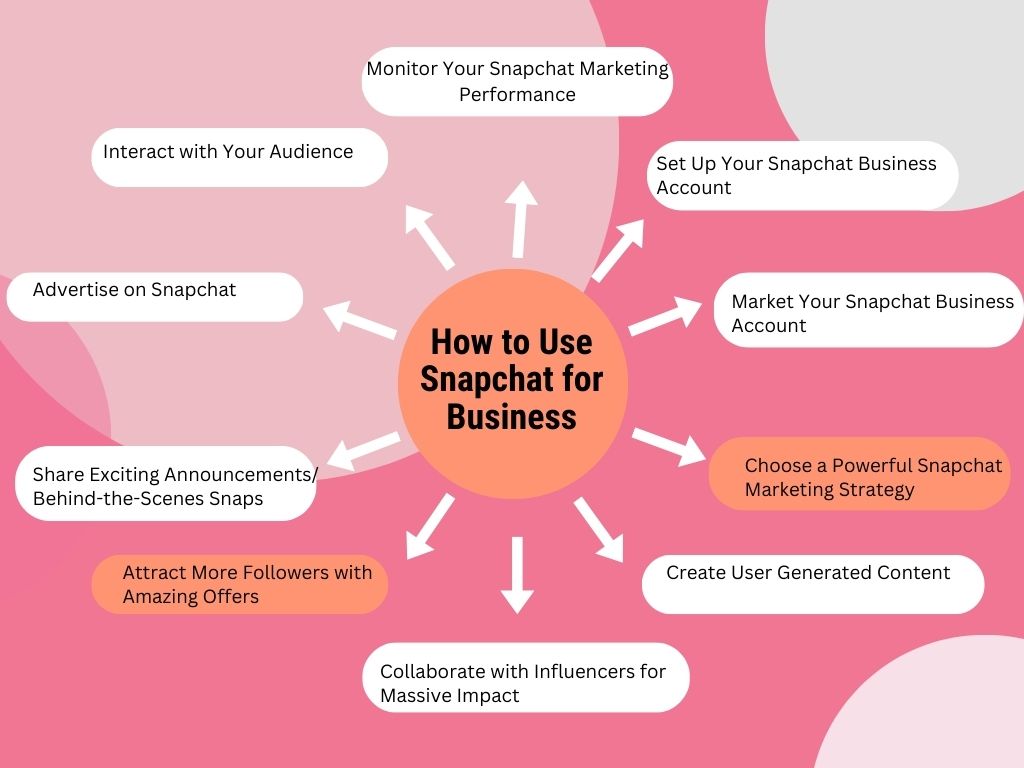 #1 Set Up Your Snapchat Business Account
Step 1: Download Snapchat from the App Store (for iPhone) or Google Play Store (for Android).
Step 2: Tap on the Sign-Up button.
Step 3: Fill in your details and accept the terms.
Step 4: Verify your age and choose a username and strong password.
Step 5: Provide your phone number or email for verification.
Step 6: Enter the verification code and tap Continue.
Step 7: Log in to Ads Manager using your username and password.
Step 8: Enter your business name, and select your country and currency.
Step 9: You're all set! Your Snapchat business account is ready to launch your first ad campaign and set up payment methods.
Remember, Snapchat is designed for mobile, so it's best to use the app on your smartphone. Emulators might work, but they're not as user-friendly.
#2 Market Your Snapchat Business Account
Snapchat has its own unique features, so let's make sure people know about your account. Here are some tips to market your Snapchat business account:
Promote it on your website, newsletters, promotional emails, and social media accounts like Facebook, Instagram, Twitter, and LinkedIn.
Create Snapcodes, which are like QR codes for your Snapchat account. Place them on your marketing materials or in your physical store, making it easy for customers to scan and follow you.
Use snapcodes to drive traffic to your website, customized brand filters, and exclusive content. You can also create "Add me" URLs for quick reference.
Include your Snapchat username in your email signature and on your business cards.
Utilize paid advertising on Snapchat to target your desired audience.
Promoting your Snapchat profile can enhance brand awareness, loyalty, and sales. Now, let's take a look at other tricks for Snapchat marketing:
Ainfluencer: The Best Influencer Marketing Tool
Ainfluencer is the ultimate platform that can help you skyrocket your Snapchat presence and connect you with the right influencers who will promote your brand to a wider audience.
With Ainfluencer, you can tap into a vast network of talented influencers who have a strong following on Snapchat.
These influencers are experts in creating engaging content and have a loyal fan base that trusts their recommendations. Sign up today and leverage their influence and reach to drive more traffic and conversions for your business.
#3 Choose a Powerful Snapchat Marketing Strategy
Becoming proficient in Snapchat marketing has the potential to significantly impact your business owners, allowing them to connect with their ideal customers, showcase their offerings, and boost their sales. So how can you make it happen? Well, it starts with understanding your target audience and setting clear goals.
Here are some tips to have the best marketing strategy in place:


1. Market Research (Competitors Research)
Are those competitors embracing the Snapchat trend? And, what are they excelling at on this platform?
2. Determine Your Objectives
Get your objectives in order. What in the world does your brand want to achieve by Snapchat marketing? And oh, how on earth will you measure your splendid success?
3. Make a Content Calendar
Craft a nifty content calendar. This will help you keep track of when to release your content, what kind of content to post, and how much time to spend engaging with your followers.
4. Determine Your Brand's Look
Lock down your brand's unique vibe. Prepare in advance, so your Snapchat presence looks consistent and in tune with your brand's presence across other platforms.
But that's not all!
#4 Create User Generated Content
Want to add authenticity to your Snapchat promotion? User-generated content is the way to go! Incorporate content created by your followers to build trust and engagement:
Repost content from your followers that features your business. This showcases real experiences and feedback, making your brand more credible.
By leveraging user-generated content, you can stand out from the advertising noise without breaking the bank.
#5 Collaborate with Influencers for Massive Impact
Imagine your business going viral and reaching thousands of followers in an instant. Well, It's possible with the help of influencers. These social media influencers can give your brand remarkable exposure on Snapchat. Here's how to get started:
Look beyond the follower count and research an influencer's previous collaborations and recent activity.
Define your campaign goals and key performance indicators.
Create a list of relevant influencers in your industry.
Check their activity and authenticity using Snapchat categories.
Reach out to them with a collaboration proposal.
Use platforms like Ainfluencer to find influencers in your specific industry.
But, what is the best way to find influencers related to your niche?!

Ainfluencer: The Best Influencer Marketing Platform
At Ainfluencer, they offer you the perfect platform to connect with social media influencers who can propel your brand to new heights on Snapchat. Don't just focus on follower counts; dive deeper into an influencer's past collaborations and recent activity to ensure the right fit. 
With clearly defined campaign goals and key performance indicators, you can effectively target your desired audience. This influencer marketing platform enables you to discover a curated list of relevant influencers within your industry, verifying their activity and authenticity through Snapchat categories.
Once you've found the perfect influencers, we make it easy for you to reach out to them with personalized collaboration proposals. Need help finding influencers specific to your industry?
Join Ainfluencer today and witness your business go viral, capturing the attention of thousands of followers in an instant.
#6 Attract More Followers with Amazing Offers
Everyone loves a great deal! Use exclusive offers to attract more followers and create excitement around your brand:
Offer discounts or giveaways to followers who scan your Snapchat account or send screenshots using your product.
Utilize AR lenses and Snapchat filters to provide virtual trial experiences of your products.
Build hype and anticipation with these exciting offers and promotions.
#7 Share Exciting Announcements/ Behind-the-Scenes Snaps
Don't forget to cross-promote across different platforms to maximize your reach. Keep your followers engaged with these tactics:
Tease them with behind-the-scenes snaps and sneak peeks to pique their curiosity.
Announce flash sales and highlight winners of creative contests.
Take advantage of geofilters and location-specific trends to create exclusive content.
#8 Advertise on Snapchat
To truly harness the power of Snapchat for business, it's crucial to strategically integrate its diverse advertising formats into your game plan.
Snapchat offers an impressive array of ad formats to choose from, including:
Snap ads
Collection ads
Story ads
Dynamic ads
By incorporating these various ad formats into your marketing strategy, you can not only boost brand recognition and showcase your products but also attract users to visit your website and inspire them to make purchases.
So, get creative and leverage the wide range of advertising options on Snapchat to take your business to new heights!
#9 Interact with Your Audience
When it comes to connecting with your audience, Snapchat is your great tool! With awesome features like filters, lenses, and geotags, you can create super cool content that will have your followers hooked and itching to interact with you.
But that's not all! You can take it to the next level by hosting live events or Q&A sessions. This way, you can have real-time conversations, answer burning questions, and encourage your audience to join in on the fun. By getting involved on Snapchat, you'll build a squad of dedicated fans who will be more likely to support your business when the time comes to make a purchase.
So, let your creativity run wild, engage with your awesome followers, and watch your relationship with them blossom into something truly special on Snapchat!
#10 Monitor Your Snapchat Marketing Performance
Keeping an eye on how well you're doing on Snapchat is crucial to make sure your audience is loving what you share. Thankfully, Snapchat's Insights feature comes to the rescue, allowing you to effortlessly keep track of your views, reach, and engagement rates.
With this valuable information at your fingertips, you can figure out which content hits the sweet spot with your audience, pinpoint the perfect days and times to post, and spot areas that could use a little boost. And, don't forget about those third-party analytics tools! They can provide even deeper insights into how you're performing on Snapchat.
By staying on top of your performance and analyzing the data, you'll be able to fine-tune your content to maximize engagement and rake in more conversions for your business. So, keep a close eye on those stats and watch your Snapchat game soar!
Now you're armed with the strategies to take your business to new heights on Snapchat! Start implementing these tips and watch your presence grow.
You may consider:


What Are Snapchat for Business Key Metrics to Monitor
As mentioned before, if you're using social media for your business, it's essential to track your efforts.
By utilizing the analytics provided by platforms like Snapchat, you can gain valuable insights about your audience, identify what works best, discover optimal engagement times, and ultimately increase your return on investment.
But where should you begin?
Here are the 5 key metrics you should focus on when using Snapchat for business:
1. Unique Views
This metric reveals how many people opened the first frame of your Snapchat story for at least one second. Although it doesn't guarantee that they finished watching your entire story, it still provides important insights and is highly accurate.
2. View Time
With this metric, you can determine how long users watched your story. You can access information for the current year, as well as view the time in weeks and months. Keeping an eye on this metric helps you understand the level of engagement your content generates and indicates when it might be time to make changes.
3. Completion Rate
If you want to measure the percentage of users who watched your story from beginning to end, you're in luck. Snapchat now offers a completion rate on the "Story View Percentage" page, saving you the trouble of doing the math yourself.
4. Screenshots
While Snapchat lacks a Like button, you can still find out how many users took a screenshot of your snap. Simply check the number displayed next to the triangle icon at the bottom left of your story. This metric allows you to gauge the level of interest and engagement your content is generating.
5. Fallout Rate
To determine when people dropped off while viewing your story, you can calculate the fallout rate. Divide the difference between the number of views from the first snap and the number of views at each subsequent snap, then multiply by 100. This formula provides useful data to help you create more engaging and valuable content for your fans.
Interested to dive into crafting an absolutely stunning advertisement? Let's go! 😃
How to Advertise on Snapchat for Business
Here are some tracks that brand use to advertise their Snapchat business account:

Let's start with
1. 'Top Snap Only' Ads
these babies grab prime real estate at the very top of users' feeds. They're attention-grabbing visuals that can be images, GIFs, or videos. While you can't add clickable links, feel free to show off specific URLs in your ad copy. Perfect for promoting events, sales, or one-time happenings.
Short and snappy videos work wonders here, lasting up to 10 seconds (Snapchat suggests keeping it even shorter, around 5 or 6 seconds). Oh, and remember, these video ads are all about vertical orientation.
2. The Long-Form Video Content Ads
Now, for the long-form video content ads, the spotlight is on media companies and brands with epic stories to share. You've got up to 10 minutes to dazzle Snapchatters, making them perfect for film trailers, sneak peeks, or highlights from YouTube series. And guess what? You can even include a Call to Action in these ads.
Want to go the extra mile? Enter "Web View" ads.
3. Web View Ads
They're like the Top Snap Only ads, but with a bonus feature. When users swipe up, they're taken to a specific URL related to the ad. Great for introducing your brand and engaging Snapchatters.
Now, let's dive into:
4. Deep Link Ads
When users swipe up, they not only see your ad but also get a link to a web-based location—direct access to the iOS App Store or Google Play Store. It's the express lane to download your app, with no detours.
5. App Install Ads
Skip the extra links or content and take users straight to the relevant download page in the app store. Quick and easy app promotion.
But wait, there's more!
6. Sponsored Lenses
These playful tools let Snapchatters transform their selfies into something extraordinary, whether it's turning into a devil or an alien. It's a hit with Snapchat's young and adventurous users, who can't resist experimenting with these funny filters. And guess what? If your sponsored Lens is a hit, it could go viral on other social media platforms too!
Next up!
7. Sponsored Geofilters
These cool graphic overlays add a personal touch to snaps, and almost everyone uses them—1 billion times a day, to be exact. Advertisers can create geofilters based on their location. So if you're operating in the USA, why not create a geofilter exclusive to US users?
Last but not least! Go ahead!


8. On-Demand Geofilters
These geofilters are designed for specific local areas and short timeframes. You can customize and upload your own overlay. Prices start at just $5 for a small area over a short period, making it an affordable way to make an impact. And hey, cities, universities, and public institutions get the added bonus of creating free community geofilters.
Snapchat ads—your opportunity to captivate the Snapchatverse. Get creative, get noticed, and watch your brand take off!
What Is Snapchat Business Manager
Looking to take your Snapchat game to the next level? Snapchat Business Manager is here to help you out! It's the ultimate hub where you can effortlessly manage, unleash, and fine-tune your Snapchat business account.
Similar to its Facebook counterpart, Snapchat Business Manager is packed with a treasure trove of powerful tools. Think customized ad targeting, in-depth analytics, snazzy product catalogs, and so much more!
With these incredible features at your fingertips, you can craft captivating and jaw-dropping Snapchat content in a matter of minutes. And the cherry on top? You can closely monitor the performance of each Snap to ensure you're hitting the bullseye with your desired audience.
Snapchat Business Manager is your hidden advantage for creating a buzz-worthy presence on the platform. Don't miss out on this game-changing tool!
What Are the Features of Snapchat Business Manager
Discover the amazing features of Snapchat Business Manager that will take your advertising game to the next level:
Instant Create
Whip up an eye-catching image or video ad in a snap! With a user-friendly tool, you can create stunning ads in five minutes or less.
Advanced Create
You can dive deep into advertising campaigns with marketing platforms like Ainfluencer. Fine-tune your objectives, conduct split tests to optimize your ads, and effortlessly create new ad sets—all within one simple tool.
Events Manager
Connect your website to the Snap Pixel and unlock the ability to track the effectiveness of your ads across different channels. You'll gain valuable insights into how your customers engage with your ads and if they visit your website after seeing them.
Catalogs
Simplify the purchasing experience for your customers by uploading your product inventories directly to Snapchat. This means they can make purchases seamlessly within the app, making it super convenient for them and boosting your sales.
Lens Web Builder Tool
Whether you choose from the awesome pre-set templates or build a lens from scratch, you'll captivate your audience and leave a lasting impression.
Create Filters
You can boost your brand awareness by using branded illustrations or images in the Snaps of your audience. Connect with them on a personal level and enhance brand awareness through engaging filters.
Audience Insights
You can get familiar with your customers' opinions and gain in-depth knowledge about their preferences and interests. The detailed audience data points provide valuable insights to help you tailor your campaigns and target the right audience.
Creator Marketplace
You can collaborate with the Snapchat creators for your upcoming campaign. The Creator Marketplace brings together talented individuals who can help amplify your brand and deliver exceptional content to your audience.
FAQs
Now, it's time to take a look at some frequently asked questions regarding Snapchat for business. Ready for a ride?! Let's go.
1. Can I advertise on Snapchat?
Absolutely! Snapchat provides a range of exciting advertising opportunities to help your brand shine. You can explore Snap Ads, Sponsored Geofilters, and Sponsored Lenses to connect with your target audience in unique and engaging ways.
2. How Can I Measure the Success of My Snapchat Marketing Efforts?
Snapchat has got you covered! They offer powerful analytics tools like Snap Pixel and Audience Insights, allowing you to measure the impact of your ads and content. You can also keep an eye on key engagement metrics such as views, screenshots, and replies, thanks to Snapchat's handy built-in features. Stay informed and see your efforts pay off!
3. Is Snapchat for Business Free?
Setting up a Snapchat business account won't cost you a dime! However, when it comes to advertising, there's a price tag involved. Don't worry though, you have the flexibility to employ a mix of paid and organic strategies to promote your business and captivate your audience on this vibrant platform.
4. Is Snapchat Marketing a Good Solution to Boost Our Brand?
Absolutely! Snapchat is a fantastic tool for marketing purposes. It's an ideal platform because it boasts impressive engagement rates. With Snapchat, businesses can connect with their audience instantly and in real-time. Plus, it's especially handy for local advertising, enabling you to deliver captivating and interactive stories that truly captivate your target audience. So, when it comes to marketing, Snapchat definitely hits the mark!
5. How to Set Up Snapchat for Business?
Here are six methods to utilize Snapchat for business:
Establish a Snapchat business account,
Promote your Snapchat business account,
Highlight content created by users,
Seek assistance from influencers,
Advertise exclusive deals,
Share thrilling announcements.
6. What Are the Latest Features of Snapchat for Business?
Snapchat has rolled out some cool new features lately, but not all of them may be a perfect fit for your business's social media strategy.
#1 AR shopping lenses
Now you can sell products directly from your Snaps! These Shopping Lenses allow you to tag products within your content, making it easy for users to browse, interact, and make purchases straight from your catalog. According to Snapchat, a whopping 93% of Snapchatters are interested in AR shopping, and people interact with AR lenses over 6 billion times a day!
#2 Snaps in 3D
With the 3D camera mode, your Snaps come to life with an extra dimension. When users wiggle their phones, they can experience that cool 3D effect. This can be great for brands showcasing new products or offering a more dynamic view of their offerings compared to traditional photos.
#3 Custom Landmarks
Snapchat's latest addition lets you create location-based lenses that work in specific areas. While it was initially aimed at famous landmarks, now you can create a Custom Landmark lens anywhere, including your store, pop-up shop, or any spot that holds significance for you and your fans. This gives your audience an extra reason to visit you and check out your unique lens.
Snapchat's new features are all about creativity and innovation, but remember to choose the ones that align with your social media strategy and goals.
To Wrap Things Up
Snapchat for business is an exciting opportunity for companies to tap into the power of this popular social media platform. With its emphasis on visual content and its appeal to younger users, Snapchat offers a unique way for businesses to connect with a highly engaged audience.
Snapchat marketing allows businesses to create captivating and attention-grabbing content that resonates with the younger demographic. The app's ephemeral nature adds an element of urgency and excitement, making it an ideal platform to showcase creative and visually appealing campaigns.