For those using Snapchat for business or as an influencer, having a public profile is essential to increase their audience. But how to make a public profile on Snapchat?
Many users are familiar with the power of Instagram and TikTok in digital marketing and use it to grow their businesses. But some, choose Snapchat! In this guide, we will show you everything you need to know about how to make a public profile on Snapchat to access professional tools and grow your followers.
What Is A Public Profile On Snapchat
When you have a public profile on Snapchat, your snaps and stories can be discovered by users who are not on your friend list. This means that anyone on Snapchat can view your content, increasing your visibility and reach.
If you are using Instagram to share photos and videos with your friends, having a public profile is not a good idea. But many users use this platform for business or as an influencer. So, they need to build connections with others. In this case, having a public profile is helpful. But how to make a public profile on Snapchat? Before that, you need to know the benefits of it.
What Are The Benefits Of A Public Profile
One of the key benefits of having a public profile on Snapchat (Or any other social media platform) is the increased visibility it provides. But other than that, some features are only available for public users. Here is what you can do:
Write a bio and introduce yourself/your service,
Add your business type,
Add a subscribe option,
Include a website link (Similar to TikTok link in bio tools, you can use them for Snapchat to add unlimited links).
Now, you know what to include in your public profile, let's see content opportunities for public accounts and other benefits.
Content Opportunities For Public Accounts
Public profiles provide a broader opportunity for content creation and sharing. Here are some options available on a public profile:
Public Stories: Public stories are accessible to anyone who views your profile.
Highlights: This feature enables you to highlight your best content (Similar to Instagram highlights) and make it easily accessible to viewers.
Snapchat Lenses: If you've developed Snapchat Lenses, a public profile enables you to share and promote them with a wider audience.
Shopping Links: Public profiles also offer the opportunity to include shopping links. If you have an e-commerce store, you can direct users to specific products or promotions.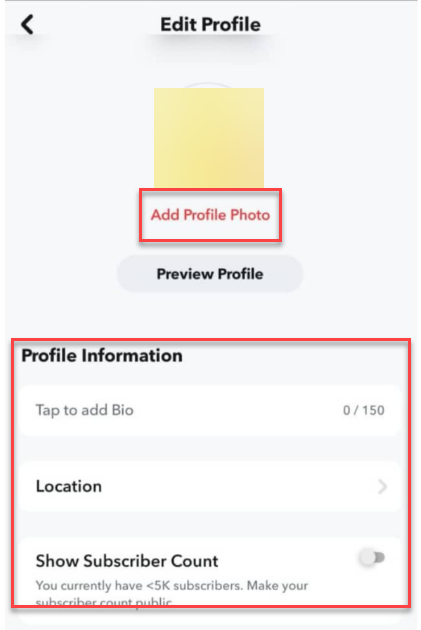 Note: You can also create a landing page and use high-converting landing page designs to include as many links/shopping links as you need on your bio.
Advanced Insights and Statistics
On personal accounts, you only have the option to check the reach and views of your content. But on a public account, there are some advanced tools you can take advantage from:
Demographics: Public profiles provide demographic information about the people who view your content.
View Time: You can analyze the average view time of your content, providing insights into how engaging and captivating your snaps and stories are for your audience.
Audience Age Range: Public profiles reveal the age range of the users who engage most with your content.
Public Profile Eligibility
Want to know how to make a public profile on Snapchat? Before that there are some eligibility requirements to meet.
You should be 18 or over (when you signup, it asks you for your birthday. So, make sure to write it correctly),
Your account should be older than 24 hours,
Make sure not to violate any of Snapchat's community guidelines,
Have at least one friend that has also friended you,
So, if you are wondering how to make a public profile on Snapchat under 18, unfortunately, there is no option available for you.
Public Profile Vs. Private Profile On Snapchat
In the last parts, we talked about what features a public profile provides for you. But it all depends on the purpose of your Snapchat usage. Are you looking to grow a following, share your content with a wider audience, and explore collaborations? Or do you prefer a more personal, private sharing experience among close friends?
Here is a quick sum up of each account type's features:
Private Profile:
Enhanced Privacy: On private accounts, you have more control over who can see your snaps and stories. You can limit access to a trusted circle of friends for a higher level of privacy and security.
Selective Sharing: By keeping your profile private, you can share personal moments, inside jokes, or sensitive content exclusively with your close friends.
Focused Connections: With a private profile, you can maintain a smaller, more curated network of friends.
Public Profile:
Increased Visibility: Your snaps and stories can be discovered by users who are not on your friend list. This means you have the potential to reach a larger audience and gain more followers.
Community Engagement: You can connect with like-minded individuals, receive feedback on your content, and build a dedicated following.
Opportunities for Growth: Public profiles on Snapchat can attract the attention of brands, influencers, and potential collaborators. So make sure to use this influencer marketing tool properly.
How To Make A Public Profile On Snapchat
Up to here, you have decided your mind on which type of account is the best for you. But how to make a public profile on Snapchat iPhone? To create a public profile on Snapchat, follow these steps:
Open the Snapchat app on your device and log in to your account.
Tap on your profile icon or Bitmoji avatar in the top left corner of the screen to access your profile settings.
On your profile page, tap on the gear icon in the top right corner to open the settings menu.
In the settings menu, scroll down and find the 'Public Profile' section.
Tap 'Create Public Profile.'
In the opened tab select 'Get Started.'
Choose 'Create.'
Now, you'll be back to the setting page and your profile is public. You are ready to share your stories with everyone and gain followers!
If you are wondering how to make a public profile on Snapchat Android, the steps are exactly the same. Just open the Snapchat app and follow the above steps.
FAQs
Now that you know everything about how to make a public profile on Snapchat, let's answer some of the frequently asked questions.
1. Are There Any Privacy Concerns With A Public Profile On Snapchat?
While having a public profile on Snapchat allows for increased visibility, it's important to be mindful of privacy concerns. Remember that anyone on Snapchat can view your content. So, it's essential to think twice before sharing personal or sensitive information. Regularly review and adjust your privacy settings to ensure you maintain control over your profile's visibility and interactions.
2. Can I Switch Back To A Private Profile After Having A Public Profile?
Yes, you can switch back to a private profile on Snapchat at any time. Simply go to your profile settings, navigate to the privacy options, and adjust the settings to make your profile private. When you switch to a private profile, only your approved friends will be able to view your snaps and stories.
3. How Can I Grow My Following With A Public Profile On Snapchat?
To grow your following with a public profile on Snapchat, focus on creating captivating and relevant content that resonates with your target audience. Engage with other users by commenting on their snaps, responding to messages, and participating in Snapchat communities. Promote your Snapchat profile on other social media platforms, collaborate with influencers or brands, and leverage popular trends to attract new followers and expand your reach.
4. Can I See Statistics And Insights About My Public Profile's Performance On Snapchat?
Yes, Snapchat provides insights and statistics about your public profile's performance. You can access information such as reach, views, demographics of your audience, and view time. These insights can help you understand your audience better and tailor your content strategy accordingly to maximize engagement and growth.
Conclusion
A public profile allows you to reach a wider audience, engage with a community, and explore growth opportunities. On the other hand, a private profile prioritizes privacy, fosters closer connections, and allows for selective sharing with trusted friends.
Consider your goals, content preferences, and privacy concerns when deciding which profile type aligns best with your Snapchat experience. If you decide to have a public account, we showed you how to make a public profile on Snapchat in this guide. Make sure to consider the pros and cons of each account before switching.