Gold jewelry brands have long been revered for their timeless elegance and exceptional craftsmanship. When it comes to the best gold jewelry brands, a world of luxury and sophistication awaits those seeking to adorn themselves with exquisite pieces that radiate luxury.
From renowned names that have graced red carpets and adorned royalty to emerging designers pushing the boundaries of innovation, the realm of gold jewelry is as diverse as it is captivating. In this age of digital influence, these esteemed brands have embraced the power of influencer marketing, leveraging social media platforms to showcase their unparalleled creations and connect with a new generation of jewelry enthusiasts.
To navigate this dynamic landscape of influencer marketing seamlessly, brands can turn to Ainfluencer: the premier influencer marketing platform. Ainfluencer offers a comprehensive suite of tools and services designed to streamline the collaboration process between gold jewelry brands and influencers. Sign up Today and don't miss out on the chances! 😀
Join us as we embark on a glittering journey through luxury jewelry brands. Let's go! 😉
15 Best Gold Jewelry Brands
Prepare to be enchanted by the exquisite craftsmanship, timeless elegance, and unparalleled beauty that these remarkable brands have to offer.
Without further ado, let's delve into the illustrious list of the top 15 gold jewelry brands that will leave you spellbound.
1. Tiffany & Co.: Luxury Jewelry Brand
Tiffany & Co, the renowned name in designer jewelry, carries a rich heritage that instantly captures our imagination. Since its establishment in 1837 as Tiffany, Young & Ellis, and later transforming into Tiffany & Co., this iconic brand has expanded its influence to London and Paris.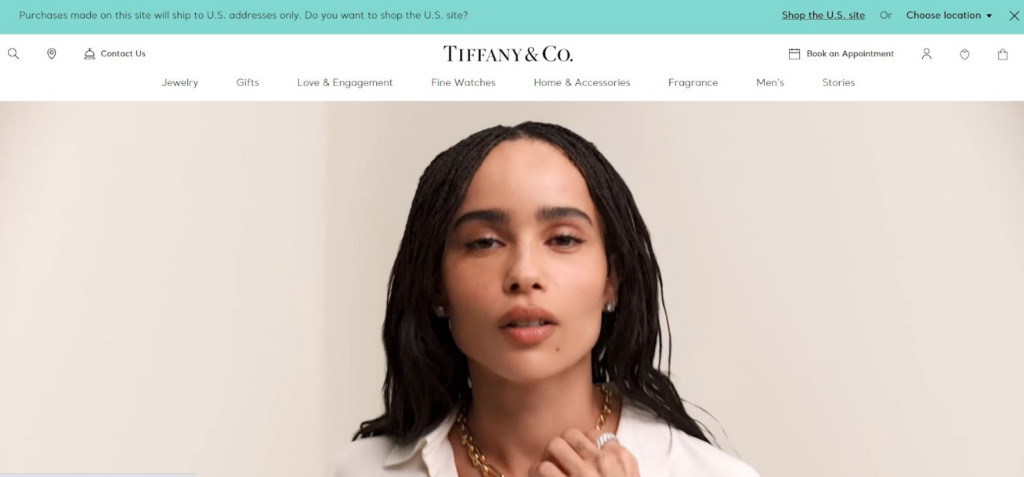 Its reputation for creating exquisite jewelry of the highest quality, be it dazzling diamonds, stunning solitaires, or elegant platinum pieces, is well-deserved. Notably, famous personalities like Jackie Kennedy and Elizabeth Taylor proudly call themselves loyal patrons of Tiffany & Co.
Read Also: 10 Best Travel Vloggers on YouTube
2. Harry Winston: Famous Gold Brand
Harry Winston is a jewelry empire that belongs to New York City back in 1932. Picture a young and ambitious man named Harry Winston, who would later earn the prestigious titles of the 'King of Diamonds' and the 'Jeweler to the Stars.' This visionary artist was renowned for his exquisite creations that adorned the most dazzling celebrities of his time.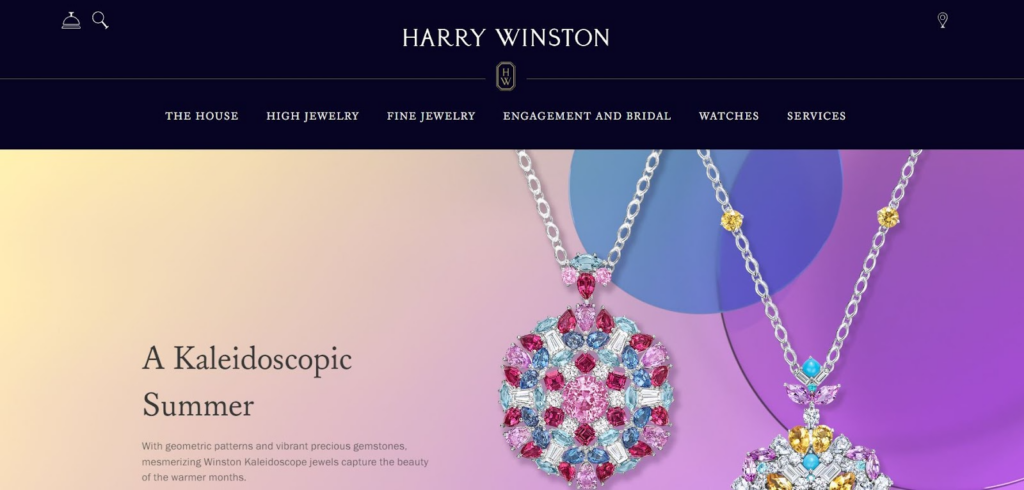 One particular gem stood out among his treasures—the legendary Hope Diamond. Imagine a magnificent heart-shaped jewel, weighing an impressive 45.42 carats, with a grayish-blue hue. This breathtaking masterpiece found its way into the hands of none other than King George IV of the United Kingdom, solidifying its place in history.
See also: How to Get Started in Freelance Digital Marketing 2023: The Ultimate Guide
3. Cartier: Best Jewelry Brand
In 1847, a stylish French designer named Louis Cartier established Cartier in Paris. The brand quickly gained fame and expanded to major cities worldwide with its exceptional accessories. In 1947, Cartier crafted an iconic brooch shaped like a magnificent panther, adorned with dazzling diamonds and exquisite gems.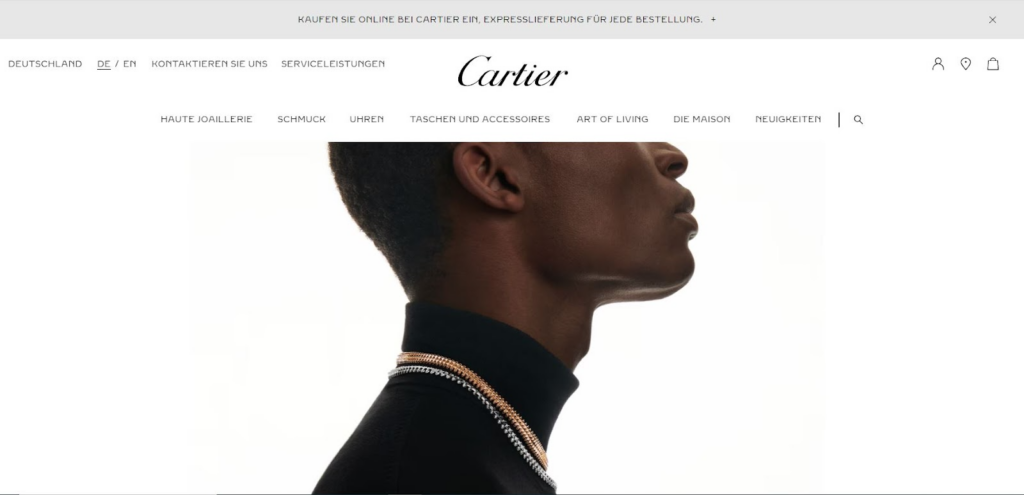 This masterpiece captivated the world's attention, including that of the mesmerized Princess of Windsor. Every year, Cartier creates a new rendition of this highly anticipated piece, which continues to be eagerly awaited. Moreover, the brand is renowned for auctioning the most exquisite, prestigious, and rare jewelry pieces.
4. Bvlgari: Italian Jewelry Brand
Bvlgari, an Italian brand, traces its roots back to the late 1700s when a visionary Greek immigrant named Sotirios Voulgaris embarked on a remarkable journey. Since then, Bvlgari has become synonymous with exquisite jewelry that leaves everyone mesmerized. Picture stunning multicolored stones and dazzling diamonds adorning their creations, each piece radiating a unique and unparalleled beauty.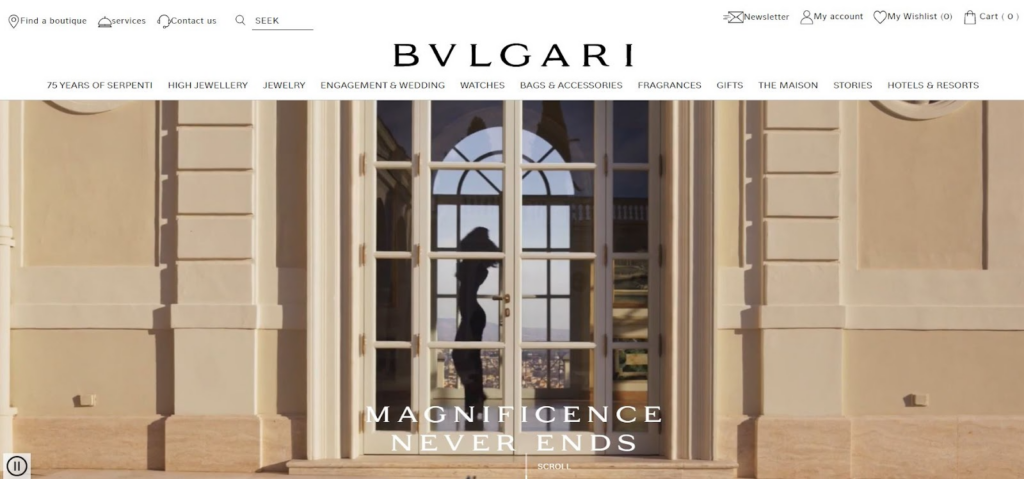 One collection that stands out above all is the legendary 'Serpentine.' Imagine watches, necklaces, and bangles gracefully coiled like a serpent, adorned with a magnificent display of diamonds and vibrant colored stones. It's a collection that exemplifies elegance and sophistication, capturing the hearts of those who appreciate true artistry.
5. Chopard: Gold Brand
Chopard, a Swiss brand founded by Louis-Ulysse Chopard in the 1860s, originally gained recognition for crafting elegant watches and pocket watches specifically for women. Fast forward to 1963 when Karl Scheufele acquired Chopard, the brand became renowned for its stylish Art-Deco-inspired timepieces and the iconic Happy Diamonds collection.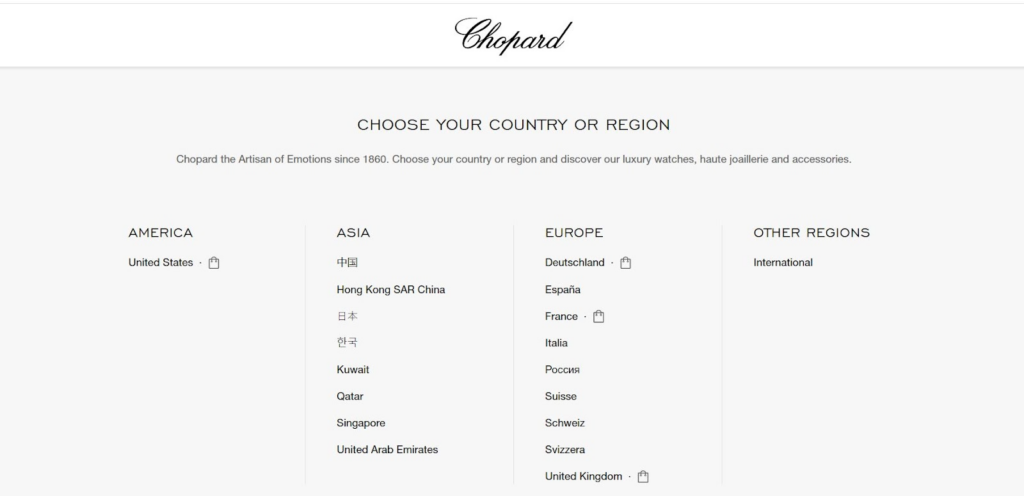 In the mid-1970s, Chopard introduced a remarkable innovation: free-floating diamonds delicately placed behind the watch glass, adding a touch of enchantment to their designs. Today, Chopard stands proudly as the official partner of the prestigious Cannes Film Festival, the designated timekeeper of the Grand Prix of Monaco, and the Mille Miglia.
What sets Chopard apart is not just their exceptional craftsmanship, but also their commitment to ethical practices. The brand takes pride in sourcing gold responsibly and aims to transition to using sustainable gold for all its creations in the future.
6. VAN CLEEF & ARPELS: High-quality Gold Jewelry Brand
Step into the enchanting world of Van Cleef & Arpels, a story that began over a century ago. Picture a time when love and creativity intertwined, giving birth to an enduring legacy. In 1895, a remarkable union took place—Alfred van Cleef and Estelle Arpels tied the knot, igniting a spark that would illuminate the world of luxury.
In 1906, their passion blossomed into a visionary venture. With great anticipation, they opened the doors of their first boutique in the illustrious Place Vendome, Paris. The world held its breath as this new era of elegance unfolded before its eyes.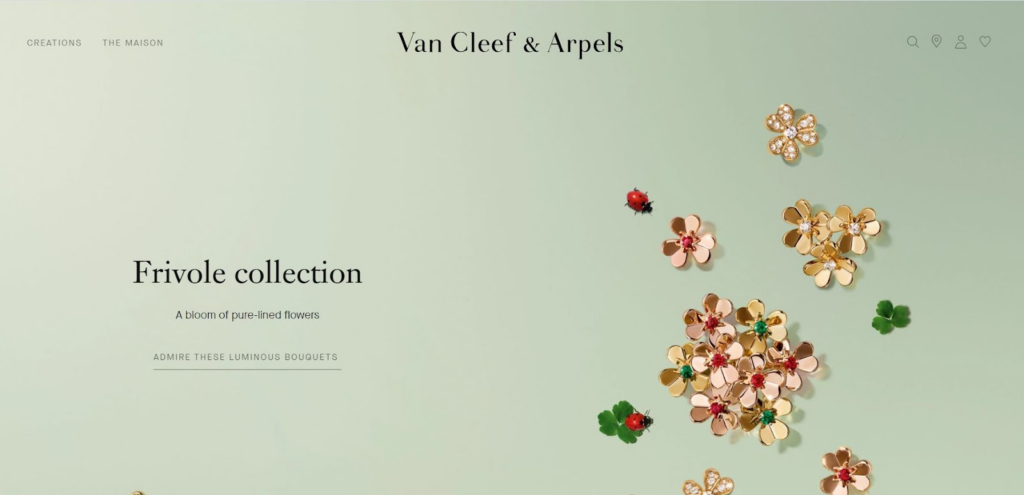 The 1940s brought a new chapter to the Van Cleef & Arpels saga as they embarked on a transatlantic journey. Today, Van Cleef & Arpels continues to illuminate the world with their timeless elegance. Their story, like their gold jewelry, is an everlasting masterpiece.
7. Boucheron: Elite Gold Accessories
Let's delve into Boucheron, the visionary who kindled this extraordinary brand in the heart of Paris, France, back in 1858.
As an artist deeply inspired by the allure of Egyptian and Asian art, Boucheron sought to breathe new life into the world of jewelry. His creations were a testament to his unyielding passion and quest for the extraordinary. With each stroke of his genius, he wove a tapestry of unfamiliar stones, unveiling a new chapter in the history of luxury gold.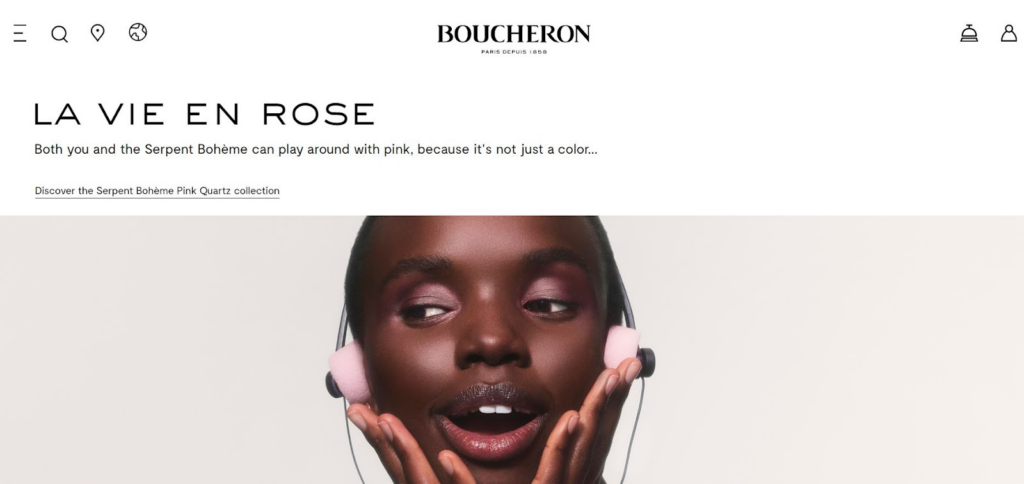 Boucheron's jewelry is a symphony of colors and forms, an invitation to embark on an enchanting journey.
8. Kay Jewelers: White Gold Jewelry Brand
Over a century ago, Kay Jewelers embarked on its enchanting journey of love when it opened its very first Pennsylvania store. Since then, it has been dedicated to playing a part in countless love stories across the nation.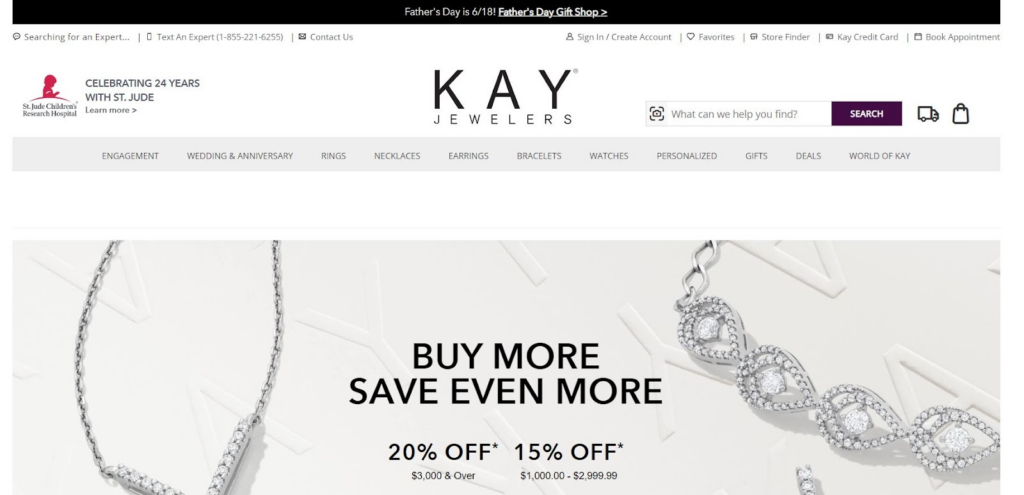 Chances are, you've already caught wind of their iconic slogan, 'Every kiss begins with Kay,' featured in their memorable commercials. This makes Kay Jewelers the go-to destination for heartfelt gifts, such as couples' jewelry and promise rings, that will surely tug at your heartstrings.
9. David Yurman: Famous Jewelry Brand
Back in 1980, in New York, David and Sybil Yurman embarked on a remarkable journey, creating an American jewelry brand that would carve its own path. While it may have joined the industry a bit later than the established giants, it certainly holds its own.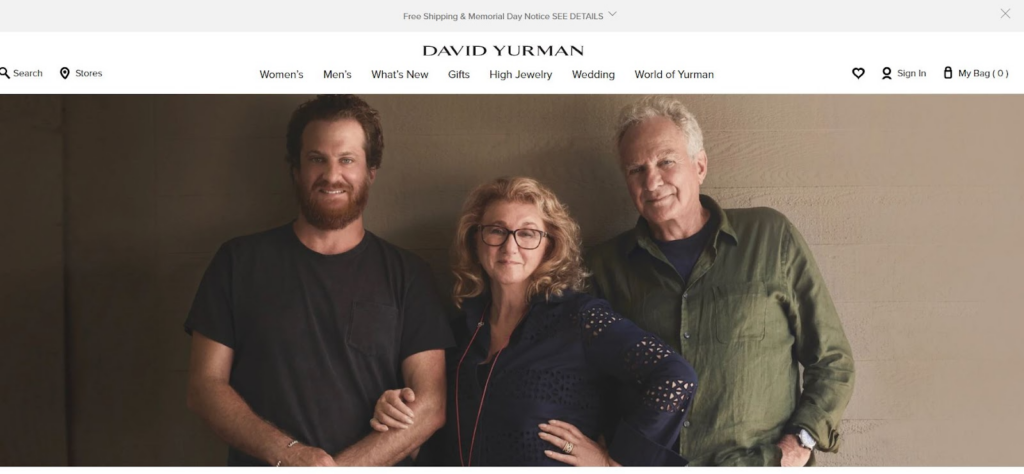 This brand understands the diverse needs of women, offering jewelry that's perfect for both glamorous red-carpet occasions and everyday wear. Their iconic 'Cable Motif' is a true masterpiece, weaving together silver, platinum, or gold wire, embellished with dazzling gemstones, or kept sleek and polished. It's no wonder that celebrities often choose to adorn themselves with the exquisite designs of David Yurman's gold jewelry brand.
10. Kendra Scott: Rose Gold Jewelry Brand for Necklaces
Get ready to fall in love with Kendra Scott! Founded by the designer herself, this jewelry brand fills a gap in the market by offering high-quality styles and stones at affordable prices.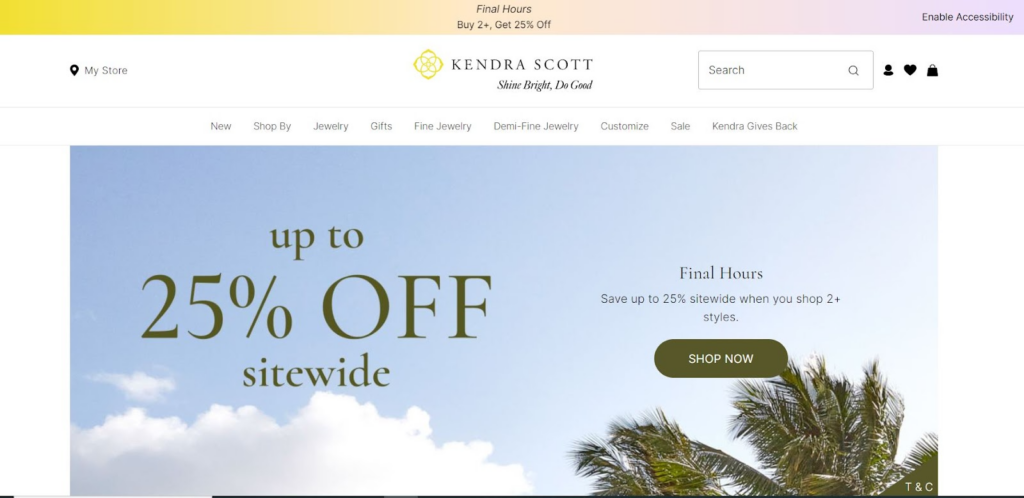 You can even find their fabulous pieces on Amazon. Hugely popular in the South, Kendra Scott is known for their iconic pendant necklaces and stunning dangling earrings.
Read more: How to Find an Influencer on Social Media
11. Swarovski: Famous Jewelry Brand for Crystals
Swarovski, a brand with over 125 years of experience in creating exquisite jewelry, is widely recognized and valued for its innovative and timeless pieces. Its presence can be seen in almost every shopping mall and outlet center, and there's a good reason for that. The brand's jewelry stands out due to its exceptional quality, distinctive designs, and suitability for gifting.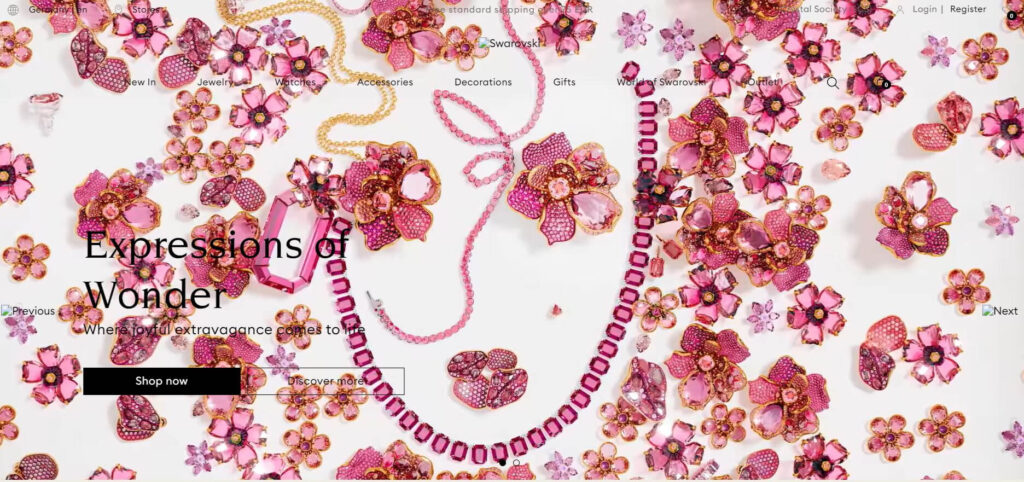 Moreover, Swarovski offers a range of products at various price points, ensuring that there is something affordable for everyone. The brand's dedication to quality is evident across all tiers of its specialized brackets. The brand is also available on Amazon.
12. PDPAOLA: The Modern Gold Brand
PDPAOLA is a brand focused on empowering women who radiate confidence. It's a genuine, trendy, and contemporary brand that deserves attention. PDPAOLA caters to the chic, independent, and modern style, incorporating glamorous gemstones. This brand has recently caught our attention, and we can't take our eyes off it.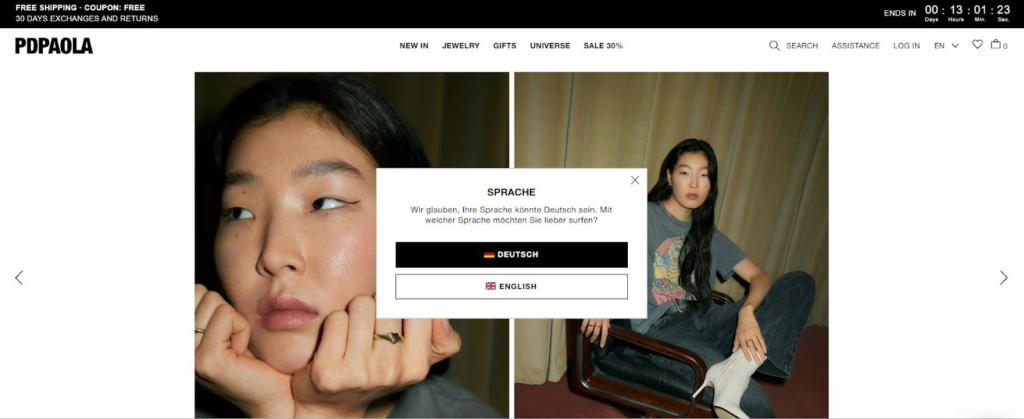 Their collection includes exquisite gemstone rings, delicate lock bracelets, and irresistible constellation gemstone necklaces. These pieces will add a unique touch to any outfit and make the perfect gift that will have people asking, 'Where did you get it?' Shopify stores are dedicated to enabling women to express themselves in their most authentic way.
13. King Ice: Streetwear Jewelry Brand
With its catchy name, King Ice stands out as the 24th highest-ranking Shopify store globally. It's a fascinating online shop that caters to a specific group: passionate rap artists and hip-hop fans. The store offers a unique niche, focusing on selling stylish jewelry that complements the modern rapper's aesthetic.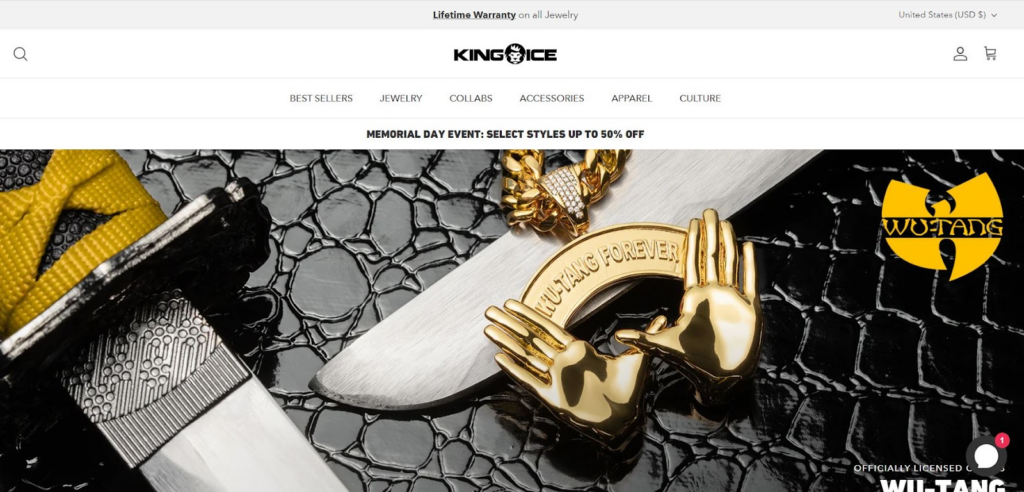 Their collection includes eye-catching rings, pendants, and chains, predominantly available in gold or silver, which are the preferred colors in this genre.
14. Meta Marvel: Fashion Jewelry Brand
Metal Marvels is a unique jewelry collection that embraces the values of feminism and individuality, challenging traditional expectations of female behavior.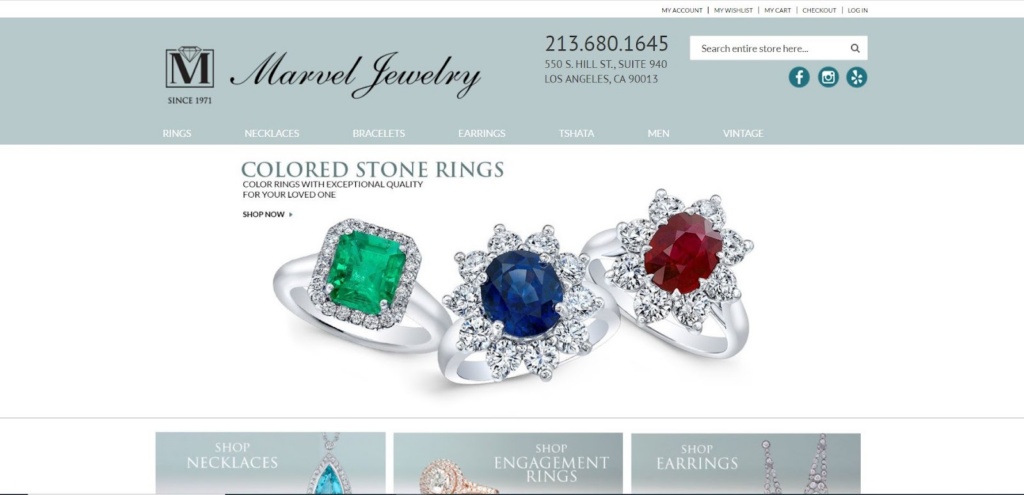 Where else can you discover jewelry that makes such defiant statements? These handcrafted adornments shatter stereotypes of delicate and submissive women. The brand's motto, 'For audacious women who defy conventions,' captures their fundamental values.
Additionally, the affordability of their products is noteworthy. Moreover, Metal Marvels doesn't just offer jewelry; you can also explore a range of surprising drinkware and other accessories. This Shopify jewelry store is also available on Amazon.
15. Vivien Frank: Minimal Gold Jewelry Brand
Simona, the creator of the brand, stepped away from the fast-paced film industry to become a full-time mother. Despite this change, she managed to transform her hobby of jewelry design into a thriving empire. Her talent and dedication earned her recognition in prestigious magazines such as Vogue UK and Glamour. The name Vivien Frank pays tribute to her two beloved children.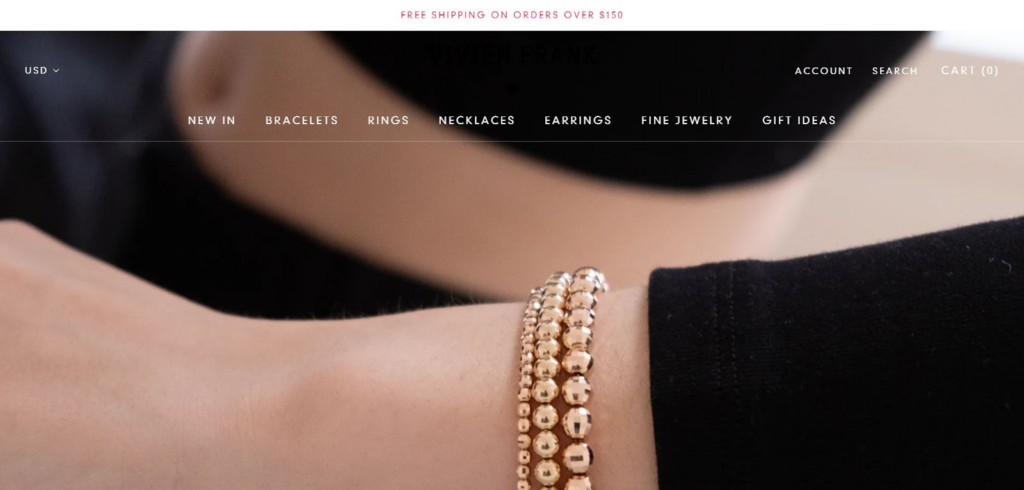 A unique selling proposition (USP) of their jewelry lies in its fusion of Urban Bohemian Glam style with a wide range of materials. Every piece is meticulously handcrafted, showcasing the brand's commitment to quality and craftsmanship. This gold jewelry brand has a store on Shopify.
Reliable Shopify Stores to Buy Gold Jewelry
Are you looking to add a touch of elegance and luxury to your jewelry collection? Welcome to the world of Reliable Shopify Stores, your ultimate destination for exquisite gold jewelry.
From stunning necklaces and bracelets to mesmerizing earrings and rings, we have curated a collection that embodies timeless beauty and unparalleled craftsmanship. Whether you're searching for a statement piece for a special occasion or a subtle everyday accessory, these Shopify stores offer a diverse range of options to suit every style and preference.
1. Missoma
Missoma is a highly popular jewelry store on Shopify, making it a prominent contender on this list. Its focus lies primarily on creating exquisite jewelry pieces that are perfect for everyday wear. Missoma specializes in offering delicate and unique designs featuring semi-precious gemstones, adding an elegant touch for its customers.
Missoma's presence as a Shopify jewelry store serves as an inspiration to jewelry start-ups, igniting their creativity. The website of Missoma, powered by Shopify, boasts a stylish interface that resembles the experience of reading a magazine. The design of Missoma's website is carefully crafted to embody elegance and simplicity, captivating its visitors. Furthermore, Missoma has garnered a substantial following on social media platforms.
This jewelry store provides customers with a wide range of shipping options, regardless of their location. However, for customers residing in the UK, there are even more shipping choices available, including the possibility of free shipping.
2. QALO
Qalo offers attractive and cozy rings that are appealing to a wide range of individuals. As a leading jewelry store on Shopify, Qalo specializes in selling silicone rings. Their distinctive products hold great appeal for individuals leading active lifestyles. In addition to its unique offerings, its website plays a significant role in their success. 
Qalo's website is designed with simplicity and a sense of urgency, featuring bold and powerful images of their rings. As a result, they are able to effectively capture the attention of their target customers. Their logo follows a minimalistic design with a sporty font, further reinforcing their focus on an active lifestyle. Overall, every aspect of their website exudes a strong "Active" vibe.
3. Vrai
Vrai stands out as one of the top-notch Shopify stores specializing in exquisite jewelry, ranging from everyday essentials to engagement and wedding rings. Upon visiting their website, it becomes evident that it has been designed with a strong focus on providing an exceptional customer experience. 
Despite handling a large volume of data, Vrai's website performs admirably with its swift loading speed. Research suggests that more than half of website visitors will abandon a site if it takes longer than two seconds to load.
Consequently, loading speed holds immense significance for any online store. Vrai manages to achieve impressive loading speed by employing the technique of lazy loading. This approach defers the loading of images until they are scrolled into view, effectively enhancing the overall page speed.
Ainfluencer: The Marketing Platform for Luxury Gold Jewelry Brands
Are you a jewelry brand looking to amplify your online presence and reach your target audience effectively? Ainfluencer is here to help you out!
With Ainfluencer, you can unlock the power of influencer marketing and take your brand to new heights in the digital realm.
Why Choose Ainfluencer?
Extensive Influencer Network: Ainfluencer boasts an extensive network of talented and authentic influencers specializing in the jewelry industry.
Targeted Audience Reach: Reach the right audience for your jewelry brand through Ainfluencer's advanced targeting options.
Authentic and Engaging Content: With Ainfluencer, you can expect influencers to create authentic and engaging content that resonates with their followers. Through beautiful visuals, compelling storytelling, and genuine endorsements, your jewelry brand will captivate audiences and build trust.
Seamless Collaboration: Collaborating with influencers has never been easier. Ainfluencer streamlines the entire collaboration process, from initial communication and content creation to campaign management and payment. Our platform ensures smooth and efficient partnerships, saving you time and effort.
Brand Safety and Compliance: We prioritize brand safety and compliance at Ainfluencer. We have strict guidelines in place to ensure that influencers adhere to ethical practices and guidelines, safeguarding your brand reputation and maintaining transparency.
Get Started with Ainfluencer Today!
If you're ready to elevate your jewelry brand's online presence and connect with your target audience effectively, it's time to join Ainfluencer. This platform provides you with the tools, resources, and network needed to succeed in influencer marketing. Discover the power of collaboration and let your jewelry brand shine like never before.
Don't miss out on the opportunity to unlock new growth and establish your brand as a force to be reckoned with in the jewelry industry with the best influencer marketing platform.
FAQs on Best Jewelry Brands
Now, let's take a look at some frequently asked questions regarding best gold jewelry brands.
1. What To Consider For The Best Jewelry Brands?
Before choosing the gold brand, you must consider the following metrics:
Materials:
The finest jewelry brands use high-quality metals like platinum, silver, and gold.
These metals are ideal for people with sensitive skin.
Look for brands that offer a variety of materials, including traditional pearls and gemstones, as well as modern options like lucite, resin, and beading.
Maintenance:
To keep your jewelry looking its best, regular cleaning is essential.
Residue and grime can accumulate on metal and precious gemstones, dulling their shine.
Gently wash your pieces with warm water and soap, and polish them with a microfiber cloth.
Versatility:
If you love wearing jewelry every day, choose pieces that can be easily mixed and matched with your wardrobe.
Consider investing in pendant chain necklaces, architectural rings, and other versatile pieces.
For special occasions like weddings, opt for statement pieces such as bold earrings or chunky chokers that make a statement.
2. Is Rose Gold Or Silver (White Gold) Jewelry More Popular?
While yellow gold has stolen the spotlight in recent years, the resurgence of '90s-inspired fashion has ed a fresh wave of white gold jewelry (silver) accessories. Renowned brands such as Mejuri, Baublebar, and Cult Gaia have all unveiled contemporary silver jewelry in their latest collections.
Ultimately, the choice between gold and silver comes down to your personal style preference. So, embrace the allure of both metals and adorn yourself with what truly captivates your individual taste.
3. What Is The Best Jewelry To Wear All Of The Time?
The key is to invest in pieces that are tangle-free and resistant to tarnishing. Plus, it's crucial to pay attention to stone settings, ensuring your precious gemstones stay securely in place, no matter how much you move and groove. So go ahead and embrace the joy of wearing jewelry all the time, without worrying about any wiggly mishaps!
4. What Is Gold Filled Jewelry?
Unlike traditional solid gold jewelry, gold-filled jewelry consists of a remarkable fusion between a solid layer of captivating gold and a sturdy base metal, like sterling silver or copper.
It's a fascinating combination that not only offers a more affordable alternative to solid gold but also boasts remarkable durability, retaining its dazzling luster for countless years of wear and tear.
In fact, even after decades of being cherished and adored, gold-filled jewelry manages to maintain a fresh and radiant appearance, proving that its allure is truly timeless.
5. What Is 24k Gold Jewelry?
A 24 Karat gold is pure gold in its most magnificent form, boasting a flawless composition of 100 percent gold goodness. You won't find any impurities or unwanted elements tarnishing its radiant glow.
This precious metal shines like a true champion, ensuring that every speck of it is pure and untainted. So, if you're seeking the pinnacle of gold's brilliance, look no further than 24 Karat gold.
To Wrap Things Up
In conclusion, the world of gold jewelry is adorned with brilliance, elegance, and timeless beauty, and these top brands have truly mastered the art of creating stunning pieces that captivate the heart and elevate any style.
Whether you're seeking a statement piece or a delicate everyday adornment, these best gold jewelry brands are your trusted companions on a journey of self-expression and refined sophistication.
Discover the best influencers on Ainfluencer and elevate your jewelry brand's online presence today!