The world is evolving so fast. So is everything inside it. Yet, so many people use old, inefficient methods to achieve what they want. Furthermore, when they cannot achieve it, they complain about how unfair or difficult things are.
You probably have seen people who have an eCommerce website but do not know how to optimize their eCommerce (electronic commerce; i.e., the activity of electronically buying or selling products on online services or over the Internet). Having an eCommerce is not just about setting a website up and running and throwing it into the Internet. If you care about your conversion rates, you should learn to optimize your eCommerce conversion funnel.
Optimizing the eCommerce conversion funnel is way more than just tracking key eCommerce metrics. Keep reading to find out what the eCommerce sales funnel is and how we can optimize it.
What is an eCommerce Conversion Funnel?
An eCommerce conversion funnel is a method of understanding consumers' path on an eCommerce site or app as they move toward desired actions, known as conversions.
The "funnel" is a helpful visual metaphor in eCommerce for visualizing the buyer's journey. The narrowing of the funnel symbolizes the drop-off of prospective consumers and refining their knowledge as they move along the conversion route, learning more about your site and eventually purchasing. eCommerce conversion funnel
Upper, medium, and lower funnel conversion techniques relate to a prospective customer's knowledge of your product and propensity to make a purchase soon. Targeting people at the top who are experimenting versus consumers at the bottom who are ready to buy requires distinct product analytics tactics.
The Importance of eCommerce Sales Funnel
According to Smart Insights, 43.8 percent of your site visitors see a product page on average, but only 3.3 percent make a purchase. This is such a terrible rate for your eCommerce conversion funnel! You can view this as a missed opportunity. In doing so, you need to be on the lookout for every piece of information that can optimize your eCommerce sales funnel.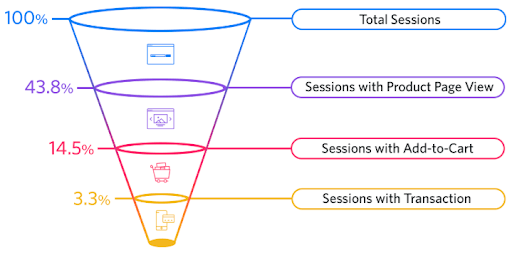 WatchThemLive is a complete conversion rate optimization software and perhaps one of the best marketing tools for eCommerce to analyze and optimize your eCommerce sales funnel. You can start optimizing your eCommerce conversion funnel right away and completely FREE!
What Are the eCommerce Conversion Funnel Stages?
Well, there are many different criteria for categorizing eCommerce sales funnel stages. You will see many of them on different websites. However, here I present to you what I found to be the most accurate:
The Landing Page (Interest-Visit)
The Product Page (Consideration-Discovery)
The Shopping Cart (Decision-Check out)
Purchase (Loyalty-Orders)
There is a plot twist, though. It is not that simple. You cannot just put all of the viewers' actions into these macro stages. There are many micro-conversions that you need to be on the lookout for, such as:
Signing up on the site
Submitting a form
Calling your business
Registering for a free or paid subscription/campaign
Downloading a piece of content, e.g., an eBook
Installing your app
Using a new feature
Upgrading services
Also, you should be aware that the buyer's journey and the sales funnel are not linear at all. Customers will probably not go through them in order, in one take, or one by one.
What Strategies Can Help With eCommerce Sales Funnel Optimization?
Each stage has its own complexities. Below, I will give you some tips you can implement to better optimize your eCommerce conversion funnel:
1. For the Awareness Stage:
A. Create content to attract viewers
Even if you don't have a marketing budget, you may still obtain highly relevant visitors to your e-commerce site.
Customers start their trip with a problem or an idea in mind. Why don't you provide them with material that contains solutions or suggestions?
You are already well-versed in your area. All you need to do now is figure out how to distribute it to prospective clients.
Many e-commerce marketers are intimidated by the word "content." However, you do not need to create lengthy blog entries or conduct webinars to attract visitors to your website.
You may produce content for consumers in this stage without a large advertising budget or a full marketing staff, whether it's a short how-to video on YouTube or a free guide on your e-commerce site.
Offering content upgrades is another clever method to gather quality leads you can nurture with email marketing and progress down your funnel.
If you're at a loss for where to begin, visit Quora or Reddit to learn about your consumers' concerns. Learn about their questions, collect the phrases they use, and respond to them in your material.
Combine content marketing with paid advertising to increase targeted traffic to your online shop.
B. Use Facebook Ads to Het Targeted Traffic
With over 2.32 billion monthly active users, Facebook is the ideal venue for raising brand recognition. Fortunately for marketers, Facebook's targeted advertisements come in various formats.
Using Facebook advertising, you can rapidly spread the word about your business and attract highly targeted traffic to your e-commerce site. The greatest aspect is that there are no restrictions on how the platform may be used.
2. For the Consideration Stage:
A. Use Social Proof on Your Channels
Social proof, a common marketing technique, refers to our belief that other people's ideas and behaviors are accurate in a particular circumstance. It applies to many areas of daily life, including e-commerce.
Social proof works at every step of the e-commerce sales funnel, and it's a particularly effective technique for convincing site visitors of your online store's quality and reliability. Also, it is useful in a variety of contexts.
Here are some of the most effective methods to move customers down the funnel.
Your online shop should be the first location where you build social proof for your business. Customer testimonials are one of the most common forms of social proof.
Your client reviews may be displayed on product pages and on your homepage. Using testimonials on your site may instantly wow visitors and increase conversion rates.
You may even devote a whole page to it. Visitors may read both good and negative reviews before choosing this way. Display all of your reviews on your e-commerce site if you want to be transparent.
User-generated content (UGC) is another method to include social proof in your website. You may compile your customers' photos, videos, and social media updates on your website regularly. This allows you to demonstrate your goods in action and generate social proof for them.
If you're running advertisements at any step of your conversion funnel, social proof is, again, a good complement to your ad content. You may integrate social proof into your remarketing efforts or social advertising to push consumers during the deliberation stage. It's much more effective than presenting the product in isolation since it emphasizes the value consumers receive.
Email should be your primary method for engaging prospects throughout the consideration stage. Social proof and email marketing are the ideal combos for persuading consumers to take the next step. It is entirely up to you how you mix the two.
Don't forget to include social proof in your email subject lines. In your subject lines, you may use actual quotations from your reviews or suggest the good comments you got.
B. Optimize Product Pages
At the consideration stage, product pages are where you win the hearts of your prospects. You must reassure visitors that your goods are the finest option and persuade them to add items to their shopping basket. At this point, you should match your product page content with the most frequently asked consumer queries and clear up any confusion. Begin by doing keyword research to determine what your buyer profile is searching for. Then, incorporate those findings into your text and present your goods as a solution to those problems.
We need to have a serious conversation if you use "Buy Now" on all of your CTA buttons. Prospects at various levels have varied requirements. And if you've been attempting to convince everyone with generic CTAs, it's time to switch things up. When creating CTAs, consider the value you place on the action. Why or what should they purchase right now?
You must mention the reasons why you should purchase them right now.
ii. Products Descriptions
First, you may bring up a frequent issue. Then, provide a funny solution to this issue.
You should be able to readily connect to the issue after reading the description. And if this is your kind of thing, you'll think it's a great idea and add it to your basket.
For internet consumers, unexpected expenses are a deal-breaker. 60 percent of customers leave shopping carts when they discover an unexpected additional expense. That is why, to convert prospects to the next step, you must describe your shipping and return procedures as simply as possible.
C. Curated Product Promotions
Prospects that have reached the consideration stage are eager to learn more about your goods.
Instead of hard-selling, use email marketing to advertise your goods more subtly. Curated emails are an excellent method to promote a product without being too salesy. They'll be much more effective when combined with persuasive triggers like scarcity or social proof.
Curated emails can assist you in better understanding your subscribers' interests, allowing you to segment your email list and deliver highly targeted marketing.
You may send out curated product emails on occasion to convert prospects who are contemplating purchasing from you. Alternatively, if you already have a newsletter, you may integrate them into it.
This kind of email may be framed in a variety of ways.
You may include social proof in your emails by labeling them as Customer Favorites or Best-sellers. Best-seller is a magical term since it already carries a lot of social evidence. You may create best-seller round-ups and select the top items of the month, season, or category. It's a fantastic way to advertise your goods without being too intrusive. If you want to lend authority to your curation emails, label them Our Favorites or Must-Haves. Don't forget to personalize your curation emails and suggest items your subscribers may be interested in. Track the categories or items they are clicking on and use this information to better target them in your future campaign.
3. For the Decision Stage:
There are no two customers who are alike.
Some may make a purchase within their first session, while many others will travel through the whole funnel before purchasing from you. That is why you must differentiate between first-time visitors, subscribers, and recurring visitors and develop unique campaigns to effectively target them.
If you're already viewing prospects as clients at this point, I've got terrible news for you. You can't afford to take those leads for granted, especially with cart abandonment rates hovering around 70%.
Instead, engage them with on-site messaging and gently encourage them if they opt to leave your site. Exit-intent campaigns are ideal for capturing abandoning visitors and converting them via discounts or email marketing.
The final thing that stands between you and your visitors is your checkout page. At this point, you have the option of starting to convert them into loyal customers or permanently losing them. E-commerce businesses must have a well-designed checkout page with various payment choices and compelling CTAs. But there's always something more you can do to encourage visitors to complete the checkout process:
Make use of the power of free delivery. Free shipping is a powerful incentive for converting decision-stage prospects into customers and assisting them in placing an order with a greater average order value.
Combining on-site messaging with product suggestions is a better approach to using this technique. Offering gifts at checkout is another method to persuade customers to make a purchase. Free samples or enhancements, such as free delivery, may boost average order value and sales income.
Whether you realize it or not, you have a wealth of information on your subscribers. They leave a mark with every page they visit on your site, every link they click in your emails, and everything they put in their basket. You may customize visitors' shopping experiences and obtain better conversion rates by using the information collected via cookies. Check out the article on behavioral targeting to learn more.
Fortunately, e-commerce email marketing is no exception.
Based on your visitors' activity, you may build highly targeted email messages to assist them in taking the last step. And until you do anything about it, you'll lose a lot of potential income. Abandoned cart emails are one of the most frequent types of behavioral emails. Some website visitors will inevitably get sidetracked and depart your shop empty-handed.
You may try the following method.
You send them numerous emails when they leave anything in their shopping cart. First, remind them of the things in their shopping basket. Then provide them with a discount. Finally, send a "Last Chance" email with an additional discount. But be wary of this discounting technique. You don't want customers abandoning their carts on purpose to obtain a better bargain.
Wishlist reminder emails are a relatively underutilized kind of behavioral email. Adding items to a wishlist indicates a purchasing intent that you should not ignore. Encourage visitors to utilize your wishlist function and employ behavior-based, automated emails to remind them of these things. Set up a lead scoring system and send highly targeted wishlist emails to your subscribers when they visit a category page five times in one month.
To achieve greater outcomes, combine them with FOMO (fear of missing out).
4. For the Retention Stage:
A. Loyalty Program Promotion
Even though it seems to be the conclusion of the customer journey for many, a well-thought-out thank you page may spike your sales.
Depending on your conversion objectives, you may improve thank you pages in various ways, like asking for referrals, conducting a survey, nurturing your leads, and many more. Using thank you pages to promote your loyalty program is an efficient method to offer consumers a cause to return to your site and improve customer lifetime value.
With a robust loyalty program, you can encourage consumers to continue down the sales funnel and return for more.
Following a purchase is an excellent opportunity to advertise your loyalty program. You can capture the joy and express gratitude to consumers for purchasing from you. Introducing your loyalty program to new consumers will instill emotions of exclusivity and belonging. So, with your 'thank you' page content, don't forget to make them feel special. You may market your loyalty program to the appropriate individuals at the right time by setting up a timed trigger campaign on receipt or thank you pages.
Inviting a client to return to your site to make another purchase is an efficient method to generate income.
You may, however, go higher. Existing consumers may return to your site as new ones are brought in. Referrals may benefit e-commerce companies since, according to one research, 84 percent of customers trust recommendations from people they know.
Happy customers will bring you many more, and you'll earn more sales on autopilot with referral marketing.
The key to a successful referral marketing plan is to provide a substantial reward to the referrer, such as a discount on the next purchase, shop credit, free samples, or gift cards. Also, ensure that there is something in it for the new client.
Remember the e-commerce sales funnel's structure and meaning: Only a subset of your consumers will become brand loyalists. However, there is a 32% probability that your first-time consumers will make a second purchase from you. And email marketing is the ideal instrument for doing this.
You may show your gratitude to current consumers via email campaigns that engage them with a slight push. Celebrating anniversaries and sharing business insights is a wonderful way to re-engage your consumer base.
Milestones or spontaneous emotional thank you notes help you maintain your business at the forefront of your customer's minds.
If you want to increase the engagement of your email list, consider including an incentive in your gratitude letters. If you're gathering birthday information from your clients, commemorate their occasion with a customized greeting and a good reward.
eCommerce Sales Funnel Optimization: The Conclusion
Your potential customers will go through these four stages in their eCommerce conversion funnel regardless of what you sell. Some people will move through the stages quicker, while others will take months, if not years, to persuade. The key here is to understand how your prospects progress through your e-commerce sales funnel and then use that knowledge to optimize each stage for higher conversions.