Conversion rate optimization (CRO) is a method of increasing the percentage of users performing a desired action on your website. CRO platforms help you to achieve this goal better.
If you are looking for a CRO platform, you have come to the right place. Here we will discuss some of the best website CRO platforms that can help you boost your website conversions.
15 Best CRO Platforms to Boost Conversions on Your Website
There are some popular CRO platforms that businesses use to track their website visitors and understand how they interact with their websites.
These tools allow companies to see what is working and isn't on their site by giving them insights into visitor behavior and what they are clicking on.
This helps businesses make informed decisions about which changes need to be made on their website to increase conversions.
1. WatchThemLive, an All-in-One CRO Platform
WatchThemLive is a complete website CRO platform that provides users with a dashboard to view and analyze visitor engagement, user behavior trends, and other metrics.
With it, your product can be viewed from the point of view of your customers, and you can replay the recorded sessions of users and watch their heatmaps to gain a real-time perspective on their experiences.
It also helps you find out the product bugs experienced by your users and solve them so you can provide a flawless product for them.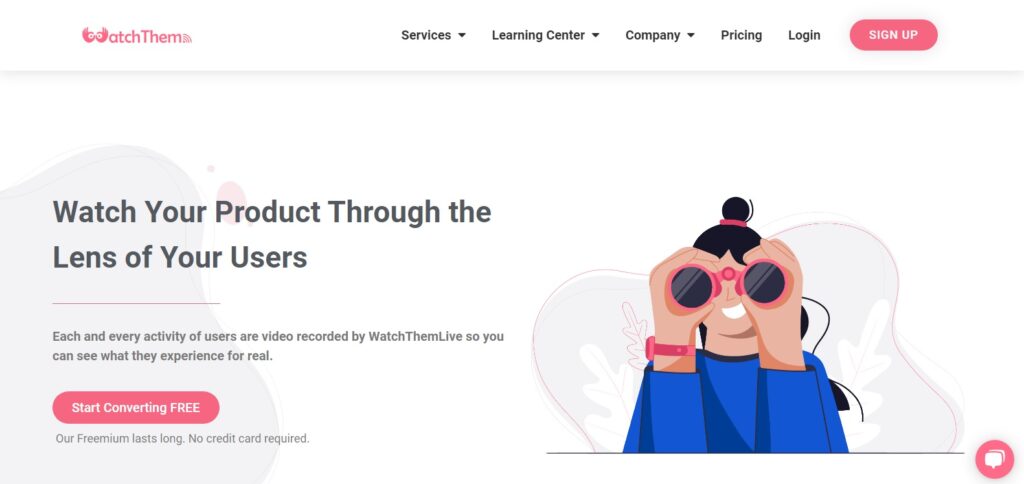 A/B testing can be performed with WatchThemLive's heat map feature.
You can use it easily.
Having easy access to data makes it intuitive to use for all members of your team.
Heatmaps are generated faster and are more affordable than the lifetime plans offered by its competitors.
When you watch your website's recording sessions, you'll be able to see what's going on.
The site speed is a bit slow
No actual A/B testing feature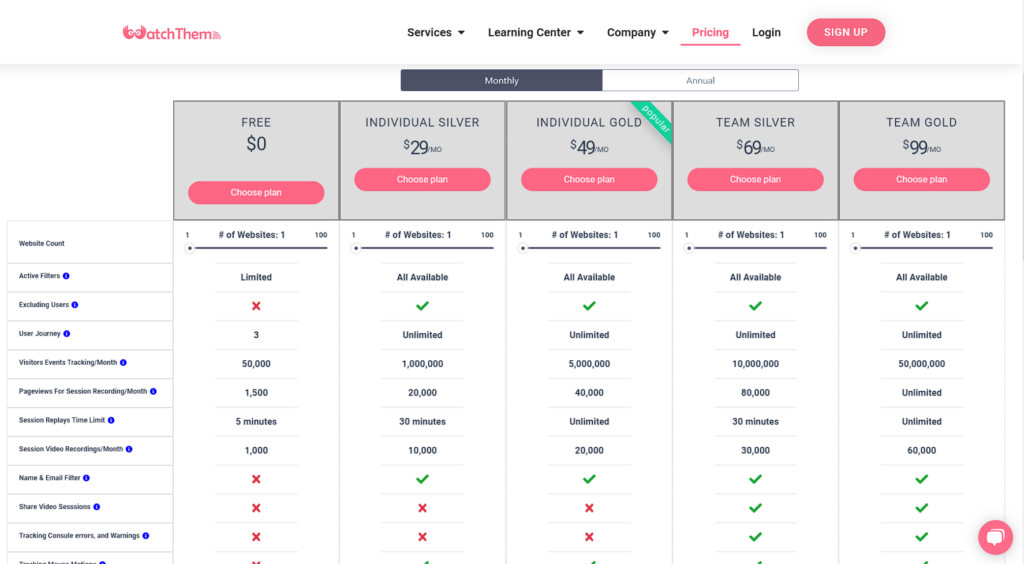 2. Picreel
Picreel is a superb website CRO platform that collects real-time analytics about your website's conversion and visit rates and captures leads. It allows you to convert more traffic into leads.
It enables you to laser target your products, find holes in your website, and gain better visitor insights so you can capture more leads at the right time bringing forth more conversions and eventually more sales.
The tool notices cart abandonment, recommends additional products and identifies your best traffic sources. You can offer personalized discounts and promotions with the featured AI-Powered technologies.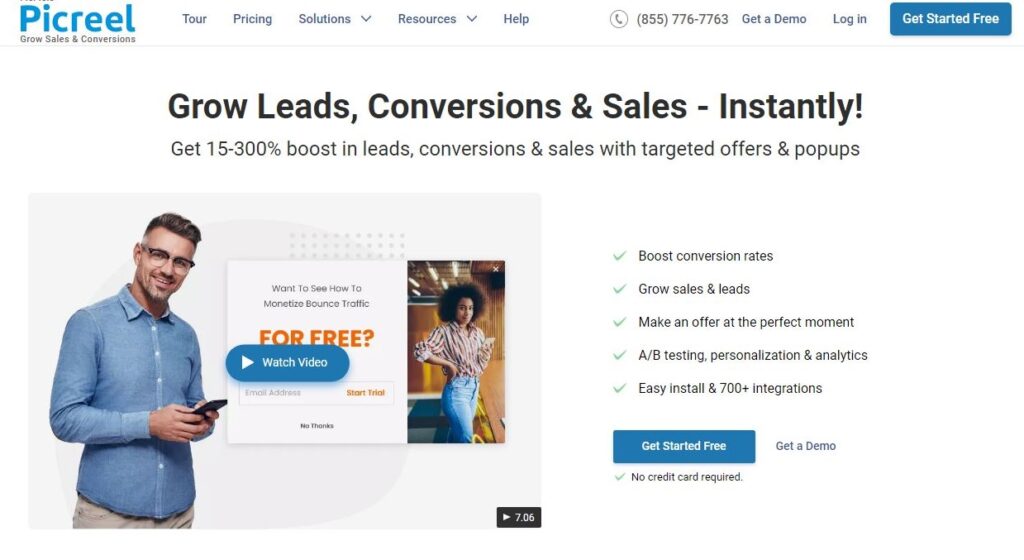 They offer a free trial period.
The paid plans start at $14/month to $299/month.
Their Enterprise plan is custom based on your request.
3. Qualaroo
Qualaroo is one of the best CRO platforms for boosting website conversion. It allows you to discover and focus on the pain points you need to solve.
This live website CRO platform lets you capture real-time reviews from visitors and engages them with relevant questions regarding your pricing, products, etc.
Qualaroo also helps you do behavioral targeting by allowing you to analyze your customers' behavior and make the best possible use of customer data.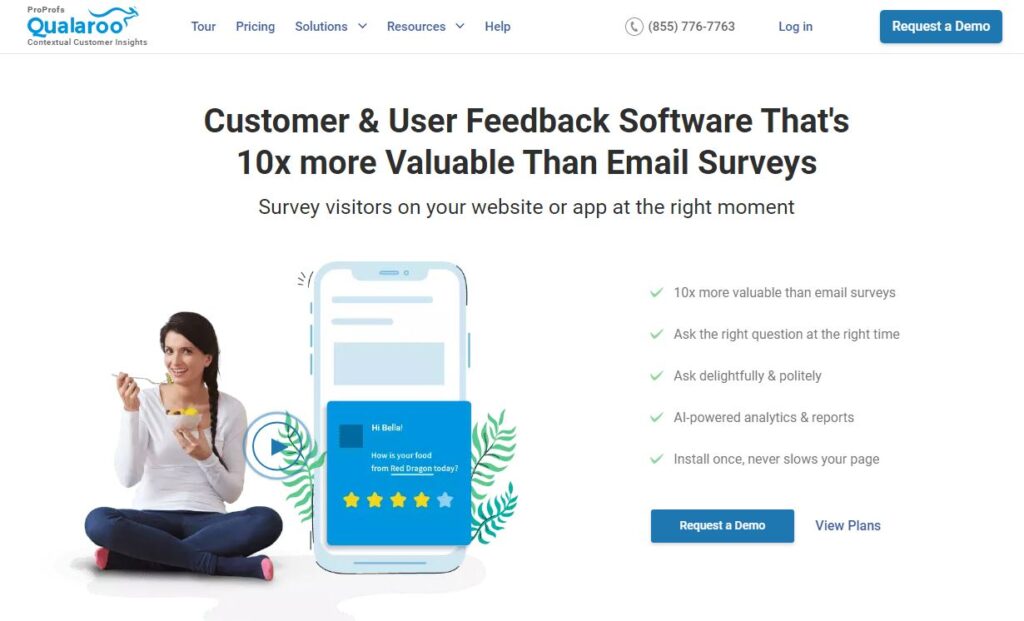 15 days of the free trial are available.
After this period, if you want to continue with it, you need to select one of the three provided plans; Essential, Premium, and Enterprise starting at $80 per month to a custom price based on your request.
4. HelloBar
HelloBar is a CRO testing platform that uses different popups to turn website traffic into customers.
The tool is a powerful CRO platform that enables you to detect high-converting call-to-actions through data-driven insights. A/B testing and precise visual data are provided by multiple analytics tools, such as HelloBar Elementor. HelloBar uses multiple analytics tools resulting in effective A/B testing and precise visual data.
It is a customizable, compatible, and affordable CRO platform.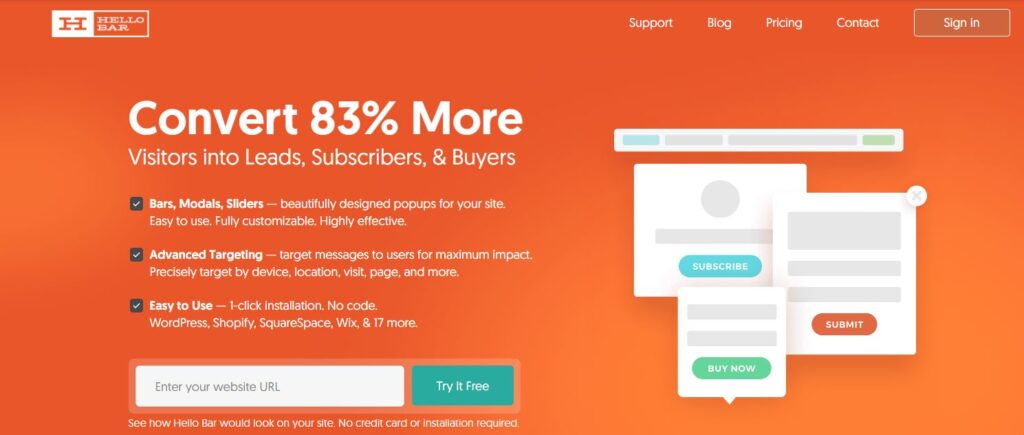 Depending on the page views you desire to reach, you can select among four pricing plans starting free to $99/per month.
5. Optimonk
Optimonk comes fifth in our list of the top CRO platforms. Using it, you can create interactive popups that don't annoy users.
It helps you improve your website conversion rate and gain more sales with customized funnels. You get more email and subscribers, manage your social media posts and messages, collect feedback and improve your customer services, and drive more sales.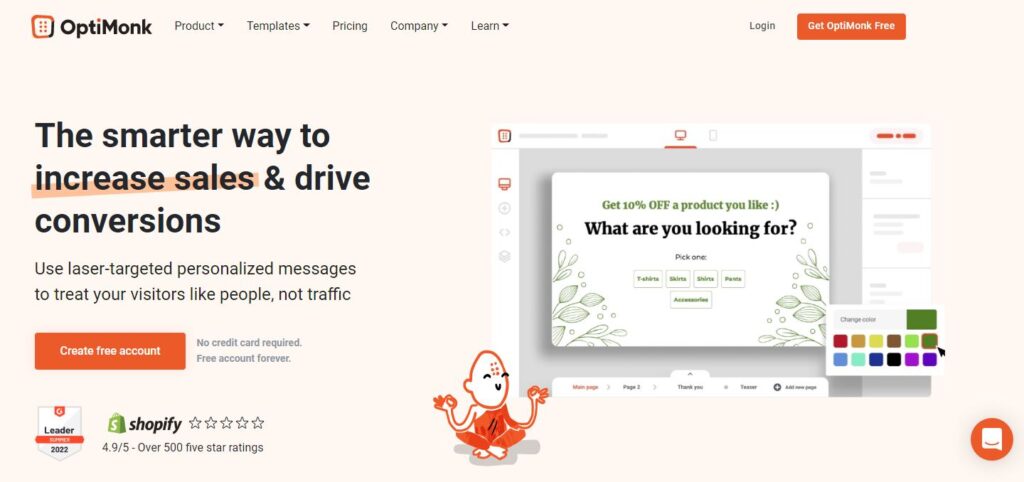 You can pick the plan that's best for you, from the forever free plan to the Premium plan, which costs $199/month.
6. Privy
A website conversion booster tool and CRO platform that has helped companies boost website conversions, Privy is a powerful tool with integrations with top eCommerce marketing tools consisting of advanced targeting options such as landing pages, a lead generation feature, and more.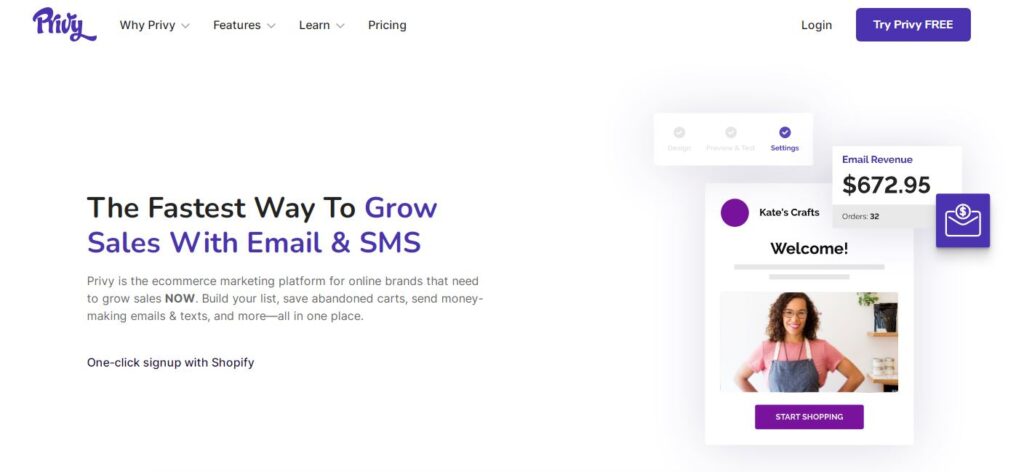 You can try out Privy for free, but you'll have to pay $15 per month to access most of its features on the Basic plan.
7. OptinMonster
OptinMonster is your optimization monster! It's a CRO platform that lets you increase newsletter signups, content engagements, and product sales and helps you improve the overall performance of your website. With a powerful SEO dashboard, you can easily track and analyze your website's performance, identify areas of improvement, and optimize your website for maximum conversions.
OptinMonster is your ultimate A/B testing CRO platform. It offers a collection of templates for opt-ins and popups for you to optimize your website's conversion rates. It enables you to personalize and customize your lead generation content.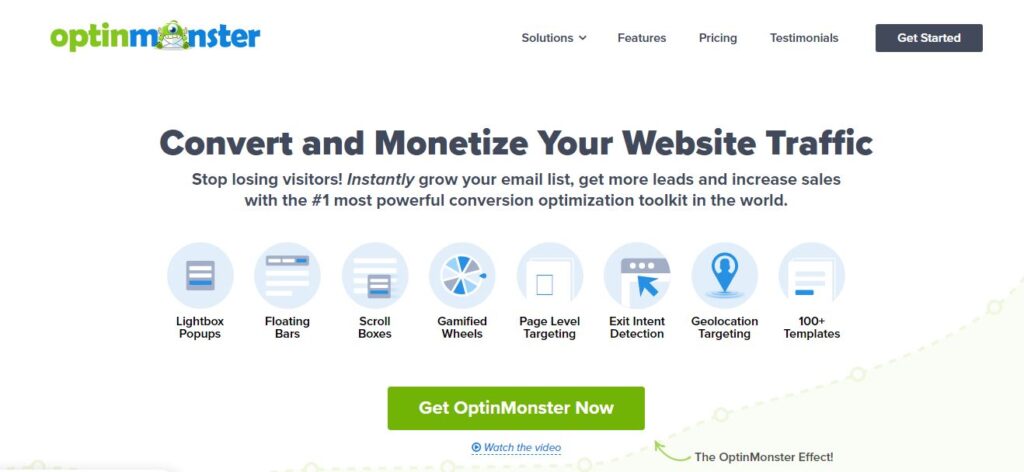 You can access the essential tools to generate more leads from your existing traffic through the Basic plan at $9/Month to all conversion-promoting tools through the Growth plan at $49/Month.
8. OmniConvert
Omniconvert is a cutting-edge CRO platform that provides A/B testing, custom popup banners, and user survey options. OmniConvert also makes it easier to deliver personalized experiences to customers to increase customer satisfaction.
With several data points from APIs and CRMs to user behavior and traffic sources, Omniconvert boasts one of the most advanced segmentation tools in the market.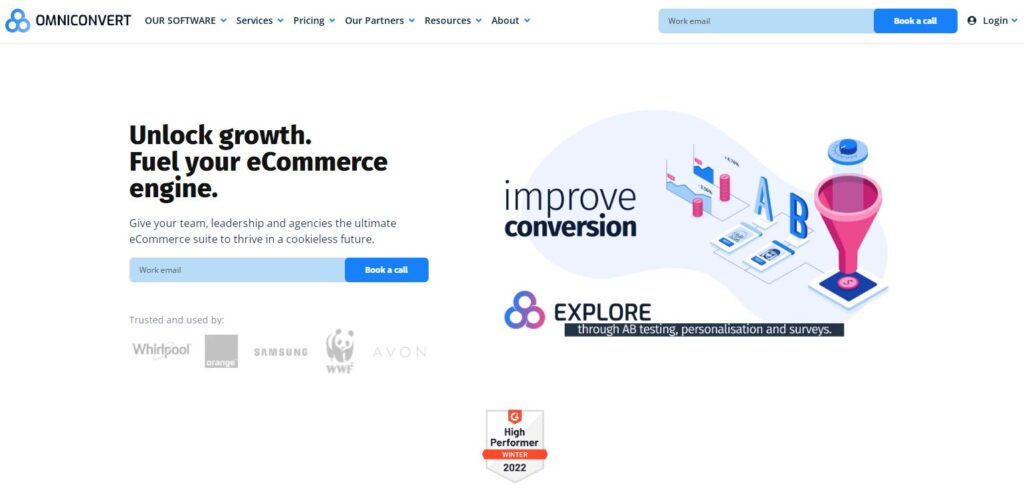 It is possible to set up a successful conversion rate optimization strategy based on the plan that works for you.
It offers two pricing categories as Explore and Reveal.
Explore category starts at $167/mo to a custom quote.
Reveal category offers a free plan to a custom quote.
9. Hotjar
Hotjar is a CRO testing platform that helps businesses understand the customer journey and workflows using the heat map tool.
If you want to track your users, their actions, and how they're interacting with your website, Hotjar is the user-friendly CRO platform that shows you user activities in the form of color. When their activity is high, it shows bolder color in those areas.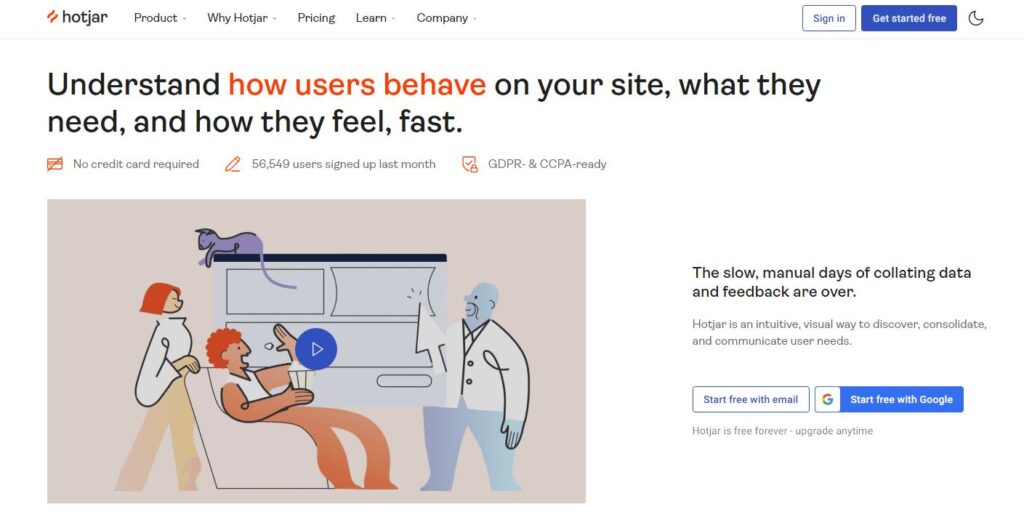 You can get started free or try a plan tailored to your needs for 15 days. You can upgrade at any time based on the features you need – its basic plan is free forever.
10. InstaPage
If you are looking for landing pages that can generate maximum leads and improve conversion rates, Instapage is one of the best CRO testing platforms you can use to boost conversion on your website.
Instapage is a cloud-based landing page builder CRO platform enabling you to create optimized landing pages resulting in an increased conversion rate.
With the help of simple tools like heatmaps, split-testing, form builders, and analytics, you can make effective landing page decisions and increase sales.

It offers two Building and Converting plans that cost $49/month and custom costs based on your needs, respectively.
Here are five CRO platforms that have proven their effectiveness in helping many businesses.
11. Google Analytics
Measurement, the true hallmark of website optimization, is essential for maximizing any facet of your efforts.
Google Analytics is a powerful CRO platform that can give your eCommerce a good quantitative and qualitative basis to diagnose website issues and opportunities. Plus, it'll also likely be where you analyze and report on your experiments and treatments.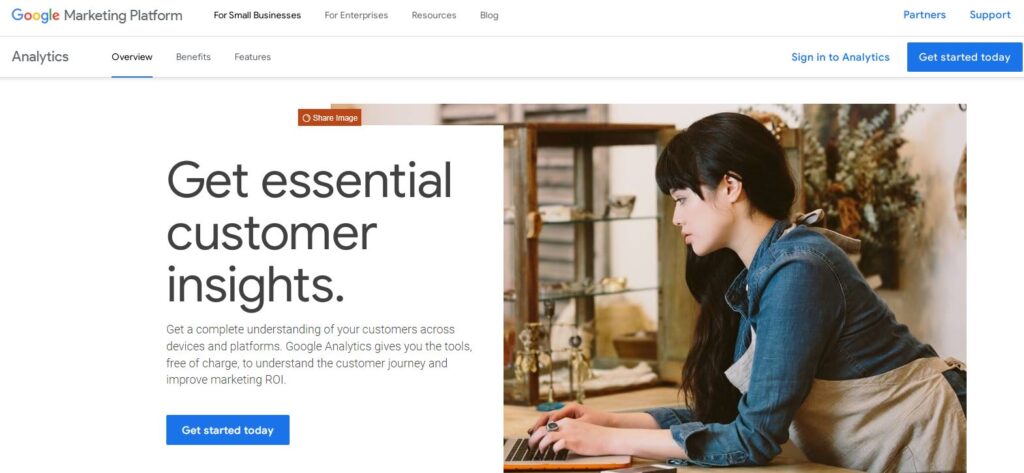 Google Analytics provides two price plans: free and 360, which start from $12,500 per month and $150,000 per year.
GA 360 provides higher data limits, BigQuery integration, service level agreement, custom variables, and a dedicated support team.
12. AB Tasty
AB Tasty is a cost-effective customer experience optimization platform that helps you develop conversion strategies across your digital channels. By improving conversion rates, AB Tasty campaigns are designed to manage other revenue goals, such as average order value, click-through rate, and revenue impact.
For eCommerce teams who lack technical expertise, AB Tasty is a user-friendly and good option to start getting their website conversion rate under control. Customers provide regular feedback to the team, who regularly releases updates in response, though the reporting suite isn't always the most intuitive or quickest to update.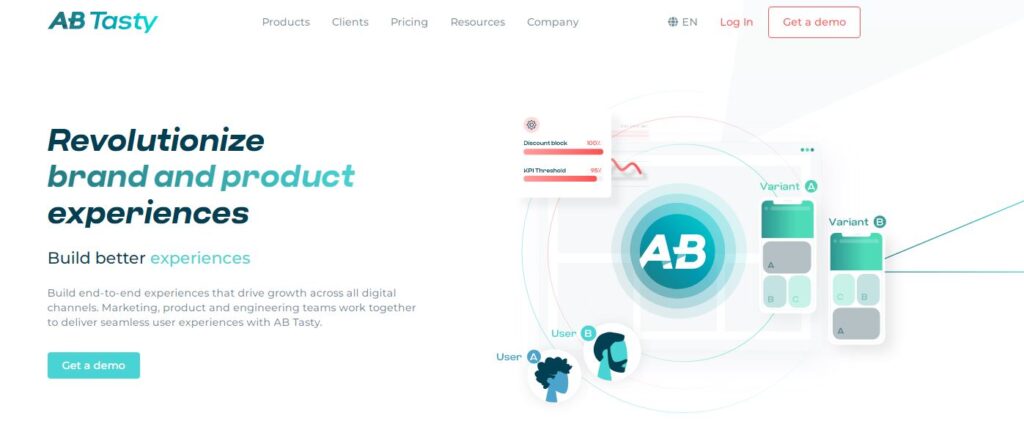 Starting at just $42 per month. A free version is also available with limited features.
13. Crazy Egg
You shouldn't have to guess how people use your website; with Crazy Egg, you don't have to. It is another powerful CRO platform that offers a variety of features to help eCommerce businesses understand how people interact with their websites.
In addition to heatmaps and user recordings, it also provides the A/B testing tool, you can discover which headlines, copy, and customer descriptions work the best for your users.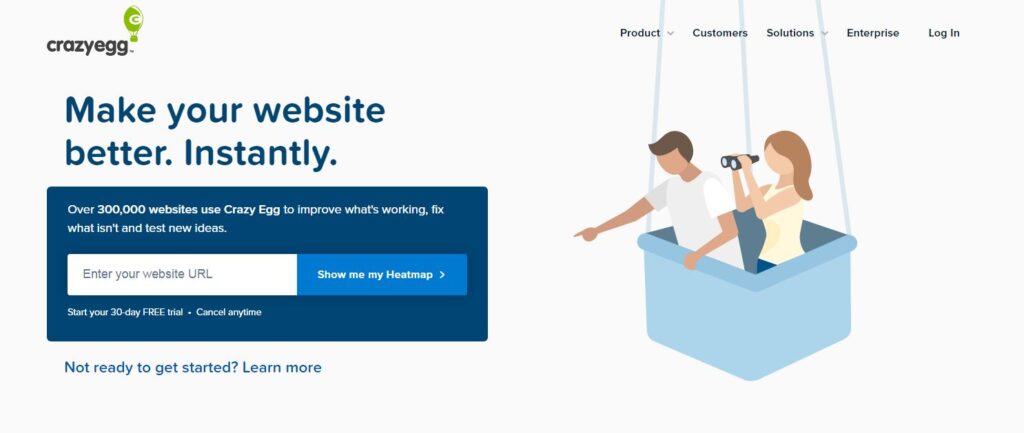 Crazy Egg gives you much more than a broken pricing calculator, with the Basic plan starting at $24/month to the Enterprise plan at $249/month.
14. VWO Testing
VWO Testing is the easiest way for non-technical users to run tests, A/B tests, and multivariate tests on websites. It is a CRO testing platform that allows you to create tests without writing a single line of code that optimizes customer experiences and increases conversion rates.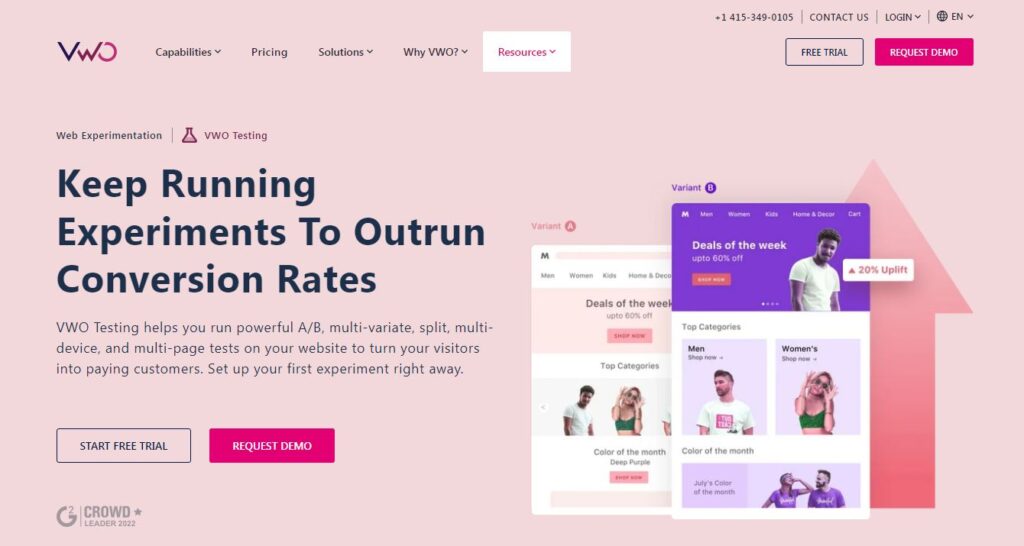 VWO Testing offers pricing plans based on the number of users. It charges $199 per month for 10000 users.
15. Convert
A/B testing can be used for understanding how visitors respond to different elements within your website, but for a website with high traffic, A/B testing is a key to inferring whether the given user experience was successful.
Convert is an all-in-one CRO testing platform to test your website.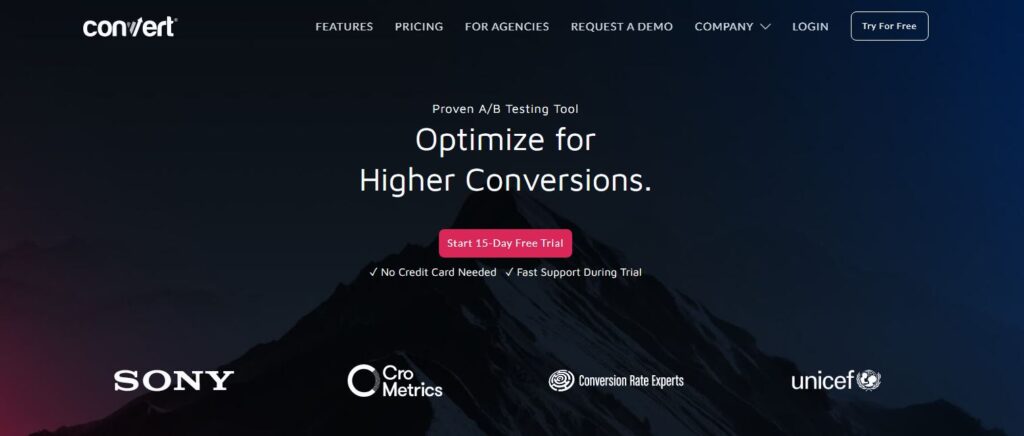 Free trial days are available, and you can upgrade your plan at $699/monthly.
16. Luckyorange
Rather than obsessing over just web analytics statistics, leverage Lucky Orange to find the true story behind what your visitors did on your website.
Find out why people are leaving your specific pages, track engagement from campaigns using the UTM parameters, learn which fields on your web forms cause people to leave, and identify the drop-off points along the purchase process.
You can even delve deeper by asking visitors what's keeping them from purchasing through surveys and chat. Understand where visitors are stopping and becoming lost, and see what your visitors are doing with your site.
This way, you can make the necessary adjustments to create a smoother, more interactive process. See which parts of your pages cause conversions and which parts people never touch with heatmaps. You can find out if your CTA is visible when people scroll far enough.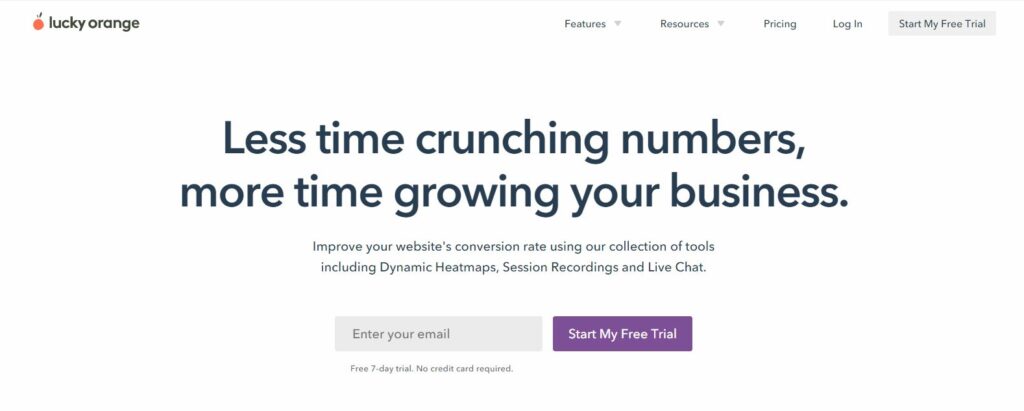 You can try the free plan for seven days.
Unlimited team members come with all plans
$0 per month for the free plan
$14 per month for the Build plan
$28 per month for the Grow plan
$58 per month for the Expand plan
$128 per month for the Scale plan
Contact Lucky Orange for the Enterprise plan.
If you buy for one year you receive 20% off.
17. Plerdy
Plerdy is a SaaS and CRO platform that improves website conversion and usability. Plerdy Heatmaps is a web analytics tool that provides a visual representation of where users clicked on a website. The website records and displays real-time information about each click made on it.
It can be used to generate different types of pop-up forms on the fly, saving you the time and trouble of dealing with website developers. It is important to use an SEO alert, a tool that provides you with up-to-date updates on your website's SEO elements.
It is a perfect website CRO platform for web analytics, usability testing, and CRO improvement.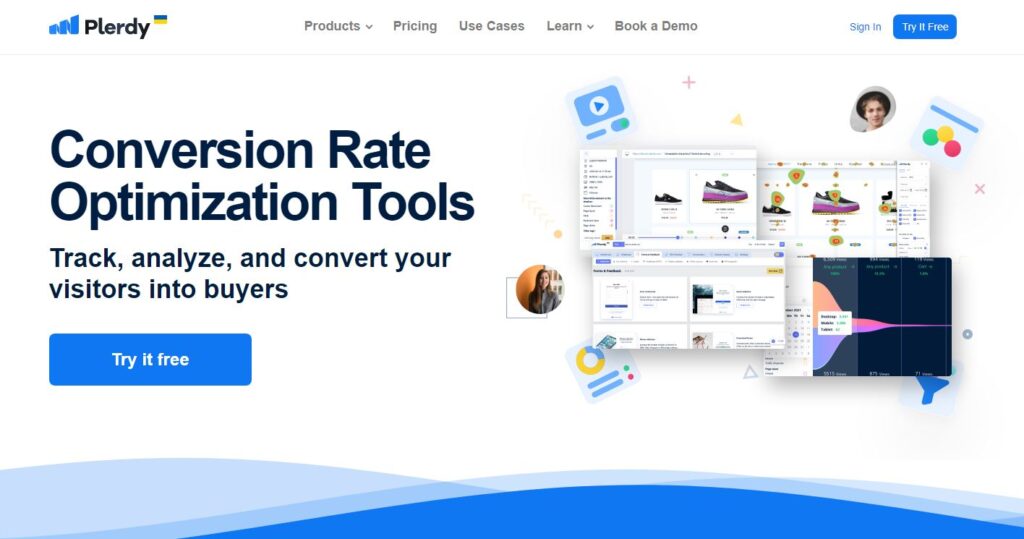 Free forever plan is available for limited features.
Start plan costs $29/month or $23/month (billed annually)
Business plan costs $59/month or $47/month (billed annually)
Premium plan costs $99/month or $79/month (billed annually)
Enterprise plan cost is not available on their website. Contact Plerdy directly for pricing details.
18. Microsoft Clarity
Clarity analyzes how real people use your website, and it's free and easy to use. In minutes, you'll be able to begin collecting data. Clarity heatmaps let you see instantly where your visitors spend most of their time and how far they scroll.
It is a CRO testing platform that provides a session recording key feature to find out how visitors use your site. Test new ideas, discover what's working, and learn what needs to be fixed. you are given insights into user frustration that can be turned into opportunities.
Microsoft Clarity is a unique analytics platform for both website and app developers who need a better understanding of user behavior. In short, Clarity does the opposite of other analytics tools – it informs how the users interact with the site.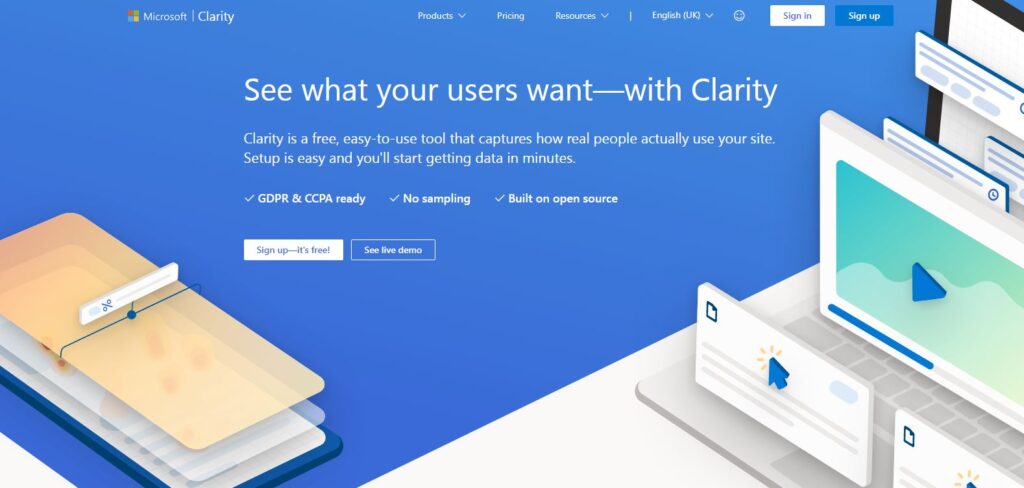 You can use this platform for free forever. No monthly subscription for you; all features of Clarity at no cost. No traffic limits or forced upgrades.
19. Fullsession
SaaS and e-commerce companies can use this CRO platform to understand user behavior and improve conversion rates through session recording and analytics. In addition, it aids teams in pinpointing the points of conflict in their businesses to boost customer retention. You can find out which parts of the site cause users the most frustration such as by examining heatmaps, to improve their experience by resolving any problems and frustrations that may exist.
With FullSession's comprehensive digital experience platform, companies can learn how their customers interact with their websites. It gives you the essential tools you need to find where your visitors are struggling and prevent them from leaving. To eliminate guesswork, FullSession provides a session replay solution and interactive heatmaps to understand digital interaction. it facilitates your flawless digital experience.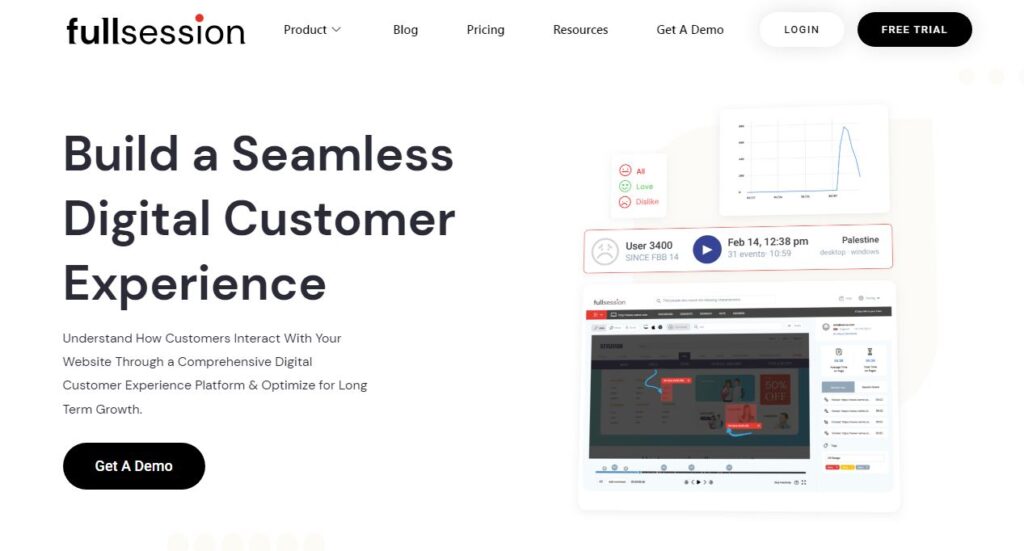 Three levels of the FullSession analytics platform allow you to get an insight into your site users' activities, according to their intentions.
Basic plan starts from 5,000 monthly sessions for $39 Monthly.
Business plan starts from 25,000 monthly sessions from $149 Monthly
Enterprise plan starts from 100,000 monthly sessions. For the price, you need to talk to them.
20. Smartlook
Smartlook is a website CRO platform that provides insight into the reason for your app user's behavior with data analysis of a variety of different industry sizes and types. What factors can make a user churn? Understand them for what they are, you will not be misled. Real-time visitor recordings and heatmaps reveal real user behavior, while conversion funnels and automatic event tracking reveal trends. You do not only get numbers and graphs with Smartlook, but you also learn why users behave as they do.
Take your website's user experience into account.
Offering a uniquely powerful set of features, Smartlook helps you dive into the analytics at the micro level and understand user behavior. While regular visitor recordings tell you what visitors do on your website or app, and heatmaps give you insight into where visitors most often click and scroll, always-on visitor recordings reveal to you what every visitor does and where they go.
You'll be able to see what people are doing on your site, as well as how often they're doing those things and how successful they're being with each when you use automatic event tracking and conversion funnels.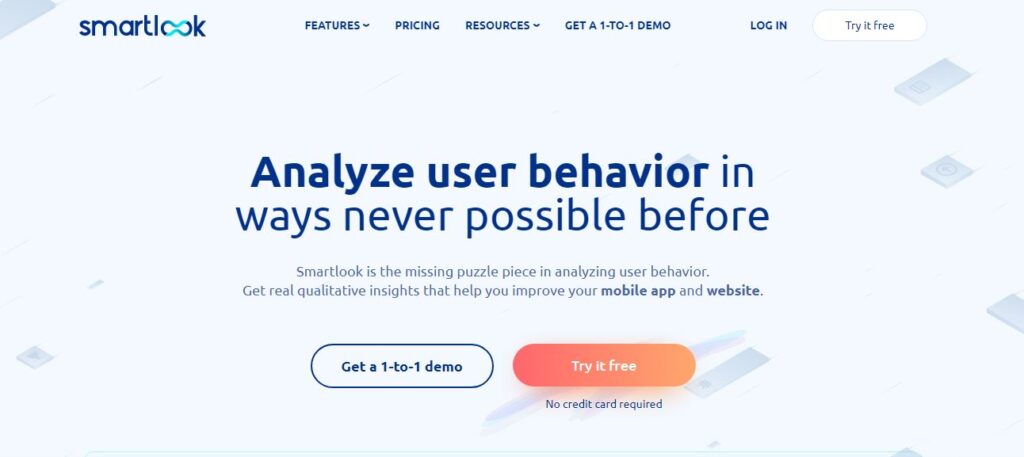 Pricing

A free plan is suitable for personal use 1,500 sessions/month.
Startup plan starts at $39/month for 5,000 sessions/month
Business plan starts at $95/month for 15,000 sessions/month
Pricing for the Ultimate plan is not publicly available. For more information on pricing, please contact Smartlook
21. Mouseflow
Mouseflow is a behavioral analytics CRO platform for optimizing websites to improve conversions. Using Mouseflow, you can discover new insights that go beyond traditional analytics tools; create 6 different types of heatmaps automatically for all your pages, set up funnels to watch where and why your visitors drop, improve your lead generation with form analytics, and run surveys to learn more about your visitors.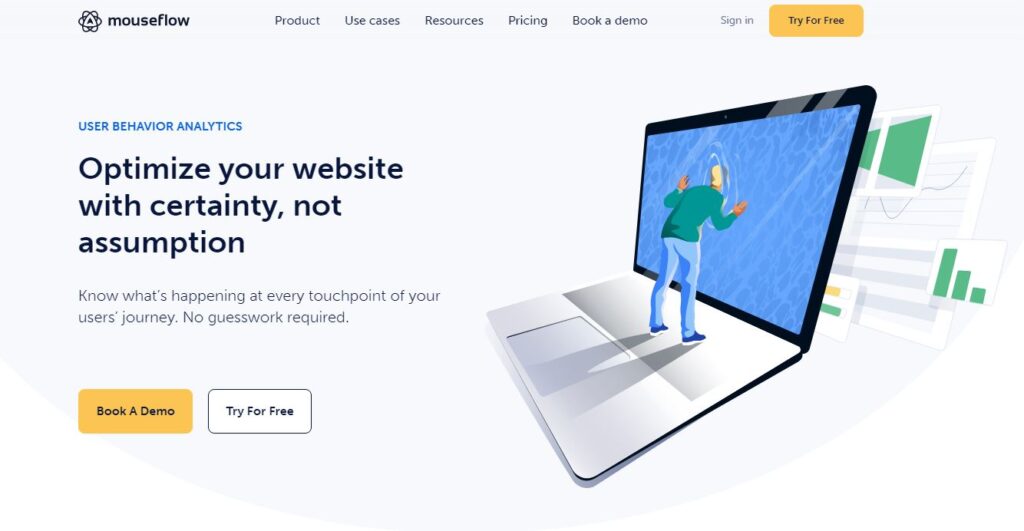 It offers 6 plans as below:
Free plan
Starter plan: €29
Growth plan: €99
Business plan: €199
Pro plan: €399
Essential plan that needs to contact them to know about the price.
22. Inspectlet
Inspectlet is a CRO testing platform for monitoring and recording sessions, running A/B experiments, creating heatmaps, and more. Start-ups and large corporations alike can benefit from its use.
The features offered by Inspectlet include session recording, dynamic heatmaps, A/B testing, form analytics, and error logging. With Session Recording, you can record the exact every move of a site visitor such as every mouse click, scroll, and keypress.
Heatmaps allow users to focus on what is being read on the site by visualizing the mouse's movements. Through A/B testing, companies can learn about the effectiveness of different designs of their website by gathering performance data and basing their decisions on it.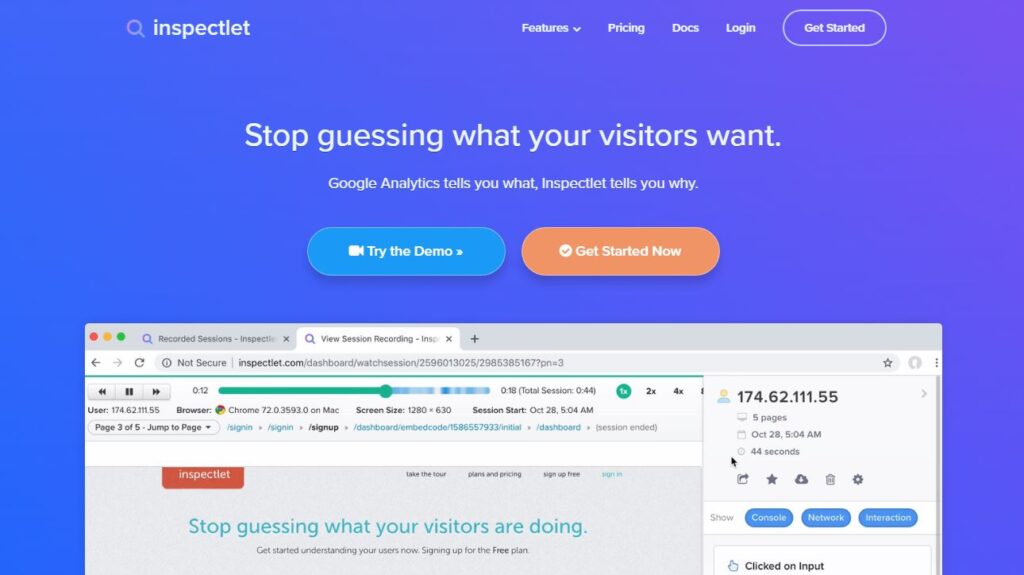 If you're not a paying customer, you can sign up for free to get full access to the platform! You can always upgrade to one of the below plans in the future if you want more features:
Micro: $39 per month
Startup: $79 per month
Growth: $149 per month
Accelerate: $299 per month
Enterprise: $499 per month
23. Fullstory
With FullStory, you gain actionable insights into web and mobile experiences that uncover opportunities based on rich product analytics, robust session detail, and collaboration tools.
FullStory is leading the digital experience market with its top-of-the-line CRO platform, which can provide insights into digital interactions and suggest new opportunities.
Besides providing digital experience intelligence, on-the-fly conversion funnels, a video-like replay of real user sessions, and robust debugging and developer tools, FullStory also integrates with top SaaS products.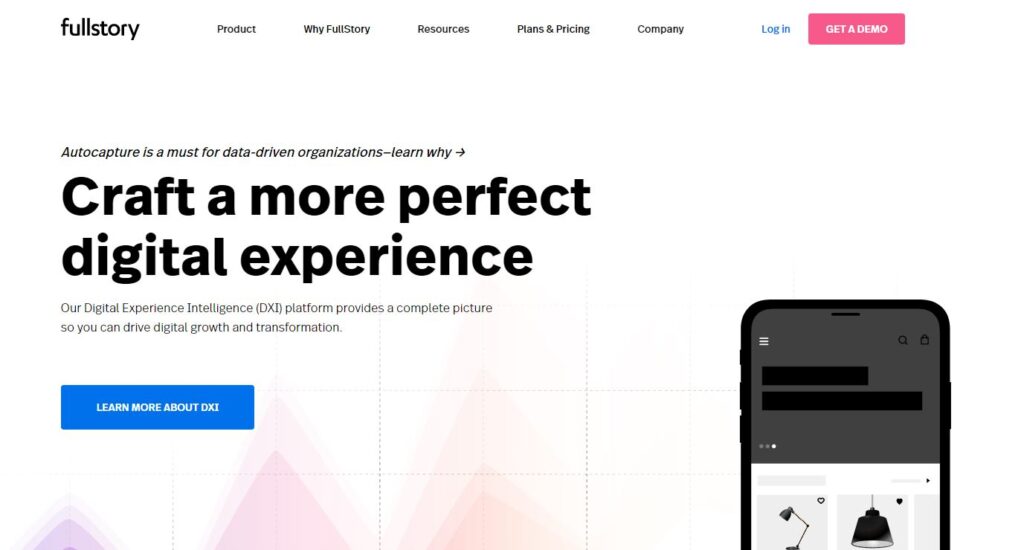 For pricing details, contact FullStory or try it out for 14 days for free.
Best CRO Platforms: The Final Verdict
While several platforms, tools, and software suites are available to help you optimize your website's performance, the ones we highlighted above should give you all the information you need to determine which platform is best for your needs. Keep in mind that CRO will take a good bit of trial and error, but it helps to have a good number of tools available to test different approaches and see what works for your business.
---
Read more: