There are a lot of different CRO tools out there. Deciding which conversion rate optimization tool is best for your website can be a tough decision. Thankfully, we've compiled a list of the best CRO tools for your website in 2022.
This list includes both paid and free CRO tools, as well as CRO tools for eCommerce websites. We've also included a brief description of each tool to help you decide which one is right for you.
Let's take a look at the best CRO tools that you can use to increase your conversion rate in 2022.
27 Best Conversion Rate Optimization Tools to Convert More Visitors
The conversion rate of a website depends on many factors. However, some key tools can help you improve your website's conversion rate and make it more successful. So if you're ready to improve your website's conversion rate, here are the best conversion rate optimization tools to consider.
1. WatchThemLive, The Best All-in-One Conversion Rate Optimization Tool
WatchThemLive is a complete conversion rate optimization tool. Equipped with tons of helpful features like website heatmaps, user session recordings and replays (making it a top session replay tool as well), goal tracking, and more, this all-on-one CRO platform helps you analyze web traffic, track website visitors, and behavioral data so you can monitor what sections of your website need improvements and which sections are already performing well.
Every moment of every experience, what users see and do, is captured and saved as a video by WatchThemLive, so you can experience it yourself.
A unique free CRO tool that enables you carefully consider the thoughts and suggestions of your end users.
1. This is an easy-to-understand tool
2. There is a great free version available
3. An improvement over the competition
4. Videos can be easily created
5. Tracking progress has never been easier
6. Excellent customer service
7. Those who have used it will use it again
8. The interface is simple to use
9. It has a wide range of useful features
11. Great pricing
12. An extremely intuitive design
13. Contains all the essentials
14. Easy appointment making
15. Delivers exactly what it promises
No notifications about platform updates
You can expand your business with a viable pricing plan. It is a free CRO analysis tool with rich features. But you can upgrade the free version to a paid plan with more features anytime.
Paid plans start at $29/monthly or $240 if billed yearly.
2. Contentsquare
Contentsquare (formerly known as Clicktale) is an easy CRO tool that chronicles what your customer does online. By providing digital experience analytics, it transforms digital interactions into meaningful insights and visualizations that help customers achieve their goals.
In addition to analyzing websites and mobile apps, it also helps you troubleshoot performance issues.
The medium-to-large companies can benefit from Clicktale's heat maps and digital analytics. You can get analytics on customers' progress in your process, find out which points are affecting the number of people that convert, and prioritize these issues in order of importance.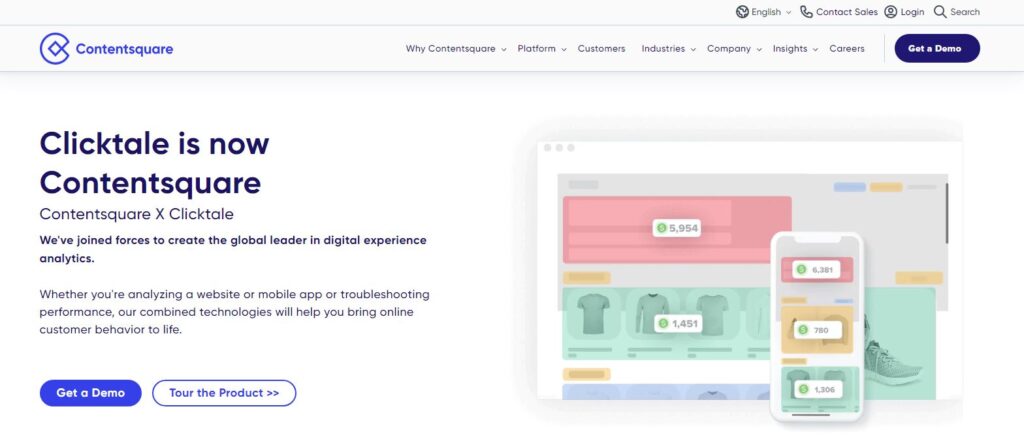 Pricing is dependent on the particular type of solution you are purchasing. You need to contact them for a custom quote at ClickTale.
3. Woopra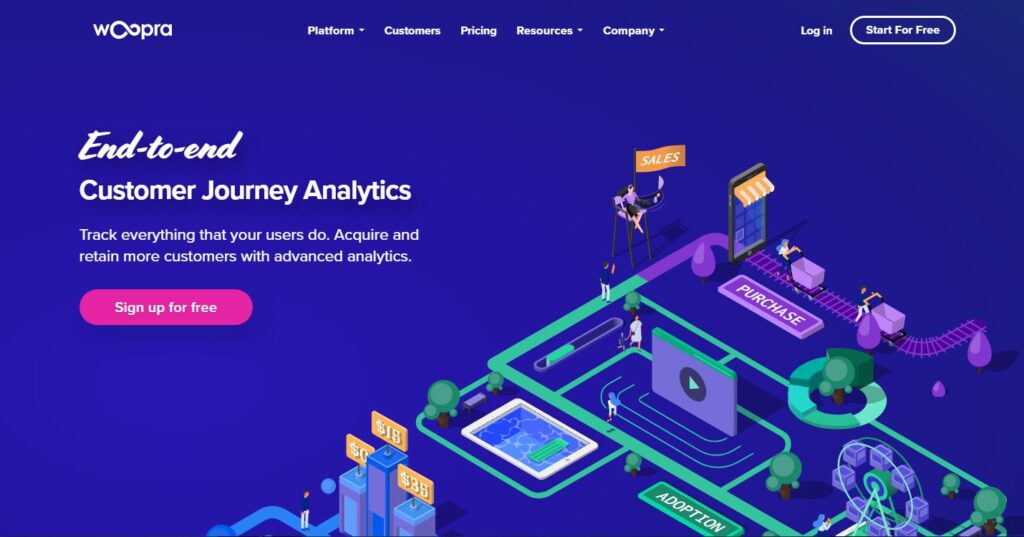 Woopra is an awesome conversion rate optimization tool. While analytics gives you all the information you need, marketing automation takes action on that data, getting smarter as more customers visit. It can send an email or SMS if it notices that a customer is about to churn, as well as alert your team on Slack.
Woopra is a real-time web analytics tool. It's a great way to collect live user behavior data.
Like Google Analytics, Woopra uses website tracking codes to collect information about visitors and then reports it through its dashboard. More skilled users can establish events to identify website users. One such instance would be if a user logs into the site or if a form is submitted on the site.
You can pick among four offered plans:
The Core plan is free for 5k actions per month, 90-day data retention, core analytics, and 30+ integrations.
The Startup plan costs $349/mo for 1 million actions per month, 2 years of data retention, advanced analytics, and drill-down reporting.
The Pro plan starts at $999/mo for 5 million actions/month, people metrics & formulas, automation, data loader, and premium support.
The Enterprise plan provides 50 million+ actions/month, data warehouse sync, custom objects, and dedicated support. It is best to contact them to find out the price.
4. Heap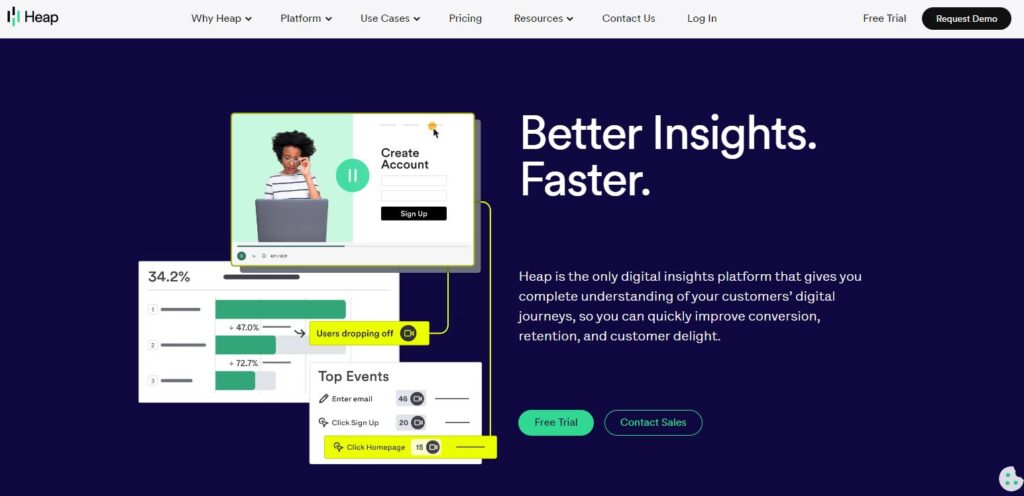 Heap is a premium conversion rate optimization tool package that proactively offers suggestions based on auto-recorded customer data. Data services don't require coding, and you can enjoy unlimited access to your own historical data.
You can examine one snippet and infer an in-depth glimpse of your digital audience's experience — without any coding.
A meek and free CRO analysis tool that provides you with the most comprehensive dataset on the market governed and organized for maximum efficiency.
Your digital experience can be improved using its advanced data science capabilities to spot friction and opportunities.
This is a first-of-its-kind way to discover the best business opportunities hidden in plain sight.
Integrated session replay provides full context on every user action. Using heap, you can quickly find the point in a session that matters to you.
Go to the bottom of the problem to solve it more efficiently.
It provides a free plan for up to up to 10k monthly sessions.
Three paid plans are also available; Growth, Pro and Premier. To know about prices contact them.
5. Kissmetrics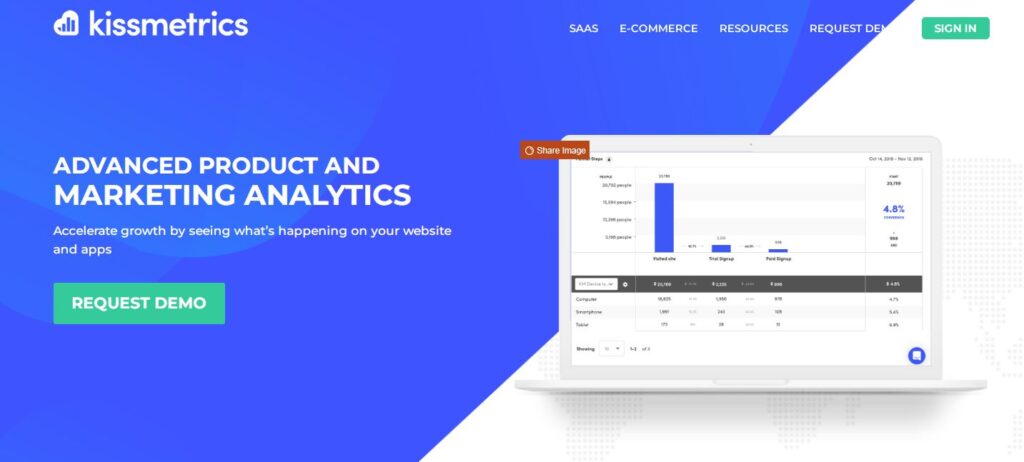 A particular example of an e-commerce CRO tool is Kissmetrics. As you know, Google Analytics may not work well with the eCommerce setup, so the answer is to go with another CRO analysis tool like Kissmetrics.
It helps you to classify your visitors into different categories, view data from each of them, and trace their paths to help you determine what generates your revenue.
A modern analytics solution with enterprise-level features at an entry-level price would be ideal for your business
Rather than relying on metrics such as bounce rate or time-on-site, you can analyze actual user behavior.
You need to request a demo session to know about the pricing plans.
6. Nextsale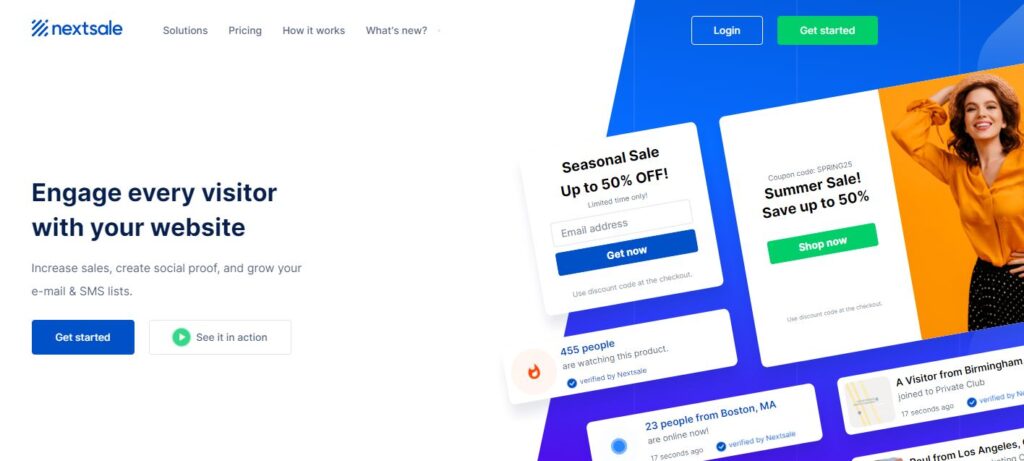 You've probably noticed those notifications telling you that someone has recently bought the product you're viewing. You can use various tools to make your sale run smoothly, and Nextsale is one of the most popular CRO tools.
It seamlessly works with Shopify, Woocommerce, Bigcommerce, and even WordPress. With this tool, you can customize urgency notifications, show popups regularly, and keep track of sales deadlines.
A free eCommerce CRO tool to grow any website through techniques that involve giving urgency and providing social proof to those who visit.
Personalizing the customer experience reduces acquisition costs and builds incredible brand trust. Using the social proof section on your website demonstrates the latest customer transactions to generate trust.
Users become real customers when personalized notifications are sent to targeted traffic. Increase customer traffic and product sales with Nextsale.
Try a Free plan or start a 14-day Free Trial with a paid plan.
Paid plans start at $39/per month.
7. Loox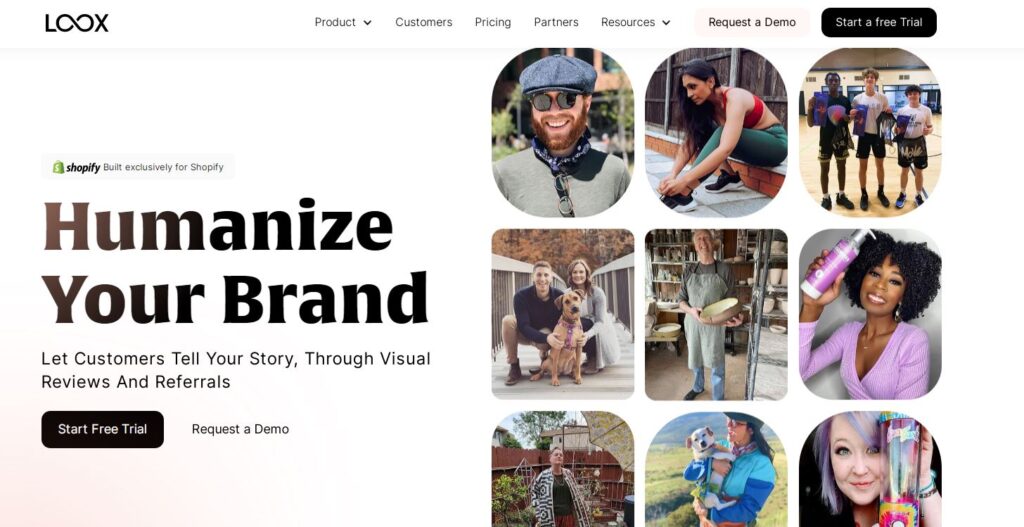 One of the best ways to make your e-commerce conversion rates higher is by displaying images of your happy customers using the products you sell. The best way to do that is by using a tool that automatically collects and displays customer reviews. Loox is one of the most popular Shopify apps designed to do just that, and it's powerful because it was created for use on Shopify.
An outstanding conversion rate optimization tool that provides the ability to engage with the most enthusiastic customers, collect visual reviews, and seek referrals all from the same platform.
A free trial of 14 days is available.
There are three paid plans:
BEGINNER: $9.99/month
GROWTH: $34.99/month
UNLIMITED: $299.99/month
8. Pixlee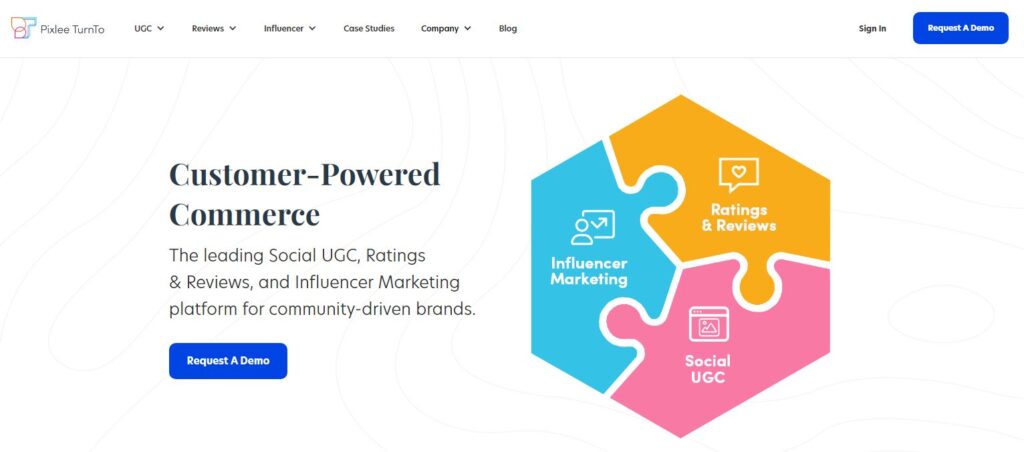 A user-generated content tool, Pixlee, has some cool features. It can automatically gather images shared on Instagram by your customer based on hashtags and mentions and display them on your product pages.
For example, Pixlee also allows you to create social photo contests & campaigns, lookbooks, reviews on your website, and homepage galleries. Furthermore, you can connect your Shoppable Instagram account to Pixlee and track your conversions.
Community-driven brands use this easy CRO tool for Social UGC, Ratings & Reviews, and Influencer Marketing.
Online shoppers expect an authentic and personalized shopping experience. To stay on top, brands must have scalable social and community content to be successful in customer journeys. Pixlee lets leading brands deliver Customer Powered Commerce at each stage of the shopper journey through Social UGC, Influencer Marketing, and Ratings & Reviews.
Search brand-aligned Social UGC from the most popular channels, such as Instagram, TikTok, Facebook, YouTube, and Twitter.
Get direct feedback from shoppers for specific product brands and use Community Q&A, Checkout Comments, and Site Reviews to generate a feedback flywheel.
Engage your community and aggregate content from influencers, ambassadors, and employees.
Get to know the top-performing influencers in your niche and identify the most effective content creators.
It offers custom pricing plans based on features. You need to contact them to know the costs based on your needs.
9. Google PageSpeed Insights

Your conversion rate and search engine ranking can suffer if your site takes a long time to load. With Google's PageSpeed Insights tool, you can check your site speed and see what needs to be improved. For every second that your site loads faster, your conversion rate improves.
PageSpeed Insights (PSI) measures the performance of a page and provides recommendations on how to improve a webpage's performance on mobile and desktop devices.
PSI rates the performance of a web page at the top of the report based on an analysis done with Lighthouse. Anything above 90 is a high grade, 50-90 is an average mark that needs work, and below 50 is considered low.
10. Jumper.ai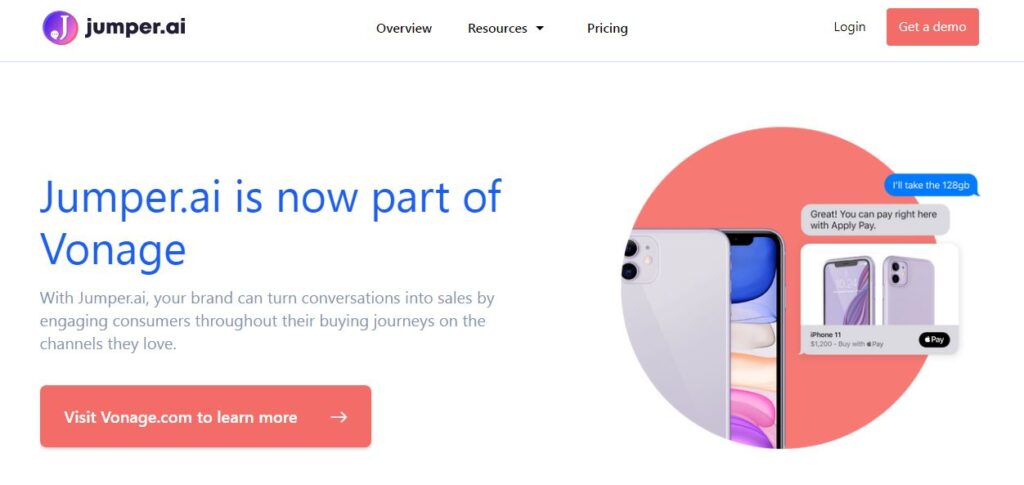 What's even more awesome is that with this nifty chat tool, you not only can make chatbots on different chat services, but you also can integrate all the chats into a single chatbot inbox. This way, you can see all your customer responses from Messenger, SMS, WhatsApp, Facebook conversational ads, AdLingo ads, and other channels.
With Jumper.ai, you can contact customers and increase your conversion rate much faster than with a call-to-action. Jumper.ai helps your brand engage consumers throughout their buying journeys on their preferred channels.
There is a set-up fee Starting at $5,000 one-time per brand per country.
There are 2 types of monthly recurring fees based on commission or per brand and per country.
3.5% commission on sales through Jumper.ai and a monthly recurring fee per brand per country starting at $1,000, including 10 agent licenses.
11. JivoChat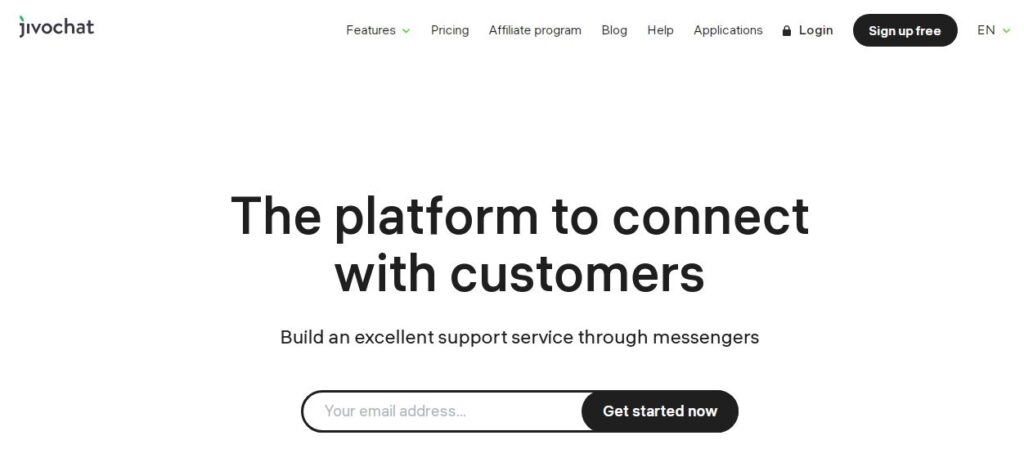 Jivochat is another customer engagement CRO tool that lets you set up a chatbot on your site. It lets you see all your conversations with your customers on Facebook, Whatsapp, Telegram, Gmail, Instagram, and a few other places.
Connecting with customers has never been easier so far before Jivochat. It allows you to provide excellent customer support. You can integrate the chat solution into your website or web application using the already developed code.
It is more efficient to use chatbots to respond to frequent customer queries and free up live operators for complex inquiries.
It is a free eCommerce CRO tool picking the basic plan.
The other two offered plans are Professional, which costs $19 per agent per month if billed annually, and Enterprise, which is custom for your needs.
12. Sumo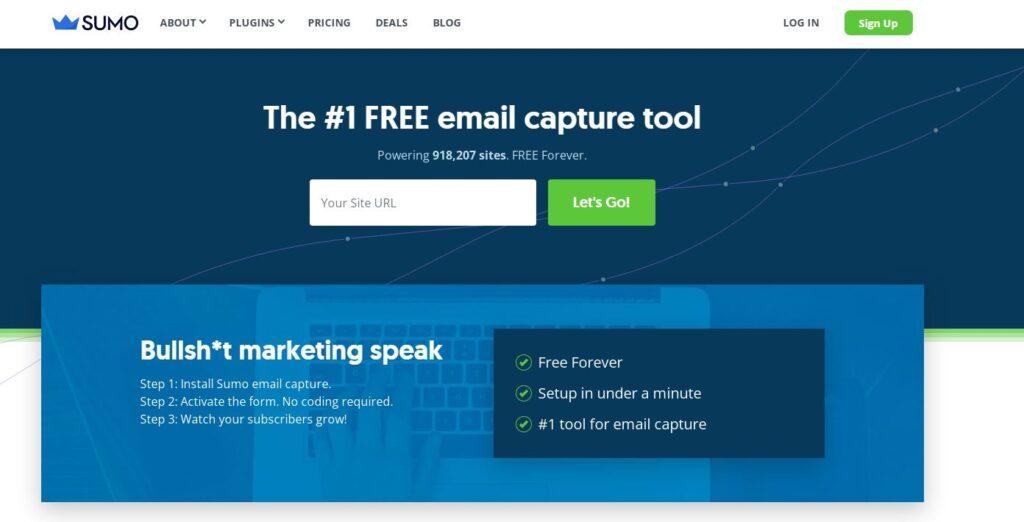 With Shopify and WordPress integration, Sumo is one of the most well-known popup tools. Besides having all the standard features you'll need, it has some advanced customization capabilities.
It is a free e-commerce CRO tool with a quick and easy setup. It is the best conversion rate optimization tool for getting someone to opt into your email list.
Activate Sumo email capture, go ahead and just fill out the form; there's no coding involved, and get more subscribers!
Sign up for free and get started. With the Pro plan, you can pay monthly $49 per month or annually $39 per month.
13. Provely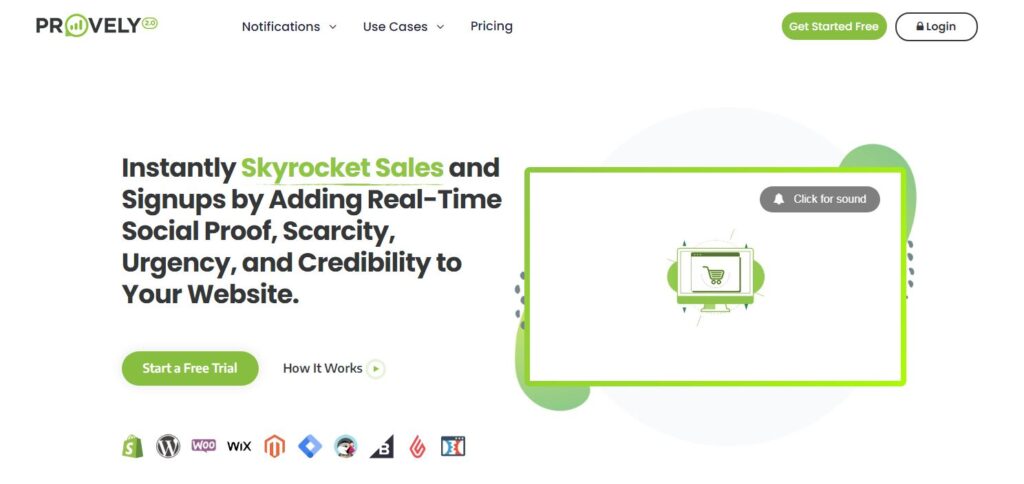 There is no doubt that Provely is the easiest social proof notification tool you can find. This tool is perfect for people who don't have time to produce a full-featured profile and want to switch gears quickly to work on their next endeavor.
Installation is as easy as inserting one line of code and lets you decide if you want to pull from real-time data or use historic data from the past weeks and months. You'll be able to display a larger number of customers and enhance your reputation.
It is an easy CRO tool to build credibility, trust, and urgency by displaying recently acquired leads and sales on your website.
You'll be charged either $17 or $8.08 per month, depending on how you choose to subscribe. ( monthly or annually billed )
14. TrustPulse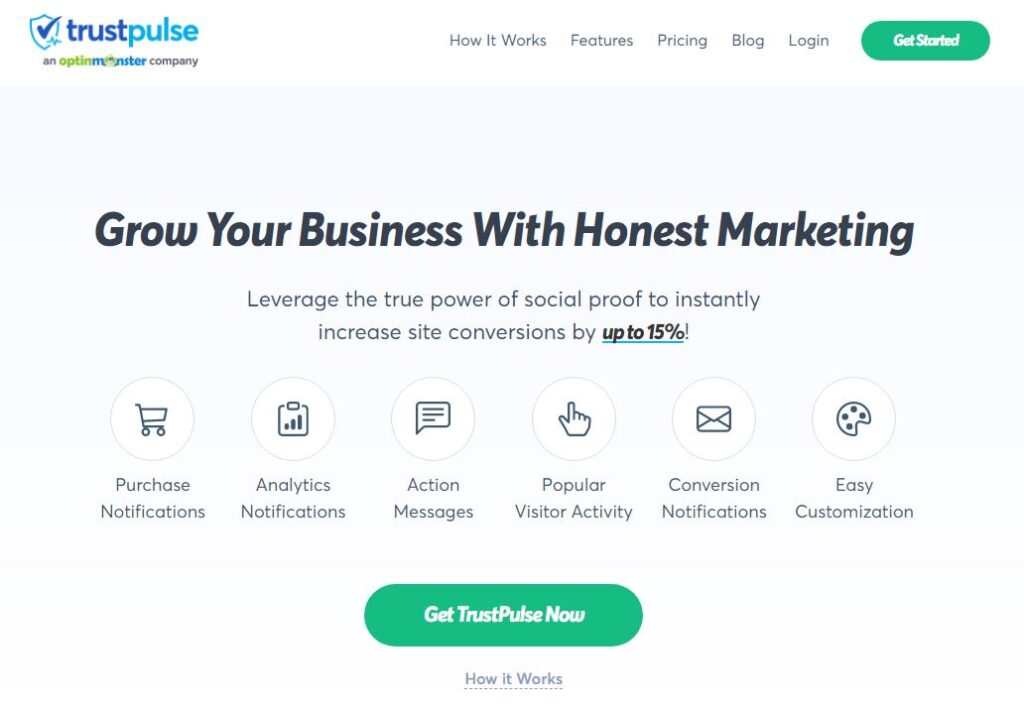 TrustPulse is far and away the best conversion rate optimization tool on a social proof tool out there and can be used with all e-commerce platforms. In addition, it's an excellent way for e-commerce sites to develop customer trust.
Using TrustPulse, you can leverage and automate the power of social proof to instantly increase trust, conversions, and sales.
Seeing real people taking action is a powerful motivator for people to do the same. On top of that, TrustPulse works like a charm and the results are tangible. You lose 98% of visitors without converting them, and 70% never return because you don't earn their trust. With TrustPulse, you can increase subscribers and sales.
It offers four pricing plans.
The Basic plan is $5/month, Plus plan is $10/month, the Pro plan is $19/month and the Growth plan is $39/month.
15. Yotpo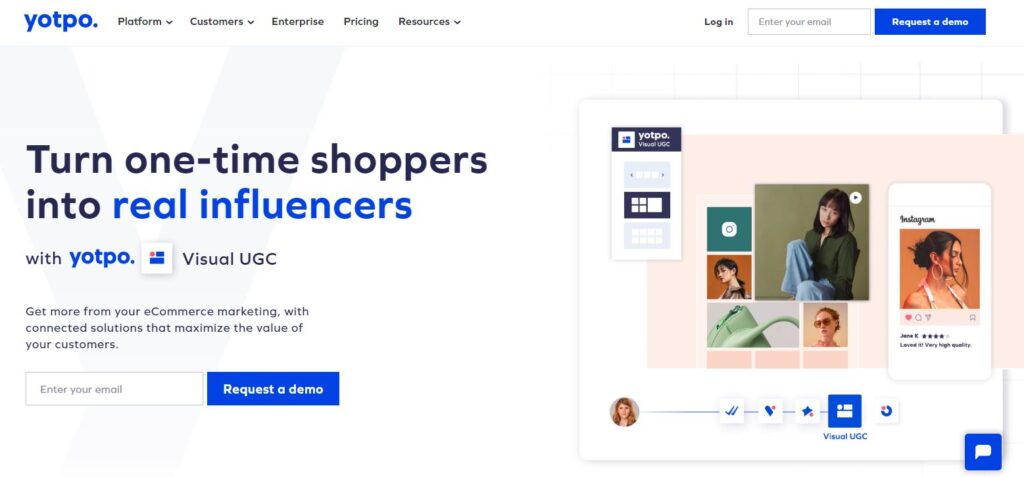 Beyond being simply a tool, Yotpo is also a platform. As well as social proof notifications, it also includes UGC and customer reviews. Reviews, ratings, and questions can be collected through its email features.
Change occasional shoppers into devoted customers, strong brand advocates, regular revenue, reliable influencers, faithful buyers, and life-line customers by leveraging the Yotpo Platform.
A sensational free eCommerce CRO tool, using the appropriate eCommerce marketing tools connected with the needs of your customers, you can take your marketing to a whole new level.
If you want to try out Yotpo, there is also a free trial and a free set of features available. Additionally, there is a "Growth Plan" that costs $29 a month. Your company's price increases with the number of orders it has each month.
16. Fomo
This CRO tool takes FOMO (fear of missing out) to the next level.
Unlike other widgets, Fomo's widgets can display a broader range of notifications.
Displaying real-time delivery information for one of your customers, for instance, would make anyone want to purchase.
With Fomo, you get a simple, automated solution for social proof that shows real-time customer interactions with your website visitors. It proves that customers are active.
It doesn't matter what you say about your business – social proof comes when your customers do the selling for you.
FOMO offers a free 14-day trial on all plans.
There are 4 plans available based on the number of notifications.
Starter: $19/month – 25,000 notifications.
Essential: $39/month – 50,000 notifications.
Plus: $79/month – 250,000 notifications.
Advanced: $199/month – 3,000,000 notifications.
17. Proof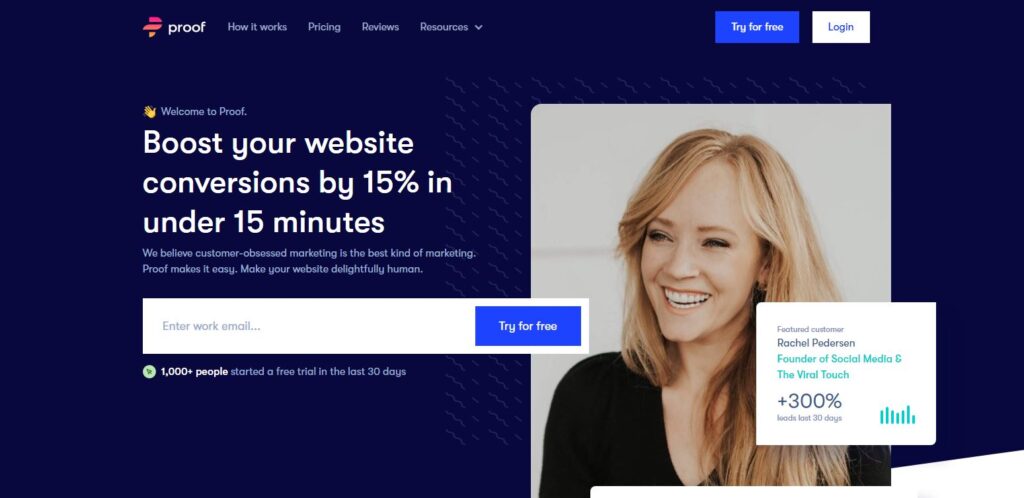 There is no doubt that Proof is an easy CRO tool to use. The best thing about it is that it provides alerts that stay in tune with customers' interests and a useful website optimization feature. You can use this tool for A/B tests on a web page to improve its conversion rate.
It is easy with proof to show that customer-focused marketing is the best marketing. Make your website more human.
Proof's most successful product, Pulse, has been created to encourage businesses to acquire new leads and increase sales by providing immediate social proof. Potential customers will receive notifications when other users sign up or purchase, which gives them peace of mind. That higher level of comfort often leads to more conversions. The Proof Pulse product is perfect for any company looking to convert visitors into customers and revenue.
It offers a Pro plan that can be billed monthly or annually. It is $79/mo monthly and $66/mo if billed annually for 10k unique visitors.
You will save $158/year if you go with the annual payment.
18. Unbounce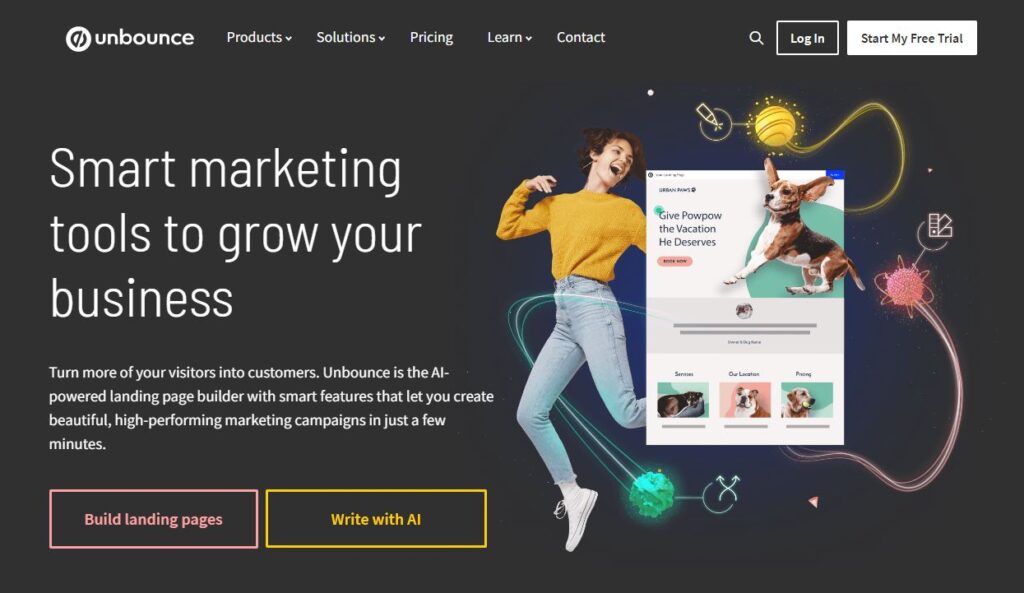 If you want to experiment with different advertising campaigns and marketing strategies, you might consider hosting several landing pages on your site. Unbounce is a landing page builder that allows you to avoid getting the dev team involved, saving you a lot of time and helping you make business decisions more quickly.
The smart builder of Unbounce pulls data to build your page automatically. It even writes the copy for you once you enter your text. As a result, it enables you to perform A/B testing and analyzes the data to point to the best web pages you've built.
It offers a 14-day free trial, which can be canceled anytime.
There is an $81/month charge for the Optimize plan. Accelerate costs $122/month. Free Smart Copy Growth with $203/month, Smart Copy Starter: paying $25 a month if billed annually.
19. Vyper.ai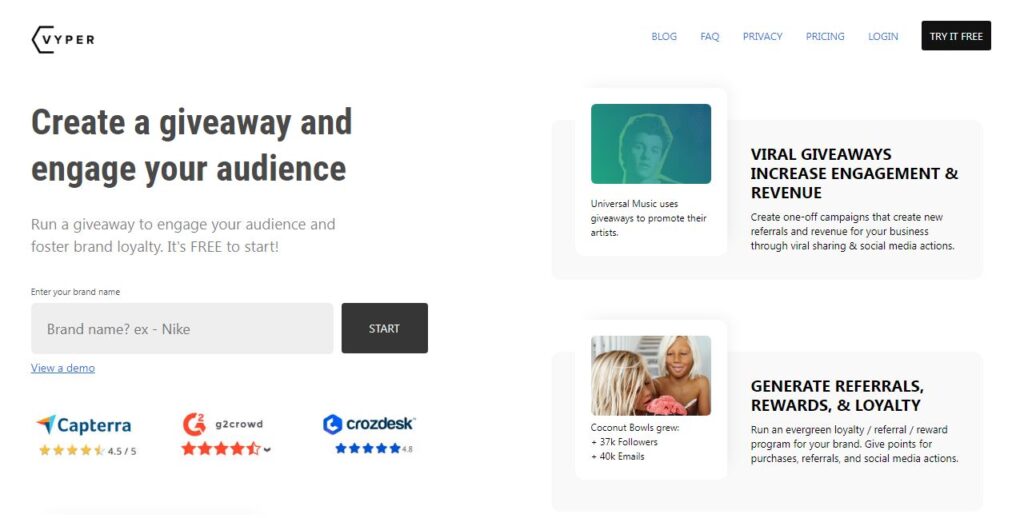 Vyper is a free e-commerce CRO tool that helps you generate more leads by implementing giveaways and contests in your content. There are hundreds of landing page templates you can use to set up an email campaign in seconds.
Launch a contest to motivate and reward your fans! This is all done for free!
Social media can trigger a firestorm of purchasing activity with a single Tweet. VYPER helps incentivize audiences so they'll spread the word.
You can create loyal raving fans with viral contests & rewards programs!
Try it for free.
With no credit card needed, you can try VYPER, free for as long as you like. Pay only when you're ready to launch your campaign. Monthly paid plans begin at $149.
20. Interact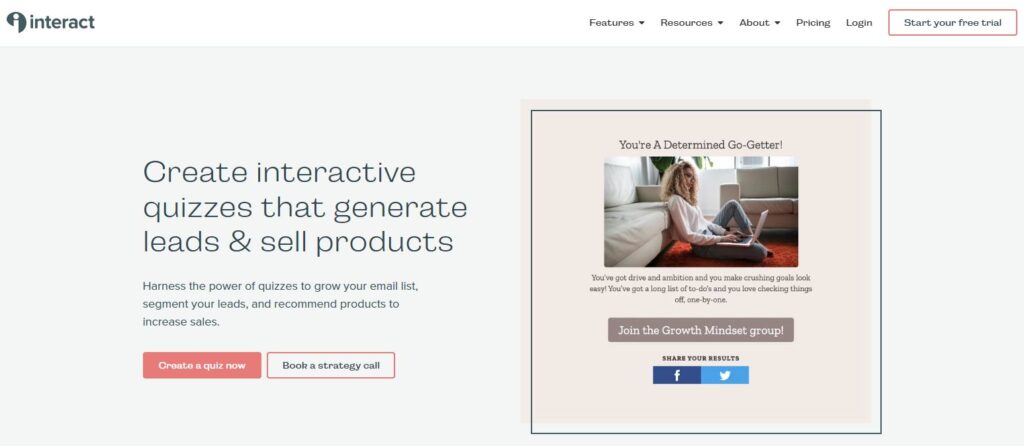 Taking quizzes for your audience is another lead generation tool on the fringes of conversion rate optimization, but it's still relevant. Develop interactive quizzes that generate leads and make money.
Interact is a lead generation CRO tool that lets businesses build quizzes to drive website traffic.
Make quizzes part of your lead generation strategy and generate more sales by segmenting your leads.
Leverage your visibility to uncover more widespread opportunities and possibilities.
Be one of the first to try Interact Quiz Maker during its trial period.
There are three paid plans, Lite, Growth, and Pro; each costing $27/mo, $53/mo, and $125/mo, respectively, if billed annually.
21. UserTesting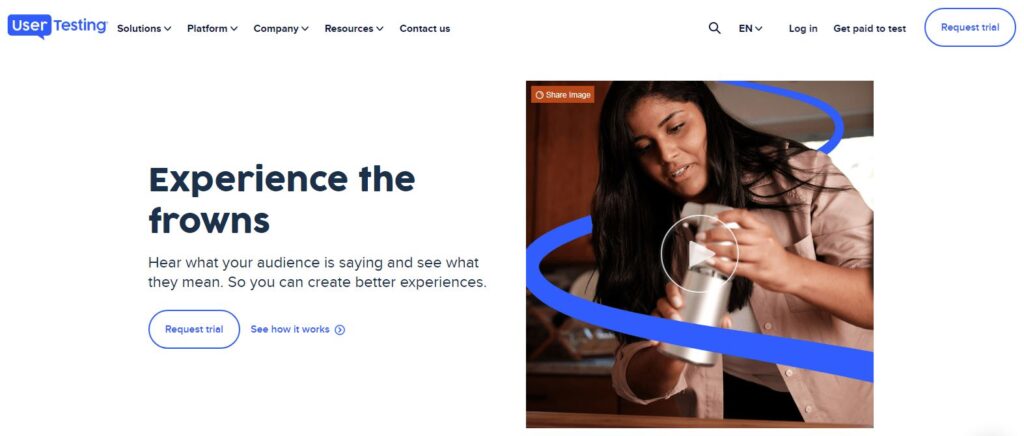 To get a better understanding of the user experience at any given moment, try conducting a live interview. This platform lets you do that. UserTesting is a testing CRO tool that allows you to interview people live, provide messages testing, and carry out tests on user experience.
During your test, everything is recorded on video, and you can select your target audience to participate in live interviews at the beginning of the program.
Actively listen to what your audience is telling you so that you can make excellent customer experiences that bring you more conversions. You can make a test plan that involves questions or tasks about UI, UX design, holistic CX, and more.
Watch and hear your customers' voice inflection as you watch their experience in videos. Learn from digital and real-world interactions to build empathy and intuition. You can create highlight reels, download, export, or share insights in tools like Slack, JIRA, and Trello.
Three pricing editions are available for UserTesting. Costs are not available to the public. A custom quote can only be obtained by contacting them.
22. Attention Insight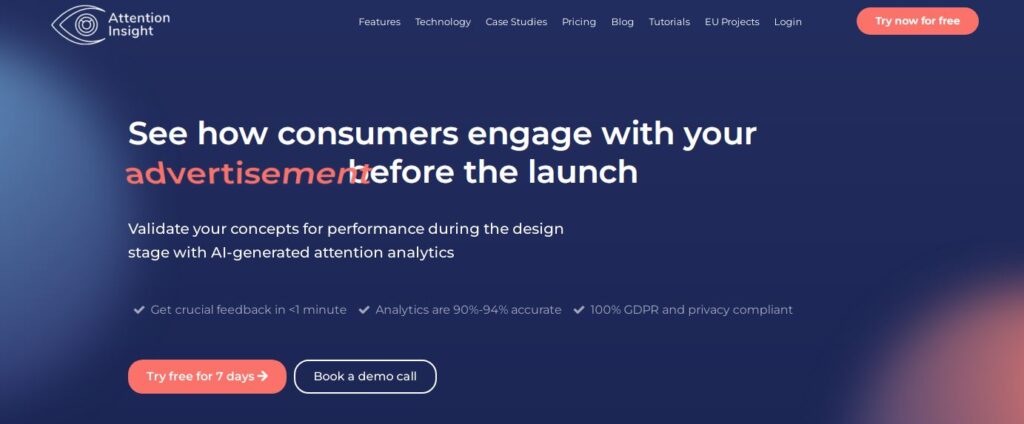 Before launching your project, you can use this tool to get audience insights. One distinguishing feature of it is the Design Comparison tool that shows how two different versions of the same page measure up against each other in three major aspects – how the page conveys its message, its conversion-optimized qualities, and its header design.
It enables you to validate your concepts for performance at the design stage using AI-generated attention analytics. You can ensure your concepts perform better when they are published by using Attention Insight's predictive attention heatmaps.
Attention Insight is free to try for 7 days. No credit card is required to sign up.
It provides you with 3 paid plans:
The Solo plan that is ideal for freelancers and solopreneurs starts at $23/mo.
The Team plan is perfect for digital, CRO, web design agencies, and FMCG companies starting at $479/mo.
The Custom plan includes unique solutions for extraordinary companies, and you need to request a demo session to know the price.
23. UsabilityHub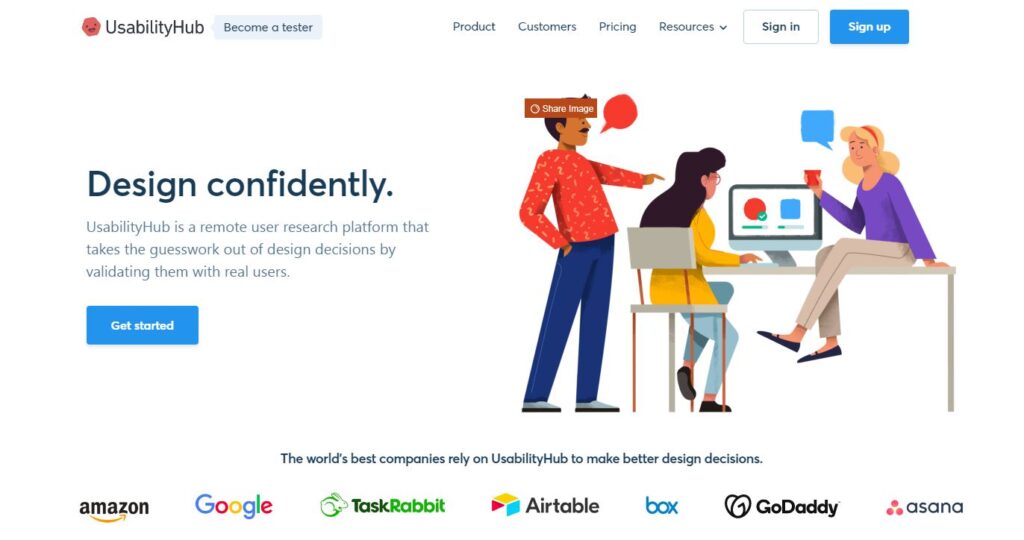 UsabilityHub is usability testing CRO tool. The free version includes all features but requires that you provide a list of panelists. With their paid plans, you'll have access to the audience of 450,000+ people you can then browse through by demographics. It's easy to use and intuitive.
By validating design decisions with real users, UsabilityHub takes the guesswork out of design decisions.
Utilize a set of applications to create simple, smart, and friendly experiences for your users.
The Free plan is available for the basic features.
The Basic plan includes all features in the free plan plus more that costs $89 USD per month.
The Pro plan costs $199 per month.
24. LeadPages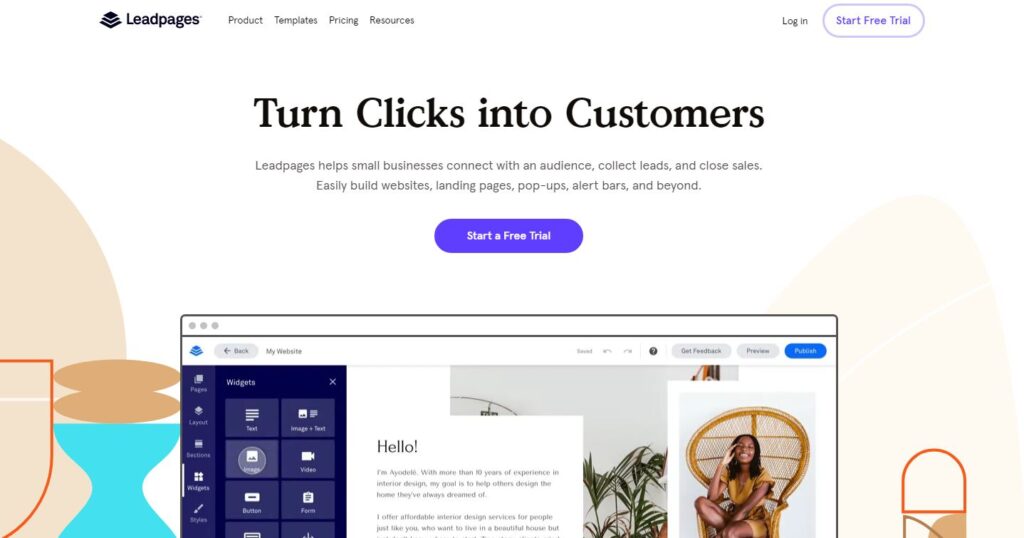 With Leadpages, you don't have to worry about tech challenges since it's software made specifically for growing small businesses. Leadpages can be installed on either the user's WordPress website or on the Leadpages' servers. To create a company's most important marketing web pages, Leadpages aims to reduce the cost of hiring website developers and freelancers.
This website builder is ideal for small businesses that offer coaching, workshops, boot camps, and services for their clients. Business coaches and consultants, fitness/health coaches, speakers, authors, real estate agents, financial service providers, freelancers, restaurants, and marketing agencies are among the top categories. To get the word out about their app, many app developers also use Leadpages.
Leadpages is a platform that doesn't require coding skills from its users. It's built for the non-developers
Pick a paid plan to start with and you will get 14-days of free use.
The STANDARD plan starts at $37/month.
The PRO plan starts at $74/month.
25. Popupsmart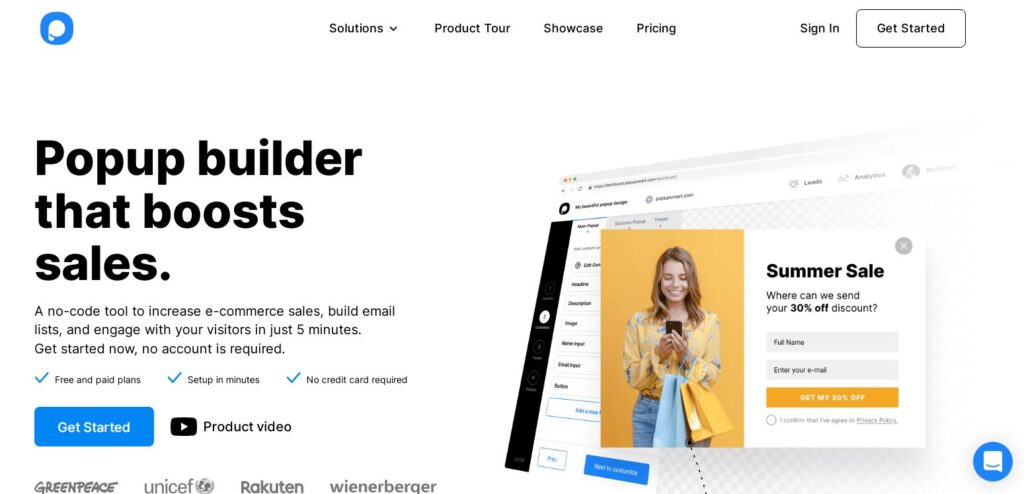 The main goal of a landing page is to generate leads. To help with this task, use Popupsmart, a no-code popup builder tool. This website creator can offer website owners increased engagement and conversions by giving people a simple, quick, and easy way to sign up for their website's newsletter.
We suggest using a dedicated popup tool because even though many landing page builders also include a popup tool, it can be glitchy and limit your design.
Get an easy code-free CRO tool for increasing your e-commerce sales, growing your email lists, and connecting with your visitors with no account required, you can start using it immediately.
The forever Free plan includes 5,000 pageviews, 1 website, and 1 popup per month
The Basic plan includes 100,000 pageviews, unlimited websites, and pop-ups for $29/per month.
The Pro plan ranges from $79 per month for a half million pageviews to unlimited websites and pop-ups at the pricier end.
When you opt for an Expert plan for only $129/month, you get unlimited sites and popups in addition to 1M pageviews.
26. Five Second Test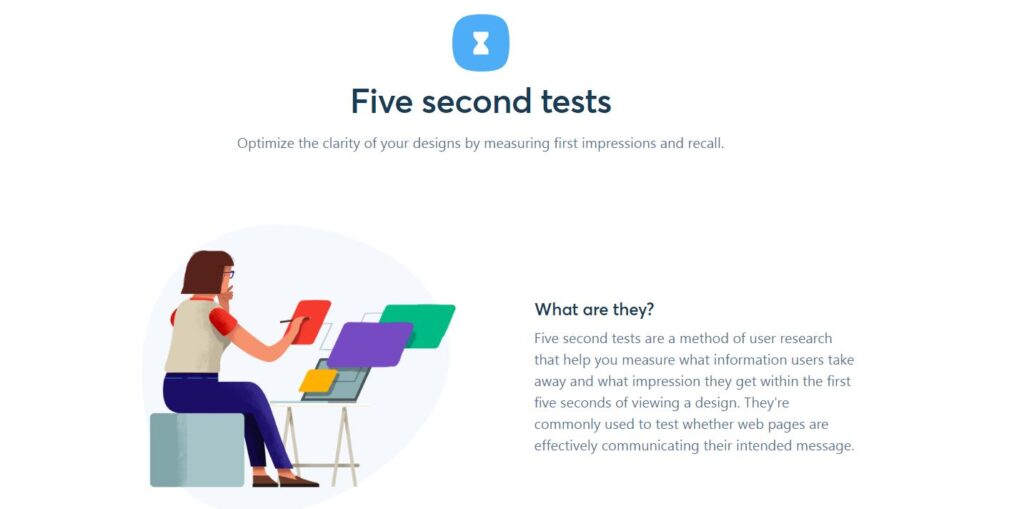 Many people are so impatient that they won't even go to the length of scrolling through your page to find what they're looking for; instead, they choose the first option on your competitor's website. As a result, you need to have a clear and convincing offer that can turn people into customers.
If you're working on a landing page and are interested in testing it to find out if people understand what your business is about, Five Second Test is a way to test your hypothesis without waiting five seconds to get feedback from someone.
Five-second tests are a means of evaluating user experience by getting feedback from a viewer's impressions within the first five seconds of viewing a design. Such tests are commonly done to see whether a website successfully delivers its message.
By answering a series of questions about landing pages on the site, you can participate in the site's paid tests. A test costs a dollar apiece.
27. Nudgify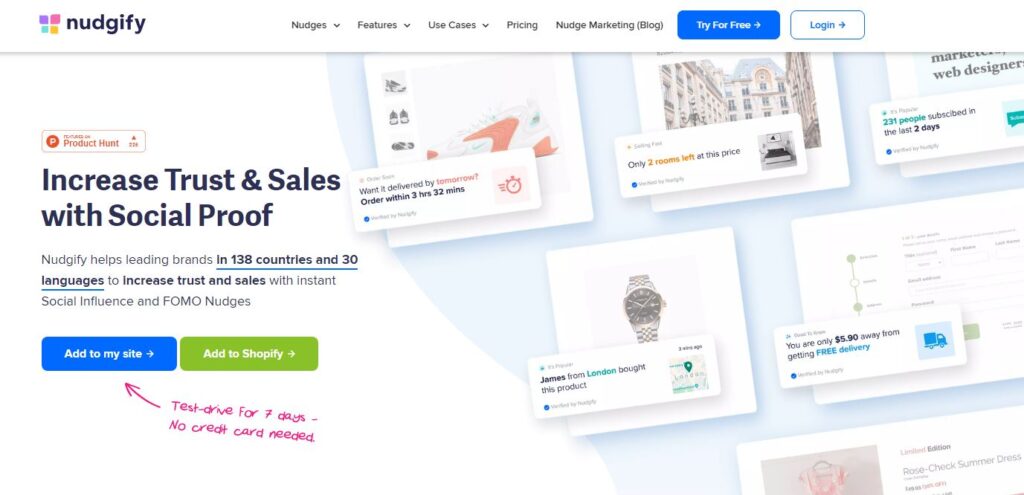 Powered by a state-of-the-art marketing solution that instantly makes any webpage more persuasive, Nudgify helps online stores convert browsers into buyers. On different pages, Nudgify will send different kinds of social proof, such as based on availability or on how popular or successful the product or service is.
Through understanding what customers need and validating their choices, generating urgency, and diminishing hesitancy, Nudgify has a huge impact on the customers, being an excellent choice for online marketers wanting to increase conversion rates and sales.
There are 30+ languages to choose from. Social Proof and custom Nudges are all included in all pricing plans.
If you pay $0.99 per month and have up to 2,000 visits per month per website, the Lite plan is for you.
Plus plan charges $9 per month and gives you 10,000 monthly visitors.
With the Genius plan, you get 100,000 visitors per month on an unlimited number of websites for just $29.
Monthly fee of $89 for unlimited websites with 1,000,000 monthly visitors going for the Agency plan.
Best Conversion Rate Optimization Tools: The Final Verdict
So there you have it! These are the best conversion rate optimization tools on the market. We have come to our final verdict. The best tool is the one that is best suited to your specific needs. We hope you found this article helpful.