Are you tired of hiring full-time or freelance content writers to have the perfect content for your website? Do you want an SEO content agency to cover the whole process for you? Great! We've listed the best SEO content writing services below to help you.
You certainly love to see your website pop up on the first page results of Google when you click the search button. To reach this goal, you should master all SEO tactics and strategies and write unique, engaging, and complete content.
But, doing this alone is nearly impossible. And hiring many content writers would be time-consuming and exceed your budget.
So, it is time for an alternative move! You should work with professional SEO content writing services to boost your website ranking effortlessly.
Now, look through the top SEO content writing services mentioned in this article and pick your favorite to start!
What Are SEO Content Writing Services
Before heading toward SEO content services, let's break down SEO to make it more understandable. SEO or Search Engine Optimization is a process that aims to improve website rankings in search engines for visibility.
Therefore, an SEO content writing service is an agency or organization that provides top-quality written content to improve your website ranking, boost web page visibility and traffic, and even increase conversions.
In addition, these agencies are familiar with modern SEO content strategies and tactics. They can outdo other websites struggling to be on the first page of the search engine results page (SERP).
Let's examine some of the best SEO content services in the industry!
1. Brafton: One of The Top SEO and Content Writing Services
If you're planning to reach your website's peak performance in SERP, Brafton can be an ideal agency for you to pick.
Establishment: 2008
Price: On-demand
HQ Office: Boston, USA
Other Branches: Chicago, San Francisco, Sydney, London
Founded in 2008, Brafton is an integrated digital marketing agency with numerous services, including content for SEO, blogging, copywriting, business copy, and article writing.
In addition, they offer video marketing services, graphic design, and lead magnet creation.
By working with Brafton, you can benefit from many SEO services: from organic and local SEO to on-page and video SEO.
Brafton covers countless marketing strategies to help your business develop and have the best ROI.
However, you should have a sufficient budget to work with this company.
2. Thrive Agency: An SEO Article Writing Service
You can trust Thrive Agency for a complete website with SEO implementation. They claim to provide unique written content with top results.
Establishment: 2005
Price: $1000+
HQ Office: Arlington, United States of America
Other Branches: Dallas, Austin, Atlanta, Baltimore, Chicago, Cleveland, Denver, Houston, Jacksonville, Kansas City, Las Vegas, Los Angeles, Kentucky, New York, Miami, Minneapolis, South Carolina, New Orleans, Orlando, Philadelphia, Portland, San Antonio, San Diego, Seattle
Thrive Agency is one of the top internet marketing agencies with excellent SEO content writing services. You can gain massive traffics using their expert content writers, SEO specialists, and professional digital marketers.
They optimize keyword research, content strategy development, content writing, and content marketing to shine on the first page of search engine results.
Furthermore, this organization offers countless services, including digital marketing, web design, social media marketing, reputation management, eCommerce marketing, and Amazon marketing.
Despite their outstanding features, you need a good budget to cooperate with this company.
3. Verblio: Blog & SEO Content Writing Service
If you want quality content processed with all SEO principles, Verblio can be a good choice.
Establishment: 2011
Price: Below
HQ Office: Denver, USA
Other Branches: Boulder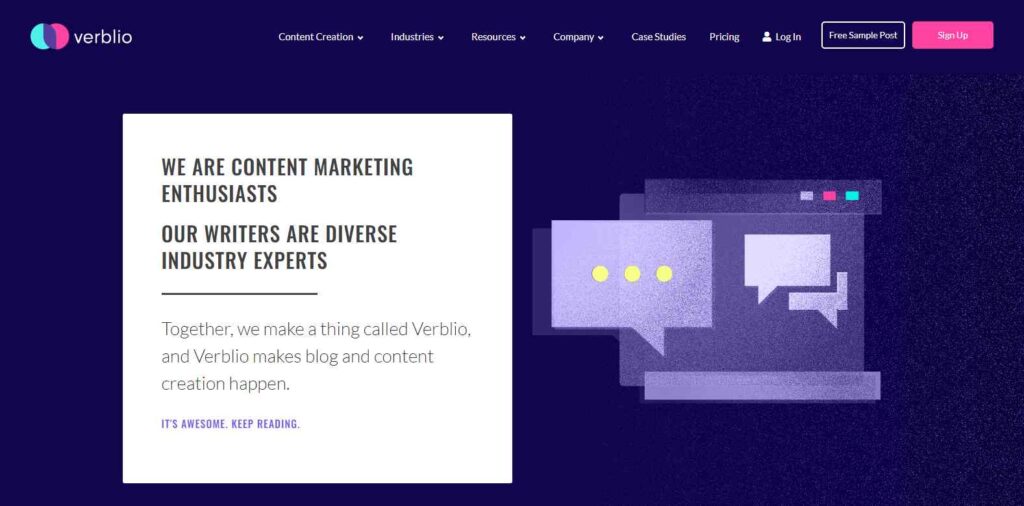 Based in the USA, Verblio is a full-service content creation agency with a professional team and specialists. They offer content creation services to publishers, marketers, small businesses, and agencies.
Moreover, this SEO content writing company has various content types, including blog posts, ebooks, AI content writing, podcast summaries, newsletters, website content, product descriptions, etc.
You can select any options above to boost your website visibility, engagement, and ranking.
In addition, Verblio covers different industries, from automotive and real estate to healthcare and beauty.
The prices of SEO content writing services are:
300 words = $48/piece,
600 words = $96/piece,
1000 words = $160/piece,
1500 words = $240/piece,
2000 words = $320/piece.
4. Impressive: SEO Content Writing Services Australia
If you're launching your website in Australia, Impressive Agency can be the perfect choice for your SEO content services.
Establishment: 2016
Price: On-demand
HQ Office: Melbourne, Australia
Other Branches: Texas, Sydney, Brisbane, Perth, Gold Coast, Adelaide, Hobart
With branches across Australia, Impressive is an integrated marketing agency that began its work in 2016. They offer planned strategies and top-quality content to boost website traffic and generate sales for their clients.
By hiring Impressive, you can attract a massive wave of clicks toward your website, reaching its pinnacle.
Also, you can start a free 30-minute strategy session with this company to get familiar with their various SEO writing services.
5. SEO Content India: One of The Best SEO Content Writing Services in India
SEO and content writing services in India are well-experienced and professional. Among these agencies, SEO Content India can be a top pick for website owners to have first-hand engaging content.
Establishment: 2015
Price: On-demand
HQ Office: India
Other Branches: N/A
Founded in 2015, SEO Content India is one of the best SEO-friendly content writing services. They offer various writing services, from academic and blog writing to Ebook and newsletter writing.
You can have SEO-optimized website content from their expert marketing team and increase the traffic to your page.
Also, you can try their internet marketing services, such as online reputation management, SMO, content editing, and graphic design services.
6. The Urban Writers: Professional SEO Content Writing Services
Undoubtedly, The Urban Writers are one of the most popular SEO content services worldwide. They claim to offer high-quality content and have one of the best teams in the industry.
Establishment: 2017
Price: Below
HQ Office: Toronto, Canada
Other Branches: United States of America
The Urban Writers is an excellent SEO content writing service with countless options, from book bundles and descriptions to articles, narrations, etc.
You can connect with their experts who research keywords, write, and manage your website content to boost your business and rank high in SERPs.
However, their prices are high, and the SEO content packages are:
One article = $6.69/per 100 words,
Five articles = $6.55/per 100 words,
Ten articles = $6.51/per 100 words,
Fifteen articles = $6.47/per 100 words,
Twenty articles = $6.43/per 100 words,
Thirty articles = $6.39/per 100 words.
7. Crowd Content: Top Content Creation Services
Boost your website with engaging content and unique writings using Crowd Content. According to their claim, you can reach the top of the SERPs.
Establishment: 2011
Price: On-demand (custom selection)
HQ Office: Victoria, Canada
Other Branches: N/A
Trusted by over 8000 clients, Crowd Content is a Canadian-based company with countless features and services, from article writing and blog posts to copywriting, product descriptions, website content, etc.
You can work with Crowd Content and let them cover the entire process and provide you with a complete, unique, and top-quality website.
However, they have a high pricing range which depends on what clients request for their websites.
On the Crowd Content pricing web page, you can select these options to receive accurate prices:
Type of content

Articles,
Blog Posts,
City Pages,
Website Content,
Ebooks,
Press Releases,
White Papers,
Newsletters,
Product Descriptions (re-write or fresh),
Tweets,
Facebook Posts,
Metadata.

Word count
Quality level

One-star quality = 3.5¢/word,
Two-star quality = 8.9¢/word,
Three-star quality = 11.9¢/word,
Four-star quality = 15.9¢/word.
Read also: The Power of SEO For Your Business
Pros and Cons of SEO Content Writing Services
In the world of content marketing, you can surpass your opponents by having unique, top-quality, and perfect content for your website. Working with a content writing service can have numerous advantages, which you can benefit from.
However, there are also specific drawbacks that you should consider before approaching an SEO content service agency.
The advantages of outsourcing SEO content writing services are:
Working with skilled professionals who are familiar with the best SEO practices,
Saving time,
Boosting your rank on SERPs,
Having new and fresh content with consistent updates,
Reducing bounce rates.
The disadvantages of outsourcing SEO content services are:
Requires a sufficient budget,
You do not have direct control,
Intense to communicate with agencies and provide your intention,
You become dependent on services.
We recommend considering these before making a move. So, you know the consequences of working with SEO writing services.
Read also: Improve Your Website Ranking With Technical SEO Audit
FAQs
Jump to this part to get answers to some of your frequent questions.
1. Why Should I Hire An SEO Content Writing Service?
Working with SEO content writing services can significantly impact your website. You can take advantage of these:
Have high-quality content and increase your website credibility,
Plan customized SEO writing strategies and techniques,
Keep up with search engines algorithms that keep evolving,
Work with the best content writers and team of experts,
Boost your rank, traffic, and conversions,
Follow regular updates,
Accurate keyword research.
2. What Do SEO Content Writing Services Do?
SEO content agencies offer various services covering the entire content writing and marketing process for your website. These are some of the major practices and services they provide:
Find the best and most relevant keywords,
Create high-quality, authentic, and engaging content,
Apply modern SEO practices and tactics to the writing,
Write perfect content that matches your audience's desires,
Produce all sorts of SEO-optimized content, from blog posts and articles to copywriting, product descriptions, etc,
Provide consistent updates,
Write meta descriptions, headings, and on-page features,
Provide additional services like adding photos, videos, and link buildings for better SEO performance,
Focus on UI and UX,
Analyze website performance and fix errors.
3. What Is The Difference Between SEO Content Writing Services And Regular Content Writing Services?
SEO writing services focus on creating SEO-optimized content to rank in search engines. They follow the algorithms and include engaging meta descriptions, related keywords, and other aspects of SEO practices for the best results.
However, regular SEO content services produce creative and informational writing without focusing on SEO principles.
4. What Types of Businesses Can Benefit From Hiring An SEO Content Writing Service?
Countless different businesses and industries can benefit from working with SEO content writing services including:
Affiliate Marketers,
Local Businesses,
E-commerce Websites,
Service-based Businesses,
Startups,
Business Blogs,
Niche Websites,
Non-profit organizations.
5. How Do SEO Content Writing Services Charge Their Clients?
These organizations fix prices in various ways, and each service differs from the other. SEO content writing companies charge their customers:
Per Word,
Per Hour,
Per Project,
Monthly Payment,
Package Offers,
Custom Pricing.
This pricing can also depend on the client's requests.
Conclusion
Therefore, SEO content writing services can enhance your website with SEO-optimized writing to hit the top in SERPs. They create unique, authentic, and engaging content with a high-quality structure and simple user interface.
Some of the best SEO content-writing agencies are mentioned to help you find a suitable one for your work. Make your website special and boost your business to another level to increase engagement, traffic, and conversions.