Twitter can be a powerful marketing tool for your business if you use it correctly. You can reach a large audience with your message by tweeting relevant, interesting content and using hashtags to track relevant conversations.
ّIn the highly competitive world of today where business try every ecommerce marketing tool to get ahead of the game, Twitter has turned into the 10th most significant social media network worldwide. This medium is expected to reach over 340 million active users by 2024. Therefore, you should not overlook the potential to enhance your online presence and grow your brand there.
But before you start tweeting, there are a few things you need to consider to make the most of Twitter for marketing purposes. Let's start then.
10 Must-Haves for Twitter Marketing
In your digital marketing career, Twitter can be one of the most powerful social media marketing tools that can help you reach many people quickly and easily. But to make the most of Twitter, you need a plan. Here are 10 must-haves for your Twitter marketing plan:
A solid analytics program for Twitter mentions. Data is the #1 priority for your business, and you want the best software that lets you gather facts about what potential and actual buyers express about your offer. Moreover, you want your data to be systemic, logical, mathematically accurate, and consistent.
A clear goal or strategy. What do you want to achieve with Twitter marketing? More followers? Increased website traffic? Greater brand awareness? Define your goals and create a plan of action to achieve them.
A content strategy. Without regular, engaging content, your Twitter account will quickly become stale. Use Twitter analytics tools to plan out your content topics in advance and make sure you're regularly publishing fresh, interesting tweets.
A social media calendar. As with any other marketing activity, scheduling your Twitter posts in advance is important. Use a social media calendar tool like Hootsuite to help you keep track of your posting schedule.
Targeted followers. Don't just aim for a high follower count – make sure those followers are genuinely interested in what you have to say. Use tools like Followerwonk to find and target relevant users to follow.
Interesting content sources. Keep your followers engaged by sharing links to interesting articles, blog posts, infographics, etc., from reliable sources across the web.
Engaging visuals. As well as links to external content, include images and videos in your tweets for even greater engagement potential.
Hashtags can be a great way to increase the reach of your tweets and to connect with other users who are interested in the same topics as you are. Use relevant hashtags whenever possible.
Relevant keywords can also help you reach a wider audience with your tweets – use them carefully and sparingly so as not to overwhelm your readership.
Twitter chats are a great way to connect with other Twitter users who share your interests – look for chats that focus on topics relevant to your business, and join in the conversation!
The Do's and Don'ts of Using Twitter for Business
When used correctly, Twitter can be a great tool for businesses, but there are also a few do's and don'ts to keep in mind. Here are a few tips:
Do's of Twitter Marketing:
Make sure your Twitter profile is complete and up-to-date.
Start following other businesses and industry leaders to get insights and ideas.
Use Twitter to share interesting content, news, and updates about your business.
Engage with your followers and respond to questions and comments.
Use social media monitoring tools to guide your Twitter strategy.
Don'ts of Twitter Marketing:
Spam your followers with too many tweets or promotional content
Neglect to tweet regularly or at all
Tweet about things that are irrelevant or off-topic
Grow Your Twitter Following Using These Tips
Use hashtags wisely. When you use a hashtag on Twitter, it becomes a clickable link that shows all the other tweets using that hashtag. This can be a great way to find new people to follow who share your interests. Be careful not to use too many hashtags, though, or your tweet will look like spam.
Follow other people who share your interests. When you follow other people, they may check out your profile and decide to follow you back.
Use interesting Tweets. If you only tweet about yourself, people will quickly lose interest. Mix up your tweets with links to articles, funny memes, and quotes from interesting people.
Use Twitter lists. A Twitter list is a collection of users you create and name yourself. You can add any users you want to your list, and they will receive a notification that they have been added. That is a great way to connect with other people who share your interests.
Get involved in Twitter chats. A Twitter chat is a conversation that takes place on Twitter between a group of people who have connected over a common topic. To participate in a chat, just search for the hashtag associated with the chat and join in! That is a great way to meet new people and learn more about topics that interest you.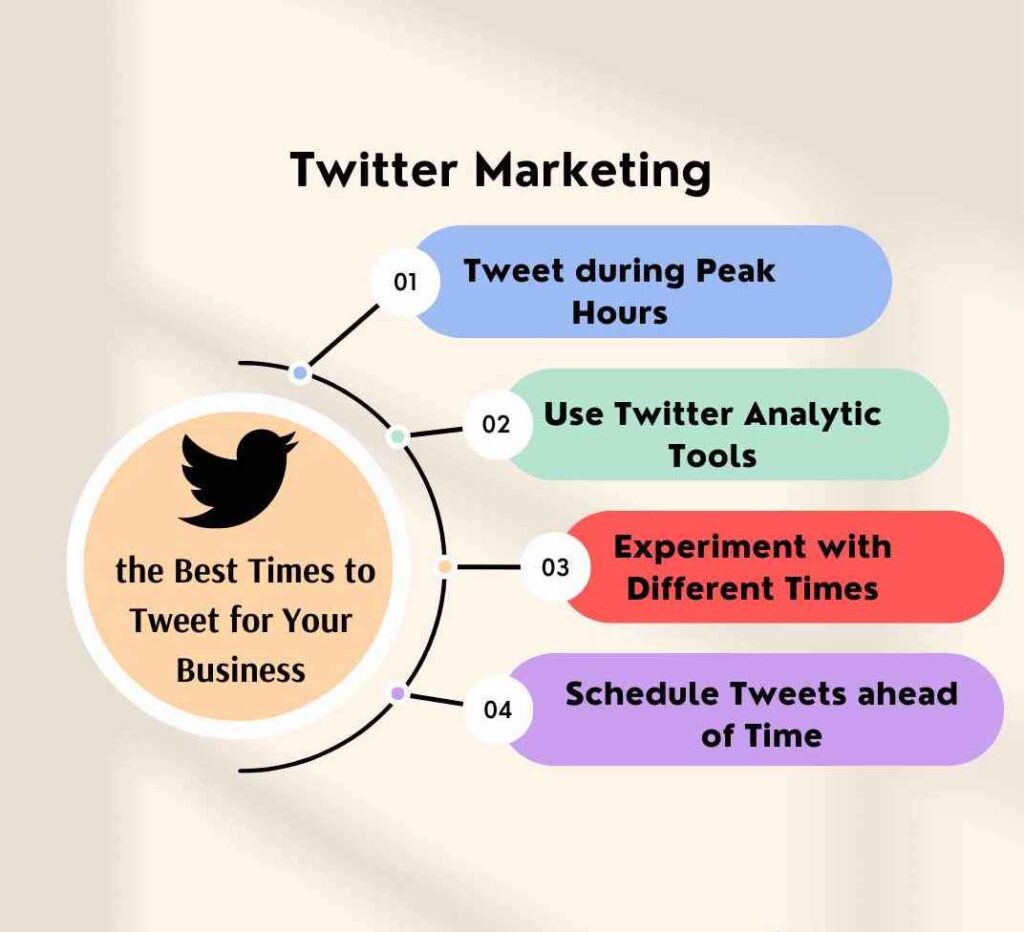 FAQs on Twitter Marketing
Now, let's look at some of your frequently asked questions.
Q:1 What Are the Best Times to Tweet for My Business?
Twitter can be a great way to connect with customers and promote your business, but it's important to tweet at the right times to get the most out of it. Here are some tips for the best times to tweet for your business:
Tweet during peak hours. The best time to tweet is when most of your followers are likely online. For most businesses, this is between 8 am and 3 pm EST.
Use Twitter analytic tools to find the best times for you. Twitter offers analytics that shows you when your tweets are getting the most engagement. Use this information to tweak your tweeting times.
Experiment with different times. Not everyone is online simultaneously, so you may want to experiment with tweeting at different times to see what works best for you.
Schedule tweets ahead of time. If you can't tweet during peak hours or want to spread out your tweets throughout the day, use a tool like Hootsuite or Buffer to schedule them ahead of time.
Final Words
Twitter can be a powerful marketing tool when used correctly. By understanding the basics of Twitter and how it works, you can use this social media platform to reach a wider audience with your marketing messages.
In addition, using Twitter for marketing can help you improve customer relations and create a more personal connection with customers. Finally, make sure to track your results so that you can continue to improve your Twitter marketing strategy.