Ecommerce tools help business owners manage their online stores. The common purpose of these tools is to facilitate, organize, and automate the processes of starting and growing an eCommerce business. Such tools also help online stores run gently and keep up with customers' expectations.
Ecommerce tools are the cornerstones of any online store. They are either all-in-one eCommerce solutions or website builders and web hosting, analytics, marketing, sales, and customer service.
It's important to think about your business strategy and choose the right tool you'll need in the future. If you're interested in starting a new eCommerce business or marketing an already-established one professionally, you can check out the complete list of the tools and software we've compiled in this post to achieve your business goals. The list includes:
eCommerce marketing tools
eCommerce marketing platforms
eCommerce email marketing tools
and eCommerce marketing automation software
15 Best eCommerce Tools to Grow Your Online Store [Free & Paid]
An eCommerce tool enhances the functionality of e-commerce websites. Furthermore, if you rely on an eCommerce marketing platform like Shopify, you can integrate several functionalities, including ERP integration, accounting automation, customer data collection, and abandoned shopping cart recovery.
Whether you wish to use these tools for a better eCommerce email marketing system or a world-class eCommerce marketing automation, they will help you streamline your marketing efforts and boost sales. And the best part is that they're all affordable and easy to use.
If you're ready to take your eCommerce business to the next level, read on to find the best eCommerce tools you need to know.
1. WatchThemLive; the Best eCommerce Tool for Tracking Visitors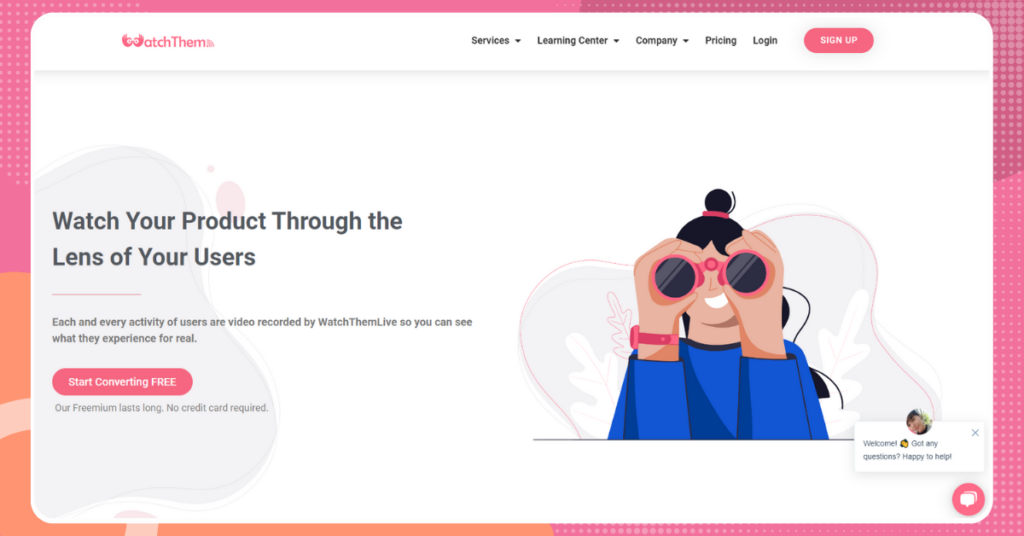 WatchThemLive is an all-in-one conversion rate optimization tool and a great cost-efficient alternative to Hotjar that provides users with website heatmaps and an analytics dashboard to view and analyze user behavior data like sessions, pageviews, dwell time, exit pages, etc.
Using this CRO platform, you'll be able to take your users' perspectives on your product. You can view the real-time experiences of users by watching their session replays in your WatchThemLive account. It helps you find out the product bugs experienced by your users and solve them so you can provide a flawless product for them.
WatchThemLive's heat-mapping feature allows you to perform A/B testing and make data-driven decisions.
It is easy to use.
Data is easily accessible by all your team members, so it is intuitive to use.
It has better pricing than its competitors with lifetime plans and generates heatmaps faster.
Watching the recording sessions, you can see what's happening on your website.
The site speed is a bit slow
No actual A/B testing feature
With the right plan, your business will grow. WatchThemLive offers four plans starting from free to $99/month, depending on your requirements. To get immediate access to all the amazing features, you can sign up on WatchThemLive or even check it out on Shopify!
2. Ainfluencer; Leading eCommerce Tool for Marketing Via Influencers
Ainfluencer lets you connect with verified influencers using a simple, organized e-commerce marketing platform.
Sign up with Ainfluencer, and then search for the perfect influencer to promote your brand on an influencer marketing hub.
There has never been a DIY (Do-it-Yourself) platform like Ainfluencer.
3. Google Marketing Platform; a Free eCommerce Tool for Online Stores
Google Marketing Platform is a suite of eCommerce tools that enable marketers to manage and optimize their digital marketing campaigns across Google and YouTube. It is a solution that bridges the gap between advanced marketers and companies still new to digital marketing by saving time and effort.
This powerful tool helps marketers manage all their advertising from one interface. It's perfect for anyone who wants to save time and resources. And the free tool helps make this process easier by providing insights about your campaign's performance, and it lets you quickly make changes to improve results.
Google Tag Manager
Google Tag Manager is a tag management system (TMS) that allows you to quickly and easily update measurement codes. These codes are known as tags on your website or mobile app.
This tool is important for eCommerce marketers who want to measure the success of their campaigns. With Google Tag Manager, you don't need to install any marketing tracking code. That way, you can monitor your marketing campaigns without so much work.
Google Analytics
Currently, Google Analytics is inside the Google Marketing Platform. This tool will help you monitor your site traffic and provide useful insights to accompany it.
Google Analytics is an eCommerce marketing tool that provides insights into your customers' behavior and how they interact with your site. It also tracks the success of your marketing campaigns and provides detailed information on how users reached your site.
Google Search Console
You can always check the Google Search Console to see that your website is indexed, getting enough web traffic, and optimized to stay competitive in your industry.
Google Search Console provides free insight into your website's performance in Google Search results. It can help you monitor for issues that are decreasing your search visibility. You can use it to:
Check indexing status and search query reports in real time
Test whether your site is listed or indexed correctly
Identify crawl errors and other problems with your site
Understand how changes you make affect your site's performance
Monitor how many website pages have been crawled each day or hour.
Google Optimize
Google Optimize allows you to try changes to your website or app (such as layout, content, and ads) and measure how they affect the business. You can also share insights with your team.
Google Optimize does a lot more than just enhance the way your website or app operates. It lets you test and measure any changes, provide insights for other team members, and much more. It also has features for A/B testing, multivariate testing (MVT), funnel analysis, user segmentation, visitor segmentation, and more.
4. Zendesk; the Best eCommerce Tool to Create Exceptional CS
Zendesk is customer service and e-commerce marketing automation software that helps automate and manage customer queries. It is an easy and reliable tool that has helped many eCommerce businesses to keep tabs on their customers' concerns.
It is a powerful and reliable eCommerce tool that helps you answer all your customer queries, create message templates, manage tickets, and improve the customer experience.
Automation, personalized responses, and new chat features, make it easier to use the platform.
Zendesk has several plans available to meet your needs. The Basic plan starts at $19 per month, but if you're looking for more advanced features, there is also an enterprise plan that comes at around $150 per month.
5. Exploding Topics; Top Tool to Find Trending Topics for Your eCommerce
Exploring Topics is an eCommerce marketing tool that enables you to identify trending content topics before they become popular.
Exploding Topics scans the internet to find topics that will explode soon.
It is another helpful eCommerce tool that has the power to analyze millions of data points in the blink of an eye, providing a comprehensive snapshot and a graph of what's trending online.
Its trend-spotting algorithm can identify industries, products, and categories on the verge of getting big. It is like having a lookout situated at the high lookout point that is watching for when the next wave will come so you can get ready.
It offers free tools for some topics, but for hot topics, you need to upgrade to the Pro plan.
It includes Entrepreneur and Investor plans, each costing $47/mo and $97/mo, billed annually, respectively. Both Pro plans offer a 14-day free trial.
6. OptinMonster; a Leading eCommerce Tool to Capture More Leads
OptinMonster is the leading solution for growing your email list, generating more website conversions, and decreasing cart abandonment.
It is the best lead generation software for eCommerce stores and marketing agencies.
It is a wonderful eCommerce marketing tool that enables marketers to create visually compelling offers with just a few clicks. The campaign management tool has different targeting options that allow marketers to personalize and readjust campaigns to achieve remarkable results.
All small businesses, eCommerce websites, and marketing agencies can benefit from optinMonster's lead generation software.
It offers 4 paid plans:
Basic: This package offers essential tools to increase your leads from your existing traffic at just $9/month (billed annually).
Plus: Growth-oriented businesses will find that it is a great deal at 19$/mo (billed annually).
Pro: The most popular and recommended plan for anyone selling anything on their website at 29$ per month (billed annually).
Growth: Your conversions will be transformed with the required tools at 49$/month (billed annually).
7. SalesForce; the Best eCommerce Tool to Manage Customer Relations
Salesforce is the best CX software for small and large businesses. It's got everything you need to function smoothly, whatever business you're in.
It is an e-commerce automation system that delivers a personalized customer experience with its customer 360 system. It also has a scalable and flexible design that integrates smoothly with your existing website and channels. Stats show that Salesforce's users observe a 42% increase in forecast accuracy and 34% higher sales.
A ghoul e-commerce marketing automation tool that is popular for collecting customer experience data, though it can be difficult to use. With its custom fields, there's a trade-off between usability and utility.
Salesforce offers a professional enterprise solution with affordable monthly rates starting at $25 per month.
A free trial is also available.
8. Freshworks; the All-in-One eCommerce Tool for Marketing
Freshworks is a trusted eCommerce marketing software that has attracted users in the past because of automation features, visual sales reports, and a phone and email feedback channel.
It is a solution for marketing automation for eCommerce that allows you to send emails, manage leads and engage with them in various ways. Using Freshworks 360 software suite, you can see the status of the customer's pipeline and make more informed decisions about how to deal with specific leads.
Some other features include conversion rate optimization, session replay, and A/B testing.
Demand-driven web services are available for $19 and $29 per month.
9. Intercom; a Perfect eCommerce Tool to Provide Live Chat Support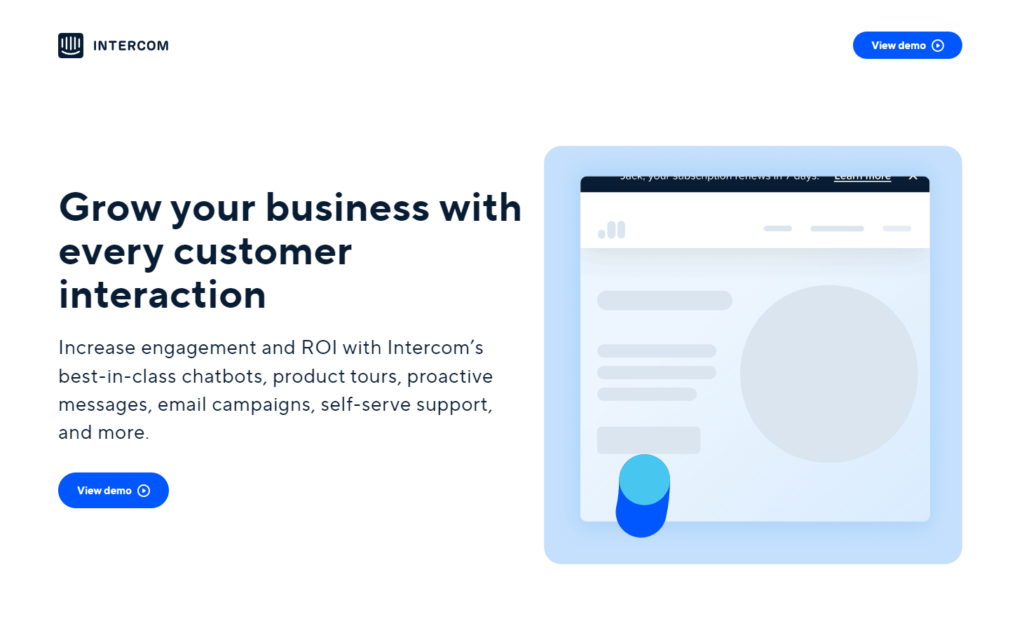 Intercom is a business messenger that not only offers a tool for email marketing but also provides live chat, apps, and product tours. It helps to engage with your current customers and understand their desires, as well as onboard new customers in just a few clicks.
Among eCommerce marketing tools, it includes the tools and methods for successfully making a marketing strategy.
The pricing is available during the demo session.
There are three plans designed specifically for small businesses:
Support: Extreme qualified personalized help at a scale is included in this plan.
Engage: Onboarding, activating, and re-engaging customers will be simplified.
Convert: Your website visitors can become paying customers by using this plan.
10. Clerk.io; a Top-notch Sales Intelligence eCommerce Tool
Clerk.io is an eCommerce marketing software that assists you in increasing sales through ads, emails, social media campaigns, and behavioral-based product recommendations.
It is an AI-powered eCommerce marketing tool that matches customers to products based on user actions on the page or prewritten rules you input.
Among eCommerce email marketing software, it is one of the best.
Clerk.io's pricing includes four plans: Search, Recommendations, Email, and Audience based on monthly search, recommendation, and Email usage and monthly audience customers.
For 5000 monthly search usage, 50000 monthly recommendations, 5000 monthly emails, and 5000 audiences in a month, it costs $99.00 /mo for each, separately.
11. SEMrush; the Best eCommerce Tool to Generate More Traffic
SEMRush is a comprehensive marketing software that gives you the power to track your marketing campaigns and strategies, boost your SEO strategies, do keyword research and automate your social media posts.
It comes with an easy-to-use interface and is an ideal e-commerce marketing software for business marketers who want to maximize online visibility and create captivating content for users.
There are three levels of SEMRush subscriptions available: Pro, Guru, and Business. The Pro plan costs $119.95 per month, the Guru plan costs $229.95 per month, and the Business plan costs $449.95 per month.
12. Brandwatch; a Social Media Management eCommerce Software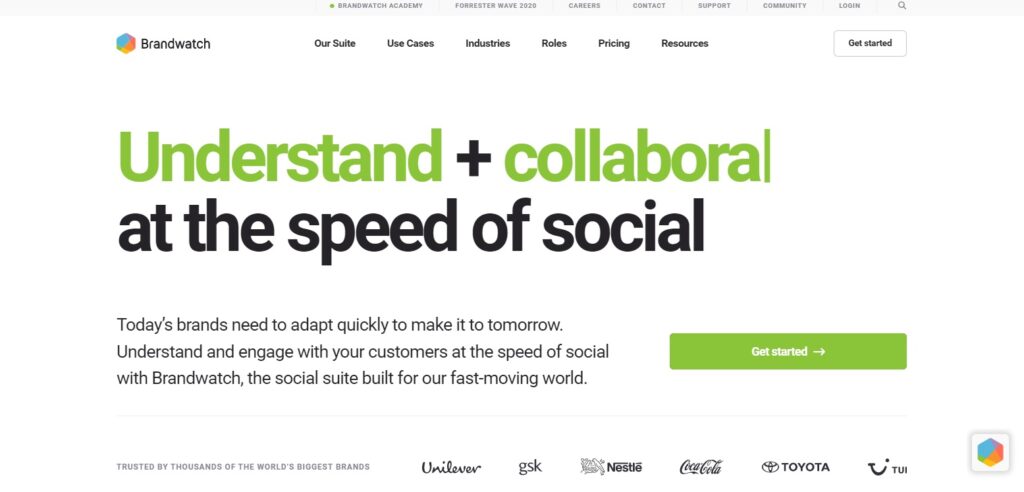 Brandwatch is a powerful social media management platform.
It gives you one place to plan and monitor your social media channels, track your performance, perform influencer marketing and engage with your audience to boost your social media marketing efforts.
Brandwatch offers two pricing plans; Essential starting at $108/month per user, and the Custom plan, which depends on your request.
13. Unbox Social; a Complete eCommerce Tool for Social Management
Unbox Social tool offers insights into your chosen influencers' social media performance.
If you're looking to expand your brand's reach, consider this eCommerce marketing tool.
It will help you track influencers from different industries, evaluate their content performance for the keywords you want to target and gain detailed reports in just a few seconds!
It has four pricing plans; Unbox Starter, Unbox Basic, Unbox Pro, and Unbox Enterprise, priced at 9$, 29$, 39$, and 99$ per month, respectively.
A trial period of 14 days is available for free.
14. Upfluence; Renowned eCommerce Tool for Creator Marketing
Upfluence is a cutting-edge influencer marketing platform that puts the power of social media in your hands. With its unique criteria-based search and bulk email outreach capabilities, Upfluence enables you to find and contact the right influencers for your brand's campaign in minutes.
It offers three subscription plans; Growth, Scale, and Enterprise. You can contact their sales support to know about the quote.
15. Moz Pro; the Best eCommerce Tool for SEO
MOZ helps you analyze your site to see how it can rank higher on search engines.
It also allows you to analyze other websites' domain authority and perform keyword analysis.
Businesses can discover competitive advantages by tracking their competitors in search engines, fixing technical problems with the help of Moz Pro suggestions, and performing site audit weekly.
Moz Pro offers four SEO plans, each tailored to different needs. The Standard plan starts at $99/month, going up to $599/month for the Premium plan.
12 Best eCommerce Email Marketing Tools
Email marketing is one of the most popular and effective marketing channels for eCommerce. It is a cost-effective method of reaching customers and building relationships with them. However, it can be challenging to keep up with the latest trends in email marketing, especially if you are working on your own.
This section will explore the best tools that help eCommerce marketers to create high-converting email campaigns without having to worry about technical details.
SendGrid
SendGrid is an eCommerce email marketing platform that can help any company at any growth stage. SendGrid's features include design, automation, testing, and statistics in an easy-to-use interface.
To experience the best email marketing for eCommerce it offers everything you need to get started on designing your email templates.
Create beautiful emails with templates and engage with your contacts using email tracking tools. Send personalized messages to different segments of your user list.
Email marketing for eCommerce becomes so simple as includes integrated email testing and inbox render tests, so you never have to worry about email frustration.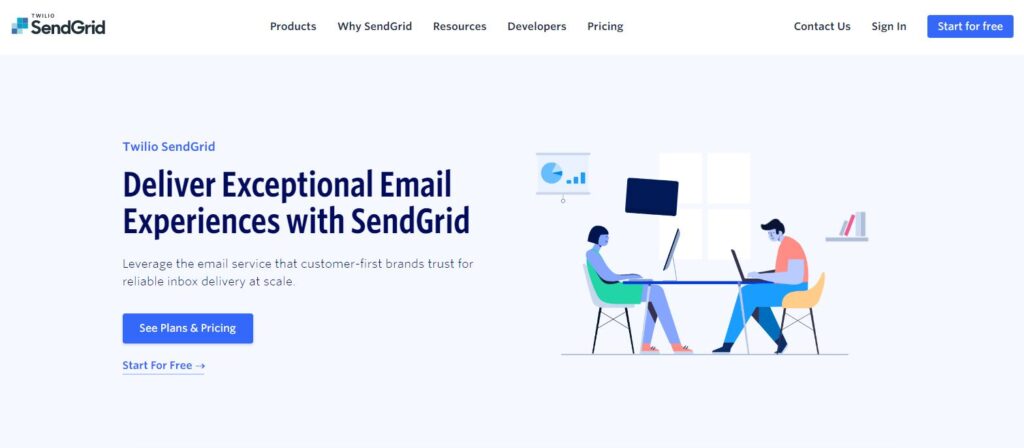 A daily limit of 100 emails can be sent using SendGrid for free. 100,000 emails can be sent for $34.95 per month. 1,500,000 emails can be sent for a customized offer.
Convertkit
Whether you're building an eCommerce website or a business, ConverKit is perfect for you. There are lots of features and a clean interface that makes the app fun to use. A list segmentation, personalization, automation, and opt-in forms are among the features provided by this tool.
This eCommerce email marketing gets empowered by helpful integrations with other platforms, such as WooCommerce, which are used by many creators.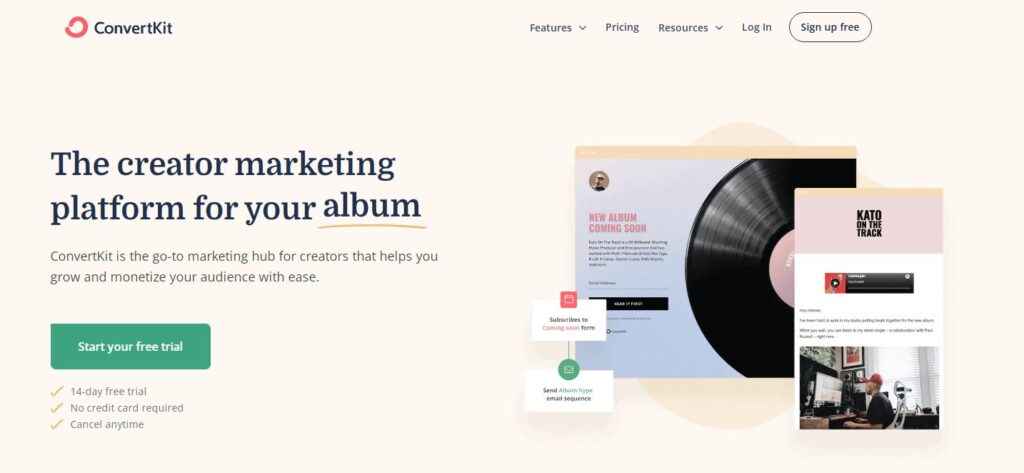 Convertkit is free for up to 300 subscribers. The starting monthly fee is $9 for paid plans.
Omnisend
Omnisend is an eCommerce tool that allows business owners to create effective strategies for engaging with customers. 
A full-scale eCommerce email marketing platform that provides personalized text messages and emails to connect with customers.
Using email automation for eCommerce, you can leverage email, SMS, and other channels to reach more people.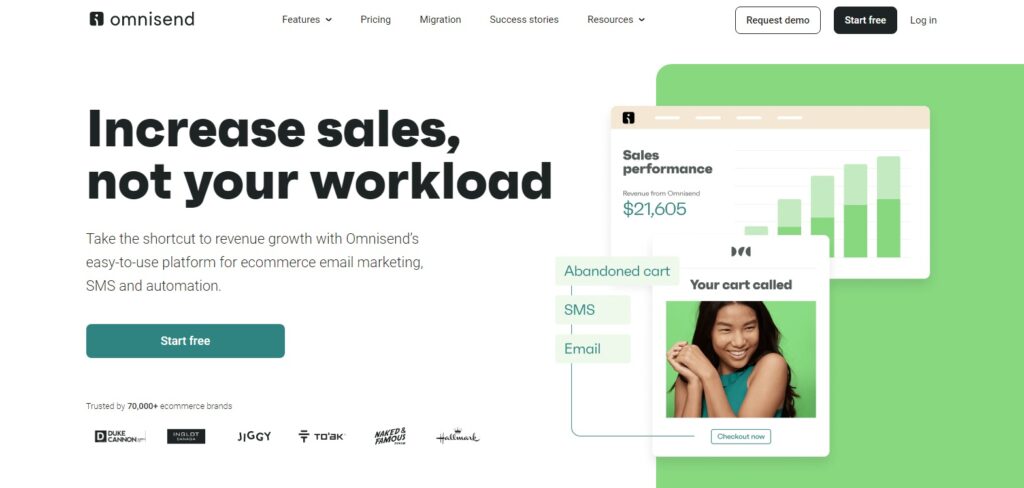 You can either sign up for the free plan and cover 250 contacts with it. The Standard Plan and Pro Plan give you more flexibility, but they'll cost you $16 or $59 per month, respectively.
EmailOctopus
Send better emails to your customers than you ever could before. EmailOctopus is a faster, easier, slicker email marketing software for eCommerce that's also better than its competitors.
EmailOctopus is the perfect eCommerce email marketing platform. With each new campaign, you can use its templates and a drag-and-drop editor to create a professional and customized email sent straight from the system.
With a powerful page builder in the app, you can create an entire website to generate leads and grow your email list. Integrations are a great feature for fast-growing companies. You can connect your previously mentioned services (Shopify, Gravity Forms, WordPress) to get even more benefits.
You'll capture more subscribers by creating stunning landing pages with forms that are customized to your website.
You'll attract more people to your mailing list by creating eye-catching landing pages with forms that are tailored to your website.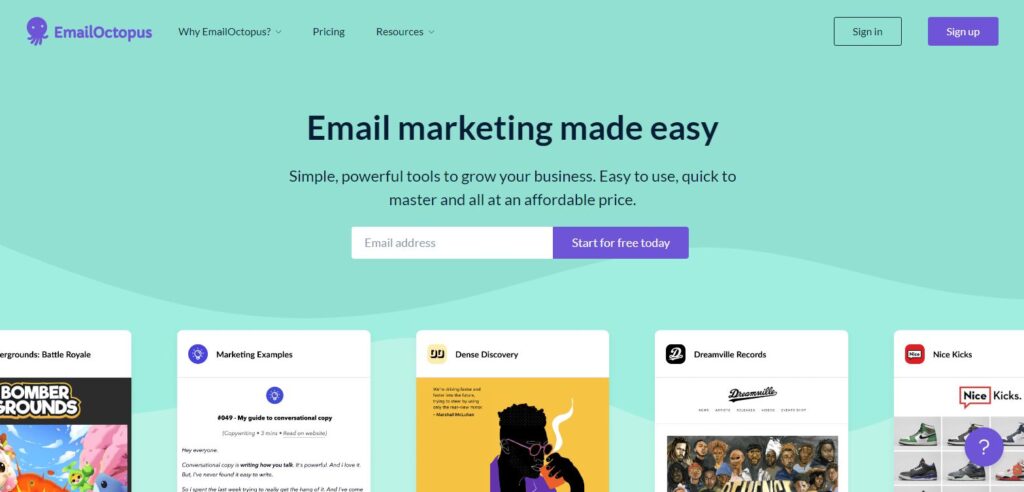 Those who send out 2,500+ emails per month can get EmailOctopus for just €8/month.
GetResponse
GetResponse is the best email marketing software for eCommerce of all sizes.
It's easy to get new subscribers on your list, and once you have them, you can communicate frequently with them using the marketing tools it provides to promote your products
GetResponse has killer marketing solutions like pop-ups, web push notifications, email marketing, and SMS beaming. Using them, you can easily drive traffic to your site and keep them on your site for longer periods of time.
Like other eCommerce email automation tools, this allows you to easily market your store by integrating with Shopify and WooCommerce.
GetResponse offers plenty of free email templates, images, and features to help you create professional-time emails. You can send SMS and emails at the perfect time through accurate timing tools. This will maximize your campaign efforts.
Three GetResponse plans are available: Free, Email Marketing, and eCommerce Marketing.
The free option allows you to connect with up to 500 contacts.
Email Marketing plan costs €13.12/mo for 1,000 contacts.
Marketing Automation plan costs €44.28/mo for 1,000 contacts, including other useful eCommerce features.
eCommerce Marketing plan costs €86.92/mo for 1,000 contacts, including advanced features for eCommerce marketing.
AWeber
AWeber is the best eCommerce email marketing choice for those who are starting in the web marketing industry and have a limited budget.
AWeber is all about making email marketing easy for companies of any size. They take care of 90% of the work for you, leaving 10% to go with it however you want. They want to ensure their customers enjoy using eCommerce marketing automation as much as they do.
Advanced users and beginners can use AWeber's detailed, clear reports to run A/B tests.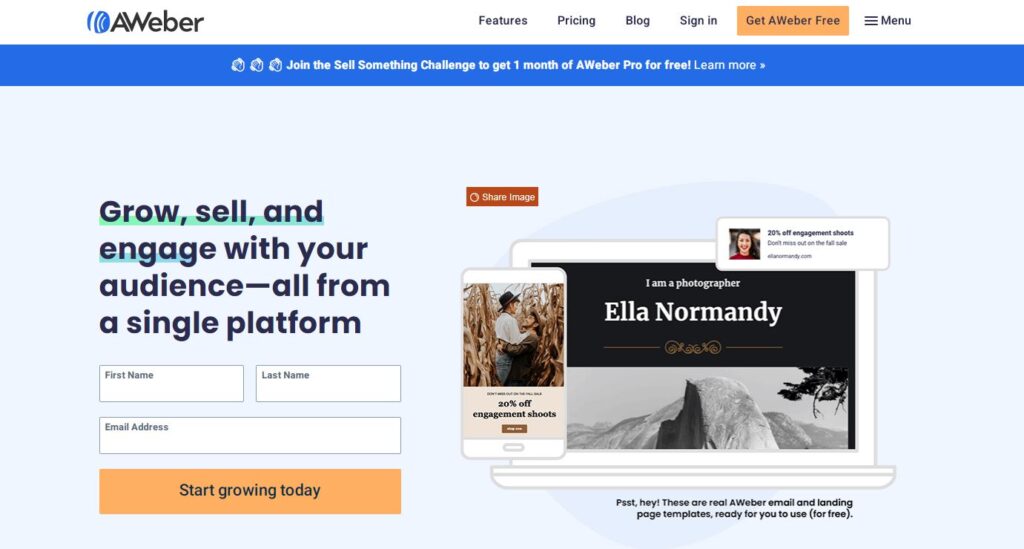 Getting started with 500 email subscribers for free is a great way to grow your business.
The Pro plan starts at $16.15 per month if billed annually.
Mailerlite
MailerLite is both an eCommerce email marketing tool and a landing page creator. Emails can be collected, automated workflows, and more with it.
It is an eCommerce email automation platform. Campaigns don't have to be complex or time-consuming using provided 3 editors. A drag-and-drop and rich text editor are the foundation of your campaign, where you can also bring in a custom HTML page if needed.
Integrating your platform with an eCommerce platform will allow you to use the site to make money and market your products. Making sure you have a healthy supply of products is crucial for bringing in continuous revenue.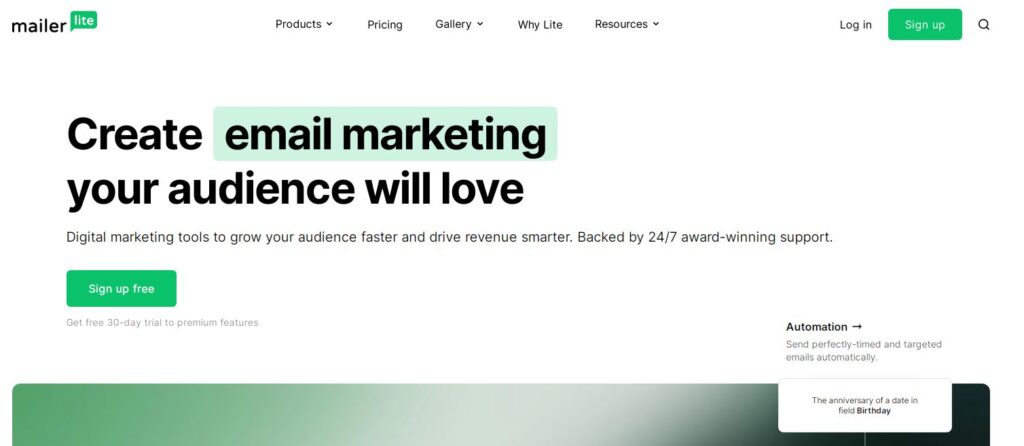 The Free plan is available for up to 1,000 subscribers.
Growing Business plan charges $9 for up to 1000 users.
Drip
Drip is the ultimate sales-driving email marketing software for e-commerce sites. Utilizing its sophisticated marketing automation features and intelligent email segmentation, it'll help you reach exactly the right people.
Drip's awesome support options make it so easy to get help. This includes access to a webinar, online courses, live chat, and helpful documentation.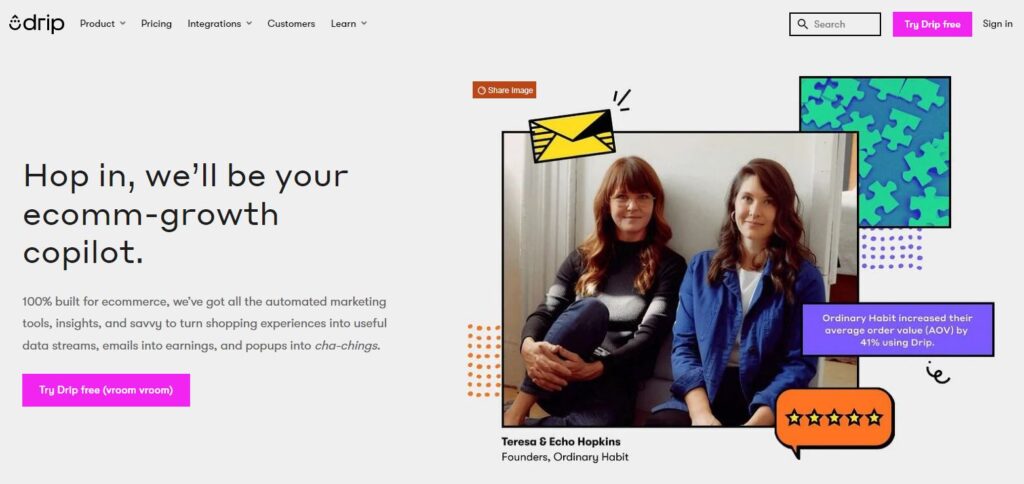 It may be a bit expensive, but it's worth the investment to maximize your marketing efforts.
Depending on the number of email subscribers you have, the cost is different. It starts at $39 per month for 100 contacts.
You can try it for 14 days for free with no credit card to sign up.
Klaviyo
The Klaviyo platform goes beyond simply an eCommerce email marketing tool. It could be best viewed as an eCommerce marketing automation service.
It enables you to automate newsletters, targeted offers, SMS outreach, and more using this data-driven customer retention machine.
Klaviyo is a unified customer platform that gives you direct ownership over every customer interaction on your site. With Klaviyo, you can get the full story of every customer, then use those insights to automate personalized communications from your email and SMS campaigns.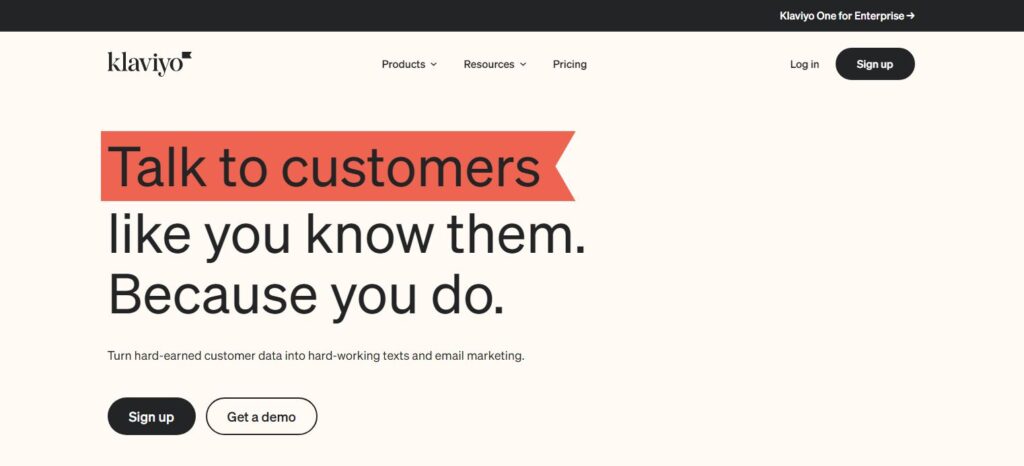 It offers 3 plans based on the number of contacts you have.
For 501-1000 contacts Email and SMS plan starts at $45/month, Email plan starts at $30/month.
It is free for limited contacts if you want to start and try out Klaviyo's all-in-one eCommerce marketing automation platform.
Keap
Keap seems to be an all-in-one CRM, but it's so much more than that. It has robust email marketing, automation, and sales tools, earning it a spot on our list of the best email marketing platforms.
Keap is an eCommerce automation and CRM platform that offers email templates, quotes, invoices, and proposals. It also integrates with your favorite business tools and apps.
Keap keeps things simple and converts your customers to regular customers, so you can focus on your business. It integrates with your favorite business tools and apps, so you can scale your eCommerce business while staying smart.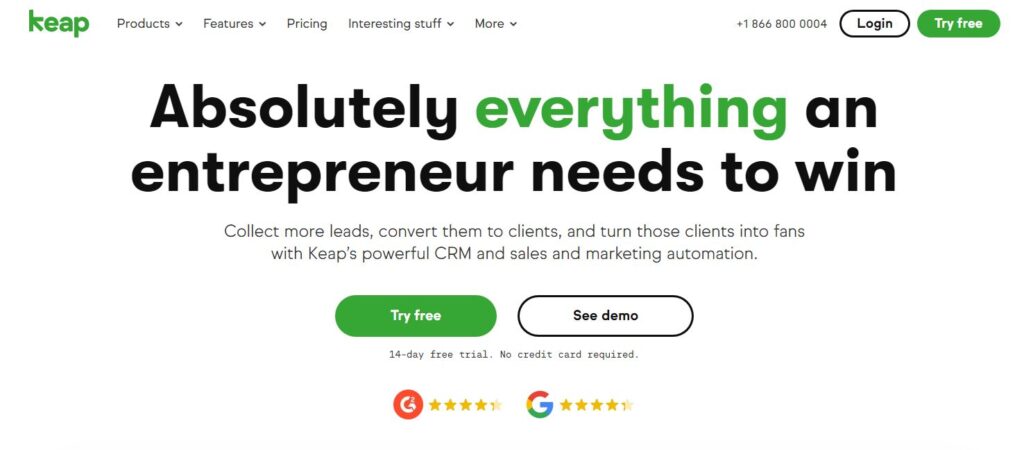 It lets you start your eCommerce marketing journey for free for limited days.
Its paid plans start at $129 /mo.
Constant Contact
Start your next email marketing campaign in minutes through one-click editing and marketing automation. Monitor who opens your sent emails, clicks, and shares them so you can keep growing.
If list growth is on your to-do list, it can help you grow faster with customizable landing pages, leads from Instagram and Facebook social ads, and even SMS text messages—Constant Contact has all of the tools you need in one easy-to-use platform!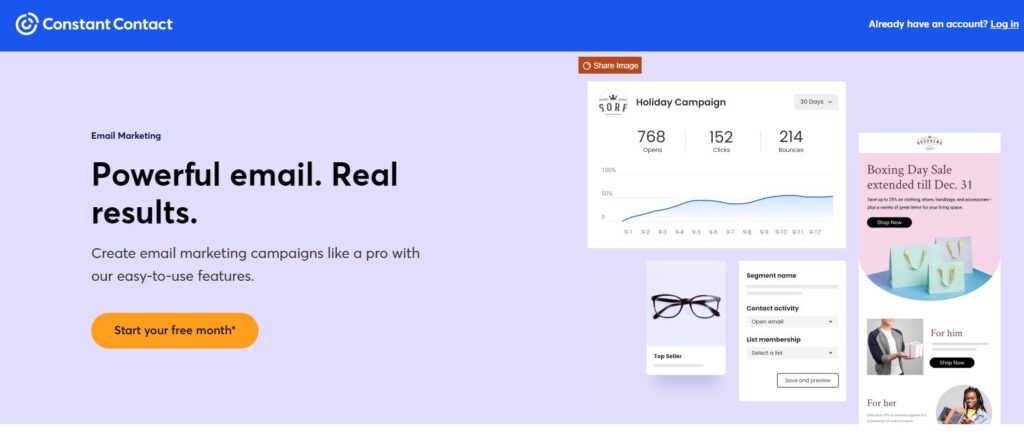 It offers two categories for pricing plans; Digital Marketing and Sales Accelerator.
Under the Digital Marketing category, two pricing plans are defined as Core and Plus, based on the number of contacts starting at $9.99/month and $45/month, respectively.
A trial plan is also available, of course, for the limited number of contacts and days.
SendPulse
SendPulse is a cross-platform e-commerce marketing automation tool that allows you to automate emails and SMS, and chatbots on Facebook and Telegram.
Astounding eCommerce email marketing suite for sending bulk and personalized emails, SMS texts, and push notifications.
It features templates responsive to the customer's screen and automation tools for collecting user information, creating responsive templates, and automating processes.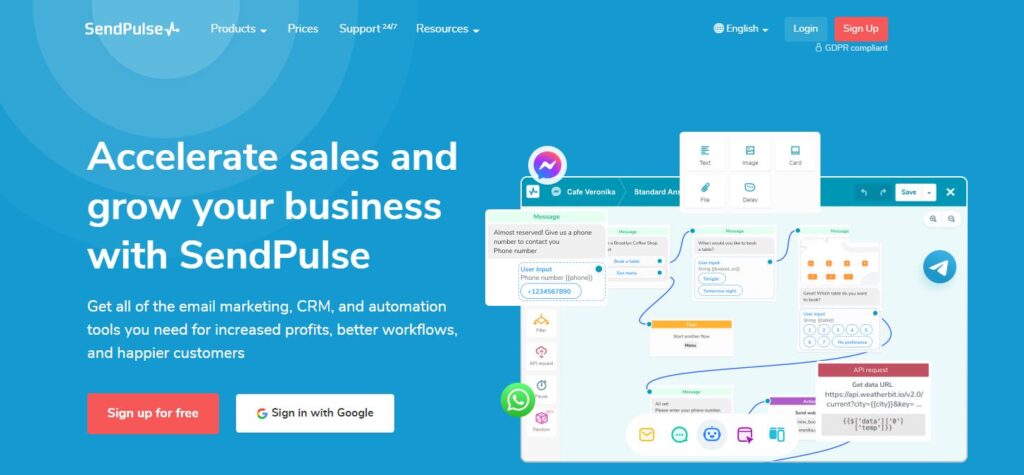 It is free for all of the core features you need to get started with email marketing for up to 500 subscribers and 15,000 emails.
Paid plans start at $8/month for business growth priorities.
3 Best eCommerce Marketing Automation Tools
ActiveCampaign; Leading eCommerce Marketing Automation Software
ActiveCampaign is a powerful eCommerce email marketing tool available. It provides multiple features for dynamic content, allowing you to maintain relevance for your segmented lists. You can use unlimited personalization with every custom field you create.
A phenomenal eCommerce marketing automation platform offers advanced features, including on-site and SMS messaging, CRM tools, extensive site analytics, and email tracking.
Pricing starts at $9 monthly for their Lite plan for 500 contacts. You can try for free for 14 days as well.
HubSpot; All-in-One eCommerce Marketing Automation & CRM Software
HubSpot is a terrific e-commerce marketing automation platform that has a variety of tools to help you convert visitors into leads. You'll have access to lead flows, forms, kickback emails, and analytics — everything you need to grow your business efficiently.
If you don't already know who your leads are and what they're interested in, you can do it all with HubSpot's Marketing Hub.
Not only makes marketing automation for eCommerce enjoyable, but it also empowers you to analyze your marketing campaign data to help it succeed, rather than doing it with just your best guess.
Interested in lead catching and converting them to buyers? Join for $45/month.
Campaign Monitor; Prominent eCommerce Marketing Automation
With some of the best eCommerce automation tools available, Campaign Monitor is one of the best eCommerce marketing tools available. No matter what factors you're using to target subscribers, Campaign Monitor will make your life easier.
Campaign Monitor's reporting tools provide you with data on the efficacy of your email marketing strategy. Campaign Monitor also has a way of generating and automating customer journeys.
No matter where you are in your email marketing journey, Campaign Monitor has a plan that fits.
It lets you even start for free. The paid plans start at $9/month.
5 Best eCommerce Marketing Platforms
Shopify; Famous eCommerce Platform for All Businesses
Shopify is the most popular eCommerce marketing platform in the United States, with a market share of 31%. Shopify's success can be attributed to its flexibility. More than 2,400 apps are available in Shopify App Store.
Standard Shopify lets you easily set up your own e-commerce website and start marketing your products online.
Shopify Lite is a simplified version of Shopify. Your eCommerce website can sell products and build a brand. There is no charge for the first three products.
Shopify Plus is perfect for larger companies with specialized needs and higher revenue expectations. You can select from four plans: Basic Shopify, Shopify, Advanced Shopify, and Shopify Plus.
If you don't have the time, manpower, or skills for your own eCommerce website, use this giant and innovative marketing service to launch your own website without a problem. It has an integrated CMS, multiple themes (and even more themes), and blogging capabilities.
You can easily become an eCommerce entrepreneur with Shopify. It takes just a few clicks to start your own e-commerce website. This has made life easier for anyone new to eCommerce. No experience with coding is necessary for this.
Basic Shopify, Shopify, and Advanced Shopify are offered at $29/month, $79/month, and $299/month, respectively.
Wix; the Best eCommerce Marketing Platform to Build Online Stores
The popularity of Wix as an eCommerce marketing platform is due to its intuitive features and user-friendly environment. The steps required to create an online store are few and far between. Step one would be to find an online store template and sign up for an account.
After you have created and designed your online store, you can begin adding products. It is also a great choice for expanding your business rapidly since it supports up to 50,000 products.
If you need an easy-to-use and all-in-one eCommerce marketing platform, then Wix is perfect for you.
Furthermore, it provides key insights into on-site visitors, conversion rates, and customer journeys.
There are three flavors of the Wix eCommerce plan:
$17/month for the Business Basic plan
$25/month for the Business Unlimited plan
$35/month for the Business VIP plan
Magento: Top eCommerce Marketing Platform to Scale eStore Growth
Adobe eCommerce now replaces Magneto and offers multichannel commerce experiences to B2C and B2B customers from a single platform. It is an innovative, customizable e-commerce marketing platform for anything from catalogs to payments to deliveries.
You can use Magento open-source software or Magento Commerce. For people looking for self-service platforms, open-source is not suitable since it requires professional web development experience.
You need to contact Magento to receive pricing information based on your needs.
WooCommerce; the Best eCommerce Platform to Create an Outstanding eShop
An excellent alternative for those who want to customize their online store, WooCommerce is an outstanding eCommerce marketing platform.
This is a WordPress-based open-source tool.
If you have an existing WordPress site, the WooCommerce plugin is an efficient way to build your own online store. Get secure payments, custom shipping options, and more with no fees.
WooCommerce offers many customization options. With WooCommerce add-ons, you can enhance your store's functionality. Start small and advance over time, such as a hoverboard, before acquiring an autonomous car.
WooCommerce is a free plugin, but it's possible to purchase extra extensions and add-ons.
BigCommerce; #1 eCommerce Marketing Platform in the World
The features of BigCommerce that set it apart from other eCommerce platforms are BigCommerce Essentials (a simple SaaS platform) and BigCommerce Enterprise (for enterprises).
The capabilities of BigCommerce that set it apart from other eCommerce platforms are BigCommerce Essentials (a simple SaaS platform) and BigCommerce Enterprise (for enterprises).
With custom-built B2B and B2C eCommerce solutions, BigCommerce combines usability with dependability. An e-commerce marketing automation tool guides you through all the steps of setting up your own eCommerce store. Adding your products to the store comes first, and the site design follows.
BigCommerce makes tracking your business easy. You should easily see what's required, with a list of guidelines and suggestions on filling out different sections. A third-party app that has features that are not native to BigCommerce can be installed directly from the BigCommerce admin console.
Pricing details are not published on their website.
You can get information by contacting them or sending a pricing request.
The Final Verdict On the Best eCommerce Marketing Tools
eCommerce marketing tools are the most powerful tools for eCommerce companies to build their brands and generate more sales. They are the ultimate weapon in the eCommerce marketers' arsenal.
eCommerce marketing automation is a key part of any marketing strategy, and it is no different for eCommerce businesses. Automation helps to save time and improve efficiency in the long run. It also saves on costs like labor and overheads, which would otherwise be required for manual work.
Ecommerce email marketing is one of the most effective methods to reach out to your customers and drive sales. You can use emails to build relationships with your customers and offer them exclusive discounts or deals they can't find elsewhere!