Do you want to launch a new product or service without having to worry about failure?! Ever wondered how you can improve your product to create more conversions?! Well, here's where market research comes to your rescue!
Market research is a game changer for the success of any business and product. It will determine where an opportunity exists, or what your target audience will think of your product! Market research tools can help facilitate this process. Resources, including CRO(conversion rate optimization) tools, can gather all information you need to predict whether your new product or service will be successful.
But you may consider: what exactly is market research, why is it so important, how is it done, and what free market research tools can help you? If you're curious to learn more, go ahead and read our article!
Pro tip: Do you also think failure's a heavy price to pay in this competitive world? If so, we recommend you sign up on WatchThemLive! It is a unique tool that helps you know your customer's behavior and expectations, and launch your new feature or product based on the necessary data!
Now, let's get started!
What Is Market Research
It is defined as a type of research to gather information about your company's target market, its needs, expectations, and target competitors. These data play a vital role in the decision-making of small or large businesses, designing a better product/feature/campaign, improving UX, and eventually increasing conversion rate.
So, the better this research and analysis is, the faster you can reach the desired goals!
What Is the Market Research Process
Ever wondered what steps you need to take for effective market research?! Here's the whole process: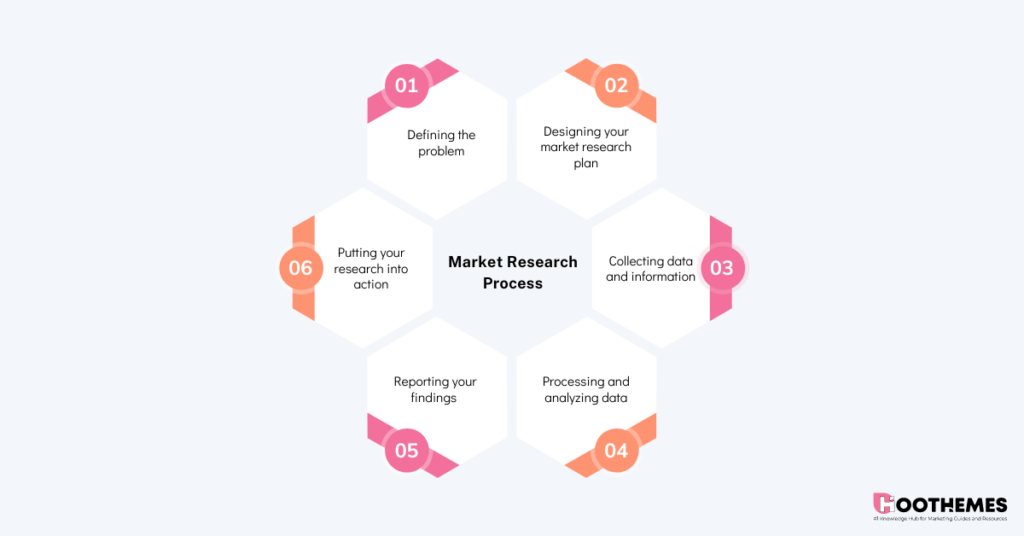 1. Defining the Problem
Before starting your research on a target market, you must define the problems you need to solve. This step will determine what data you need and how you can get that information.
2. Designing Your Market Research Plan
The second step is to build and create your own research plan based on the underlying reasons for the problems. Your research plan will include all the methods that you can use to answer your questions and explore opportunities. The market research methods include conducting surveys, observations, focus groups, etc.
3. Collecting Data and Information
In market research, you need to gather a mix of quantitative (numbers or data) and qualitative (descriptive and observational) data. For example, when researching the total addressable market (TAM), you'll need to analyze various sources to understand the market opportunity. Similarly, when running A/B testing, you will identify whether or not the changes bring more customers.
Besides, by running surveys and asking customers, you can understand if the new changes would appeal to them. This way, you get clear insights into your data.
4. Processing and Analyzing Data
By now, you've collected all the required data, it's time to analyze them. In this step, you must look for trends, not specific pieces of information. Keep in mind that you shouldn't try to find specific patterns based on your assumptions.
All you need to do is write up a summary of your study including the process, results, and conclusions. Then, you should recommend the steps taken based on the results in a market research report.
5. Reporting Your Findings & Putting Your Research Into Action
Congratulations, your research is done! Now it's time to present your findings and take action. Start with developing your marketing strategies and testing your findings.
The key takeaway is that although this round of market research is complete, it's not over! Because all problems, market trends, and target environments are changing.
Now, let's see:
Why Is Market Research Important
According to the definition, you must have noticed the value of market research. Undoubtedly, in today's competitive market where there are so many options in front of customers, obtaining more information about market needs, size, target audience behavioral patterns, expectations, target competitors, and trends will help you win their loyalty.
To wrap up, market research facilities help you get a better understanding of how to anticipate your customer's needs and present new opportunities to introduce your service. If you don't care deeply about your customers, you'll lose them to other companies that do.
Now, let's consider; how to do market research and know the target customers. Well, Let's start with the best free website visitor tracking tool that can help you in this regard. Ready?!
The Best Free Target Market Research Tools
As mentioned before, you should do market research for your company and business in order to achieve success. Only by knowing your customers can you know your strengths and improve upon weaknesses as well as your competitors.
The first tool on our list is WatchThemLive which is a behavioral analytics tool that promises to give you in-depth insights into your customers' experience, needs, and expectations.
1. WatchThemLive: The Best Market Research Platform
WatchThemLive is a website visitor-tracking tool that observes and analyzes your target customer by using impressive features like session recordings, heatmaps, goal tracking, and website analytics.
This tool comes with behavior analysis features to give you insights into your visitors' data (location, IP, name, address, etc), their behaviors, and interactions with your website. With the help of this service, you can know your target audience's needs and run a successful campaign or even launch a new service on your website to improve conversion.
WatchThemLive is a tool of market research that helps you observe your customer journey and provides invaluable data from their engagement with your service. So, you can easily identify their needs, and your service strengths/weak points to deliver better UX, improve conversion, and increase revenue.
If you're looking for straightforward data to analyze and reach your goals, sign up now and take full advantage for FREE!
WatchThemLive's Features
Analyzing the data and tracking your website users' behavior on your website is one of the most important actions in conducting market research. Without using this tool, it's impossible to achieve much success in the marketing area. WatchThemLive offers powerful features! Here's a list of its impressive services:
Website Analytics
WatchThemLive's analytics dashboard collects information about the number of your website visitors, the traffic referrers, page views, and more. This service helps you analyze your website traffic, and gives you insights into which content on which page gets the most traffic, or from what traffic channel you receive the most number of visitors.
Session Replays
With the help of WatchThemLive's session recordings, you can understand the behaviors of individual users and document their experience with your website. It offers a console error to warn you of any bugs that exist on their journey. Besides, you can share these documents with your teammates to solve problems and improve UX.
Heatmaps
WatchThemLive's clickmaps will monitor, track and analyze all users' clicks on a mouse curser or tabs on the screen on a particular webpage. This data visualization tactic enables all business owners to figure out how their customers behave, what they expect, where they face difficulty, and more.
With the help of these useful features, you can identify what elements on your webpage are(not) working well, So, you can improve and redesign the webpage to deliver a seamless UX and increase conversion rate.
Visual Live Chat
There's no need to conduct research to find out all customers expect a fast and responsive support team. They want to get a response as soon as they ask a question in the chat box.
WatchThemLive's visual live chat enables you to replay the users' session after they asked a question in the chat box. So, you can answer them faster, and there is no need to ask them to explain their issue or take screenshots. It's great, isn't it?
Video Testimonials
If you're trying to get to a high conversion rate, you're in the right spot. WatchThemLive's video testimonials are the best and most memorable way to show your customers' honest opinions and talk about your product or service. All they need to do is answer the questionnaire that appears on their screen while recording their video.
Are you thinking about the painfully expensive and time-consuming process of recording video testimonials?! Don't worry. WatchThemLive simplifies the process and does it for FREE!
WatchThemLive Pros
It has a free plan,
It offers advanced filtering options to classify sessions,
You can export data into CSV or PDF,
And, You can exclude some users from recording to save storage and time.
WatchThemLive Cons
It lacks A/B testing,
It doesn't offer a free trial.
Now, you can sign up for free and conduct market research effectively and risk-free!
If you're curious to learn more about its feature, read our complete WatchThemLive review!
Now, let's take a look at other market research online tools, shall we?!
2. Google Trends: Researcher Tool
This market research tool provides a clear picture of what people are looking for on the web by tracking search volume for a specific product or service over time and based on location. Also, it analyzes similar questions and topics people search for to provide insight into identifying patterns and determining terms that users commonly use.
If you'd like to market your service or website content through your website, it's worth noting its strengths and downsides!
Google Trends Pros
It's easy to use,
It analyzes a huge amount of data,
It's one of the market research tools for startups,
And, it offers good UX.
Google Trends Cons
It can't offer data for the topics and search terms with low search volume,
Its UI is outdated,
It provides the volume of searches from 1-100, so you can't see the true volume for each month,
And, it only offers data for research in the Google ecosystem.
3. Tableau: One of The Market Research Analysis Tools
It's a business intelligence suite of products that claims to connect directly to any data source. Using this tool for market research, you can make data-driven decisions. It promises to help you answer all questions and solve hard problems quickly and allows you to uncover new insights frequently.
According to their claims, it offers analytics data, from data preparation, to deep analysis that drives your business forward. But it lags in some points, keep reading to know its downsides.
Tableau Pros
It has a quite straightforward implementation process,
It's easy to use,
And, It offers a customizable analytics dashboard with advanced features.
Tableau Cons
It always responds slowly, and you can't perform more than two tasks simultaneously,
You need a variety of upgrades to integrate with active directories,
It's very expensive,
Moreover, there are a lot of features and things that you need to pay for, but you will never use.
4. Qualaroo: Market Researcher
This is one of the online market research tools that is designed to collect data from users, It promises to give you valuable insights into your target market at scale in a seamless way. This customer survey platform helps you conduct qualitative research by asking questions and analyzing and reporting the results.
Let's take a look at its pros and cons for further insights.
Qualaroo Pros
It's easy to create surveys,
You can easily learn how to use it,
And, it reports results quickly.
Qualaroo Cons
You can export data into limited types of formats,
It's expensive,
It doesn't offer automated SMS surveys,
And, it doesn't have some industry-specific templates.
5. Ubersuggest: Market Research Software
It is one of the tools used by market research analysts for SEO and PPC-focused research that offers a list of relevant keywords for the term you're searching for. Besides, it provides search volume and difficulty scores for each keyword. It promises to give you insights into the size of the potential market, your chance of ranking in it, and your target audiences.
But it comes with some shortcomings, let's read its disadvantages after its strengths.
Ubersuggest Pros
It has an easy-to-use interface,
It offers SEO metrics such as search volume, cost per click, and competitors' keywords,
And, it provides competitors' analysis to see how they're ranking for a specific keyword.
Ubersuggest Cons
It doesn't show you the keyword trends over time,
Its free version has a lot of limitations, e.g. it doesn't offer as many features as paid plans,
Plus, it is difficult to navigate and understand the data reports because of their complex layout,
And, it sometimes gives an empty CSV file when you export the data.
6. Survey Monkey: Market Survey Research Tool
In a list of the best e-commerce marketing tools, we have also come across 'Survey Monkey.' It is one of the popular tools for market research that allows you to create, deploy, and analyze surveys. It dubs itself as a leading survey solution that collects feedback, interprets reports, and helps you identify insights into improving your business.
Using this platform, you can send surveys via email, links, social media platforms, and web pages. According to their claims, it can also visualize the data for you to make more sense.
Here, we provide a pros and cons section to measure its value:
Survey Monkey Pros
It's easy to use,
It offers a quick and responsive UI.
Survey Monkey Cons
It locks most of its helpful features behind the premium version to force you to upgrade your plan,
It lacks a support team,
And, there is no integration between Survey Monkey and other tools.
7. Buzzsumo: Market Researching Tools
It's a social media and content marketing research tool that claims to give you the performance insights you need by analyzing content, influencers, etc. To clarify, Buzzsumo provides detailed statistics and analysis of the content published on social networks.
By analyzing these statistics, you can measure the effectiveness and impact of each content and adjust your future planning.
Buzzsumo Pros
Its Content Analyzer feature helps you conduct keyword-based research on different topics,
It's good for building backlinks to the web application,
And, It's helpful for competitors' research.
Buzzsumo Cons
Its UI needs to be updated,
It is difficult to use it, especially its optimal features,
And, It's very expensive compared to its competitors.
8. BrandMentions: Keyword Research Tool
It's another social media research tool that describes itself as an effective solution for monitoring your brand on the Internet. It searches all relevant keywords for your business and reveals competitors' marketing strategies. It promises to track your digital impressions on various social media platforms and give you accurate data.
BrandMentions Pros
It's easy to use and pretty simple to understand its reports,
It offers an intuitive user experience,
And, It can be used for social media listening.
BrandMentions Cons
It takes a long time to create automated reports,
It lacks a free plan,
And, Its price is unreasonably high.
9. SpyFu: Website Market Research Tool
SpyFu is a type of search engine analytics tool that checks competitors' websites in terms of keywords. This software provides you with complete information about any website you're considering. This information is presented to you in the form of pictures, graphs, and tables and will have other features for further market research.
SpyFu Pros
Its menu is easy to use and understand,
It has a simple UI,
And, it works fast( it just takes a few seconds to collect a huge number of keywords).
SpyFu Cons
It's so expensive,
There's a bug when you want to download CSV files (sometimes it doesn't download),
And, there are too many limitations such as the number of records to download in a single report. So, you may download some incomplete reports.
10. Hotjar: Website Analytics & Survey Research Tool
It's a user analysis software that monitors and analyzes the behavior of users on a webpage in the form of a video. This market research tool allows you to get access to the customer journey and their interactions with a website. It claims to obtain information from website events and show videos of its user behaviors.
But is it worth your money?! You can read our complete Hotjar review to find your answer. Here, we've provided a list of its pros and cons that can help you out!
Hotjar Pros
It offers customer surveys and feedback,
It has a free plan,
It has a user-friendly UI.
Hotjar Cons
It doesn't have responsive customer service,
It's very expensive,
There are too many limitations with each paid plan, that force you to upgrade your plan,
And, it has a complex setup process.
FAQs on Marketing Research Tools
So far, we've explained all you need to know about market research and introduced the best market research tools. Now, it's time to answer some frequently asked questions in this regard. Let's get to it, then!
1. What Are the Different Market Research Methods?
There are different traditional and online market research tactics to collect your target audiences' data. Here's the list of methods and various types of market research that help you do better and more accurate research:
All questionnaires play a very important role in online market research, and you should use the available tools to conduct your surveys in the best way and collect the desired information.
Online focus groups don't tend to involve as many participants as a survey. Instead, a market researcher leads a small group of customers in a discussion to gain insights into what customers think. So, you can ask questions you want in these groups of 6 to 10 people as a small community. This method is mostly used as one of the market research tools for b2b businesses and sensitive issues.
Observation-based Research
In general, based on observations of customers' behaviors and other competitors, you can get invaluable information about products and target customers. This type of research method involves watching customers and observing their behavior in a natural setting. For example, watching your website visitors' behaviors by using session replay tools is a type of observation method.
2. What Are the Advantages of the Market Researching Approach?
It can bring valuable benefits to companies like yours. let's look at some of the most impactful ways the market can empower your company to succeed.
It maintains a customer-centric marketing approach,
You can communicate more effectively with your audience,
you'll identify the opportunities to grow your business,
And, you'll make a more informed decision.
3. What Are the Main Types of Market Research?
Market studies are classified into 2 types:
Primary research: This type of research provides the researchers with basic information about the product and service, usually, these researches are carried out by focus groups, surveys, polls, etc. It is exploratory, meaning it aims to provide insight into specific questions or issues.
Secondary research: This type of market research includes articles, white papers, and any other qualitative research which gives you insights into customers' opinions and quantitative research such as website views, and social media engagement.
Conclusion
To wrap up, online market research plays a vital role in formulating future strategies and plans, especially in today's competitive world. For the sake of that, you can use online market research tools to conduct various types of research.
With all the explanations we've provided in the article, you as an online business owner must do market research in order to succeed. We recommended WatchThemLive, which is a number one market research tool to help you observe your visitors' behaviors and interactions with your product, and figure out your strengths and weaknesses to improve your conversion rate. Sign up now for Free to get instant access!