Have you been wondering why your website visitors won't convert to your goals or, more importantly, why your churn rate is skyrocketing?! For those would like to climb up the ladder of digital marketing, the competition can be quite brutal! But a quick shortcut to winning over rivals and optimizing your website is using tools like WatchThemLive!
You have surely come across WatchThemLive in the list of the best conversion rate optimization tools. But how this service functions, what sets it apart from all other services, and the features it offers are all mysteries to you. And we are here to answer every one of your questions!
Ready to learn more about WatchThemLive? Let's dive in!
What Is WatchThemLive
In your journey of website and conversion optimization, you may have asked your users to leave comments or give feedback. Yet, all your efforts have probably proved to be in vain! Why? Well, many people don't like to fill out forms or share their feedback after they leave your site!
There's a trick, though! You won't have to ask for their feedback to realize what you're doing right and wrong if you can actually see your website through the visitors' eyes; right?!
WatchThemLive is a practical behavior and eCommerce marketing analytics tool that provides valuable data about your website visitors. Yet, there's so much more to WatchThemLive than a simple user behavior analytics app. This service offers recorded videos of your visitors' sessions, heatmaps, customer journey maps, goal-tracking tools, and much more. 
In other words, WatchThemLive helps you track and optimize the user experience by allowing you to see how they act when they enter your website.
Using this tool, you get to see where the issues are on your website when visitors face a problem and why they drop off so fast. 
WatchThemLive, one the best conversion rate optimization platforms on the market, is specifically designed for website owners who would like to see users' behavior, find their own issues, and finally fix the bugs to reach the desired CRO goal.
How to Start With WatchThemLive
To use WatchThemLive, you need to:
Sign up on their website and create an account.
Then, you need to add the tracking code [that WatchThemLive provides you] to your website. 
And finally, you are required to complete the installation process.
Now, let's review WatchThemLive features and see how this platform fulfills its promises. Shall we?
WatchThemLive Review: Features
As the best behavioral analytics tool, WatchThemLive provides users with many useful features that help avoid cart abandonment and make watching visitors much easier. Wanna know what these features are? Keep reading. You're about to figure it all out 🙂
WTL Dashboard
As a website owner or someone who wants to create a website in near future, you need to take care of some common issues to convert your users to paying customers/visitors.
Using the WatchThemLive dashboard, you get to have access to the following information in the dashboard or even download it in either PDF or CSV format:
The visitors, the device, the browser, and the operating system visitors use to enter your website,
The blogs or pages they read and the landing and exit pages,
The language(s) they use to search and the location in which they're living,
Screen resolution and bounce rate on your website.
Session Replays & Recordings
As a web session replay tool, this platform records any move a visitor makes on your website to give you an overall look at where a visitor clicks or where they give up and exit your website. As soon as a client creates their account on WatchThemLive, this feature gets activated, and all sessions will start being recorded.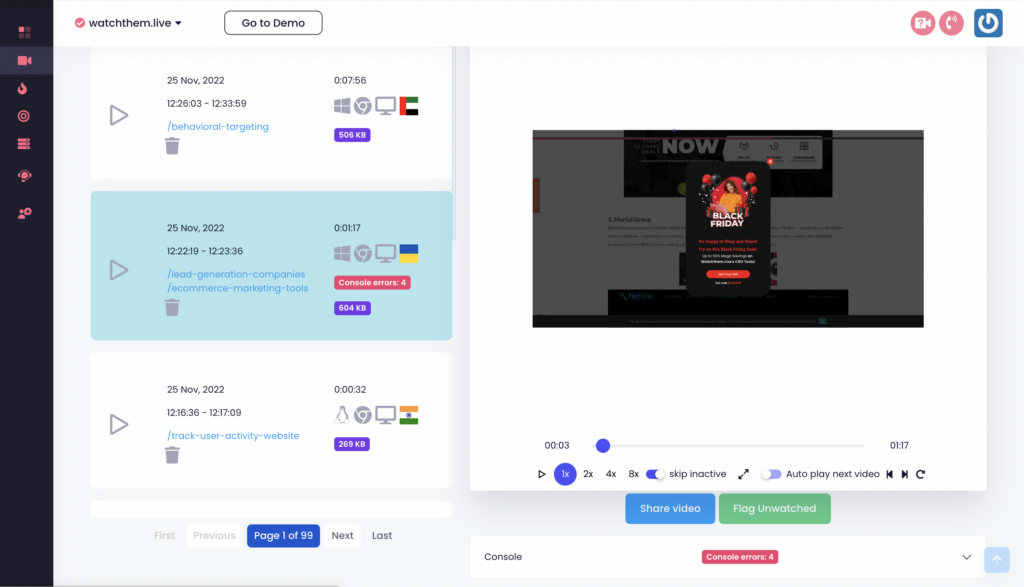 Using session replays, you will see everything on your site through your visitors' eyes! Knowing what your customers are interested in makes it much easier to target and convert them into customers. Now, you can conveniently analyze their behavior and see if any bugs or glitches prevent them from purchasing your services or if they've faced an error when visiting your website.
By learning how to use session replays, you can:
Watch every visitor's behavior and decide what to change or improve.
Fix errors and check how every feature works for users on different browsers and devices.
Share users' videos with your team!
WatchThemLive Active Filters
One of the best options on WatchThemLive in the session replay section is the multiple filters they have inserted on their dashboard. This way, you can choose the type of data you want to see by prioritizing the filters. These filters include:
Session duration
Name
Email
Screen resolution
Page
Operating system (OS)
Event type
Device
Browser language
Country code
Date range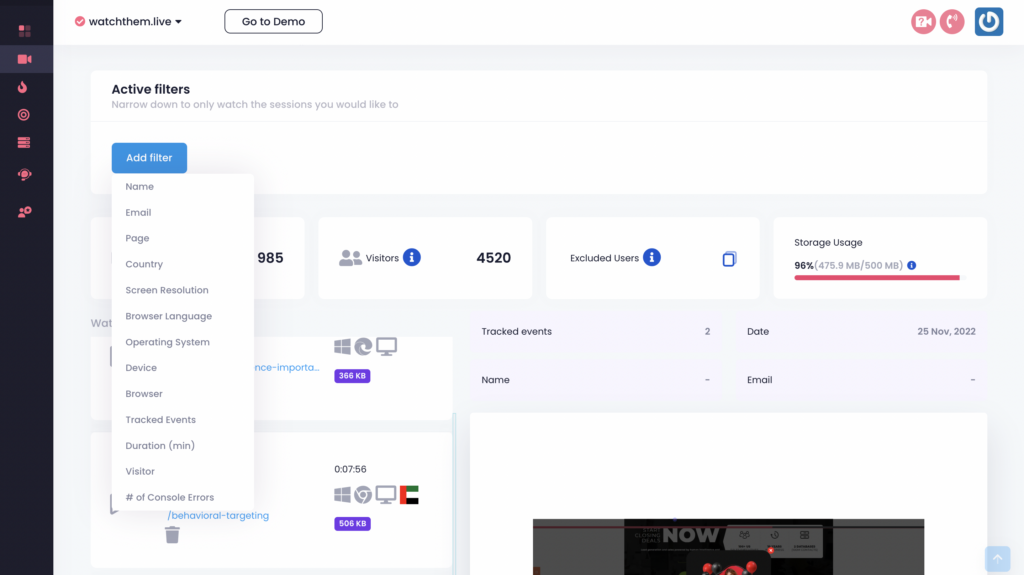 So, for example, if you need to watch videos based on the session duration of users and their country code, you may activate the relevant filters and gain the information you need.
You may also exclude a group of users' sessions from being recorded and focus on a specific number of users instead.
If you're looking forward to watching your user behavior, sign up on WatchThemLive right now!
Heatmaps
Have you ever thought, "Which part of my website mostly attracts the attention of my customers?"
Website Heatmaps are designed to tell you where your clients click when they reach your website and which part of your website they interact with most.
Therefore, if you have added a banner, a new button, or even if you're in the middle of a campaign, you can see whether your designs get any attention from your web visitors using heatmaps. How would you know? Those parts which get the most clicks or attention are shown with a warmer color, like in the image below.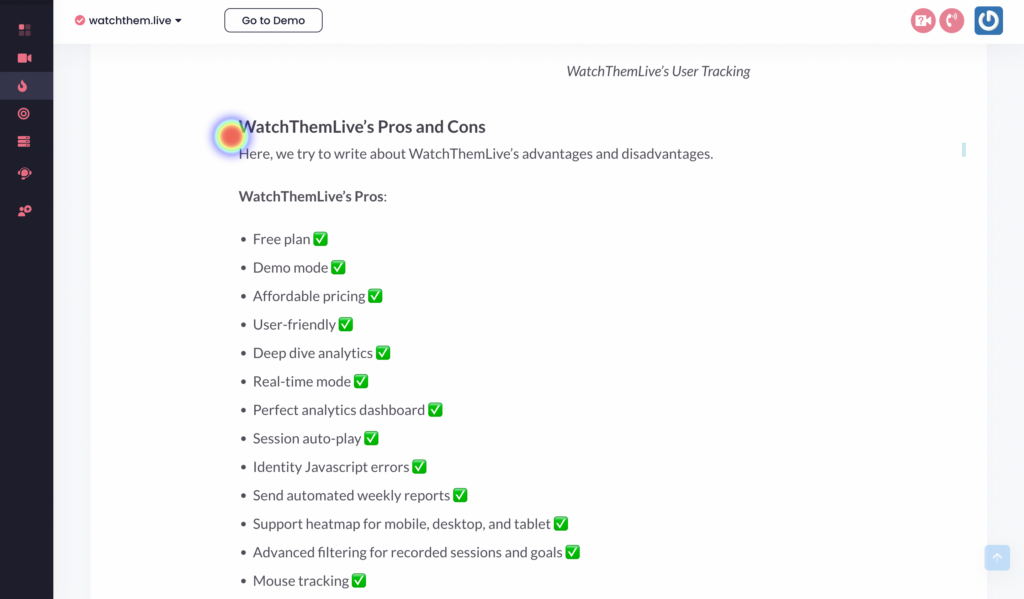 To set up heatmaps, you need to tap on the 'Create Heatmap' at the top right of your screen and add your target page URL.
When you apply some changes to your website and want to see how it improves your performance, you can reset your heatmaps. Then, you'll be able to check them over time to see to what extent those changes could affect and optimize your conversion rate.
WatchThemLive Goal Tracking
Have you ever wished you could see how your users converted to a specific goal like sign-up, purchase, or filling out a form?! Not many CRO tools allow you to set your own goals and track them. And the ones that provide that opportunity require technical help and a developer to set up various goals.
On WatchThemLive, however, you get to specify different goals and measure their conversion rates easily. This way, you'll have all the necessary data for funnel optimization!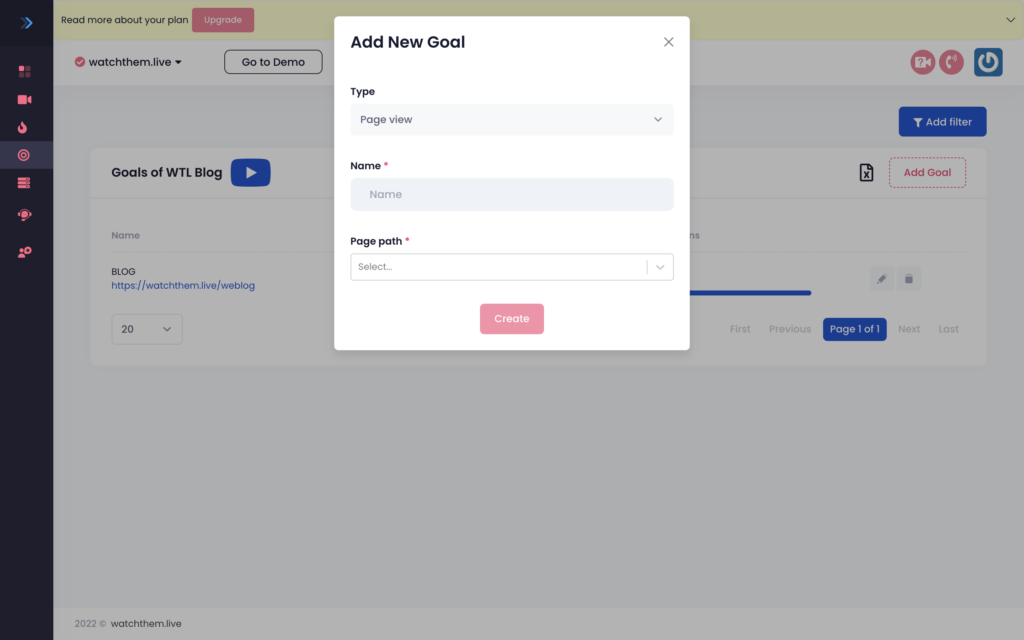 Set up goals and let WatchThemLive track your website visitors and see the results. For instance, imagine your goal is to generate leads in eCommerce and want to measure the conversion rate after you've added a new feature or service to your website. Using this option on WatchThemLive, you can easily follow your progress.
Remember that you can set goals for different custom events like users' scrollings or button clicks and see how many users reach the goal you have set.
Websites
ِDo you have multiple websites and want to manage them altogether? Here, you can add them all and check every website's pageviews, session replays, etc.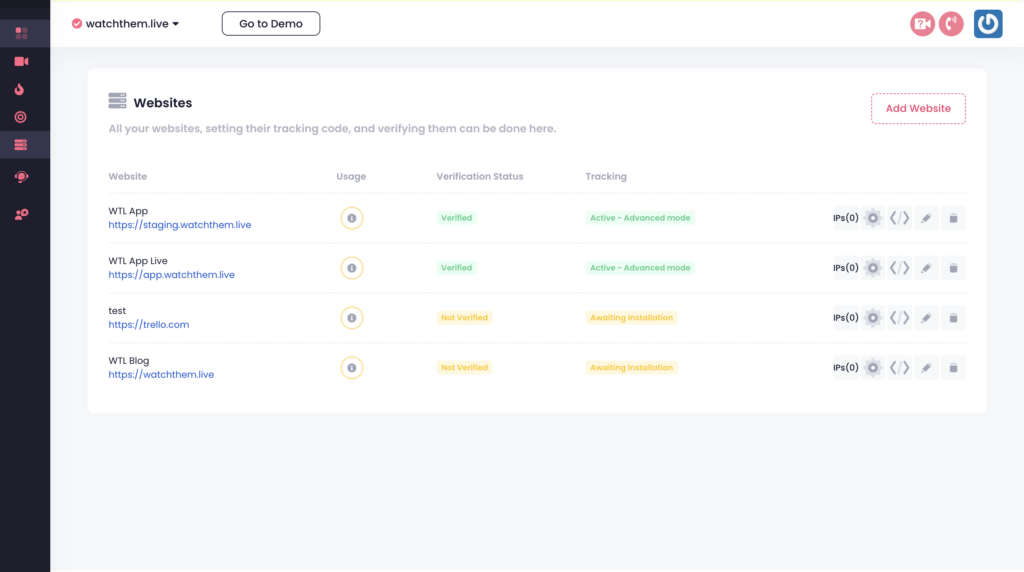 Teams
One of the practical sections on WatchThemLive is that you can create a team for your company members! Just by adding their emails and giving them access to your WatchThemLive account.
WatchThemLive Visual Live Chat
Have you ever felt incapable of resolving your customers' issues?! I'm sure your customer support team has difficulty connecting with some of your clients. Sometimes, that's because they can't speak English properly, and sometimes, they just fail to get their point across. After all, both your team and the client will get tired and just give up!
With WatchThemLive's live chat and session recordings go hand in hand to provide the best customer experience! This way, not only can you communicate with your customers and users but also you'll be able to see where they've gone, what they've done, and how they have faced a problem. Now, your team can literally see the problem and fix it in a blink of an eye!
Can you imagine the look on your customer's face when they had only said hi but found the problems fixed?! That's pretty cool, isn't it?! 
Get started with WatchThemLive's live chat now and provide the best customer support!
Video Testimonials
As a business owner, you see many dissatisfied customers coming forward to talk about their problems. But rarely do you see happy clients sharing their stories! That's usually because recording testimonial videos is quite difficult. Yet, WatchThemLive makes the process much easier for you!
Your happy clients now only need to hit the 'record' button and start answering the preset questions. They won't have to go through a hard process to get it done, you'll end up with reliable social proof that can drive even more sales and conversions for you. It's a win-win!
WatchThemLive Pricing
WatchThemLive comes with 5 packages, and the good news is that the first package is actually a free plan, including all the features, yet with limited access. Look at the picture below to see the packages and monthly prices.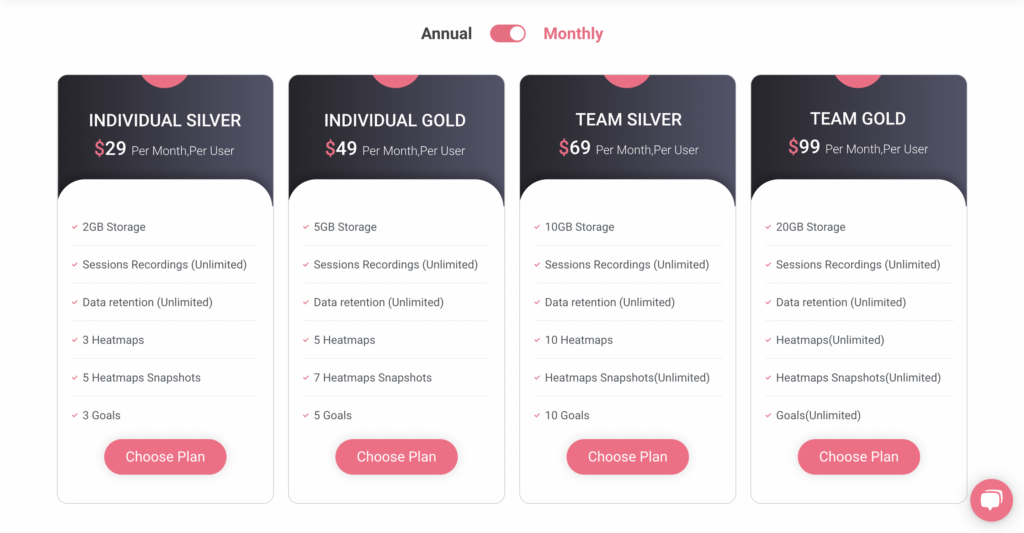 WatchThemLive Pros & Cons
All platforms come with their pros and cons, and WatchThemLive is no exception to this rule. In the following, we'll cover both advantages and disadvantages to using this service. Then, you can decide for yourself.
Let's go 🙂
Pros
Here are some of the most important features you can benefit from on WatchThemLive:
There's a free plan on WatchThemLive, and you can decide whether it is reasonable to purchase other packages. WatchThemLive demo version is also appropriate for those who have recently launched their website and do not require a paid version.
There's a responsible customer support team behind WatchThemLive who answers your questions ASAP.
Compared to Google Analytics, WatchThemLive offers a much easier-to-use dashboard. Not only does it provide you with numerical data, but also, as a session replay tool, it gives you a chance to see where the bugs are, what makes users leave your website, etc.
The ability to watch visitors and analyze their behavior and the heatmaps that can clarify what visitors mostly pay attention to are positive points you can count on for your business growth.
You can set goals on WatchThemLive to see how a new strategy works, check online visitors and collect data on how to create a better atmosphere for them.
You may also create teams and notify your colleagues about new events and give them tasks or ask for their opinions.
Compared with its rivals, WatchThemLive offers affordable packages for any website owner.
As one of the best live chat apps, WatchThemLive helps your team understand your clients better and resolve issues faster. This leads to more credibility and trust!
WatchThemLive's video testimonial is one of the most unique tools out there. 
Using this service doesn't require technical knowledge or developers.
Cons
Fortunately, there are no serious issues with this platform. However, WatchThemLive could do better by having an A/B testing option.
WatchThem.Live Reviews
Now that we covered all the important points about this platform, it's time to have a thorough WatchThem.Live review and see what customers' evaluations are in this regard. So, let's go.
WatchThemLive Reviews by Customers on Trustpilot
As I was looking for WatchThemLive reviews on Trustpilot, I was amazed by the fact that WatchThem.Live website had scored 4.8 out of 5 by clients. Here are some of the customers' comments on WatchThemLive.
As you can see, this user is satisfied with the WatchThemLive free plan and thinks it's a more reasonable option than Hotjar's or FullStory's.
Here, another user seems to be happy with two of the most important features of this platform, and that is session recordings and heatmaps.
If you just check other comments and reviews on this website, you'll figure out to what extent WatchThemLive has done well and has been able to bring about users' satisfaction.
WatchThemLive Review FAQs
To illustrate some remaining points on WatchThemLive review, let's take a look at some frequently asked questions.
#1 Who Can Use WatchThem.Live?
It can be used by influencer marketing platforms, freelancers, agencies, enterprises, startups, or anyone running a personal website and tends to keep an eye on their own progress.
#2 Is WatchThemLive a Mobile App?
No. It is a web-based app and this makes it usable on all devices.
#3 Does WatchThemLive Send You Any Reports?
Yes. Every week, you're going to receive a report. However, you can turn this feature off if you're not interested.
#4 Is There a Way to Change Your Plan on WatchThemLive?
Yes. You just need to use a redemption code to upgrade or downgrade your plan.
Last Words on WatchThemLive Review
In summary, WatchThemLive is useful for all those who want to promote and monetize their website(s), start growing their business, or simply increase the number of their audience as influencers. Using this platform, you can identify the possible problems and bugs on your platform and come up with new ideas for improving your website. So, what are you waiting for?
Sign up on WatchThemLive RIGHT NOW, master the art of listening to your users, and enjoy developing your website.