Looking for a thorough Mixpanel review?! Have you been wondering if this tool can hold up its promise and boost your conversion?!
If so, you're in the right place. Here, we've provided a complete review of Mixpanel, a service that claims to give you insightful and actionable analytics for website optimization. Now, let's see how true the claims are!
Today, companies that offer products and services through websites or applications try to interact with their customers in the best way. In this competitive world, analyzing and predicting user behavior is a must for boosting their conversion rate.
Mixpanel is a conversion rate optimization tool that describes itself as a solution in terms of engagement, conversion, and retention. But is it reliable?! That's what we're here to discuss! In this article, we are walking you through a detailed Mixpanel review, how it actually works, its pricing, and all the shortcomings.
 But if you're using it already, you know it has significant limitations that make you consider switching to a more robust CRO tool. If so, you can sign up on WatchThemLive for FREE and enjoy access to amazing features!
Now, let's get started with our Mixpanel review!
What Is Mixpanel
It is a product analytics and CRO platform that analyzes user engagements and interactions with your website and then provides services and solutions to optimize your website.
This software claims to help you understand the user experience, view user engagement with your product, and track customer conversion and retention by providing behavioral analysis reports. For example, you can measure customers' interactions with different items on your website, then you can increase revenue alongside a better UX.
There are some questions that Mixpanel can answer, including:
How many active users do you have?
What is the level of user engagement with your platform?
Are you optimizing for your users?
Are your ads making difference to the conversion rate?
And what is your churn rate?
Now, let's delve into its solutions and features, shall we?!
Mixpanel Solutions
Mixpanels' main focus is on events, which makes it possible to analyze users based on how they interact with content on specific pages. Using this platform, teams can analyze how and why people engage, convert, and retain. So, it is comprised of three solutions:
Convert
This solution provides funnel reports and behavior flows to analyze the user journey, possibly leading to eCommerce lead generation and conversion. Mixpanel offers event-based tracking, which is all about understanding user interactions with your website. These events may be: making a purchase, liking on social media, or logging into an app.
Engage
This includes features like lifecycle analysis and user segmentation for analyzing product usage. Once you've understood those events, Mixpanel provides a scalable data model. According to its official website, it will allow you to understand user behaviors and demographics.
Retain
With all data collected together, it can be considered a 'self-serve' analytics solution. The retain solution includes features like cohort analysis. It promises to improve retention rate and re-engage your visitors through personalized campaigns.
Now, it's time to take a closer look at its key features!
Mixpanel Review: How Does It Work
This service described itself as a behavioral analytics tool, which helps you get a clear picture of how people behave on your website.
That is, firstly, you should choose an event that you want to track, then implement the tracking, and also wait for data collection. Moreover, the implementation process should be done by a professional developer familiar with its documentation. Annoying, isn't it?
Now, let's jump right into its features:
Mixpanel Features
After you create a new dashboard, you should organize it by adding the types of reports you want. Mixpanel offers 4 types of reports:
1. Insights Report
Mixpanel Insights is used to understand user engagement and trends. It is for analyzing events, cohorts, and user profiles as well as displaying data in visualized forms like lines, bars, pie charts, etc.
Disclaimer: Unfortunately, there is no option to download a whole dashboard. So, you have to go from insight to insight, see the reports, and save them one by one. Moreover, you can't move all measurements and dashboards to a single place. But perhaps the worst part is that it doesn't offer pre-established metrics in a dashboard to start with.
Working with this dashboard sounds complicated and boring, right?!
2. Flows Reports
This report will answer questions like 'Are we actually optimizing for engagement?' If so, which user journey optimizes engagement? That's where the Mixpanel Flows report comes to help you.
This type of report promises to help you find the certain journey which has a better impact on your conversion goal rather than others. We've always had this hypothesis that the users who sign up are the users who are going to make purchases. But in reality, we aren't sure! Using Mixpanel, you can find out if it is true or if there are other events that are more related.
So what does it all mean?
Using Flow reports, you can analyze the stages of the user journey and optimize the level of user engagement. Therefore, to identify the most frequently taken paths from and to any event and understand the organic user journey, you should go back to the reports function on the Mixpanel dashboard and choose 'Flows.'
Disclaimer: One of the downsides of Mixpanel is that it gathers only quantitative data, which isn't adequate to figure out your website's UX issues and find the reasons behind users' interactions.
Therefore, you need 3rd party platforms to do analysis alongside Mixpanel. Besides, it doesn't yet have enough integrations to move all your analysis there. This is the high barrier to switching to another similar analytics tool.
3. Funnel Reports
Let me give you an example to clarify it. For example, you spend a lot of money on ads, so you want to understand the impacts they have on your weekly active users. You may also want to know, 'Are you on the right path and using the right platforms for ads?'
To know the answers, you should move a step back to Mixpanel reports and choose 'Funnel.' Mixpanel funnel reports are used to analyze how users go through a series of events (different stages of the funnel) and where they drop off.
Disclaimer: Because of the way you can access data, Mixpanel isn't exactly efficient. On the one hand, collecting event tracking data is manual. On the other hand, tracking data is only available to the individual who set it up.
In addition, there is no centralized place to store and maintain data. So, considering these limitations altogether, understanding large-scale data becomes confusing and complex.
4. Retention Reports
What is your retention and churn rate? We all assume that retention is a problem because we don't see our users come back.
Well, Mixpanel retention reports allow you to analyze your users' engagement over a specific period of time. It is all about understanding that if you get a user to do step A, what's the likelihood that they're going to come back and take step B? That's the sort of premise here that retention reports are trying to understand.
Disclaimer: All analytics data is placed into Mixpanel's dashboards, including the 'Core Company KPIs' dashboard. The worst part about it is that it requires manual implementation.
Additionally, you need engineering knowledge or a developer to customize event tracking. You will also need to guess fundamental user interactions such as clicks, purchases, etc.
Now you may be wondering:
Mixpanel Pricing
As you can see in the following screenshot, Mixpanel offers three plans that give you access to different features. Although there is a free plan, unfortunately, there is no all-in-one package. So, you should build your own plan, contact their sales team, and pay for each feature separately. What a pain in the neck, right?!
Additionally, to buy an Enterprise subscription, you need to fill out the form, send it to their sales teams, and then discuss the prices. Too bad! Honestly, its prices are pretty expensive compared to other similar CRO tools that offer much more features and fewer limitations.
Now, keep reading, and you'll discover its pros and cons!
Mixpanel Review: Pros & Cons
By now, you all know what Mixpanel is and all its services. Now, here's a list of its pros and cons:
Mixpanel Pros
You can send messages to targeted customers,
Mixpanel's UI and data visualization are easily digestible,
It presents data in various visualized types,
It starts you off with a few pre-made reports, so you won't have to spend a long time customizing the platform,
It lets you join historical events with new business data(i.e., retroactive enrichment),
Plus, it can integrate with some other tools.
Mixpanel Cons
It requires manual instrumentation (e,g, implementing event tracking),
You need a developer to handle the implementation process,
In addition, tracking visitors' behavior needs developers' help,
It isn't easy to use, and it's confusing,
It doesn't offer responsive customer service,
On top of these, it is slow when you're tracking a large amount of data,
Plus, its data tracking is so complex.
As you can see, Mixpanel has some downsides that you can't ignore. As a result, there is a much better alternative that you can use instead. But before I introduce it, let's go through some Mixpanel reviews left by customers and clients.
Let's check out what the real users have to say about the platform, shall we?!
Mixpanel Reviews: Why You Need an Alternative
Let's be honest! Although I've listed its features above, it doesn't mean that Mixpanel is a good choice for all. From online user reviews, I compiled a few reasons why it should be replaced.
Now let's check out what clients say about Mixpanel, shall we?!
#1 Mixpanel Offers "Very Unprofessional and Disappointing" Customer Service
As I mentioned before, it doesn't offer a responsive customer service team. In the following client review, you can also see that he didn't receive any answer when he wrote several emails over a few weeks.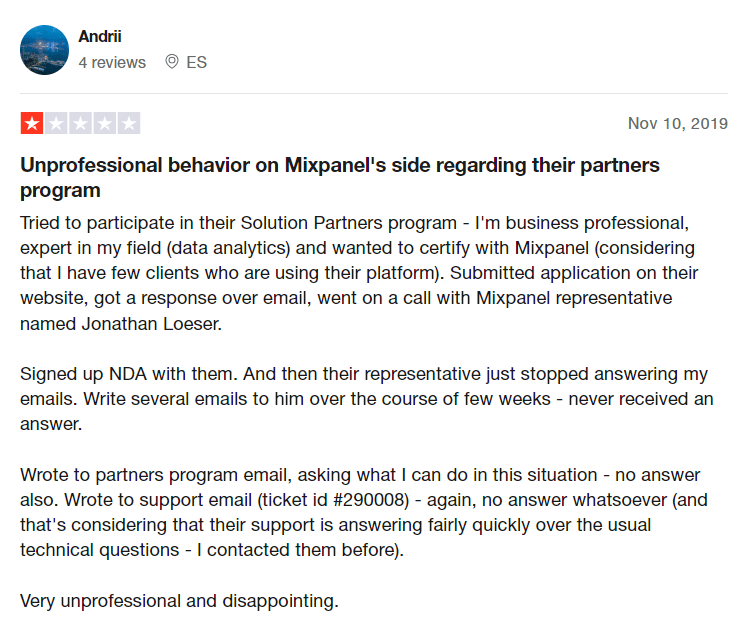 According to this comment on the Mixpanel reviews on the Trustpilot website, he also wrote emails to partners program and even their support teams, but there was no answer anyway. Disappointing, isn't it?
Let's see Mixpanel's other shortcomings!
#2 "Using Mixpanel Is a Challenge"
To be honest, while some product analytics tools solve the problem of manual event tracking, Mixpanel still requires engineering resources (or developers) to customize events.
In addition, you should decide which event (clicks, purchases, watching the video, etc.) matters the most. 'Why?' you asked? Well, because if you change your mind later or if you need to track additional events after a while, you will have to set them up again. Sounds silly, doesn't it?
This isn't our assumption, though! Some of the clients also complain that Mixpanel isn't easy to use at all, and even building graphs can be challenging. Let's look at what a client has said:

Another Mixpanel review from a customer points out to the same fact:

The client claimed that using Mixpanel isn't easy at all, so it isn't for non-technical users. Still not convinced? There are other similar comments about this issue:
#3 " It Is Too Expensive."
Unfortunately, according to its real users' feedback, Mixpanel is not worth your money, and you should replace it with another more valuable tool.
You might think I'm exaggerating, but nope! Read the following Mixpanel reviews:
According to this client's feedback, you can find another alternative with similar and even more functions.
Here's another similar feedback about Mixpanel price:
Now what? Want to find Mixpanel alternatives?! Well, here we will suggest you an all-inclusive analytics tool that provides more features than Mixpanel. Ready?
What Is the Best Mixpanel Alternative
As you saw, there are many reasons for choosing a Mixpanel alternative for website optimization. WatchThemLive is one of the Mixpanel alternatives for user tracking and conversion optimization. Stay tuned to get familiar with all the impressive features!
WatchThemLive: The Best & Free Alternative to Mixpanel
WatchThemLive is an all-in-one behavioral analytics and CRO tool that answers all questions behind your visitors' interaction with your websites. It compiles both quantitative and qualitative data through its valuable features.
Interested to learn more?! Sign up right now and see how it will increase your conversions and bring about your desired results.
WatchThemLive's Features
Its CRO tool provides all you need to optimize your website for free. Let's take a look at its features in short!
Session replay videos are recordings of your visitors' interactions with your website, from the moment of entering to when they leave. In these videos, you gain in-depth insights you could never get from any user testing or any other numbers and graphs.
By going to each video, you can see your user's actions like clicks, scrolling, etc. This fantastic feature enables you to figure out why your visitors lost their interest, why they decided to leave a certain webpage, and even find the website bugs they've faced along the way.
Sounds impressive, right?!
Looking for a tool to show you areas that get the most (or least) clicks from your visitors? You're in right place. WatchThemLive is here to help you. It offers heatmaps to help you make informed decisions in form, online banner, landing page, and CTA designs. It is also helpful for running campaigns.
But apart from the heatmap tool, there are more practical features!
Using WatchThemLive, you can set up a custom event and track your visitors' conversions. It's worth noting that you don't need a developer to set up a 'goal', and in the end, you can easily see the number of users who complete your desired action. The data is shown in the progress bar and is also exportable to CSV and PDF.
Do you care about what clients say about your platform? Want to get social proof and bring your satisfied customers in front of the camera? Well, WatchThemLive's video testimonials is here to make this process easier.
This feature shows a list of preset questions on the screen as your client records a testimonial video. All they need to do is answer the questions! This feature will encourage other potential customers to use your platform!
Want to resolve customers' issues in the fastest way possible? Interested to find the concerned user's recorded session? WachThemLive's live chat features enable you to find the specific users' issues who left a message on live chat by watching their session videos. Pretty straightforward, isn't it?
WatchThemLive Pricing
WatchThemLive offers its valuable services in multiple packages at reasonable prices, each with different features. Moreover, It has a free pan that equips all clients with the user journey, active filtering, unlimited data retention and session recordings, and 2GB of storage.
The good news is that if you want to pay annually, there are considerable discounts for paid plans as well.
Why are you waiting, then? You can sign up now and give it a try!
If you're interested to learn more about its features, read this complete WatchThemLive review.
Mixpanel vs. WatchThemLive: Which Is the Final Winner
As we mentioned, for a Mixpanel login, you have to go through a lot of planning, implementation, and testing processes, which require a professional developer. So, it is not for non-technical users.
Moreover, you must add events manually and wait a long time for the data to roll in. Mixpanel offers training videos, but you have to spend time learning and customizing the platform. On top of these, this service just provides quantitative data with unreasonable prices.
Unlike Mixpanel, WatchthemLive provides quantitative and qualitative data through session replay tools and heatmaps. It will show you exactly how users experience your product and website. Its features help you find and fix bugs faster, create a great user experience, improve your eCommerce conversion rate and consequently increase revenue.
Similar to Mixpanel, WatchThemLive can track visitor events. The difference is that you can track events without coding. So, you don't need any professional developer to set it up and track events.
So, don't waste another second, and sign up on WatchThemLive for FREE!
FAQs on Mixpanel Review
So far, we have provided a detailed review of Mixpanel to help you see the reality. Now, Let's answer some of the frequently asked questions regarding this tool.
1. Mixpanel vs. Amplitude vs. WatchThemLive: Which One Is Better?
If you're interested in the differences between Amplitude vs. Mixpanel, keep in mind that both promise to analyze user behaviors, but they do it in dramatically different ways.
Here's a comparison chart:
Both Amplitude and Mixpanel focus on quantitative analytics, their features are analyzing metrics about users' behaviors and events, then visualizing them in charts, graphs, and reports.
But WatchThemLive lets you analyze your website qualitatively and quantitatively. It combines quantitative features (like website analytics, event, and goal tracking) and qualitative features (like session recordings and heatmaps).
Therefore, using WatchThemLive, you can go beyond the raw numbers and reports and understand why your visitors are doing what they're doing.
2. Mixpanel vs. Google Analytics vs. WatchThemLive: Which One Is Better?
Google Analytics is one of the free alternatives for Mixpanel that has many features like content analytics and website traffic analytics. Although it is easier to set up and is more suited to small businesses compared to Mixpanel, it has other limitations.
For instance, Google Analytics also lacks qualitative data like session recordings. However, WatchThemLive allows you to combine the power of qualitative and quantitative data analysis. It can capture visitors' sessions automatically and lets you see how they interact with your website and more.
It is easy to set up, and only minutes after setting up, you can analyze whatever you want. Don't miss out on the chance, and sign up now!
3. What Is Mixpanel Used for?
Mixpanel is a product analytics tool to analyze users' interactions with your site and product. It is designed to allow your teams to analyze user data in real time in order to find trends, identify users' behaviors, and make informed decisions.
Conclusion
In this article, we've provided a complete Mixpanel review, going through positive and also negative comments from real clients. People mostly complain about its complex process to set up, manual instrumentation, and, more importantly, its unreasonably high price.
We gave an in-depth comparison between Mixpanel and recommended the best alternative for it: WatchThemLive. WTL offers so many practical behavioral analytics features with a free forever plan. Sign up now and take full advantage of its services!