One of the first online media monitoring companies that many brands are familiar with is Meltwater which claims to provide all the essential features in one place. But does this service provide what it promises? Is it safe to use? That's what we want to find out in this blog.
In this article, we will be examining the platform's key features, customer reviews, pricing, pros and cons, and an alternative to help you make an informed decision. So, if you are looking for the best influencer marketing platform, don't miss this article.
What Is Meltwater
Claiming to be the first online media monitoring company, Meltwar is a multi-solution service that offers various features and tools for professionals. This company was founded by Jørn Lyseggen and Gard Haugen in 2001 and now has over 2000 employees.
This platform promises to always innovate, provide best-in-class service, and deliver sustainable growth through its technology. But is this true? That's what we want to check in this blog post.
Meltwater Key Features
This platform claims to be a multi-solution to all your business needs. So, let's see the different features that it offers.
1. Consumer Intelligence
According to a study by McKinsey, 'brands that do data-driven marketing at scale well can increase net sales value by 3% to 5%.' So, knowing the needs of your market and what your target audience is looking for can increase your chance of success.
Meltwater is specifically designed to meet the complex needs of large, global organizations and uses AI tool to detect the latest trends in your industry. With Meltwater, you can segment your audiences based on behaviors, attitudes, influences, and more, allowing you to focus on your target market and increase your chances of success.
2. Media Relations
This tool generates a list of journalists who are actively writing about the topics you care about. Also, you can measure how your brand is perceived in online discussions and track the success of your pitches with open and click rates. This can help you build a better picture of the media landscape as well as our own position.
3 Influencer Marketing
Collaborating with influencers in your niche can help you tap into your target audience, grow your social media followers, attract customers, and increase brand visibility. Meltwater claims to connect you to your best influencer match to run campaigns and collaborations.
Their influencer marketing tool includes:
Unlimited Search: There are no limits on the number of searches you can do to find your influencer match.
Advanced Filters: To find the creators in your niche, you can use the targeting filters based on niche, location, gender, etc.
Campaign Creation: Want to run influencer-based campaigns? Create and manage it on Meltwater.
Real-time Data Analytics: Measure the impact of your campaigns and it's results using the analytics tool.
In-app Payment and Contracting: You can follow the entire process of the collaboration inside the app, including the payments.
In-app Messaging: Once you find the creators you like to work with, you can use the in-app messaging tool to talk and contact them.
ROI Estimation: With this tool, estimate the return on investment of working with each influencer.
4. Social Listening & Analytics
To understand your performance, you need to know what users say about you online. With Meltwater's social listening tool, you can capture every brand mention across social for a full snapshot in real-time.
Once you add your brand to this tool, you can view the historical data of the last 15 months. In an analytical report, you can see how many mentions you get each month on each platform.
5. Sales Intelligence
For businesses that want to sell online, you need to know how your competitors are performing and be ahead of them. That's why Metltwar offers some tools to help you increase your sa
Competitive Intelligence Graph: Access to over 45 million competitive relationships.
Unparalleled Data Access: An extensive network of over 15 million private & public businesses
Seamless Tool Integration: Competitive company insights without leaving your CRM.
6. Social Media Management
It's not hidden to anyone how using social media platforms can help professionals grow their presence and brand awareness. But not everyone has time to manage and share content every day. That's when a manager can help you!
Another feature that the Meltwater app provides for users is social media management services which include:
Content Scheduler,
Multiple Account Management,
Dashboards and reporting,
Visual Content Galleries,
Community Management and Moderation.
Meltwater Reviews: What Do Customers Say
One of the best ways to find out if a platform is working or not is by reading customers' reviews. So, let's take a look at meltwater reviews on different platforms:
On G2, Meltwater has gained a 3.9 rating score among more than 1400 reviews.
Checking the reviews we can find out that most users are happy with the scheduling tool. However, there are some bugs while trying to tag users, which can be fixed by restarting the app.
According to negative Meltwater reviews, the influencer list is outdated and it's not easy to find active creators.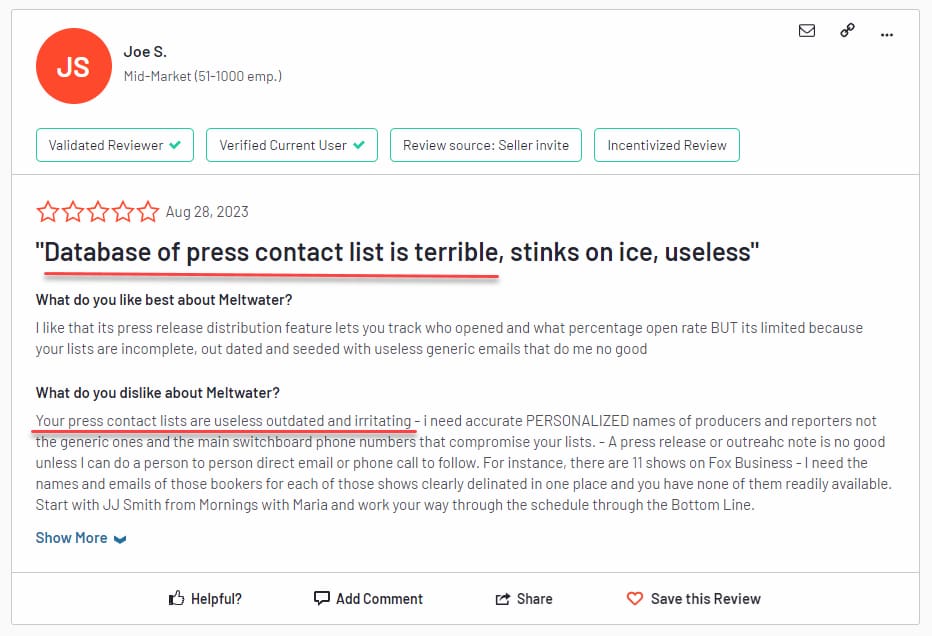 Even in the positive reviews, we can see that they are not happy with the customer support. It takes so long to answer and most of the time they can't help.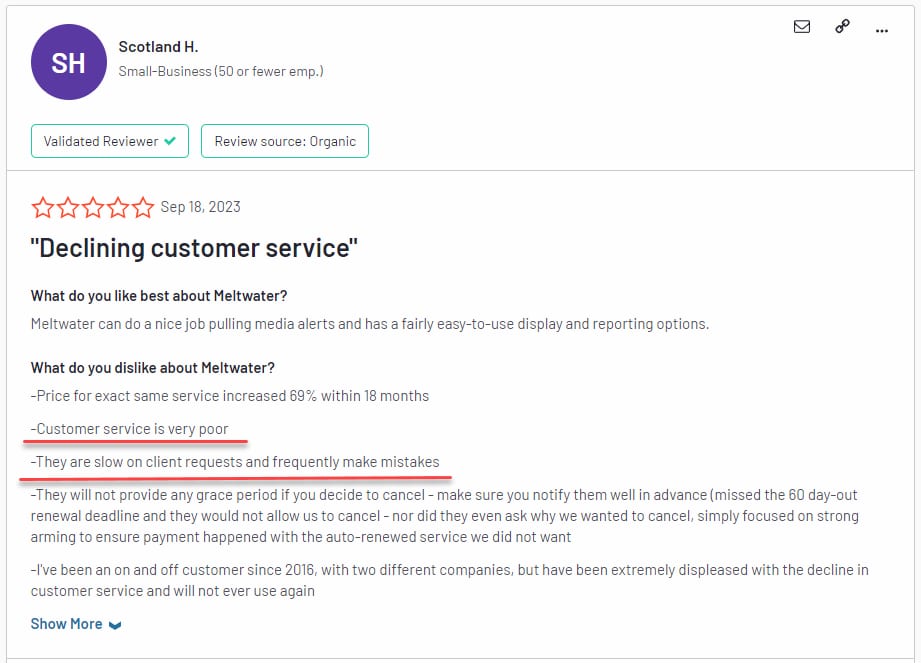 One of the features that their customers like is the brand mentioning and tracking which allows you to get notified whenever online users mention your name on their conversations.
Another trusted reviewing website to check what the meltwater app does and read organic reviews is TrustRadius. Let's check its reviews together:
Among 150 reviews, this platform gained a 7.4 out of 10 rating score.
According to customer reviews, the dashboards are not user-friendly, customizable (color, font size, etc.), or worthy of presenting to a client.

The most liked features are social listening, business analytic tools, and community management.
Some users feel that Meltwater is expensive for non-profit organizations.
On here, we can see some reports saying the media database isn't as up-to-date as it could be.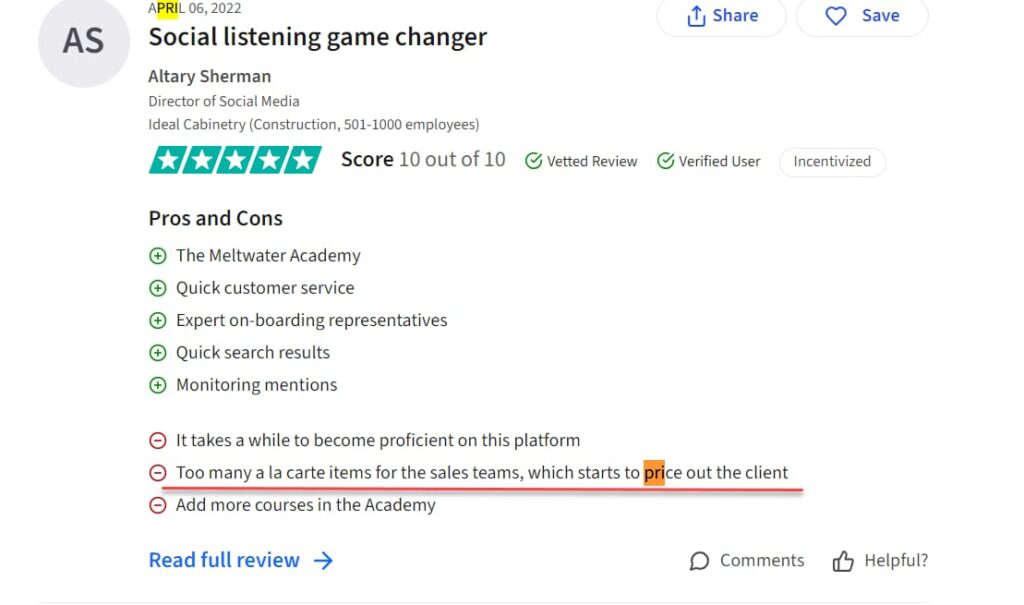 Meltwater Pricing
As we mentioned, one of the main cons of the app Meltwater is that it doesn't provide visible prices. However, we know that it comes in four different packages: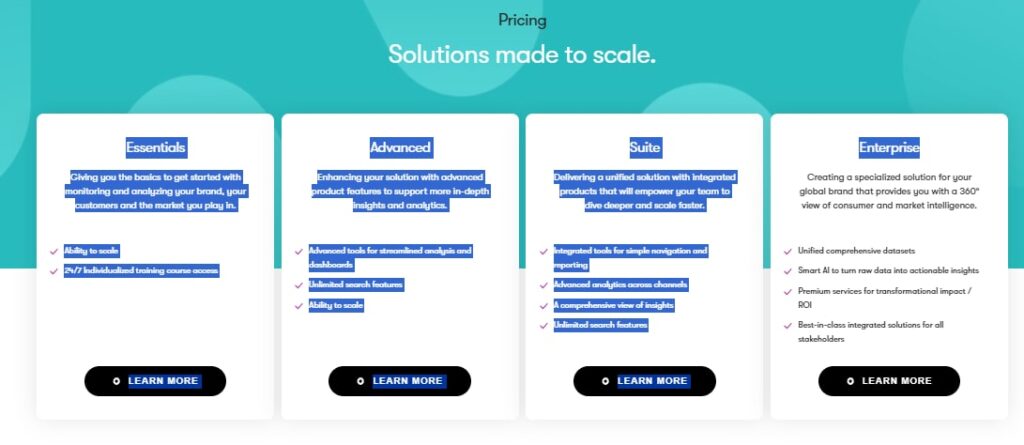 Meltwater Pros & Cons
Want to have a quick look at the Meltwater app to decide whether to use it or not? Here are the pros and cons of this service:
Pros
Supporting multiple social media platforms,
Powerful AI tool that helps you automate your social media platforms,
Offering different features that a business needs in one place.
Cons
This platform doesn't provide any visible pricing packages on its website. To learn about their services, you need to request a demo on the website.
No free plans or trials
There are no signup options! You need to request a demo on their website and their team will contact you.
Not enough information on their website! Meltwater's website is filled with names of different features but there is no explanation of what they do and how they work.
There is no FAQ page to find the answer to your questions.
Based on the customers' reviews, the price of the plans has increased 69% within 18 months.
Meltwater Alternative: Ainfluencer
Up to here, we've talked about everything you need to know about the Meltwater app and its influencer marketing tool. As we mentioned, there are no free tools offered by this company and also, there are limited targeting options. So let's talk about the best meltwater alternative, Ainfluencer!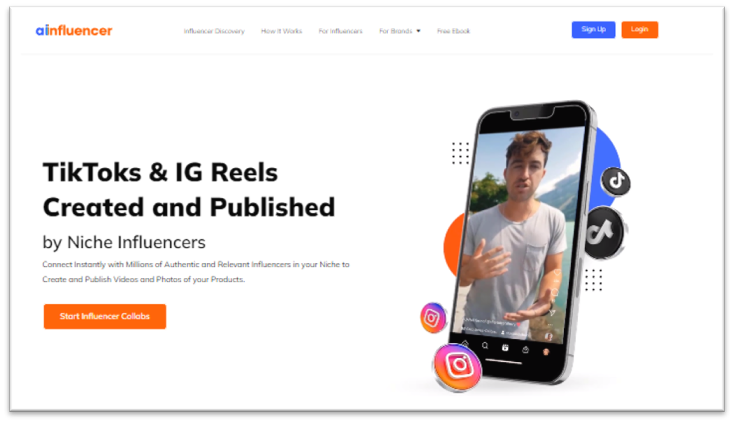 Whether you're a small or large brand that needs to expand its business or an influencer who wants to level up its career and monetize its influence, Ainfluencer is your solution. Ainfluencer is a 100% free, Do-it-Yourself marketplace streamlining influencer marketing for both brands and influencers who join it.
In a nutshell, if you are a brand that doesn't like to pay any platform fees during your full usage of the platform then Ainfluencer is yours. Same for influencers. Using Ainfluencer, in a few simple steps you quickly set up your campaign and get exposed to over 500,000 influencers on TikTok and Instagram.
Ainfluencer Features
Let's see what features Ainfluencer provides for its users to help you decide the best platform.
1. Influencers List
As we are writing this article, Ainfluencer has a list of over 500,000 influencers on TikTok and Instagram. Influencers with followers ranging from 5000 to 10 million people.
2. Campaigns
Brands must create a campaign in a few simple steps and launch their presence and quest for influencers in the Ainfluencer marketplace. The type of influencers they are looking for and all of their criteria are set in the campaign so they get matched with proper influencers in their niche.
3. Content Creation
Ainfluencer opens up a world of choice for brands, offering not one, but four distinct avenues for collaboration with influencers. Firstly, brands can opt to engage influencers for content creation, where influencers craft captivating videos and images tailored to the brand's vision and messaging.
4. Influencers Invite
Brands can send invitations even to all influencers for free. You have no limit in terms of discovering, and evaluating the influencers in your niche and sending invites. Brands can narrow down their search for influencers using a great set of filters such as the size of influencers, their platform, gender, country, and 20 other criteria. 
FAQs
1. What Makes Meltwater Different From Other Media Monitoring Companies?
Meltwater uses AI-powered technology specifically designed to meet the complex needs of large, global organizations. This AI engine helps you detect new trends in your niche, and your brand mentions across different channels, and detect your best influencer match based on the filters you added.
2. Does Meltwater Offer Visible Pricing Packages On Its Website?
No, Meltwater does not provide any visible pricing packages on its website. The only way to view the cost of their services is by requesting a demo on their website and talking with their team.
3. Are There Any Meltwater Alternatives?
Yes, for those who are on a budget and are looking for a free professional tool, Ainfluencer is the best option. Ainfluencer is a 100% free, DIY marketplace that can streamline influencer marketing for both brands and influencers.
4. Does Meltwater Offer Customer Support?
Yes, Meltwater offers customer support via phone, email, and chat to ensure that users can access assistance when needed.
Conclusion
Meltwater is an online media monitoring company that offers a range of features and tools for professionals. With its AI-powered technology, it is specifically designed to meet the complex needs of large, global organizations. However, it does have some drawbacks like not providing any visible pricing packages on its website and not offering free plans or trials.
If you are looking for a Meltwater alternative, Ainfluencer is a 100% free, DIY marketplace that can streamline influencer marketing for both brands and influencers. You can sign up on Ainfluencer for free now and collaborate with your niche influencers.