Are you tired of making business decisions based on guesses and gut feelings? Do you want to harness the power of data to grow your business and increase your revenue? Well, you're in luck because there's a powerful tool that can help you achieve just that: business analytics tools!
In today's fast-paced business world, it's crucial to make data-driven decisions to stay ahead of the competition. So, if you want to take your business to the next level, it's time to start using business analytics tools as CRO tools to unlock your full potential!
If you'd like to not miss out on the best business analytics tool, sign up now on WatchThemLive!
In this article, we are going to provide a list of the best analytics tools for businesses to help you out. Now, let's get started!
What Are Business Analytics Tools
Have you ever wondered how businesses are able to make smart decisions and increase their profits? Well, let me tell you about the amazing world of business analytics tools! These incredible software applications are used by savvy business analysts to collect both quantitative and qualitative data from various business systems. This data is then analyzed and transformed into valuable insights that help companies make better decisions.
By using a combination of statistical tools, predictive modeling, and data mining software, businesses are able to gain a comprehensive understanding of their operations. This helps them to identify areas where they can improve their efficiency, and productivity, and ultimately increase their profitability. It's truly awe-inspiring how technology can help businesses thrive in this fast-paced and competitive world.
So, if you want to take your business to the next level, you simply can't afford to ignore the power of business analytics tools. Trust me, they'll change the way you do business forever!
Business Analytics Tools vs. Business Intelligence
What Sets Them Apart?! There's a big difference between Business Analytics and Business Intelligence Solutions! While both of these tools help businesses gather and analyze data, Business Analytics takes it to the next level. It doesn't just present information – it helps identify weaknesses, pinpoint potential problems, and even predict future performance!
Business analysts use high-caliber tools to gather requirements and gain insights that boost customer satisfaction, improve competitiveness, and achieve business goals. The demand for premium-quality business analytics tools is skyrocketing and for a good reason. These advanced software solutions provide powerful functionalities that lead to business success and future growth.
It's no surprise that data analysis is becoming more relevant than ever before. As a result, businesses will make better decisions and create new job opportunities across multiple fields. So, if you're looking to give your business a competitive edge, consider one of these top ten most widely used business analytics tools and solutions designed for modern enterprises.
10 Best Business Analytics Tools
Let's take a look at the most popular software for business analytics!
1. WatchThemLive: Powerful Analytics Tool for Businesses
Experience the power of WatchThemLive! This incredible tool is the missing piece to take your website performance to the next level. With WatchThemLive, you can easily monitor and analyze your visitors' interactions with your website in real time. From session replays to heatmaps and goal tracking, this tool has got it all.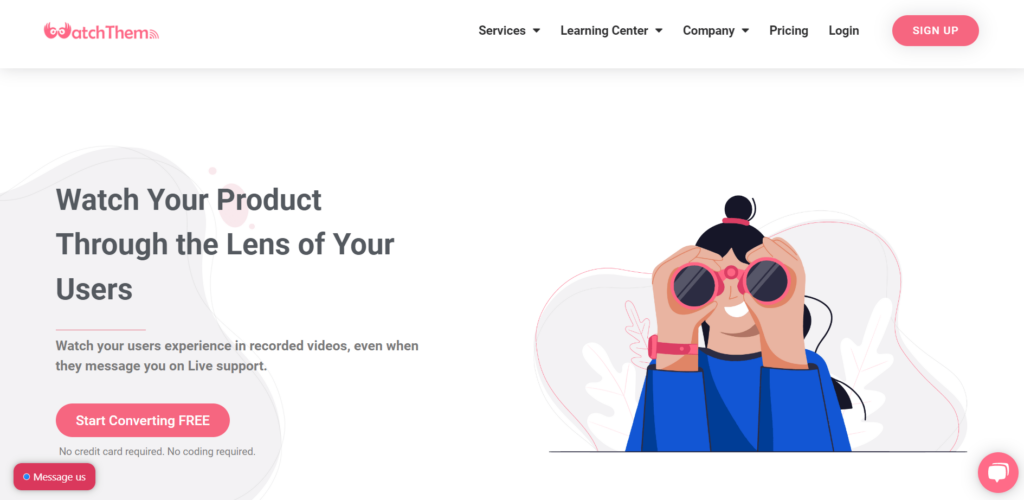 No more guessing games! With WatchThemLive, you can pinpoint exactly where your website needs improvement. Are your visitors bouncing off your site? With the help of customer journey maps, you will decrease your bounce rate and maximize your conversion rate and revenue.
But that's not all! With the Visual Live Chat feature, you can provide instant support to your users and help them with any issues they might be facing. And the Video Testimonials feature can convince even the most hesitant users to trust your product and convert into loyal customers.
So what are you waiting for? Sign up now and experience the incredible power of WatchThemLive!
2. SAS: A Business Analytics Tool
SAS is an incredibly impressive tool! It's so robust and versatile, making it perfect for any organization's data mining needs. And the fact that it's easy to learn is just amazing. I mean, who doesn't want to simplify the process of analyzing large sets of data and save time?!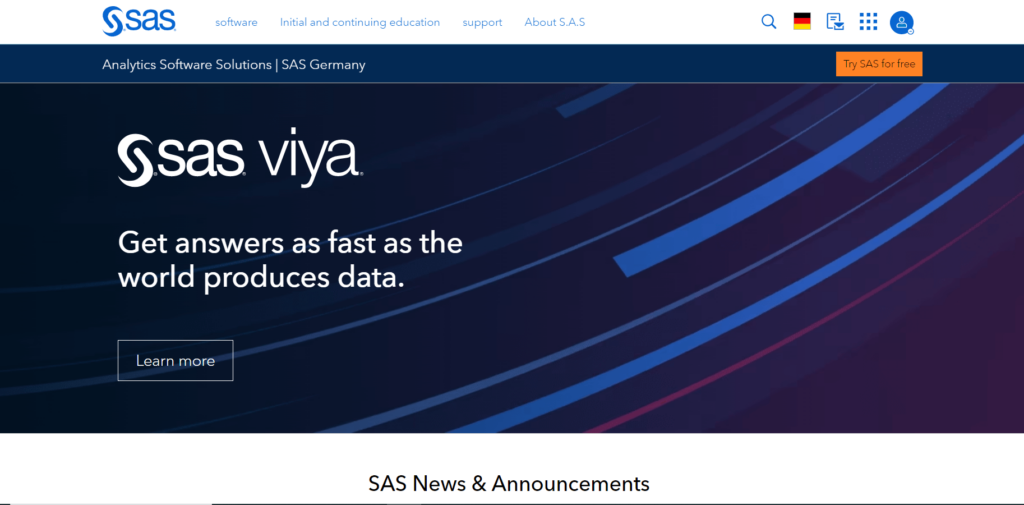 Plus, the added modules for IoT, anti-money laundering, data visualization, and text analytics just show how committed SAS is to staying ahead of the game and providing the best possible analytics experience. I'm truly blown away by SAS's capabilities!
3. Microsoft Power BI: Business Intelligence Analytics Tool 
Microsoft Power BI is the ultimate game-changer for businesses! With its exceptional data visualization capabilities, it allows users to create interactive reports and gain insights like never before.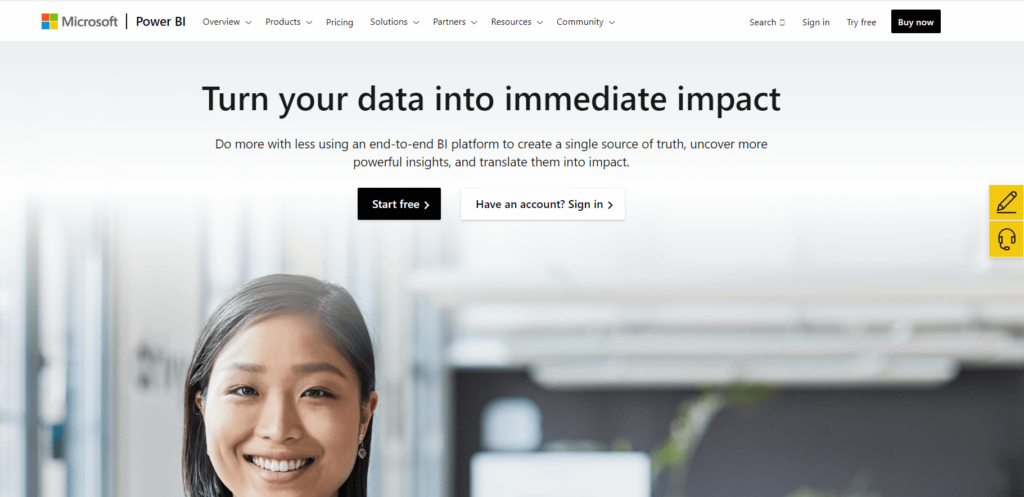 The real-time trend identification feature is simply mind-blowing, enabling businesses to stay ahead of the game. And what's more, with both desktop-based and cloud-based interfaces, Power BI is accessible from practically anywhere, making it the ultimate solution for the modern, on-the-go businessperson.
4. Tableau: Statistical Analytics tool for business
And then there's Tableau! This powerful behavioral analytics tool is an absolute marvel! With its ability to connect to any data source, you can rest assured that your data is always at your fingertips. And the best part is that it's user-friendly! No need for complex scripting or coding.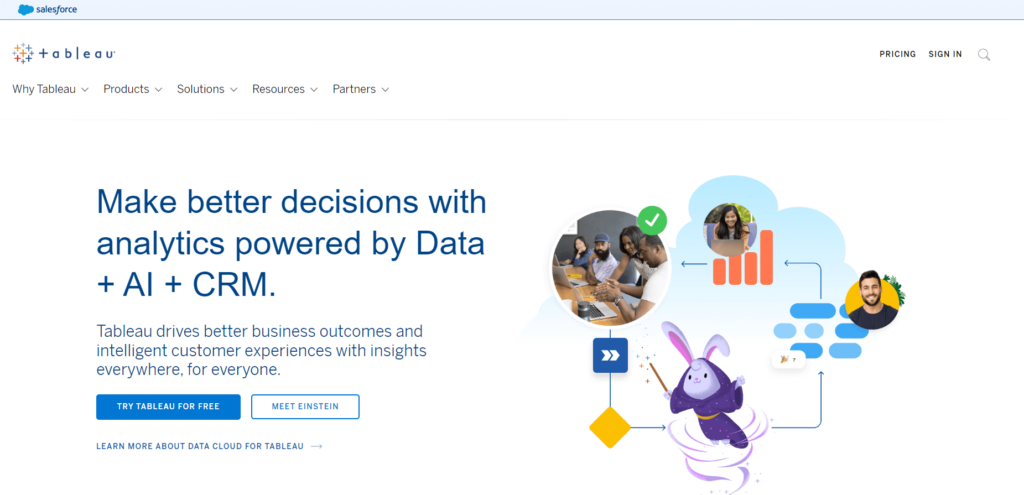 You can create customized visualizations, maps, and dashboards in just seconds! And the cherry on top? Tableau's statistical functions enable you to perform in-depth analyses and predict patterns based on current and historical data. Trust me, once you start using Tableau, you'll wonder how you ever got by without it!
5. QlikView: An Analytics Tool for Businesses
QlikView is an absolute game-changer! With its patented technology and lightning-fast in-memory processing, it's no wonder why it's a top choice for business analytics.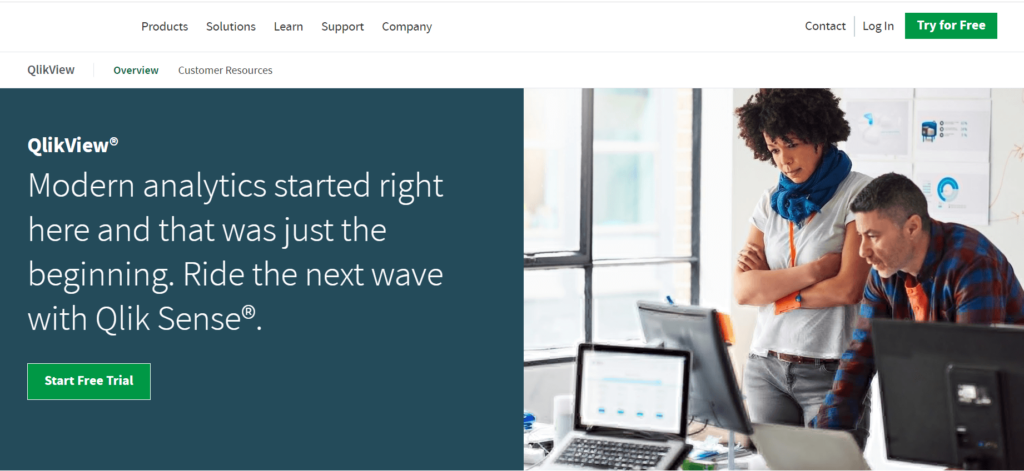 The way it visualizes data relationships using specific colors for related and non-related data is just mind-blowing! And the fact that it can automatically maintain data association while compressing it to 10 percent of its original size is just amazing! It's like having a superpower in the palm of your hand!
6. Microstrategy: Business Data Analytics Tool
Have you heard about Microstrategy?! It's one of the most cutting-edge business analytics tools out there! With its superior analytics capabilities, it can easily process unstructured text data and even has text analytics solutions!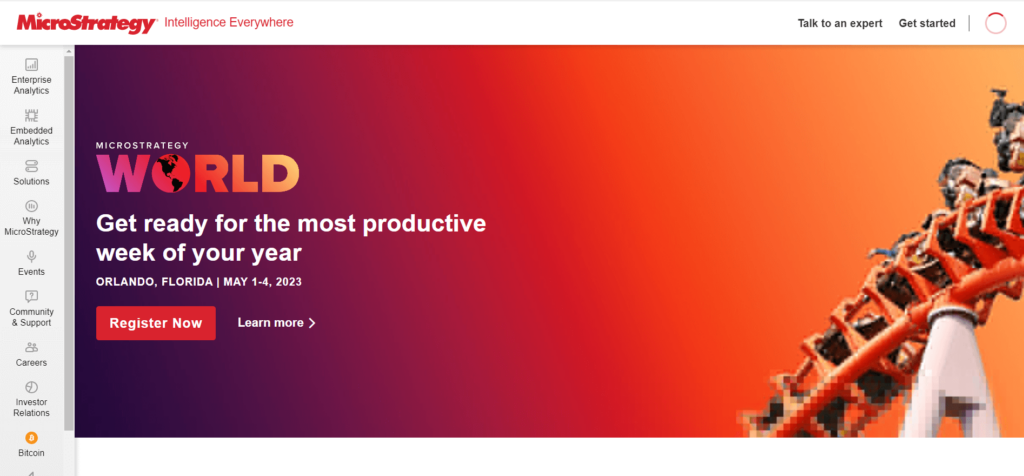 And get this, it has real-time trend forecasting and options for third-party data mining! The fact that it combines so many different business analysis tools and techniques is just incredible! Plus, you can create and share business analytics reports from anywhere and on any device. This is the future of data analytics!
7. Excel: Valuable Business Data Analytics Tool
Microsoft Excel is seriously amazing! It's been a go-to tool for data analytics for years and for good reason! It offers so many useful features like sharing workbooks and uploading data directly from a photograph!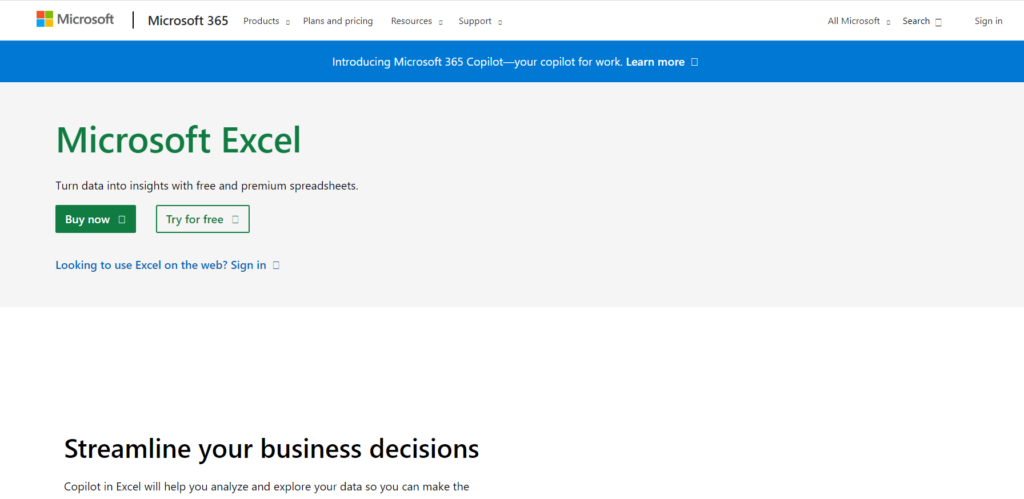 And now with the recent improvements, you can even add backgrounds and premium stock photos to your documents for free! That's just the icing on the cake! It's no wonder why almost every business uses Microsoft Excel daily to get valuable insights from their data. It's a lifesaver!
8. Sisense: Data Analytics Tool for Business
With Sisense, you can analyze and visualize massive amounts of data, allowing you to make informed decisions and predict future trends.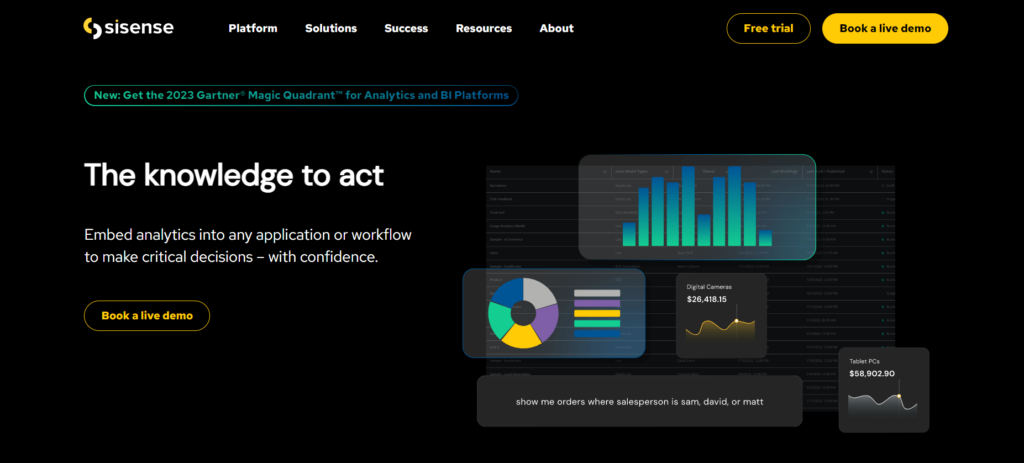 It's like having a crystal ball that shows you the way forward. And the fact that it has been recognized as a leading cloud analytics platform by experts in the field speaks volumes about its capabilities.
9. Board: Business Analytics Tool
Board allows you to create custom reports and dashboards that are not only intuitive but also interactive. It's like having a canvas where you can paint a picture of your business's data, and the end result is a masterpiece that tells a story.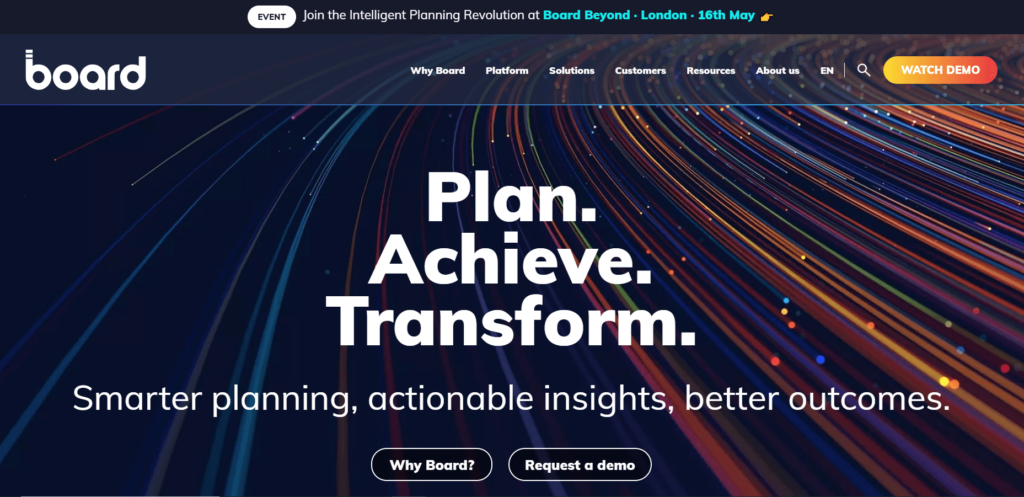 And the ability to manipulate data using data visualization, drill-down, and drill-through functionality is nothing short of amazing!
10. Domo: Cloud-Base Analytics Software
Domo, as a complete cloud-based business analytics platform, takes the cake for providing micro and macro-level visibility.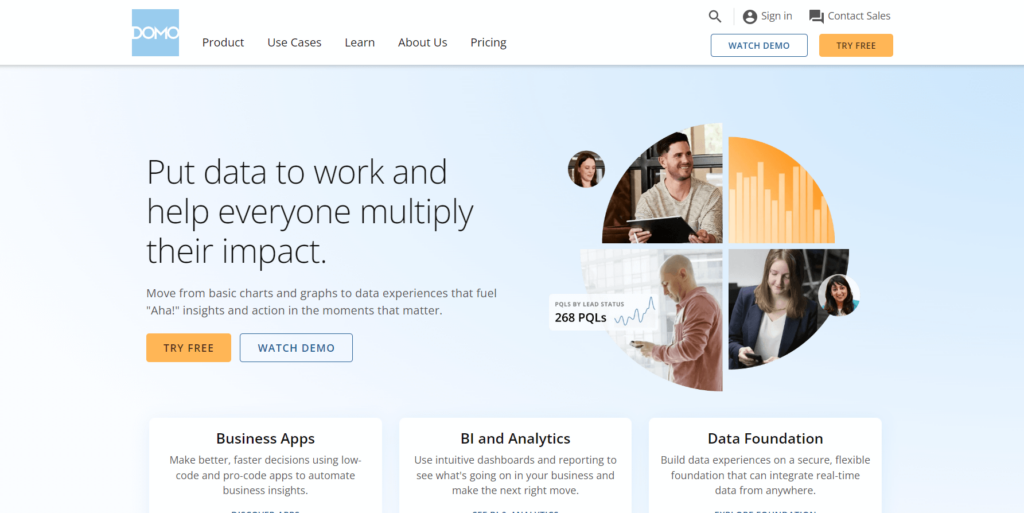 With its ability to integrate multiple data sources and provide wide connector support, it's a one-stop shop for all your analytics needs. It's like having a genie that grants you wishes, except in this case, your wishes are insights gained from real-time data.
FAQs
Now, let's take a look at some frequently asked questions regarding business analytics tools. Ready?!


1. How Does Business Analytics Work?
It takes a high-level understanding of the industry and a keen awareness of practical limitations to truly succeed. And that's not all – data, statistics, and computer science are also crucial elements to the analytical process.
But the real magic happens when a skilled business analyst can bridge the gap between management and technology. With effective problem-solving skills and top-notch communication, they can translate complex data insights into information that even executives can understand. It's a true art form.
And let's not forget the incredible tools that business analytics employs – big data, statistical analysis, psychographic segmentation, and data visualization. These tools can help companies execute organizational changes, create statistical models to forecast results, and ultimately enhance their business operations. It's an exciting field to be in, and I for one can't wait to see what the future holds for business analytics!
2. How Important Are The Business Analytics Tools to The Users?
The significance of Business Analytics cannot be stressed enough! It is absolutely crucial for businesses to keep up with the latest trends and utilize cutting-edge tools to enhance their productivity and maximize their profits. In this fiercely competitive world, companies need to stay one step ahead of their rivals, and Business Analytics is the key to achieving that. By utilizing data-driven insights, businesses can make informed decisions and gain a valuable edge over their competitors. So, if you want your business to thrive, don't underestimate the power of Business Analytics!
To Wrap Things Up
In short, business analytics tools are powerful and transformative. They have the potential to bring businesses to new heights but also demand a certain level of dedication and expertise. I'm excited to see how these tools will continue to evolve and shape the business landscape in the future.
The amount of valuable insights and information that can be extracted from vast amounts of data is simply astounding. It's clear that these tools have the potential to revolutionize the way businesses operate and make decisions.