Are you looking to reduce your work hours and dedicate more time to activities that bring you joy? If so, AI Tools (Artificial Intelligence Tools) can help you complete your tasks and save more time.
As more and more businesses and professionals want to work faster and smarter, artificial intelligence (AI) is becoming really important. AI tools' exciting features make work easier and simplify certain tasks. They can help with things like writing content, analyzing feelings, creating images and videos, and collaborating with brands.
In this article, we will look at the top 13 AI tools that can help you be more productive in many different ways.
Are you short on time but still want to know about the best AI Tool for collaboration and influencer marketing?! Well, sign up on Ainfluencer which is the perfect companion for boosting productivity.
Let's get started!
13 Best AI Tools for Business
AI is already a common and important part of the business world. It helps many companies stay competitive in today's changing technology environment. If your company hasn't started using artificial intelligence yet, here are the 13 best AI tools from writing and video editing to influencer marketing platforms you can pick from.
1. ChatGPT: One of the Free AI Tools
Let me give you a simple summary of the popular phenomenon known as ChatGPT. It's basically a chatting program that uses OpenAI's GPT-4 language model. This program has recently become available to the public for free as a research preview. You can type in questions or instructions, and it will respond with text in various formats like stories, prose, or even computer code.
The main purpose of ChatGPT is to assist users with tasks that involve working with text. It's like having a conversation with a helpful chatbot.
ChatGPT Pros
ChatGPT is versatile.
You can better manage your time.
You can add plugins to enhance ChatGPT's capabilities.
It's easy to connect chatbots with other apps and services.
ChatGPT Cons
It has some accuracy and clarity problems.
Unfortunately, its knowledge of the world and events is before 2021.
In some countries, such as Iran, You can't sign up without VPN.
Read Also: How to Make Money on TikTok? Top 10 Proven Ways in 2023
Now, let's get familiar with the best influencer marketing
2. Ainfluencer: The Best AI Tool for Brand Collaboration
Ainfluencer is the best way to grow your business quickly, easily, and affordably by connecting you with the right influencers. It's the top influencer marketing AI Tool, standing out from its competitors.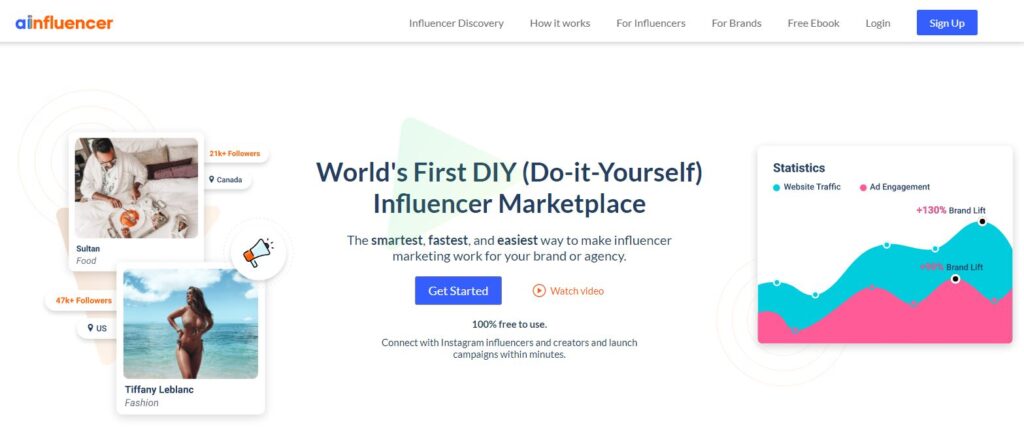 Ainfluencer is a website that focuses on Instagram influencer marketing. They have a large number of Instagram influencers from different parts of the world. With Ainfluencer, you can easily connect brands with influencers and manage everything on your own.
They have a chat system that helps you communicate with influencers and make the process go smoothly.
The best part is that you can use their influencer database for free, unlike other tools for collaborating with brands.
Why are you waiting then?
Sign up today and supercharge your influencer marketing and brand collaborations like never before.
3. Writesonic: Free AI Writing Tool
The platform has lots of templates and tools that make it easier for users to write. WriteSonic is really helpful for businesses and individuals who want to get better at writing and creating content more quickly.
WriteSonic is an option if you want a solid alternative to ChatGPT with a helpful AI copywriting tool.
WriteSonic Pros
Generating reports with live data from the internet.
Offering free trials.
Coming with a plagiarism checker.
Giving recommendations for how to structure sentences, the tone to use, and which words to choose.
Offering a user-friendly interface for inputting your ideas.
WriteSonic Cons
Tutorials are not available even though most things are easy to understand.
It's unclear which option provided the complete blog post.
Certain parts of Writesonic may feel overwhelming because there are many different features to explore.
There may be some limitations in generating very specific or technical content at times.
Read Also: 5 Best Instagram Hashtag Generators in 2023: Pimp Your Activity on IG
4. Midjourney: Online Artwork AI Tool
Are you searching for a logo for your business, artwork for a project, or a picture for a report? One helpful option is to use an online AI tool such as Midjourney.
This AI image creator allows you to describe the kind of image you need by typing in words. In response, the website provides you with four excellent and detailed images.
Midjourney Pros
It offers free trials.
It will improve customer satisfaction (it offers personalized responses, enhancing customer satisfaction and loyalty).
It offers comprehensive analytics (Its analytics dashboard monitors and analyzes customer interactions, providing valuable insights for improvement).
It's a customizable AI Tool (allowing businesses to customize the platform according to their specific needs and requirements).
Midjourney Cons
It's not easy to use.
It's confusing to sign up on Midjourney.
It has limited human interaction.
Integrating Midjourney with other tools and systems is so challenging.
5. Repl.it: Code Generator AI Tool
It is a tool that helps developers create and handle web and mobile apps, APIs, and other applications. Repl.it includes a feature that automatically hosts the applications, making it easy for organizations to share live links with clients or internal teams.
Repl.it also allows teams to collaborate effectively. They can work on multiple projects, write, test, and fix code, make notes, invite team members, communicate through live chat, and share pieces of code or documents. It offers various useful features like multiple-user access, instant updates, compliance management, customizable templates, code suggestions, and more.
Repl.it Pros
This is an online browser tool. No need to install anything.
Extensions are simple to 'install'.
You can ask any coding or related questions.
It also supports Linux.
Repl.it Cons
It's hard to use it.
It's not a fast AI Tool.
It requires a guidebook to help you debug.
Read Also: Top 7 Social Media Calendar Tools to Streamline Your Content Strategy
6. Synthesia: Video Generator AI Tool
It is a special computer program that uses artificial intelligence to make videos with cartoon characters. Synthesia is really quick and easy to use, and you can make videos that look like they were made by professionals. 
All you have to do is type out what you want the character to say, and Synthesia takes care of the rest. It even creates a voice that matches the text and shows the character speaking. It's like having two amazing tools at one!
Synthesia is one of the AI marketing tools that provide high-quality avatar videos for big companies and marketing teams. These videos are used for presentations, help documents, and other purposes to improve communication and get people interested.
Synthesia Pros
The videos are of high quality and downloadable.
AI features make it easy for non-professionals to create attractive videos.
It offers various features for personalizing basic designs.
It is useful for short promos, teasers, and corporate videos.
Synthesia Cons
The Personal plan has a limit on the number of videos you can make.
It doesn't provide API access, which restricts video generation.
However, it can't match the quality of videos created by professional production teams.
7. Soundraw: Music Generator AI Tool
It is a cool tool that helps creators make music. Using Soundraw, you can create songs that go well with your content in just a few minutes, even if you don't know much about music composition!
Automatic music generator – produces AI music without copyright restrictions. It's capable of generating music based on your desired music genre, instruments, mood, and length.
Soundraw Pros
This AI music generator is fast, which saves time and effort for composers and producers.
It can be trained and tailored to create music in a particular genre or style, simplifying the production of music that fulfills specific needs.
AI music generator has the ability to generate distinct sounds and compositions that traditional music production methods cannot achieve.
Soundraw Cons
However, AI-generated music might lack the emotional depth and subtle qualities that human-created music often has.
AI music generators still have limitations regarding sound quality and musical structure, resulting in music that is less intricate compared to compositions by human composers.
8. Fliki: Text-to-Audio Maker AI Tool
It is an AI Tool that is used to transform written words into excellent audio. Fliki can even gather pictures and videos from various places like blogs, and combine them with audio to make basic voiceover videos. The creators of the famous Rytr AI writing software are the ones who developed Fliki.
Fliki revolutionizes how TikTok influencers, content creators, marketers, and businesses can make captivating videos from written text and images, enhancing their ability to tell stories effectively.
Read Also: TikTok Marketing Guide: How to Use TikTok to Grow a Business in 2022
Fliki Pros
You can try it out for free forever, and you don't need to provide credit card information.
You can host as many podcasts and audiobooks as you want.
You can customize how words are pronounced.
You can upload your own music or sound effects.
Fliki Cons
There is no audio analytics available.
You can't share and collaborate with team members.
Read Also: Top 10 Business Analytics Tools in 2023
9. SlidesAI: PPT Generator AI Tool
It is a helpful tool that can transform any written content into a visually appealing slideshow. SlidesAI is perfect for busy professionals who want to create impressive slides quickly. With SlidesAI, you'll get a captivating presentation with bullet points and images. 
They have a wide range of templates to choose from, making it easy to create slides for various occasions. You can customize the templates to suit your specific requirements. Additionally, if you use Google Slides, SlidesAI seamlessly integrates with it, making the process even simpler.
SlidesAI Pros
It makes presentations easier and quicker to create by automating tasks like editing, layout design, and content suggestions.
You can customize the appearance and content of your slides to suit your preferences, promoting unique ideas.
It enables multiple people to work on a presentation simultaneously, facilitating group projects and remote collaboration.
And, it maintains a consistent visual style across all slides, particularly useful when collaborating with others.
SlidesAI Cons
It has limited fresh ideas or eye-catching designs, resulting in boring and forgettable illustrations.
It may require assistance to comprehend complicated information.
It's a dependent tool that constantly relies on a stable internet connection and is susceptible to technical issues and errors.
This can be a significant disadvantage, particularly for critical or time-sensitive presentations.
10. Remini: Photo Editing AI Tool
It is an AI-powered app that improves old and blurry photos. Remini uses AI to fix faded and damaged photos, making them clearer and more vivid. It can remove scratches, cracks, and other flaws, letting you relive your memories in a fresh way.
Remini can sharpen blurry photos, making them clearer. It's great for pictures taken in dim lighting or with shaky hands. Additionally, it uses AI to enhance the color of your photos, making them livelier and more realistic. It can also fix color issues caused by artificial lighting.
Moreover, The app reduces noise in photos, making them smoother and clearer. It's particularly useful for pictures taken in low light or with a high ISO setting.
Remini Pros
It creates high-quality pictures.
It offers a user-friendly interface.
It is value for money.
It provides face correction in editing (making sure that the end result shows the person's face clearly and accurately).
Remini Cons
It takes a long time to load.
Despite paying for a subscription, the app is displaying ads once more.
And, it has some technical issues (facing mistakes when using the app).
11. Pictory AI: Video Creator AI Tool
It is a special program that uses artificial intelligence to make amazing videos with logos or brands. You just need to give Pictory AI a website address where your writing is published, and it will use its smart computer systems to find the important parts. Then, it can add voices and pictures to make a video that is really great and ready to share with others.
It makes short videos, videos with ready-made clips, background music, and computer-generated voices.
Pictory AI Pros
Easy to use for both beginners and experts.
It offers features like video captions and the option to include voiceovers, music, and pictures.
You can try it out for free.
Accessible through the cloud, so you can use it from different computers.
Pictory AI Cons
Customizing videos is limited and not very flexible.
The features in the free trial and standard plan might not be sufficient, especially for beginners.
The AI voices may not always sound natural.
It only supports the English language.
12. Wordtune: Writing and Editing AI Tool
This tool assists writers in rephrasing sentences in various ways while considering the original context. Wordtune harnesses the power of artificial intelligence to aid in writing with greater clarity. 
Imagine it as a writing assistant that works behind you, refining your text to make it sound clearer, more engaging, and more genuine. Wordtune tools are helpful for writing various types of content, including documents, emails, and instant messages.
Wordtune Pros
It offers a free plan for you to use.
It's simple and user-friendly.
You can use it on your computer or as an extension in your web browser.
Wordtune Cons
Its Mobile app is not accessible.
You cannot use it without an internet connection.
There is no application for computers.
13. Kickresume: Resume Writing and Editing AI Tool
Kickresume stands out as one of the most user-friendly and cost-effective resume builders on the market. 
Kickresume acts as your personal resume writer and uses the powers of artificial intelligence and GPT-4 to automate the resume writing process. In other words, it allows you to quickly generate a compelling draft of your resume, custom-tailored to your job title. It also offers a similar tool for crafting cover letters.
What's more, once your draft is finalized, Kickresume's resume checker tool will scan your resume for errors and benchmark it against other successful resumes in its database.
Ultimately, you're almost guaranteed to end up with a persuasive and visually striking resume that will get you invited to job interviews.
Kickresume Pros 
Easy to use and affordable.
Has a free plan for basic resume creation.
Offers an AI-powered resume writer and resume checker.
35+ customizable resume templates and matching cover letter templates.
Kickresume Cons
Limited AI credits in the free plan.
Advanced templates are not available in the free version.
FAQs on AI Tools
Now, it's time to take a look at some frequently asked questions regarding the best AI Tools on the market.
1. How Can AI Business Tools Make More Productivity?
AI helps you work faster by doing repetitive tasks like formatting and data entry. It saves you time, so you can focus on important and creative parts of your job. For example, AI tools can format documents or enter data automatically, following set guidelines.
This keeps everything consistent and professional. You can also use AI to create tables for WordPress or follow HTML patterns for content templates. Just give it the instructions, and it will generate the table or template you need.
2. Can AI Tools Increase Efficiency?
Definitely! AI can help improve efficiency in different areas of life, like business, decision-making, and research. This is done by:
Automating repetitive tasks,
Analyzing big sets of data,
And, providing predictions.
AI can help businesses operate smoother, make smarter choices, offer personalized experiences, and predict future trends.
To Wrap Things Up
AI tools have changed how we do things and solve problems. They are extremely useful in many industries, making tasks easier and improving decision-making. By using AI, businesses, and individuals can become more efficient and innovative.
To boost your influencer marketing, consider partnering with Ainfluencer. This advanced collaboration AI tool helps brands find the right influencers, analyze their impact, and improve campaign performance.
Sign Up Today and don't miss the chance to expand your brand's reach and engagement.