From skincare routines to makeup tutorials, Instagram beauty influencers have something for everyone. As of 2023, the beauty and makeup industry continues to evolve, and new influencers are emerging all the time.
The popularity of beauty influencers has grown rapidly especially in recent years, with the rise of social media platforms such as Instagram, YouTube, and TikTok. The widespread use of these media has allowed beauty influencers to reach large audiences. On the other hand, companies have been looking for the best influencer marketing platforms to expand their products and services.
The popularity of beauty influencers continues to grow, as they help millions of people around the world up their beauty game! Beauty influencers have become an important part of the beauty industry, and they continue to shape the way that people think about beauty, fashion, and lifestyle.
Ainfluencer is a great marketplace that allows businesses to find influencers in every niche. Using this platform, companies can find and reach out to their target influencer in a safe environment. In addition to that, it also helps influencers to make offers and find relevant deals.
Who Are Instagram Beauty Influencers & What Do They Do
Instagram beauty influencers are a unique breed of creators who have risen to prominence by sharing their expertise and passion for all things beauty on the platform. They range from makeup artists and estheticians to bloggers and models, all with one common goal: to help their followers look and feel their best.
They share their personal experiences, tips, and product recommendations with their followers, who often look to them for inspiration and guidance.
Beauty influencers are popular for several reasons:
Authenticity: Many beauty influencers have built their reputation by being relatable and transparent about their experiences with beauty products.
Expertise: They have years of experience and training in the beauty industry, making them trusted sources of information and inspiration for their followers.
Visual appeal: The beauty industry is highly visual, and beauty influencers take advantage of this by creating visually appealing content, showcasing their skills, and promoting products through tutorials, demos, and product reviews.
Accessibility: Beauty influencers make it easier for their followers to discover and purchase new beauty products, as they often share links and promotions in their posts and stories.
With their massive followings and loyal fan bases, Instagram beauty influencers have become some of the most influential voices in the beauty industry, driving trends, and shaping beauty standards.
List of the Best 12 Beauty Influencers to Follow
Need some inspiration for a special occasion or just a night out? These Instagram beauty influencers have got you covered! They have a large following on Instagram and are considered to be experts in the beauty and makeup industry.
Many of them have also built successful careers as entrepreneurs, launching their own makeup lines and collaborating with major beauty brands.
#1 Huda Kattan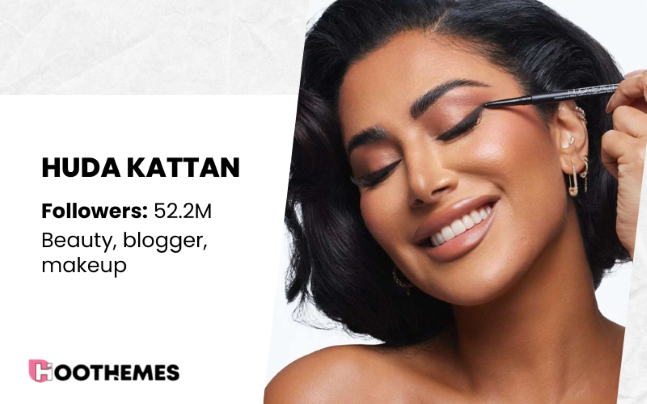 Huda Kattan is a beauty mogul and founder of Huda Beauty, one of the most popular makeup brands in the world with 52M followers on Instagram. With her fierce passion for makeup and empowering women, Huda has become an icon in the beauty industry and an inspiration for aspiring entrepreneurs.
#2 James Charles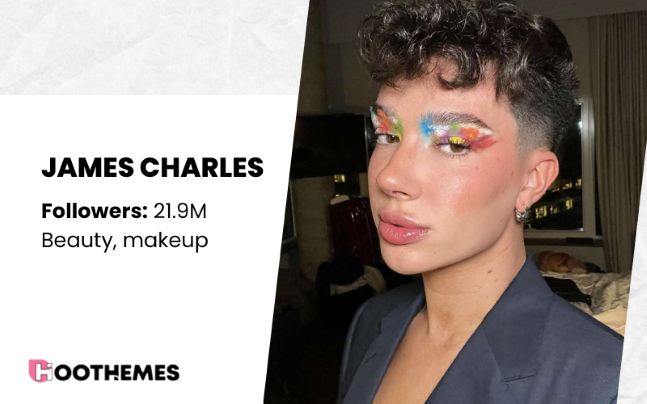 James Charles is a beauty influencer and YouTube personality who rose to fame for his stunning makeup looks and bold personality. He made history as the first male ambassador for CoverGirl cosmetics and has since become one of the most popular and influential beauty gurus on social media.
With his impressive skills and unique perspective on beauty, James Charles has captured the hearts of millions of fans around the world and has more than 21M followers on Instagram.
#3 Jackie Aina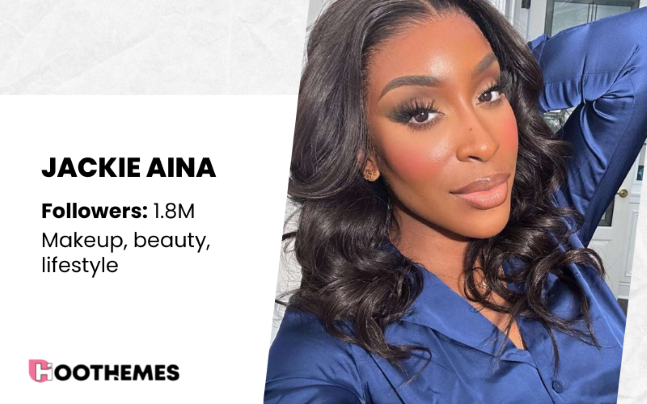 Jackie Aina is a beauty influencer and content creator who has made a name for herself by promoting inclusivity and diversity in the beauty industry. With her bold personality, outspoken nature, and expert makeup skills, Jackie has become a powerful voice for people of color and has inspired countless others to embrace their unique beauty.
From her YouTube channel to her own makeup line and almost 2M followers on Instagram, Jackie Aina continues to pave the way for a more inclusive and representative beauty industry.
#4 Nikkie de Jagers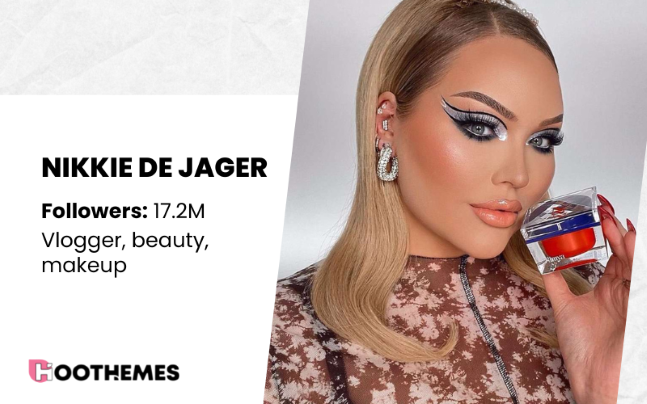 Nikkie de Jager, also known as NikkieTutorials, is a Dutch makeup artist and beauty influencer who is best known for her incredible makeup skills and candid personality. She gained international fame after her video "The Power of Makeup" went viral, showcasing the transformative power of makeup.
Since then, she has become one of the most influential beauty gurus on social media, using her platform to inspire and empower her millions of fans around the world. With her impressive talent and infectious energy, Nikkie de Jager has become a force to be reckoned with in the beauty industry.
#5 Jeffree Star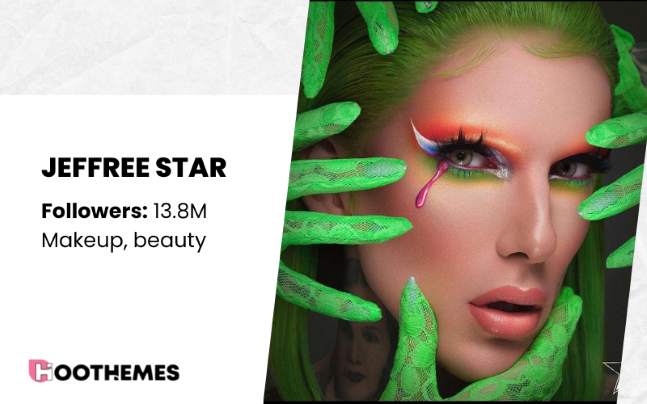 Jeffree Star is a controversial beauty mogul and entrepreneur who has gained a reputation for his edgy personality and successful makeup brand. He first gained fame as a musician and MySpace personality before transitioning to the beauty industry, where he has amassed a massive following for his stunning makeup looks and provocative persona.
Despite his controversial reputation, Jeffree Star continues to push boundaries and inspire his fans with his bold style and unwavering dedication to the beauty industry.
#6 Kathleen Lights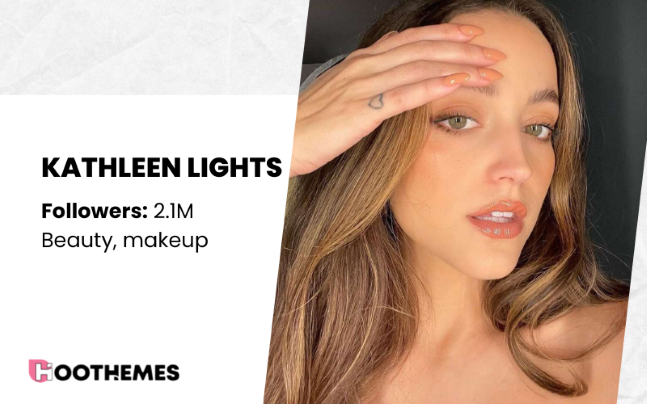 Kathleen Lights is a popular beauty influencer and YouTube personality who is known for her down-to-earth personality and expert makeup skills. With her warm and relatable demeanor, Kathleen has gained a loyal following of fans who appreciate her honest product reviews and fun tutorials.
She has collaborated with major beauty brands and has even launched her own successful makeup line. With her impressive talent, Kathleen Lights continues to be a beloved figure in the beauty industry.
#7 Tati Westbrook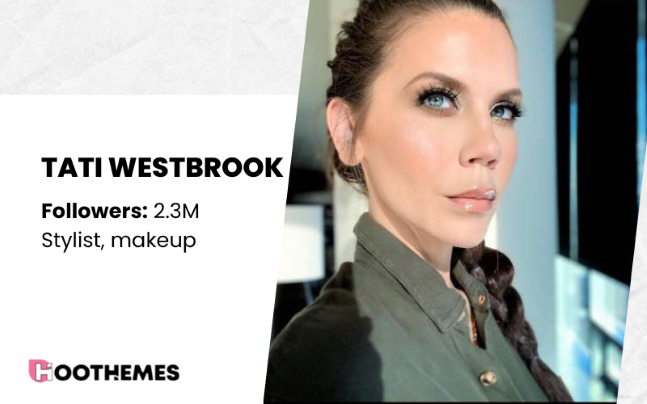 Tati Westbrook is a YouTube beauty guru who became famous with her expert makeup tutorials and product reviews. Known for her glamorous looks and honest opinions, Tati has amassed a huge following of beauty enthusiasts who hang on her every word when it comes to the latest beauty trends and must-have products.
But Tati is more than just a makeup maven – she's also a savvy businesswoman who has launched her own successful beauty brand.
#8 Pat McGrath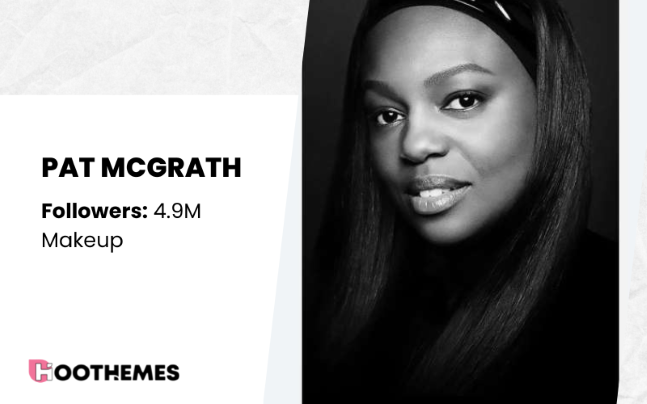 Pat McGrath is a legendary makeup artist who has been at the forefront of the fashion and beauty industries for over two decades. Known for her bold and innovative makeup creations, Pat has worked with the world's top designers and models, creating iconic looks for the runway and beyond.
Pat is also a successful entrepreneur who has built a multi-million dollar beauty empire with her eponymous makeup line, Pat McGrath Labs, which has been praised for its high-quality, highly-pigmented products and boundary-pushing shades.
#9 Miss Darcei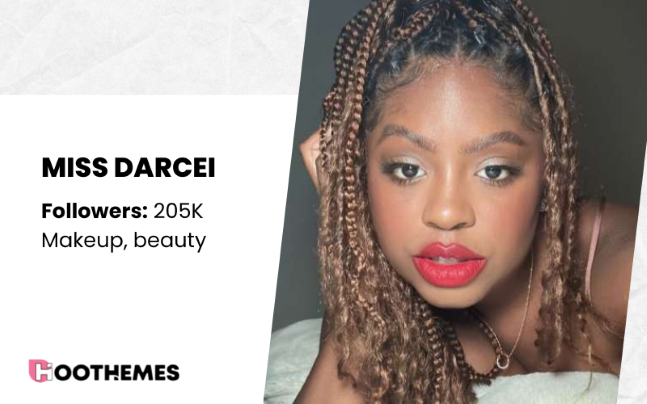 Miss Darcei is a YouTube personality and beauty influencer who has become a beloved figure in the beauty community thanks to her expert makeup skills. With a focus on creating bold and colorful looks, Miss Darcei's tutorials and reviews have earned her a devoted following of beauty enthusiasts who love her fearless approach to beauty.
Miss Darcei is also a role model and advocate for inclusivity and diversity in the beauty industry, using her platform to uplift and empower underrepresented voices in the community.
#10 Sonia X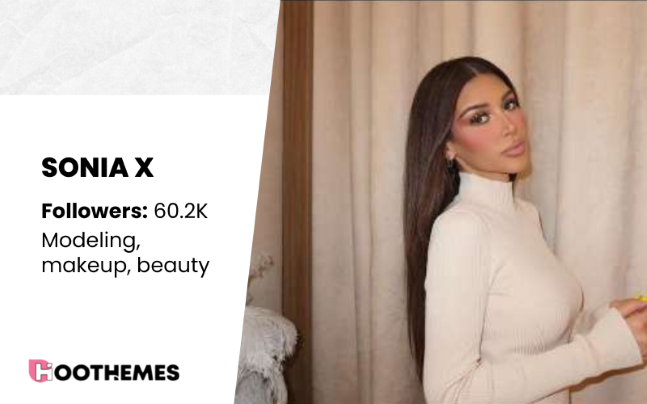 Sonia x is a popular social media influencer and fashion blogger who has taken the fashion world by storm with her impeccable style and eye-catching content. With a focus on bold and colorful looks, Bysoniax's fashion tips and outfit inspiration have earned her a huge following of fashion lovers who turn to her for inspiration and guidance when it comes to all things style.
She has also collaborated with some of the biggest names in the fashion and beauty industries, proving that she's a force to be reckoned with both on and off social media.
#11 Irene Sarah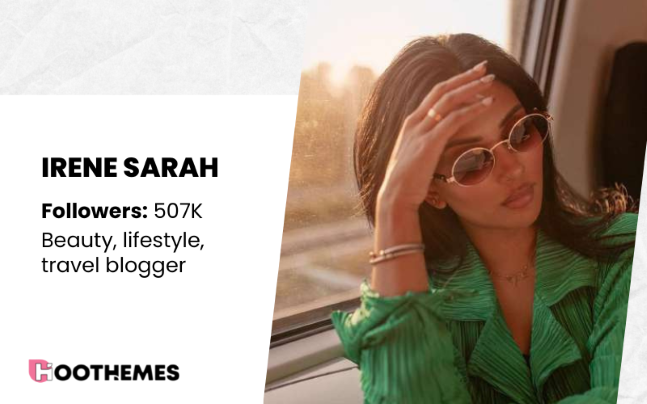 Irene Sarah is a multi-talented content creator and influencer who is well-known in the fashion, beauty, and travel spheres with her stunning visuals and captivating personality.
With a keen eye for style and aesthetics, Irene's fashion and beauty content is highly sought after, and her travel vlogs and guides offer a glimpse into some of the world's most beautiful and exotic destinations.
In addition to being a content creator – she's also a philanthropist and activist who uses her platform to raise awareness for important social issues and give back to her community.
#12 Tenny Coco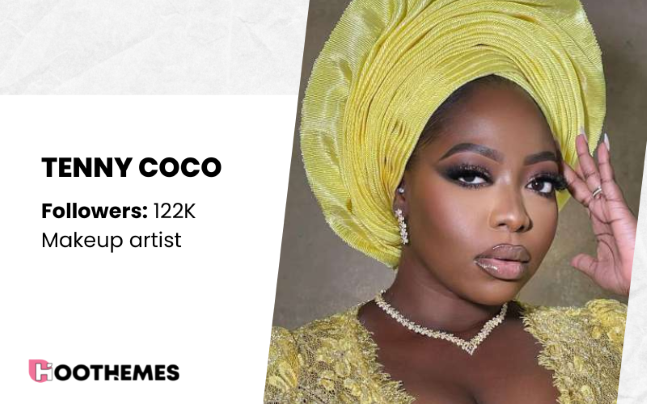 Tenny Coco is a rising star in the fashion and beauty world, known for her unique sense of style and bright personality. With a focus on bold and edgy looks, Tenny's fashion content has gained a huge following of fans who love her fearless approach to style.
Her beauty tutorials and reviews are also highly popular, thanks to her expert knowledge and engaging personality.
Why Use the Top Instagram Beauty Influencers
Brands use beauty influencers to promote their products for several reasons:
Targeted reach: Beauty influencers have a large, engaged following that is interested in beauty-related topics, making them a highly targeted audience for beauty brands.
Trust and credibility: Beauty content creators have built a strong relationship with their followers based on trust and credibility, which can translate into trust for the brands they promote.
Word-of-mouth marketing: makeup artists can help generate word-of-mouth marketing by creating excitement and buzz around a product, and encouraging their followers to try it.
Engagement: influencers are known for their ability to generate high levels of engagement, such as comments, likes, and shares, which can help to increase visibility and reach for the brand's products.
Product demonstration: makeup gurus often create content that demonstrates the use and benefits of a product, giving followers a hands-on experience and helping them to better understand the product.
By partnering with beauty influencers, brands can tap into their engaged and relevant audience, and benefit from their expertise, credibility, and influence in the beauty industry.
How to Find Instagram Beauty Influencers
Here are some ways to help you find influencers to collaborate with:
Search hashtags: Use hashtags related to beauty and makeup such as #beautyblogger, #makeupartist, #beautycommunity, etc.
Explore related accounts: Look at the followers and following lists of popular beauty accounts, you may find new accounts that you like.
Use Instagram's "Discover" feature: Instagram's discover feature suggests accounts based on your interests and activity, this can be an excellent place to find new beauty influencers.
Look at brand partnerships: Check out the accounts of beauty brands and see who they have partnered with for product promotion, these individuals may be influencers in the beauty space.
Google it: You can use search engines to find lists of top beauty influencers, this can be a quick way to discover new accounts.
Aside from these methods, there's another way to find beauty influencers who match your interest much easier and faster. Our ultimate recommendation: Ainfluencer!
Ainfluencer: The Best Free Influencer Marketing Platform
Now let's get familiar with one of the best influencer marketing platforms! Ainfluencer is a third-party service that helps connect brands with influencers for sponsored content and marketing campaigns.
For example, a brand looking to launch a new makeup line may use Ainfluencer to find beauty influencers with large following and high engagement rates who are interested in promoting cosmetics. This platform provides a list of influencers based on the brand's specific criteria, such as geographic location, target audience, and previous collaborations.
The brand can then reach out to the selected influencers to propose a collaboration, negotiate rates, and provide guidance on content creation and campaign goals. Ainfluencer also offers tools for managing the collaboration process, including contract management, content approvals, and performance tracking.
Influencers can also use Ainfluencer to connect with brands and find collaboration opportunities. This platform allows influencers to create a profile that showcases their social media presence, niche, interests, and collaboration preferences.
By creating a comprehensive and appealing profile on Ainfluencer, influencers can increase their chances of being discovered by brands and receiving collaboration offers.
Influencers can also use this platform to apply for specific campaigns or opportunities that align with their interests and niche. Now let's learn more about Ainfluencer services.
Influencer Discovery
Ainfluencer uses algorithms to search for influencers who match the brand's specific criteria, such as follower count, engagement rate, niche, geographic location, and more.
Campaign Management
Once an influencer has been selected, the platform provides tools to help manage the collaboration process, including communication, contract management, content approvals, and performance tracking.
Performance Tracking
Ainfluencer provides analytics and data to help brands measure the success of their campaigns, such as engagement rates, reach, and impressions.
Payment and Negotiations
This platform offers tools to help facilitate payment and negotiate rates between brands and influencers. This service is especially helpful when collaborating with your target influencers.
So make sure to Sign up today for FREE and enjoy a smooth journey to success!
FAQs on the Best Instagram Beauty Influencers
With so many influencers to choose from and so much information out there, it can be hard to know where to start. That's why we've put together this FAQ section to answer some of the most common questions people have about Instagram beauty influencers.
1- Who Is the Most Popular Beauty Influencer on Instagram?
As of 2023, the most popular beauty influencer on Instagram is Huda Kattan, a Dubai-based makeup artist, beauty influencer, and entrepreneur. She has over 52 million followers on the platform and is known for her makeup tutorials, beauty tips, and product reviews.
Huda has built a global beauty empire, with her own line of cosmetics, false lashes, and beauty tools, and is widely considered to be one of the most influential voices in the beauty industry.
Other popular Instagram beauty influencers include James Charles, Jackie Aina, Nikkie Tutorials, and Jeffree Star.
2- How Much Does It Cost to Collaborate with Instagram Beauty Influencers?
The cost of collaborating with Instagram beauty influencers can vary widely depending on several factors, such as the influencer's reach, engagement rate, niche, and popularity.
The average cost for a sponsored post from a top beauty influencer with millions of followers can range from $10,000 to $100,000 or more, but the cost can be significantly lower for influencers with smaller followings.
Additionally, some beauty influencers may offer a range of collaboration options, such as sponsored posts, product reviews, giveaways, and brand ambassadorship, and the cost can vary depending on the type of collaboration and the level of involvement required.
It's also important to keep in mind that while working with a popular beauty influencer can offer significant reach and visibility, it's not the only consideration when evaluating the cost-effectiveness of a collaboration.
Brands should also consider factors such as the relevance of the influencer's audience to their target market, the influencer's engagement rate and level of influence, and the goals and objectives of the collaboration.
Ultimately, the cost of collaborating with a beauty influencer will depend on several factors, and brands should carefully consider their budget, goals, and target audience when deciding on the best influencer to work with.
3- How Do Influencers Get Paid?
Influencers typically get paid through sponsored content, brand collaborations, affiliate marketing, and product sales. Here are the most common ways that influencers are paid:
Sponsored content: Brands may pay influencers to create and share sponsored posts on their social media accounts, promoting the brand's products or services. This can include posts on Instagram, TikTok, YouTube, or other platforms.
Brand collaborations: Influencers may collaborate with brands on projects or campaigns, such as product launches, event promotions, or content series. This can include everything from product reviews to exclusive events, and influencers may be paid a fee, receive a percentage of sales, or receive free products.
Affiliate marketing: Influencers may earn a commission for promoting a brand's products through affiliate marketing. They provide a unique link to the product, and when their followers make a purchase through that link, the influencer earns a commission.
Product sales: Some influencers have their own product lines, such as beauty or fashion products, and earn money from the sales of their products.
Influencers may receive payment in the form of money, products, or a combination of both, and the amount they earn will depend on several factors, such as the size of their following, their engagement rate, and the type of collaboration.
4- What Are Some Best Practices for Working with Instagram Beauty Influencers?
To ensure a successful collaboration, it's important to set clear expectations upfront and establish open communication with the influencer. You should also provide them with clear guidelines and creative direction, and give them the freedom to create content that aligns with their personal brand. Finally, don't forget to disclose sponsored content to maintain transparency with your audience.
Wrap-up
In conclusion, the beauty industry has been transformed by the power of social media, and Instagram has become a key platform for influencers to share their expertise, creativity, and passion for makeup, skincare, haircare, and more.
We've highlighted some of the best beauty influencers on Instagram who inspire us with their unique perspectives, innovative techniques, and stunning looks. From the glamorous to the natural, these influencers have something for everyone, and we hope they continue to inspire and empower their followers to embrace their individual beauty.
So whether you're looking for tips on how to perfect your winged liner or want to discover new products to add to your beauty arsenal, these 12 Instagram beauty influencers are definitely worth following.