Have you been looking for the ideal music influencer to showcase your products?! Or are you just wondering who's the best music influencer to follow for inspiration?! Whatever your purpose may be, following awesome Instagram and TikTok music influencers help you access a wide range of incredibly rich content!
With the rise of social media and the widespread popularity of the content bloggers shared on each platform, music influencers have also received considerable attention from users. They can share content that will never fail to entertain its viewers for hours on end, and they could also use the opportunity at hand to spread awareness and promote practical products in the niche!
This immense popularity is the reason why so many brands are eager to partner with these bloggers on influencer marketing platforms!
In this article, we'll provide a list of the top 15 music influencers on Instagram and TikTok! Going through this list, you will understand who to follow for inspiration and which music influencer can help with promoting your products! Now, let's get started.
Before we begin: If you're a business owner, trying to find the best music influencers to promote your services, you don't need to go through with this list! Ainfluencer as a marketplace for both brands and businesses will help you filter and find influencers based on your own criteria. Then, you can start a safe collaboration with your chosen crowd. Don't forget to sign up for free to get instant access to all the best influencers in your industry!
But first, let's learn about music influencers and some basics in this regard!
Who Are Music Influencers
Influencers in the music industry or any other field are social media users who have a large audience and earn money by creating engaging content and sharing it with their followers. You may assume that all music influencers are celebrities, but anyone who seeks an audience in the music industry and would like to have an impact on their fans can be considered a music influencer.
That is, some Instagram music influencers are famous and well-known celebrities. This group includes singers, musicians, actors/actresses, athletes, etc. On the other hand, others have become an influencer through continuous activity on social media, producing attractive content, and managing them to attract their target audience.
Now that you know who a music influencer is, what content they share, and how they've come to their position, let's find out where you can find them to make a customer-centric marketing experience!
How to Find a Music Influencer on Instagram
There are different ways to find a list of the best influencers in any field, including manually searching on google or social media with hashtags. But as a marketer, you're probably overloaded with tasks and activities that need your immediate attention; you have no time to search for names!
So, in your busy schedule, you need to be able to identify influencers conveniently and contact them easily to make a deal and promote your brands.
Ainfluencer is a smart and secure influencer marketplace that helps both brands and influencers to find and contact each other easily. Using this influencer marketing platform, you can eliminate all risks involved in the payment process.
With the help of this free influencer marketing platform, both brands and influencers can safely manage payment contracts. If you can't wait to find the best music influencers on Instagram, go ahead and sign up on Ainfluencer right now!

Now, let's take a look at the list of music influencers we've prepared for you. Ready?!
Top Music Influencers on Instagram
This famous social media platform endorses different careers, including the music industry which is widely embraced by users! The list below features 15 of the best music influencers from all countries and genders out there today. Keep reading to get to know them!
Let's begin our discussion with:
1. Selena Gomez (@selenagomez): Most Popular Music Influencer
There is no one who doesn't yet know about her music, talent, and artistic capabilities. Selena is a famous and popular American singer and actress who is on the top list of Instagram influencers when it comes to the music realm. She often shares pictures of herself and posts about current political and social issues. Besides her music, however, she also advertises cosmetic or beauty products. Now, she also shares content about her own beauty brand 'Rare Beauty'.
Try not to roll out your eyes too hard when you hear her follower count! This American singer entertains over 374 million followers! Yeah, you read it right! And the majority of her followers live in the United States, giving her an authentic engagement. She is also active on TikTok, sharing short videos of her new releases.
So, if you're wondering how to grow your Instagram followers in the music niche, don't hesitate and partner with mega-influencers like Selena or others listed below!
2. Ariana Grande (@arianagrande)
She is a young American singer who has many fans these days. In addition to her activity in the music industry, she is also an actress. Grande currently has over 354 million followers on her Instagram page, turning her into one of the biggest mega-influencers in music.
On her Instagram page, you can see photos of herself and her friends. She has an incredible influence on her followers, and her Instagram engagement rate is about 1.15%. She also has a TikTok account on which she shares videos of herself as well as promotional content for cosmetic products.
3. Beyoncé (@beyonce): Fashion/Music Influencer
@Beyonce is one of the most famous American singers who also works as an actress and fashion model. She is one of the best-selling singers in history and has won 22 Grammy awards during her career.
Beyonce currently has 293M followers on Instagram and is considered a music mega-influencer on this social media platform. You can see photos of her different styles on her Instagram and TikTok accounts. Her 'Cuff It' track was so catchy that it led to a dance challenge on TikTok. If you're interested, you can search the hashtag #cuffitchallenge on TikTok, see the videos, and try it! 😜
4. Taylor Swift (@taylorswift)
Taylor Swift is a woman that needs no introduction! She is a famous American singer and actress who is one of the most popular artists in the world.
Taylor's Instagram page currently features over 243M followers. As for her activities on Instagram, she shares personal photos of herself and content about her artistic activities. She is best known for her TikTok trend 'Mastermind' which is led by her song with the same name.
5. Miley Cyrus (@mileycyrus)
Cyrus, born in 1992 in America, is known as a singer and actress. She entered this profession in childhood and reached world fame at the age of 11. She works in different genres of music, including pop, country pop, hip-hop, and rock.
Miley Cyrus's Instagram page has over 195M followers, and she shares photos of her various styles, concert moments, and music videos with them. Her favorite gesture is 'tongue out' for which she's famous!
6. Katy Perry (@katyperry)
She is one of the famous American music influencers on the Instagram platform with 189M followers and over 2,000 posts. She followed the music industry seriously from the age of 15 and after that, she started writing songs with her own musical style. Head on over to her Instagram to see her gorgeous posts!
7. LISA (@lalalalisa)
Lalisa Manobal (LISA), a Thai singer and dancer, is a member of the Korean girl group 'Blackpink.' In 2018, she started as a model in the South Korean cosmetics brand 'Moonshot.' Now, she is working as a musician in South Korea.
With approximately 87.5M followers, Lisa has shared 945 photos of herself with different styles. her Instagram page has 5.9M authentic engagements, which is a good number for communicating in the virtual world. Moreover, you can also discover her videos on her TikTok account with 13.5M followers.
8. Billie Eilish (@billieeilish)
Although Billie's a relatively new name in the music industry, rarely can you find a teenager who hasn't heard her unique music! This American pop superstar and songwriter officially entered the music industry in 2015 and has gained many fans since. What's more, this music influencer has won the hearts of millions of people of all ages!
Billie Eilish has currently 108M followers and 751 posts on Instagram. Her authentic engagement is about 5.9M and her Instagram page has a 7.7% engagement rate. You can also watch this music influencer's videos on her TikTok (@billieeilish) official page.
9. Justin Bieber (@justinbieber)
Is there any living soul who hasn't yet heard of this guy?! I don't think so! Justin is a Canadian singer and songwriter who started singing at the age of 15 and became famous after releasing an album and several songs. Justin has more than 275M followers on Instagram and is considered as one of the top music industry influencers.
He has already shared 7,395 posts with his audience; mostly pictures of himself, his daily activities, and music videos. His authentic engagement is about 1.1M with a 0.54% engagement rate. He is also known for some of his trending videos on TikTok that people love to groove to! Interested to watch his videos and posts on TikTok, search his name on to watch his latest videos.
Are you ready for the first rapper on the list?!
10. SUGA of BTS (@agustd)
He was born in 1993 in Seol and became interested in rapping after listening to 'Reggae Muffin". Now, He is the lead rapper of BTS. This musician learned to play Piano by himself and he loves photography.
With 42.5 million followers, this rapper has shared only 91 posts and photos of himself and concert images. his Instagram page has about 20% engagement rate and the average like and comment count under his posts are 8.5M.
11. Cardi B (@iamcardib)
Cardi B is an American rapper who first got the world's attention with her frank attitude about life as a stripper. In the fall of 2015, this music influencer introduced herself for the first time on a remixed single 'Boom Boom.' She posts stories and pictures of herself and fun memories for her audience to enjoy!
If you'd like to check out photos, Cardi B's Instagram page seems like a perfect match with 150M followers. In fact, she took over 150M hearts around the globe! She has also uploaded short videos on the TikTok platform that can touch your heart!
12. Shakira (@shakira)
Shakira is a packet of energy and is actually known for her lively content. She started her artistic activities in childhood and showed her talent in different dance styles. She entered the music industry as an adult and became famous with the release of her albums.
Currently entertaining over 81.8M followers, she has shared 2.056 photos and videos, with over 2.7M engagements. In case you want to watch her short dancing and singing videos, you can consider her videos on her TikTok account.
13. BTS Official (@bts.bighitofficial)
This music band is definitely amongst some of the top influencers that you should follow and collaborate with! This music group, also known as Bangtan Boys, is a South Korean music band formed in 2010. Their musical style has evolved to incorporate a wide range of genres and topics, including mental health, loss, individualism, self-love, and the sequence of fame and recognition.
Well, 71.1M people follow BTS on Instagram. Over 3.6% of these people, about 2.3M, leave comments and likes for this music band's Instagram posts. They already have shared over 1,200 posts from their concert images and videos, music videos, and their upcoming song. Search for @bts_official_bighit on TikTok to find more videos of these musicians.
14. Jennifer Lopez (@jlo)
She is one of the most famous people in Hollywood and is known as a singer, actress, producer, and TV personality. This musician found crossover success in music by releasing a series of pop albums.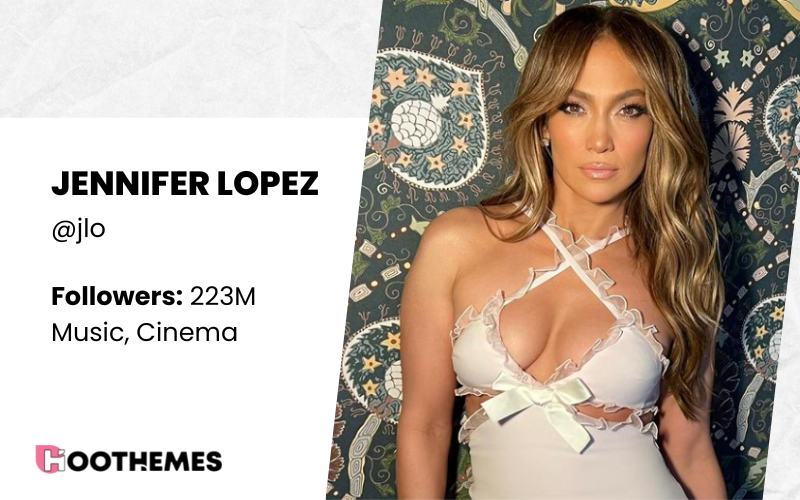 This popular music influencer has an Instagram account, where she shares pictures of herself, her family, and her daily activities. Her page currently has more than 223M followers and 238 posts. She shares different videos on her TikTok account.
15. Drake (@champagbepapi): Rap Music Influencer
Aubrey Drake Graham, known as Drake, is one of the top music influencers on Instagram and a famous Canadian rapper. He is also known as an actor, producer, and entrepreneur. Thanks to his memorable voice, this popular rapper has over 130M fans on Instagram.
He is one of the mega-influencers in the music industry. And as you can see on his social media, he promotes all kinds of products that go with his lifestyle.
FAQs on Music Influencers on Instagram
Now, it's time to take a quick look at questions that people also search when it comes to influencer marketing in the music industry.
1. Who Are the Top 10 Music Influencers on Instagram?
Here's a list of the biggest influencers in the music field on Instagram arranged by their follower count:
1. Selena Gomez
2. Ariana Grande
3. Beyoncé
4. Taylor Swift
5. Miley Cyrus
6. Katy Perry
7. LISA
8. Billie Eilish
9. Justin Bieber
10. SUGA of BTS
2. Who Is the Most Popular Music Influencer on Instagram?
Selena Gomez is the biggest and most popular music influencer with 374 million followers and 2.4 million authentic engagements.
3. How Do You Detect the Instagram Audience Location?
It can be detected by the analysis of influencers' active and engaged audience, who like and write comments. In some Influencer marketing marketplaces like Ainfluencer, you can also see the country where the majority of a particular influencer's audience lives.
4. What Is Authentic Engagement?
It's a metric that refers to the average number of organic likes and comments under each Instagram post.
Wrap-up on Music Influencer
So far, we've introduced some of the top music influencers on Instagram and provided you with information about each of them and their Instagram page. The influencers in this list are singers, musicians, rappers, actors/actresses, and even TV personalities who also have many fans in the real world.
When brands or companies connect with their target audience through influencers they hold dear, the audience is more likely to have some sense of loyalty to such brands. Therefore, partnering with a music influencer can be a great way of personalizing your brand campaigns.