In the age of the Internet and social media, user-generated content (UGC) has become a ubiquitous presence on the Internet. From social media platforms to online review sites, UGC is everywhere. But what exactly is UGC?
Simply put, it refers to any content that is created by users rather than by a company or organization. This can include everything from social media posts, to videos, to product reviews, and more. UGC has become a powerful force in shaping public opinion, driving brand awareness, and fostering online communities.
To support this trend, numerous UGC platforms have emerged, providing users with a platform to create, share, and engage with UGC. These platforms have transformed the way we interact with each other online, creating new opportunities for creativity, connection, and expression.
What Is User-Generated Content (UGC)
َAs we briefly mentioned earlier, UGC refers to any type of content, such as videos, photos, reviews, or comments, that is created and shared by users of a product or service. This content is typically created by individuals who are not affiliated with the company or brand that the content is about.
UGC is important for businesses and content marketing strategists because it allows them to leverage the power of their community to create engaging and authentic content.
By encouraging their customers to create and share content, businesses, and marketers can build stronger relationships with their audience and generate buzz around their products or services. Implementing UGC is best done as part of a wider push to create and orchestrate many types of promotional content effectively. If you are a novice regarding this process at the moment, using a content marketing strategy guide to get up to speed with impactful approaches is a good idea.
Overall, UGC is an effective way for businesses to engage with their audience and build trust with their customers.
UGC Examples
Users can use videos, photos, or written content to share their ideas about the product, service, or company. Examples of UGC include:
Customers posting photos of themselves using a product on social media,
Reviews and ratings of products or services on websites like Yelp or Amazon,
User-submitted content on websites, such as articles or blog posts,
Customers creating videos that showcase a product or service.
Content marketing services utilize UGC to promote brands, by leveraging various UGC platforms to gain the trust and attention of their audience. However, what are some examples of UGC platforms that content marketing companies can collaborate with? Here is the list of different types of UGC Platforms.
What Are the Different Types of UGC Platforms
There are various examples of UGC platforms, each designed to facilitate different types of user-generated content. Here are some of the most common types of UGC platforms:
1. Social Media Platforms
Social media platforms like Facebook, Instagram, Twitter, and TikTok are some of the most popular UGC platforms. They allow users to create and share various types of content, such as text, photos, and videos, with their followers and friends.
2. Review Platforms
Yelp, TripAdvisor, and G2 are other type of UGC platforms known as review platforms. Websites like G2 allow users to share their opinions and experiences about businesses, products, and services. Users can leave ratings, reviews, and comments, which can help others make informed decisions.
3. Video Sharing Platforms
UGC video platforms like YouTube, Vimeo, and Twitch are designed specifically for hosting and sharing videos. Users can upload and share their own videos, watch and engage with videos created by others, and comment on videos.
4. Crowdfunding Platforms
Crowdfunding platforms like Kickstarter, Indiegogo, and GoFundMe allow users to raise funds for various types of projects, such as creative endeavors, business ideas, and charitable causes. Users can create a campaign and promote it to potential donors.
5. Discussion Forums
Discussion forums like Reddit, Quora, and Stack Exchange allow users to ask and answer questions, participate in discussions, and share information on a variety of topics.
6. Photo Sharing Platforms
Photo sharing platforms like Flickr, and Pinterest are designed specifically for hosting and sharing photos. Users can upload and share their own photos, browse and engage with photos created by others, and comment on photos.
7. Gaming Platforms
Gamers also have their own UGC content platform. Gaming platforms like Twitch and Steam have become popular UGC platforms these days. Users can create and share their own gameplay videos and connect with other gamers around the world.
These are just a few examples of the different types of UGC platforms available. Each platform has its own unique features and community, making it important to choose the right one for your marketing strategies.
10 Best UGC Platforms for Your Brand
Before getting into the benefits of UGC and why you should use them, we'll introduce to to the leading UGC platforms in the marketplace. Are you ready for a ride? Let's go!
1. Ainfluencer
Ainfluencer is a totally free DIY influencer marketplace with thousands of influencers that help you generate UGC to promote your brand and products on Instagram and TikTok.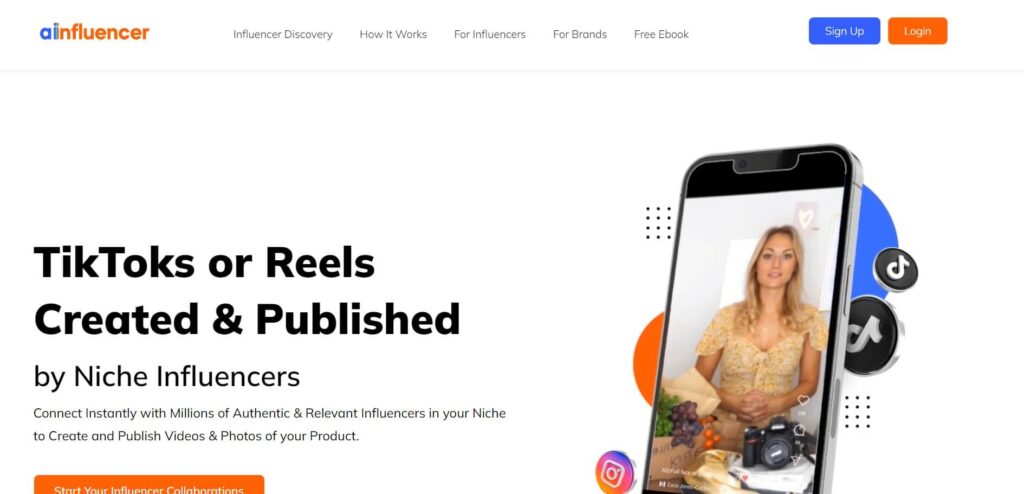 Using this Instagram influencer marking platform, you have the ability to filter influencers based on a variety of criteria such as location, related hashtags, language, gender, and number of followers.
This UGC platform provides a range of tools to help businesses manage their campaigns, such as campaign tracking, analytics, and influencer payment processing.
The platform also offers an AI-powered influencer recommendation engine, which matches brands with the most relevant and effective influencers for their target audience.
Ainfluencer is used by businesses of all sizes, from startups to large corporations, to increase brand awareness, drive engagement, and boost sales through influencer marketing.
Pricing: Ainfluencer is free for both brands and content creators.
2. Yotpo
Yotpo is a customer content marketing platform that provides businesses with a range of tools to collect, curate, manage, and analyze user-generated content.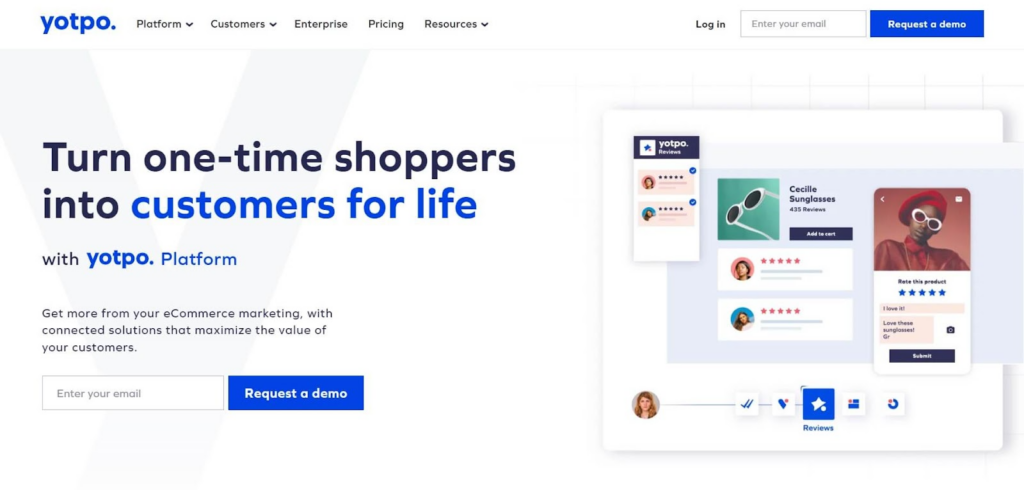 The UGC service allows businesses to collect and display reviews, ratings, and photos from their customers, which can help to build trust, increase customer engagement, and boost sales.
Yotpo's features include customizable review request emails, social curation tools, visual marketing tools, and analytics dashboards to track and measure the impact of customer content on business performance.
Pricing: Yotpo offers a free plan and it's premium plans start at $9/month.
3. Taggbox
If you're looking for a UGC platform, Taggbox might be an option. It allows you to collect user-generated content from different marketing channels and reuse it for various purposes.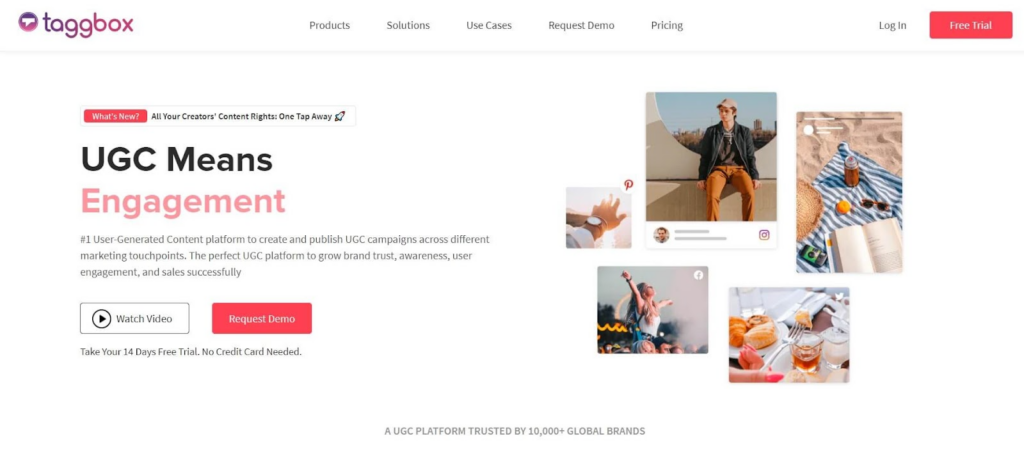 Taggbox enables brands to build a social media display wall for their physical stores. Additionally, the platform's product page gallery feature lets you make your Instagram UGC shoppable. Moreover, you can create UGC widgets and place them on your website strategically.
Lastly, Taggbox has a feature that simplifies getting UGC rights from creators so that you can repurpose their content without any hassle.
Pricing: Taggbox has a limited free plan and to enjoy its paid plans you should spend atleast $24/month.
4. Pixlee TurnTo
Pixlee TurnTo's multi-channel content publishing solutions are an essential tool for e-commerce businesses looking to build a strong online presence and connect with their customers in a more meaningful way.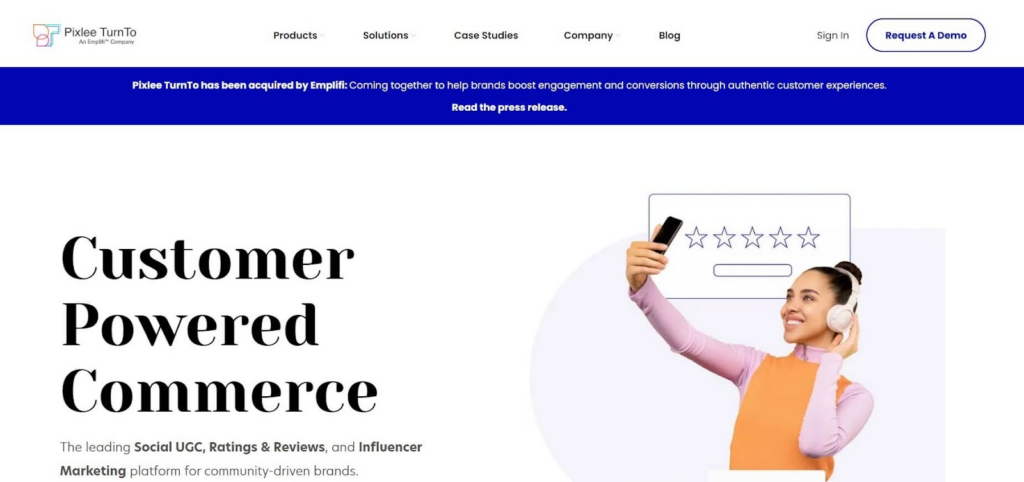 One of the key benefits of this UGC content platform is that it seamlessly integrates UGC and influencer content with text-based customer feedback, such as ratings and reviews, checkout comments, and community Q&A.
This integration is achieved without requiring any additional technical resources, making it incredibly easy for businesses to incorporate customer feedback into their marketing strategy.
Pricing: Pixlee TurnTo prices are mostly individualized. But, according to Capterra you should be ready to pay at least $399/month for their basic plans.
5. Trend
For companies seeking high-quality user-generated content, Trend offers an ideal solution. This platform provides access to an exclusive influencer network through invite-only access, ensuring that you can work with carefully selected influencers to develop a powerful influencer marketing strategy.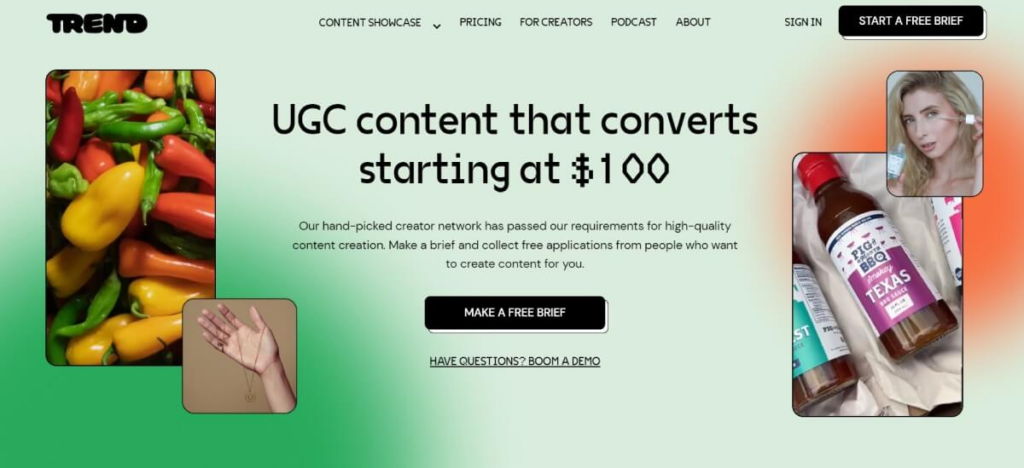 Using Trend, you can provide your brand guidelines to the influencer who will then create high-quality UGC that will be promoted to their existing audience.
Trend is a comprehensive UGC video and photo platform for social proof that allows you to plan and source UGC while managing all of the content in one place. Additionally, Trend provides campaign management tools related to communication and payment, simplifying the management of your UGC.
Pricing: Unfortunately, Trend does not provide a free plan for its services. However, if you're looking to get started, their starter package can provide you with 10 videos or 25 images at a cost of $500.
6. TINT
TINT is a content marketing service that provides all the core features required for collecting, storing, and publishing basic user-generated content. It may not have some of the advanced features such as software for accepting product review photos or creating UGC widgets, but it offers a perfect set of tools for gathering organic UGC, obtaining content rights, publishing, promoting, and more.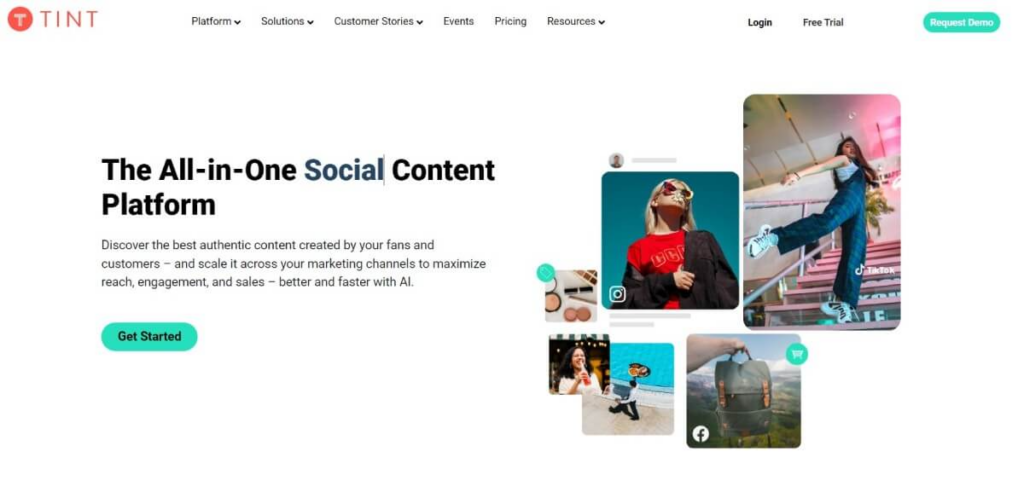 Among its many features, TINT allows you to create omnichannel UGC marketing campaigns, use AI to find the highest-quality UGC that resonates with your brand and integrate seamlessly with your marketing stack through a variety of integrations.
With this UGC platform, you can leverage the power of user-generated content to enhance your brand's online presence and engage with your target audience in new and exciting ways.
Pricing: To discover the prices of TINT's two package options, starter and enterprise, users are required to contact the sales team.
7. ShortStack
ShortStack is a cloud-based marketing platform that empowers brands to produce captivating content to expand their businesses. With this service, you can leverage for your digital marketing campaigns using UGC.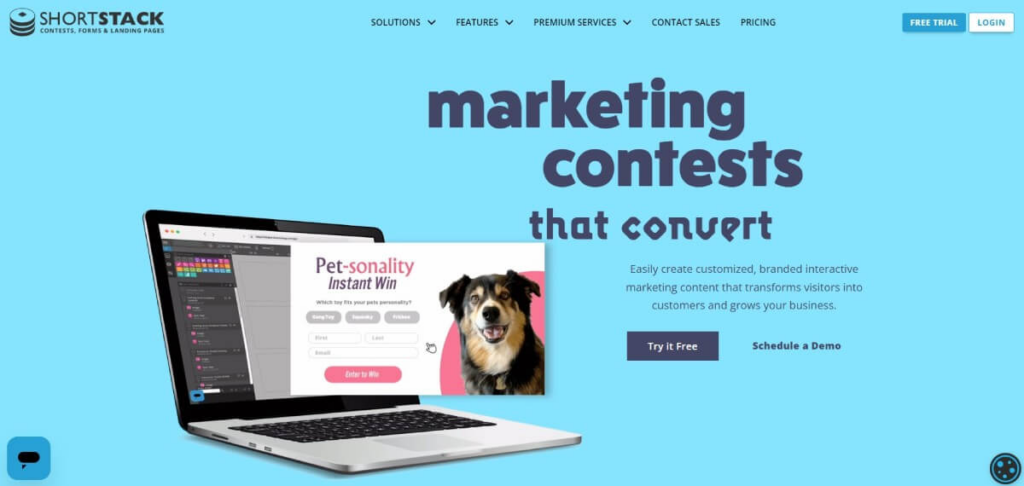 Moreover, ShortStack enables you to create interactive content that can help you grow your customer contact list.
In addition to these features, ShortStack offers other engaging functionalities such as website embedding, engagement analytics, as well as website, CRM, and email integrations.
While ShortStack may not be a typical UGC platform, it provides an excellent opportunity to learn more about your customers and personalize every touchpoint in your funnel. Since 75% of marketers believe personalization enhances engagement, trying out ShortStack can be a worthwhile investment.
Pricing: ShortStack does not have a free plan and its pricing starts at $99 per month for its packages.
8. Social Native (Olapic)
Social Native is a great way for brands to tap into the creativity and expertise of a diverse community of content creators, and to produce authentic, high-quality content that resonates with their target audience.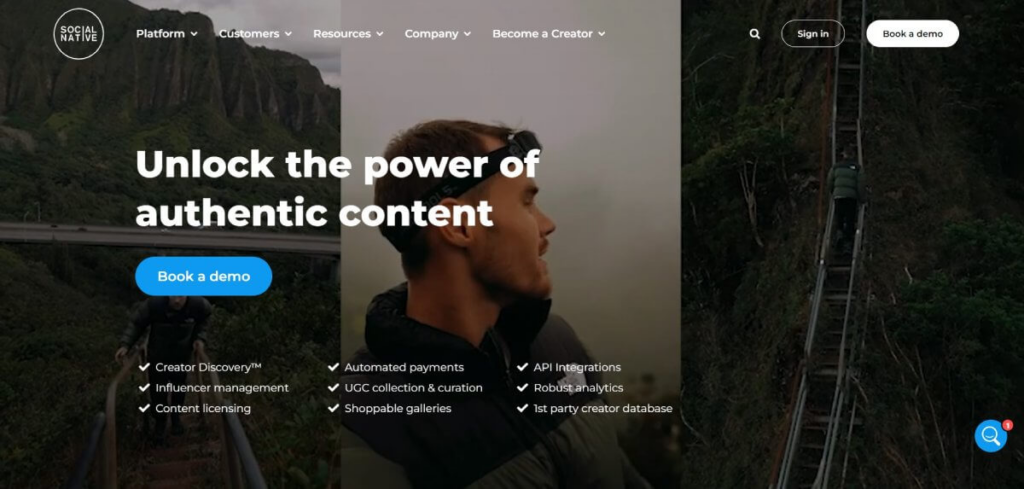 Social Native is a platform that connects brands with a community of content creators who can produce high-quality, authentic content for their marketing campaigns. The platform allows brands to create briefs outlining the type of content they're looking for, and then content creators from the Social Native community can submit proposals and pitch their ideas.
Once a brand selects a content creator to work with, the creator can produce the content and submit it to the brand for review.
Brands can then approve the content and use it in their marketing campaigns across various channels, including social media, email, and advertising.
Pricing: Unfortunately, Social Native prices are not mentioned on their website or anywhere on the internet.
9. PowerReviews
PowerReviews is a powerful tool for businesses looking to build trust and credibility with their customers by showcasing authentic and trustworthy user-generated content. Wondering how PowerReviews does that? Keep reading to find out.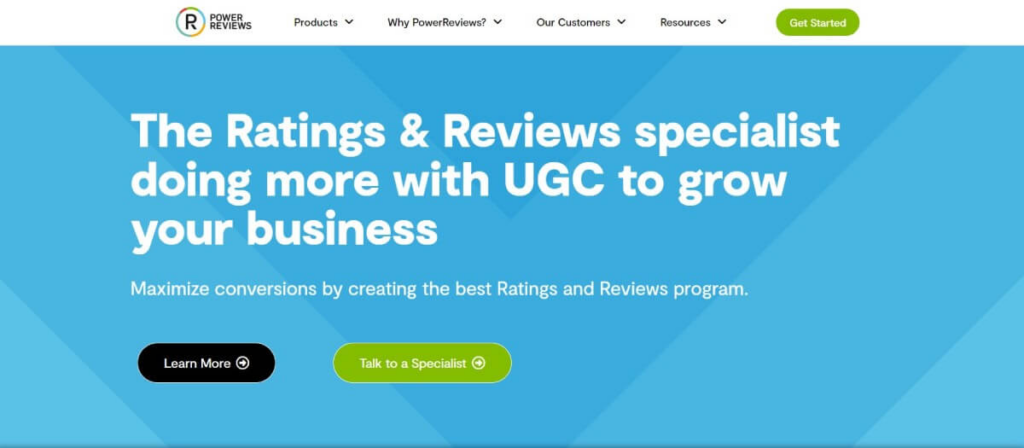 This UGC service helps businesses collect and display customer reviews and ratings on their websites and other online channels. In addition, it enables businesses to capture and syndicate user-generated content, such as customer reviews, photos, and videos, to drive sales, increase traffic, and enhance the overall customer experience.
Moreover, PowerReviews offers a range of tools and features that make it easy for businesses to collect and manage customer feedback.
These include customizable review collection forms, automated review requests and reminders, and moderation and curation tools that enable businesses to filter and publish the most relevant and helpful reviews.
Pricing: The pricing for PowerReviews varies based on the customer's specific requirements as they offer custom packages.
10. UserTesting
UserTesting is a UGC platform that operates across multiple industries such as automotive, consumer technology, eCommerce, financial services, gaming and gambling, healthcare, media and entertainment, and travel and hospitality.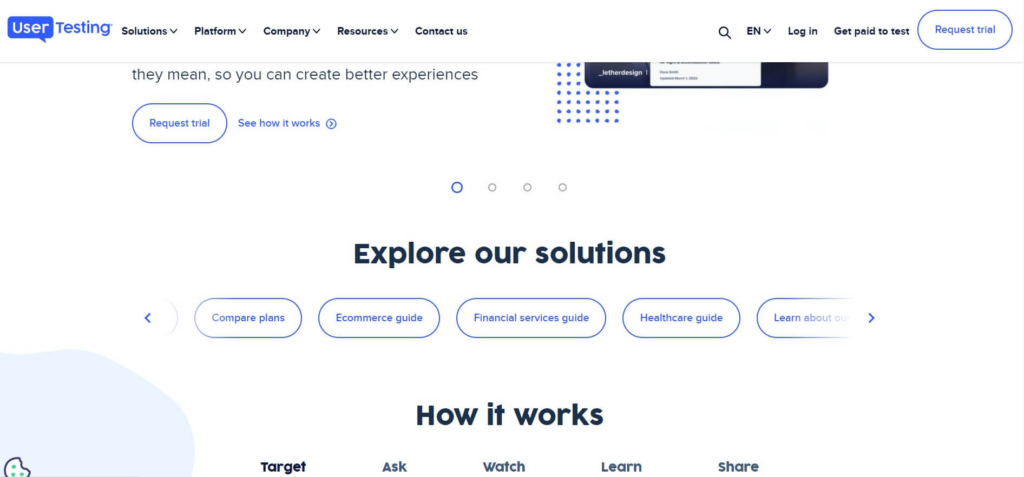 The platform's primary focus is on video content, allowing users to see and hear how people interact with their products and services.
Additionally, UserTesting offers various features such as CxN audience management, Human insight management, and Data and machine learning, with a core focus on the Customer experience narrative (CxN).
UserTesting's platform is suitable for various roles including UX and design, executives, product, and marketing professionals.
Pricing: Unfortunately, UserTesting does not provide pricing information on its website.
The Benefits of UGC Platforms
The benefits of UGC platforms are numerous, including:
#1 Authenticity
UGC platforms allow brands to showcase authentic content that has been created by their customers, rather than polished and staged content created by the brand itself. This can help build trust with the audience, as they perceive the content to be more genuine and unbiased.
#2 Engagement
UGC services can be highly engaging, as they allow customers to share their experiences and interact with others who have similar interests. This can create a sense of community around the brand and encourage repeat business.
#3 Cost-Effective
UGC platforms can be a cost-effective way for brands to generate content, as they do not need to create everything from scratch. Instead, they can leverage content created by their customers, which can save time and money.
#4 Increased Reach
UGC services can help brands reach a wider audience, as customers are likely to share their content on social media and other channels. This can help increase brand awareness and drive traffic to the brand's website or social media pages.
#5 SEO Benefits
UGC platforms can also have SEO benefits, as they can help generate user-generated content that includes relevant keywords and phrases. This can help improve the brand's search engine rankings and drive more organic traffic to the website.
So why settle for impersonal brand content when you can harness the power of your community through UGC platforms?
FAQs on Boost Your Content Marketing with UGC Platforms
Here we have answered some of the frequently asked questions regarding UGC and the platforms related to it.
Q1. Why Do I Need a UGC Platform?
A UGC (user-generated content) platform can be beneficial for businesses as it enables them to collect, curate, and leverage authentic content created by their customers.
By using a UGC platform, businesses can create a more engaging and interactive experience for their audience, increase brand awareness and loyalty, and improve their overall marketing strategy.
UGC platforms can also provide valuable insights into customer behavior and preferences, which can inform product development and customer service efforts. Ultimately, a UGC platform can help businesses build a stronger connection with their customers and enhance their overall online presence.
Q2. Is TikTok a UGC Platform?
Yes, TikTok is a UGC platform. The app enables users to create short-form videos and share them with a wide audience. TikTok's content is primarily created by its users, who are encouraged to participate in challenges, create their own unique content, and engage with other users' videos through likes, comments, and shares.
TikTok's success as a social media platform has been largely attributed to its ability to leverage UGC and create a highly engaged community of content creators and viewers.
Q3. Is Netflix a User-Generated Content?
No, Netflix is not a user-generated content platform. Unlike UGC platforms, such as YouTube or TikTok, where users create and upload their own content, Netflix is a subscription-based streaming service that provides access to a curated collection of movies, TV shows, and original content produced by the company.
While Netflix does allow users to rate and review the content on its platform, this is not considered user-generated content in the same way as platforms that rely solely on user-generated content.
Q4. What companies use UGC?
Many companies across various industries use user-generated content to engage with their audiences and enhance their marketing efforts. Here are some examples:
Airbnb – Uses UGC to showcase authentic guest experiences and promote their listings.
GoPro – Encourages users to share their action-packed videos and images captured on GoPro cameras.
Coca-Cola – Runs UGC campaigns to promote their products and connect with their audience through storytelling.
Starbucks – Uses UGC on social media to highlight customer experiences and promote their seasonal products.
Apple – Uses UGC to showcase the creativity and talent of its users, featuring photos and videos taken with their devices.
Sephora – Shares user-generated makeup tutorials and product reviews to showcase the effectiveness of their products.
Nike – Uses UGC to showcase customer stories and promote their products through inspiring and empowering content.
Lego – Encourages users to share their creative Lego builds and features them on their social media pages.
These are just a few examples of companies that have successfully integrated UGC into their content marketing strategies to create more engaging and authentic experiences for their customers.
Q5. How Can I Become a Ugc Creator?
Lots of people are looking for UGC jobs these days. If you are among them, follow these steps:
1. Find a Platform
Identify a platform that aligns with your interests and where you can create content. Examples of UGC platforms include social media platforms like Instagram, TikTok, and YouTube, as well as review sites like Yelp.
2. Create Content
Once you've selected a platform, start creating content that is aligned with your interests or passions. This could be anything from creating makeup tutorials to filming your travels or sharing your opinions on products or services.
3. Build a Following
Consistently creating high-quality content will help you build a following on your chosen platform. Engage with your audience by responding to comments and messages to foster a sense of community around your content.
4. Collaborate with Other Creators
Collaborating with other creators in your niche can help you expand your reach and connect with new audiences.
5. Follow Platform Guidelines
Each platform has its own guidelines and rules that users must follow. Familiarize yourself with these guidelines to ensure your content is compliant.
Remember, becoming a successful UGC creator takes time, effort, and dedication. Be consistent with your content creation, engage with your audience, and be open to learning and growing along the way.
Conclusion
Incorporating UGC into your content marketing strategy can be a game-changer for your brand. It not only allows you to create authentic, engaging content that resonates with your audience, but it also helps you establish a community around your brand.
By utilizing UGC platforms, you can tap into the power of user-generated content to showcase your brand's personality, generate social proof, and build brand loyalty. From social media platforms to review sites, there is no shortage of UGC platforms available to help you elevate your content marketing strategy.
So go ahead and give UGC a try – you might be surprised at the impact it can have on your brand!