Facebook marketplace is a digital marketplace that allows users to sell, trade, and buy products and items locally. This feature allows users to monetize their Facebook accounts and do business within their local community.
With this relatively new feature, Facebook has become one of the best e-commerce marketing tools. In addition to that, all the profit that you make through the FB marketplace will be entirely yours as there are no fees.
In this article, we'll elaborate more on this feature and explain how to use the Facebook marketplace. We'll also suggest some great tips to ensure you reach the revenue you dream of! So, let's delve right into it!
What Is Facebook Marketplace
As we mentioned earlier, the Facebook marketplace is a feature that was announced in October 2016 and has been a game changer since. Many locals use this platform to quickly find free or paid items near where they live.
By learning how to sell on Facebook marketplace, many users can generate income through Facebook. It is similar to other e-commerce platforms such as Amazon. However, it's connected to your Facebook account directly. You can chat with the other party through the app and manage the buying process.
Facebook marketplace is used in over 70 countries and has grown rapidly over the past 7 years. The marketplace is an incredible built-in feature that goes both ways for both buyers and sellers online.
How Does the Facebook Marketplace Work
FB marketplace allows users to find what they're looking for by filtering their results by category, location, and price and enables sellers to showcase their products and find potential customers.
This will allow them to find what they're looking for more conveniently and in their local region.
How to Sell on Facebook Marketplace
Next stop, we're gonna explain how to use Facebook marketplace to sell.
Thanks to this feature, users can list items for sale, whether they're used or new. However, if you break any of Facebook's Commerce Policies or Community Standards your access to this feature will be removed.
Keep in mind that All transactions take place outside of the app, and are not considered legally to be Facebook's responsibility.
To learn how to sell on the marketplace, please follow the steps below:
#1 Go to Facebook Marketplace
When you log into your Facebook account, you should see the marketplace icon on the left menu. It looks something like this:
Proceed to click on it to be taken to the marketplace, where you can see the most popular posts in your area.
Click on ➕ to create a new listing, then click Item for sale.
#2 Upload the Images of the Products You Want to sell
Then, you'll be required to add the images of your product(s). The best part is, unlike other platforms, you don't have to pay any fees to upload more images. So, you can upload up to 10 images of your items.
For better results, make sure you upload original photos of your products rather than stock or company photos.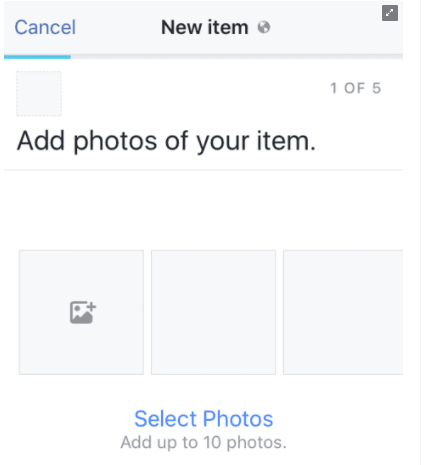 #3 Write a Title for Your Product
Next, the marketplace Facebook will ask you to write a title. Your title should explain what you sell in the market. Also, keep in mind that the Facebook marketplace app has a 100-character limit on titles.
#4 Add a Description
For the next step, marketplace Facebook will ask you to write a description of what you want to sell. You can include key features such as size, color, condition, and more.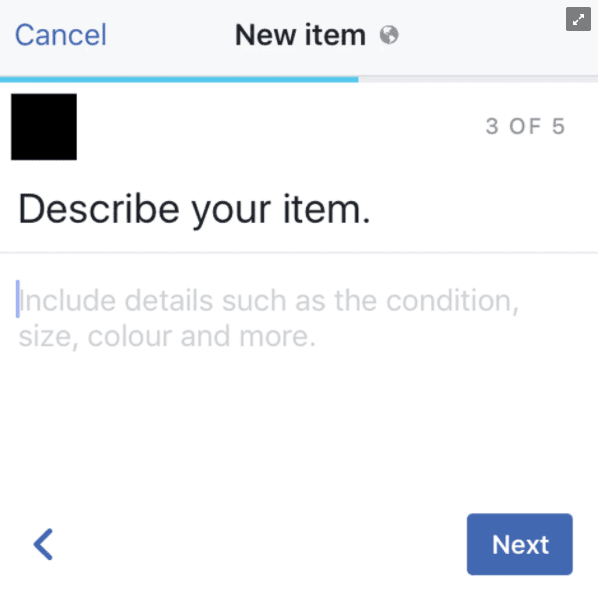 #5 Add the Price of Your Item
As for the key step, you should add a price for the item you want to sell. Make sure to find the value of your item so that you can choose a reasonable price.
#6 Include the Location and the Category When Advertising
You need to choose a location to advertise an item you are selling on the Facebook marketplace. Moreover, you should select a category that best fits this selling item.
#7 Finishing up
Congratulations! Now you can sell your products on Facebook marketplace. If you follow the steps above correctly, Facebook will list your product, and it will be visible to the public.
Buyers from your area will be able to message you, and you can communicate with potential buyers or make changes to your items.
Tips For Selling More on Facebook Marketplace
Now that you know how to sell on Facebook marketplace, it's time to learn some tips that will help you sell more on this e-commerce store. 
Because of its popularity, FB marketplace is a highly competitive environment, especially for newcomers. So make sure to pay attention to these e-commerce marketing tips so that you don't fall behind.
Let's go!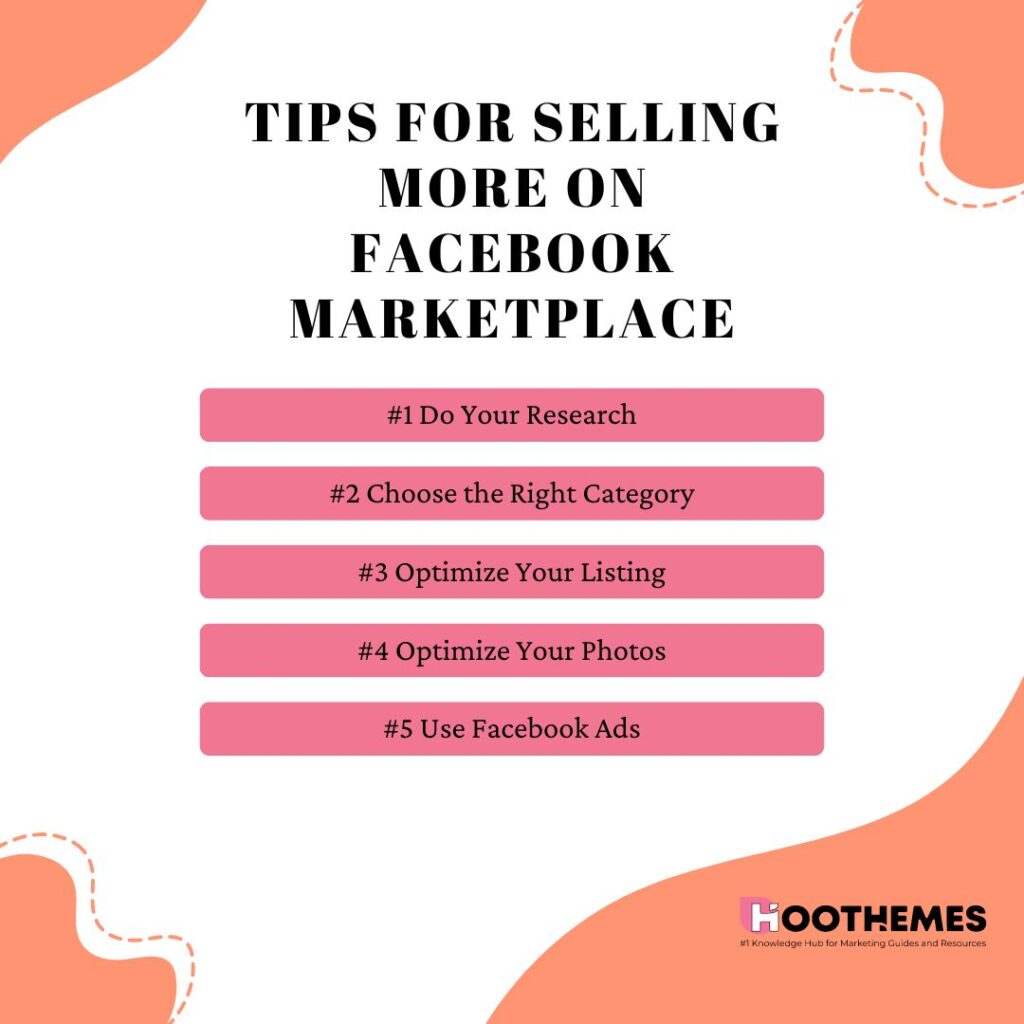 #1 Do Your Research
It's a given that you need to do thorough research before doing any business. The same goes for selling on FB marketplace. Make sure to take the time and determine which items are more popular in your niche.
#2 Choose the Right Category
Listing your items under the right category is crucial if you want the right buyers to see your products. If you fail to choose the right category, Facebook will flag you as spam.
In addition to that, Facebook marketplace tags are also a great factor when it comes to the relevancy of your items. Choose the correct and most relevant Facebook marketplace tags under your items, not the more popular ones.
#3 Optimize Your Listing
Facebook marketplace algorithm values SEO, so you should leverage it when listing your items. Try to use the main keyword in the title and description.
This will help you be seen by the right users and will increase your chances of selling your items.
#4 Optimize Your Photos
In order to sell more, you should catch your audience's attention. For that, you need to optimize the photos of your items.
Make sure that your pictures are not blurry, have high quality, and have beautiful lighting and background.
By uploading engaging and high-quality photos of your items, you can generate more leads and sell your items faster and easier.
#5 Use Facebook Ads
After following the tips above, now it's time to advertise your items to reach a wider audience. The best way to do so is by using Facebook Ads.
Create Facebook ads to extend your reach, and introduce your listing to a wider audience. Also, you can retarget the people who have purchased your items before.
Conclusion
Facebook marketplace is a great feature for anyone who wants to sell items online. It's free, easy to use, and linked to your Facebook account. By corporation the tips stated in this article, you can ensure that you make more sales than ever before! 
However, please keep in mind that the marketplace is not well-regulated. Therefore, you should give it some thought before using it at your discretion.
Crazy low prices should not trigger you to buy items because some may be fakes or scams. Make sure you also take other critical factors into account, like the credibility of the seller, security measures, and your due diligence and attention.
FAQs
In the following, we'll go over some frequently asked questions to help you wrap your head around this amazing feature. So keep scrolling.
Q1. Why Can't I Use Facebook Marketplace?
You may not be able to see and use the marketplace icon for a variety of reasons, including:
Age and Region: The marketplace is only available to users aged 18 and above in supported countries, such as the US, Canada, and Australia. The marketplace icon won't appear when your Facebook home address belongs to a country that isn't supported.
Device: The FB marketplace only works on the iPhone 5 and later versions, Android, and iPads. It does not run on the iPod touch.
The Age of Your Facebook Account: Also, you may not be able to use your FB marketplace due to the age of your account. As such, if you have a new account, the marketplace may not be immediately accessible.
Infrequency in Using the Item: The icon may disappear if you don't use the marketplace very often.
Access Denied: If you violate Facebook policies or standards while using the marketplace, you may lose access to the feature.
Q2. How to Get Facebook Marketplace?
This marketplace is a built-in feature, so you shouldn't download or install any separate apps. To access FB marketplace on the web, click on the marketplace icon in the main menu on the left bar of your screen. 
If you're using the app, you can find it by clicking the three horizontal lines to see the main menu and then clicking on 'Marketplace'.
Q3. How Long Do You Have to Be on Facebook to Use the Marketplace?
As we mentioned, the marketplace will not appear for new users. It will be available on their account after 11-12 months. It is a new restriction imposed by Facebook to prevent scammers who frequently delete and set up new profiles in order to sell fake or illegal items that Facebook authorities have banned.
So if you can't find the Facebook marketplace icon, have patience!
Q4. How Can I Avoid Facebook Marketplace Scams?
Now, let's answer the next most common question: how do I use Facebook marketplace safely?
Safety should always be your top priority. If a message or profile looks suspicious, go with your gut and walk away. It is also a good idea to exchange your goods in a busy public place.
If the exchange must take place at your home, you shouldn't feel compelled to let anyone into your home. Also, make sure you have someone else at home. 
Rather than using PayPal, bank transfers, or checks, always ask for payment in cash.
The risk of fraud increases when you give out your bank account information. Also, there is no guarantee that checks will clear.
Here are some excellent tips from Facebook on buying and selling safely in the marketplace. By doing your due diligence before buying and following Facebook marketplace rules, you can stay safe while making profitable transactions on the platform.