Transforming Facebook into Meta has been changing social media since then; which has had a great impact on the world of digital marketing. The Meta Business Suite, formerly known as Facebook Business Suite, aims to address the time-consuming challenges in social media management, providing businesses with a more streamlined approach to managing their Instagram and Meta profiles.
Meta offers excellent tools that greatly facilitate the management and tracking of your business accounts, making it an ideal platform for enhancing your business. It is recommended that every brand gain authority on Facebook Marketplace when opting to expand its brand on Meta. 
This article includes whatever you need in order to start working with Meta Business Suite.
What Is Meta Business Suite
Previously known as Facebook Business Suite, Meta Business Suite is a free tool that helps businesses lots of time and energy while managing and tracking their business accounts. By creating a simple framework where Facebook, Instagram, and Messenger accounts can be accessed side by side, Meta Business Suite simplifies the process of building a presence throughout the Meta platforms.
By setting up the Meta Business suite, you will be able to:
 Create your posts stories, and ads for your business beforehand and schedule them to be posted on Facebook and Instagram pages at any time.
Access all of your messages from Messenger and IG Directs in a super Inbox and communicate more easily with all your customers and audience.
Oversee and check insights about the interactions and reach on all your posts, stories, and ads, and optimize your efforts by creating more relevant content for your target audience.
Make a to-do list for managing your notifications so that you keep track of your priorities.
Create automated messages and replies to frequently asked questions and schedule them. 
Whether you use the Meta Business Suite app or its desktop web version, you can make sure it's a life changer. By allowing you to manage your business more efficiently, you can focus on more immediate and crucial tasks regarding your business while you effortlessly collaborate and interact with colleagues and customers.
It's good to know about Facebook reactions as well. Don't you think so?
How To Set Up Meta Business Suite
Before boosting your social media management with Meta Business Suite, you need to set everything up. The first thing you require is a Facebook account connected to your business email. If you already have an account, you can skip the first few steps.
1. First of all, for your Meta Business Suite login, you need to set up a business page on Facebook. Go to business.facebook.com and click on 'Create an account' Fill in Your Contact Information and use your business email address.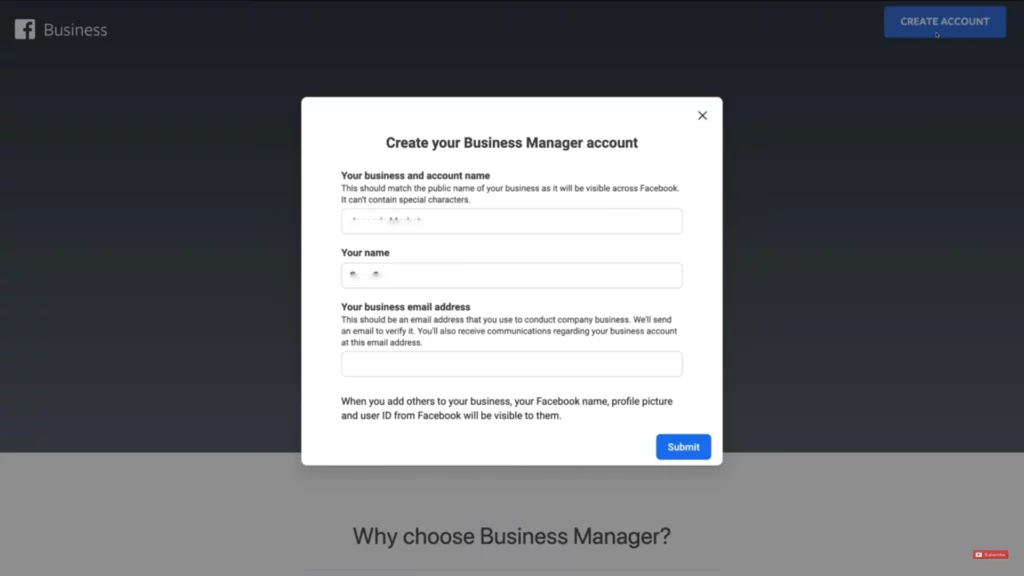 2. After logging in to Facebook Meta Business Suite, go to the Pages section and click on 'Go to business settings'.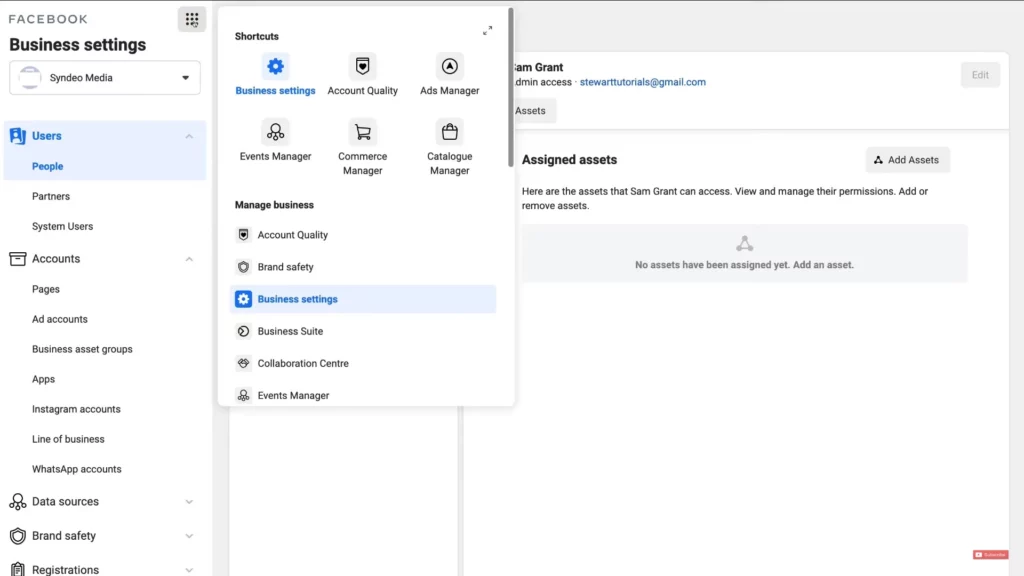 3. Now you can click on the 'Add' button and select the pages you want to add. Keep in mind that to select an Instagram account, you need to convert to a business or creator account.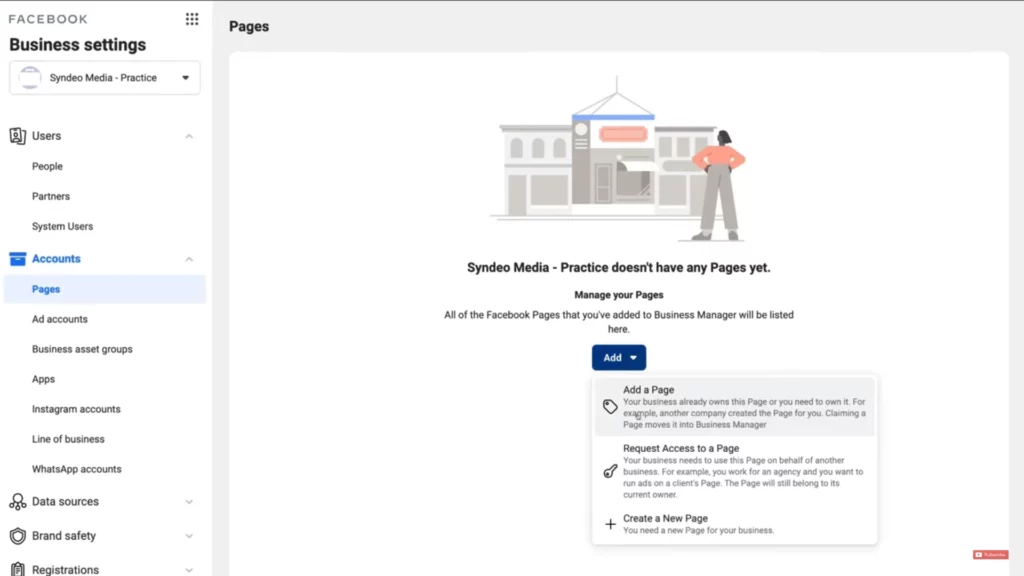 4. Now it's time to add some admins. Select and add them and enter their email address before assigning them as employees or business admins. (Note Employees have access only to the assets you assign them. Whereas business admins have full access)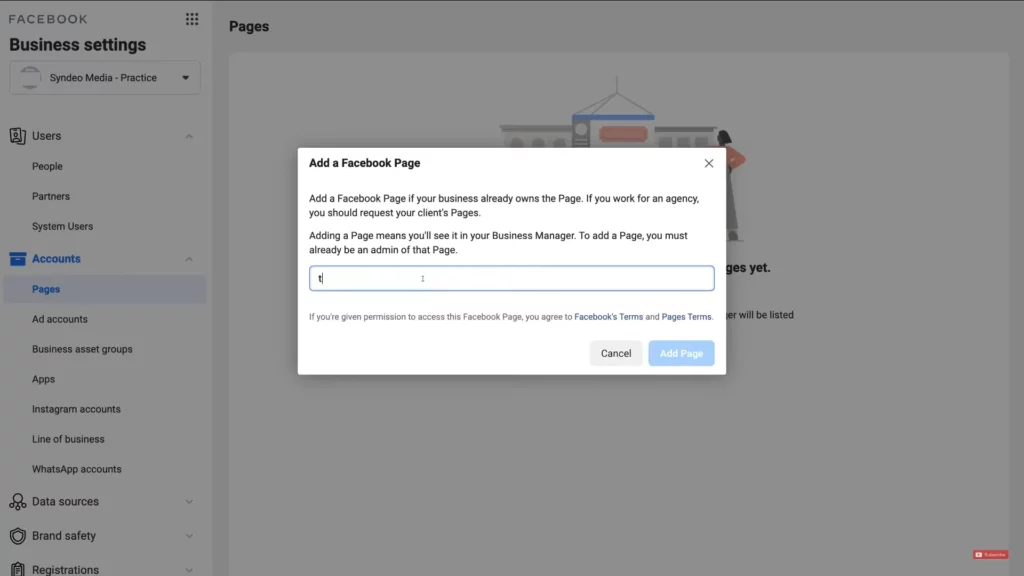 5. By clicking on 'Show Advanced Options' you can also access two more additional access levels: Finance Analyst and Finance Editor.
6. Click on 'Confirm' when you're finished with your selection. You will then be redirected to your dashboard overview, and you can start using all the tools.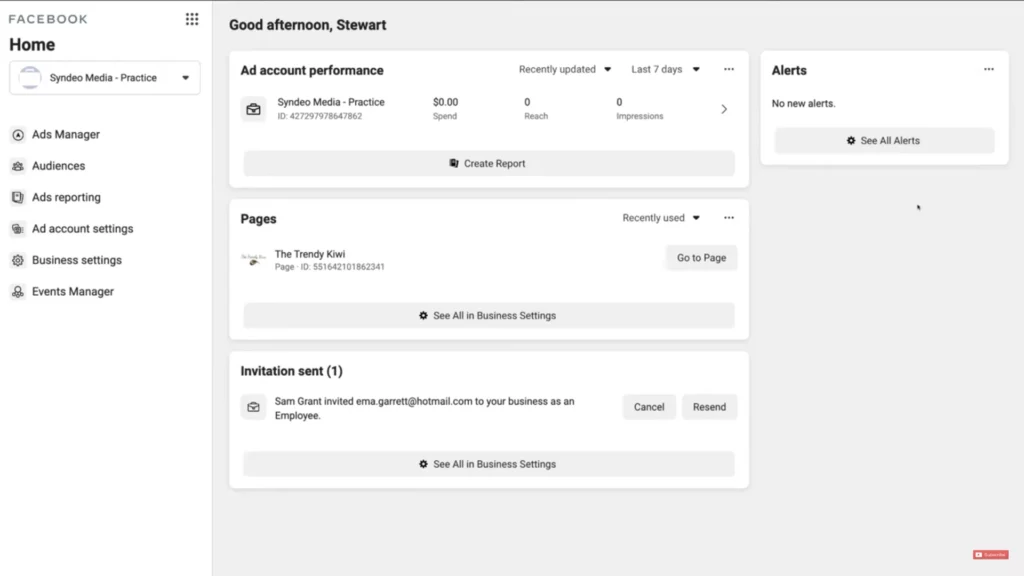 How to Use Meta Business Suite: Tools and Features
As we already mentioned, Meta Business Suite provides you with lots of efficiency tools all in one. There are many unique features and tools in Meta Business Suite that are so accessible that your team members can learn about them almost immediately. In order to get started with this let's dive deeper into some of the tools and features.
1. Create and Schedule Posts and Stories on Planner
While posting on each platform separately in due time can seem like a daunting task, Meta Business Suite not only provides you with a great content calendar and planner but also automatizes the posts and stories for you.
Creating your content has never been easier, since you can assemble and compare your Instagram and Facebook posts simultaneously. Also, by uploading and planning up to 10 photos or videos for IG Story all at once.
A great tool that Meta Business Suite provides you in this section, is the ability to conduct A/B testing. By creating two post versions with this tool, you can analyze which will perform better and what made them work. You can find out whether specific texts or visuals work and use your findings to do better for your next posts.
You can go to the Planner dashboard, to see a calendar view of your past and future posts. Holidays and special events are marked and you can manage them way easier. If you click on 'content type' all three categories of posts, stories, and ads can be accessed and by choosing any of them you can create and schedule them over the calendar.
2. Manage Human Resources
By including the ability to add and assign your employees different business roles, Meta Business Suite offers its own Human Resources Management (HRM) tool to help businesses manage their workforce effectively.
This option is useful in many different ways. It simplifies the processes like Training and development, recruitment, and managing performance. Thanks to the Meta Business Suite app, many HR processes can be automated while enhancing cooperation and engagement from employees.
3. Analyze Insights
There are many different tools for analyzing the performance of each platform, but Meta Business Suite puts an end to the never-ending toggling between different apps and now you can see everything you need all in one.
Using the Insights dashboard, a thorough performance overview of your posted content on both Facebook and Instagram can be found. The insights section can show you specific information that is instrumental in defining your target audience. It sorts everything you need in separate blocks of info, including Reach, Likes and reactions, Shares, and even Cost per result and link clicks. 
Hands down, the most interesting part of Insights is the Audience section as it provides you with in-depth info about your audience on both Facebook and Instagram. Providing you with their age and gender, countries and cities, jobs, and even their high-preferred content and screen time.
There is a 'Potential audiences' tab which gives you an approximation of your audience growth after running Ad campaigns. Furthermore, you can also set goals and view overall insights.
4. Check Your Competitors
This tool allows you to compare the performance of your business with other similar competitors out there. Meta Business Suite Insights gives you the stats including likes and growth rate of other pages so that you can compare the engagement and content of your competitors.
5. Merge Inbox Tab
With a super inbox tool in Meta Business Suite, you can reduce hours painstakingly managing and replying to your Instagram and Facebook comments and messages.
The Inbox tab organizes everything in a single folder where you can simultaneously check and handle them via individual, neat folders of Messenger, Instagram Direct, or comments. Furthermore, you can write automated answers and replies to all your audience anytime you want.
6. Generate Leads With Instant Forms
If your business relies on lead generation, Meta Business Suit's Instant Forms can help you leverage Facebook and Instagram to drive more leads. This tool is located in Advertise section of 'All tools'. There, If look closely you'll find 'Instant forms'.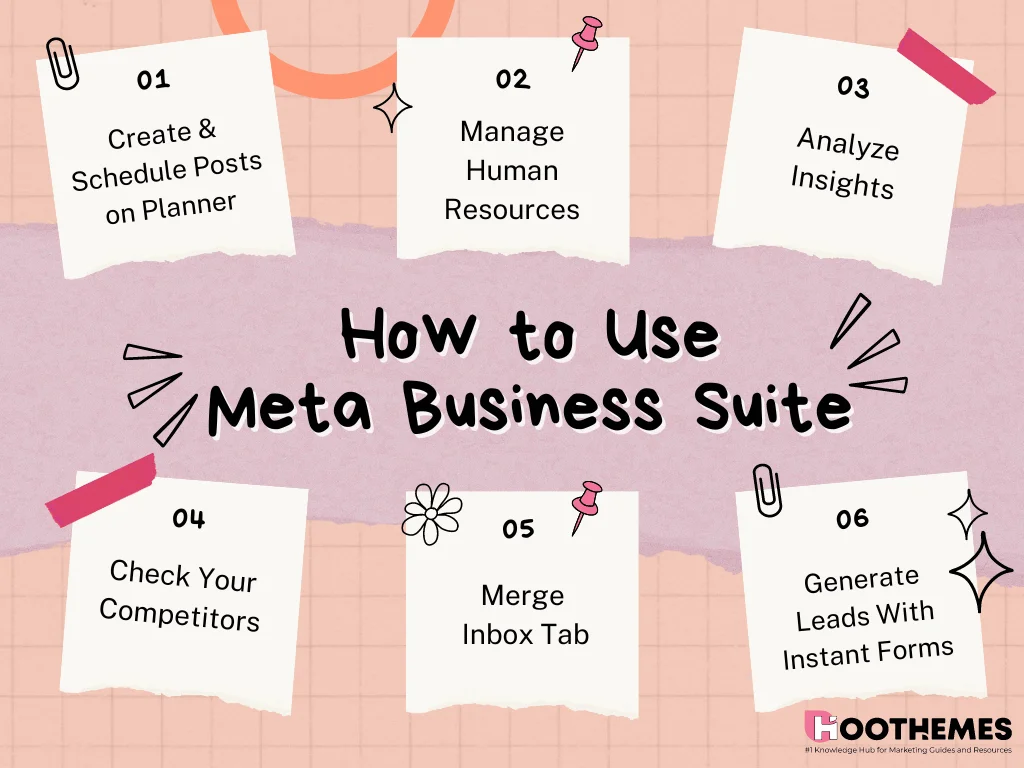 Like a miniature CRM system, Instant Forms allows you to set your objective to find leads with custom forms users can fill out, while creating Ads. By doing so, you can improve your chances of getting leads and requesting a callback, without having to use third parties.
Depending on your lead generation goal, Facebook gives you proper options while you create your Instant Form.
Read Also: How To Create an Event on Facebook
FAQs
Have you enjoyed reading about meta business suites? In this part, we provide you with more information about it by answering some frequently asked questions.
1. What Is The Difference Between Meta Business Suite and Business Manager?
Meta Business Suite Vs. Business Manager? Well, Facebook Business Manager was launched in 2014, to manage Facebook pages and ad accounts and to separate them from personal accounts. It is now merged with Meta Business Suite which is the newer, updated replacement for Business Manager.
Although both platforms can provide users with many similar features, they have some key differences. Business Manager was only accessible on desktop, while Meta Business Suite has also mobile apps. Furthermore, Business Suite allows you to manage Facebook, Messenger, and Instagram business accounts all at once, but Business Manager can only manage Facebook pages and ad accounts.
2. Is Meta Business Suite Down?
Any app or online service has its ups and downs during development. There have been several issues with Meta Business Suite during these years and there has been a history of outages on this tool.
However, they have been all temporary and resolved almost immediately after the issues were reported. So if you wonder 'Is Meta Business Suite down?' we assure you, this powerful tool will stay as productive as it is until further Meta decisions. 
3. Is Meta Business Suite Free?
Yes. Meta Business Suite is free and hopefully will remain free as it has proved it can help solve tons of problems for businesses across Facebook and Instagram.
Conclusion
Online businesses emerged to show how the era of stressed-out employees and challenging workspaces has come to an end. With tools like Meta Business Suite, managing and analyzing your social media accounts is no longer complicated. Utilizing these tools makes management an unchallenging job and provides your content team with the efficiency that is unmatched to reach your business goals.
If you wonder 'how to create an event in Meta Business Suite?', there are several ways to create and join events through other Meta free services, including Facebook itself. If you want to know how to do so, check out our other article on How To Create An Event On Facebook.